Barn Owls (Tyto alba) are the most widespread owls in the world. These beautiful and mysterious birds can be very common in suitable habitats, although they have declined in some areas due to changing farming practices and habitat destruction. So where exactly do Barn Owls live?
Barn Owls live near areas with open, short vegetation such as prairie, shrubland, pasture, semi-arid scrub, and open woodlands. They use these areas for hunting small animals like mice which are caught by swooping down from a low flight or perch. They generally avoid urban areas, high, mountainous landscapes, very arid deserts, and dense forests.
Barn Owls spend the day hidden away in dry, sheltered, roosts in hollow trees, crevices in cliffs, and often in man-made structures like barns. These are the same locations that they use for nesting, and a pair of owls may stay in the same vicinity throughout the year.
Read along to learn more about where the Barn Owl lives and where you might be able to see these graceful birds for yourself.
Barn Owls live in an array of different habitats, but open woodlands can be one of the best places to spot them
What is the distribution range of the Barn Owl?
Barn Owls have the widest distribution of any owl species. Their many subspecies are spread out across every continent except Antarctica. They range from tropical areas to temperate climates in the following regions:
Most of North America from Southern Canada to Panama
Most of South America from Colombia in the north to Argentina and Chile in the south
Widespread in Europe, extending to Western Asia
Widespread in Africa from the Mediterranean to South Africa
Most of the Indian Subcontinent and Southeast Asia
Australia and surrounds
Continue reading to learn more about the Barn Owls' favorite habitat and where you are most likely to see them.
What is the habitat of a Barn Owl?
Barn Owls are adaptable birds that are found in many habits. Their ability to thrive in some human-altered habitats like farmlands and occasionally even the edge of suburbia has made them one of the most familiar owl species. Generally speaking, Barn Owls prefer relatively open habitats, from sea level up to about 13 000 feet (4000m). They avoid densely wooded areas and forests.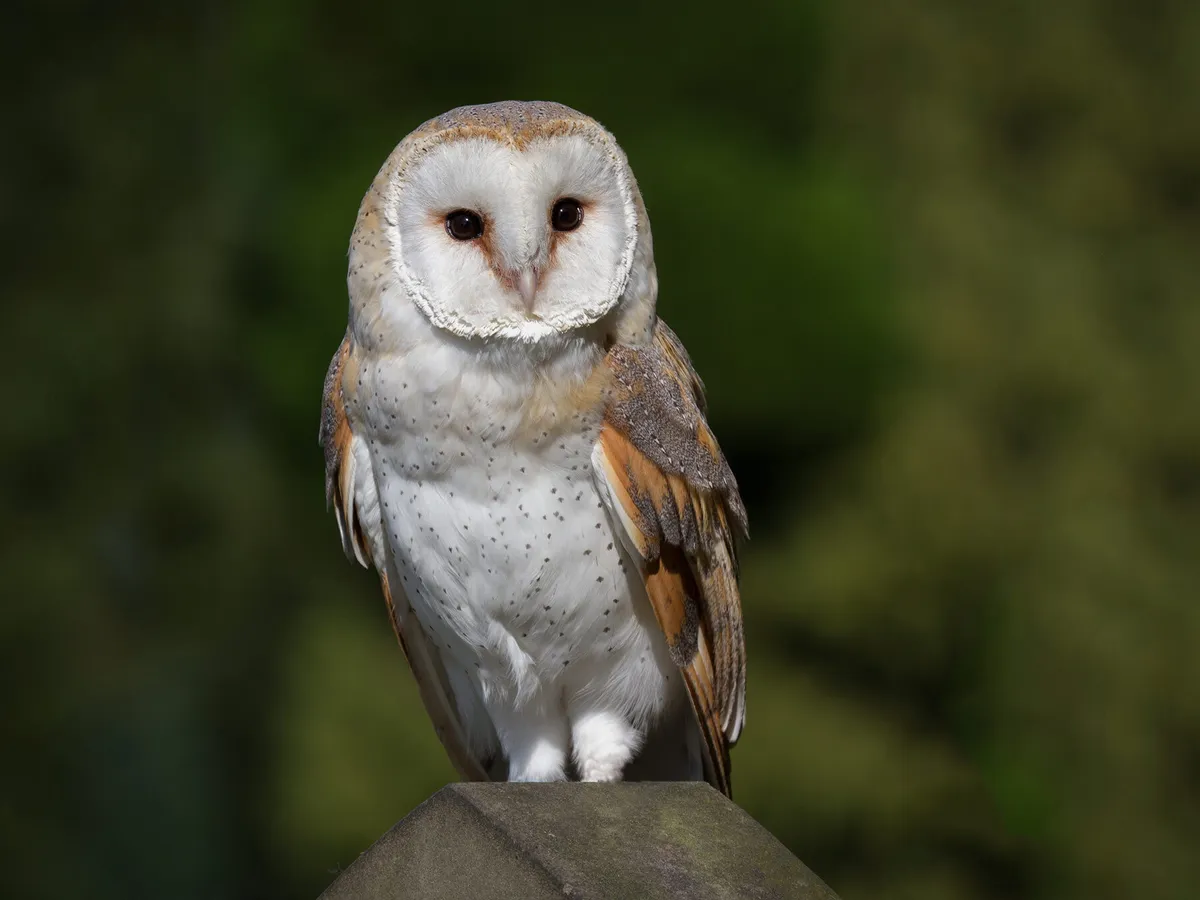 Close up of a perched Barn Owl
How rare is it to see a Barn Owl?
Barn Owls vary from common to very rare, depending on where you live. Even where these birds are most common, it is still pretty rare to see them because of their nocturnal habits. Barn Owls are vocal birds, however, and their piercing call is more often heard than the birds are seen.
What time do Barn Owls come out?
Barn Owls are largely nocturnal, although they will occasionally hunt during the day, particularly in the winter. They are usually active from about an hour after sunset to an hour before sunrise the following morning. They are efficient hunters, however, so relatively little time is spent actively hunting.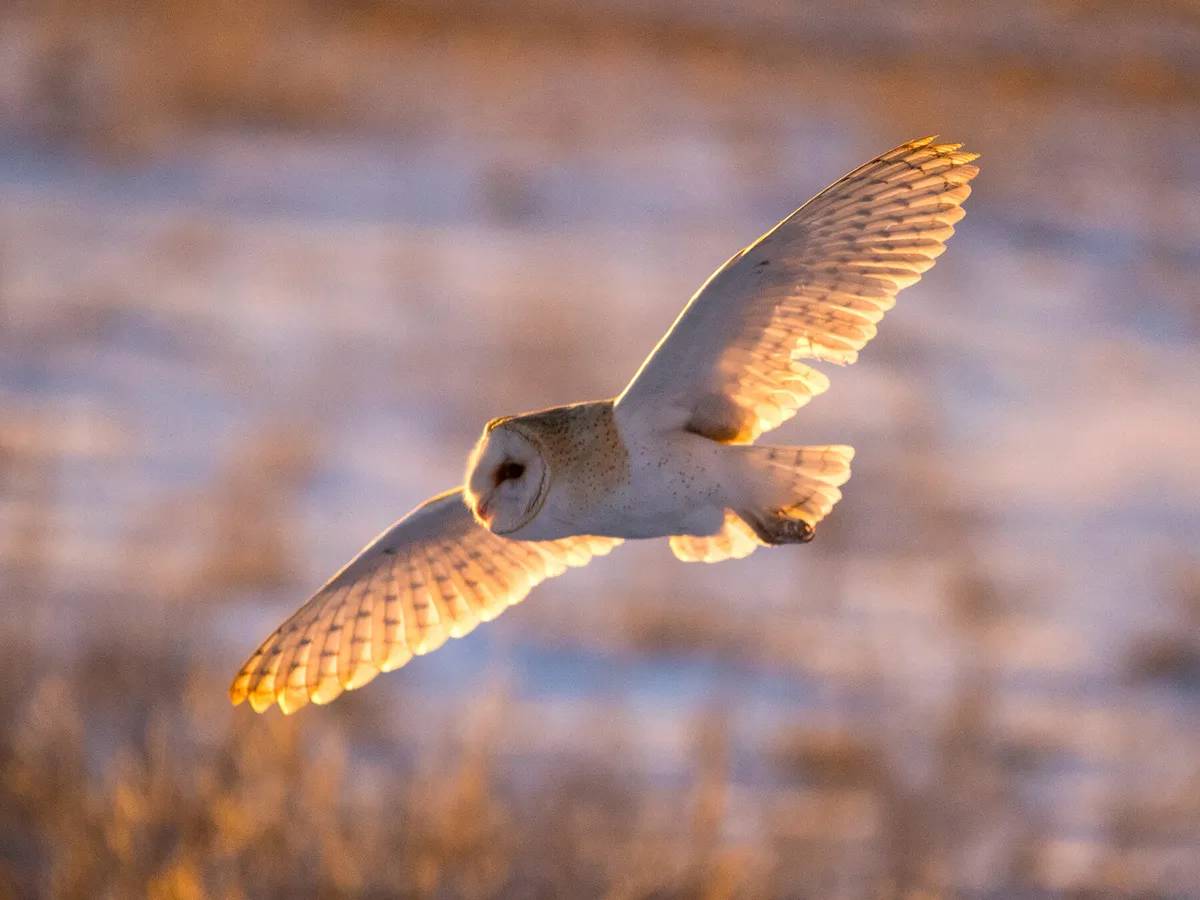 One of the best times to see Barn Owls is just after, and sometime during sunset
Do Barn Owls stay in one place?
Barn Owls often move very far from where they were born. They can move over 1000 miles (1600km) in any direction from their nest site to suitable habitat. Not all Barn Owls disperse this widely, however, with some young birds traveling a mile or less.
Adult Barn Owls are usually non-migratory, although limited migrations have been recorded. Most adult Barn Owls are sedentary and stay in the same area throughout the year. They often nest in the same place every year and even sleep at the nest site outside of the breeding season.
Where do Barn Owls live in the US?
The American Barn Owl (T. alba pratincola) is widespread across most of the United States. They are very common in some states but have declined drastically in others such as Michigan.
In the USA, Barn Owls are most common near the coast from California to Washington State in the Pacific Northwest, inland to Idaho and Utah, and south to Texas. They range across the southeast to Florida in the south and New York state in the north. Barn owls can be seen at widespread localities across the interior of the United States, although they tend to be less common and more localized.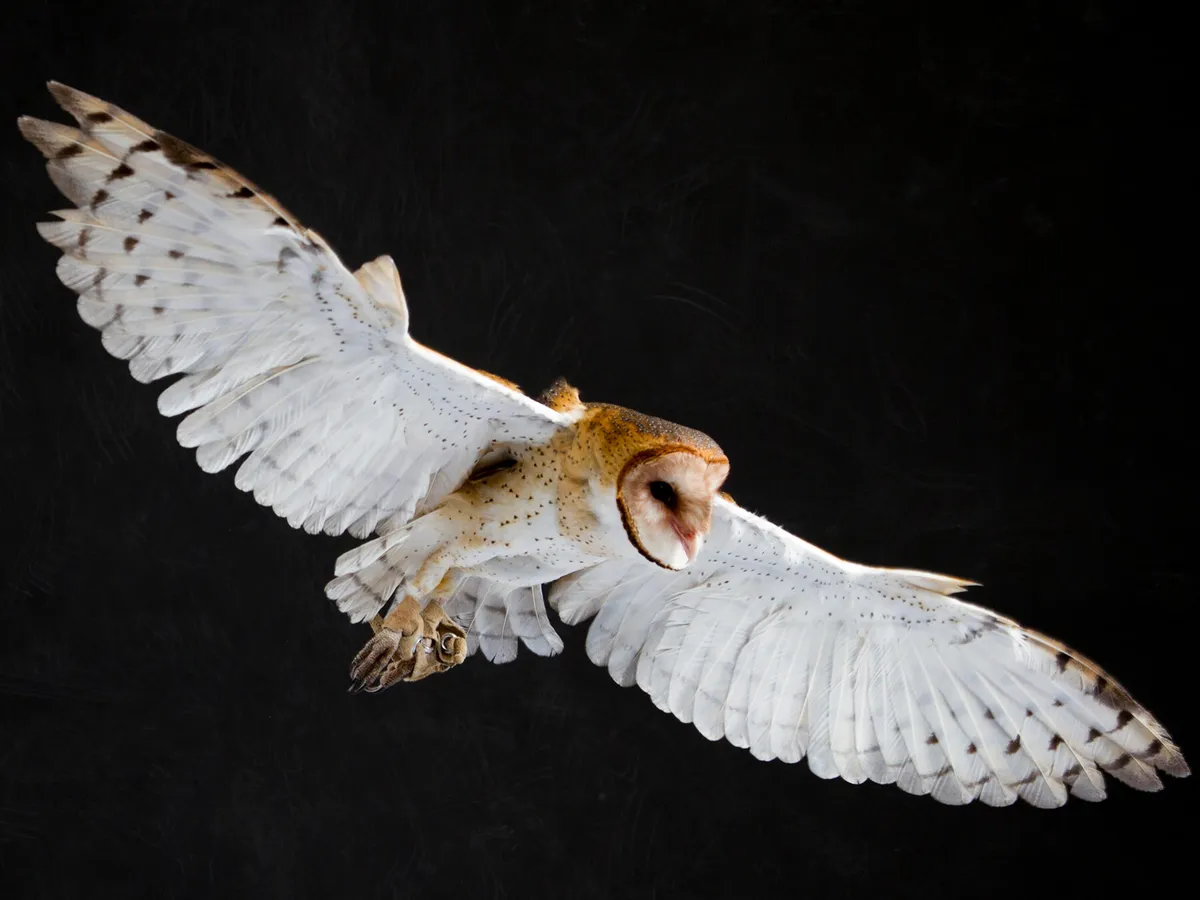 Close up of an American Barn Owl in flight
Where do Barn Owls live in Canada?
The American Barn Owl (T. a. pratincola) extends into the extreme south of Canada in the provinces of British Columbia and Ontario. Barn Owls are highly endangered in Canada and occur in very low numbers there. The South Canadian climate is only marginally suitable for Barn Owls and sadly much of the available grassland habitat has been destroyed by farming practices.
Where do Barn Owls live in the UK?
The Western Barn Owl (T. a. alba) occurs through most of Wales and England as well as in parts of Scotland, Northern Ireland, and the neighboring Republic of Ireland.
They are most common in low-lying areas of the countryside in the United Kingdom but tend to be scarce or absent in upland and mountainous regions. They do particularly well in farmland areas with rough grassland and suitable nest sites such as old barns and nest boxes.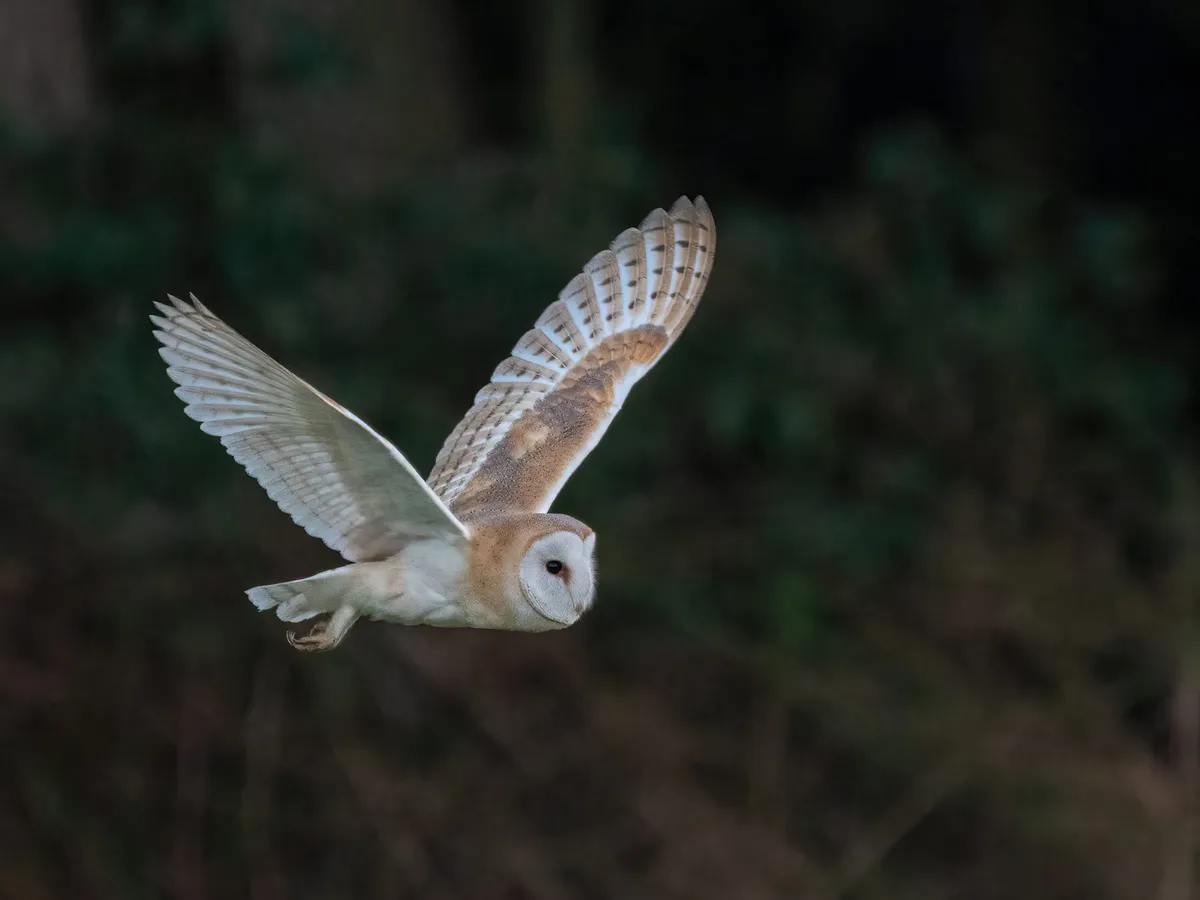 Barn Owl in flight at dusk in Norfolk, UK
Where do Barn Owls live in Australia?
The Australian Barn Owl (T. a. delicatula) is very widespread in Australia. They occur from coast to coast, wherever suitable hunting habitats and nesting sites are available. They can be found at scattered localities throughout the Australian Outback, although they are absent from the driest desert areas.
Australian Barn Owl perched
Where are Barn Owls most common?
Barn Owls are most common in low-lying areas where short, open habitats occur for hunting, and suitable nest sites are available. These could be undisturbed wilderness areas with cliffs nearby, or even a heavily modified farming area with fallow fields and pasture for hunting, and old barns for nesting.
Barn owls are most common in the following landscapes:
Marshes
River banks
Farmlands and pasture
Grasslands
Prairie
Semi-arid areas
Open woodland
Where is the best place to see a Barn Owl?
The best place to see Barn Owls is in the vicinity of areas where they are known to nest, roost, and hunt. Listen out for their spooky screeching call in the evenings as they fly over open habitat. You can often make them out as they fly silently on still, moonlit nights.
Barn Owls like to hunt along grassy roadsides where they can often be seen on an early evening or pre-dawn drive through rural areas.
Unfortunately, this habit puts them at great risk from speeding traffic, so be alert. Look out for these birds flying low over the road or perched on fence posts and road signs. A quiet walk in suitable habitat can be equally productive.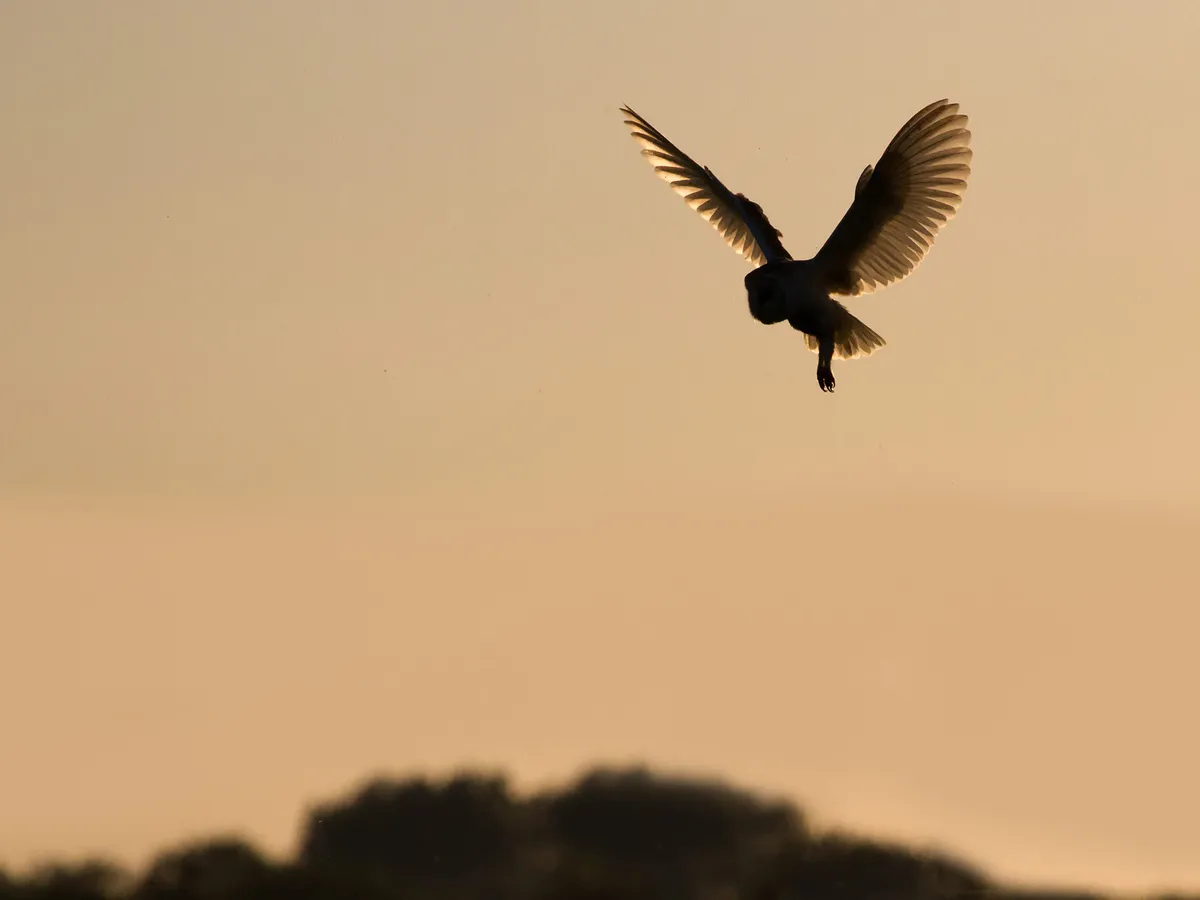 The silhouette of a Barn Owl hunting at dusk in the countryside
Where do Barn Owls live during the day?
Barn Owls spend the day sleeping in a standing position. They select a roost site that is quiet and hidden from sight, although sometimes they are visible if you know where to look. Barn Owls usually sleep in cavities such as small caves and crevices, holes in trees, and in human-made structures like barns, roofs, and nest boxes.
Where do Barn Owls live in the winter?
Barn Owls tend to inhabit the same areas in summer and winter, although some birds from the northern United States are thought to be partial migrants.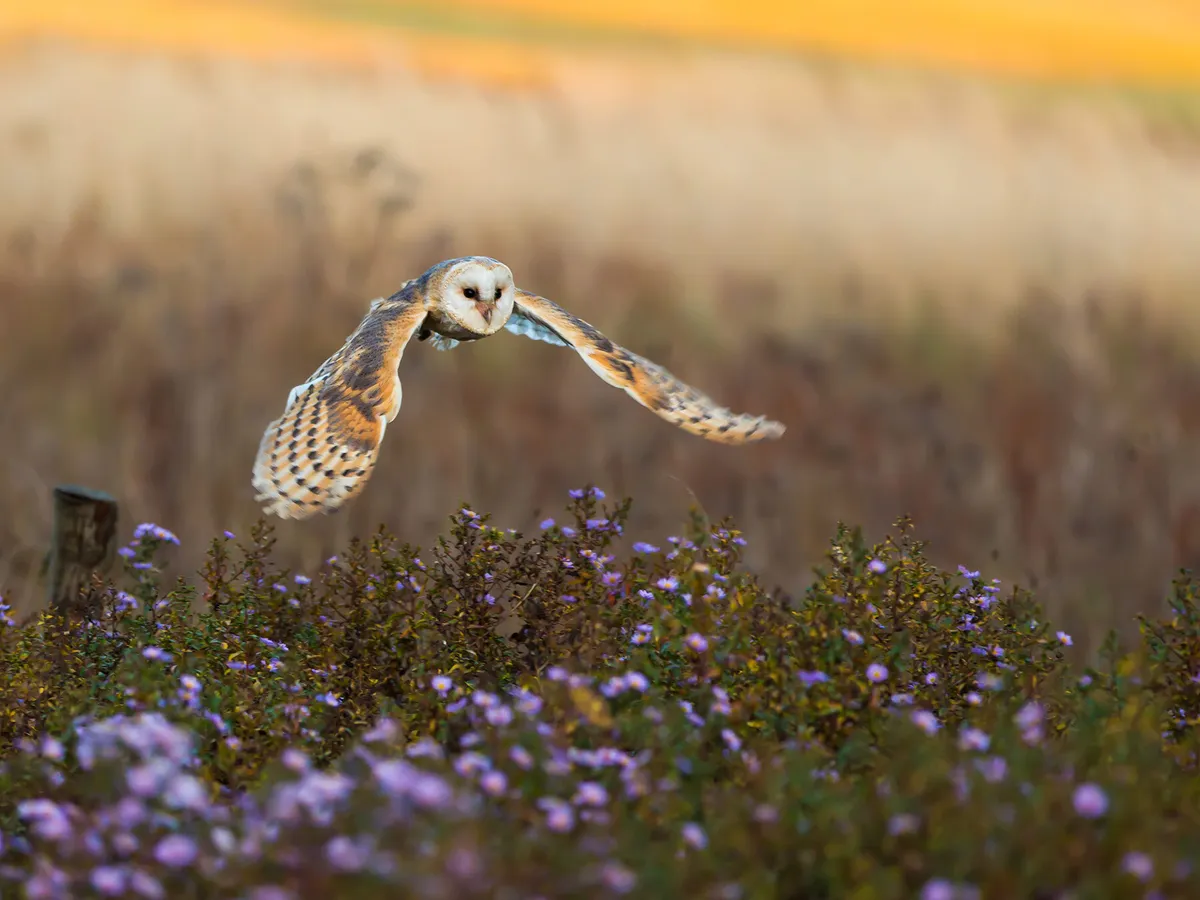 Barn Owl flying low
Where do Barn Owls live in the summer?
Most Barn Owls are sedentary and can be seen in the same areas throughout the year.