Blue tits, (Cyanistes caeruleus), are a very popular bird in the UK. They are so entertaining to watch as they float, fly and jump around, and they are seriously cute. If you enjoy seeing birds in your garden, Blue tits are likely high on your list of birds you'd like to see. So, we're finding out what these little blue beauties eat and what you can use to draw them into your garden. So let's get into it, what do blue tits eat?
Blue tits are highly active feeders. They enjoy eating insects and spiders that they find as they float effortlessly through tree branches in natural woodland. They are also huge fans of caterpillars of the winter moth (they feed their young almost exclusively caterpillars).
Blue Tits will travel great distances to hunt down these caterpillars too, but wouldn't we all? They sound delicious!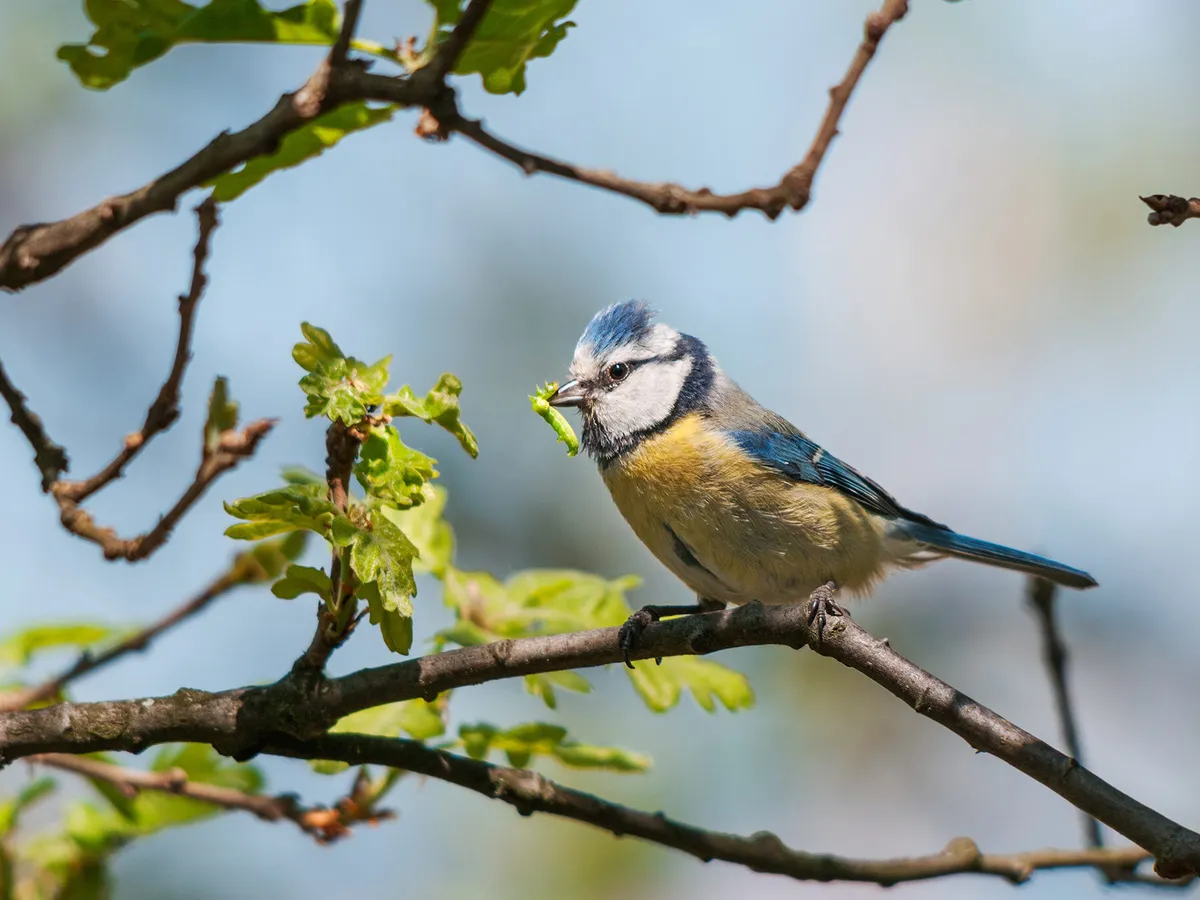 Eurasian Blue Tit feeding on a green caterpillar
As we'll learn throughout this blue tit article, these birds eat a lot, and they have a very varied diet. So, if you want to draw blue tits into your garden, you won't need to go hunting for caterpillars.
Blue tits are one of the easiest birds to draw into your garden because they will eat just about anything. As well as their caterpillar obsession, they love seeds and nuts. So, any quality bird food should draw them into your garden. If there are trees in your garden, you may not even need bird food. These guys love flying around in trees seeking spiders and other small insects, so keep a watchful eye on your trees.
What do blue tits eat in the winter?
When there are fewer insects around in the colder months, blue tits, like great tits, will seek out berries, nuts and seeds. They will still actively look for insects and grab any they can find, but they will lean more towards a veggie diet in the winter.
If you want to keep blue tits in your garden in the winter, fat balls and peanuts are a good option. Black sunflower seeds are also great as they will stick around for a while, removing the husks.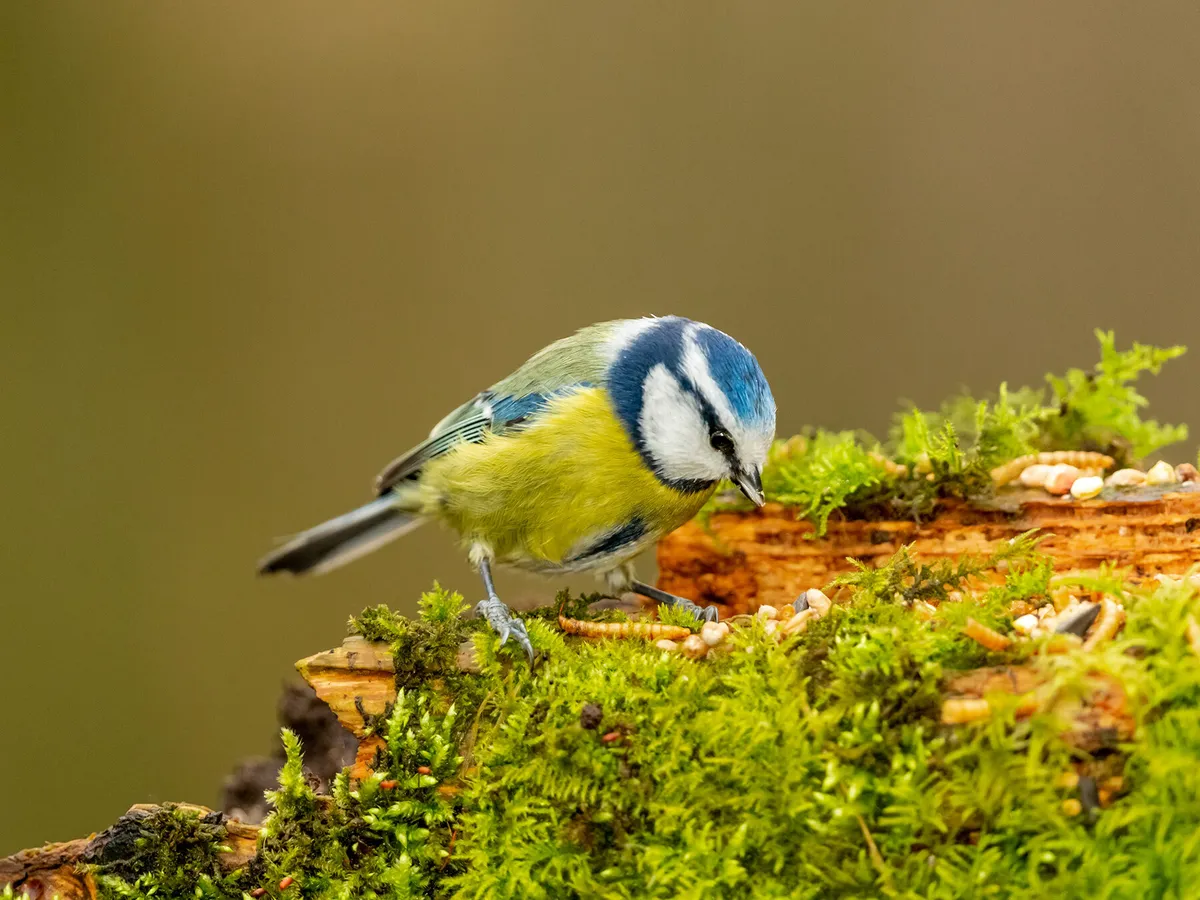 Blue Tit foraging for seeds and mealworms on a moss covered log
What do blue tits eat in the summer?
Blue tits eat a lot, and during the summer, when insects are highly active, they are not too picky. Any types of insects, caterpillars and spiders are all highly sought after. They will still come to your garden for seeds and nuts, but they will be highly active looking for natural protein in trees.
How do blue tits find food?
Blue tits like to dodge and weave around tree branches in search of any insects on the tree. They will also happily forage on the floor, though. They enjoy foraging through dead leaves for insects, but you'll also likely see them in your garden after you've cut the grass. They will pick their way through your grass trimmings and grab any insects in their path.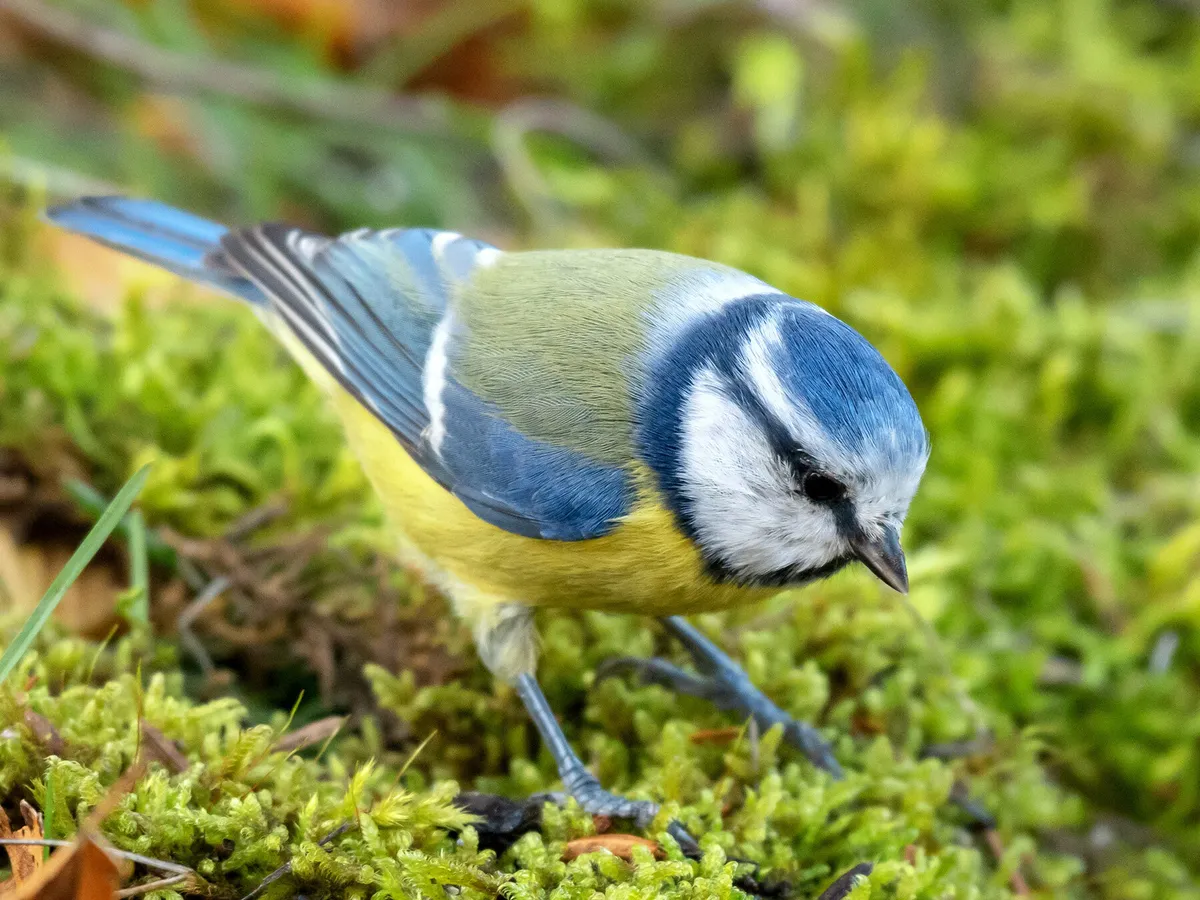 Blue Tit foraging for seeds on the ground
How often do blue tits eat?
Blue tits are highly active eaters. They will eat about 100 times a day. This starts when they are still in the nest too. So you can imagine how busy blue tit parents are! This is probably why blue tits always look like they are in a rush! Blue tits move very quickly and often, so they need a lot of energy to keep this up. So, this is why 100 juicy insects meet their end each day!
What do baby blue tits eat?
Baby blue tits are fed a lot of caterpillars. If the environment allows, their diet will be exclusively caterpillars of the winter moth. Blue tits love these and go to great lengths to get their beaks on them.
These caterpillars, like most, love to spend their days eating leaves and blossom on just about any tree and shrub. So, if you have trees and bushes in your garden, don't be surprised to find some blue tits hovering and foraging around them.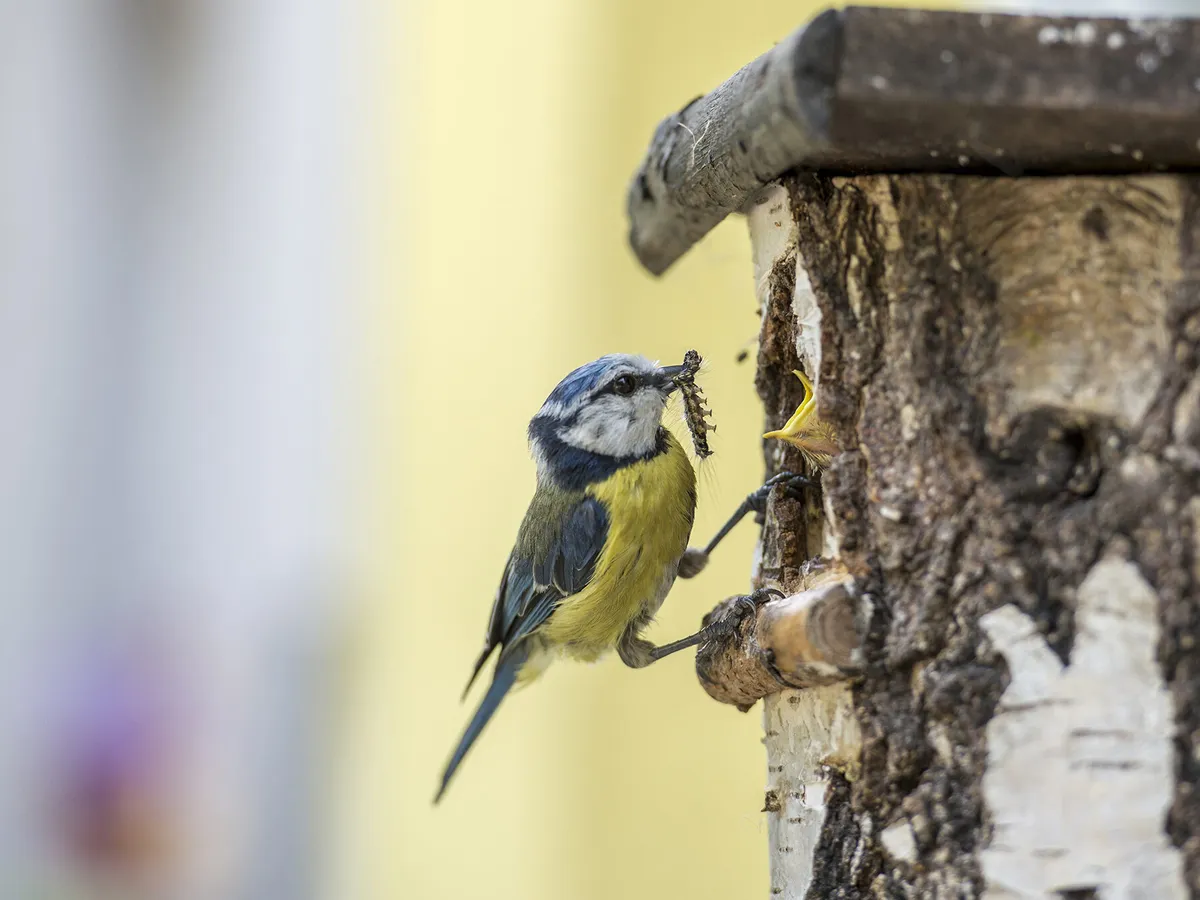 Blue Tit feeding its young caterpillars in the nest
How do you attract blue tits?
As blue tits are almost always hungry, they are quite easy to attract into your garden. They love seeds, nuts and fat balls and are always partial to mealworms. They eat these most of the year too. However, it's best to feed them fat balls and nuts in the winter as it helps keep them strong and warm.
Blue tits can be quite nervous about using bird feeders, though. Don't worry; the tits have nothing against you. It is the pesky house sparrows that they are nervous about. In order to keep the tits and sparrows separate, it's best to have a few feeding locations throughout your garden. The blue tits will keep a watchful eye, and when one of the feeders is quiet, they will swoop into action.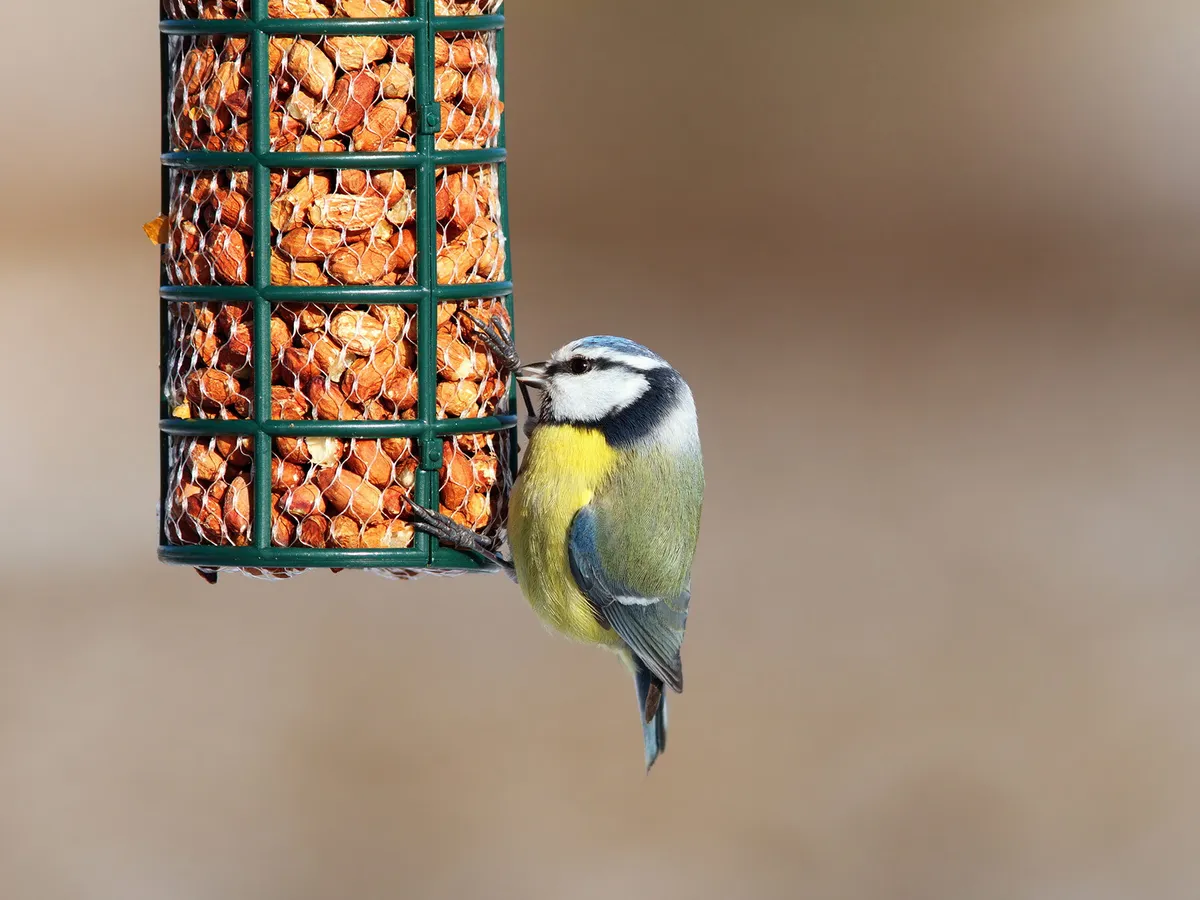 Blue Tit eating from a bird feeder
What do blue tits drink?
Blue tits, like most small birds, get most of their water from their food.
Birds don't have sweat glands like us sweaty folk, so they don't lose as much water as we do. They do lose some water in their droppings, though. So, blue tits need to drink water a couple of times a day.
Some blue tits have also learnt how to remove the foil from milk bottles. They are also teaching their young how to do it. So, if you get your milk delivered, a blue tit might beat you to it in the morning!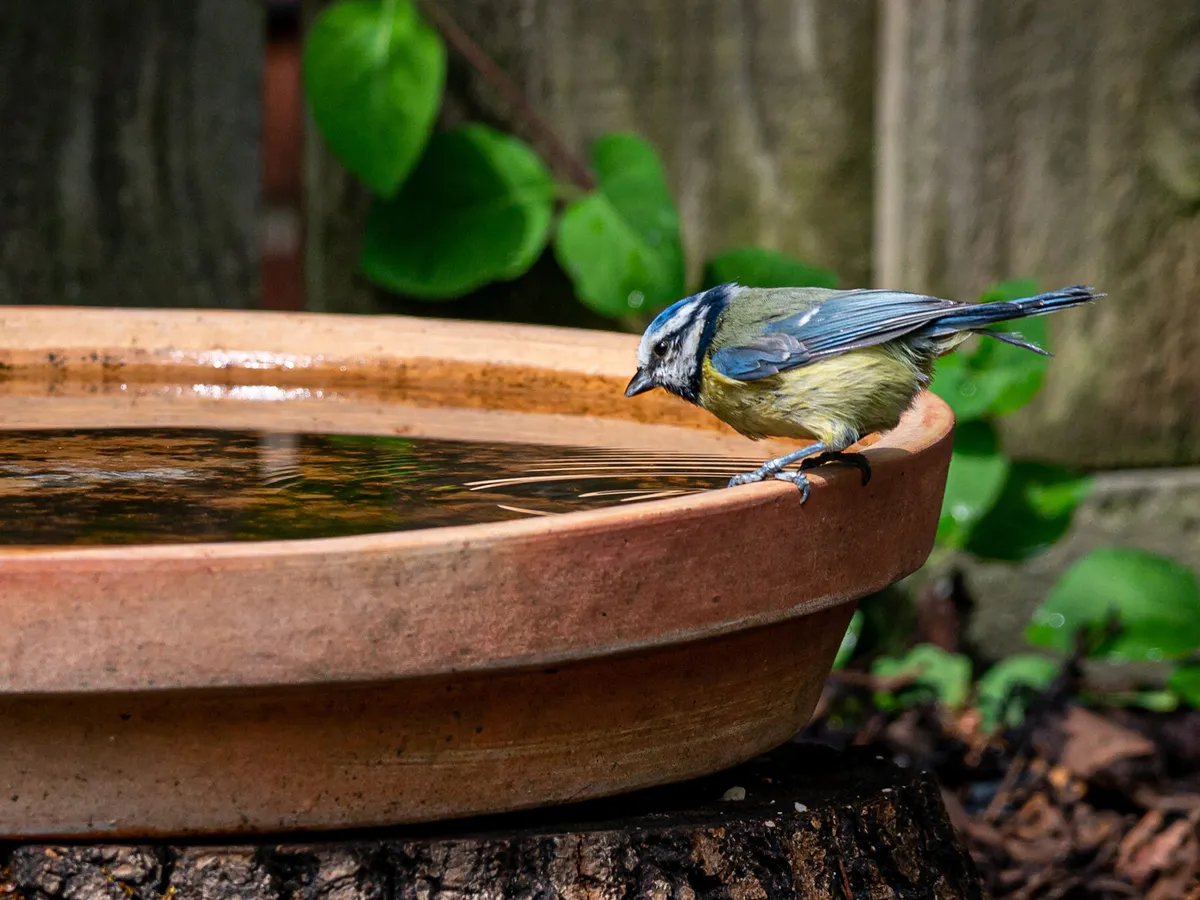 Blue Tit drinking water
What is the best bird food for blue tits?
The best food for blue tits is a natural mix of seeds and nuts.
They also love mealworms and will happily eat suet balls too. In the summer, give them some seeds and nuts and mealworms if they've been good blue tits. In the winter, nuts and fat balls are the best options. They will keep them nice and strong throughout the colder months.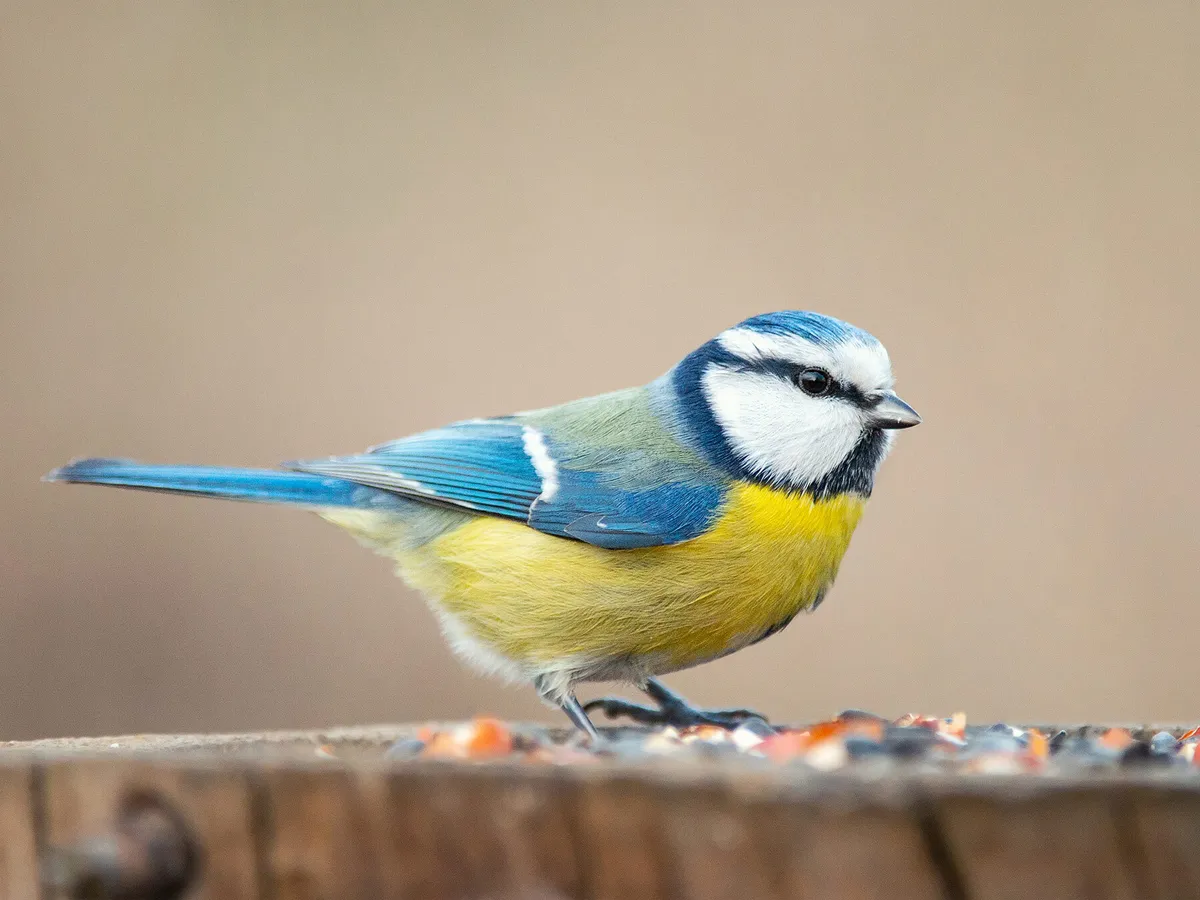 Eurasian Blue Tit eating bird seed
What eats blue tits?
Despite how cute we think blue tits are, some predators think they look more like lunch! Sparrowhawks, owls, weasels and sometimes even great spotted woodpeckers have a nibble on them. Sparrowhawks are most likely the biggest predator of blue tits, though.