The Eurasian Blue tit is one of the most common, well-known and best-loved garden birds in Europe. The overall population of this successful species rocketed in the last few decades, but recent studies show evidence of decline. Here, we'll be taking an in-depth look at Blue tit nesting habits and behaviours.
Blue tits solely nest in small cavities, whether a tree hollow, a dilapidated building or a nesting box. Their average clutch is large, numbering 8 to 12 eggs, but they typically only have one brood per year.
Blue tit nests are typically lined with moss and soft foliage first and then lined with an inner layer of wool, feathers and other scavenged soft materials. While Blue tits are generally monogamous, divorce rates often approach 50%.
Like many small birds, Blue tits have short lifecycles. Their large brood size helps keep their numbers high, especially since Blue tits usually only raise one brood per year and live for around 3-years. They do occasionally lay two broods in some parts of Europe.
Blue tits are very common in the UK and throughout much of Europe - they were the second most frequently spotted garden bird in the RSPB's annual Big Garden Birdwatch, behind the Robin. These cavity-nesting birds are pretty easy to support with nesting boxes, too.
Of course, there is much to learn about these beautiful birds' nesting habits and behaviours. Read on for more!
Check out our video of the Blue tit nesting process below:
Subscribe to our YouTube channel
| Key Blue Tit Nesting Facts | |
| --- | --- |
| Nesting season | March to June |
| Nesting material | Moss, soft foliage, wool and feathers |
| Nest type | Cavity |
| Nest location | Tree hollows, buildings, nest boxes |
| Number of broods | One brood |
| Clutch size | 8 - 10 eggs, ranges up to 13 |
| Egg colour | Pale white to cream with light brown speckles |
| Egg size | 16 x 12 mm |
| Egg weight | 1.1 g |
| Incubation period | 13 - 15 days, by the female |
| Fledgling period | 18 - 21 days |
| Reuse nests | Usually not, but will breed in same territories |
| Use nest boxes | Yes |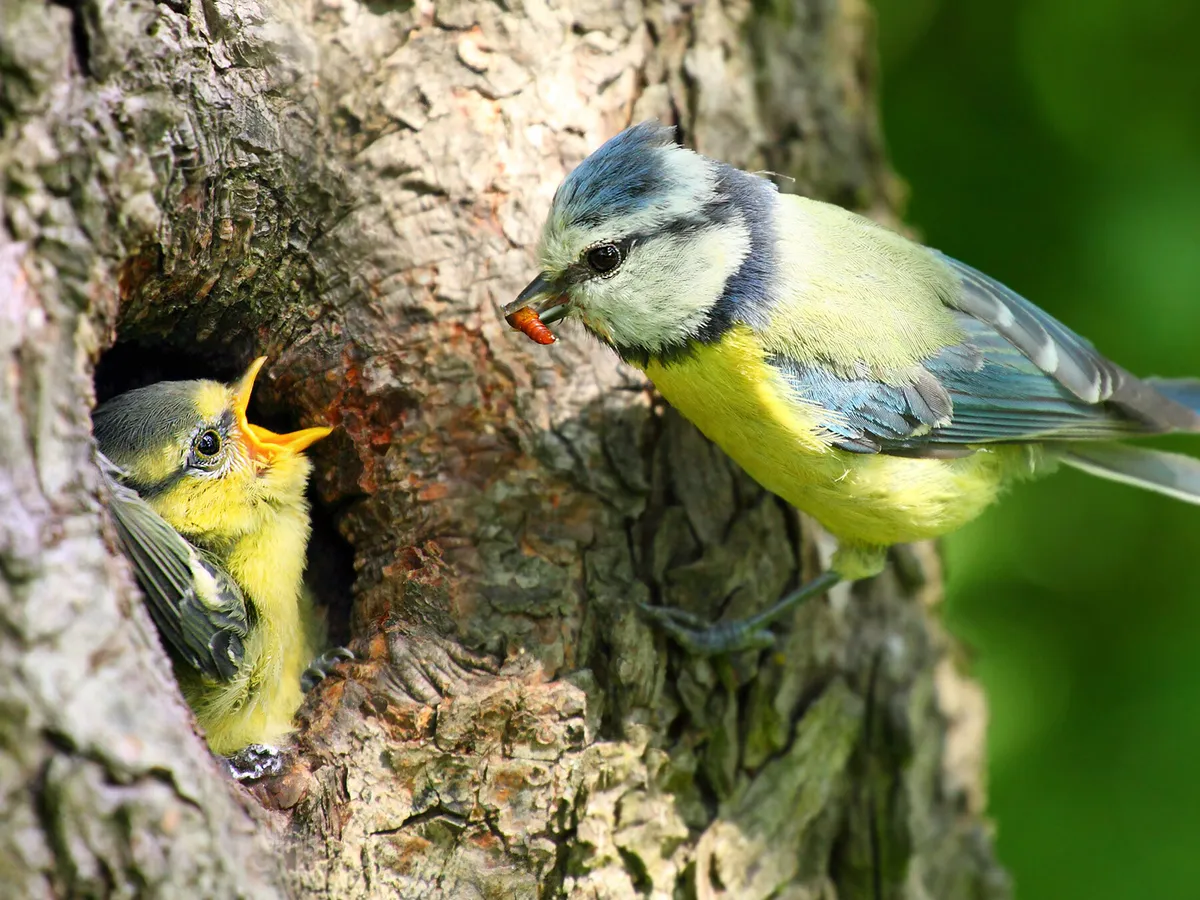 Blue Tits frequently use cavities to build their nests in
Where do Blue tits nest?
Blue tits prefer to nest in practically any hole, crack, or crevasse around 1 to 5m off the ground. Tree hollows created by rot or other animals and birds (especially woodpeckers) are a go-to choice.
Blue tits are also avid users of nesting boxes, providing they're mounted more than 1m off the ground and are neither too obstructed nor too exposed. Blue tits prefer a fairly clear and unobstructed flight path to and from the nest.
Despite preferring to nest above the ground, there have been observations of Blue tits making their nest in sheds, walls and other unlikely spots. For example, a wildlife enthusiast observed Blue tits moving in and out of a drain in St. Neots, Cambridgeshire. In other parts of Europe, Blue tits sometimes choose to nest in holes in the ground or rock cavities.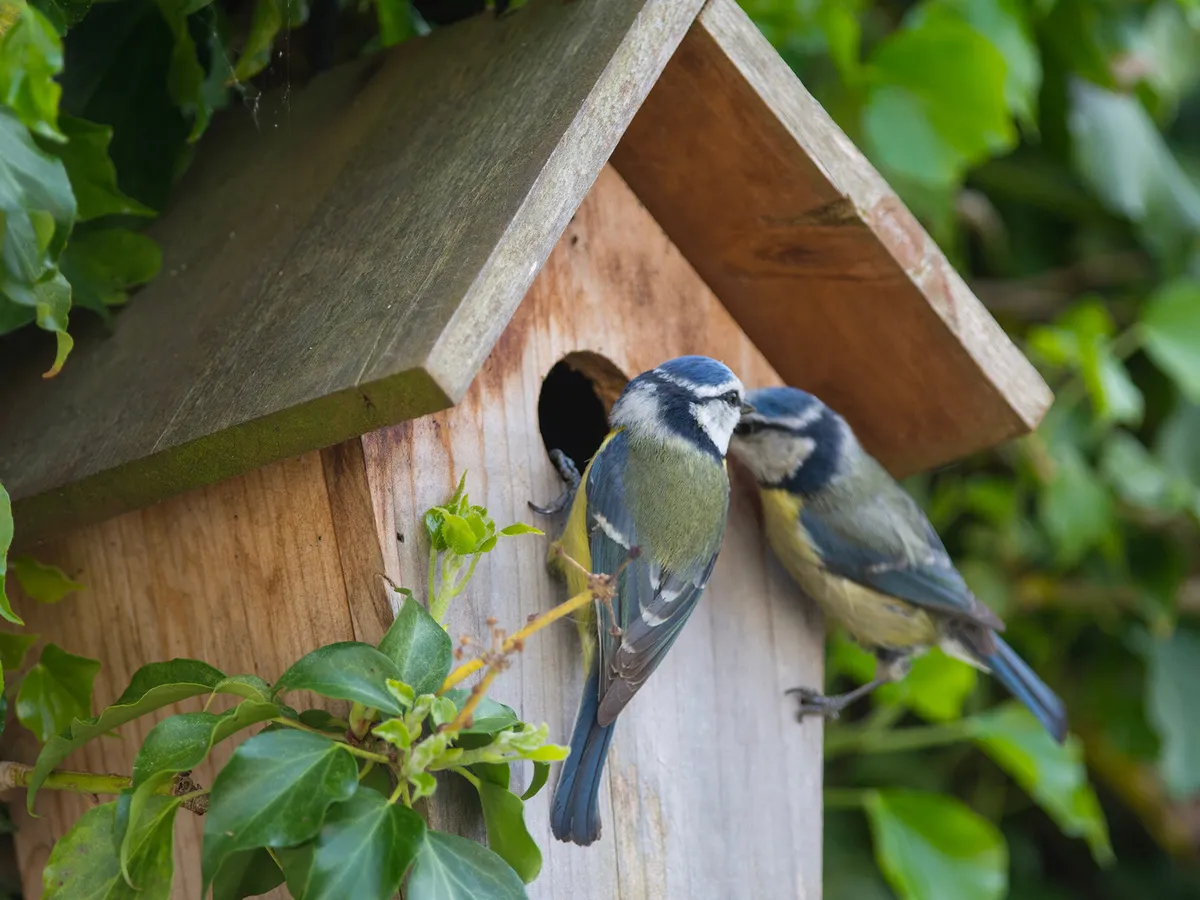 A nesting pair of Blue tits using a nest box
What do Blue tit nests look like?
Blue Tits nests are cup-shaped and built inside of a cavity. The cup is typically lined with moss, soft vegetation, leaves, hair and wool first.
The cup's interior is lined with softer, insulating materials like feathers, hair, wool, fur, etc. This creates a warm lining for the eggs and chicks. The resulting nest looks extremely warm and cosy!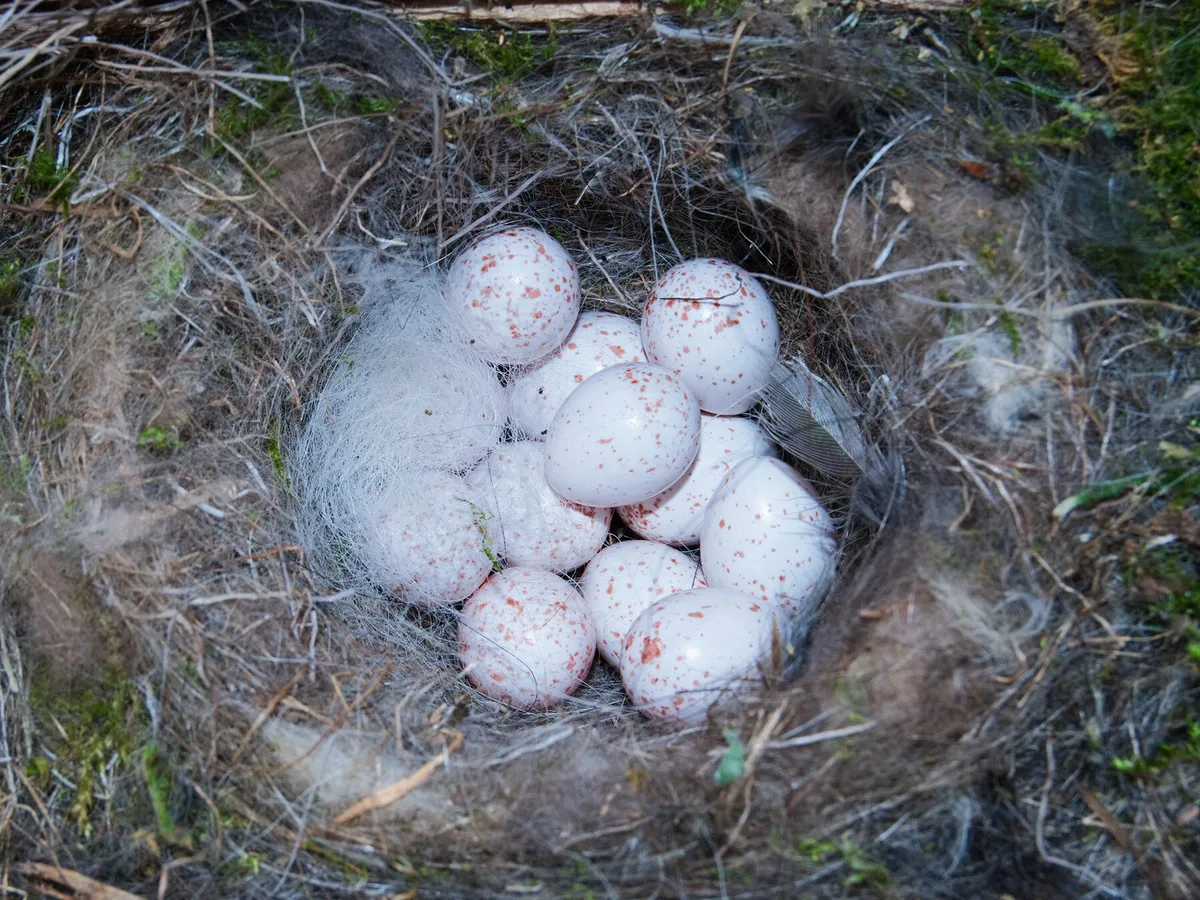 The nest of a Blue Tit inside a nesting box, with a large clutch of eggs inside
What time of year do Blue tits nest?
Blue tits typically nest between the months of March and June. In most of Europe, their peak breeding months are late April, May and early June. However, some eager pairs of Blue tits might build their nests in February or even late January on a particularly mild winter.
Pairs of Blue tits might prospect for a nest for as long as two weeks. Once they choose their spot, nest building gets underway and may take another two weeks, depending on the weather and availability of materials.
Almost all Blue tit chicks will have fledged or will be ready to fledge imminently by June. Late broods in July have been recorded in parts of Europe.
How long do Blue tits nest for?
Blue tits nest for around two months or more from start to finish.
Once Blue tits construct their nest in the early breeding season, they'll remain there until their chicks fledge. After the nest is finished, the female will start laying her clutch. She usually lays one egg per day, up to a maximum of 16 eggs!
Each egg weighs around 1 gram, which is around 10% of her total body weight. As you might imagine, the egg laying process is arduous and time-consuming, and it can take as long as two weeks for the female to finish laying every egg.
Even when she finishes laying every egg, her work is far from done. The female then has to incubate the eggs for 13 to 15 days. After the eggs begin to hatch, the chicks are brooded for around two weeks and are ready to fledge within 18 to 21 days.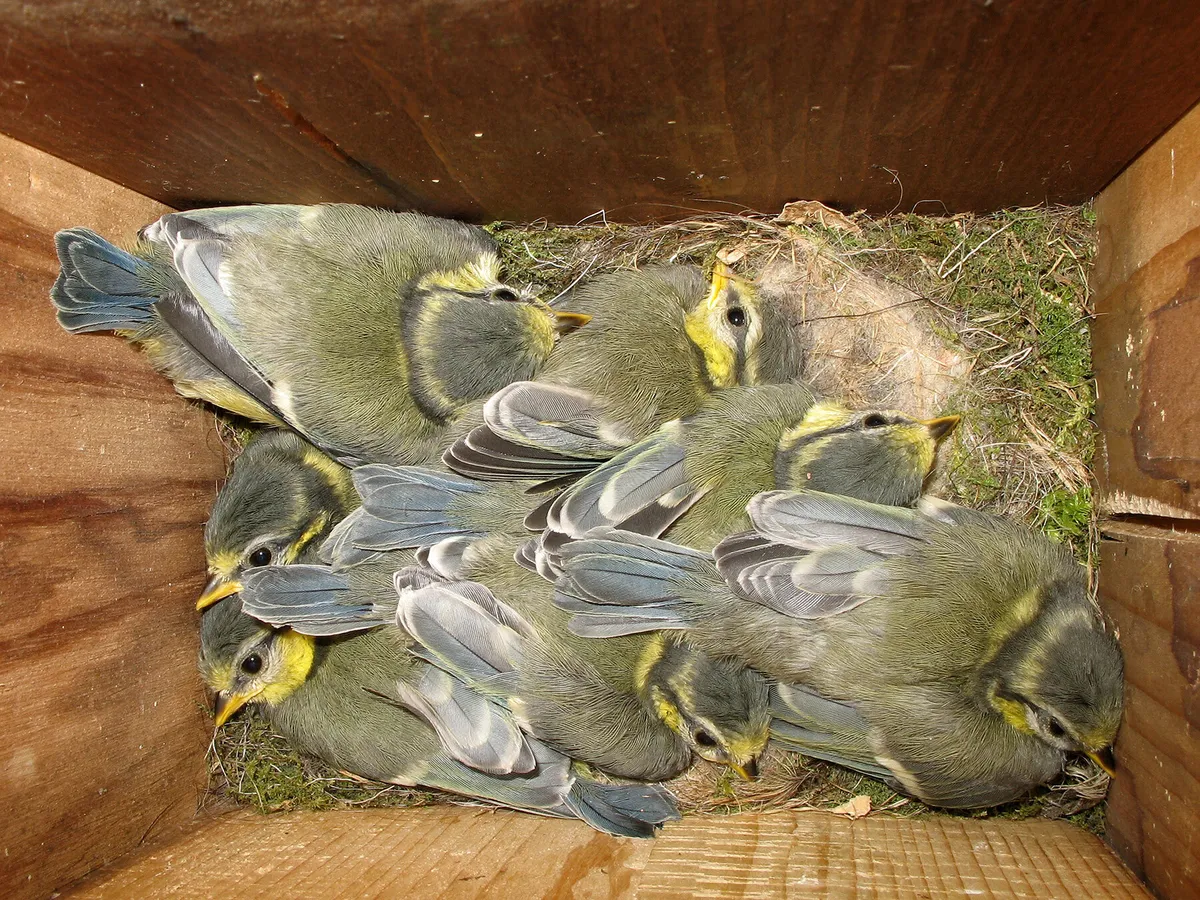 Young Blue Tit chicks inside a nest box
How do Blue tits build their nests?
Blue tits build their nests in cavities, meaning they don't really need to handle building a self-supporting platform or structure. Once they choose a cavity nesting site, the female begins to gather soft vegetation, leaves and moss to create the first layer of the nest, which usually looks like a small cup.
During this time, the male doesn't help build the nest, but he does become territorial to protect the female and prevent her from mating with anyone else. Once the female builds the first layer of the nest, she'll then obtain softer materials such as feathers, wool and hair to line the inside of the nest. The nest-building process takes anywhere between a couple of days to a couple of weeks.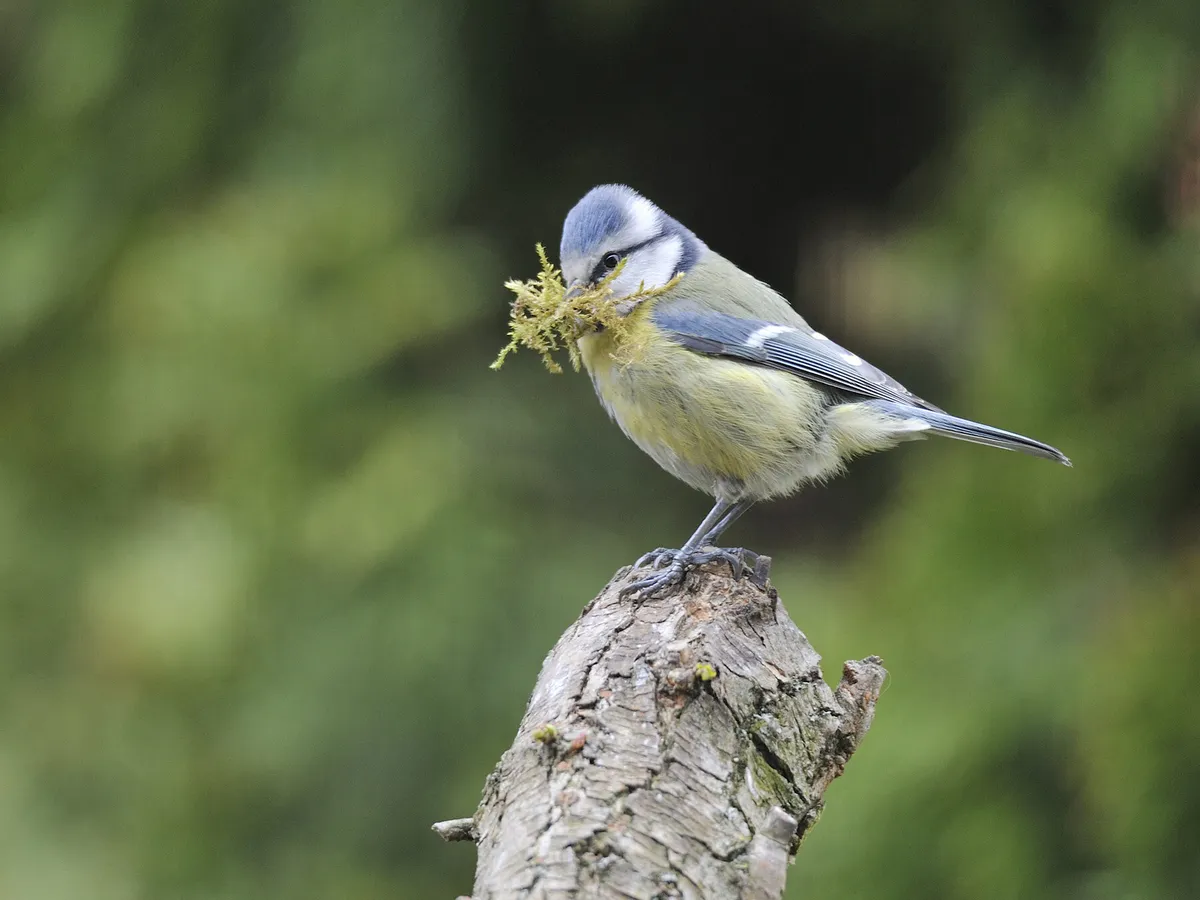 A Blue Tit gathering nesting materials to construct the nest
When do baby Blue tits leave the nest?
Baby Blue tits leave the nest (fledge) in approximately 18 to 21 days. However, if the nest is disturbed, they may be able to leave marginally sooner.
Since the female Blue tit lays a large clutch of around ten eggs, laying an egg each day, the chicks will also leave in stages rather than all together. As a result, the late-hatching chicks have a lower chance of survival than those that hatch first.
When it's time for a chick to fledge, the parents will beckon them outside by calling.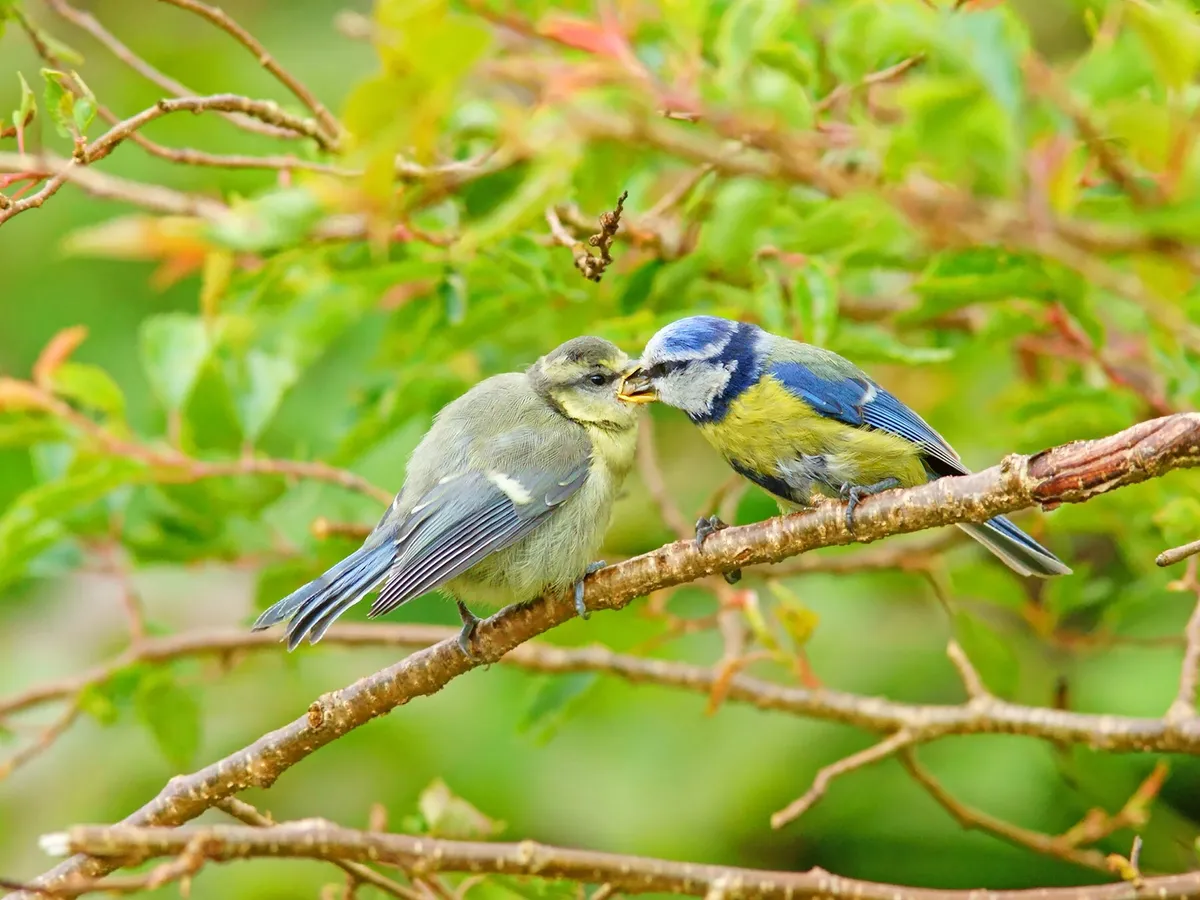 Adult Blue tit feeding a recently fledged chick
Do both Blue tits rear the chicks?
Both the male and female Blue tit contribute to raising the chicks. Without the participation of both, the chicks are unlikely to survive.
Blue tits often prospect nesting sites together. Once they choose one, the female builds the nest alone. The male sometimes feeds her while she builds it. Once complete, she'll lay her clutch, and the male will defend her, though he may also fly off to attempt to mate again.
When the chicks hatch, the male usually feeds them for around two weeks, though the female does contribute. The hungry chicks are demanding and may eat as many as 1,000 caterpillars a day!
Blue tits are typically monogamous, though polygamy and promiscuity do occur. As many as 40% of nests contain a chick reared by a male who isn't the genetic father.
How many broods do Blue tits have?
Blue tits nearly always raise a singular brood. This is certainly the case in the UK, where second broods are very rare, even when the birds fail to raise a brood early in the season (e.g. in the event the entire nest fails).
Blue tits are more likely to raise more than one brood in other parts of Europe, but data on this is lacking. Overall, Blue tits are considered one-brooded, which means it's pretty much all-or-nothing for them each breeding season. Many other similarly-sized birds raise multiple broods.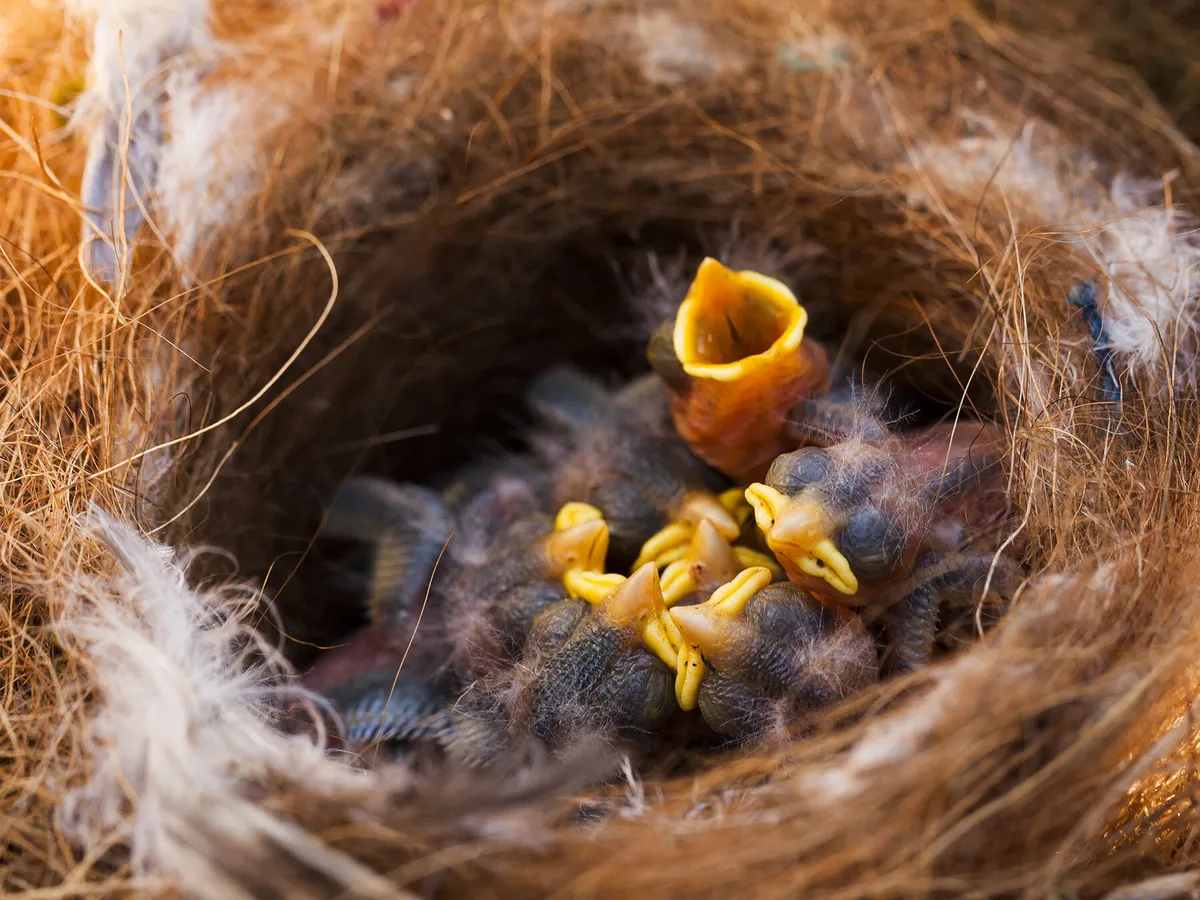 Recently hatched Blue Tit chicks in the nest
Do Blue tits nest in the same place every year?
Many Blue tits are sedentary and neither migrate nor disperse a great distance from their birthplace. So, they often nest in the same place every year, or thereabouts.
When a pair of sedentary Blue tits raise a successful brood, they'll probably return to the same area next year. In some cases, the same pair might reuse the exact same nesting site. Blue tits will only return to the same nesting site each year if it's the best option - they wouldn't forgo a better spot for a vaguely familiar one!
What do Blue tit eggs look like?
Blue tit eggs are predictably tiny, measuring 14 to 18 mm (0.55 to 0.71 in) long and 10.7 to 13.5 mm (0.42 to 0.53 in) wide. Larger females lay larger eggs, and eggs laid at higher altitudes are usually smaller.
The eggs of a Blue Tit are a pale white to cream with light brown speckles. The speckles are usually concentrated towards the base of the egg.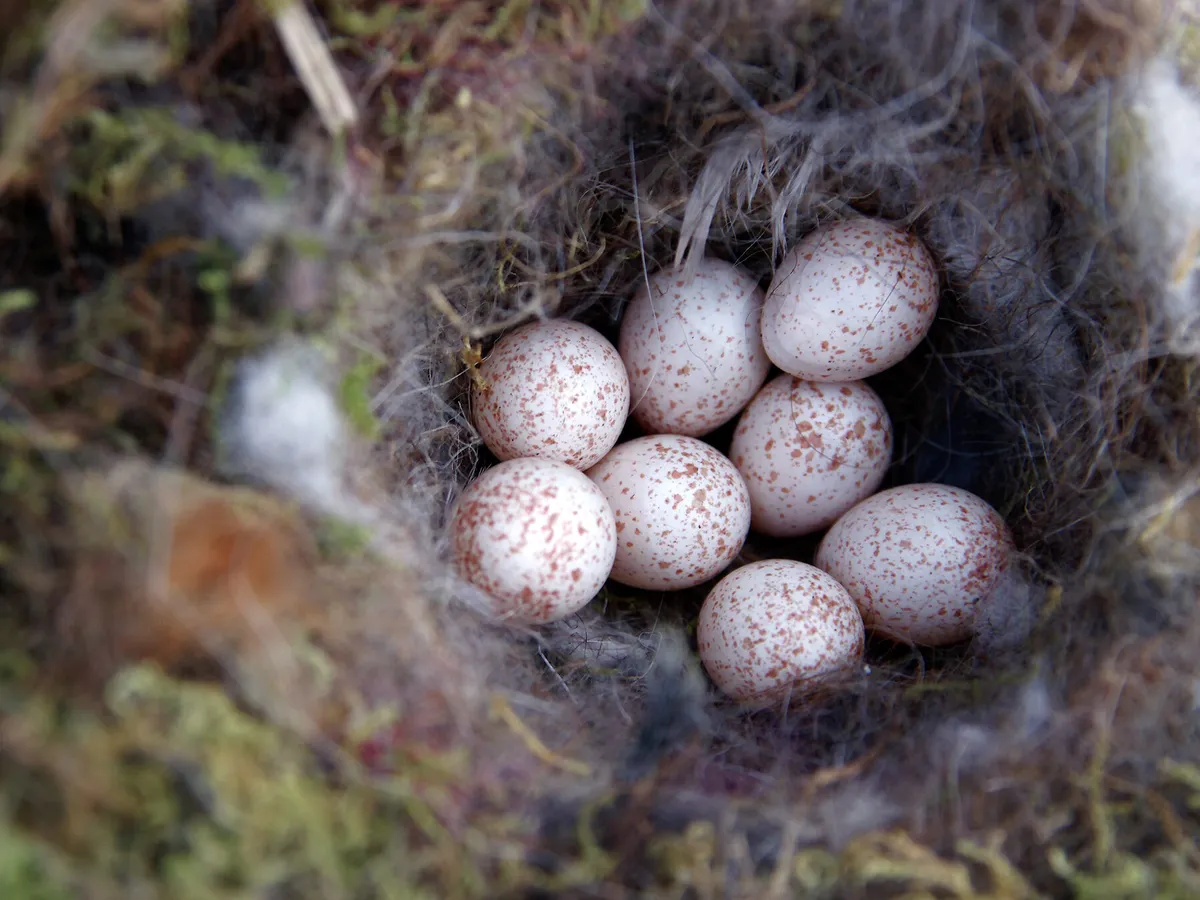 Close up of Blue Tit eggs in the nest
What month do Blue tits lay eggs?
In most of Europe, Blue tits lay their eggs in April, May, and early June.
Since they only lay one brood, there's little time pressure to get started early in order to fit in multiple broods. Instead, Blue tits often take their time to find the right spot and build a reliable nest before laying eggs.
Do Blue tits use nest boxes?
Blue tits are excellent users of nesting boxes. In the UK, Blue tits are probably the most common user of nesting boxes.
The BTO advises that Blue tit nesting boxes feature small holes of 25mm (around an inch) in diameter. This prevents larger, more dominant birds such as Great tits from kicking them out or monopolising local nesting boxes.
You can read the BTO's guide to building Blue tit nesting boxes here.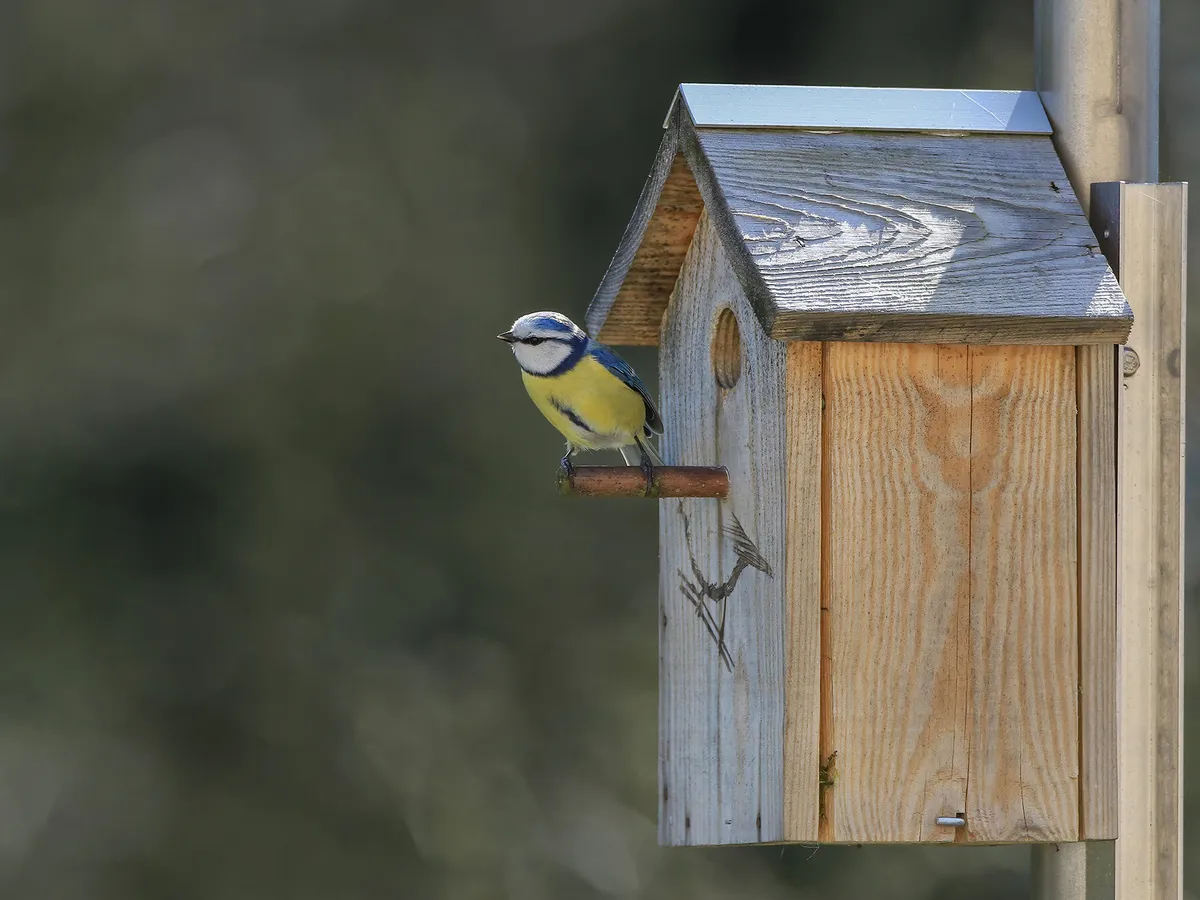 Blue Tit outside a nesting box
Where do Blue tits nest at night?
Birds don't always sleep solely at night, and they don't need a fixed abode to sleep in. Many birds, including Blue tits, will sleep on a branch or tree top perch at night rather than on their nest.
Throughout the breeding season, the female Blue tit spends practically all of her time inside the nest during egg-laying and incubation. After the eggs hatch, the female remains inside the nest throughout both day and night.
Do Blue tits nest in gardens?
Blue tits are one of the most common garden bird in the UK. They frequently nest in gardens and are lively users of garden nesting boxes.
Gardens offer an excellent refuge for Blue tits, especially when safe nesting boxes are provided out of the way of cats or other predators.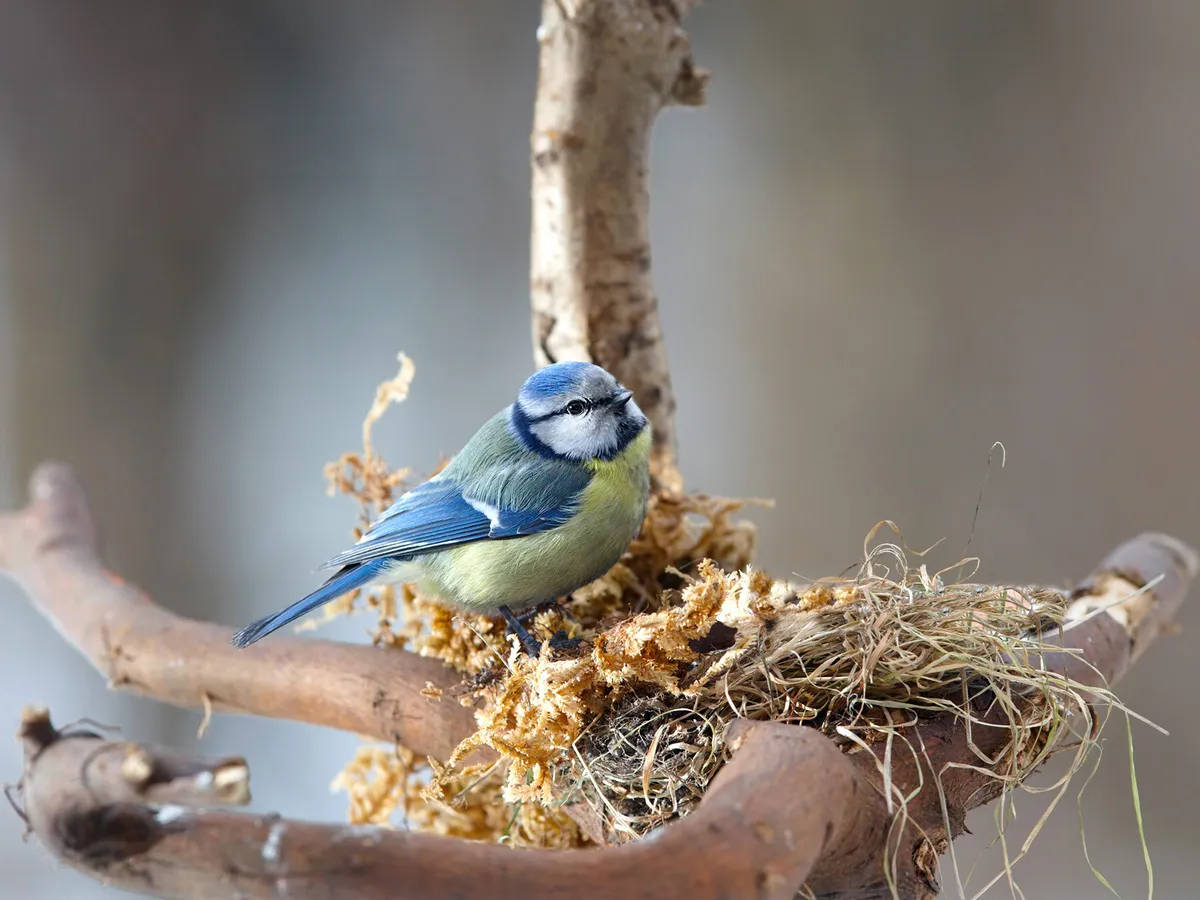 Eurasian Blue Tit building a nest in a tree during the spring
Do Blue tits abandon their nests?
Blue tits do sometimes abandon their nests. Complete brood failure in Blue tits occurs around 13% of the time, according to one study of 684 nests. In most situations, one parent had left or disappeared while the chicks were still alive.
If one parent dies, it might be challenging for the other to raise the brood on their own. However, birds rarely abandon their reason without a highly compelling cause, however, and even single parents can successfully raise a brood if one of them dies during the breeding season.
In this situation, the remaining single parent might abandon the nest altogether. Unfortunately, some nests are also lost to predation, meaning the parents have no other choice than to abandon them.