Blue tits (Cyanistes caeruleus), are one of the most wonderful birds to have in your garden. I love watching blue tits prance and dance around the tree overhanging my garden. They are such fun little birds, but where do they migrate to? If they do migrate at all? Well, let's find out, shall we?
Most blue tits prefer to stay close to home, with only a few tits travelling more than 20km (12 miles) away from their nesting sites each year. Many blue tits never leave the area in which they hatched. There are, however, some individual blue tits that do migrate.
Blue tits are as curious as they are beautiful. As we'll see throughout this article, blue tits are a very interesting bird species. With many of them deciding to stay at home for the winter and others deciding to explore.
Some blue tits do like to migrate. These are more likely to be blue tits that live in very cold climates in Europe. So, if you begin to see a lot of blue tits in your area during the winter, they are likely blue tits that have moved away from their colder home countries and found food and shelter in the UK.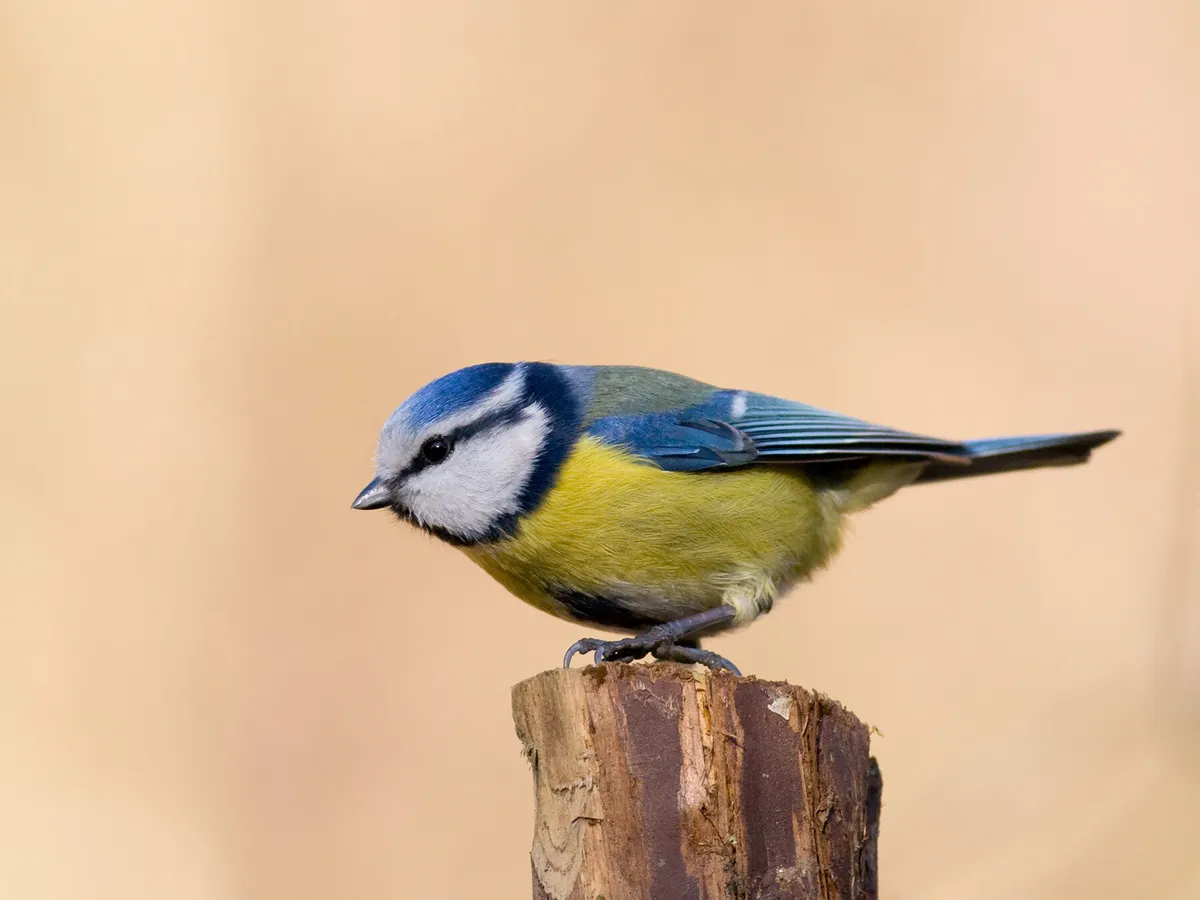 Blue Tits usually stay within 20km of their range
When do blue tits migrate?
Only about 1.2% of the blue tit population in the UK migrates, and this only happens during the winter.
However, the blue tits in the UK only move about 20km away from where they call home. There are some northern European blue tits that make their way to the UK during the harsher months of the year. So, if you do have more blue tits in your area than normal, they could be our European cousins enjoying the lovely warm, crisp, English winter.
Where do blue tits migrate?
Most blue tits that are native to the UK only move about 12 miles down the road from where they were born. During the winter, blue tits need to find warm shelter and food.
So, if their usual nesting grounds can't provide for them, they will go off and search for a hotel with a buffet elsewhere. But blue tits aren't too keen on road trips; they prefer a quick jaunt just down the road. So they can get back to the nest in time for spring.
Blue Tit perched on a branch with berries during winter
How far do blue tits migrate?
Native English blue tits only migrate usually a maximum distance of 20km.
They aren't really the soul-searching, road tripping, adventurous type of bird. There are some blue tits that do migrate a bit further, but these only make up about 1.2% of the population, and they don't move too much further than 20km.
There are some northern European blue tits that travel to the UK in search of warmer climates and food during the winter. But still, there are even northern European tits that will stay put and hunker down.
Do all blue tits migrate?
The majority of blue tits prefer to stay close to home and do not migrate. In fact, around 1% of all blue tits go any further than 20km away from their nesting grounds.
Blue tits are very much home-bodies; they like to be near where they were born. Even the blue tits that do travel further than 20km don't go much further. They prefer to find shelter and food where they live. It is only when shelter and food are not available in their area that blue tits will travel a bit further afield.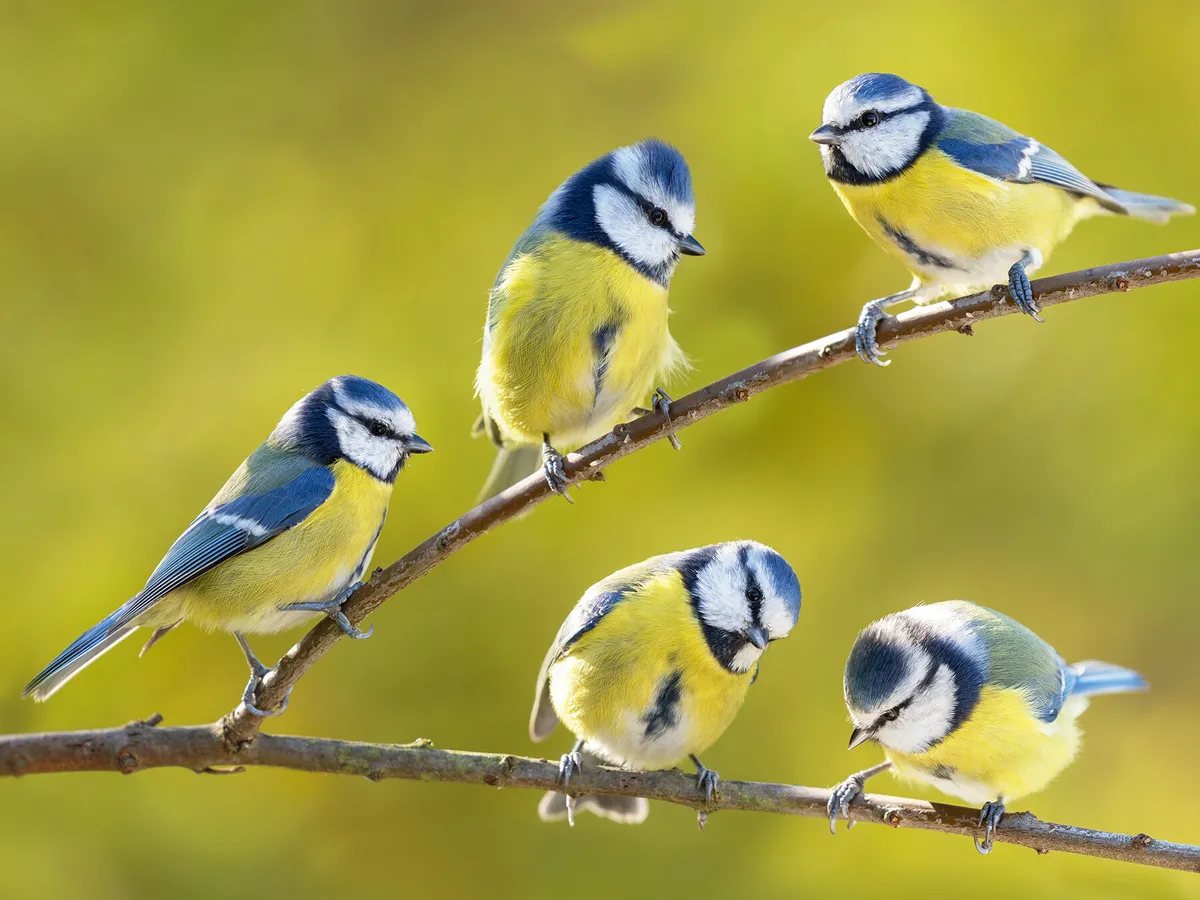 A group of blue tits in a tree
Why do some blue tits not migrate?
The reason that many blue tits do not migrate is actually because of us. You may see a lot of blue tits around your feeding station throughout the year, and this is a big reason why they don't leave. Blue tits have learnt about feeding stations and are quite happy to get all of their food from them. So, if you have blue tits living in your area and you see them throughout the winter, chances are, they love the food you are putting out.
Blue tits rely heavily on feeding stations all year round, but particularly in the winter. So, if you have some feeding stations in your garden, please keep filling them up in the winter. The blue tits still need them. In fact, they need them more in the winter than in the summer. You may have hundreds of blue tits relying on you. No pressure, but you have hundreds of cute little mouths (well, beaks) to feed.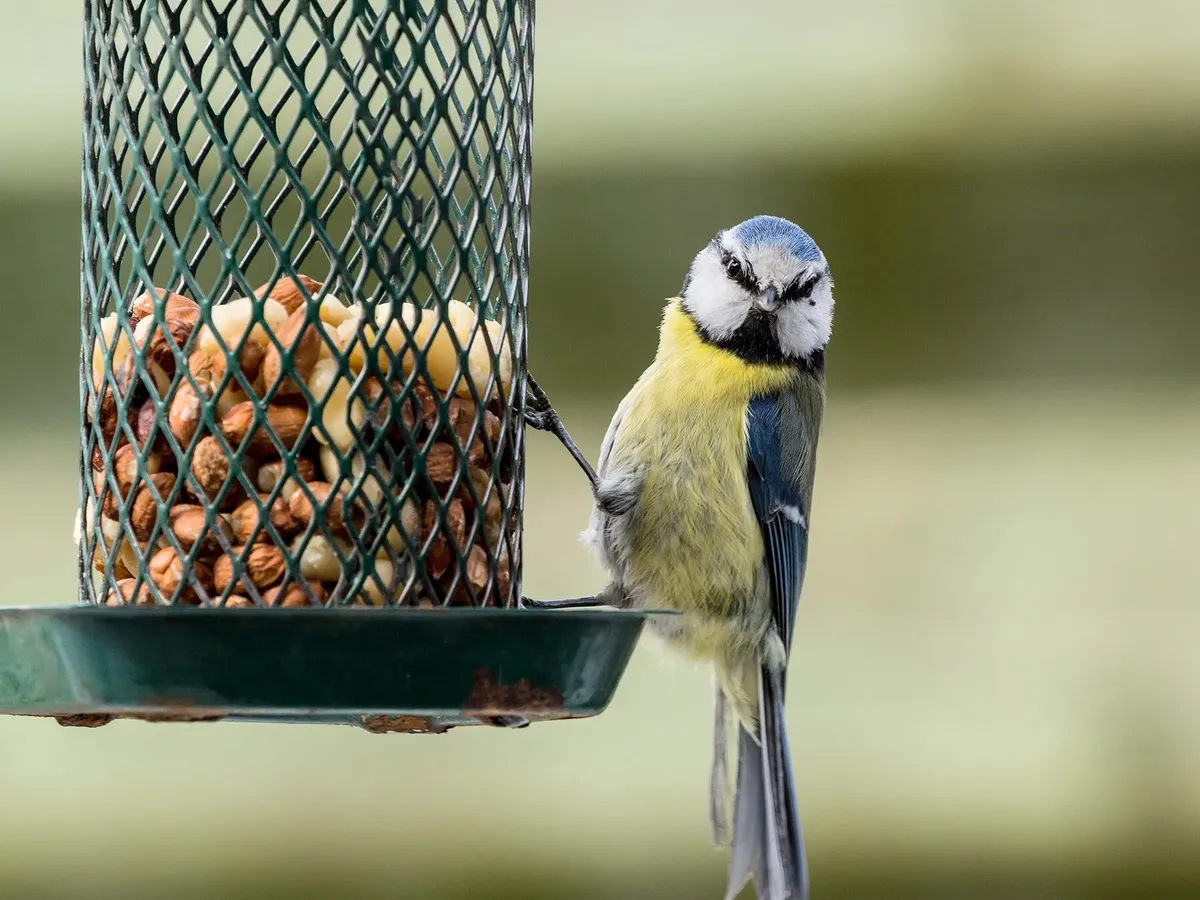 Eurasian Blue Tit on a feeder in the garden
Where do blue tits go in the winter?
Even though a lot of blue tits don't migrate very far in the winter, you may see less around. This is because blue tits try and find shelter in the winter. If you have woodland near you, they will likely be sheltering in the trees.
Blue tits may also use bird boxes in the winter, but they only use them for security during the colder months. If they like the box and they find a mate, they may begin making a nest in the spring.
Where do blue tits go in summer?
During late-summer, early-autumn, you may notice fewer blue tits in your garden. This is because, like many other bird species, they go off into the wilder countryside to find different food sources.
As blue tits don't migrate, they need to keep their strength up for the colder months. So, the reason you don't see them is that they are off eating as much as their little stomachs can handle.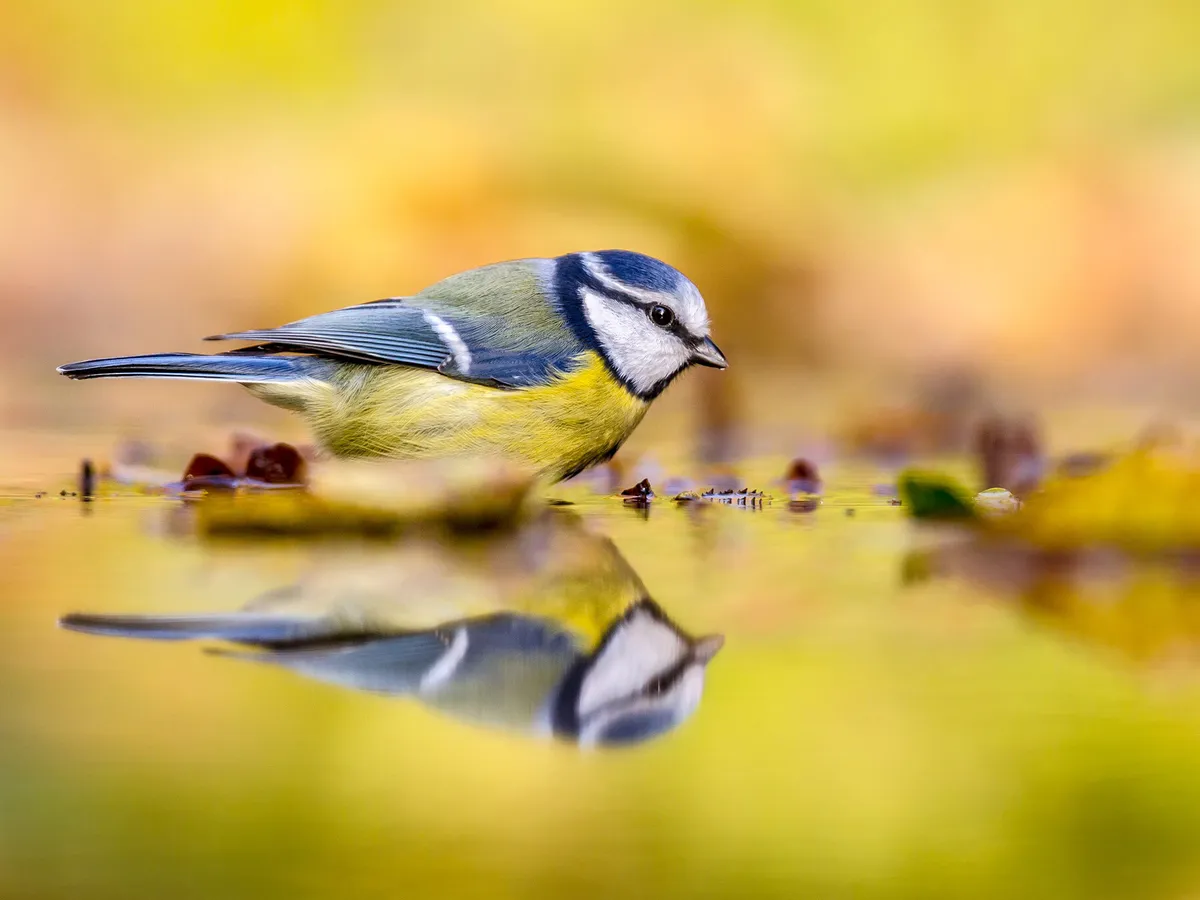 Blue Tit having a drink of water, in the autumn
What can I do to help non-migratory blue tits in the winter?
One of the biggest reasons that blue tits don't migrate in the winter is because of feeding stations in gardens. They have learnt that they can get a lot of food in gardens over the winter months. So, please keep your feeding stations stocked up.
Sunflower seeds, nuts, fat balls and other fatty foods are great options. They are still very partial to mealworms and other insects in the winter, though. Keeping their larder stocked is a great way of keeping blue tits around in the winter.
You can also add some bird boxes to your garden to provide them with shelter from the cold air. They will pay you back in lovely little prances and dances.