Quick Facts
Classification
Scientific name:
Periparus ater
Family:
Tits
Conservation status:
Green
Measurements
Length:
11.5cm
Wingspan:
17cm to 21cm
Weight:
8g to 10g
What does a Coal Tit look like?
Adult coal tits are easy to distinguish from other tits due to the patternation and colouring of their heads in particular and their muted, rather dull body colour when compared to the larger blue tit.
The head is black with a black bib and the cheeks are white. The top and nape of the neck are white which helps in identification when viewed from behind. They have a greyish slightly olive coloured back and a creamy buff underside. Their wings are dark grey with two clearly defined white bars.
They have a narrow slender bill that enables them to forage for insects in the bark of conifer trees, their favoured habitation. Juvenile birds are similar but the white patches on their cheeks have a yellow tinge.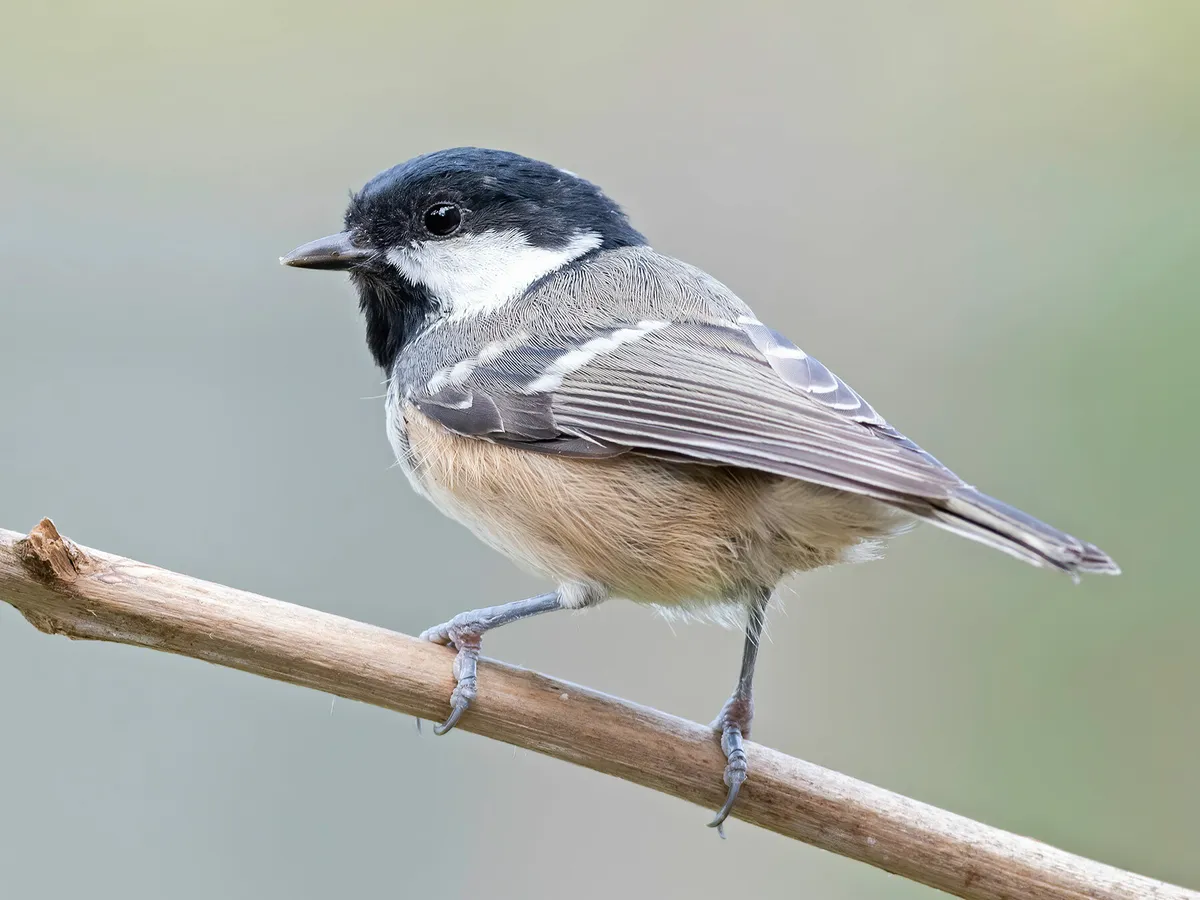 Close up of a Coal Tit
Did you know?
Tits are classed as Passerines from the order Passeriformes which accounts for more than 50% of the global bird population. The word passerine comes from the Latin, passer, meaning sparrow. The word now denotes all birds with feet adapted for perching where they have three forward facing toes and one facing backwards. In general songbirds are also passerines.
How big is a Coal Tit?
The Coal Tit grows to be between 10 and 12cm (roughly between 4 and 5 inches) long which makes them one of the smallest breeding birds we have in the UK.
How much does a Coal Tit weigh?
The coal tit weighs between 7 and 12 grams (0.2-0.42 oz).
What is the Coal Tit's wingspan?
The coal tits wingspan is between 12 and 17cm (roughly 6-8 inches) long.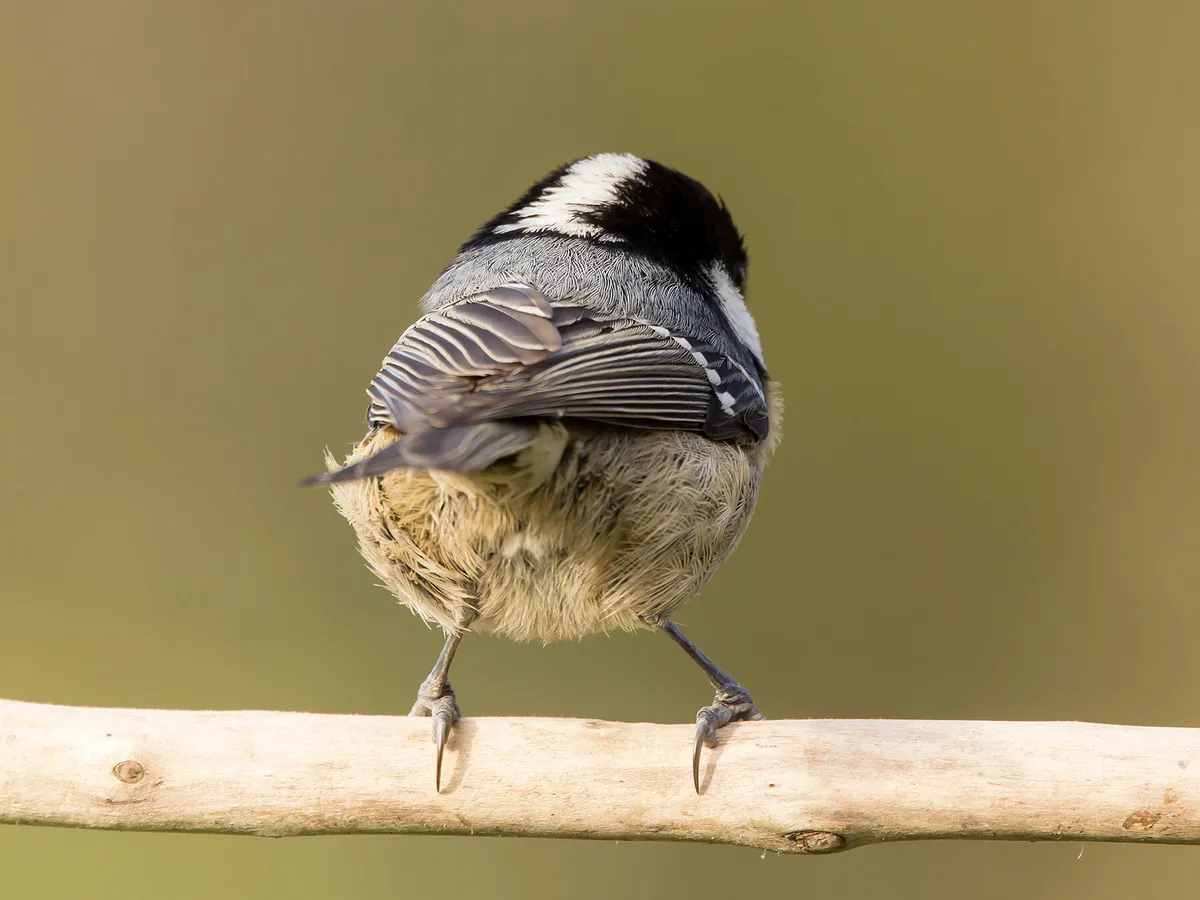 Coal Tit from behind
What is the Coal Tits latin name?
The Latin name for the Coal Tit is Periparus ater.
As these birds are in the tit family, they inherit the pre-existing genus name of Periparus, but the ater on the end means 'dull black' in the Latin language.

Are Coal Tits friendly? Or aggressive?
Generally, coal tits aren't aggressive at all, and due to their size are usually the ones to be scared off by other wild birds, usually at bird tables - notably the notorious Great Tit.
As most birds do, they do become territorial during the breeding season and will do their best to defend their nest and young. During this time, they'll often be out on their own or in a pair. Outside of the breeding season, they're highly sociable and will happily form flocks with other individuals of up to 50 birds. There have been flocks recorded into the thousands in Siberia.
Coal Tits are wild birds and generally won't interact with humans, but keeping your bird table and bird baths topped up and clean can help them.
How long do Coal Tits live for?
The average life expectancy is about two years although a ringed bird was aged at nine years two months at the date of death.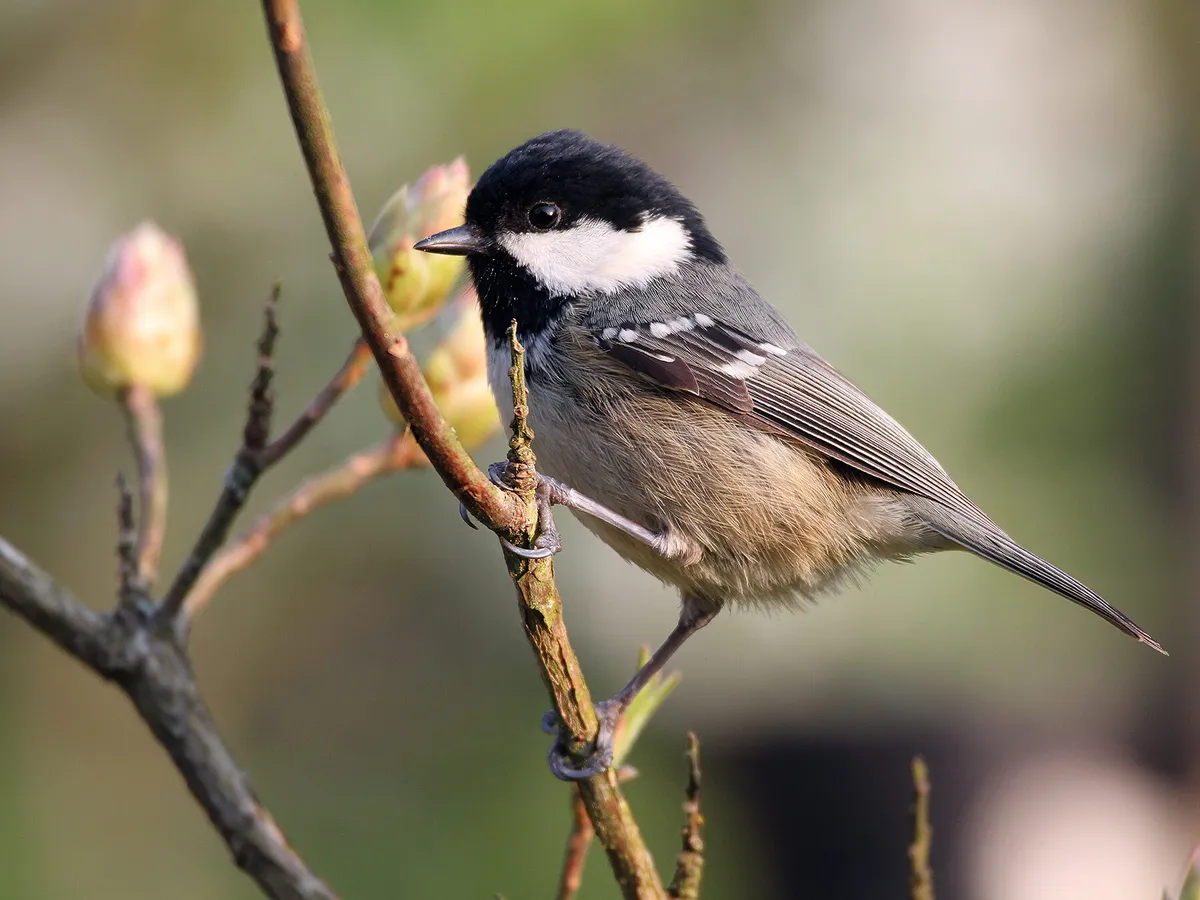 Coal Tit perched on a tree branch
What eats a Coal Tit? Predators and threats
Sparrowhawks are generally the biggest threat to coal tits, as they are to most garden birds.
Are Coal Tits endangered?
Coal Tits are currently listed with a Least Concern status, which means they aren't currently globally threatened. They are estimated to have a breeding population in Europe of between 13,000,000 and 27,000,000 pairs.
What does a Coal Tit eat?
Their favoured diet includes spiders, insects, nuts and seeds. They have a particular penchant for conifer seeds. They will often select their food then remove it from the area, hiding it away to consume later.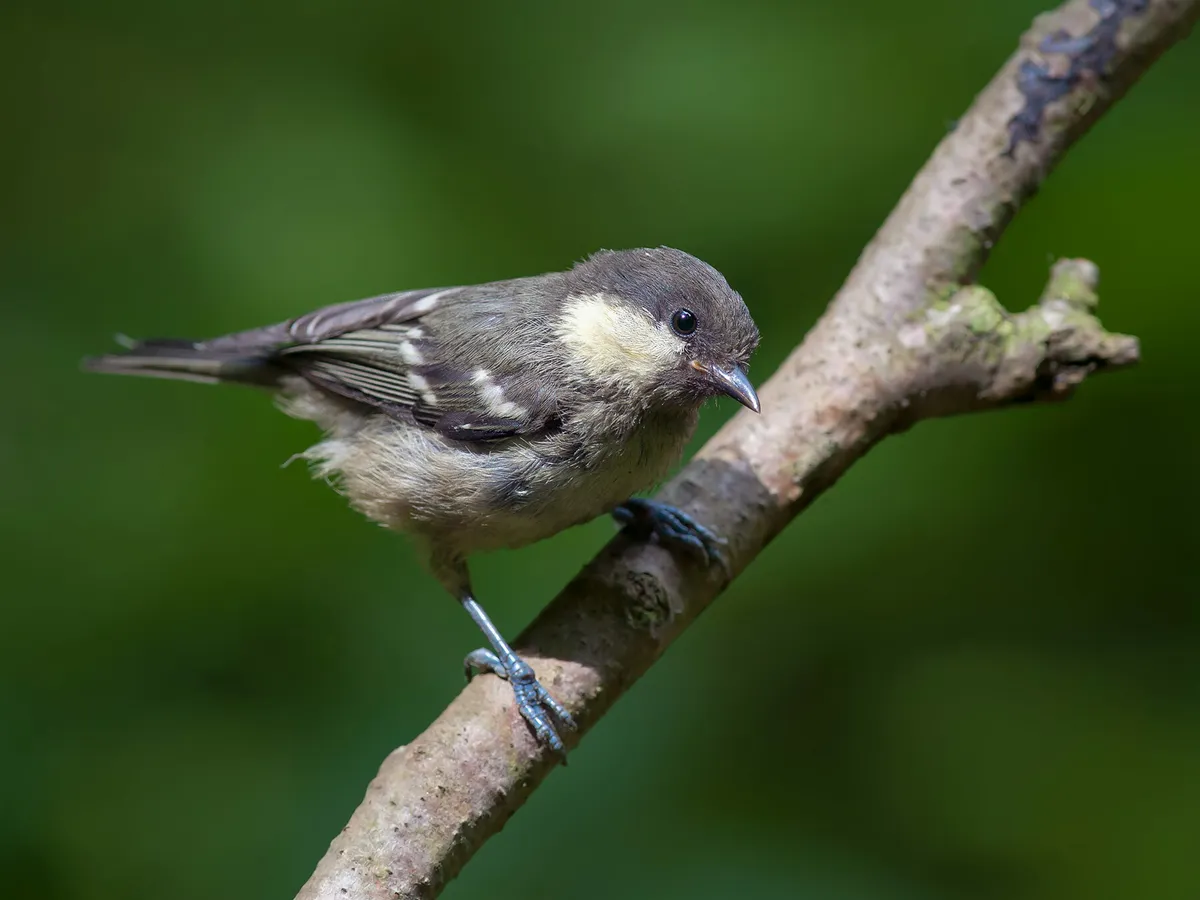 A Juvenile Coal Tit
Do Coal Tits mate for life?
Coal Tits are monogamous birds and develop a life-long bond with one another. There was a pair recorded together for six years. As mentioned previously, they get extremely territorial over their nests.

How many eggs does the Coal Tit lay?
Females usually lay one or two clutches of between 5 and 13 eggs per year. Females will then go on to solely incubate the eggs for 14-16 days. The eggs are usually laid between March until late July, but this can vary depending on the range.
What do Coal Tit eggs look like?
Coal Tit eggs are smooth, white glossy eggs that have red speckling. As you'd expect with the coal tits being tiny, their eggs are on average between 15mm and 12mm in size.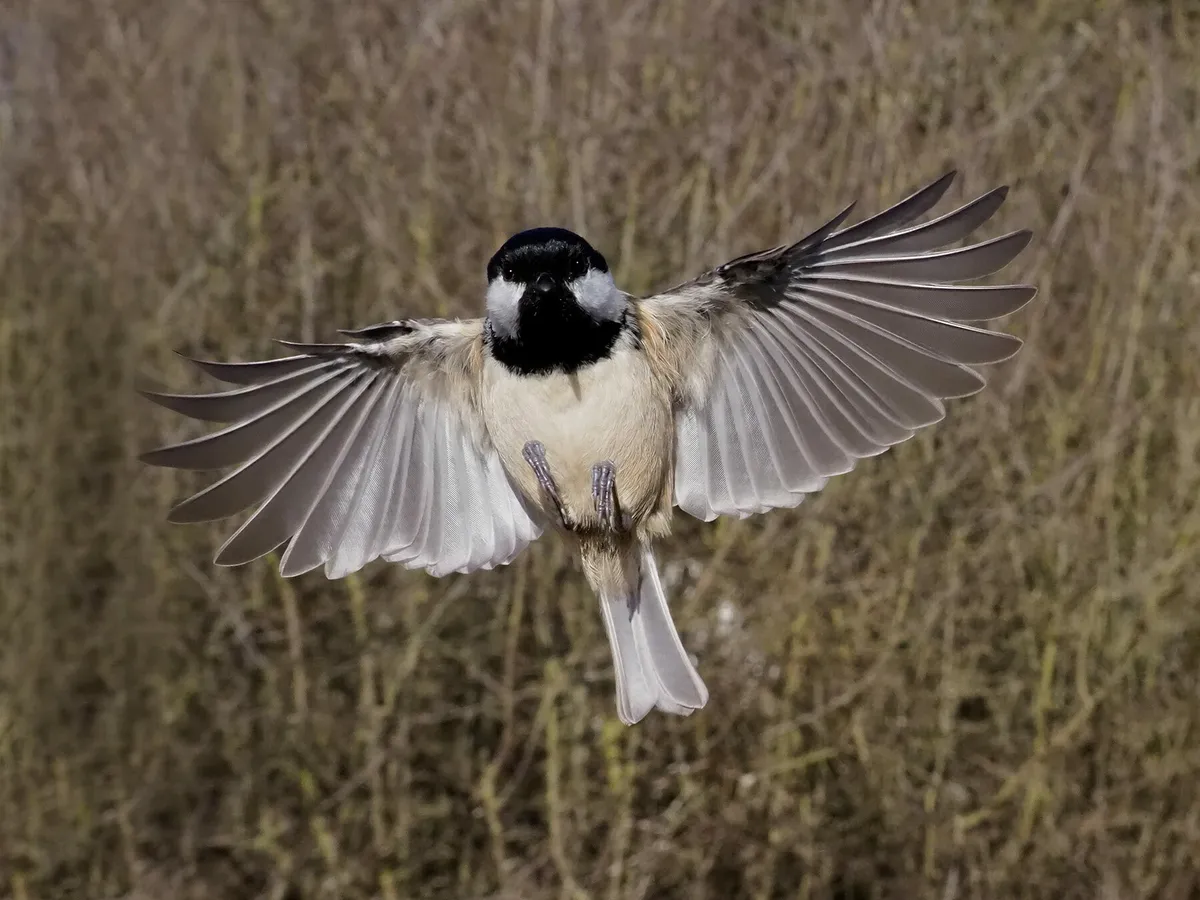 Coal Tit in flight
What does a Coal Tit sound like?
Coal tits have a high pitched tsee tsee sounding call with a high, repeated song similar to seetoo, seetoo, seetoo.
Coal Tit Call/Song
Stuart Fisher, XC627893. Accessible at www.xeno-canto.org/627893.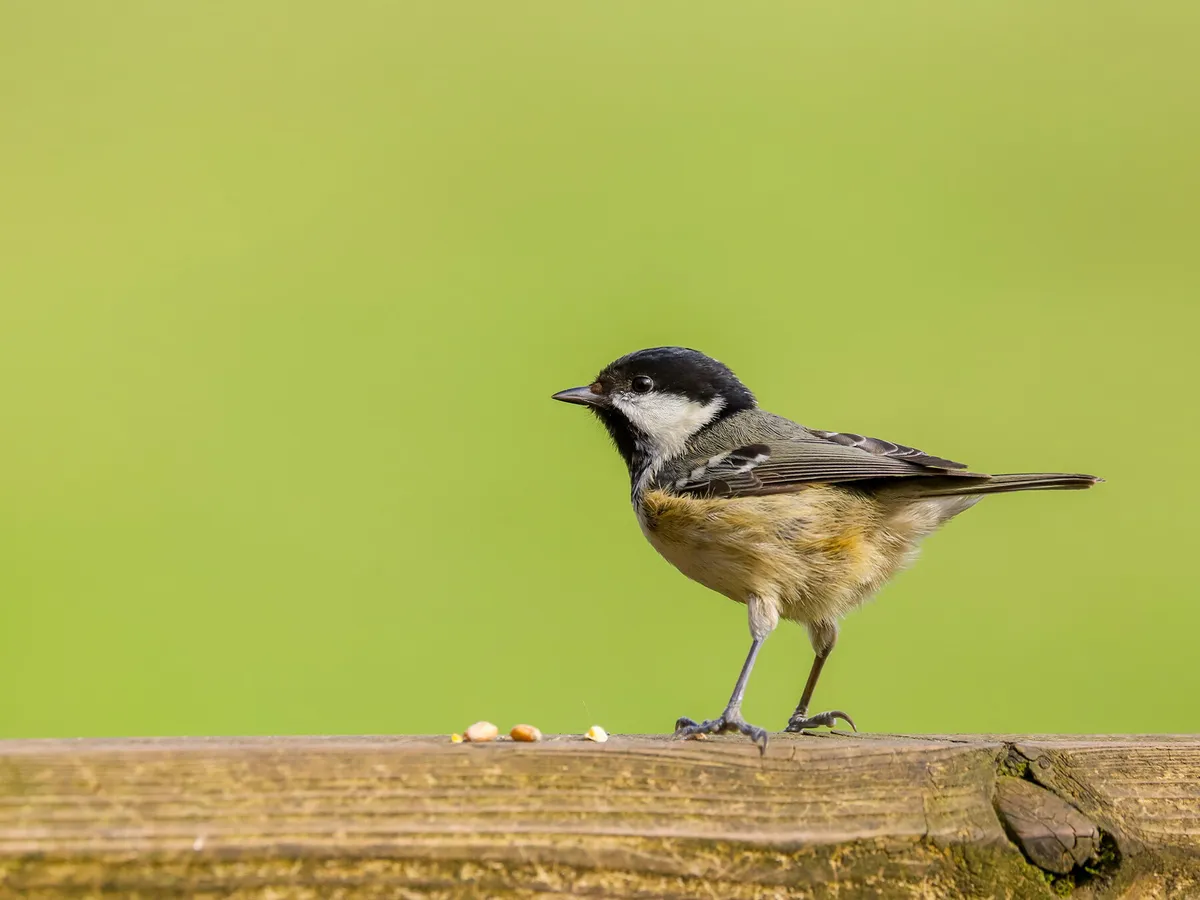 Coal Tit eating seeds
What is the habitat of the Coal Tit?
Whilst they favour conifer woods they can also be found in deciduous woodlands, parks and gardens. Often heard rather than seen feeding high up in the trees they are also very active little birds and will feast from garden bird feeders and bird tables.
During the winter months, they will often flock with other tit species.
Signs and Spotting tips
In appearance, you are more likely to have difficulty distinguishing the Willow Tit and the Marsh Tit from the coal tit than other tits found within the UK. This is mainly due to their size and overall colour which is smaller and duller than Blue Tits or Great Tits. Neither the marsh nor the willow tit has wing bars whereas the coal tit has two and the blue tit and great tit only one. The coal tit is also the only one to have the distinctive white patch on its nape. They will often nest almost at ground level in old tree stumps and are the smallest tit resident on our shores.
Coal Tit gathering nesting materials
Where do Coal Tits nest?
The nests are built by the females alone in tree stumps, holes in trees, walls and often nesting boxes which they tend to occupy earlier than most other passerines who will occasionally eject them for their own use. Usually, the hole or cavity they choose has an extremely narrow entrance.
Nests are cup-shaped and are mainly made out of moss, but they'll also use feathers, wool and some animal hair.
For more information on Coal tit nesting, check out this guide.
Do coal tits use nestboxes?
Coal tits will use nest boxes from time to time and require an entrance hole of 25mm. They are known to be ejected sometimes by other birds including blue tits.
They are known to nest in nest boxes designed for blue tits.
Do Coal Tits migrate?
Adult coal tits in central Europe and Scandinavia are generally residents, but juveniles often migrate south during late august and November to southern parts of France and northern Italy.
If seed crops fail, this makes the number of birds that migrate significantly larger, meaning numerous large flocks of thousands can make southern movements.
Do Coal Tits store food for winter?
Yes, coal tits are known to store food from June to December to consume over the winter. This is mainly spruce seeds and invertebrates when these seeds are not available.
In parts of its range, this stored food will only make up a small part of the winter diet, but more so where harsher winters take place and food is not so easy to come by.
Are coal tits found across all of the UK?
Coal tits can be seen all year round in the UK, particularly in woodland (conifer woods are especially good places), parks and gardens.