Quick Facts
Classification
Scientific name:
Poecile palustris
Family:
Tits
Conservation status:
Red
Measurements
Length:
11.5cm
Wingspan:
18cm to 19.5cm
Weight:
10g to 13g
What does a Marsh Tit look like?
Adult marsh tits have a striking glossy black cap that runs from the base of the upper mandible over the head, passing across the bottom of the eye and covering the nape of the neck. The chin is also black, made more prominent by large white cheeks.
The back, upper wing area and tail are a greyish brown and the underside of the bird is pale buff. The iris is black or very dark brown and the bill is black tinged grey at its edges. The legs are slate grey and both male and female birds are similar in overall appearance.
Juvenile marsh tits are similar to the adult birds although the crown is more of a sooty black or brown and the underparts are paler with more of a greyish tint.
Nestlings, newly hatched birds, are initially altricial meaning that they are underdeveloped and rely on their parents for food and protection. They emerge naked and quickly form a pale greyish down covering which they have normally lost at the time of fledging when they resemble a normal juvenile.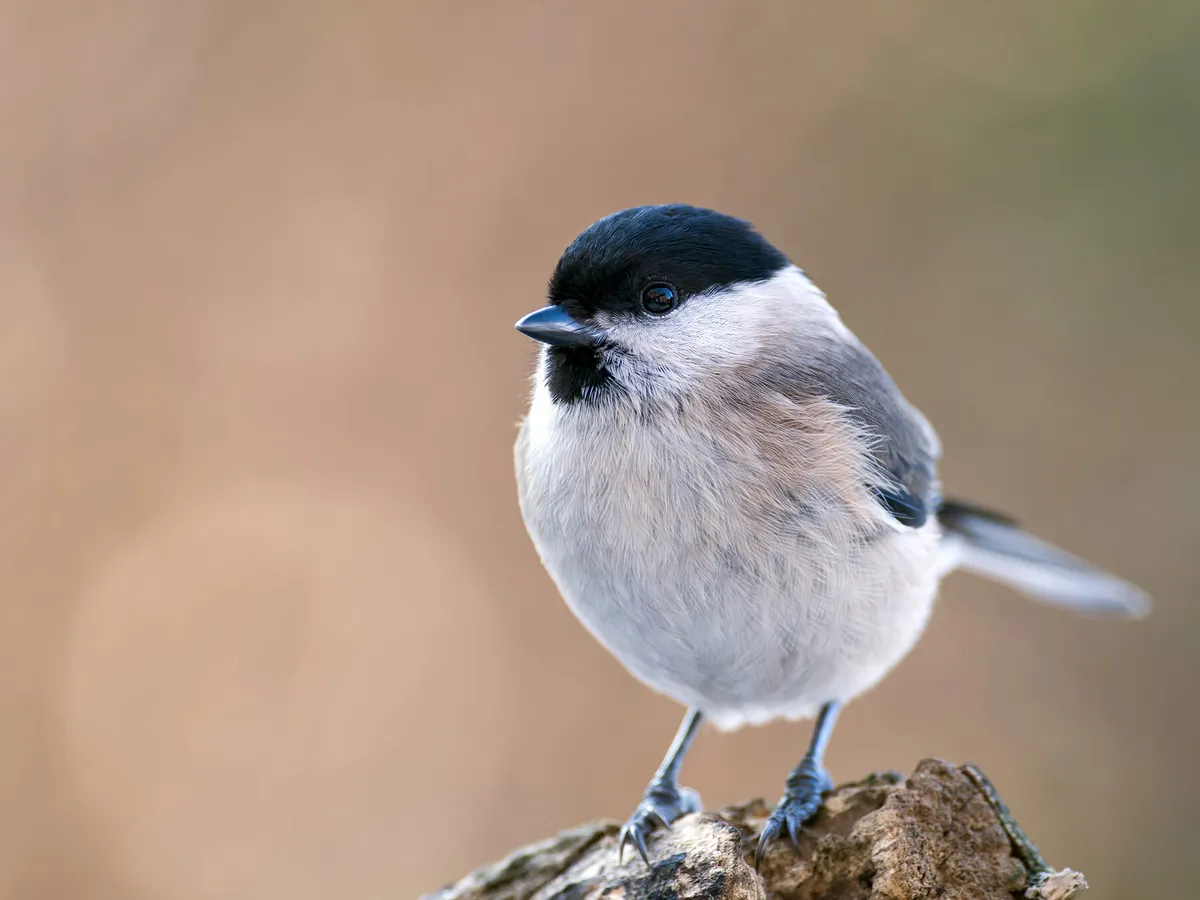 Close up of a March Tit
How big is a marsh Tit?
Fully grown marsh tits are on average 11.5 cm (4.5in) in length with a wingspan of up to 19cm (7.5in). They are similar in size and shape to other UK resident breeding tits, namely Willow Tits, Crested Tits, Coal Tits and Blue Tits.
How much does a Marsh Tit weigh?
At a weight range for an adult marsh tit as being between 10g and 12g (less than 1oz) they are a quarter of the weight of a fully grown common blackbird.
What is the scientific name for a Marsh Tit?
The scientific name for a marsh tit begins with the species name which is Poecile palustris. Being the nominate subspecies the United Kingdom and north and central European variant is entitled Poecile palustris palustris.
Poecile originates from the ancient Greek word poikilos meaning colourful or spotted and palustris is a Latin word which translates as 'marshy'. This is a bit of a misnomer as the title marsh tit is misleading due to the fact that the bird generally chooses broad leaf (deciduous) woodland as a habitat as opposed to swampy or marshy terrain.
The scientific name of the family to which the marsh tit is recognised is Paridae. This feathered family consists of 63 species of tits, titmice and chickadees and is predominantly found in forests across the northern hemisphere, including North America, although they also appear throughout southern Africa where they populate arid and scrubland areas. Paridae comes from the Latin word Parus meaning Tit.
The order in which the family belongs is that of Passeriformes the largest order of birds with over 6,500 individual species. Also known as perching birds due to their ability to perch on branches telephone wires and suchlike due to their three forward facing toes and one rearward facing toe which allows them to successfully enclose their feet around an object and hang on whilst maintaining their balance.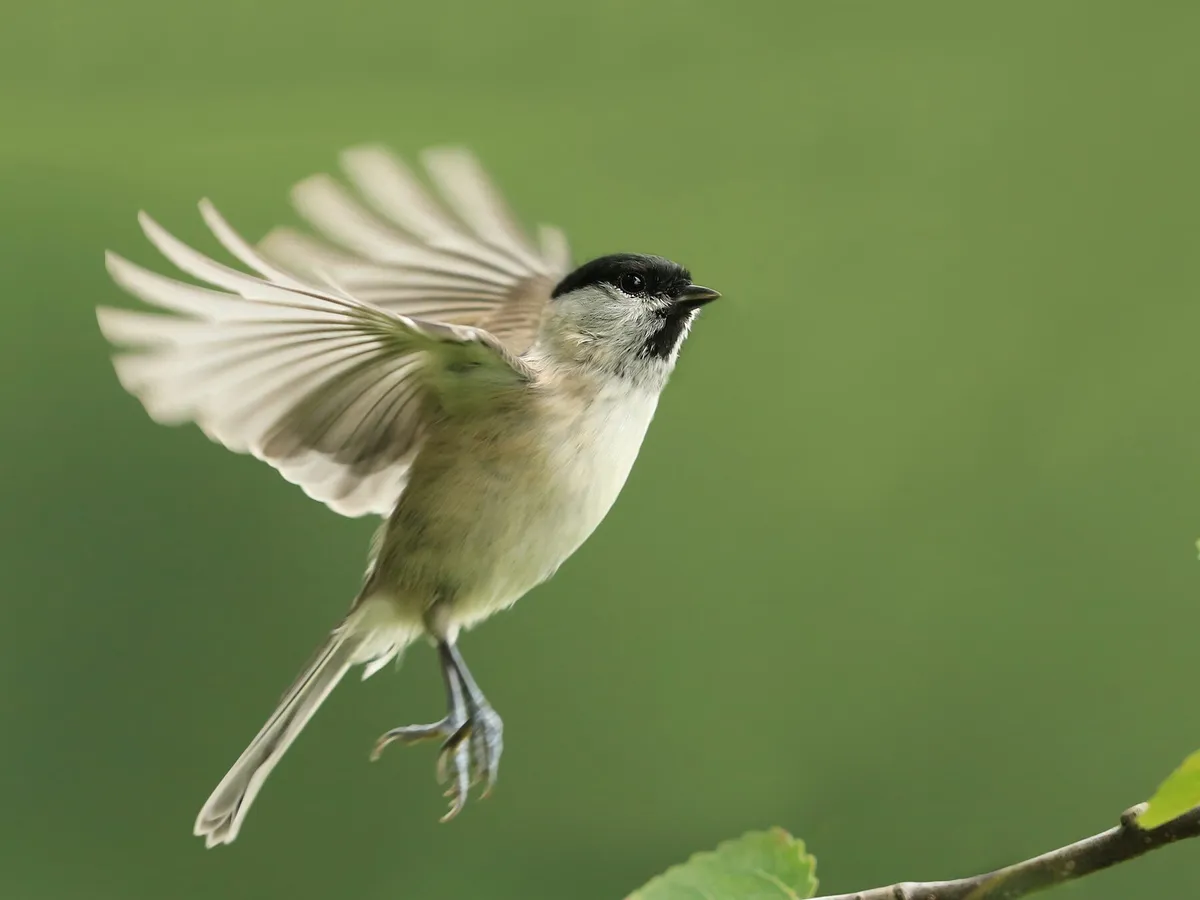 Marsh Tit in flight
Are Marsh Tits aggressive or friendly?
Marsh tits are not aggressive, and whilst not as sociable as most species of tit, often preferring the company of their mate away from other birds, marsh tits in very small numbers will occasionally join other mixed flocks of tits. Juvenile marsh tits that are yet to claim their own small territorial areas will sometimes flock together in small numbers, particularly when foraging.
How long do Marsh Tits live for?
Under normal conditions, the life expectancy of a marsh tit is generally between 2 to 3 years. However, a record exists of an individual European bird attaining an age just short of 12 years!
According to the British Trust for Ornithology, in 2015, a ringed bird was recorded as having lived for eleven years and three months from the date of ringing.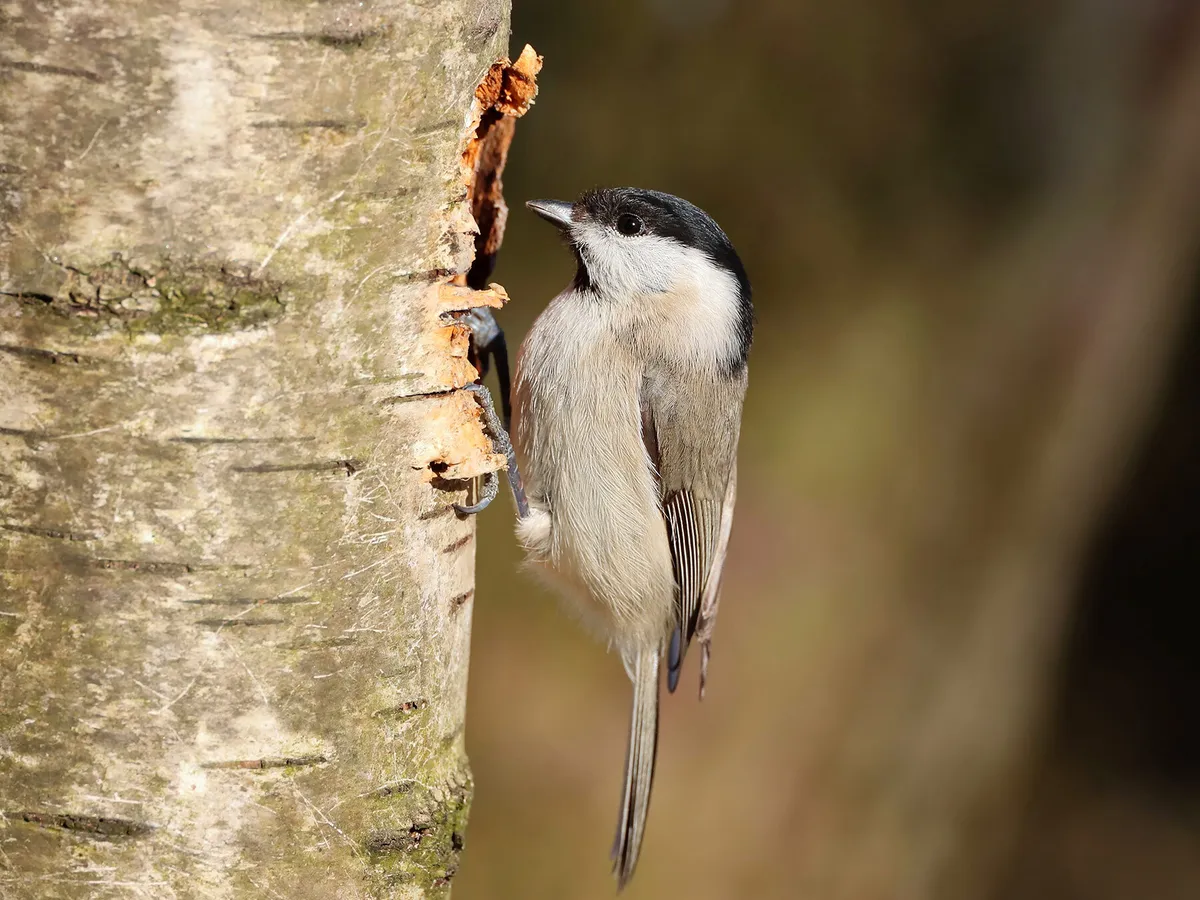 Marsh Tit on a tree
Are Marsh Tits endangered?
The conservation status of marsh tits globally is classified as being of 'Least Concern'. However, within the United Kingdom, due to a serious historical decline in numbers by up to 75% since the 1960's, the UK conservation status for the bird is 'Red', indicating the highest conservation priority.
Are Marsh Tits protected in the UK?
Within the United Kingdom marsh tits are protected under the 1981 Wildlife and Countryside Act.
What does a Marsh Tit eat?
During Spring and Summer months the marsh tit feeds predominantly upon spiders, insects, small snails, grubs and slugs; whilst in Autumn and Winter their diet changes to seeds, nuts berries and orchard fruits. They particularly like beechnuts.
Unlike most tits, marsh tits will only occasionally visit bird tables preferring to forage and find their own food if readily available.
The marsh tit will frequently store food for later in the season hidden in caches such as under the bark of a tree. The brain of this small bird has developed to such an extent that not only can the bird remember where each seed or titbit is secreted but it can retrieve each food item in the order in which it was hidden, a truly remarkable feat!
Marsh Tit eating seeds
Do Marsh Tits mate for life?
Marsh tits are indeed monogamous, meaning they pair for life. There have been rare instances recorded where male marsh tits will mate with a second female in the same breeding season, although it is believed, on the other hand, that females will only mate with a single male.
Where do Marsh Tits nest?
Rarely marsh tits will use nesting boxes but in the main, they will choose an existing hole in a tree or wall which the female alone will line with fresh moss, grass, animal hair or leaf matter.
How many eggs does a Marsh Tit lay?
Although other subspecies of marsh tit may lay up to two broods in a breeding season, those resident breeders within the United Kingdom lay one brood of between 6 – 9 eggs annually, from late April through to early June. Marsh tits breed from the age of one year.
The female incubates the eggs for between 14 – 16 days, and fledging occurs from 18 to 21 days after hatching.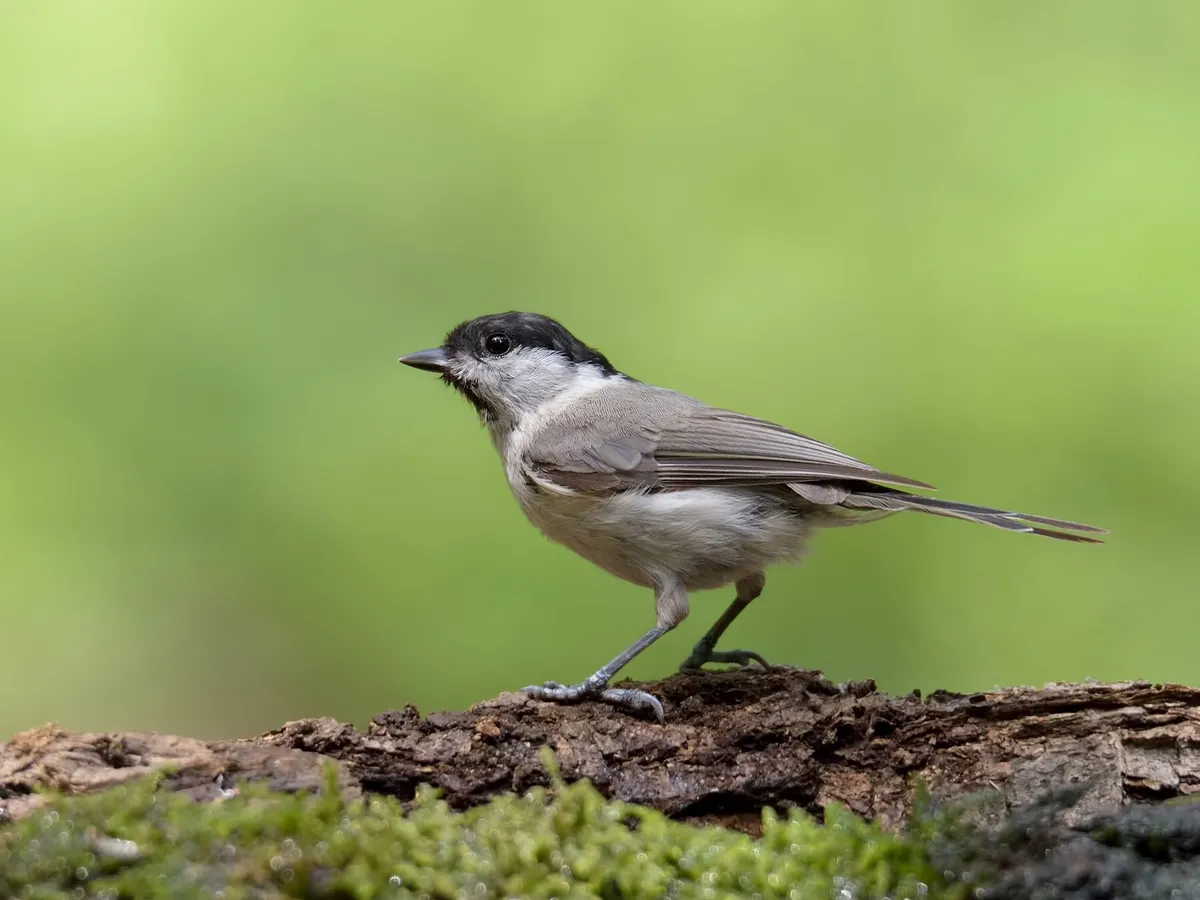 Juvenile Marsh Tit
What do Marsh Tit eggs look like?
Weighing just 1.2g (including the shell) marsh tit eggs measure 16mm x 12mm and are white in colour, speckled red.
What does a Marsh Tit sound like?
The marsh tit call is often a loud 'titi-zee-zee-zee', or a single note 'chare'. They also issue a very distinctive, sharp sound, almost sneeze like, of 'pit-chew'. This latter sound is unique and helps to differentiate the marsh tit from the almost identical willow tit.
When startled or in danger their alarm call consists of repeated phrases of 'pitz-its-its' although whilst nesting and looking after young the female will make a hissing sound to ward off predators.
Both male and female adults will sing, although normally limited to during courtship where songs consist mainly of trilling and chattering sounds.
Marsh Tit Call
Micha Luhn, XC666251. Accessible at www.xeno-canto.org/666251.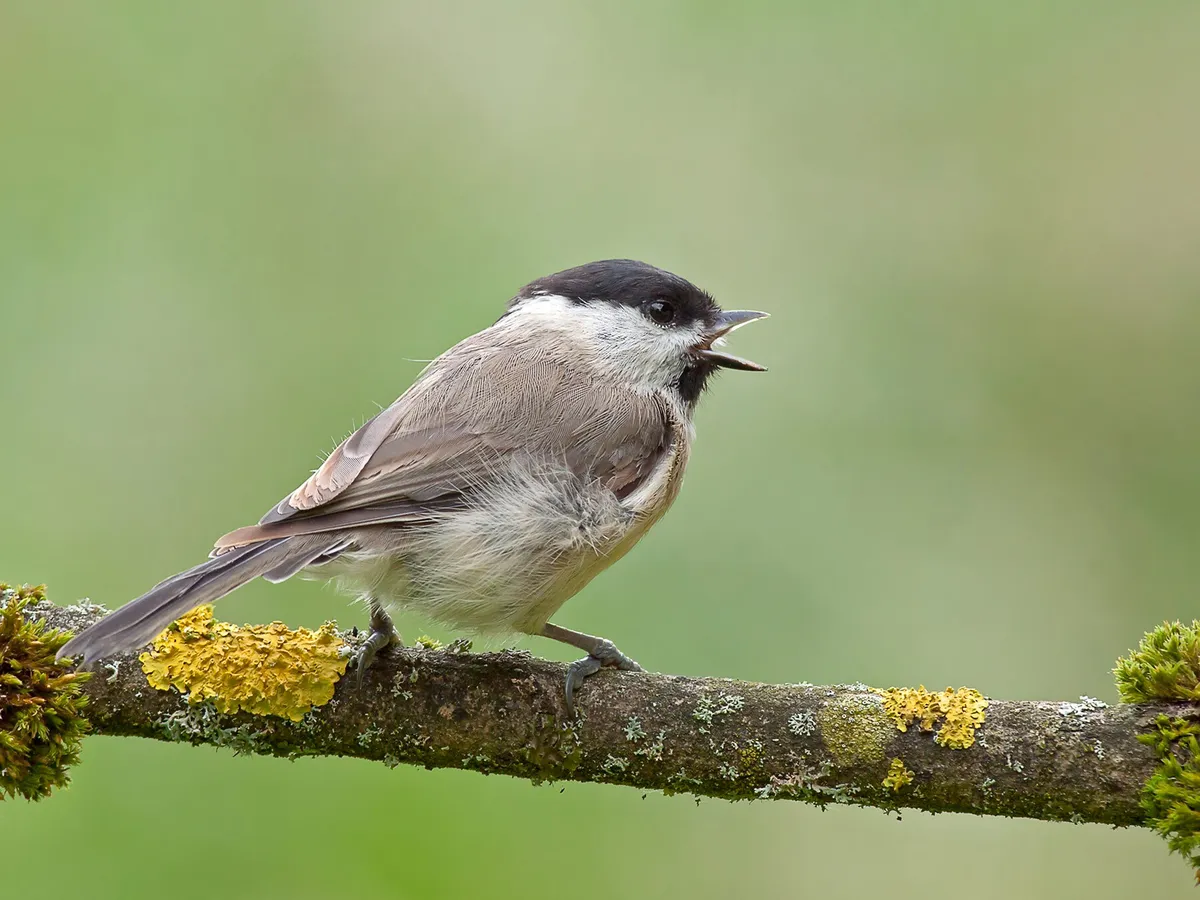 A Marsh Tit calling
What is the habitat of a Marsh Tit?
The nominate subspecies of marsh tit (Poecile palustris palustris) is a resident breeder within the southern counties of England and Wales, southern Scandinavia and east across Europe to Poland and south into Italy and the Balkans.
The remaining seven subspecies of marsh tit can be found as follows:
Poecile palustris stagnatilis – Eastern Europe, the southern Urals and Northwest Turkey.
Poecile palustris kabardensis – The Caucasus and Northeast Turkey.
Poecile palustris italicus – Italy, Sicily and the French Alps.
Poecile palustris brevirostris – Siberia, Northern Mongolia, North-East China and North Korea.
Poecile palustris ernsti – Skahalin, Russia's largest island located north of Japan in the Pacific. Its land area is 76,400² km which equates to approximately 29,500² miles.
Poecile palustris hensoni – Northern Japan and South Kuril Island, a Russian archipelago that runs from northern Japan to the Kamchatka Peninsula in Russia's Far East.
Poecile palustris hellmayri – Eastern China and South Korea.
Whilst the description of the marsh tit given at the beginning of this article refers to the nominate, the difference in the appearance of the remaining subspecies is subtle and largely down to slight colour differences in plumage or length of the tail feathers.
The preferred locations for nesting, roosting and foraging are in broad leaf deciduous forests or woodland with tall tree cover and established open undergrowth and hedgerows. Occasionally they will also select mixed forests of conifers and broad leaf trees and sites near to reed beds, although this is as close as they come to living up to their name of marsh tit!
Marsh Tit perched on a branch in the woods
Where can I see Marsh Tits?
Within the United Kingdom marsh tits are commonly found in woods, copses, gardens and parks, particularly in southern and eastern areas of England, South Wales and in very limited numbers along the Scottish borders.
Do Marsh Tits Migrate?
Marsh tits rarely move out of their areas and do not migrate in the true sense of the word. In fact, most subspecies of marsh tit will wander no further from their breeding grounds than 50k (30 miles).
Are Marsh Tits native to the UK?
One can definitely say that marsh tits are native to the UK. The first recorded reference to marsh tits within the United Kingdom was in a book by English ornithologist Francis Willughby of Warwickshire, first published in Latin in 1676.