Quick Facts
Classification
Scientific name:
Panurus biarmicus
Other names:
Bearded Reedling
Family:
Tits
Conservation status:
Green
Measurements
Length:
12.5cm to 14.5cm
Wingspan:
16cm to 18cm
Weight:
12g to 18g
Appearance & Identification
What do Bearded Tits look like?
Male and female bearded tits are unalike, but both are easy to identify, due to their unique markings.
Males have a bluish-grey head, a pale grey breast, and a pale orange-brown belly and underparts.
The bearded tit's upperparts are a darker shade of brown, mixed with orange, cream and black. Their upper tail feathers are orange-brown and the undertail has a prominent black patch, visible in flight. Wing markings include dark grey primary feathers and brown secondary feathers.
The bearded tit's facial markings are perhaps its most striking features, with a bright yellow eye, a small yellow bill, and a bold, black moustache stripe that runs from below the eyes, across the cheeks, and onto the side of the chin.
Female bearded tits are paler than males, with dull chestnut-brown heads. The face and crown are a dull shade of brown, mottled with darker brown. Their chin, throat, and sides of the neck are grey, and their bill and eyes are yellow, like those of the male.
Juvenile bearded tits are similar in appearance to females but have less chestnut on their flanks, upperparts, and tail. They have a black lower mantle and their wings are also black, edged with paler grey. Underparts are a duller grey-brown.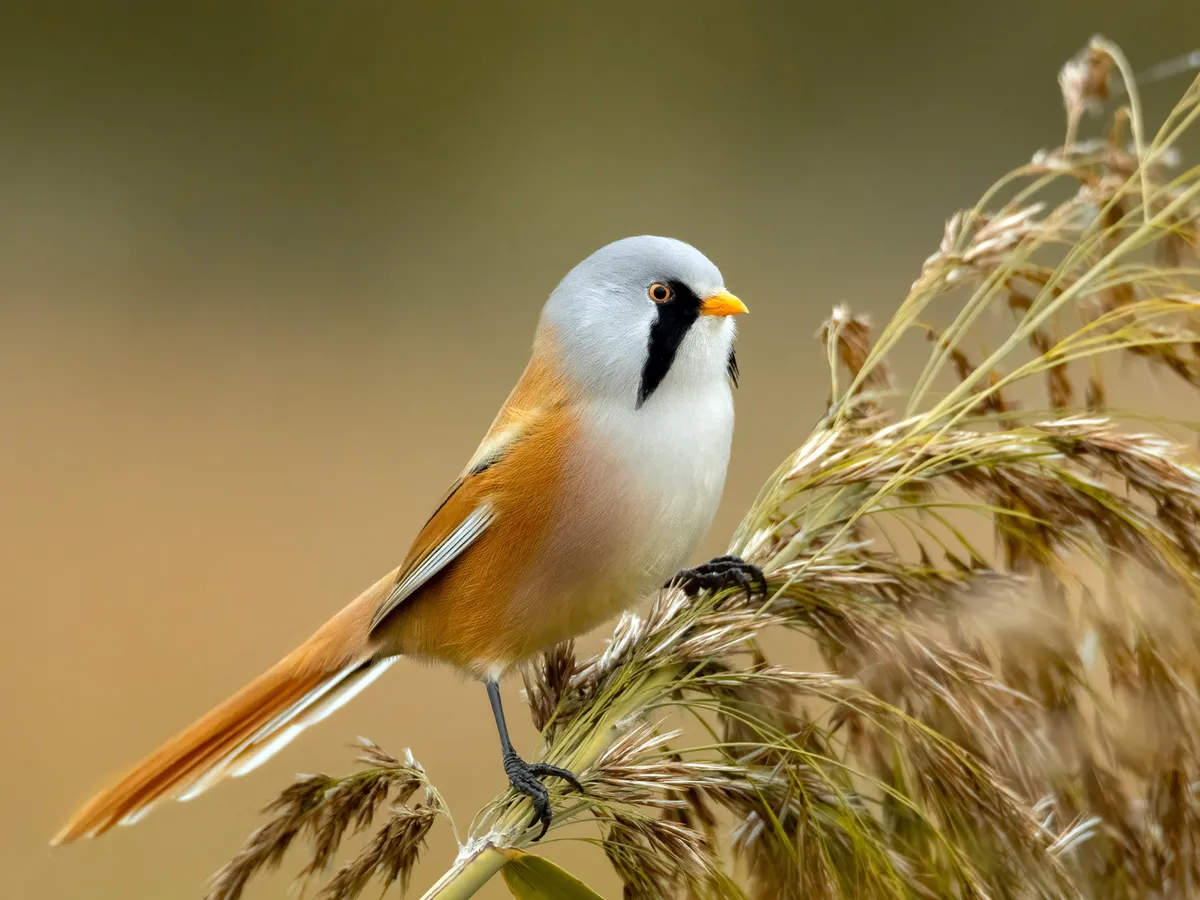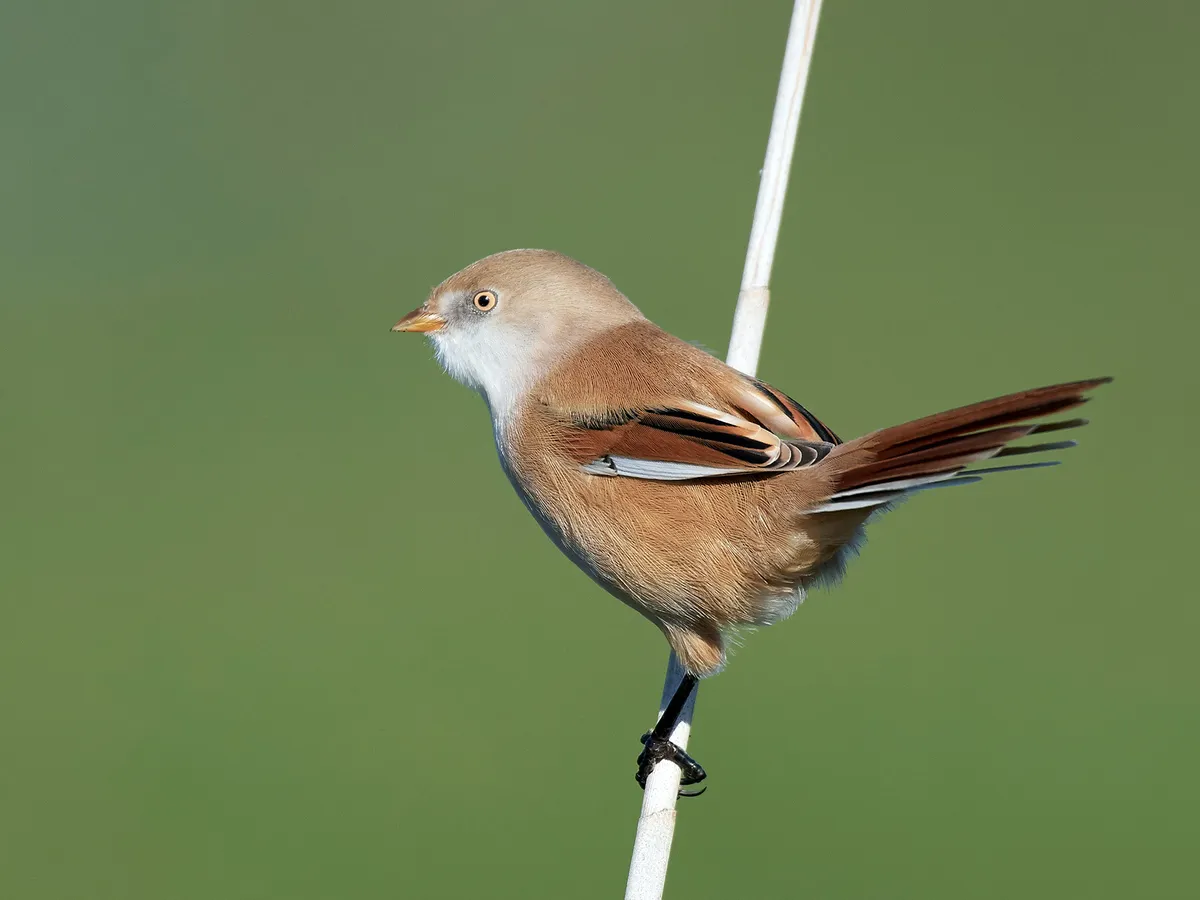 How big are Bearded Tits?
Bearded tits are small rounded birds with plump bodies and long tails, roughly the same size as blue tits.
Length: 12.5 cm to 14.5 cm (4.9 in to 5.7 in)
Wingspan: 16 cm to 18 cm (6.3 in to 7.1 in)
Weight: 12 g to 18 g (0.4 oz to 0.8 oz)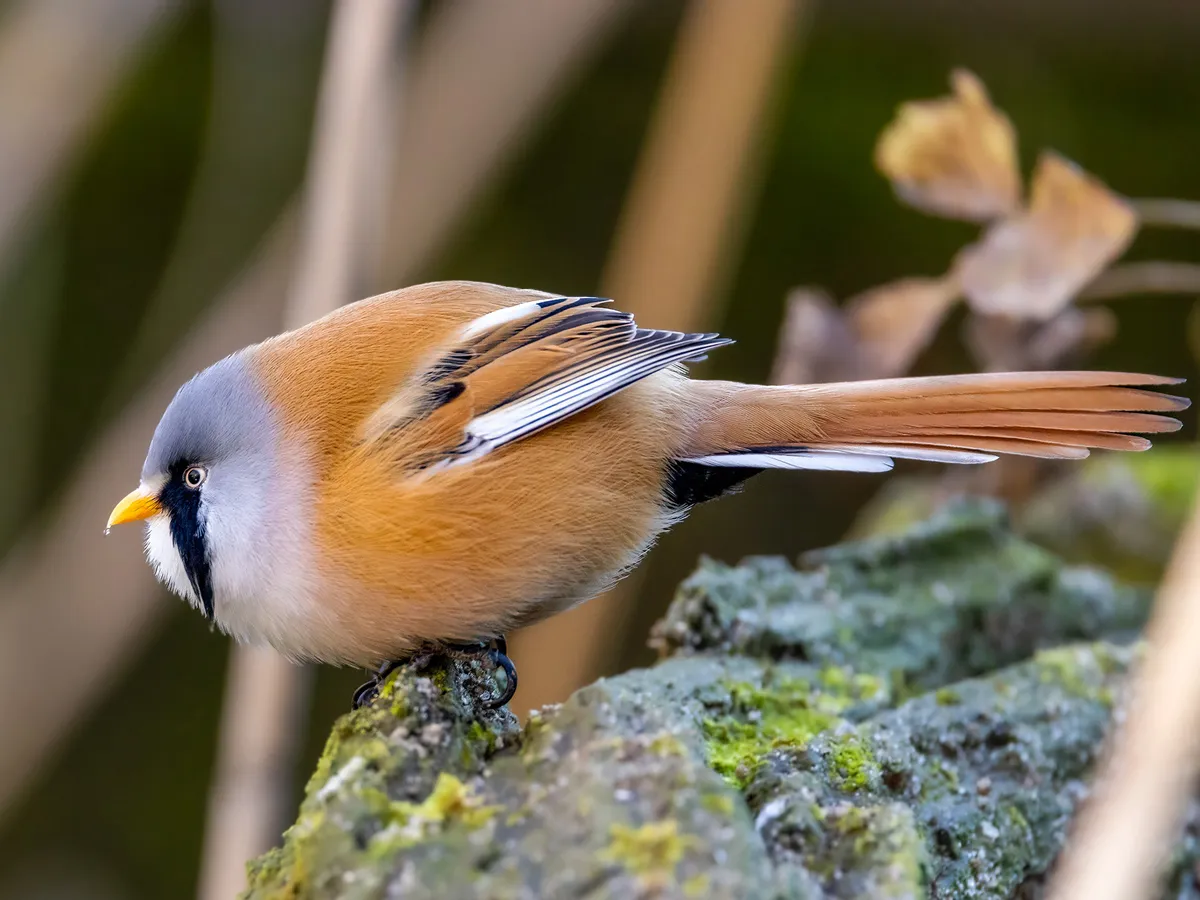 Bearded Tit foraging in natural habitat
Calls & Sounds
What sound does a Bearded Tit make?
The effective camouflage of their plumage against their reedbed habitats makes it likely that the first indication you may have that a bearded tit is nearby is their call. A single tinny 'ping' note is heard as a contact call, and the male's song is a tuneful 'tschin-schik-schra'.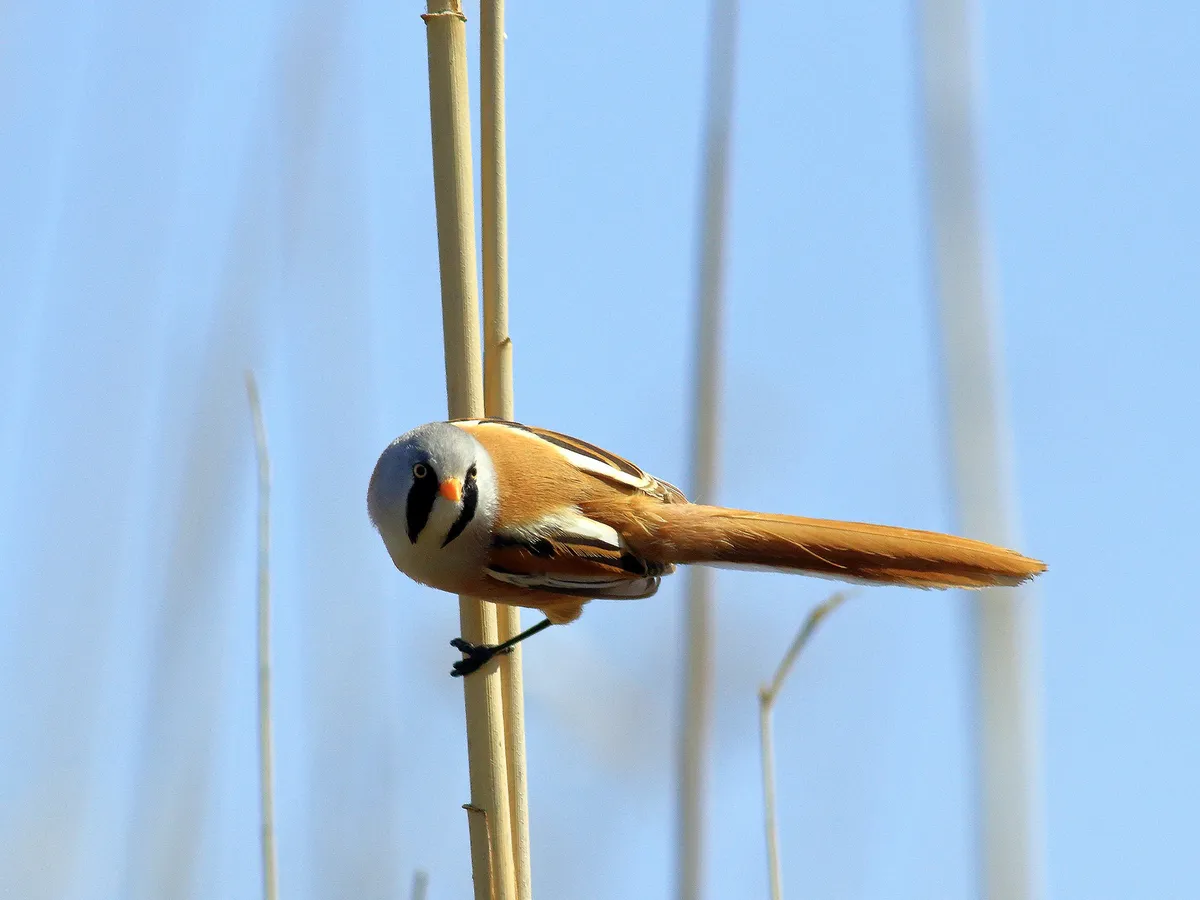 Bearded Tit in reedbed looking for prey
Diet
What do Bearded Tits eat?
In the summer bearded tits forage around the edges of wetlands and muddy wetland shores, where they catch invertebrates. Their main prey consists of mayflies, moths, beetles, mosquitoes, dragonflies, and their larvae. Spiders, slugs, and snails are also eaten.
A change in diet occurs in autumn and winter when seeds and aquatic plants become more important than insects and invertebrates. Seeds from grasses, nettles, willowherb, sedges, and rushes, are among the most popular.
What do Bearded Tit chicks eat?
The early diet of bearded tits is purely based on insects and larvae brought to the nest by both parents. Plant matter is gradually introduced once young become independent, from around 2 weeks after fledging.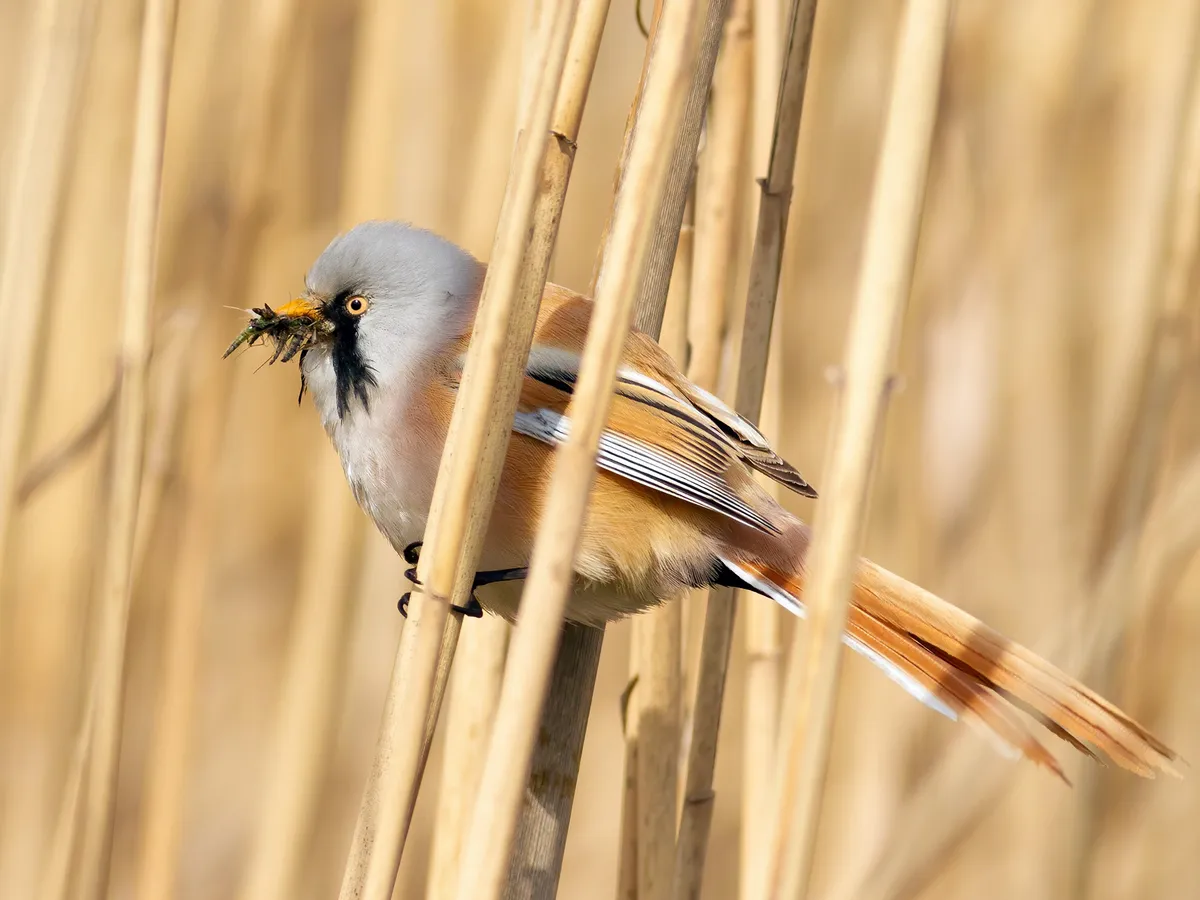 Bearded Tit with a beak full of insects
Habitat & Distribution
What is the habitat of a Bearded Tit?
Bearded tits depend heavily on reedbed environments, inhabiting reeds, and wetlands, including vegetation alongside fresh and brackish water. They are commonly found on the edges of marshes and swamps, camouflaged against the reeds and rushes.
What is the range of a Bearded Tit?
Bearded tits are found from the UK and Spain in the west, across central and northern Europe, through central Asia to northeastern China. Throughout much of Europe, the distribution is patchy, mirroring landscapes where wetlands with extensive reedbeds are dominant.
Into Asia, bearded tits have an unbroken presence, through Russia, Kazakhstan, Kyrgyzstan, Afghanistan, Uzbekistan, Turkmenistan and Tajikistan, throughout Mongolia into the northeastern regions of China.
Where do Bearded Tits live?
With a patchy distribution in western Europe, bearded tits become far more common towards the east, with the majority of the species resident across central Asia. Europe's population of between 464,000 and 875,000 mature individuals represents 15 percent of the global total, so the entire population of bearded tits is believed to be between 3 and 5.8 million.
How rare are Bearded Tits?
Bearded tits were once far more widespread throughout the UK, but a series of cold winters in the mid-20th century saw a decline in numbers and contraction of breeding grounds, with the species becoming largely limited to parts of Kent and East Anglia.
Numbers have since started to increase and bearded tits are resident in more regions, although there are only an estimated 695 pairs in the UK, so sightings are memorable and unusual.
Where can you see Bearded Tits in the UK?
Fewer than 700 pairs of bearded tits are present in the UK, and they are not widespread or common, preferring coastal spots on the eastern and south coasts.
East Anglia has long been a stronghold, with the extensive reedbeds of the Norfolk Broads home to a large percentage of the UK's breeding pairs.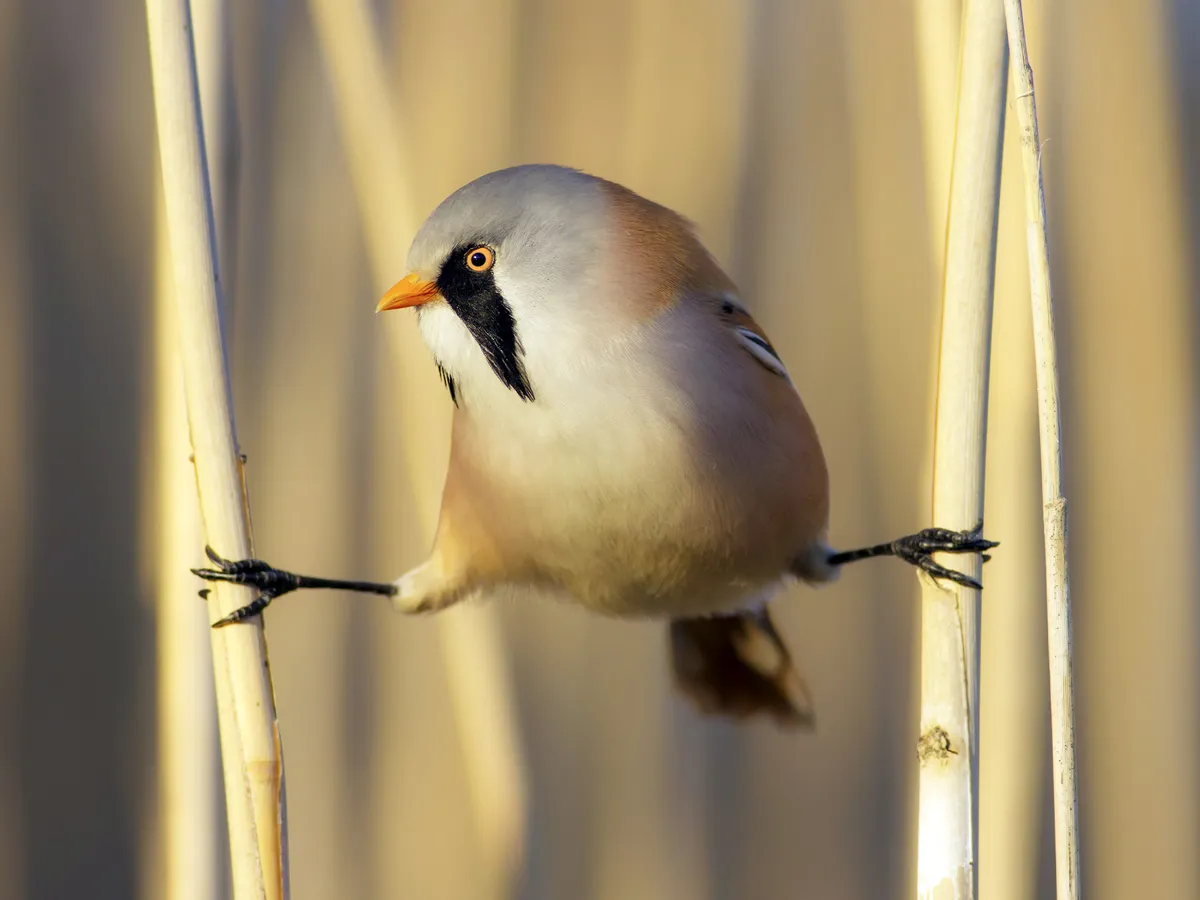 Bearded Tit straddled between the reeds
Lifespan & Predation
How long do Bearded Tits live?
The average life expectancy of bearded tits is between two and three years. The oldest long-tailed tit on record reached 7 years and 3 months. Breeding occurs for the first time from one year of age onwards.
What are the predators of Bearded Tits?
Birds of prey are the chief predators of bearded tits, especially owls and hawks. Their reedbed nest locations are particularly vulnerable to raids from rats, weasels and stoats.
Are Bearded Tits protected?
Bearded tits are registered as Schedule I birds under the Wildlife and Countryside Act of 1981. This designation means that it is prohibited to interfere with their nest sites, eggs, or young, and to kill, injure, or take any bird of this species into captivity.
Are Bearded Tits endangered?
Despite their current classification globally as a species of least concern, numbers of bearded tits are precariously linked to the availability of wetland environments, and there are fears that habitat loss from the draining of marshlands may lead to population declines.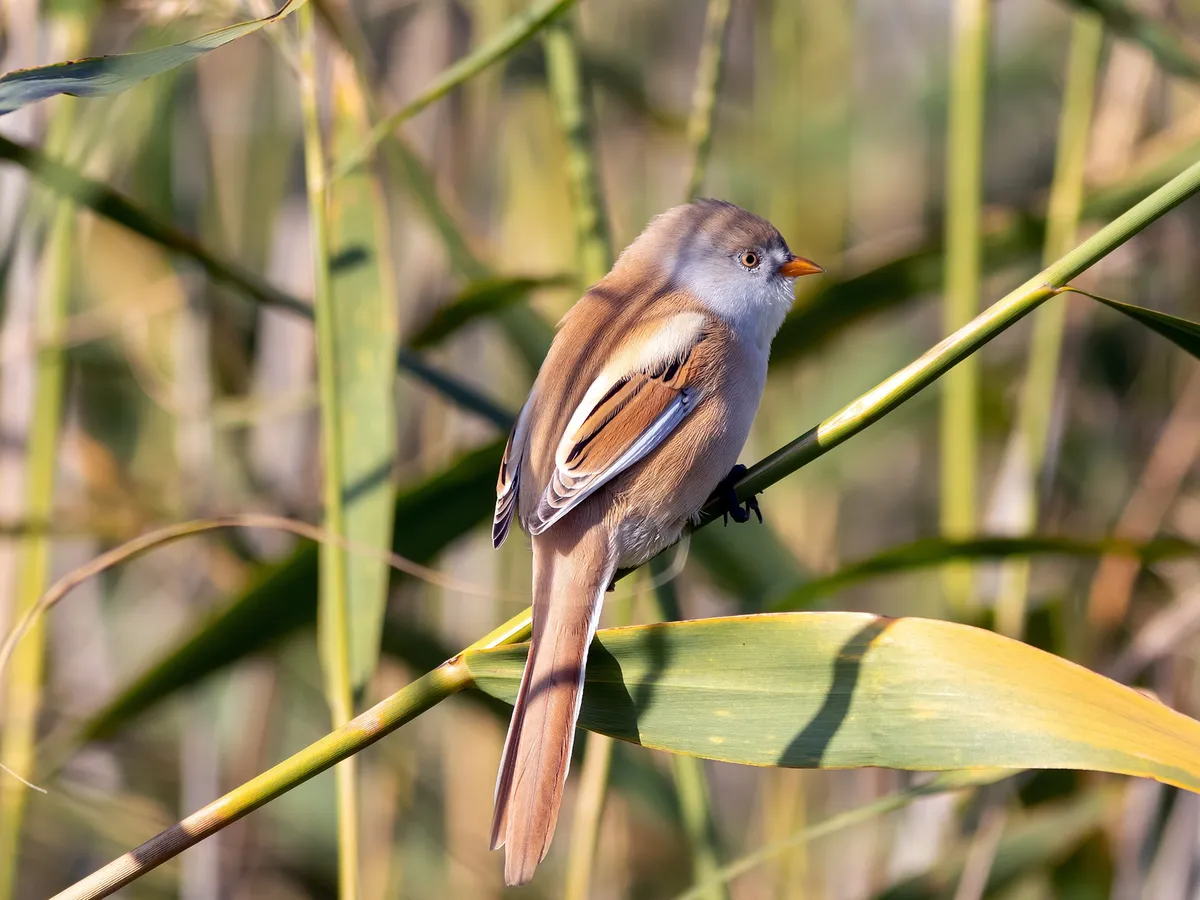 Female Bearded Tit in wetland habitat
Nesting & Breeding
Where do Bearded Tits nest?
Pairs of bearded tits work together to create a deep cup-shaped nest among reed stems in marshy wetlands between 5 cm and 72 cm (2 in to 28 in) above the water level. Reed blades and other aquatic plant parts are woven into shape, usually with a roof canopy made of reeds. Flowering reed-heads and feathers are used as a lining.
Specially designed purpose-built nest boxes, positioned in reedbeds have been successfully used by breeding pairs of bearded tits, particularly when placed over water.
When do Bearded Tits nest?
The breeding season of bearded tits begins in March each year with pairs forming or previous bonds being renewed. In the most successful years, bearded tits can raise up to four broods, with the earliest eggs laid in April.
Incubation, which is shared between the female and the male, lasts for 10 to 13 days, and development is fairly rapid, with young bearded tits ready to fledge by between 12 and 16 days. Fledglings continue to rely on parental support for a further 2 weeks. By September, breeding is complete, once the final brood have reached independence from their parents.
What do Bearded Tit eggs look like?
Bearded tits usually lay between four and six cream-coloured eggs, lightly streaked with pale brown speckles. Some clutches may contain as few as three eggs or as many as eleven. On average, eggs measure 17 mm by 14 mm (0.7 in by 0.6 in).
Do Bearded Tits mate for life?
In a typical season, bearded tit pairs will raise four broods together, and form strong monogamous bonds early in the breeding season. If an initial breeding season is successful, the pair may well stay bonded for life. However, it's not unheard of for females to mate with different males.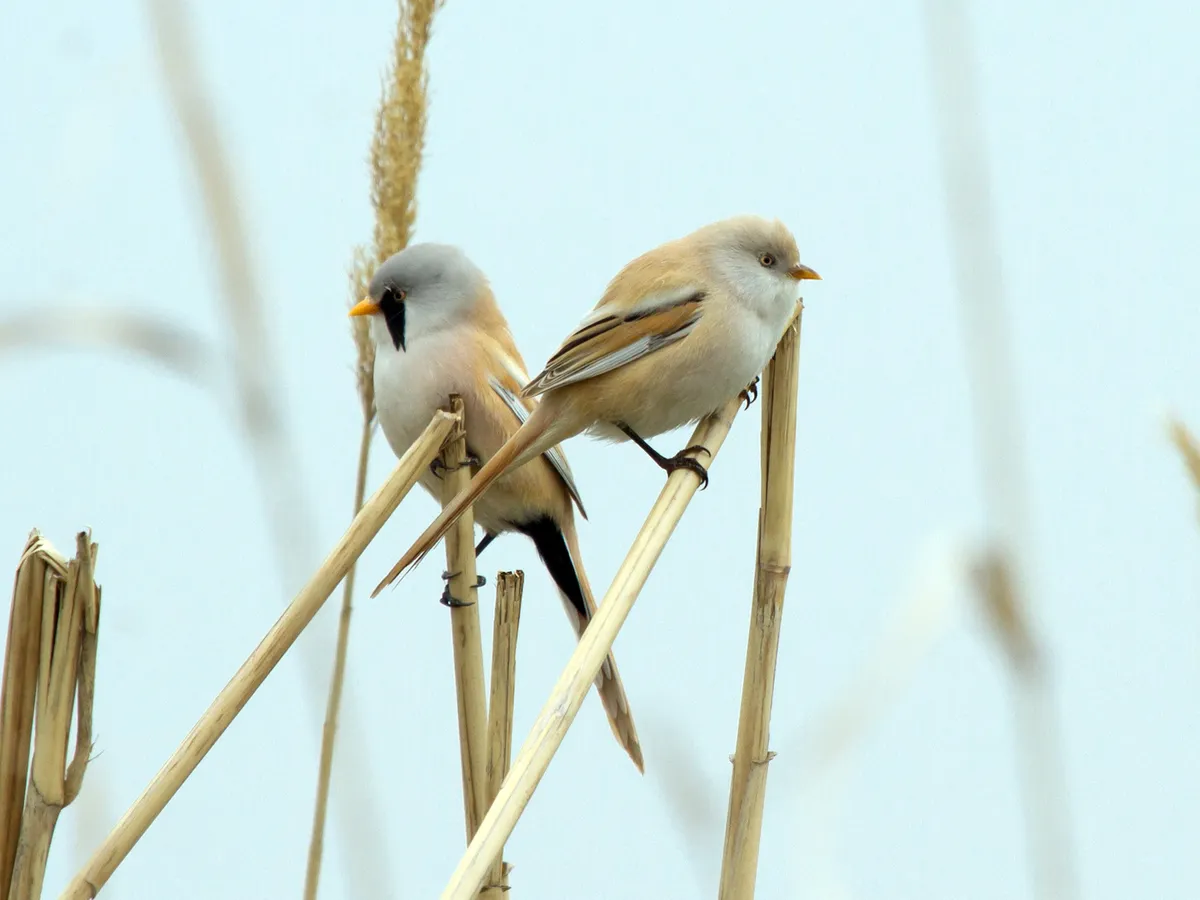 Bearded Tit Male (left) and Female (right) in natural habitat
Behaviour
Are Bearded Tits aggressive?
Any aggressive behavior displayed by bearded tits is confined to the breeding season when they are defending nest sites, and a pecking order is established with a dominant male chasing others off its territory.
Once breeding is complete, they become far more sociable and tolerant of the company of other birds, feeding in 'parties' of up to 200 individuals.
Where do Bearded Tits sleep at night?
Bearded tits are diurnal, foraging among the reedbeds during the day, and choosing roosting spots clinging onto reed stems overnight. Individual bearded tits frequently crowd close together in a row to provide warmth and protection when roosting.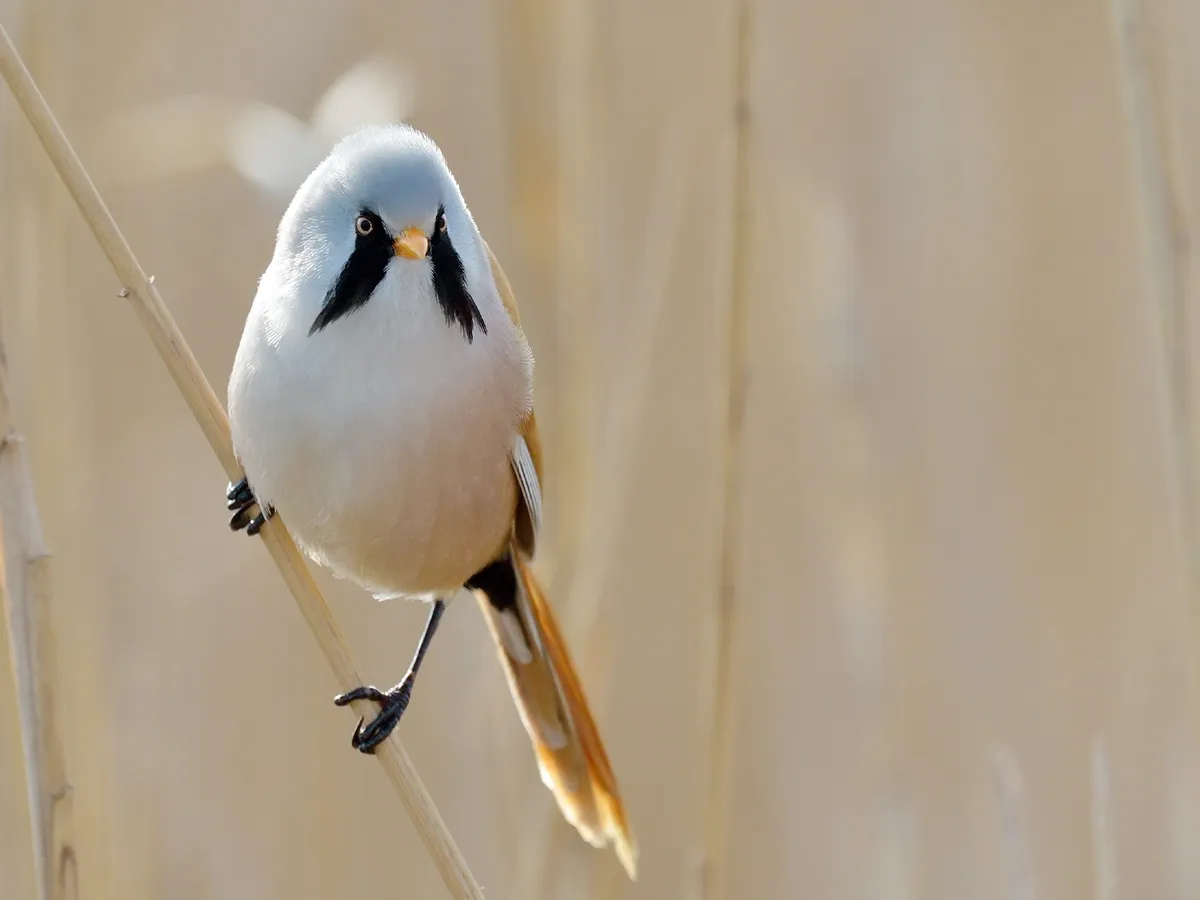 Bearded Tit perching on a reed
Migration
Do Bearded Tits migrate?
Throughout most of their range, bearded tits are sedentary and remain in their home territories all year round. Some irregular and short-distance dispersal may occur in winter. In parts of central Europe, irruptions further south are fairly common, with birds returning to their original breeding grounds each spring.
Are Bearded Tits native to the UK?
Around 700 pairs of breeding tits are resident in the UK all year round, breeding in coastal marshes and wetlands on the south, east and west coasts of England and in parts of eastern Scotland.
Bearded Tit Country Distribution