Observed as the world's fastest-flying bird, with a reputation as a fearsome hunter, peregrine falcons have undergone an impressive bounceback to their population numbers in recent years, from being a threatened bird species at one point.
What threatened these apex predators to such an extent that they were in danger of dying out? And how did peregrine falcon numbers recover? Keep reading to learn more about the epic survival tale of peregrine falcons.
Peregrine falcons were a high-profile casualty of the DDT catastrophe during the mid-20th century, with populations in massive decline due to the widespread use of toxic pesticides. After DDT was banned, peregrines have witnessed an incredible species revival and are no longer threatened.
Illegal hunting also contributed to the decline of peregrine falcon numbers, and protections introduced in the U.S. in the 1970s have helped to ensure that these mighty hunters can once again flourish in the wild. Captive breeding programmes and reintroduction schemes have also helped to reestablish breeding pairs in the U.S., ensuring that populations are stable.
Keep reading to learn more about where to see peregrine falcons in action, and which countries have the largest presence of these lightning-fast raptors.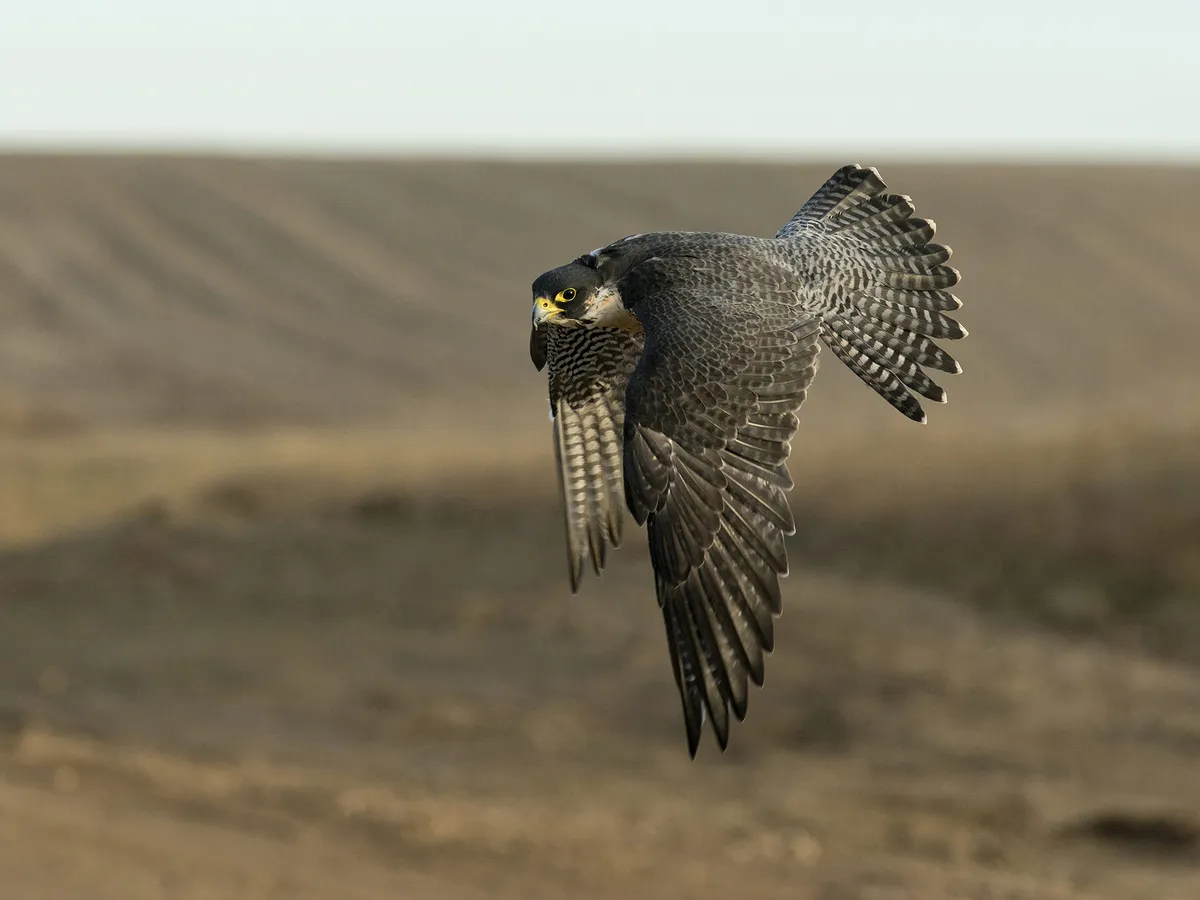 Peregrine Falcons were once classified as a threatened species, but in recent years, they've gone through a pretty impressive revival
Why did Peregrine Falcons go endangered?
In the mid-20th century, peregrine falcon numbers began to drop dramatically, as a result of the use of a toxic chemical in the production of pesticides, known as dichloro-diphenyl-trichloroethane (DDT). The widespread use of this pesticide by farmers had devastating consequences for many wildlife species, particularly birds of prey that hunted on land where this chemical had been used.
DDT caused birds' eggs to be laid with thin, brittle shells that broke or didn't hatch. Large numbers of young and adult birds were also poisoned and died, resulting in the decimation of peregrine falcon populations across North America.
Peregrine falcon numbers also fell into severe decline in the UK, everywhere except in the most remote areas of the Scottish Highlands.
By the 1960s, peregrine falcon populations in the eastern U.S. had been lost entirely, and in the west they were in severe decline, with only 324 pairs left by 1975, representing an almost 90 percent decline from the 1940s' figure of 3,875 pairs in the country.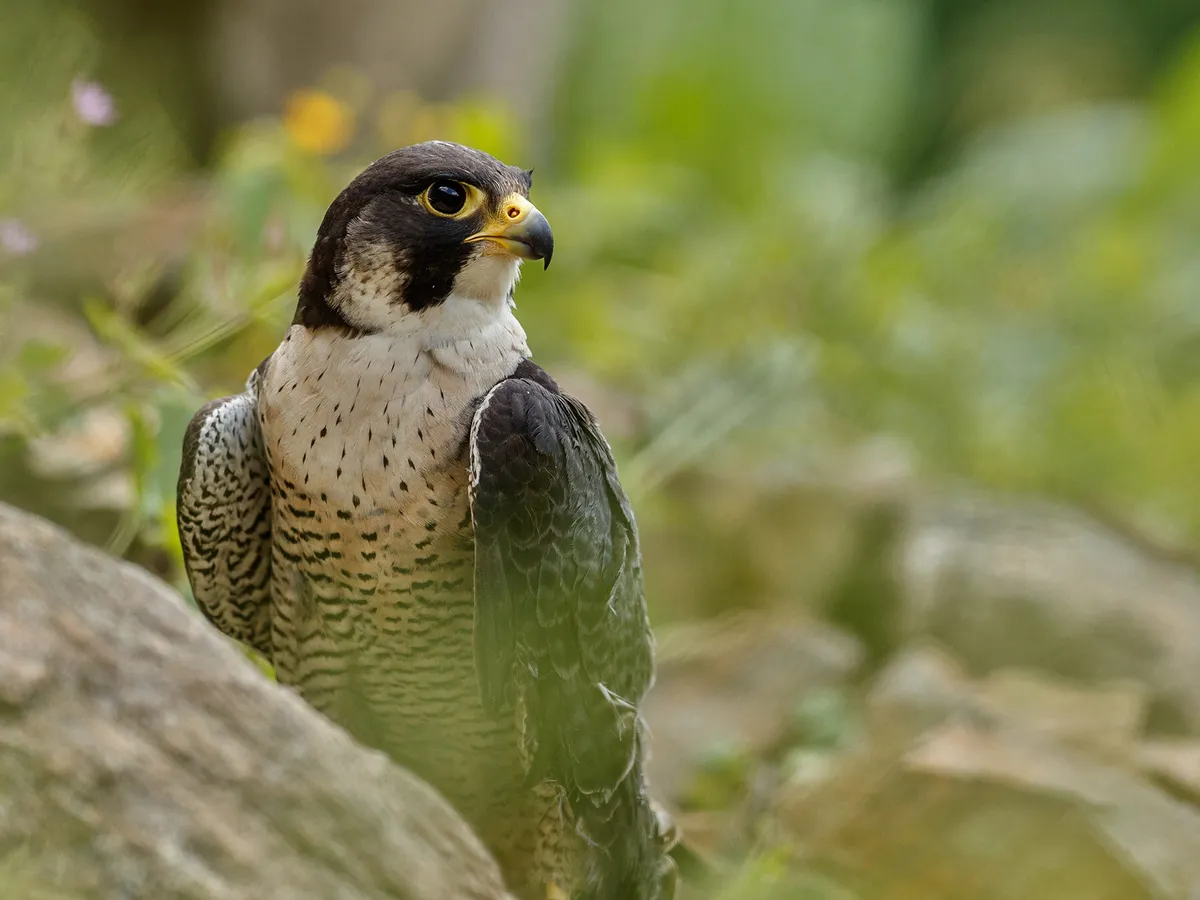 Since the banning of DDT, Peregrine Falcon numbers have become stable
What threats do Peregrine Falcons have?
Adult peregrine falcons are at the top of their food chain and have no natural predators. Young falcons may be preyed on by golden eagles and great horned owls, but these pose no threat to adult birds.
Human activity, either direct action such as hunting, or by their use of chemicals, pesticides and construction of buildings and other structures that disrupt the skyline contribute to fatalities among peregrine falcons.
How many Peregrine Falcons are in the wild?
In 2020, Birdlife International estimated there were between 16,100 and 31,100 peregrine falcon pairs in the wild in Europe (equivalent to 32,200 to 62,200 mature individuals). The European population forms around 13 percent of the global population of peregrine falcons.
The Partners in Flight Science Committee uses this figure to loosely estimate a total worldwide population of Peregrine Falcons at between 248,000 and 478,000 adult birds.
The population of peregrine falcons in the U.S. and Canada was thought to be roughly 72,000 individuals in 2020. The UK population was estimated at approximately 1769 pairs in 2014. A further 2,290 to 2,900 pairs live in North Africa.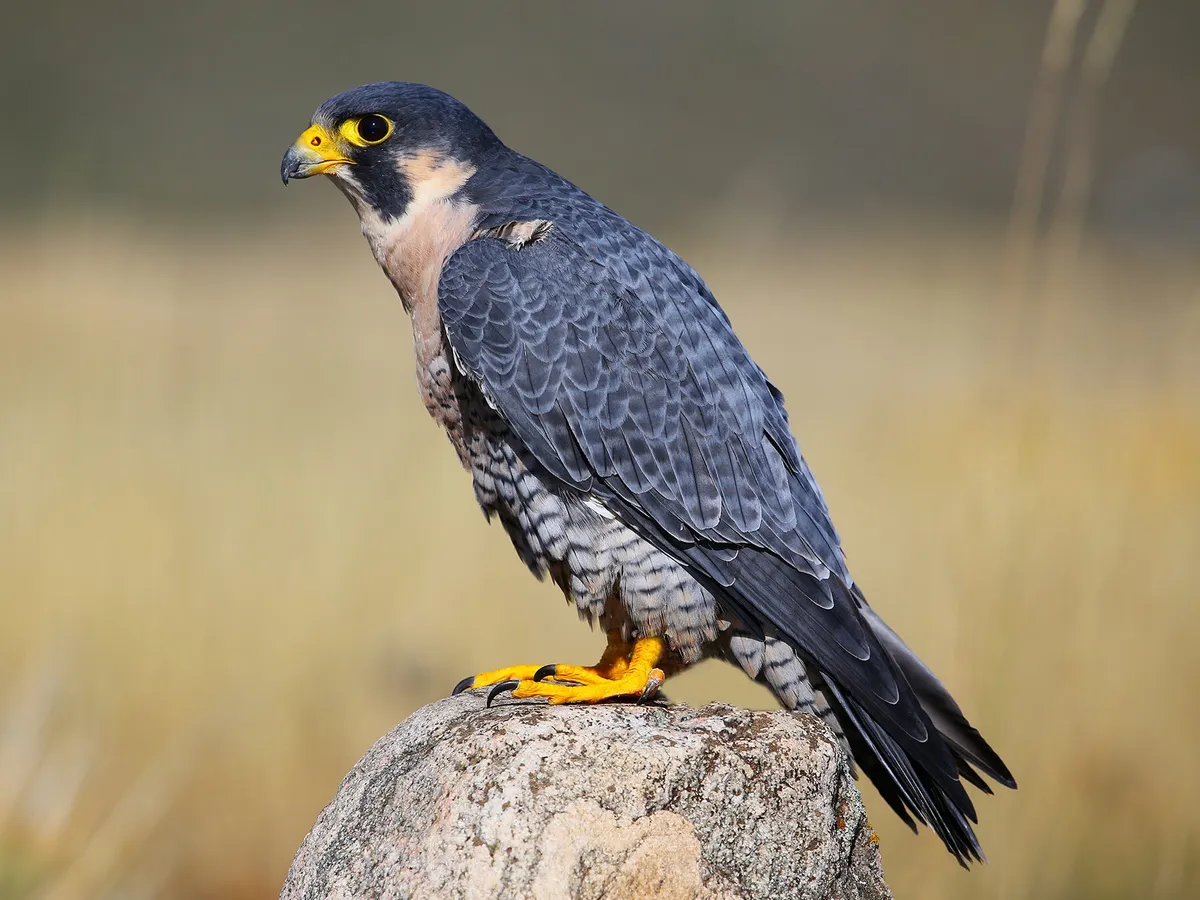 Peregrine Falcons can be found across many different places throughout the world
How rare is it to see a Peregrine Falcon?
As peregrine falcons are not currently endangered, it is no longer uncommon to spot one, and sightings are not limited to remote rural uplands or rocky scrubland. Urban landscapes, with skyscrapers, high bridges, and iconic towers are a good place to focus your attention if you know there are city-dwelling peregrines nearby.
In the UK, while spotting a peregrine falcon was once considered a rare event, in recent years, the birds are more numerous and visible.
Some cities have several resident high-profile breeding pairs, and a tip is to look for the highest building in an urban skyline and wait patiently and you may just be rewarded with a glimpse of sudden, rapid swooping across the sky.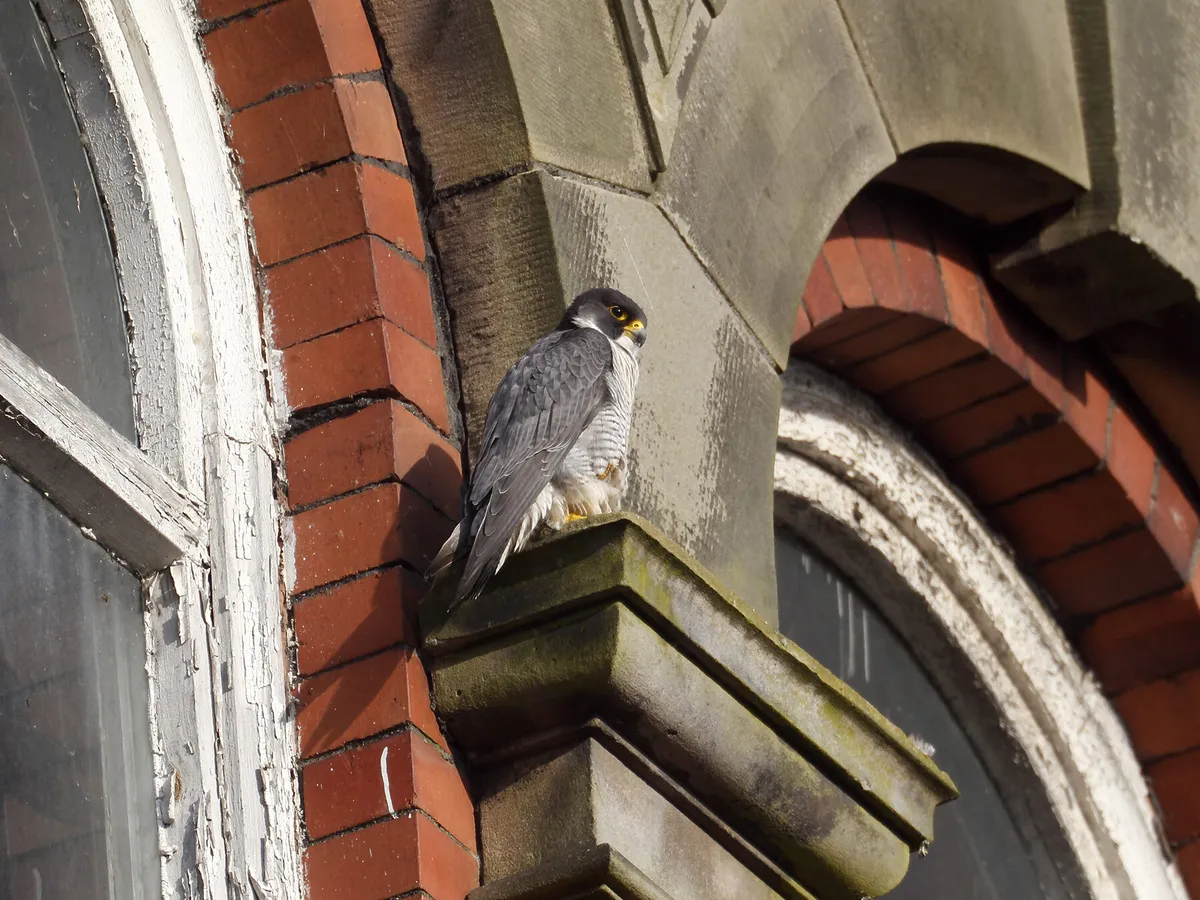 Peregrine Falcons are increasingly being seen in towns and cities
What state has the most Peregrine Falcons?
New York State is home to large numbers of breeding pairs of peregrine falcons, with New York City believed to have the highest urban concentration of peregrine falcons in the world. Significant populations of peregrines live and breed along the west coast of the U.S., from Washington to California and then west into Arizona, New Mexico, and into west Texas.
In the UK
In the UK, peregrine populations were traditionally concentrated in Wales, north-west England, Scotland and Northern Ireland.
However, in the 21st century, urban landscapes are becoming increasingly favoured nesting sites for peregrines, with pairs setting up home on shopping centres and cathedral roofs, in cities including Durham, Derby, London, Manchester, Nottingham, and Southampton. London has at least 30 breeding pairs.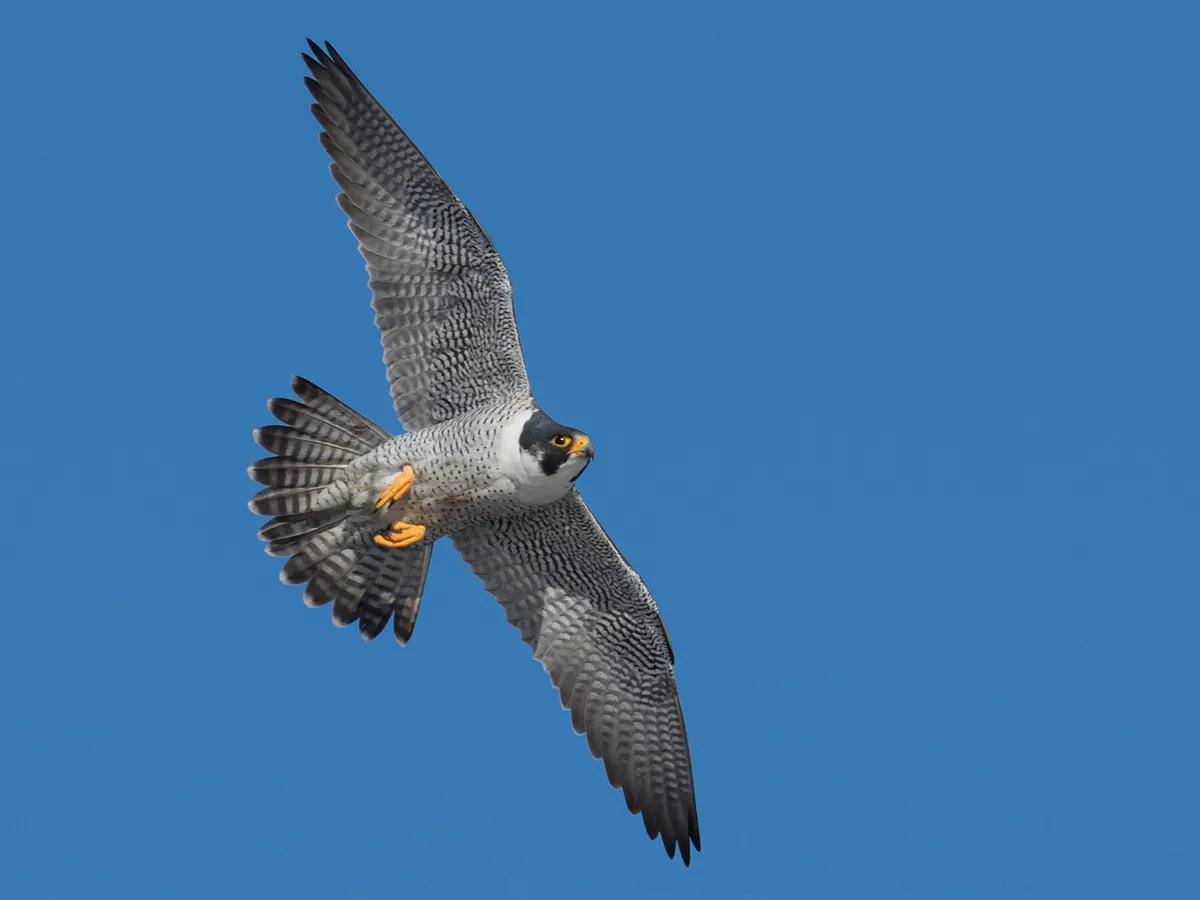 Peregrine Falcon in flight
What country has the most Peregrine Falcons?
Captive breeding programs in Canada and the United States have boosted the populations in those regions. Estimates claim that around 17 percent of the global population of peregrine falcons spends part or all of the year in the United States.
Greenland also provides year-round territory for a significant number of peregrine falcons, although reliable data for population estimates in the region are unavailable.
Europe is estimated to have up to 62,000 individual birds, of which significant populations can be found in Spain, France, the UK, Russia and Turkey.
Peregrine falcons are widespread across the entire continent of Asia, with resident breeding populations typically found in latitudes further to the north.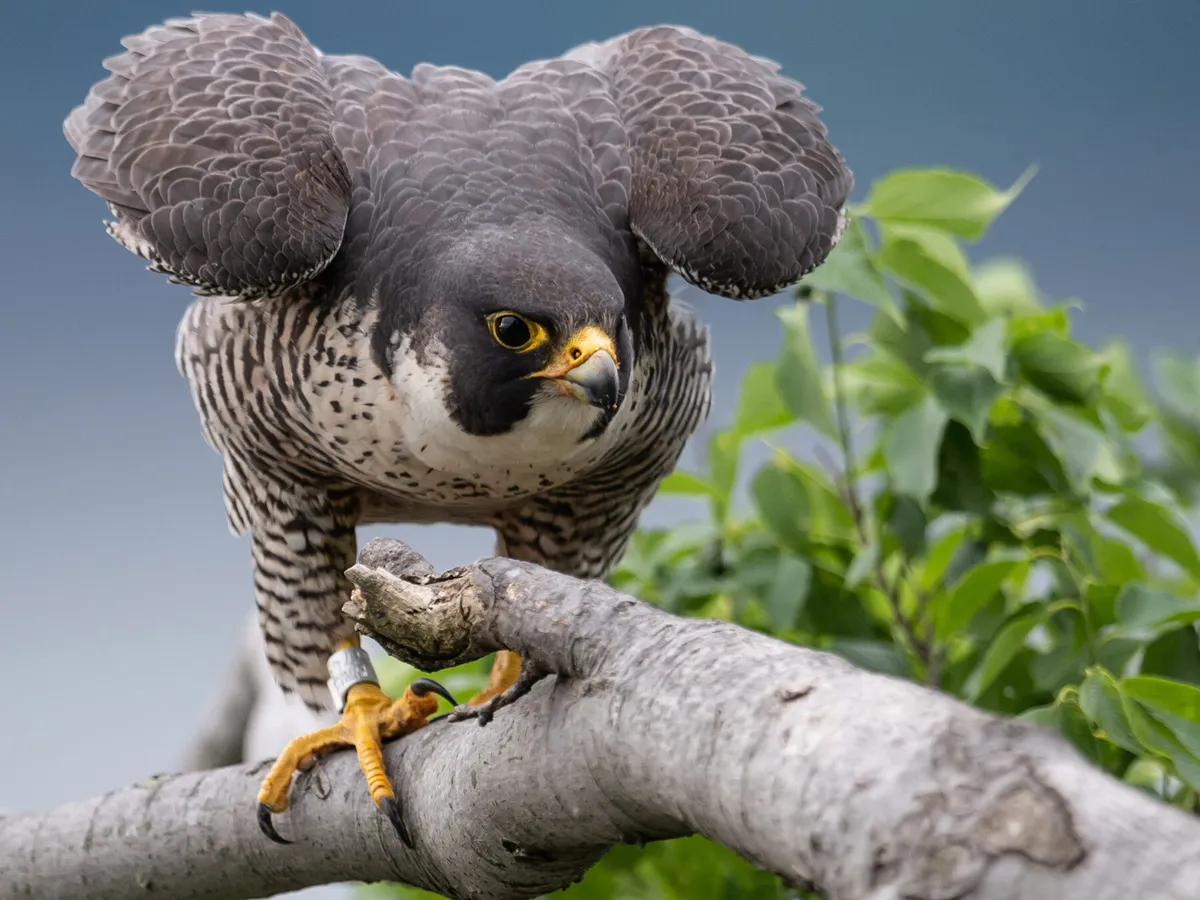 Peregrine Falcon about to launch an attack
Is it illegal to kill a Peregrine Falcon In the US?
Amendments to the Migratory Bird Act 1918 brought in in the 1970s protect peregrine falcons against being killed, injured or taken from the wild. Anyone caught breaking this law faces a fine of between $5,000 and $250,000 or a jail sentence.
Is it illegal to kill a Peregrine Falcon in the UK?
Peregrine falcons are fully protected under the Wildlife & Countryside Act 1981, meaning that it is a criminal offence to kill, injure or capture one, or to disturb its nesting site or take its eggs or young.
In addition, peregrine falcons are a listed species on the Convention on International Trade in Endangered Species (CITES), the highest wildlife protection status in global use and the same level as giant pandas and Bengal tigers.
This listing protects peregrine falcons against illegal trade in more than 170 countries around the world.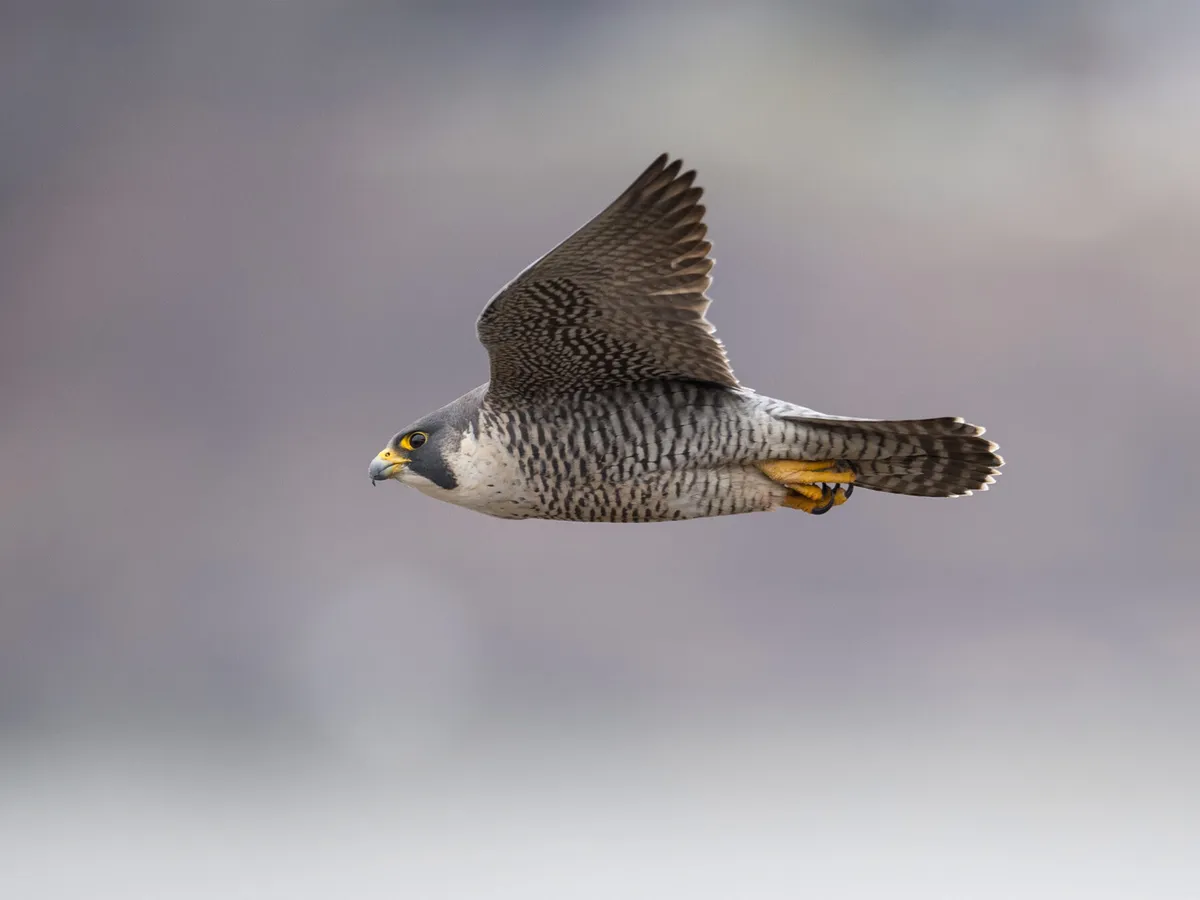 Side profile of a Peregrine Falcon in flight
Are Peregrine Falcons endangered in the UK?
2014 estimates put the number of breeding pairs of peregrine falcons in the UK at 1769 pairs, found mainly in Wales, north-west England and parts of southern Scotland. This demonstrates a remarkable recovery from the severe decline in numbers witnessed in the 1950s and 1960s, due, to some extent, to the effects of DDT use in pesticides.
Once widespread birds throughout the UK, by 1963, around 80 percent of the peregrine falcon population had been lost, with around 360 breeding pairs recorded. These mighty birds of prey were limited to isolated areas of the extreme uplands of the Scottish Highlands.
With the banning of pesticides and more controls on illegal hunting in place form the 1970s onwards, numbers have recovered dramatically, and the peregrine falcon is classed as a "Green" species on the UK Birds of Conservation Concern list, meaning its numbers are currently not showing any moderate or severe decline.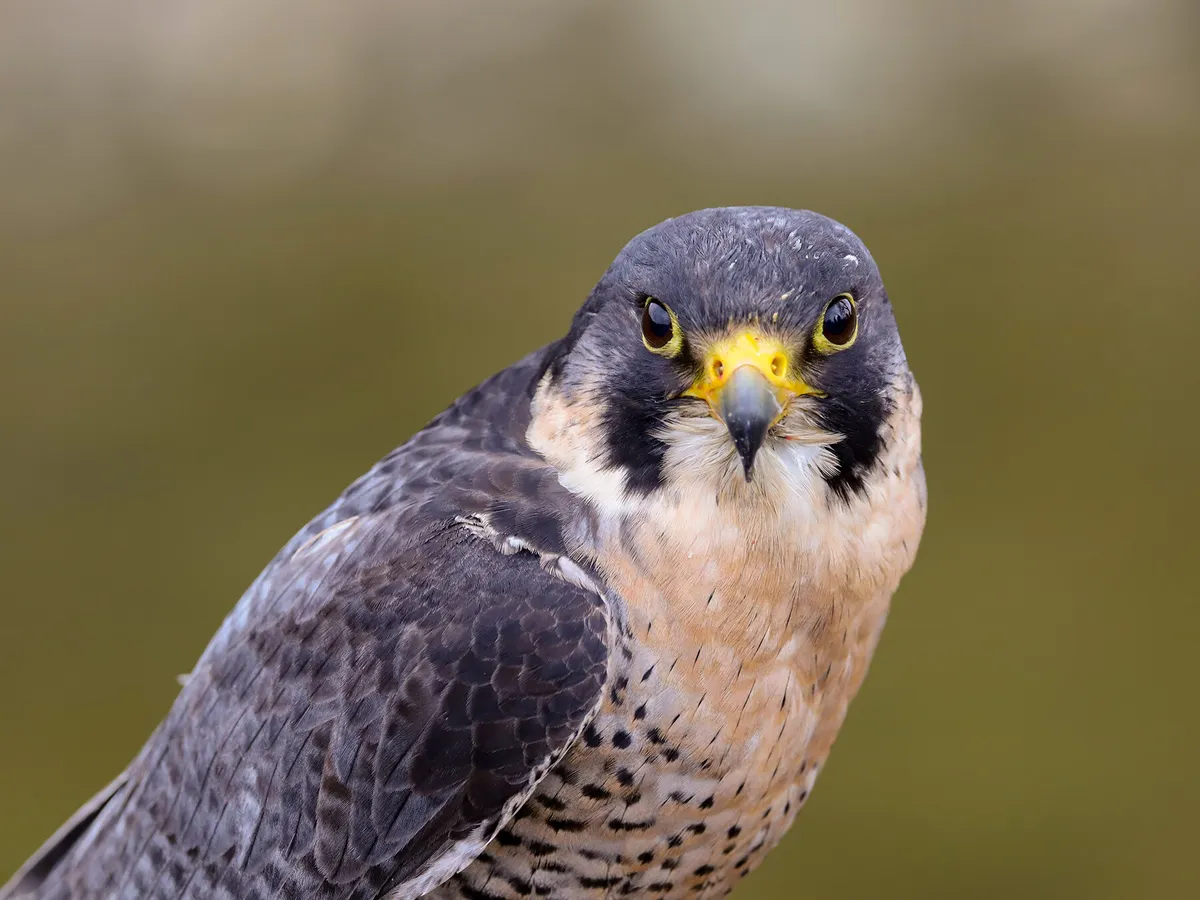 In the UK, Peregrine Falcons are classified as a 'Green' species