Quick Facts
Classification
Scientific name:
Lophophanes cristatus
Other names:
European Crested Tit
Family:
Tits
Conservation status:
Green
Measurements
Length:
11.5cm to 12cm
Wingspan:
17cm to 20cm
Weight:
10g to 13g
Appearance & Identification
What do crested tits look like?
Crested tits are not as colourful as other members of the tit family. Males have a buff breast, greyish-brown upper parts, and a black chin and throat. Their tails are a brownish-grey, with darker brown edges. They have black bills, grey-blue legs and feet and light brown eyes.
The most distinctive feature of a crested tit is its short, spiky, speckled black-and-white crest. A thin black collar separates the head plumage from the body, and a noticeable eye stripe runs to the back of the head. The rest of a crested tit's face is a creamy white.
Female crested tits are similar in appearance to males in coloration and size. However, females have a shorter crest and the banded stripes of feathers on their heads are narrower.
Juvenile crested tits are browner than adults of the species, and the crest is shorter than an adult bird's.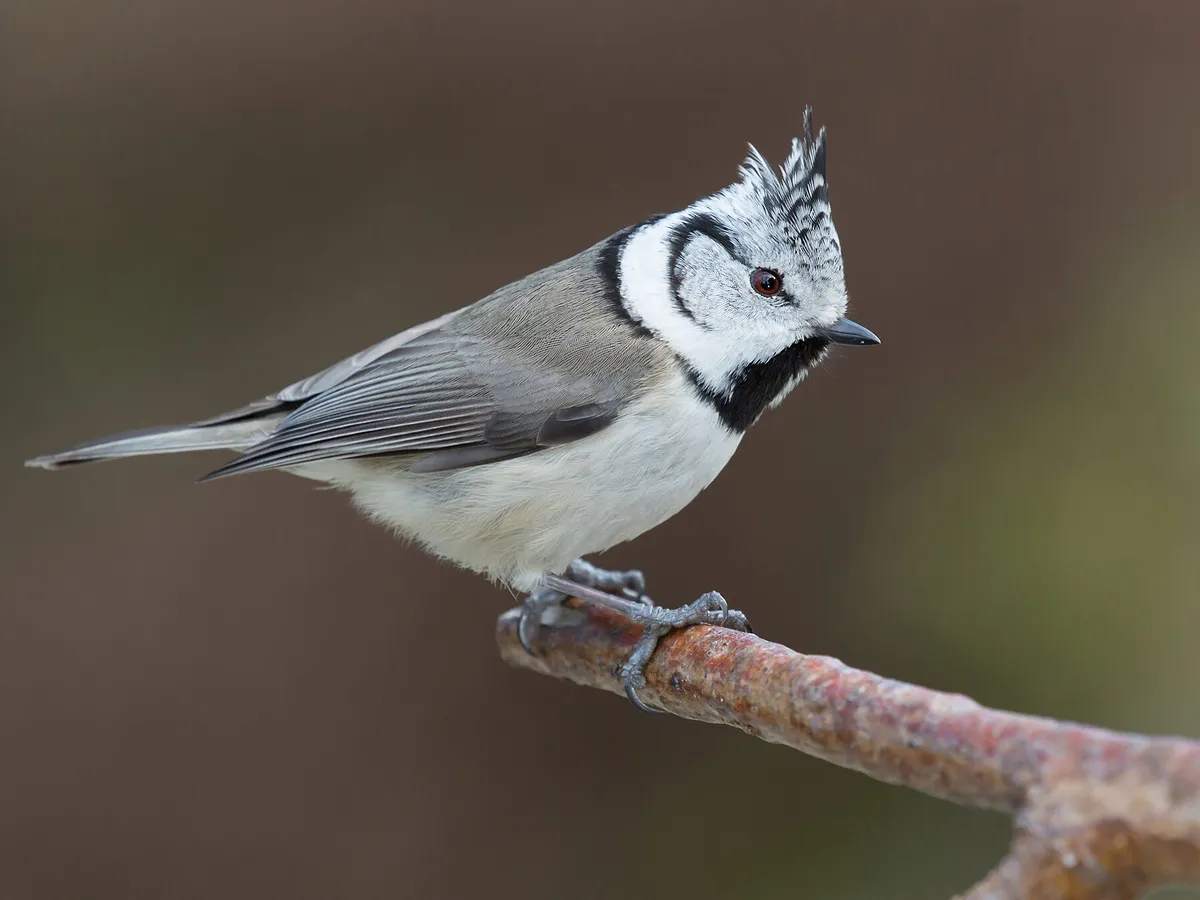 Close up of a European Crested Tit
How big are crested tits?
Coal tits are marginally smaller than blue tits, and similar in size to coal tits and marsh tits. Compared to other familiar birds you may spot in your garden, a crested tit is larger than a wren, but a few centimetres smaller than a sparrow, dunnock or chaffinch.
Length: 11.5 to 12 cm (4.5 to 4.7 in)
Weight: 10 to 13 g (0.4 to 0.5 oz)
Wingspan: 17 to 20 cm (6.7 to 7.8 in)
Calls & Sounds
What sound does a crested tit make?
The song of a crested tit is a repetitive soft, purring trill. Additional calls made by crested tits include a high-pitched 'zee-zee-zee-cheera-cheera' which is often followed by a lower-pitched 'choor'.
Crested Tit calling
Diet & Feeding
What do crested tits eat?
Crested tits forage for spiders and tiny insects found on the trunks, branches and among the needles of the Caledonian pine trees that form their habitat.
In spring, their diet is supplemented by Scots pine seeds that they extract from the cones as they open. In autumn months, larvae from pine looper moths form a significant component of the diet of crested tits, as these are widespread in pine forests at this time of year. In winter, they forage for heather on the forest floor.
Crested tits cache food – including the seeds collected in spring and larvae foraged in autumn – under lichen on branches and tree trunks and return to their stores in winter months when food supplies are scarcer.
What do baby crested tits eat?
While raising young, the diet of an adult crested tit contains more insects and larvae than fruit. The chicks are fed on tiny insects to meet their protein needs and once they fledge, they join adult birds foraging on tree trunks and amid pine needles for small larvae, spiders and other insects.
Crested Tit with a caterpillar in a pine tree
Habitat & Distribution
What is the habitat of a crested tit?
Crested tits thrive in a habitat of coniferous or mixed woodland. The dominant trees in forests preferred by birds resident in Scotland are well-established Scots pine plantations. While conifers are considered their primary habitat, deciduous trees in woodlands, mainly birch and alder, may also support crested tit populations.
What is the range of a crested tit?
Crested tits are found in isolated coniferous forest regions of north-central Scotland. In continental Europe, its range extends from the Iberian Peninsula, through France, across northern Europe and western Russia as far as the Ural Mountains.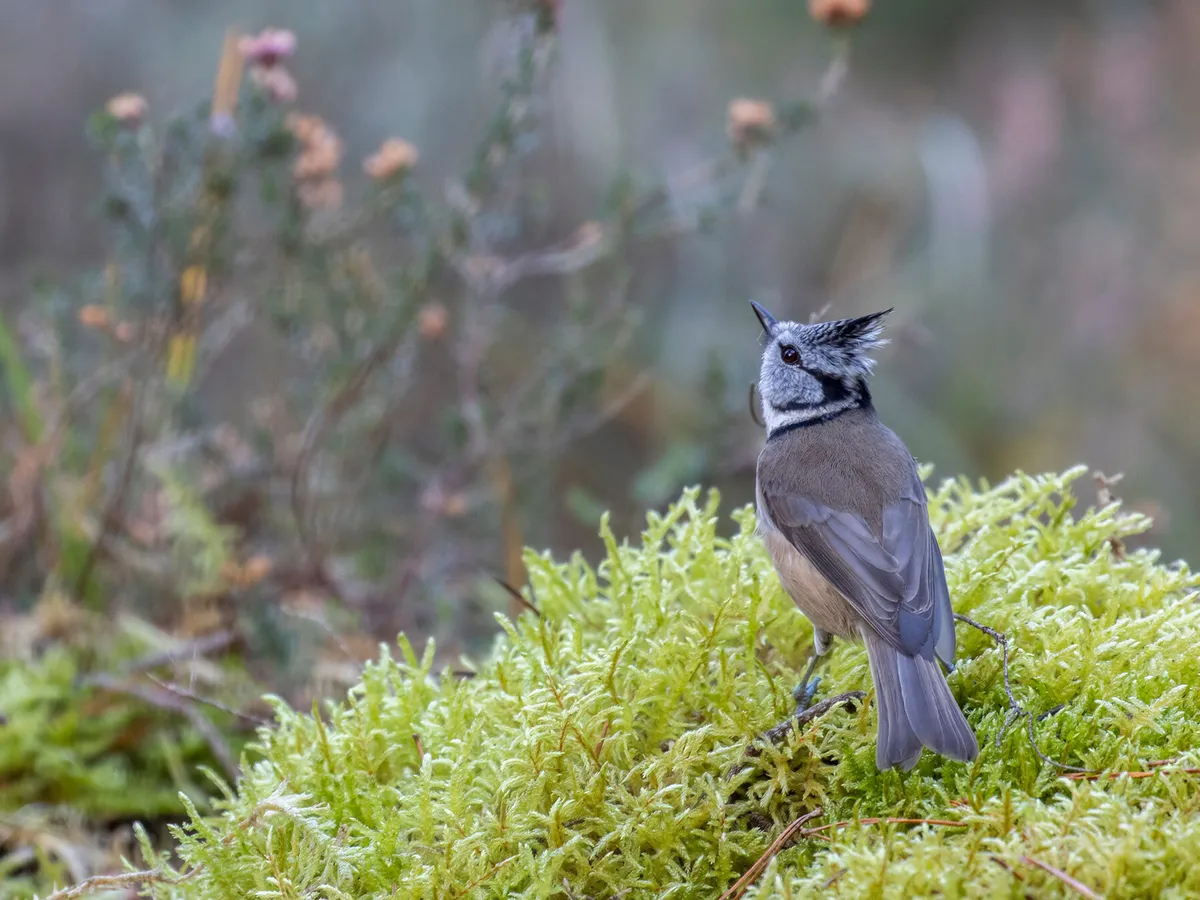 Crested Tit perched on top of moss and heather in a pine woodland during winter in Scotland
Where do crested tits live?
Scotland's resident crested tits are considered a distinct subspecies of the European crested tit. They are restricted to specific areas of well-established Caledonian forest. In winter, crested tit pairs and unpaired younger birds form larger flocks and may roam a bit further afield foraging for insects.
The forests in which crested tits live offer year-round sources of food, and shelter necessary for crested tits to be able to survive without needing to change their territory or leave their native habitat.
How rare are crested tits?
In the UK, there are up to 2,000 resident breeding crested tits. Numbers increase during winter months when migrants arrive from across northern Europe, swelling the UK population to between 5,600 to 7,900 birds.
You're unlikely to see one in your back garden, although rare sightings on bird feeders have been reported further south into Wales and even on the south coast of England.

In Europe, crested tits are widespread, population numbers are stable and there are estimated to be between 6 and 12 million pairs.
Where to see crested tits in the UK?

Crested tits are limited to specific tracts of Scottish Caledonian pine forest remnants and pine plantations in Easter Ross, the Beauly catchment (including Glen Affric), Strathspey, and along the coast of the Moray Firth.
During winter months there are more opportunities to catch a sighting of a crested tit, when migrant birds arrive from northern and central Europe. These have been spotted further afield from where the UK's resident crested tits are found, with sightings reported on the south and east coasts of England, and in South Wales.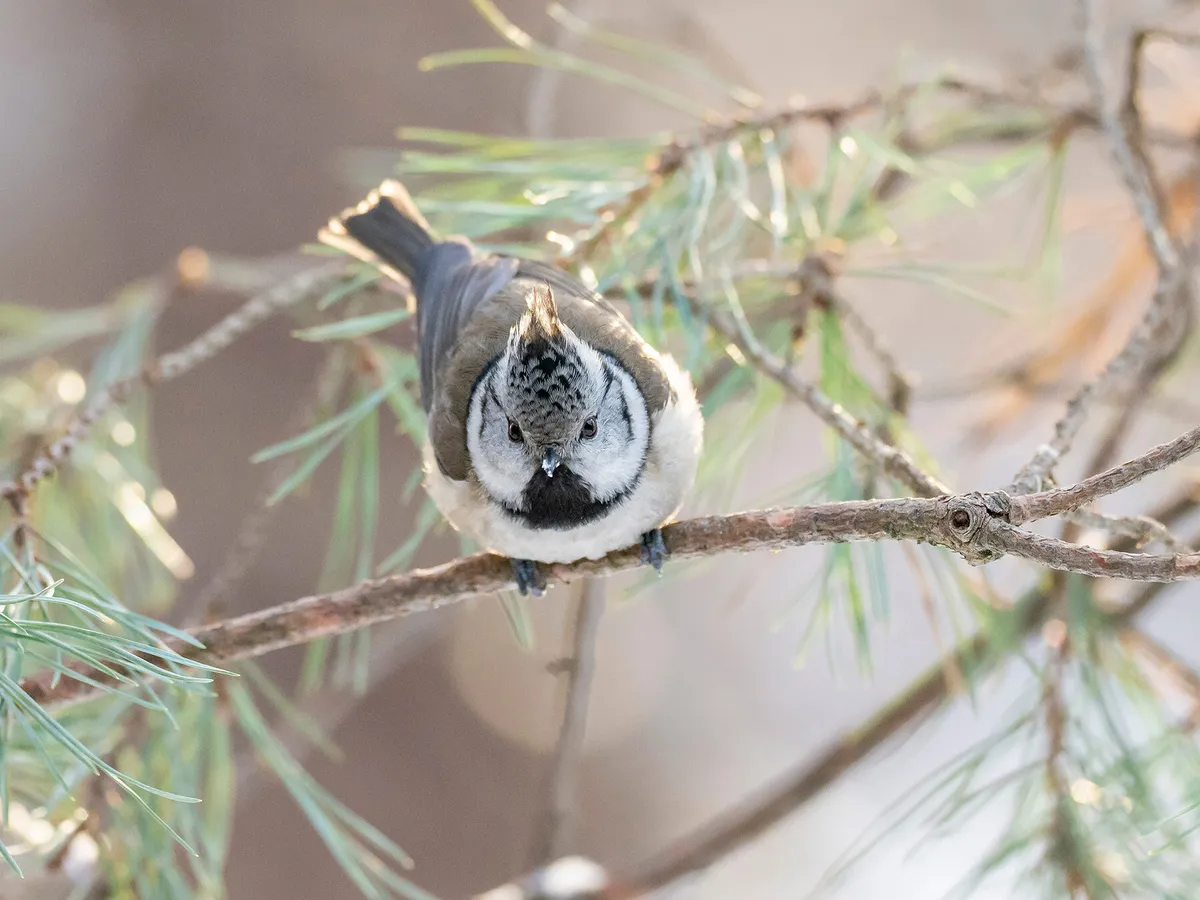 Perched Crested Tit looking front on
Lifespan & predation
How long do crested tits live?
Crested tits have been recorded living as long as 7 years and 11 months, although their typical life expectancy is considerably lower. The threat of predation and starvation in winter are factors that can cut short a crested tit's life, with the average lifespan for the species only being around 2 years
What are the predators of crested tits?
Red squirrels and pine martens will raid crested tits' nests for eggs and young chicks. Adult birds are also vulnerable to predation, with sparrowhawks posing the leading threat.
Are crested tits protected?
Crested tits are protected under Schedule 1 of the Wildlife & Countryside Act 1981. This ensures they are safeguarded against being disturbed when building nests, incubating eggs or raising young, and also protects newly fledged birds.
Are crested tits endangered?
Although there are only around 1,500 crested tits that are resident breeders in the UK, the population is stable and it is considered a species of least concern. Numbers are thought to have fallen significantly with the loss of ancient forest habitat, but the current population is stable and not considered vulnerable or threatened.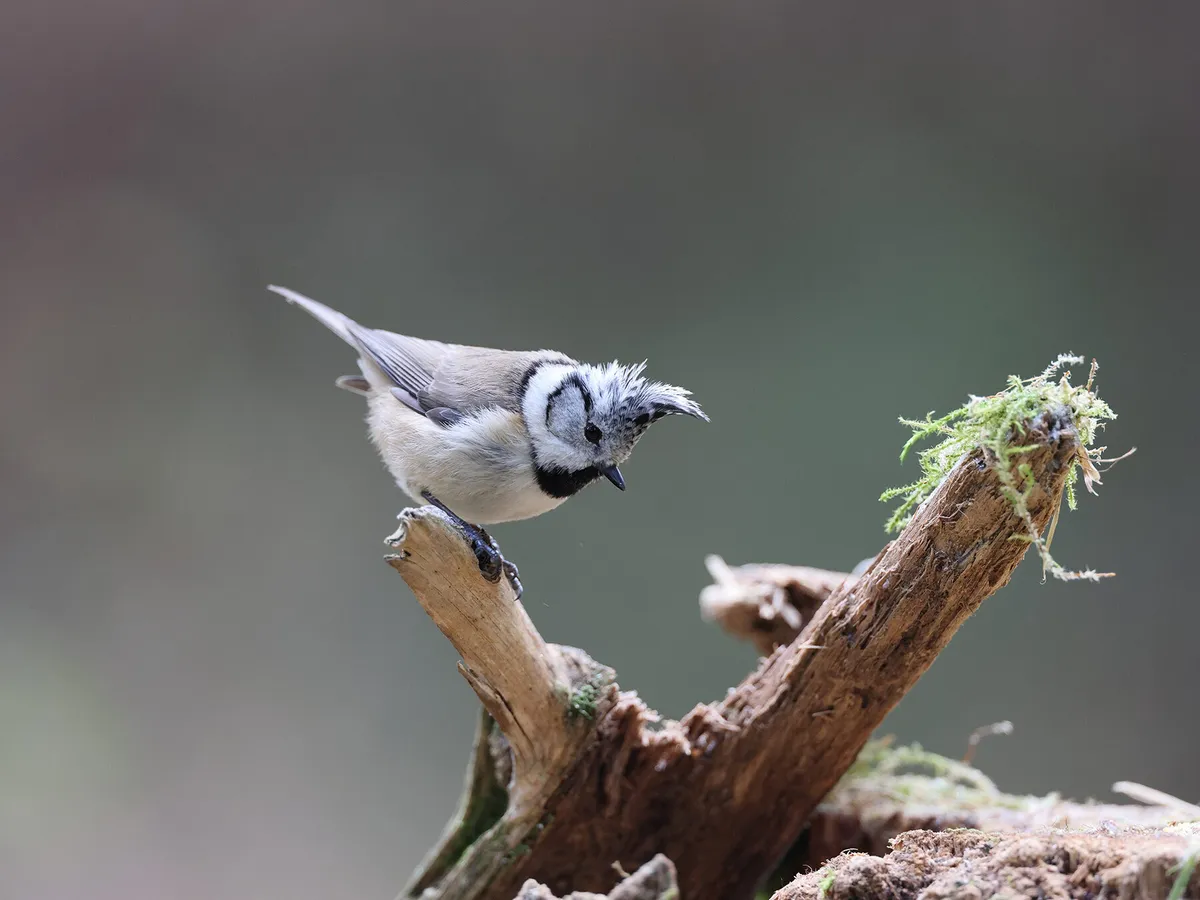 Crested Tit foraging for food in the forest
Breeding
Where do crested tits nest?
Crested tits look for nest sites in the trunks of dead or rotting trees. If an already-excavated hollow exists, they will make use of it, but they are also skilled at hollowing out cavities on their own. They have also been known to reuse a disused squirrel's drey or an old woodpecker's nest if a suitable one is found.
What do crested tit eggs look like?
The eggs of a crested tit are white and are dotted with reddish-brown speckles. They are tiny in size, measuring around 16 by 13 mm (0.6 by 0.5 in) and weighing 1.3 g (0.05 oz). Between 4 and 8 eggs in a clutch are laid, and 1 to 2 broods are raised each year.
Do crested tits mate for life?
Crested tits are monogamous birds and typically stay in pairs for subsequent breeding seasons. They do not have a particularly long lifespan, living for on average 2 years, so it could technically be classed as mating for life, even though it is not an especially long life. Both males and females play an active role in feeding young, both in the nest and once fledging has taken place.
Nesting Crested Tit
Behaviour
Are crested tits aggressive?
Crested tits are social birds, and are not known for aggressive or territorial behaviour. Once the breeding season ends, crested tits form larger flocks with different birds (for example coal tits, treecreepers, and goldcrests that pass through their territories) to forage together for insects and larvae.
Migration
Do crested tits migrate?
Although generally considered resident birds, some crested tits may migrate during winter months to warmer climates to ensure they have access to food supplies. Scottish birds remain in their territories all year round, but vagrant birds may arrive in different parts of the British Isles from countries in northern Europe to temporarily escape the coldest winter conditions.
Crested Tit FAQs
Why are they called crested tits?
Crested tits take their name from their distinctive spiky crest of feathers. They are not easily confused with other members of the tit family, and their distinctive head feathers are unlike those of any other small birds resident in the UK.