Quick Facts
Classification
Scientific name:
Cepphus grylle
Other names:
Tystie
Family:
Auks
Conservation status:
Amber
Measurements
Length:
30cm to 32cm
Wingspan:
52cm to 58cm
Weight:
320g to 485g
Appearance & Identification
What do Black Guillemots look like?
Black Guillemots are medium-sized black and white seabirds with short, pointed tails and long, thick necks. Their sharp, straight bills have a red inner lining, and their plumage has a satin-like quality. Their legs and large webbed feet are bright scarlet and stand out in flight or when perched.
These birds have distinct summer and winter plumages. In the warmer months, they are mostly jet black with large white wing patches. Their winter plumage is much paler, appearing grayish above and white below. They fly low to the water, displaying pure white plumage under their wings.
Males and females are similarly sized and have the same plumage in all seasons. Juveniles resemble non-breeding adults but have spots or bars on their white wing patches and gray feathers around the sides and head.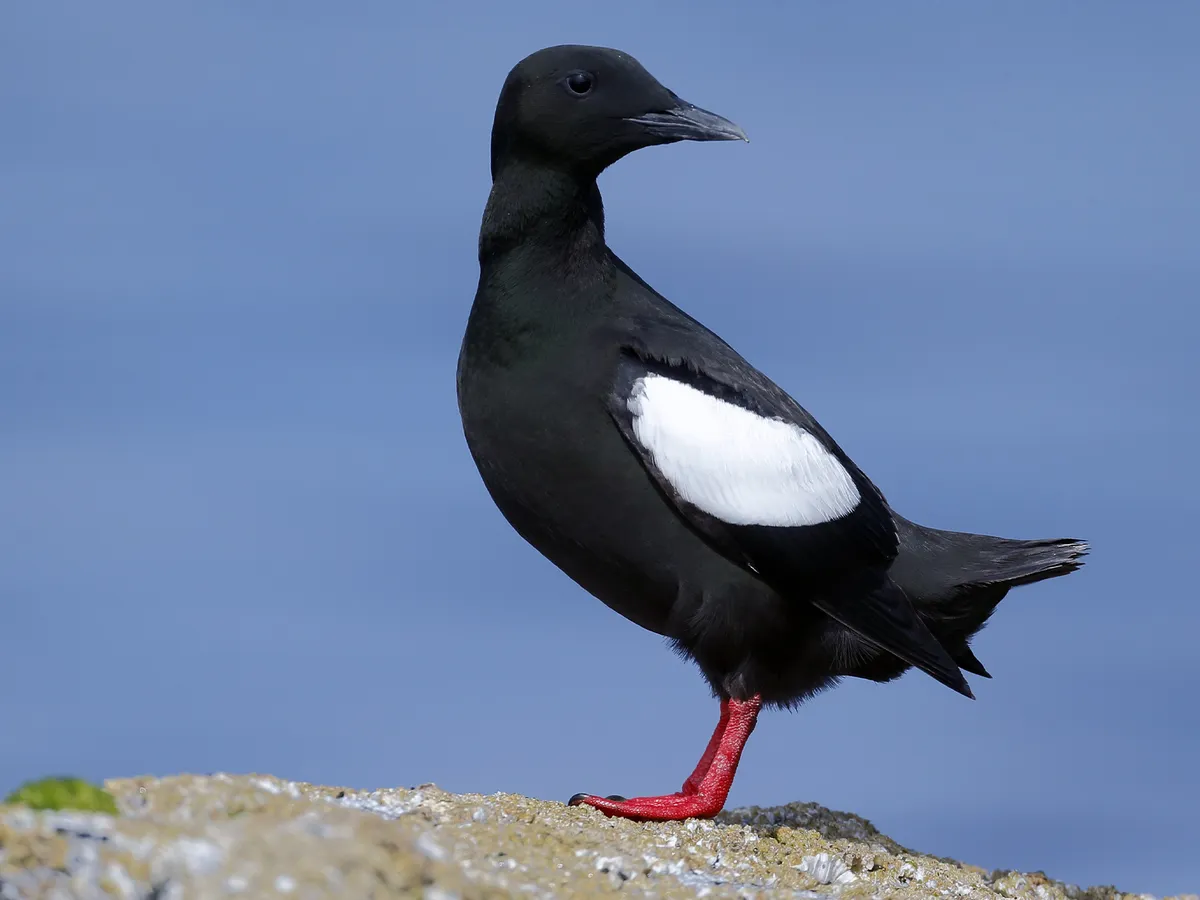 Black Guillemot standing on the rocks
How big are Black Guillemots?
Black Guillemots are medium-sized seabirds about the size of a pigeon.
Length
Black Guillemots have a body length of 30 to 32 centimeters or about 12 inches.
Weight
These stocky birds weigh 320 to 485 grams or about 11 to 17 ounces. Females are heaviest before egg laying, and both sexes lose significant mass while feeding their chicks.
Wingspan
The Black Guillemot has a relatively short wingspan of 52 to 58 centimeters or 20 to 23 inches.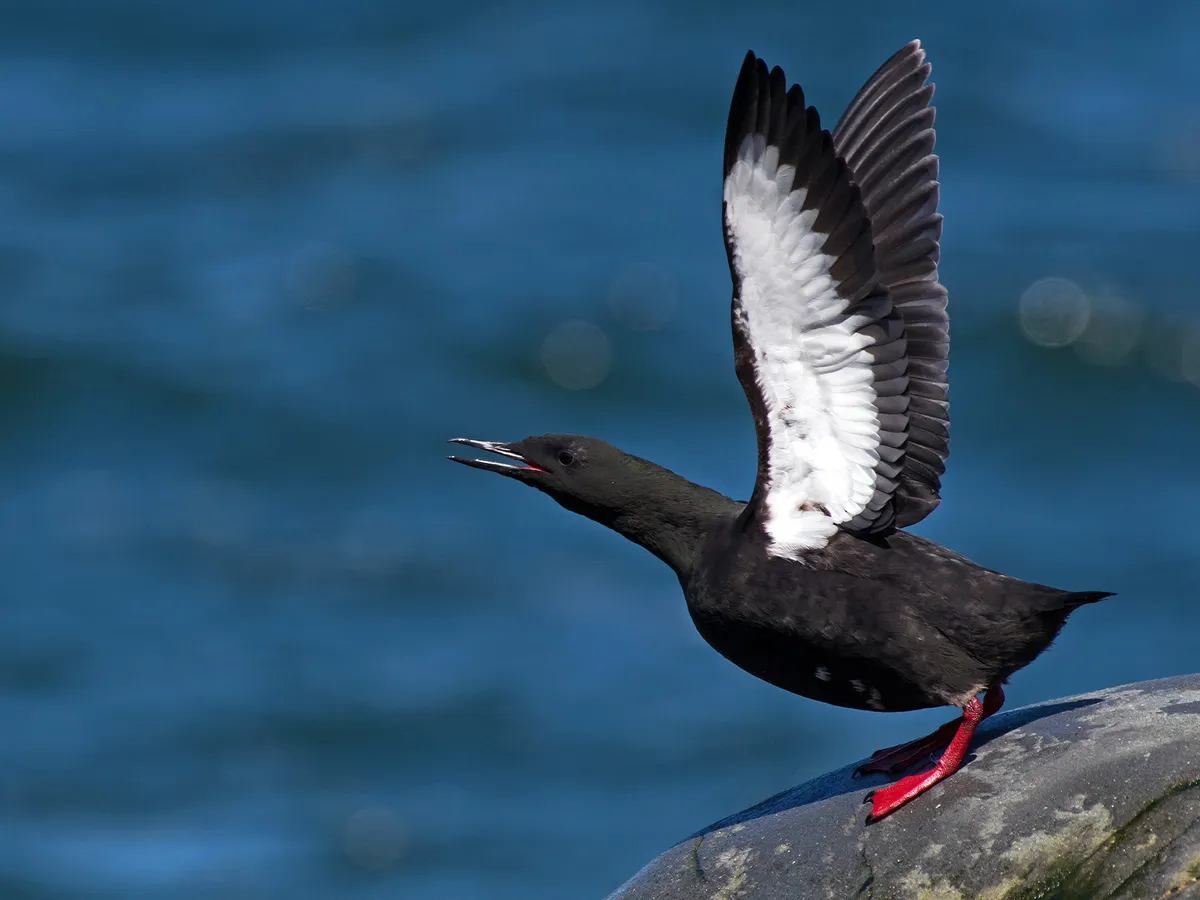 Black Guillemot about to take-off from the rocks
Calls & Sounds
What sound does a Black Guillemot make?
Black Guillemots produce a variety of thin, high-pitched songs and calls, particularly in the early nesting season when birds are actively displaying and courting. They also utter a drawn-out whistle when disturbed by humans or other potential predators.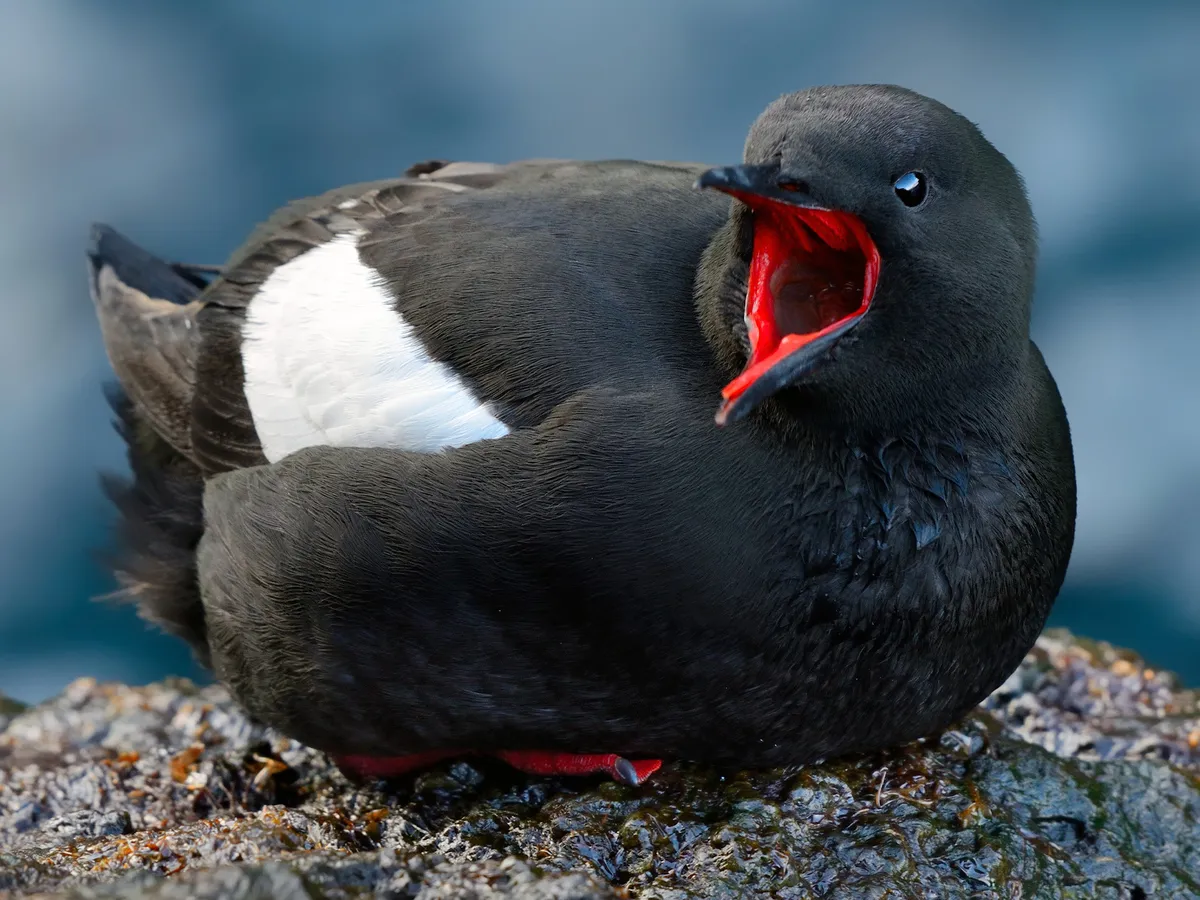 Black Guillemot resting on the rocks calling out
Diet
What do Black Guillemots eat?
Black Guillemots are primarily piscivorous (fish eaters) and feed on many species, from schooling fish like herrings to blennies and other bottom-dwellers. They eat a variety of other sea creatures, such as squid, crustaceans, worms, and mollusks.
Short wings come in handy when hunting their prey. These diving birds 'fly' through the water and can reach depths of at least 160 feet (50m) and stay submerged for as long as two minutes while searching the seabed.
What do Black Guillemot chicks eat?
Black Guillemot chicks eat small fish. Both parents feed their chicks every day from the day they hatch to the day they fledge the nest.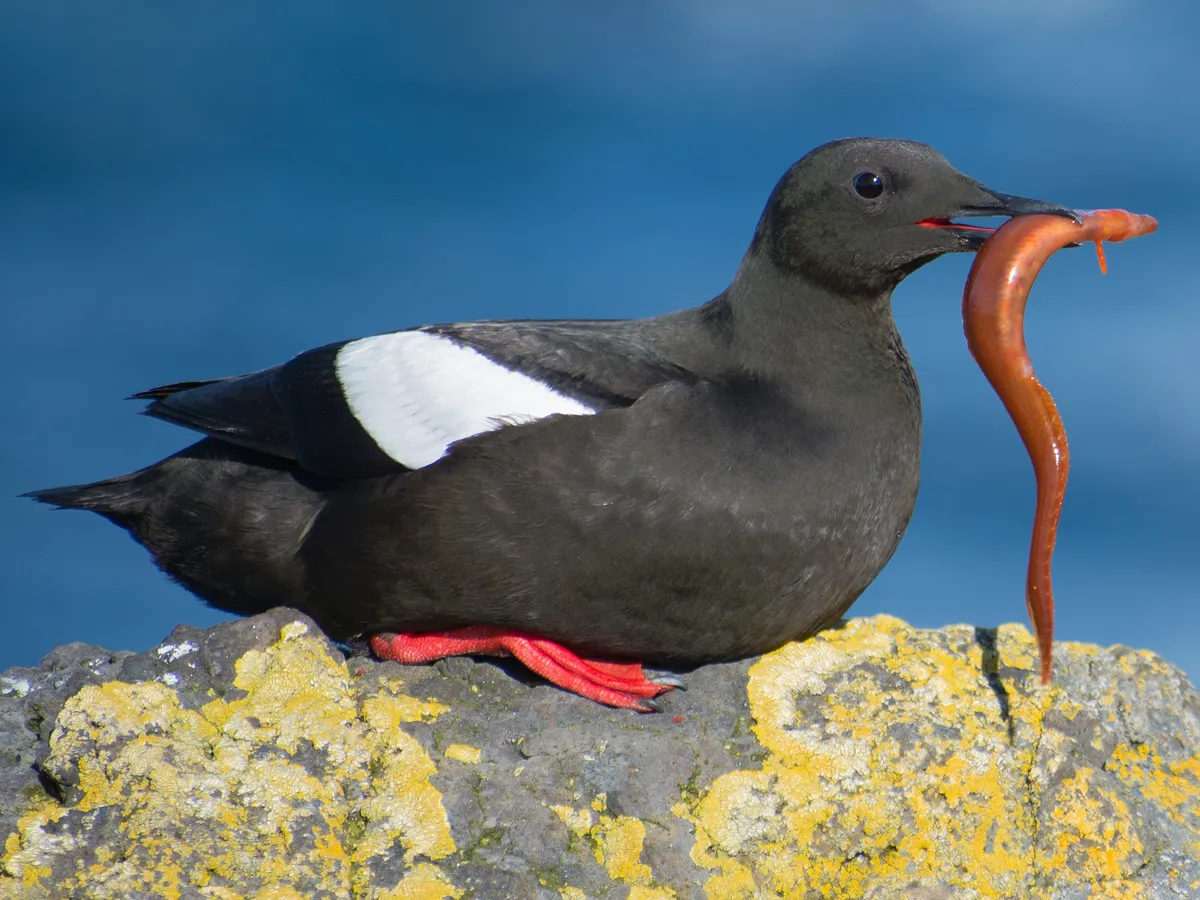 Black Guillemot with a rock gunnel in its beak
Habitat & Distribution
What is the habitat of a Black Guillemot?
Black Guillemots are marine birds that live along rocky shores. They generally hunt in the intertidal zone and waters up to about 100 feet (30m) deep, although Arctic breeders also forage far from the shore in holes and cracks in the ice.
What is the range of a Black Guillemot?
The Black Guillemot is widespread in temperate and Arctic seas of the Northern Hemisphere with a virtually circumpolar distribution. In the Old World, they live off the coasts of Iceland, the United Kingdom, Northern Europe, and Russia. North American populations live off the shores of Alaska, Greenland, Canada, and the Northeast of the United States.
Where do Black Guillemots live?
Black Guillemots generally forage close to the shore, especially during the nesting season. Many remain in shallow coastal waters throughout the year, although they may be forced to travel far out to sea with advancing ice sheets at high latitudes.
How rare are Black Guillemots?
The total population of Black Guillemots is unknown, although a 1980s estimate put the number at about 200,000 - 350,000 pairs, and the IUCN estimates the world population at anything from 400,000 to 1,499,999 individuals. They are not rare, although the population is spread out over a wide geographic area.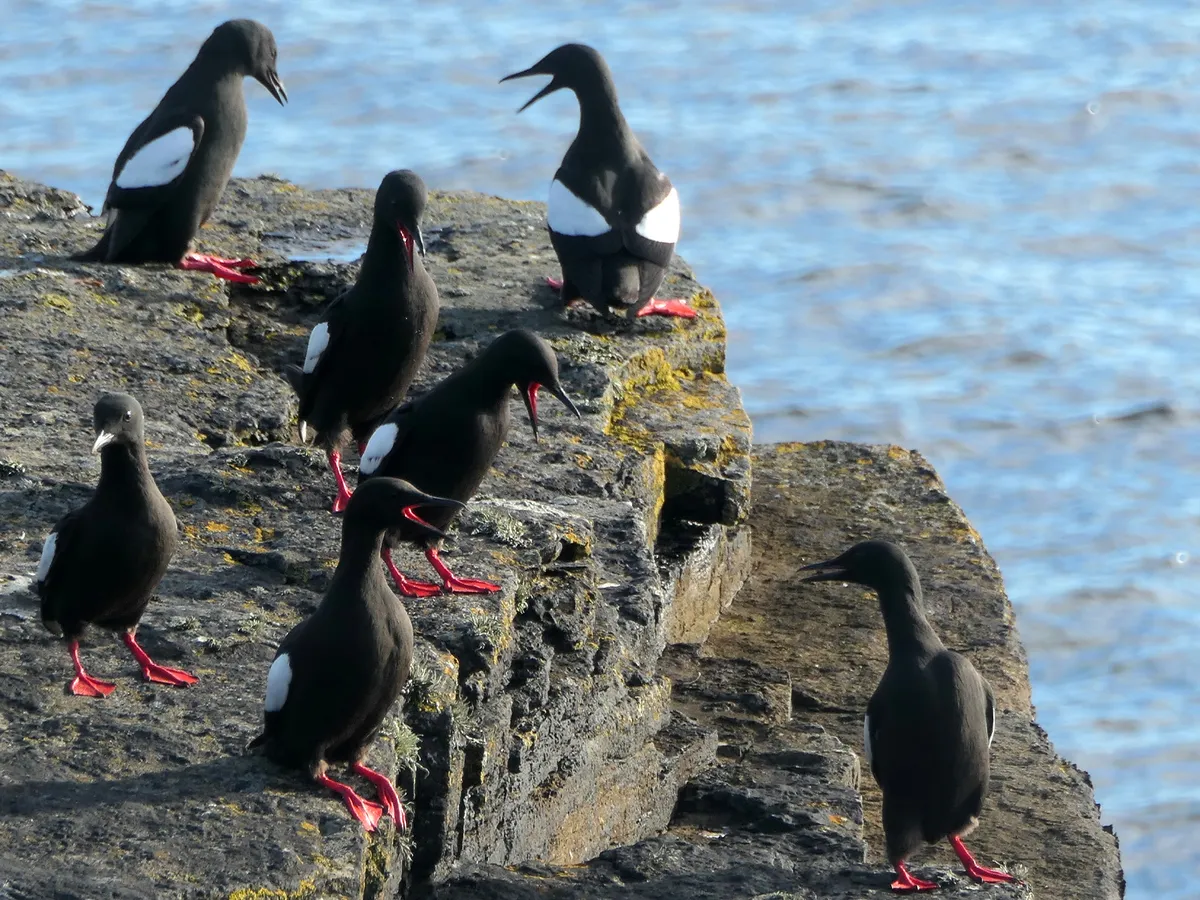 Black Guillemots in coastal habitat
Where can you see Black Guillemots in North America?
The Maine coastline is the best place to look for Black Guillemots in the United States. Further north, they are widespread along the coast of Eastern Canada, including the Hudson Bay, and occur in a few isolated areas of Northern and Western Alaska.
Where can you see Black Guillemots in the UK?
The Shetland and Orkney islands and Scotland's North and West Coasts offer the best chance of seeing Black Guillemots in the United Kingdom. However, birders can look for them further south around Cumbria, Anglesey, and the Isle of Man. They are also widespread along the Northern Ireland and Republic of Ireland Coastline.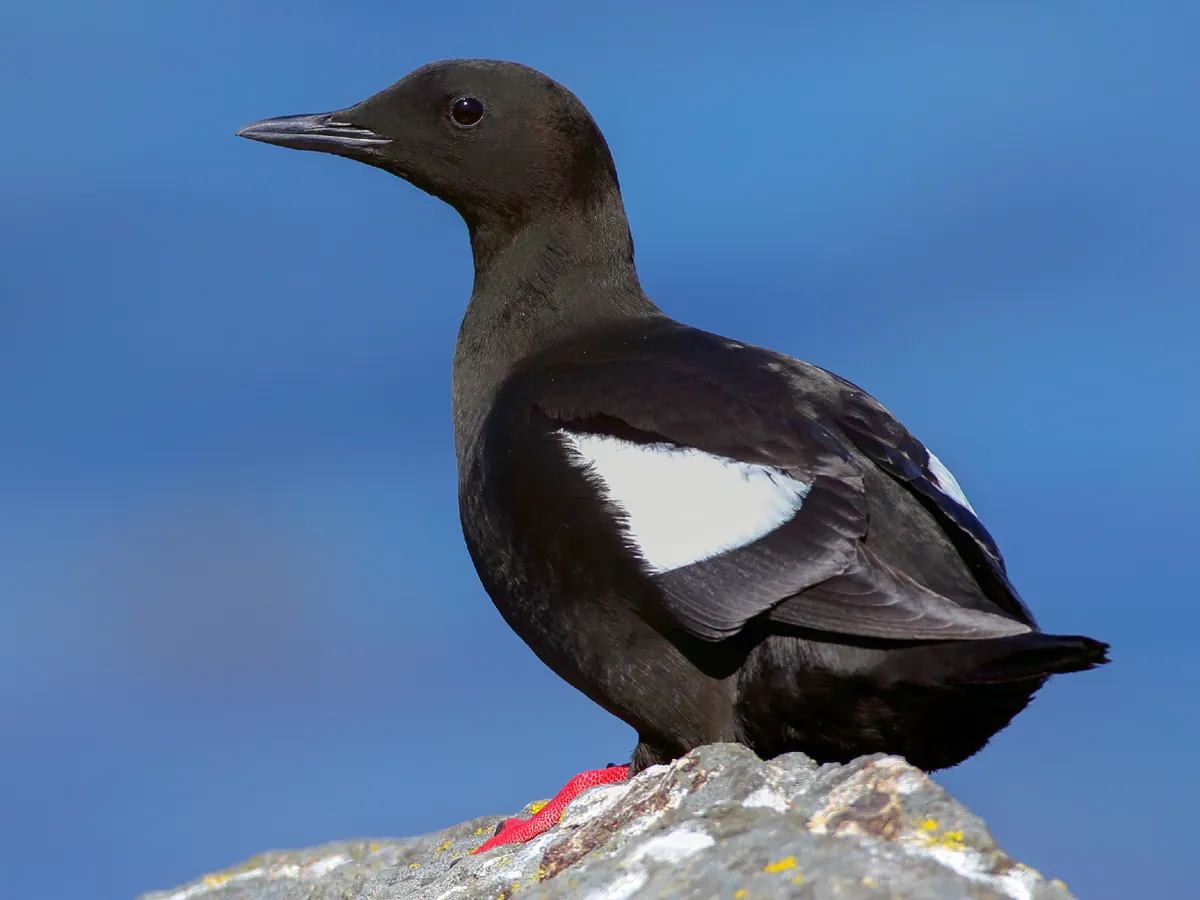 Black Guillemot resting on the rocks overlooking the sea
Lifespan & Predation
How long do Black Guillemots live?
Black Guillemots are relatively long-lived birds. They can live for at least 27 years, although they have an average life expectancy of about 11 years.
What are the predators of Black Guillemots?
Black Guillemots are vulnerable to a variety of avian and mammalian predators at each stage of their life cycle. Typical predators include:
Snowy Owls
Mink
Otters
Rats
Raccoons
Are Black Guillemots protected?
Black Guillemots are protected in the United Kingdom by the Wildlife and Countryside Act 1981 and in North America by the Migratory Bird Treaty Act 1918.
Are Black Guillemots endangered?
Black Guillemots are not endangered. The species has an amber conservation status in the United Kingdom and is ranked a 'Least Concern' species on the IUCN Red List.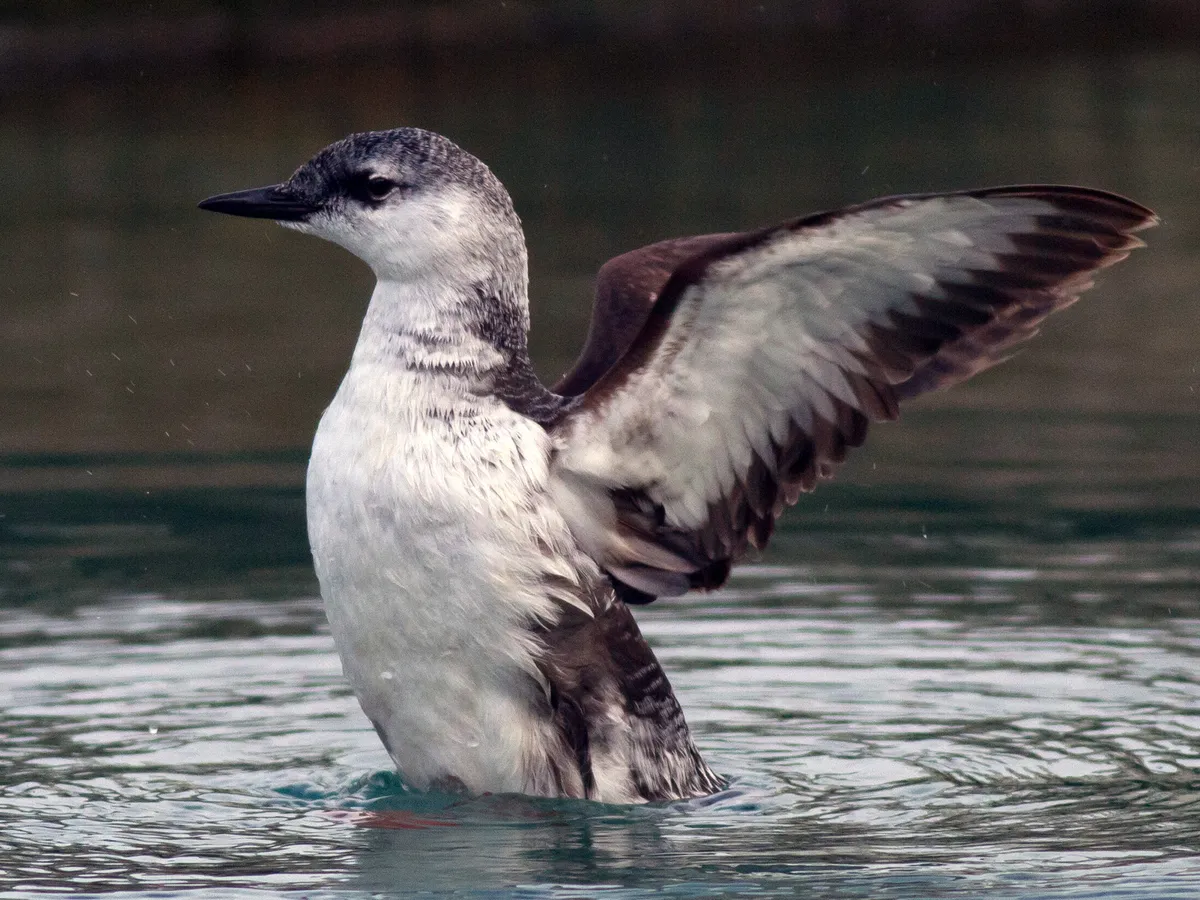 Black Guillemot (winter plumage) stretching its wings
Nesting & Breeding
Where do Black Guillemots nest?
Black Guillemots nest in crevices on rocky cliffs and islands. They may build a crude nest from materials like seaweed and shells, although many pairs lay their eggs directly on the rocks. They may nest in large colonies of thousands of pairs in some areas but more often nest singly.
When do Black Guillemots nest?
Black Guillemot pairs begin courtship in the spring and lay their eggs in May and June. The eggs hatch after about 29 days, and the chicks leave the nest about five weeks later.
What do Black Guillemot eggs look like?
Black Guillemots lay two boldly spotted eggs that measure approximately 59 millimeters long and 40 millimeters at their widest. They have a whitish or greenish ground color and are marked most heavily toward the blunt end.
Do Black Guillemots mate for life?
Black Guillemots are monogamous birds that first breed at the age of four. Pair bonds last several years, and they generally return to the same area or even nest site year after year.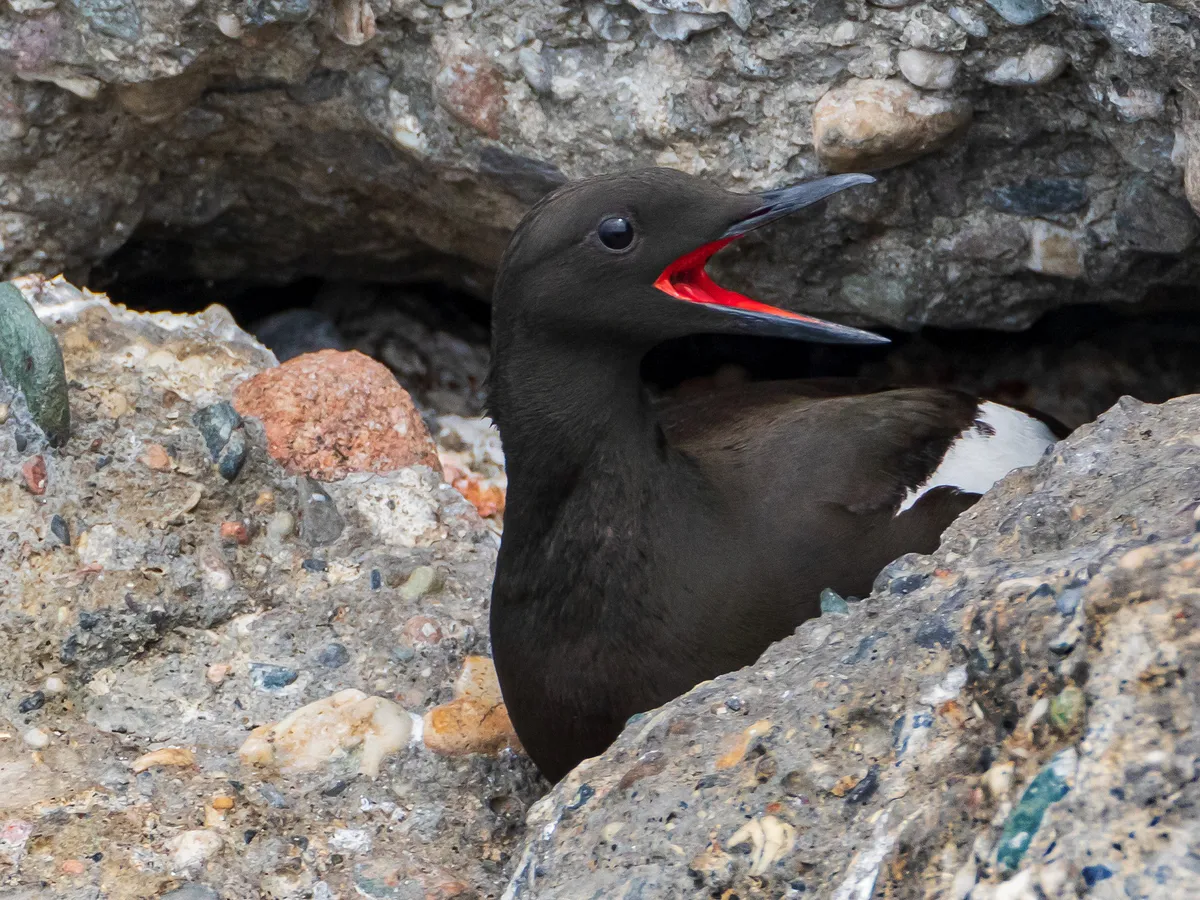 Black Guillemot sitting near to its nest
Behavior
Are Black Guillemots aggressive?
Black Guillemots may act aggressively toward each other at communal roosts and nest colonies. They will chase and lunge at each other and vocalize before engaging in physical conflict but may ultimately bite, peck, claw, or strike each other with their wings.
Where do Black Guillemots sleep at night?
Black Guillemots sleep on perch rocks near the shore or on the nest when incubating. They may also roost on the water near the nest site.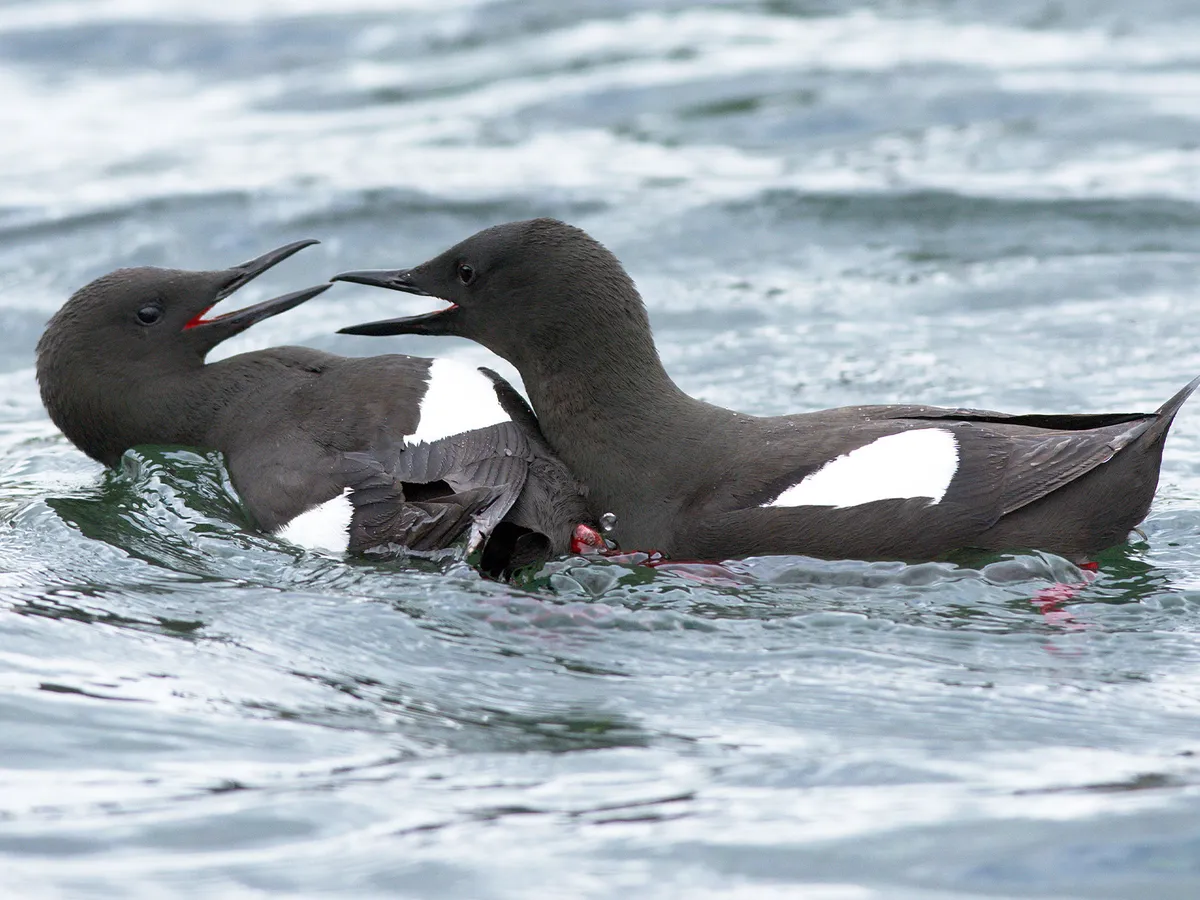 Black Guillemots fighting on the sea
Migration
Do Black Guillemots migrate?
Black Guillemots from the south of their range tend to remain near their nesting areas throughout the year, although populations from the high Arctic must migrate to find open waters in the winter.
Are Black Guillemots native to North America?
Black Guillemots are native to North America. These birds have not been introduced outside of their natural range.
Are Black Guillemots native to the UK?
Black Guillemots are native to the United Kingdom.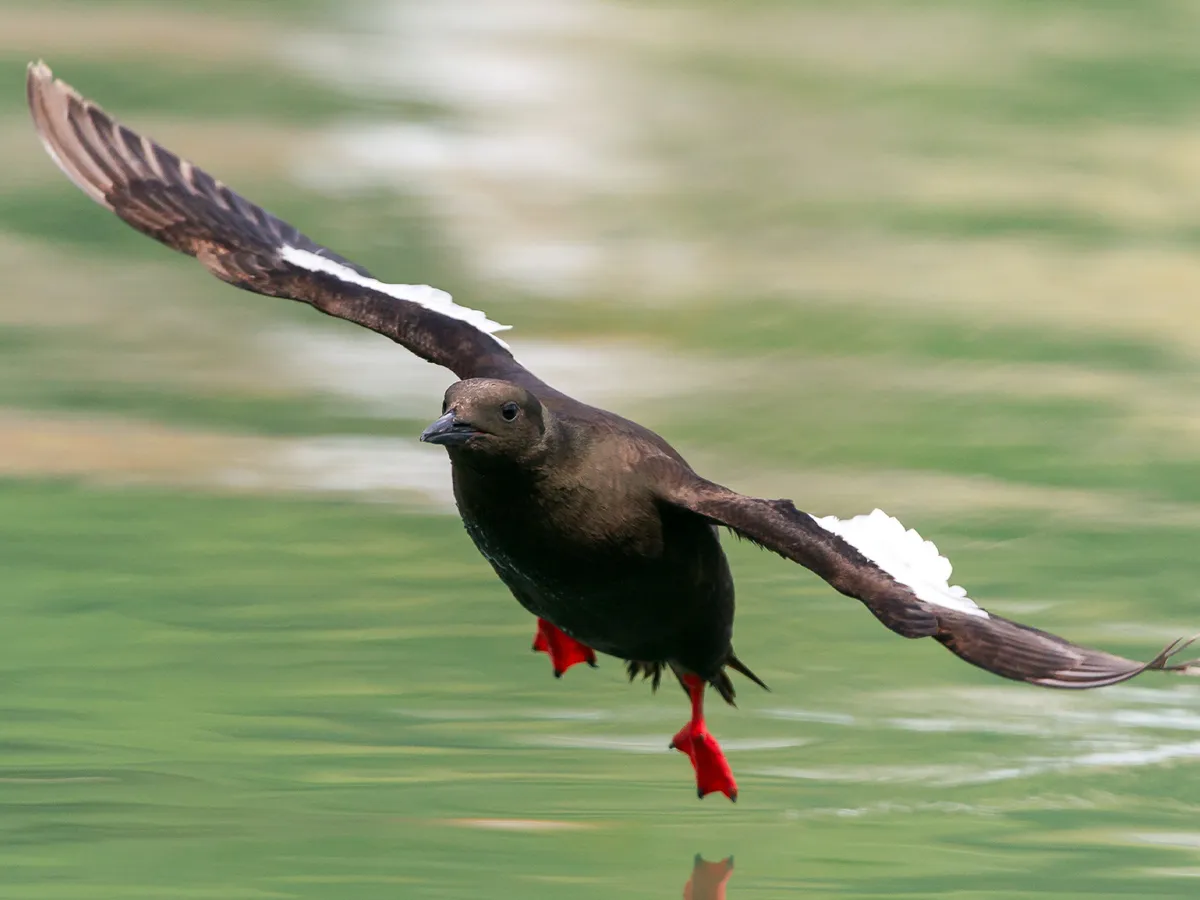 Black Guillemot in-flight
FAQs
What is the difference between a Black Guillemot and a Pigeon Guillemot?
The Pigeon Guillemot (Cepphus columba) appears very similar to the Black Guillemot (C. grylle) but can be distinguished by the black wedge within its white wing marking and the gray plumage of the underwing. The two species overlap only in the Bering Sea off Western Alaska.