The barred owl is a widespread resident throughout North American forests. They are easily recognizable by their call, "who cooks for you, who cooks for you all", commonly heard at dusk or just as night has fallen.
This forest dweller is a year-round resident. They stay within their chosen territory throughout their entire lifespan. Bit how long do Barred owls live for?
Barred owls can live 20+ years, but life in the wild can be harsh for an owl. Due to predation, illness, and human impacts this species lives a relatively short life outside of captivity. 8-10 years is the average lifespan of a wild barred owl.
In captivity, it is much more common for these owls to reach a ripe old age of 20+ years. There are, of course, far fewer threats to the barred owl in captivity.
This article will continue to discuss the barred owl's life cycle in greater detail. Read on to discover more!
On average, Barred owls in the wild live for between eight and ten years
How long do Barred Owls live in the wild?
On average, barred owls live about eight years in the wild. Their lifespans are often shortened by predation, to which they are particularly vulnerable when they are young. If a young or juvenile barred owl can make it to adulthood, near two years of age, they are far more likely to live a longer life.
How long do Barred Owls live in captivity?
Barred owls commonly live longer lives in captivity. The oldest confirmed owl lived 23 years. In captivity, these owls are not threatened by predation or many human impacts, such as getting caught in traps or collisions with vehicles. Thus, their chances of living a full life are much higher.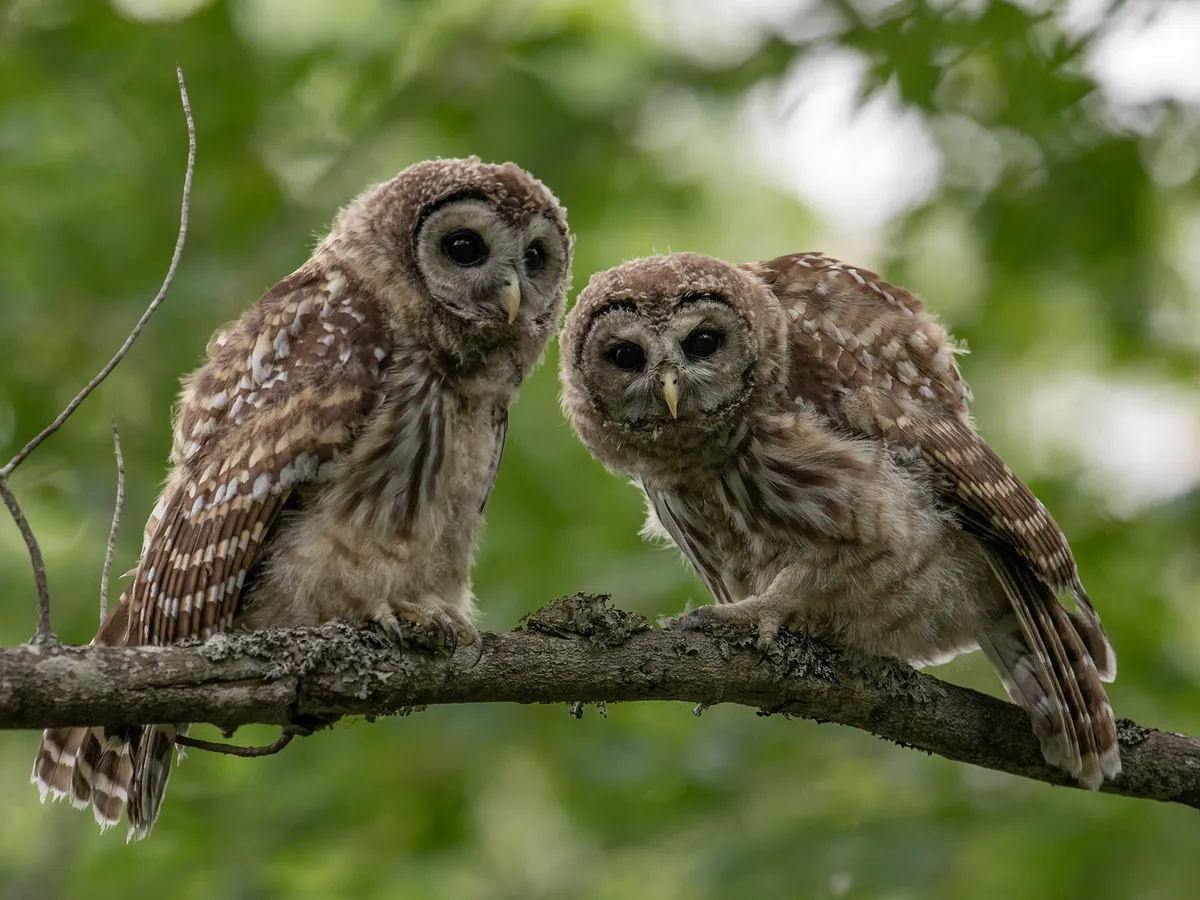 Two young Barred Owls - As with most bird species, captive Barred owls can have significantly longer lifespans
How do most Barred Owls die?
Most barred owls die from predation. Many do not make it beyond the egg or nestling stage of their lifecycle. At this point, barred owls are particularly vulnerable to predation by raccoons. Great horned owls are another common cause of death for this species.
Though they are not much larger than the barred owl, great horned owls are more aggressive, often attacking and killing juvenile and adult barred owls.
Wild barred owls are also killed by vehicle collisions and furbearer traps. These traps are not meant for the owls, but they frequently get caught in them by trying to catch an animal within the cage.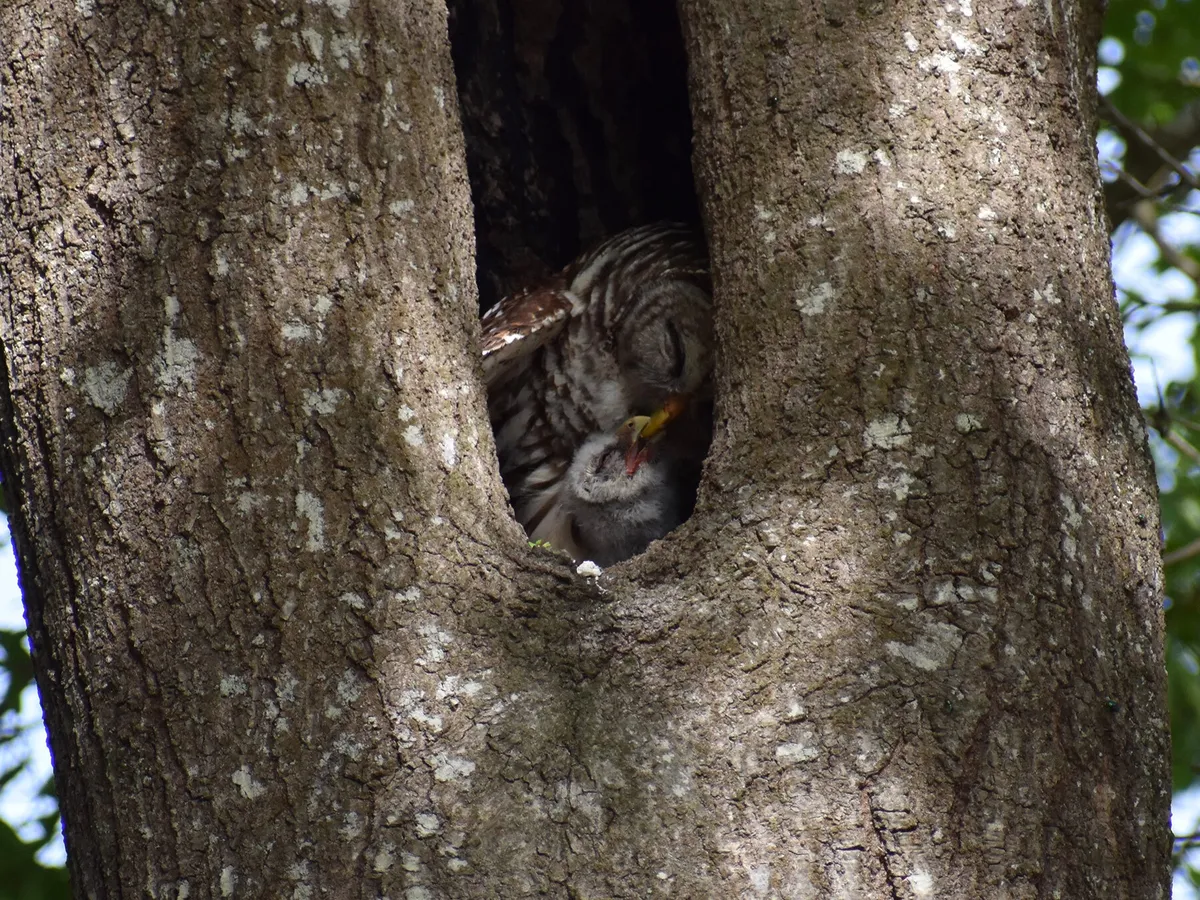 Many Barred owl chicks fall victim to predation to animals like Raccoons
What is the life cycle of a Barred Owl?
Barred owls reach maturity around two years of age, meaning they are ready to find a mate and start nesting. A pair will produce one clutch per year. Eggs are typically laid between March and April, but females are known to lay as early as December.
Two to three eggs are produced per clutch. The female incubates her eggs for 28-33 days. During the incubation process, the female stays with the nest while the male provides food.
Once the eggs have hatched, the female broods her chicks for about two weeks, while the male continues to bring food.
The chicks leave the nest around three weeks after hatching. During the barred owls' juvenile period, they learn how to hunt and exhibit breeding adult behavior, such as nest prospecting.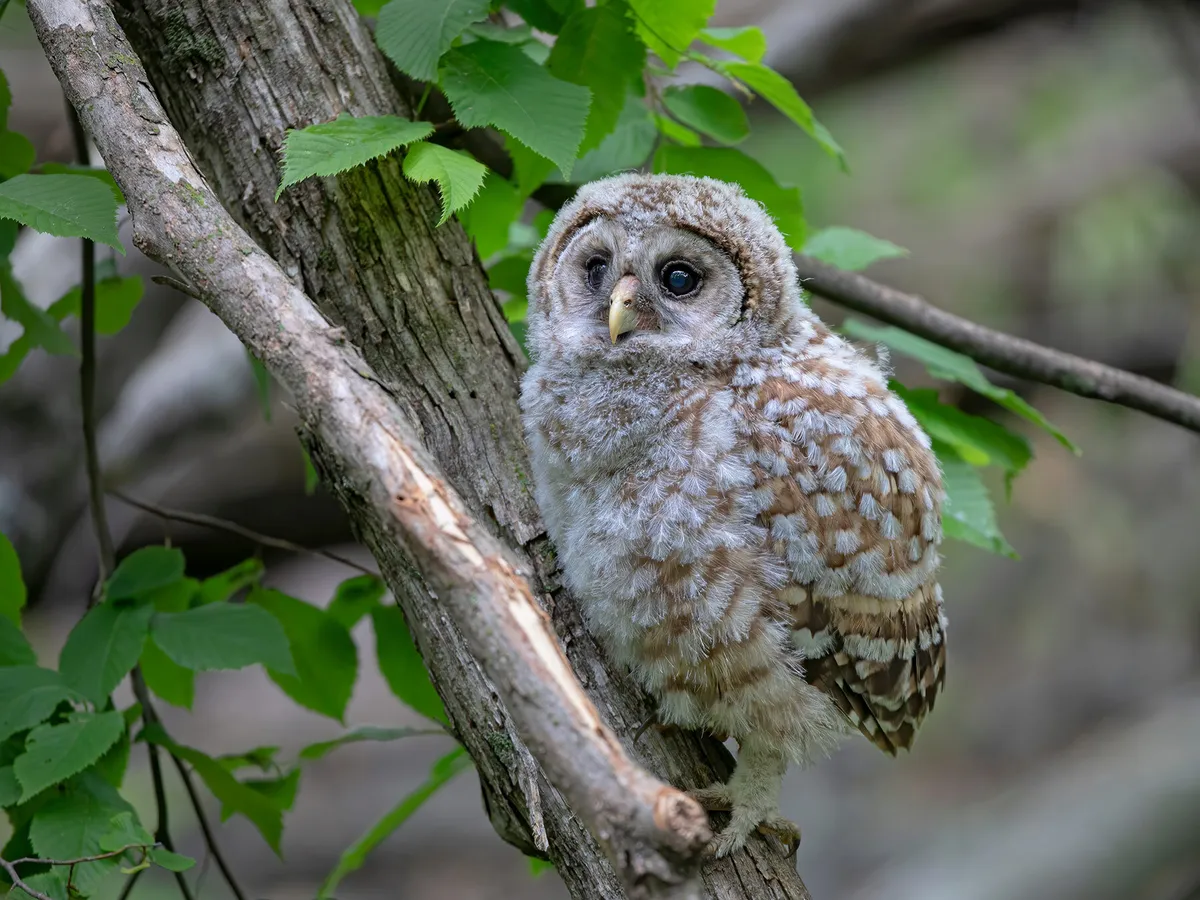 A recently fledged Barred Owl owlet
What are the predators of Barred Owls?
Raccoons and weasels are the most common predators of barred owl eggs and nestlings. Juveniles and adults are killed by more aggressive raptors, such as great horned owls and northern goshawks.
How old is the oldest Barred Owl?
The oldest recorded barred owls lived to the ripe old age of 26. According to records, it was banded in 1993, then caught in 2019 due to an injury.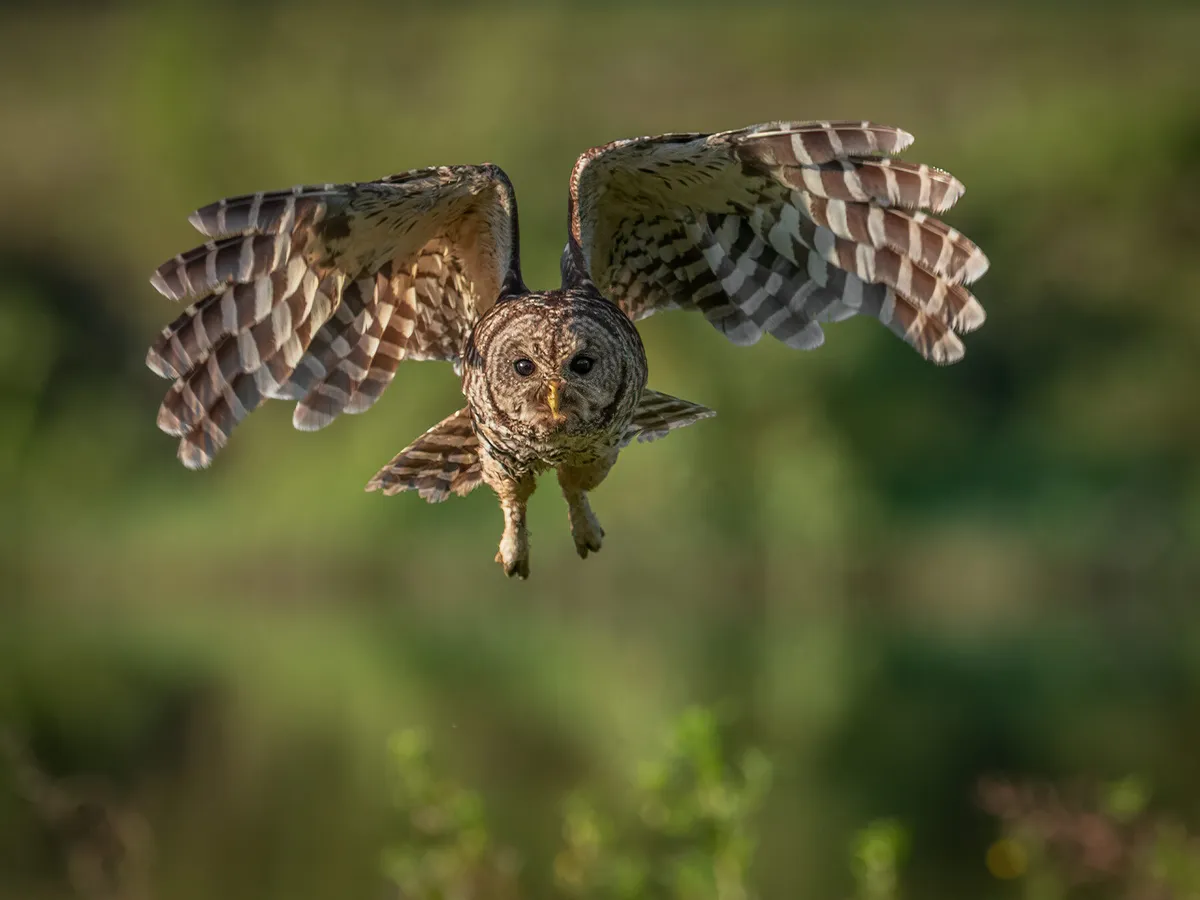 Barred Owl in flight, Southern Florida
How long can Barred Owls live without food?
There is little information on exactly how long a barred owl can go without food. However, most bird species could not live for more than several days.
Owls need a lot of energy to fly and hunt, thus they eat three to four times per day. A meal generally consists of one small or medium-sized mammal, such as a mouse or rabbit.
Do Barred Owls survive winter?
Barred owls do not migrate. They remain in their chosen territory throughout their lifespan. To do so, they must be well-adapted for winter - particularly in harsh northern climates.
As long as food is plentiful, the barred owl has no trouble surviving long winters. These owls are skilled hunters, they can pinpoint a rodent burrowed under the snow and swoop down to grab it without ever seeing it. Their powerful sense of hearing makes such a thing possible.
If food is scarce, a barred owl will wander outside of its territory in search of prey. However, this only occurs on rare occasions.
Barred Owl hunting for prey in snow, during winter in northern Wisconsin
Are Barred Owls endangered?
The Barred owl is not endangered. It is considered a "species of least concern". The "least concern" status means no imminent threats exist to the species' population. However, this does not mean human activity does not pose a threat to the barred owl.
Barred owls are commonly killed by vehicle collisions and furbearer traps. Intense logging also affects species populations. These owls require dense forests to survive.
In some cases, thinning makes way for the barred owl's biggest predator, the great horned owl, to move in and take over its habitat.
This is not to say forest thinning is inherently detrimental to the barred owl species. Species populations are not threatened at this time. However, their presence and habitat necessities should be taken into consideration when carrying out forestry prescriptions or logging activities.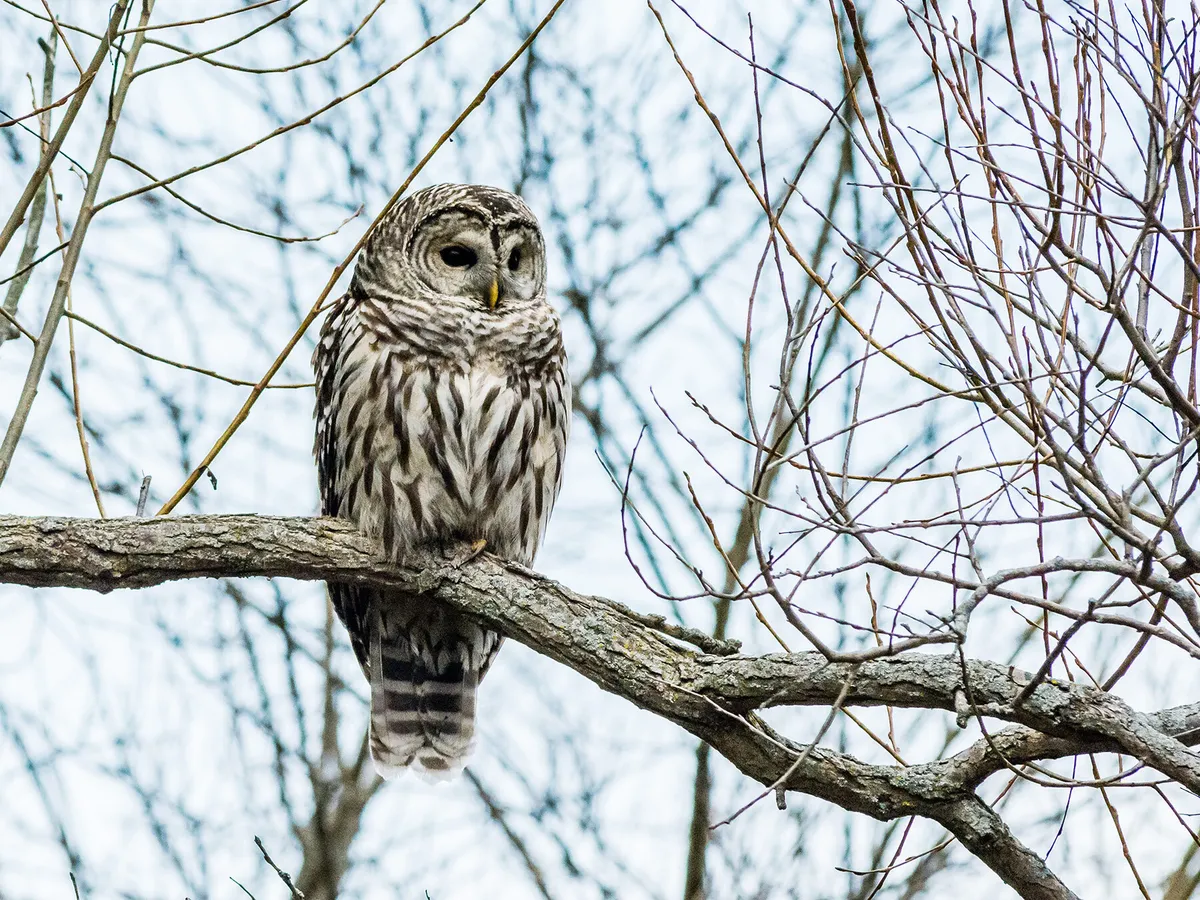 Close up of a Barred Owl perched on the branch of a tree