From their name, we could hazard a guess that sandhill cranes might be at home in arid desert-like habitats. But these long-legged wading birds are not limited to such environments and are found on marshlands, open prairies and freshwater wetlands in North America and into north-eastern Siberia.
But what is the preferred habitat of sandhill cranes? Read on if you're interested in finding out.
The sandhill crane takes its name from Nebraska's Sandhills, an important stopover point on some birds' annual migration. Great Plains landscapes with dunes, ponds and mixed prairies are an ideal environment for these tall waders to forage for grains and wetland vegetation.
Not all sandhill cranes migrate, with resident populations present all year round in Florida, Mississippi and Cuba. All other sandhill cranes undertake annual migrations, leaving their northern breeding grounds at the end of each season and spending winter months in warmer regions.
If you're interested in finding out where you can see these graceful majestic wading birds in large numbers, keep reading, as we highlight some of the key staging areas for hundreds of thousands of sandhill cranes during their annual migrations – presenting an unrivaled and stunning wildlife experience to witness.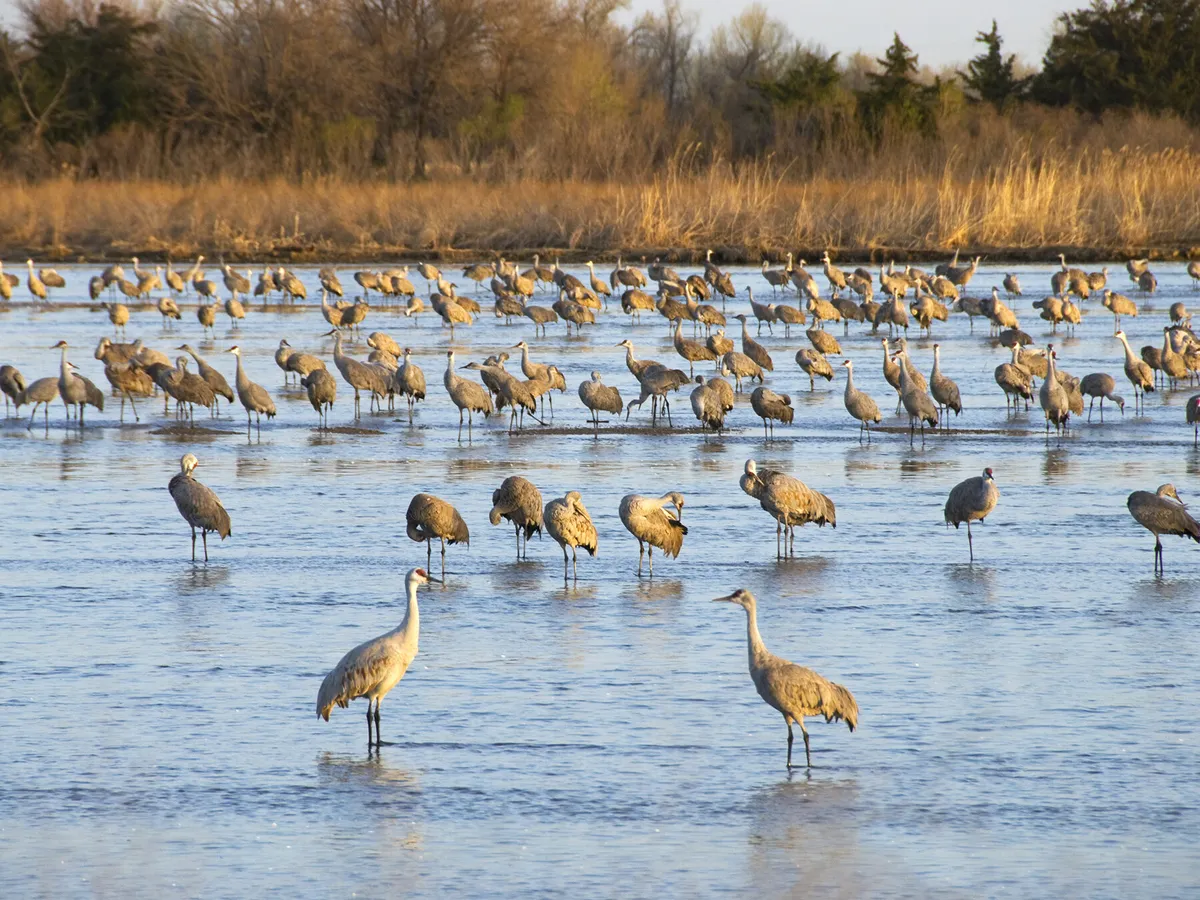 A large flock of Sandhill Cranes in the Platte River during the spring
What is the distribution range of the Sandhill Crane?
Sandhill cranes are found from northeastern Siberia and throughout North America, from Canada, throughout northern, central and parts of the southern United States, to northern Mexico and Cuba.
What is the habitat of a Sandhill Crane?
Sandhill cranes thrive in habitats with open meadows and marshes. They are commonly found on prairies surrounded by trees and shrubs. Preferred environments feature wetlands, dunes and pastures, close to standing water, e.g. ponds, pools and lake shores.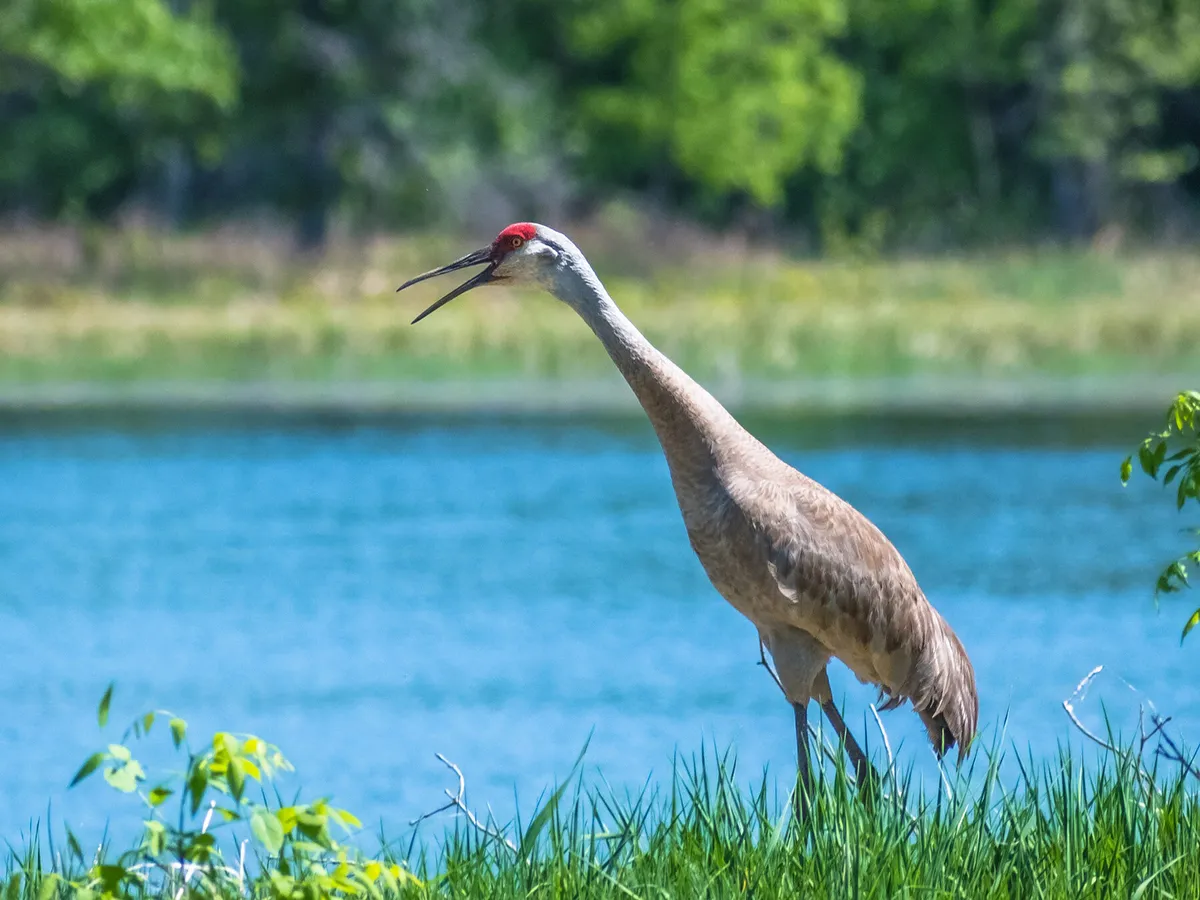 Meadows and marshes are two of the best places to see Sandhill Cranes
How rare is it to see a Sandhill Crane?
Around 450,000 to 700,000 sandhill cranes migrate between mid-February and the end of April each year, with return migrations happening from August to November. During these times, if you know where to look, you stand a great chance of spotting one – or even several hundred.
Do Sandhill Cranes stay in one place?
Sandhill cranes are typically migratory, with northern populations moving south, southwest and southeastwards each fall and returning to their northern breeding grounds from late February onwards.
Migratory populations are frequently grouped by geographical area:
Eastern Flyway population:
Breeds in Maine, Vermont, Massachusetts, New Jersey, New York, Pennsylvania, Ohio, Illinois, Iowa, Nebraska, South Dakota, and North Dakota.
Winters in Georgia, Louisiana, Florida, Indiana, and Kentucky.
Mid-Continent population:
Breeds in Arctic regions of North America and north-eastern Siberia.
Winters chiefly in Texas and Louisiana.
Rocky Mountain population:
Breeds in: Montana, Idaho, Wyoming, Utah, and Colorado.
Winters mainly in New Mexico.
Lower Colorado River Valley population
Breeds in: Nevada, Idaho, Oregon and Utah.
Winters in Arizona and California.
Central Valley population:
Breeds in: Nevada, California, Oregon, Washington, and British Columbia and sometimes Alaska.
Winters in: California.
Southern populations of sandhill cranes are more likely to be resident all year round, spending winters only a short distance from their spring breeding grounds. These include populations in Cuba, Florida, and Mississippi.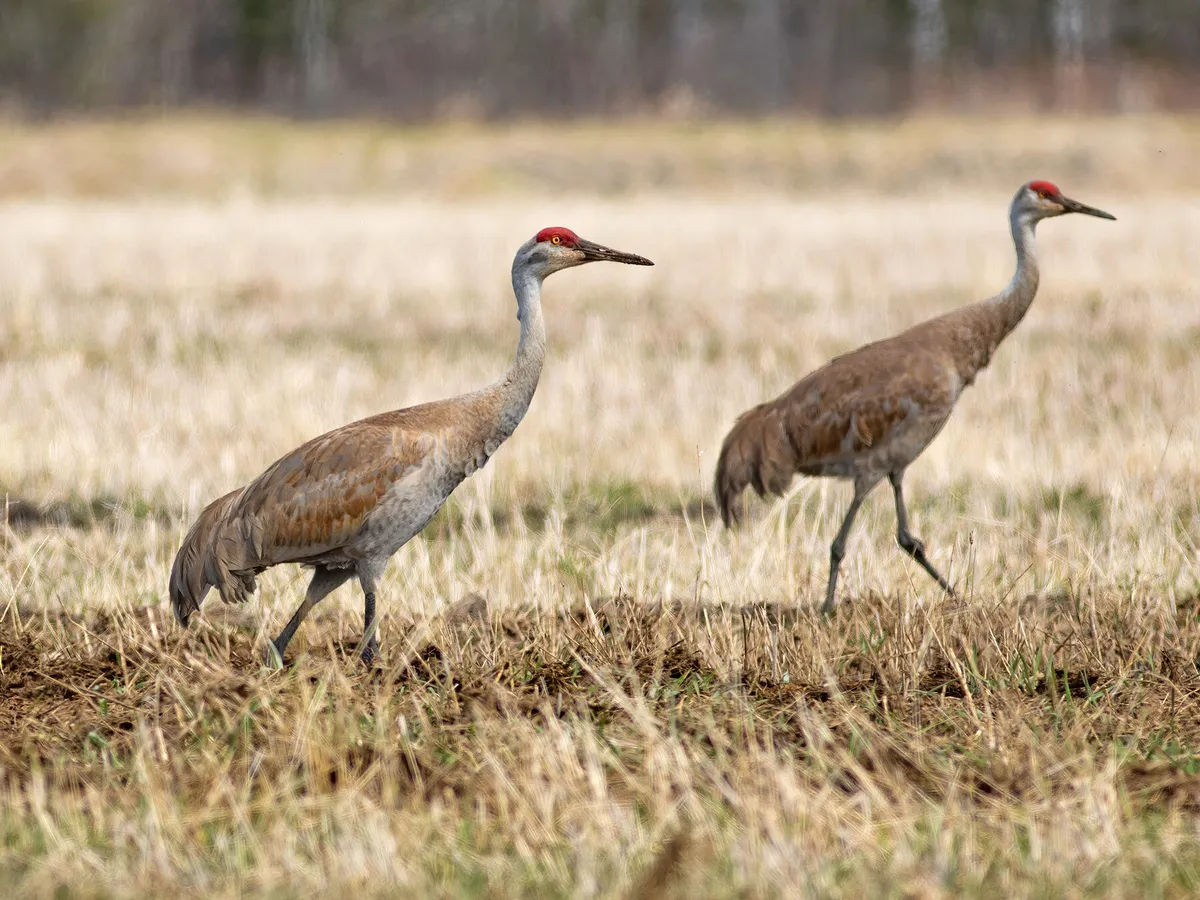 Two Sandhill Cranes in a recently ploughed field in the upper peninsula of Michigan
Where do Sandhill Cranes live in the US?
Resident populations of sandhill cranes can be found all year round in Florida, California and Mississippi. Other groups breed across the north-central U.S. and then migrate south, south-east, and south-west each fall to spend winters in larger flocks on wetland prairies.
Which states can Sandhill Cranes be found in?
In spring, considerable breeding populations of sandhill cranes can be found in the following states: Alaska, California, Colorado, Florida, Idaho, Illinois, Iowa, Maine, Massachusetts, Michigan, Minnesota, Mississippi, Nebraska, Nevada, New Jersey, New York, North Dakota, Oregon, Ohio, Pennsylvania, South Dakota, Utah, Vermont, Washington, Wisconsin, and Wyoming.
During winter months, large numbers of sandhill cranes are present in these states: Arizona, California, Florida, Georgia, Indiana, Kentucky, Louisiana, Mississippi, New Mexico, and Texas.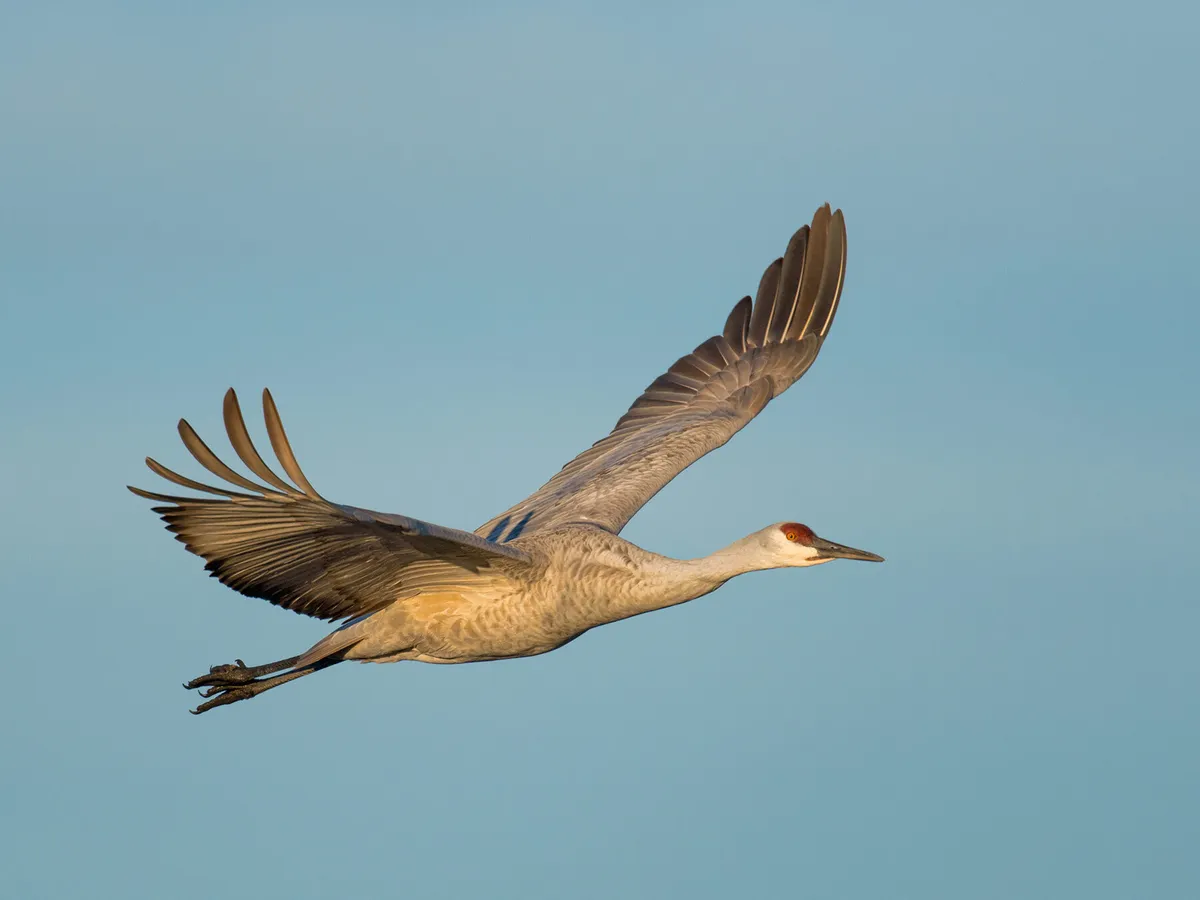 Sandhill Crane in flight, early morning over Bosque del Apache National Wildlife Refuge near San Antonio, New Mexico
Where do Sandhill Cranes live in Canada?
Populations of sandhill cranes breed in the Great Lakes states region of southeastern Canada, primarily Ontario. Further breeding groups are present across central Canada, from Hudson Bay to the Canadian Rockies and in the north to Nunavut and the Northwest Territories.
Another subpopulation breeds in west-central Canada, from Saskatchewan to central and northern Alberta and into British Columbia.
Sandhill cranes migrate from their Canadian breeding sites each fall, returning when the weather starts to warm up. Popular wintering grounds of Canadian cranes include sites along the Texas Gulf Coast.
Where are Sandhill Cranes most common?
A stretch of the Platte River in Nebraska is possibly the most famous site where sandhill cranes gather in vast numbers each spring. Around 500,000 birds pause here as a stopover on their annual migrations.
The most popular breeding sites are across north-central North America, particularly in the Great Lakes and Pacific Northwest regions.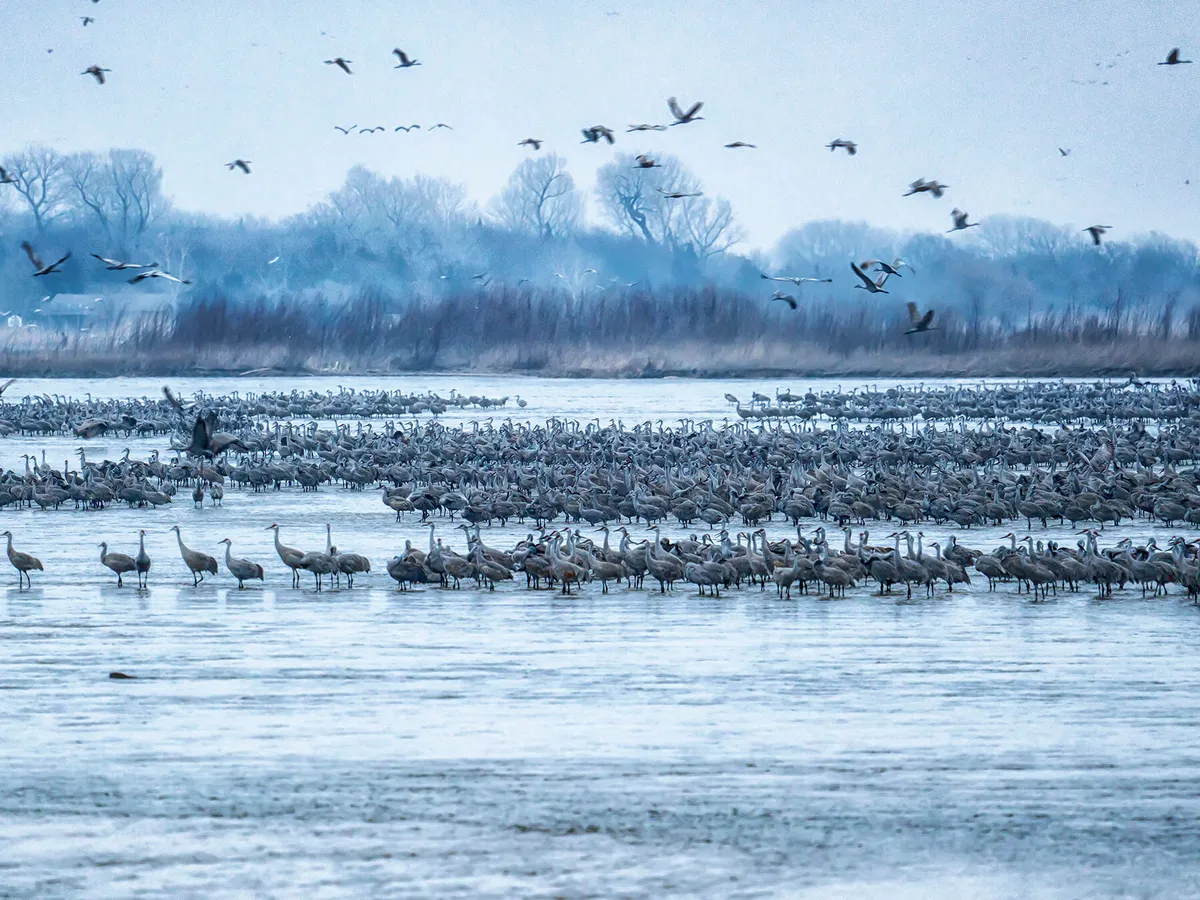 A large flock of Sandhill Cranes at the River Platte in Kearney, Nebraska, during their spring migration
Where is the best place to see a Sandhill Crane?
Popular staging posts along the migration routes of sandhill cranes can attract hundreds of thousands of birds each spring and fall, and offer a great opportunity to see these birds foraging in large flocks on the wetlands.
Each spring up to half a million sandhill cranes gather on a 150-mile stretch of the Platte River in Nebraska, representing up to 80 percent of the birds' global population.
Wintering grounds in Bosque del Apache National Wildlife Refuge in New Mexico attracts flocks of around 10,000 sandhill cranes, arriving there to spend the coldest months of the year there before returning to breeding grounds in the spring.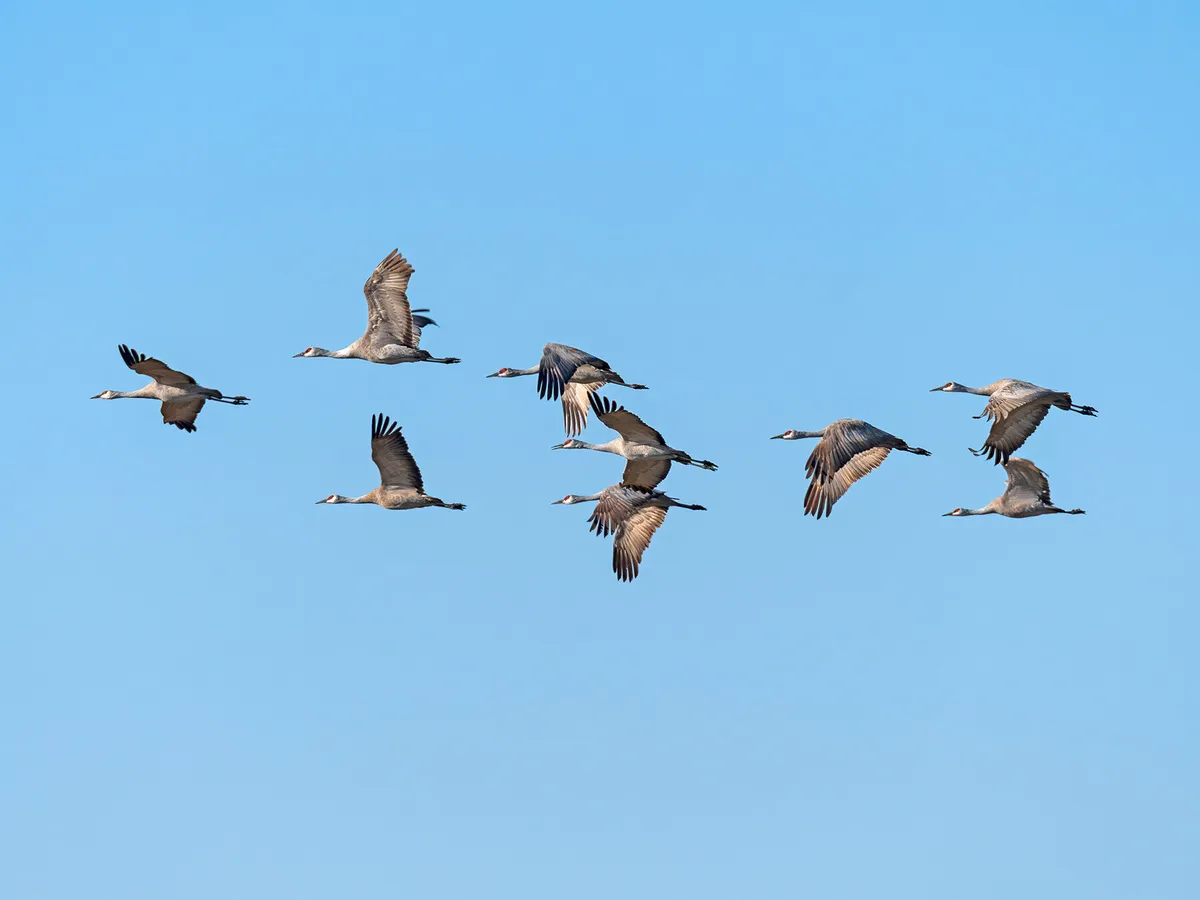 A group of migrating Sandhill Cranes in flight
Where do Sandhill Cranes live in the winter?
Northern populations of sandhill cranes are migratory, while southern populations are generally non-migratory and remain near their breeding sites year-round. This means the further south you are, the better the chance you have of seeing a sandhill crane in winter.
Common wintering grounds include Georgia, Tennessee, Louisiana, California, Texas, Arizona and New Mexico. Florida was once a favored wintering spot, but numbers of sandhill cranes spending the colder months there have fallen in recent years.
Where do Sandhill Cranes live in the summer?
Breeding grounds of sandhill cranes are found throughout the United States and into Canada and north-eastern Siberia. From spring onwards, flocks of cranes can be seen feeding along rivers and wetlands throughout the Great Plains region and across the Pacific Northwest.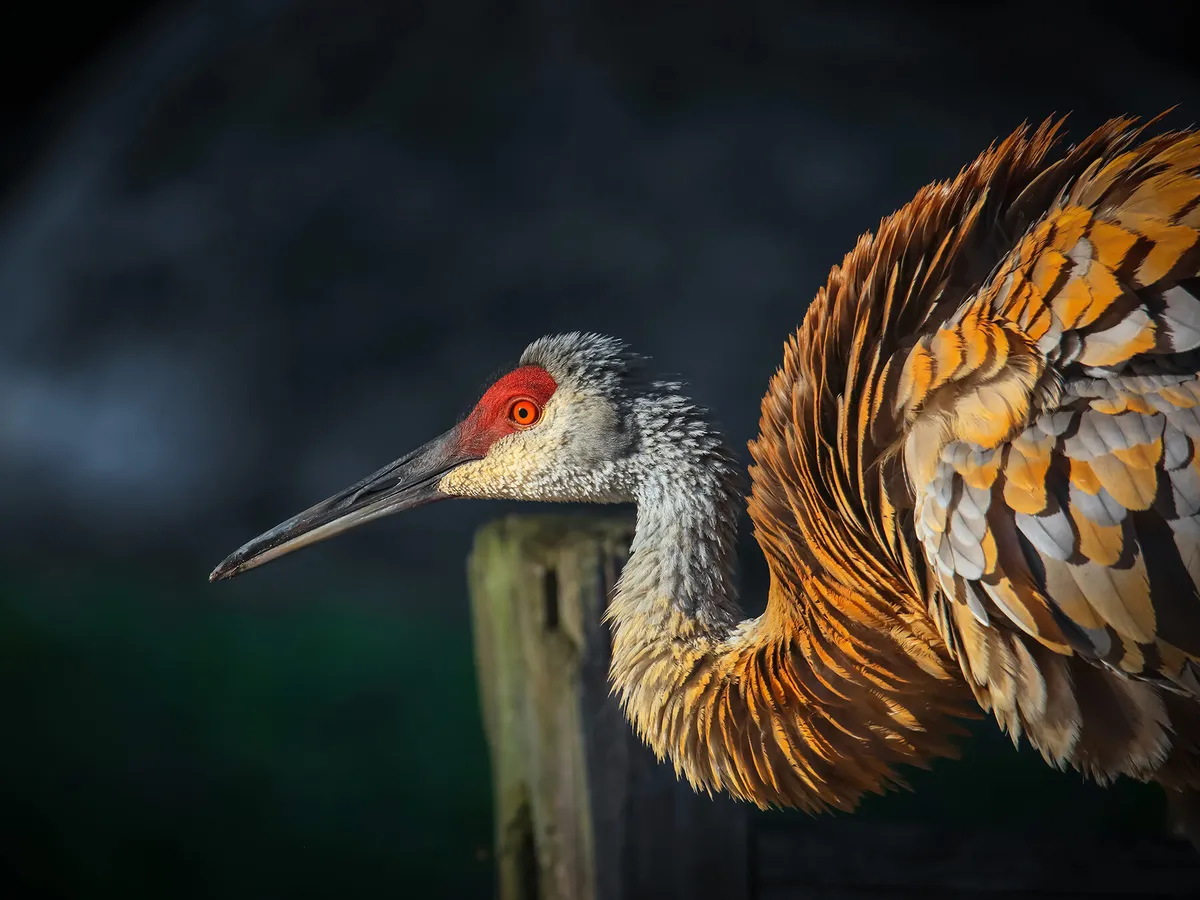 Close up portrait of a Sandhill Crane