Once in decline due to hawk bounties paid by farmers and the effects of DDT on their survival, red-tailed hawk (Buteo jamaicensis) numbers have experienced a boom in recent years to become one of North America's most widespread raptors.
But where do these skilful birds of prey live and where is the best place to see a red-tailed hawk? Keep reading as we study the typical habitats of red-tailed hawks.
Red-tailed hawks are present across North America, breeding from as far north as Alaska and Canada, to Mexico and into Central America. They are adaptable birds, present in habitats with open landscapes interspersed with some tree cover, as well as becoming increasingly common in urban areas.

Numbers have increased dramatically since the species was added to the Migratory Bird Treaty Act 1918 in 1972, with hunting by farmers outlawed, allowing populations to recover. Clearance of dense forested areas has also expanded the range of red-tailed hawks, allowing them to establish territories across the central U.S. into regions where they had previously been unable to find suitable breeding grounds.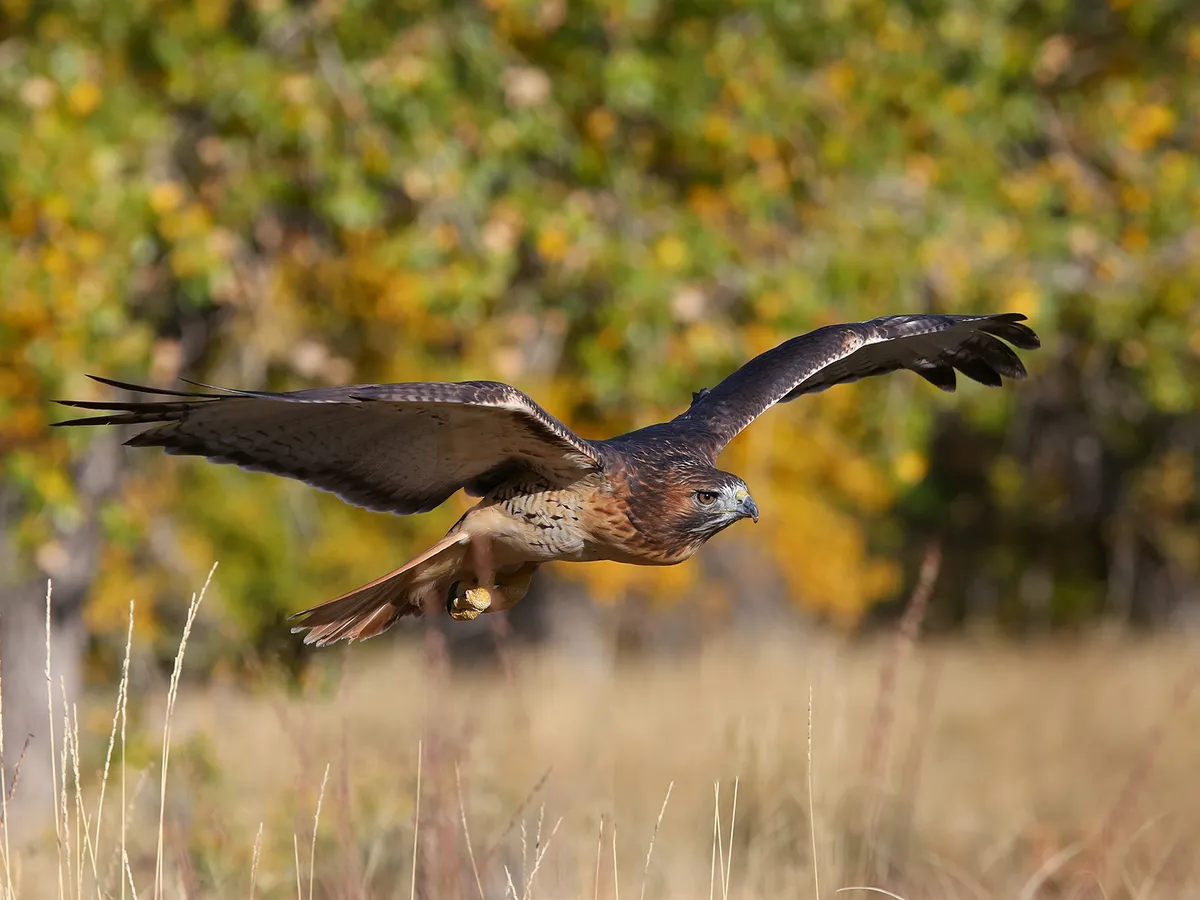 Red-tailed Hawks can be found across North American throughout the majority of the year
The northernmost populations of red-tailed hawks migrate south each fall once the breeding season has ended, while birds that breed in southern regions of the United States are resident in their territories throughout the year.
With the ability to survive in and adapt to such a wide range of habitats, it is no surprise that red-tailed hawks have become one of the most commonly seen birds of prey in the United States, with only limited regions in which a sighting would be considered rare.
Read on to learn more about where you stand the best chance of catching a glimpse of these skilled, soaring predators.
What is the distribution range of the Red-tailed Hawk?
Red-tailed hawks are present across North America for at least some, if not all, of the year. Northern regions, including Alaska and much of Canada, support breeding populations in the summer months, while further south into the United States, birds are widespread and resident throughout the year.
The distribution of red-tailed hawks extends south into Mexico, through Central America and on occasion into Venezuela and Colombia. There are populations present in the Caribbean islands, including Cuba, Puerto Rico and the Dominican Republic.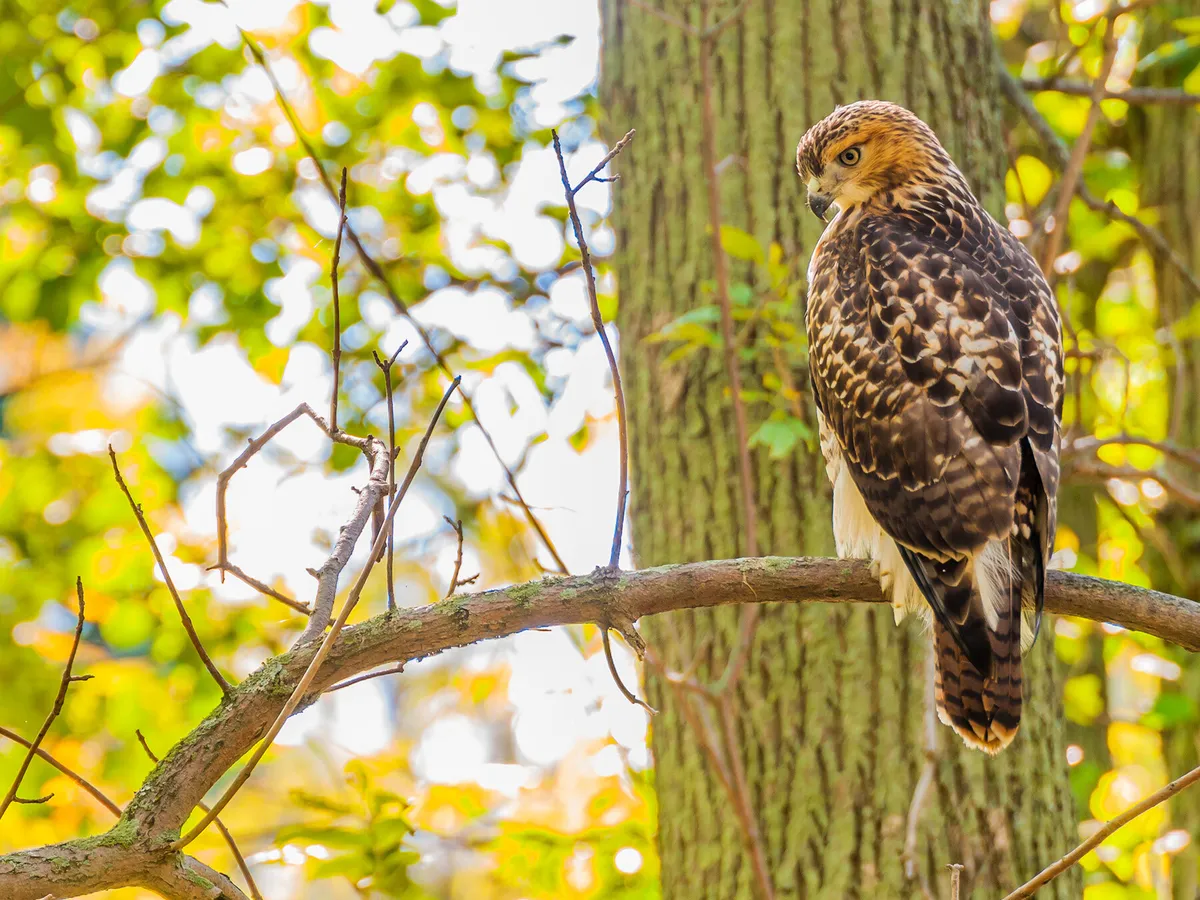 Red-tailed Hawks are one of the most, if not the most, common birds of prey in the US
What is the habitat of a Red-tailed Hawk?
A wide range of diverse habitats support both breeding and overwintering red-tailed hawks. Preferred habitats include open terrain edged with woodland, but they are becoming more common in built-up areas with urban development, attracted by the feeding opportunities that accompany such places (rats, mice, and pigeons, for example).
Dense forests or landscapes without trees, shrubs or vegetation are not ideal for nesting or hunting and less likely to appeal to red-tailed hawks.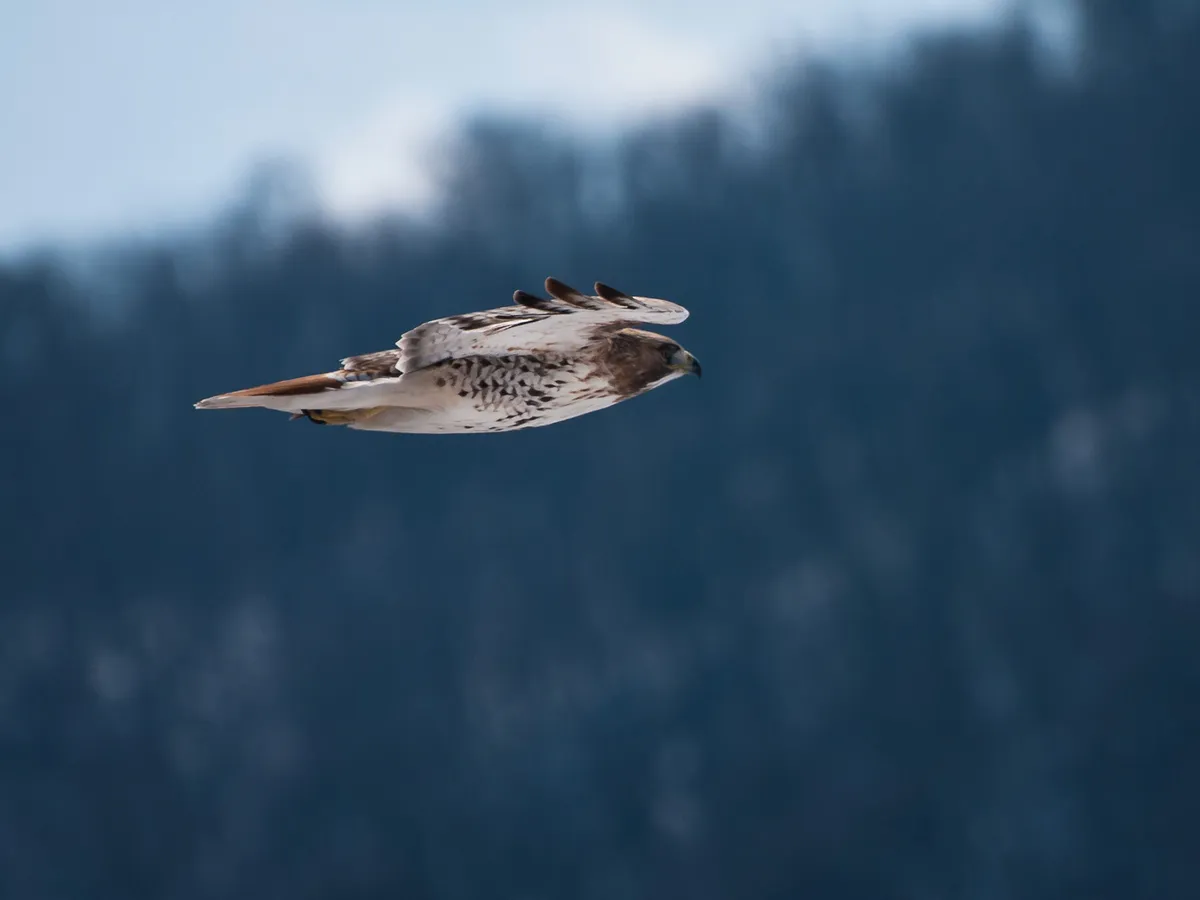 Red-tailed Hawks generally tend to avoid dense forests
How rare is it to see a Red-tailed Hawk?
Red-tailed hawks are one of North America's most common birds of prey, so seeing one would not be considered particularly rare, unless perhaps it was right up close or sitting in your suburban backyard.
Highly adaptable and skilled at finding food in a range of habitats, red-tails are present in every mainland state of the U.S. and exist in habitats from dense rainforest to developed urban spaces and everywhere in between.
If you're traveling by car and spot a bird of prey soaring over open fields alongside the highways, there's a good chance it may be a red-tailed hawk as these environments are well-suited to their hunting needs.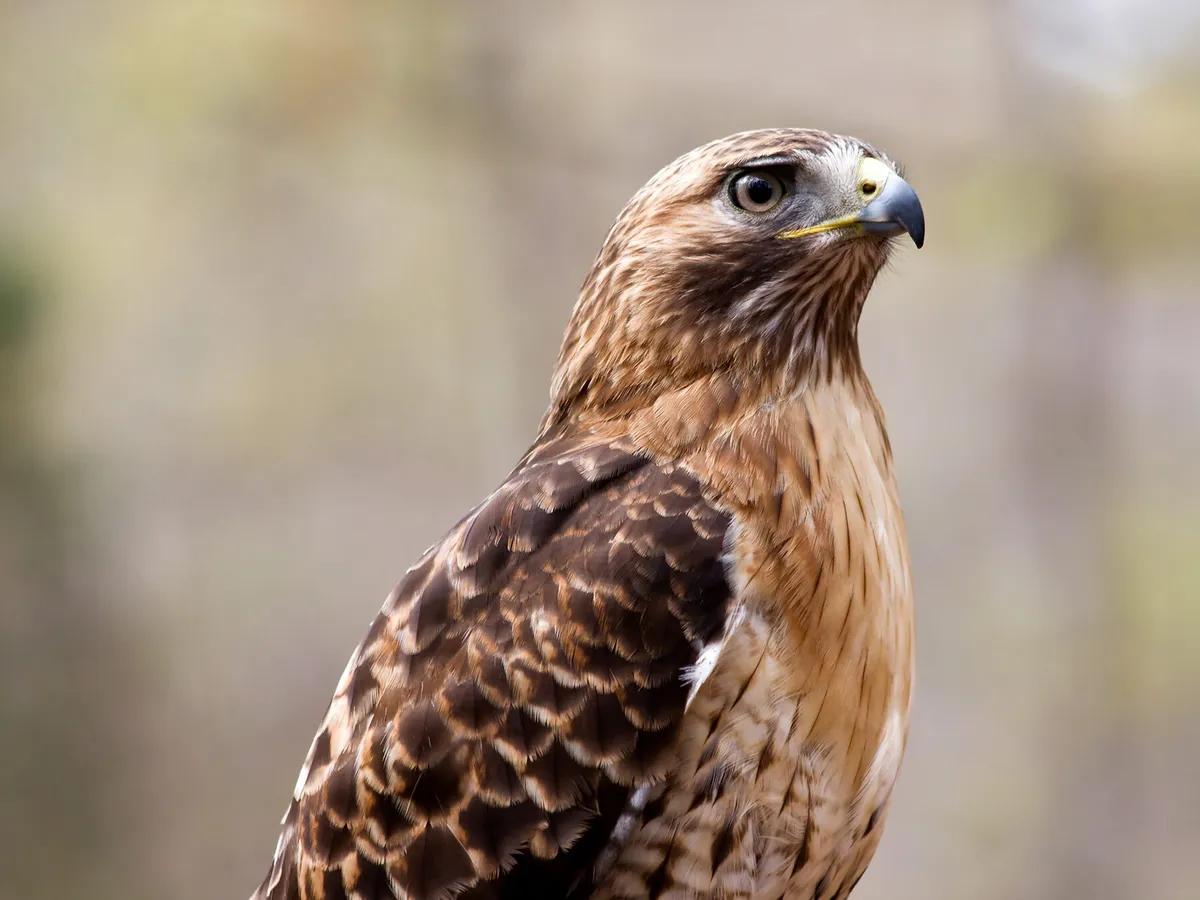 Close up portrait of a Red-tailed Hawk
Where is the best place to see a Red-tailed Hawk?
Red-tailed hawks are widespread throughout the United States, but in some locations you definitely stand a greater chance of spotting one. Dense forests, rocky uplands without much vegetation and Great Plains landscapes or wetlands that are lacking in sufficient tree cover do not support large numbers of hawks, with the species preferring landscapes that offer more possibilities for nesting and hunting.
Winter months may offer the best chance of seeing red-tailed hawks, as during breeding season they tend to be rather more stealthy and elusive. Hunting red-tailed hawks can frequently be seen soaring above rural landscapes, so keep an eye on the skies out of your vehicle window if you're taking a long road trip.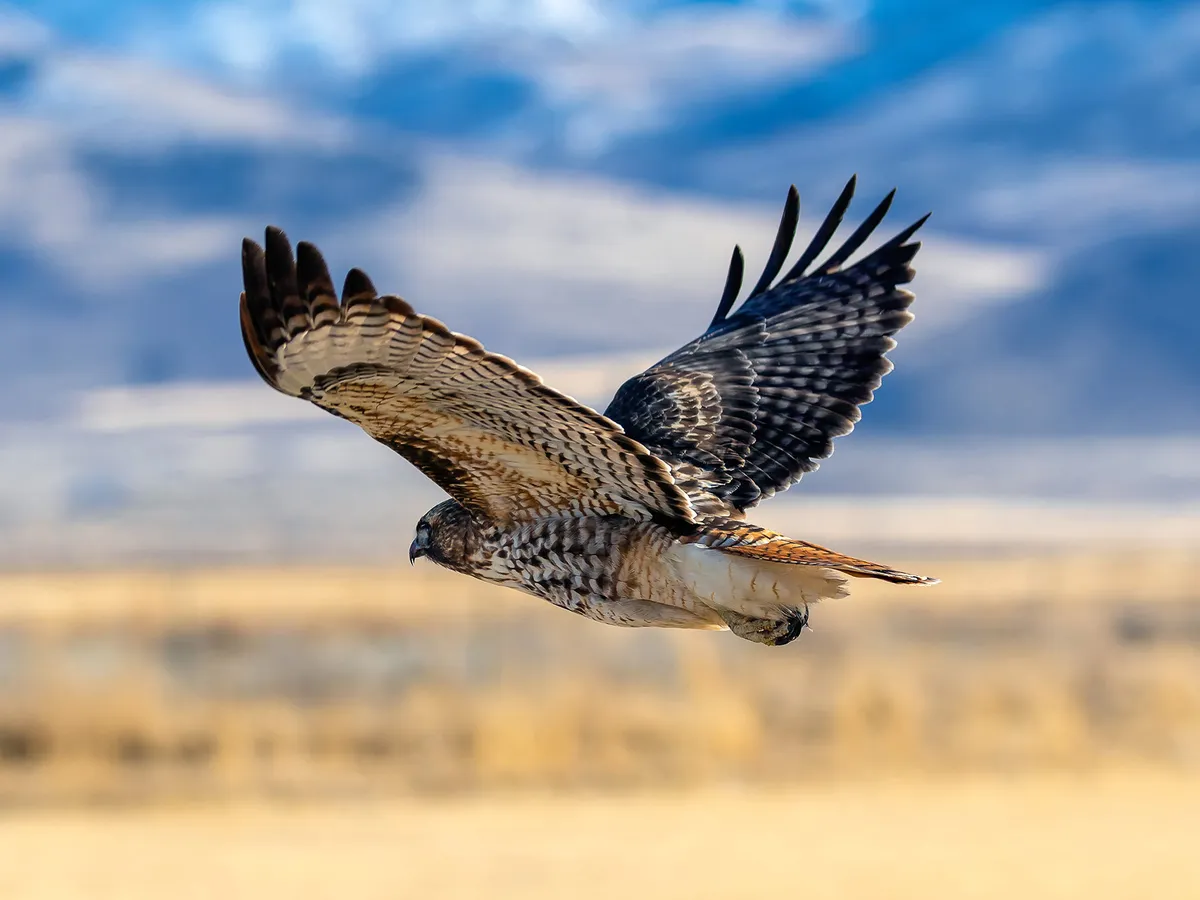 Red-tailed Hawk soaring through the sky on the lookout for prey
Where do Red-tailed Hawks live in the US?
Every state in the U.S. with the exception of Hawaii has either breeding or year-round populations of red-tailed hawks. Populations have changed over time, with the bird's distribution range extending through the eastern parts of the United States with loss and clearance of forested land to make way for agriculture and urban development.
Red-tailed hawks are widespread and abundant in states along the western coast, in particular coastal regions of Washington, Oregon and California. Across the central U.S. they are widely distributed and familiar birds, with only the most densely forested areas and most barren rocky uplands having a notably lower presence of these hawks.
Winter populations of red-tailed hawks, swelled by the arrival of migrating birds from the north, are particularly dense in the area extending from eastern Washington into southeastern Idaho and northern Utah.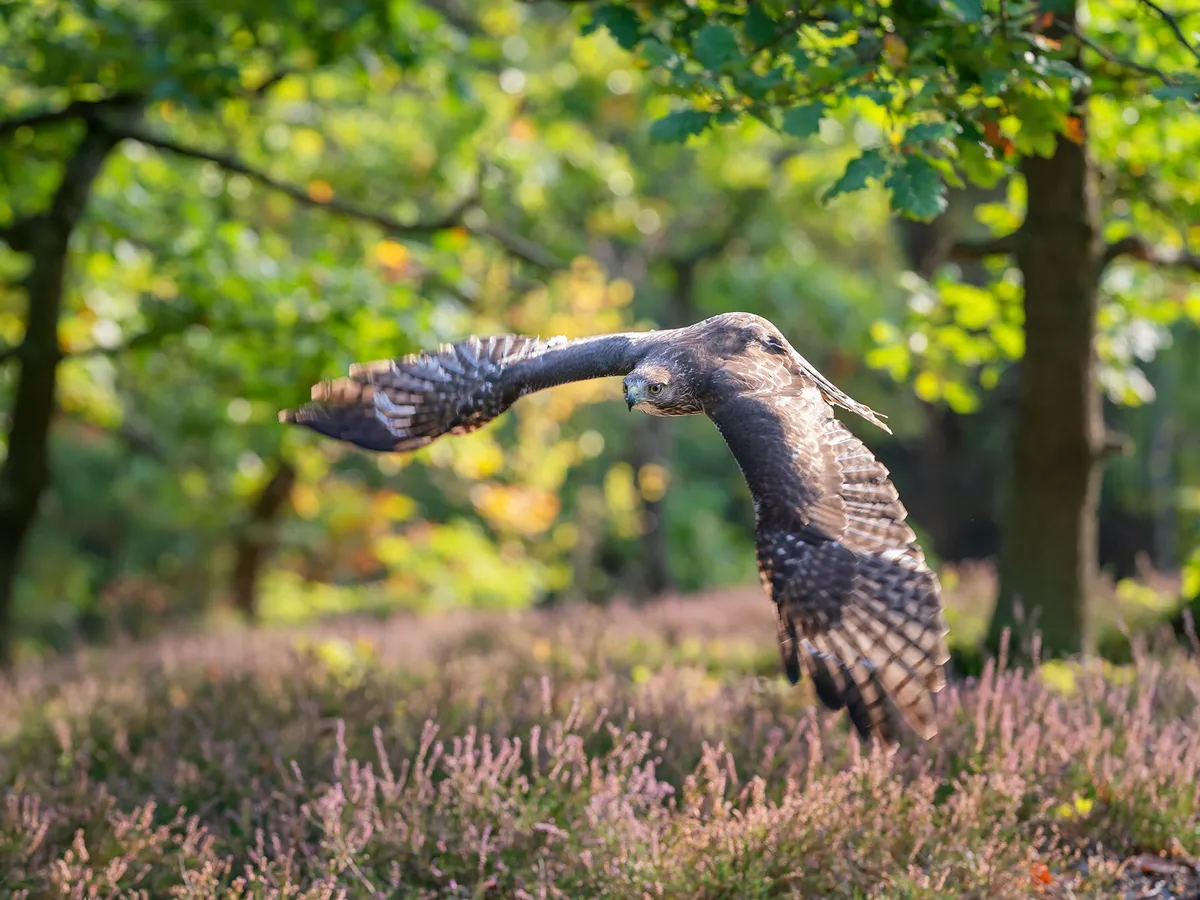 Red-tailed Hawks are generally more abundant in Washington, Oregon and California
Where do Red-tailed Hawks live in Canada?
Red-tailed hawks breed across Canada in summer months, with pairs nesting in subarctic regions and returning each year once the coldest winter temperatures have eased.
Breeding grounds are found from the Yukon Territory in the northwest, south to British Columbia, and eastwards through Saskatchewan, Ontario, southern Quebec, the southern regions of Labrador and into southern Nova Scotia in the east.
Where are Red-tailed Hawks most common?
Widespread in many parts of the United States, locations with the highest concentrations of red-tailed hawks include Washington, California, and Idaho, with further popular territories established in Kansas, Oklahoma, Arkansas and Mississippi. Saskatchewan, Manitoba and Ontario are among the top breeding sites, with thousands of birds establishing nesting territories in Canadian woodlands each spring.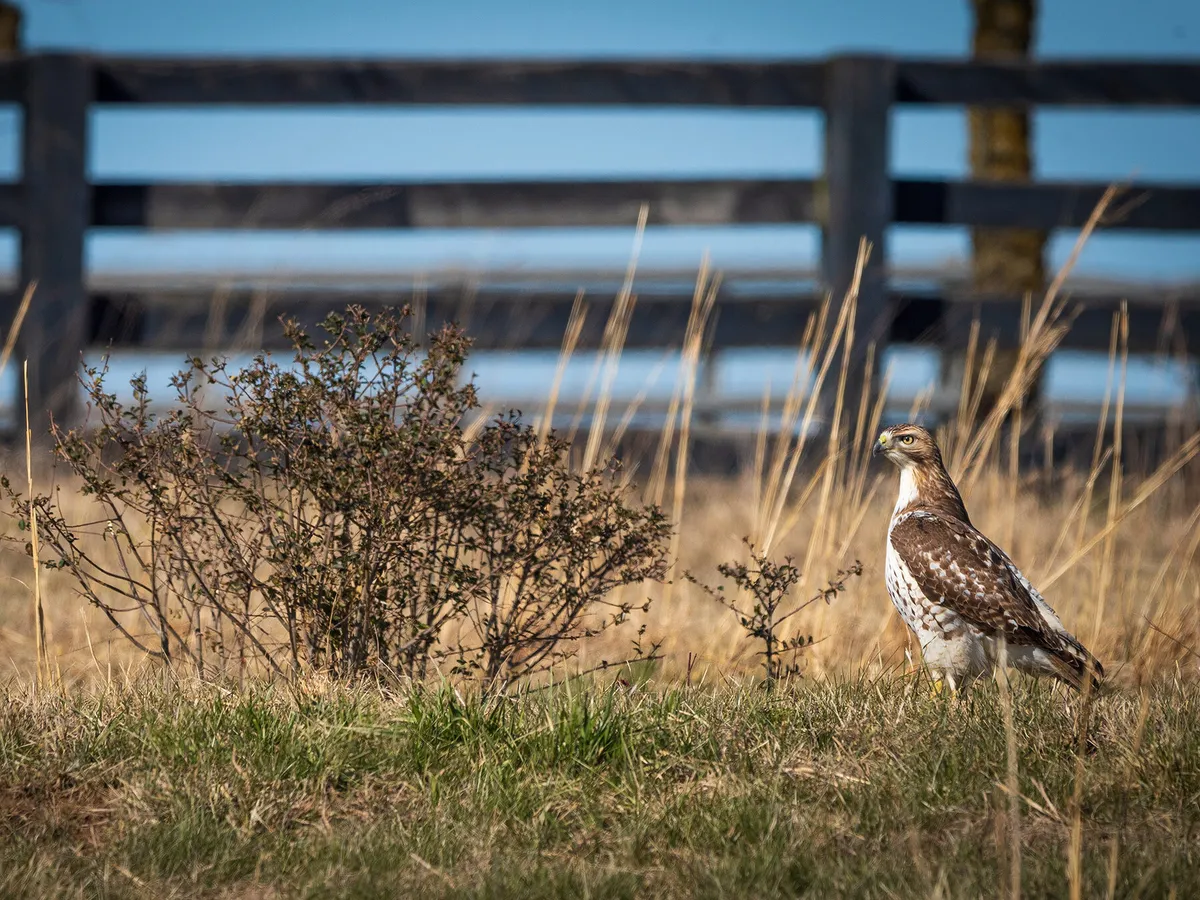 Red-tailed Hawk on the ground, near a fence
Do Red-tailed Hawks stay in one place?
Red-tailed hawks are what is termed as 'partial migrants' meaning that some populations fly south during winter months in search of warmer weather, while others are resident in the same range all year round. The further south a red-tailed hawk's breeding ground is, the likelihood is that it will not migrate.
Populations of these hawks that breed in Canada and the northern United States tend to migrate south in the fall, spending between 3 and 5 months away from their breeding grounds.
Migration flights are generally made across land rather than water, and it's not uncommon for migrating birds to share wintering grounds with hawks that are permanent southern residents.
Red-tailed Hawk perched on a tree trunk
Where do Red-tailed Hawks live in the winter?
Southern populations of red-tailed hawks remain resident in their breeding territories all year round. These are joined b migratory visitors that breed further north each fall, departing in February to March to return to their breeding grounds. Common wintering grounds for hawks include parts of the northwest United States, extending from Washington, through Idaho and into Utah.
Choice of wintering grounds changes according to the availability of prey, and some birds may travel further south to spend the coldest months of the year in Mexico and Costa Rica. In recent years, wintering birds have been observed as far south as Venezuela and Colombia.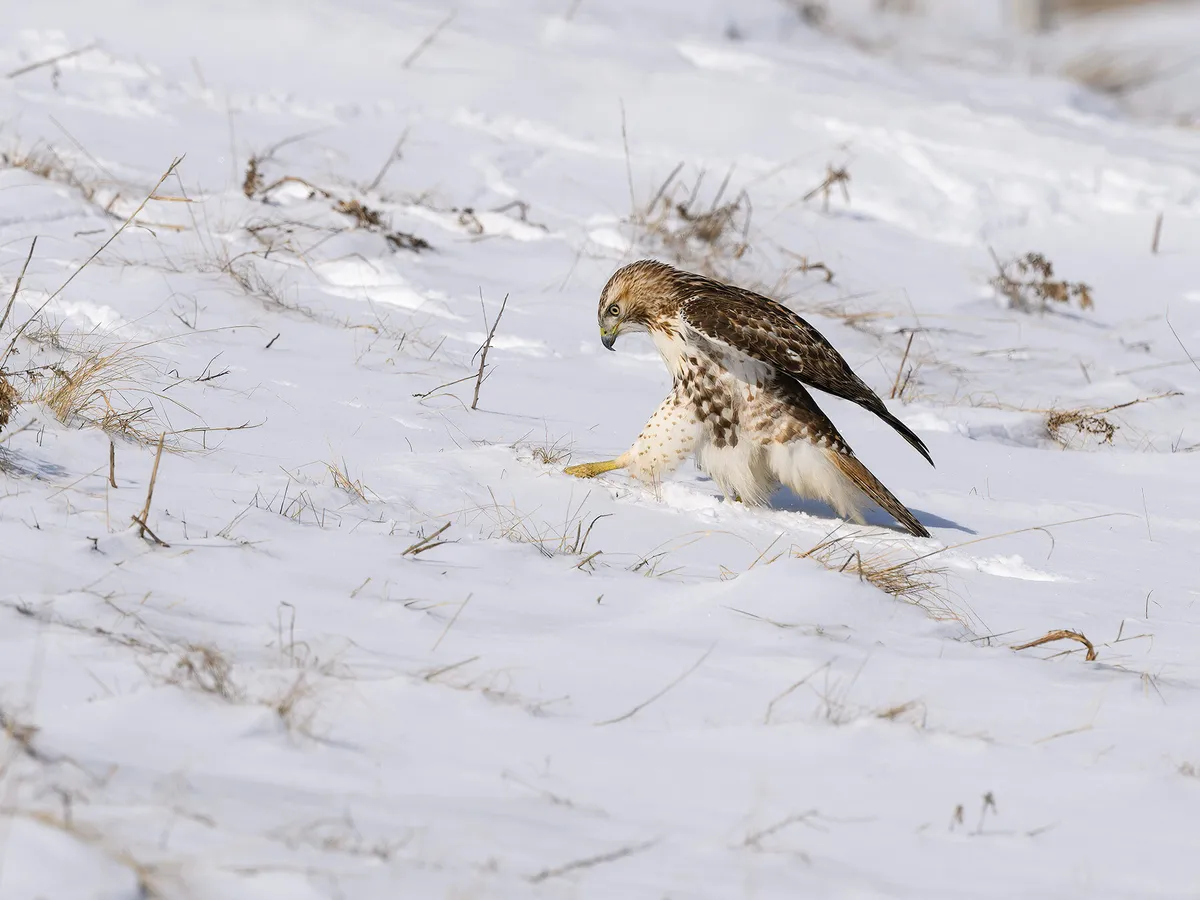 Red-tailed hawk searching for prey in the snow, during the winter
Where do Red-tailed Hawks live in the summer?
In summer months, red-tailed hawks can be found in their breeding territories which extend across North America from Alaska and subarctic Canada to Mexico.
The breeding season starts in late April and lasts until August, with pre-breeding migration beginning in March. Once breeding has completed, the final migratory birds leave their summer territories by the end of November at the latest.