The Barred Owl (Strix varia) is a common and widespread North American owl from the Strigidae family. These birds are at home in forests and woodlands across the eastern half of the USA, and their range has extended west through southern Canada and south through the northwest to northern California.
Barred Owls are large birds of prey, but just how big are they, and how do they stack up to other owl species?
Barred Owls can weigh over two pounds, measure nearly twenty inches long, and have a wingspan of over three and a half feet. They are the fourth largest owl species in the United States. Despite their large size, these birds pose minimal risk to pets.
Barred Owls vary greatly in size, with the lightest adults weighing less than half as much as the largest. However, their wingspan and body length measurements are relatively consistent. The Barred Owl diet consists of small prey like voles and frogs, although they will catch animals as large as squirrels.
Would you like to learn more about Barred Owl size? Read along for fascinating facts and details about these beautiful forest hunters.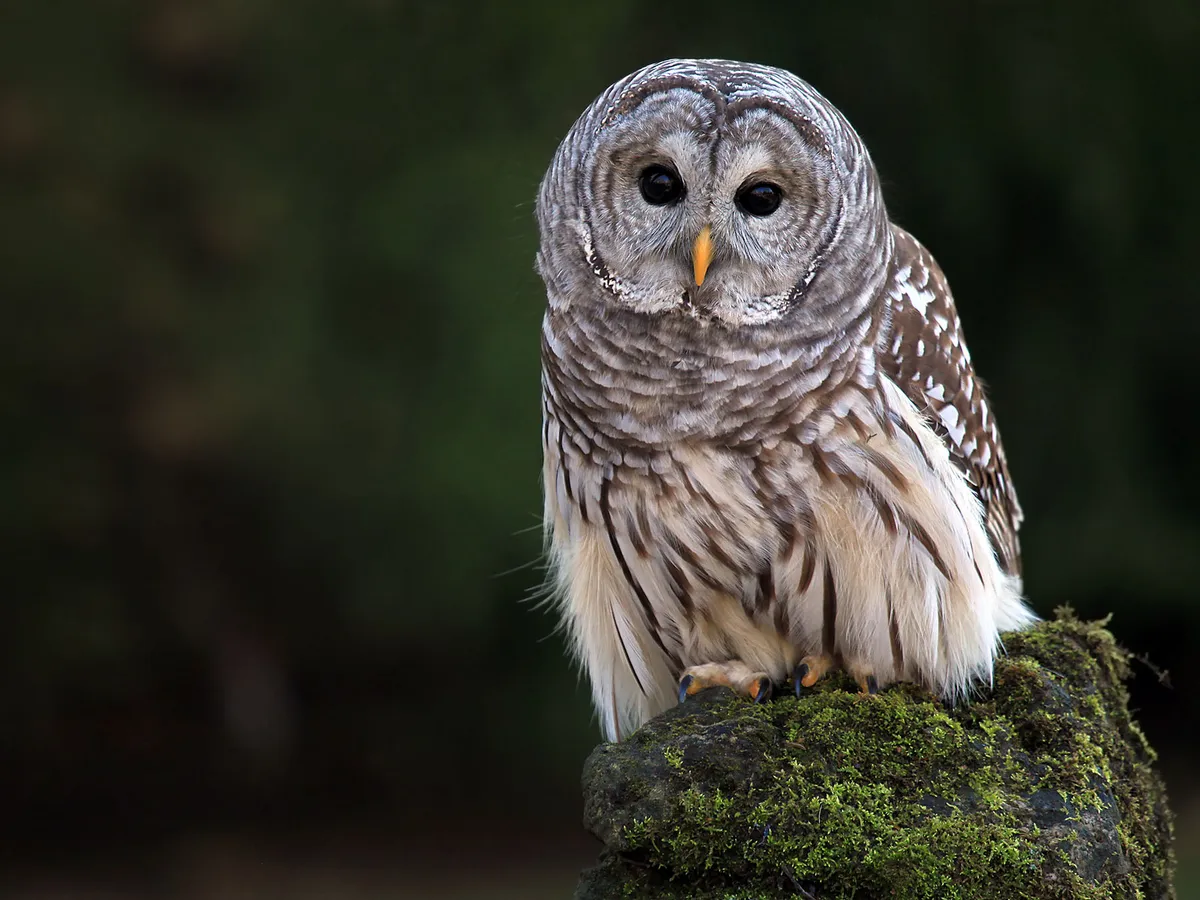 Barred Owls are the fourth largest owl species in the US
Barred Owl wingspan
Barred Owls have a wingspan of 39 to 43 inches (99 - 109 cm). Females are generally larger than males, although the difference is far more distinct when comparing their weights.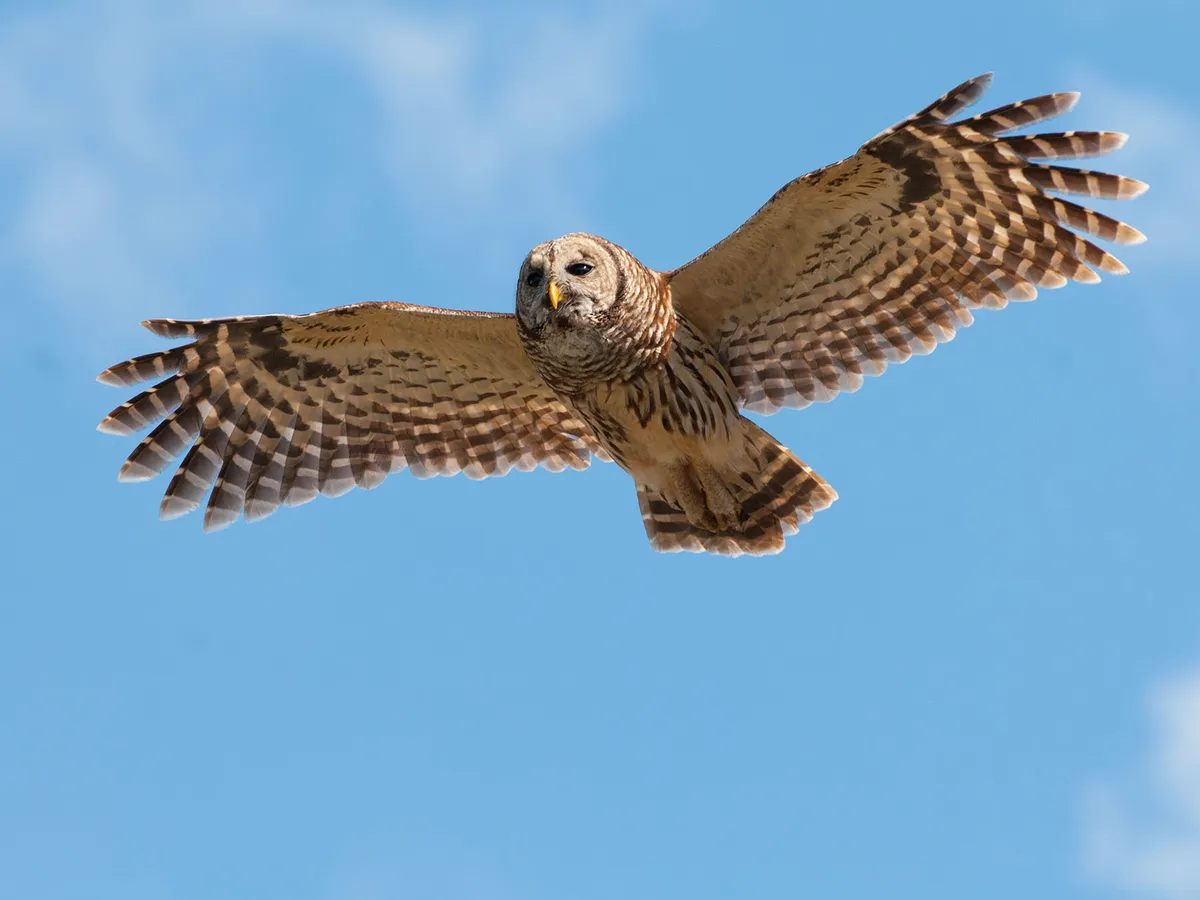 Barred Owl wingspans range from 39 to 43 inches (99 - 109 cm)
Barred Owl weight
Barred Owls can weigh over two pounds, although their mass varies considerably. Females are significantly heavier - generally because they need extra energy reserves to see them through the nesting season.
Male Barred Owl mass: Barred Owl males weigh between 17 and 29 ounces (480 - 810g). Their average weight is about 22 ounces (620g).
Female Barred Owl mass: Females are often much heavier at 23 to 36 ounces (650 - 1020g). Their average mass is about 30 ounces (850g).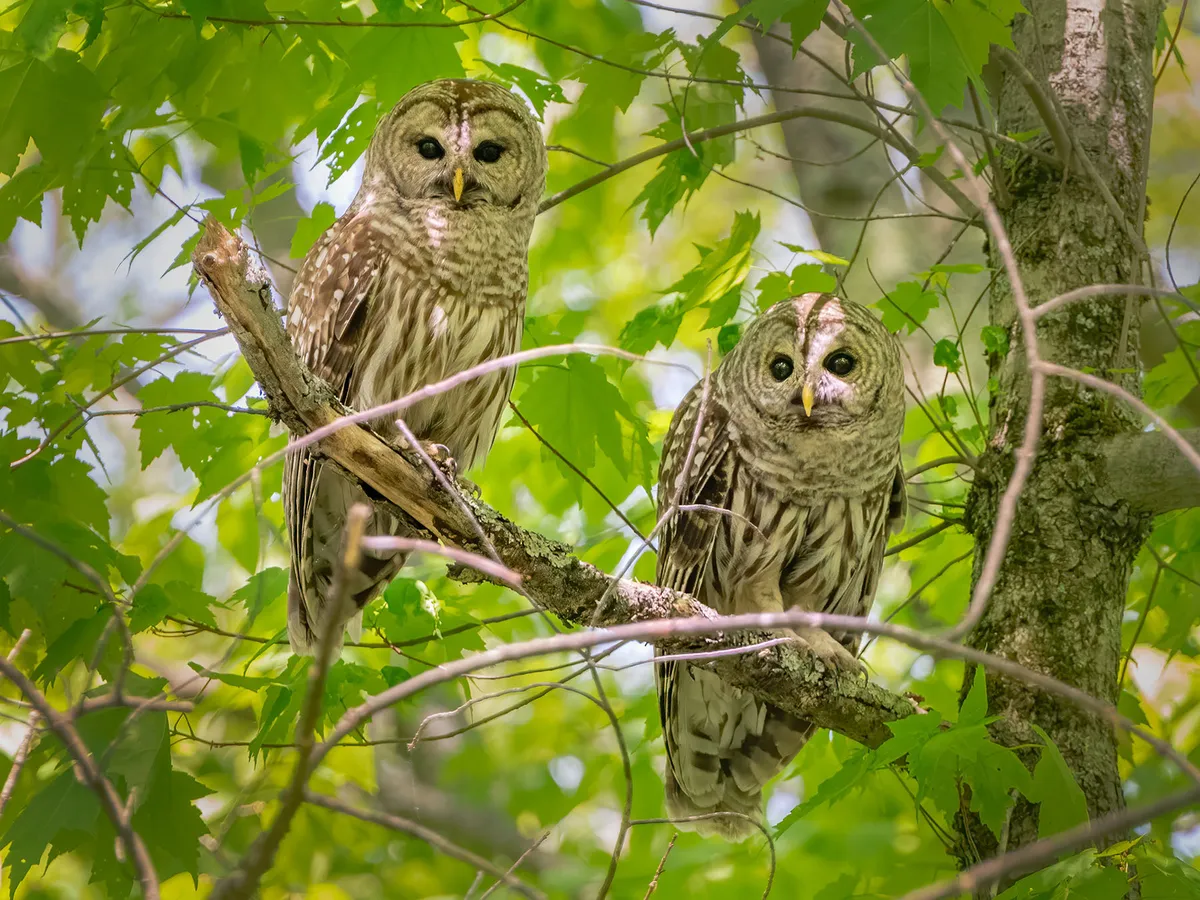 Female Barred Owls are generally much larger than males
How big are Barred Owls compared to a human?
Barred Owls have a body length similar to the distance between your extended fingertips and the tip of your elbow. They have a wingspan of about three and a half feet - the average height of a four-year-old child.
Comparing the size of a bird with yourself is a great way to get a picture of its true size. However, owls are surprisingly light, considering their length measurements.
They have long legs, hidden by feathers, and hollow bones help to reduce weight. You will probably be surprised to learn that the average male Barred Owl weighs about the same as a mug full of coffee!
How big of an animal can a Barred Owl pick up?
The Barred Owls' heaviest prey items weigh about a pound. However, they also feed on prey as large as Ruffed Grouse, squirrels, and cottontails. Some estimates put the average weight of their prey at just over an ounce.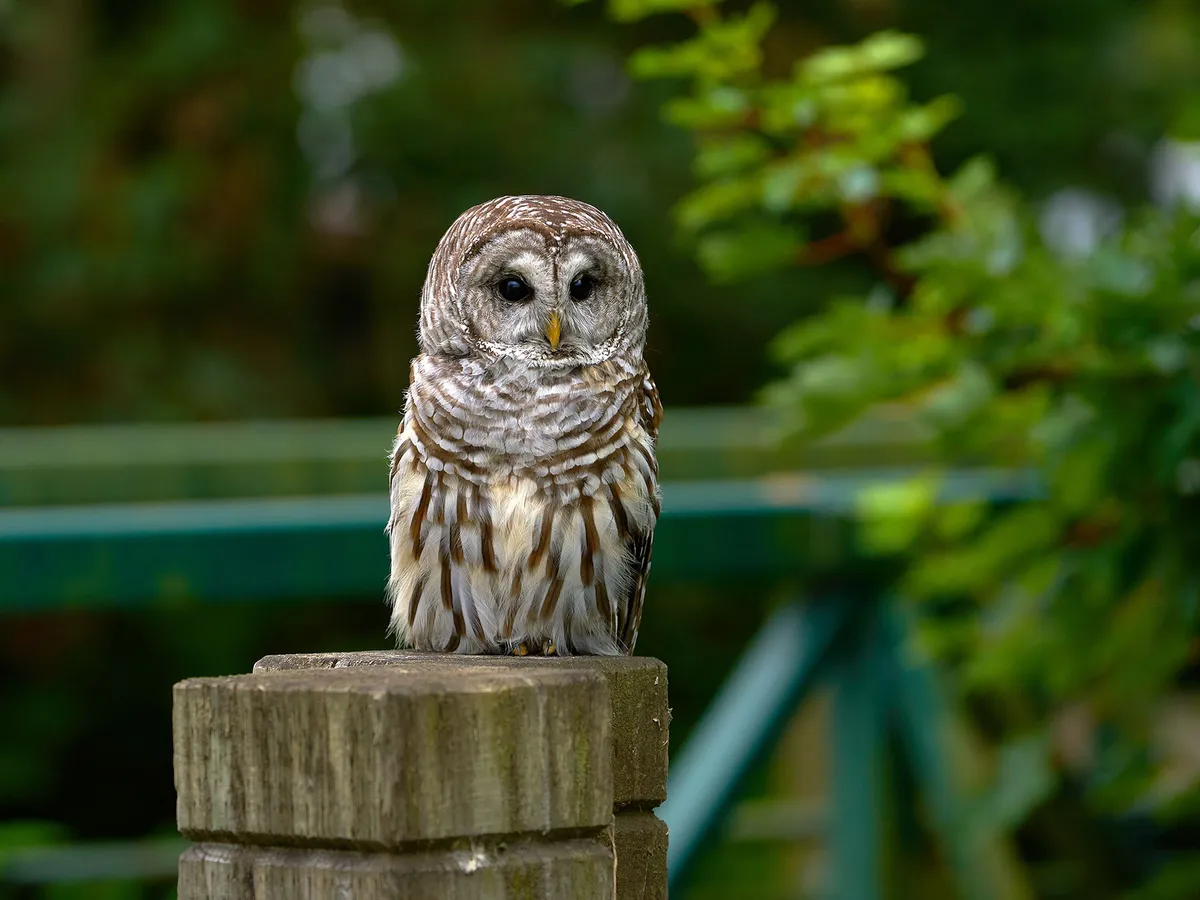 Close up of a Barred Owl perched on a fence post
Why are Barred Owls so big?
Barred Owls benefit from their large size in many ways. They are big enough to defend themselves against many other forest predators and powerful enough to tackle animals up to the size of small rabbits.
Taking a closer look at their anatomy reveals oversized features like the eyes, face, and claws.
Their large dark eyes come in handy for spotting prey in the dark forest at night, although these birds are known to hunt around dawn, dusk, and sometimes earlier in the daylight hours. Their huge tube-shaped eyes are immobile, so the birds must turn their heads to shift their gaze.
Barred Owls have large, disc-shaped faces. This feature is typical among owls and has a practical purpose for hunting. Their facial disc captures sound to improve their chance of hearing prey scurrying on the forest floor below.
Once located with their powerful vision and hearing, Barred Owls swoop down from their perch and capture their prey in large, powerful talons. These sharp claws are effective for capturing and killing small animals and birds.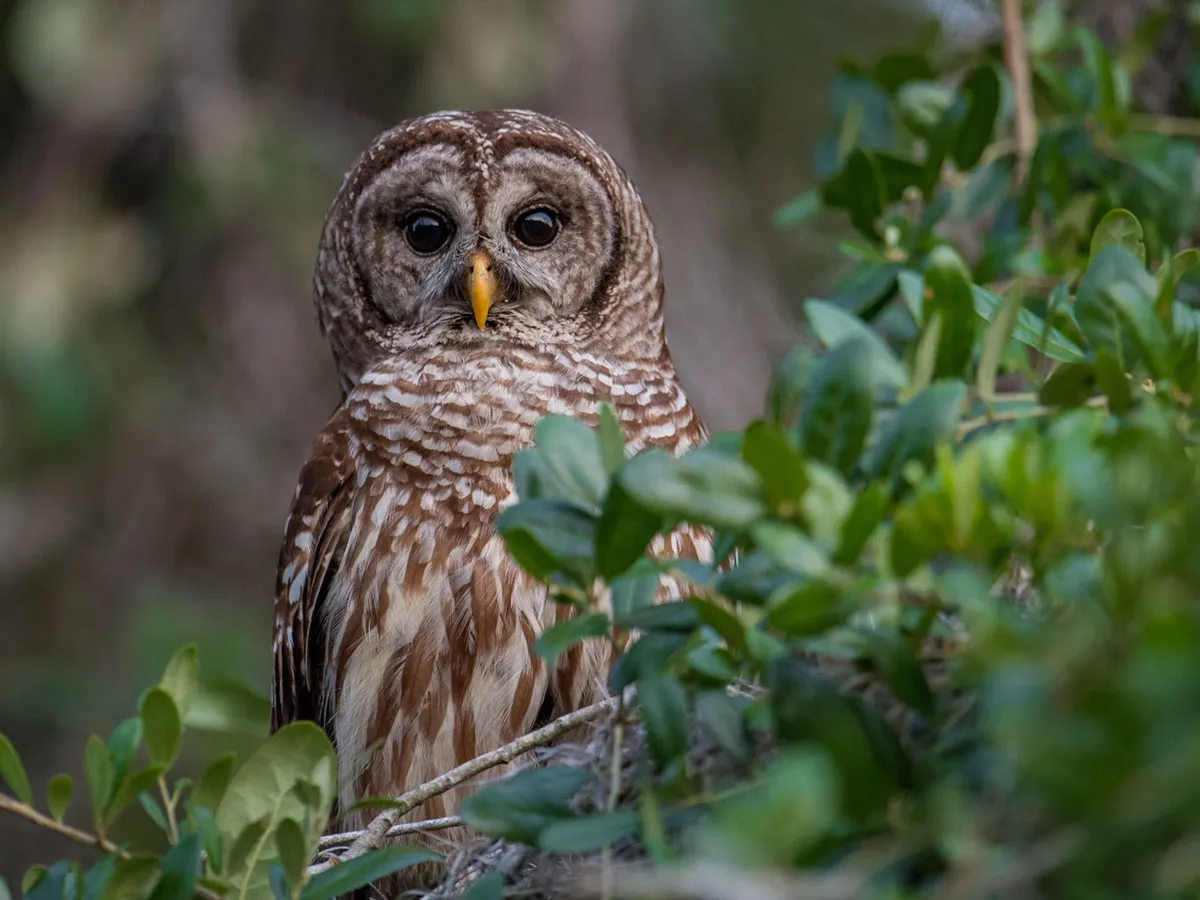 Barred Owls utilise their large size in many different ways
Barred Owls compared to other bird species
Barred Owls are the fourth largest Owl species in North America. They are most similar in appearance to the closely related Spotted Owl (S. occidentalis) of the Northwest and Southwest.
Barred Owls are larger and more aggressive than their threatened relative, which is a concern for conservationists since the Barred Owl is expanding its range into the Spotted Owls habitat.
Barred Owls may be large, but they are dwarfed by other American species like the Snowy Owl, Great-Horned Owl, and Great Gray Owl.
The Great Horned Owl and Barred Owl are often confused by novice birdwatchers, and the two species often occupy the same habitats. However, at half the size, Barred Owls often fall prey to the larger species.
Barred Owls are much larger than many of the owl species that share their range. The Eastern Screech Owl, for example, is a small species of the eastern US that weighs less than half the weight of the Barred Owl.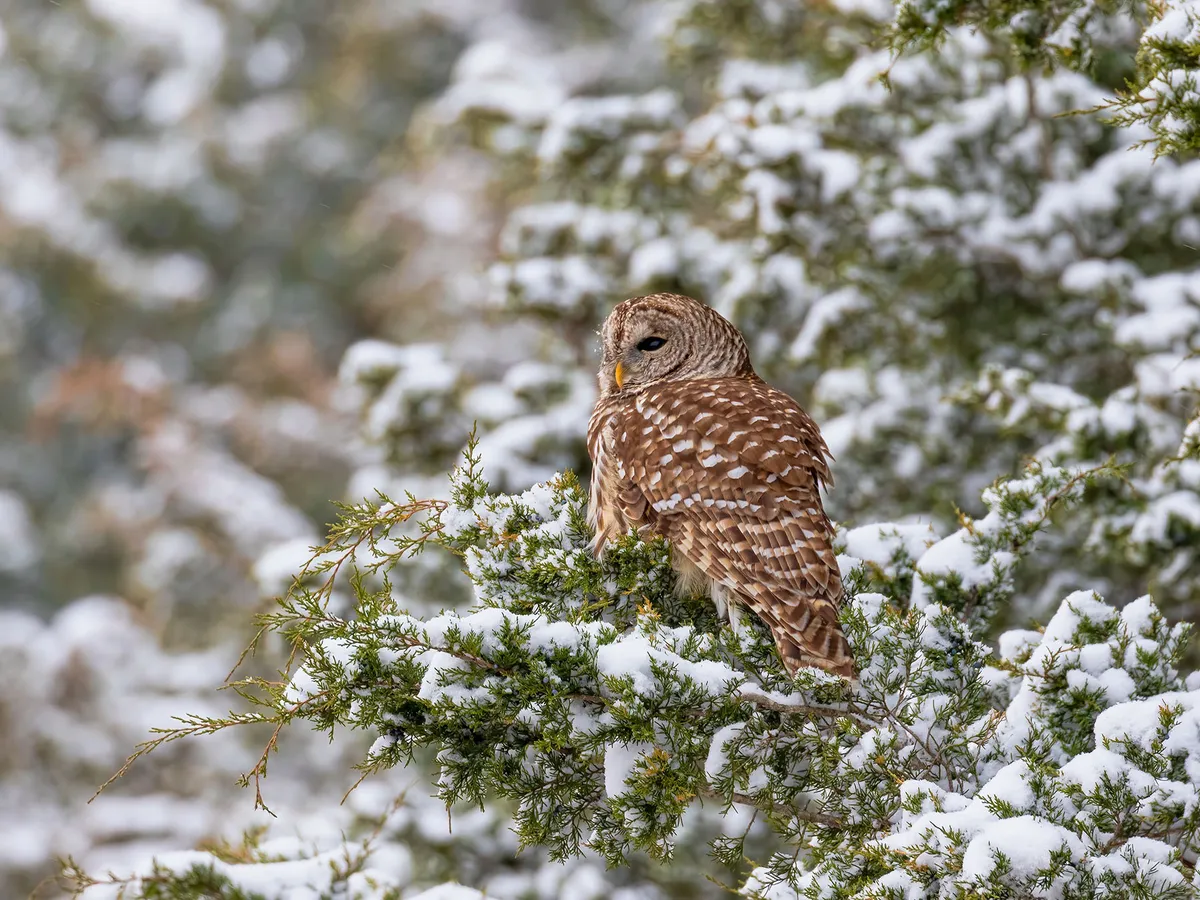 Barred Owl in red cedar tree covered in snow, Marion County, Illinois
Are Barred Owls bigger than Barn Owls?
Their names may sound similar, but Barred and Barn Owls differ in size. Barred Owls are generally larger than Barn Owls. However, the biggest female Barn Owls may equal the smallest male Barred Owls.
American Barn Owls weigh 14 - 25 ounces (400-700g), have a body length of up to about inches, and a wingspan of up to inches. As with the Barred Owl, females are significantly heavier than males. See this article for an in-depth guide to the size of Barn Owls.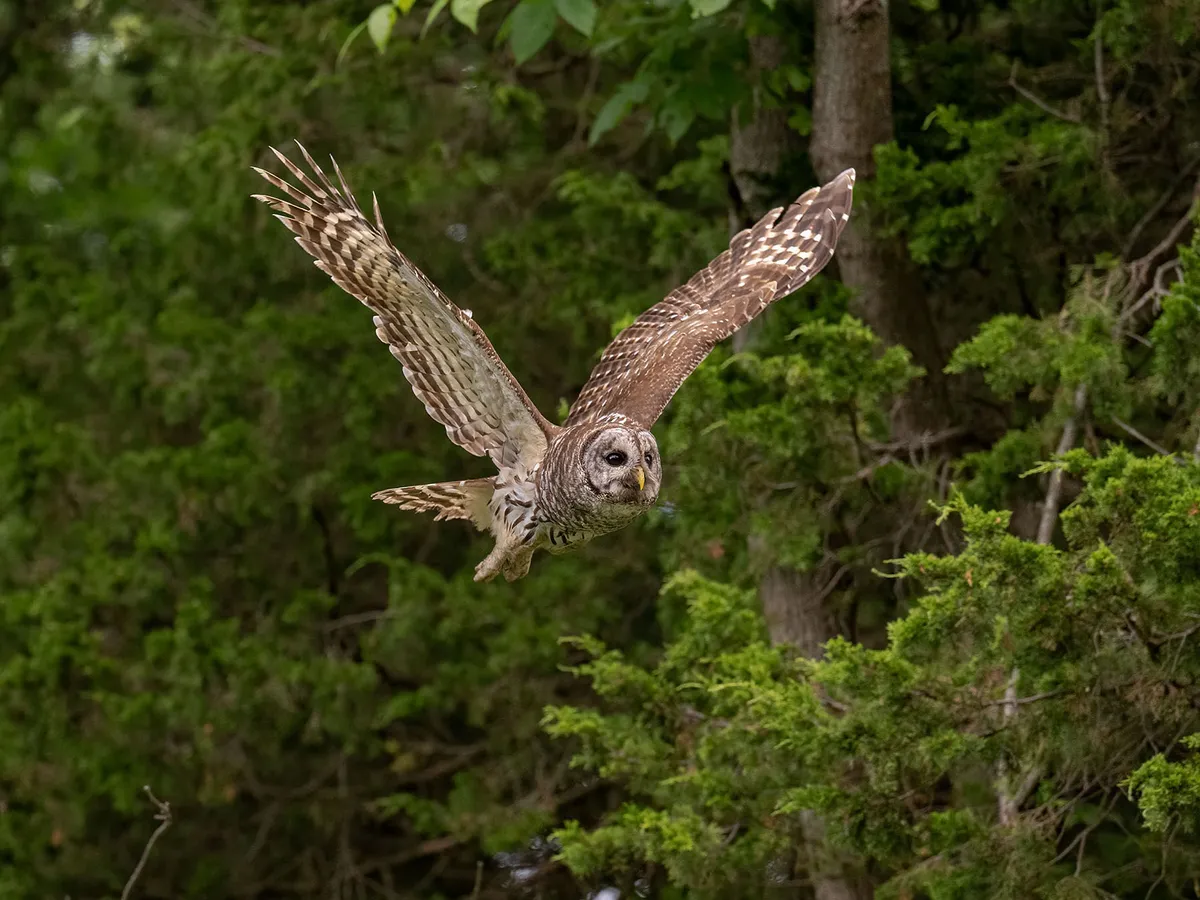 Barred Owl flying through a forest
FAQs
How big is a full-grown Barred Owl?
Barred Owls vary in size, and females grow the largest. Adults can weigh anything from one to 2 ⅓ pounds and have a wingspan from 3¼ to 3½ feet.
How big are Barred Owls in inches?
Barred Owls are 17 to 20 inches long and have a wingspan of 39 to 43 inches.
How tall is a Barred Owl?
Barred Owls are a tall species. Most Barred Owls have a body length of 17 to 19 inches, measured from the end of their tail to the tip of their bill.
Can a Barred Owl pick up a small dog?
Barred Owls are far too small to be a threat to most dogs. However, puppies and 'teacup' breeds could be at risk. Great Horned Owls live in a similar habitat to Barred Owls and present a much greater threat to small pets.
Can a Barred Owl pick up a cat?
Barred Owls are too small to lift an adult house cat since they can probably only carry their own body weight or less. However, they certainly could take a kitten.