A large member of the true finch family Fringillidae, the male Pine Grosbeak (Pinicola enucleator) is particularly attractive courtesy of his rose-red head and body. Here, we'll delve into this intriguing finch's distribution range and habitat.
Pine grosbeaks are distributed across the upper Northern Hemisphere, stretching from the USA and Canada to Scandinavia, Russia, and parts of northern Europe and Asia. They're commonly found across coniferous hills or mountains at elevations of 6,000 to 9,000 feet but do breed in lowland areas too.
Pine grosbeaks are relatively uncommon, but their enormous range means that the total population is still large. While some finches in northern Canada, Scandinavia, and Siberia move south in the winter, most are non-migratory residents.
On exceptionally cold years, Pine grosbeaks may move into parts of central Europe, and there have been some 20 sightings as far west as the UK. Read on to discover more facts about the range and habitat of this large finch!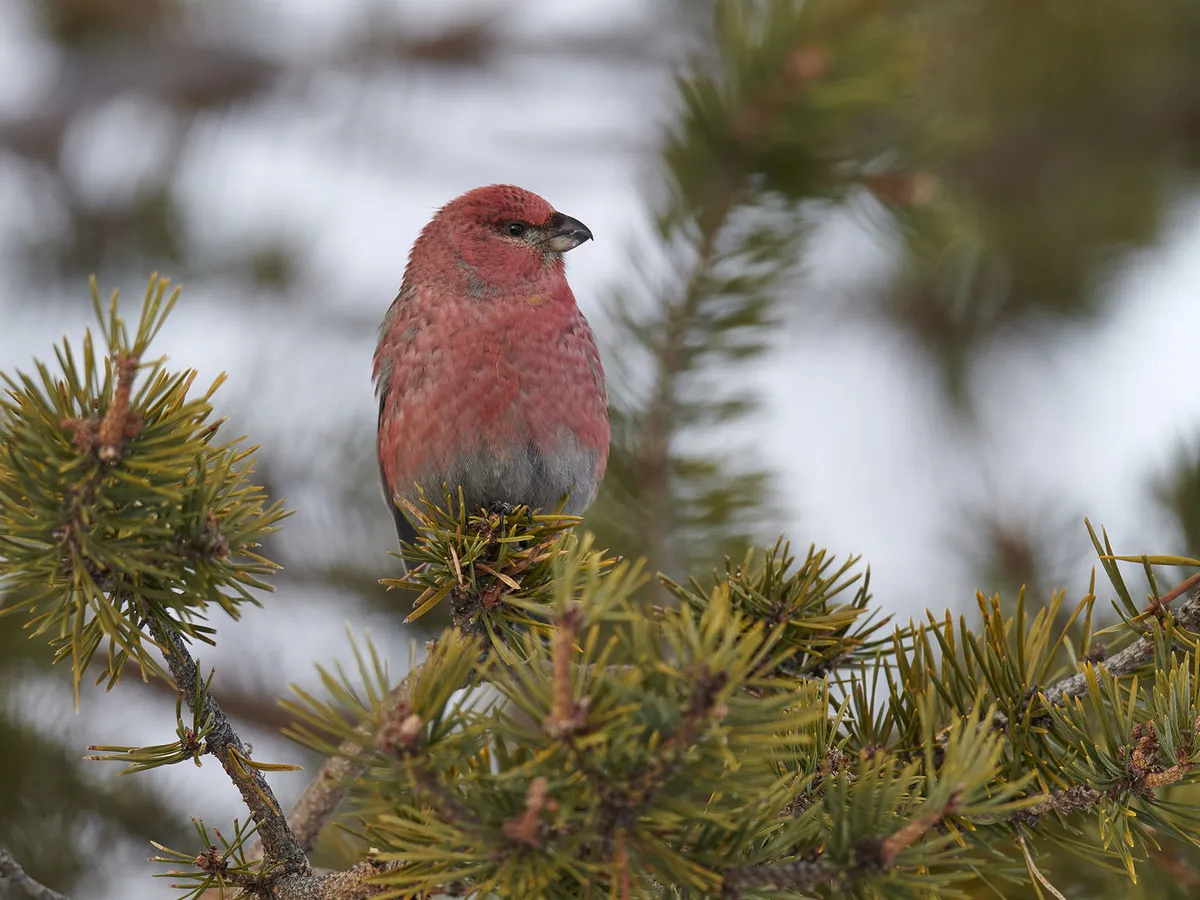 Pine Grosbeaks have a fairly broad range, and can be found across most of the Northern Hemisphere
What is the distribution range of the Pine Grosbeak?
The distribution range of the Pine grosbeak is entirely north-hemispheric, covering the USA and Canada north of Wyoming, Utah, California, Colorado, Iowa, and Ohio.
In the east, the Eurasian distribution covers Scandinavia, Russia, China, and some central and north Asian regions such as Mongolia and Kazakhstan. One subspecies can be found in northern Japan.
Where do Pine Grosbeaks live in the US?
Pine Grosbeaks live in the mountains and hilly regions of most northern states but are considerably more abundant in the west than they are in the east.
The Sierra Nevada is one of their strongholds, where they're common at elevations above 6,000 feet. They're also found in Colorado, Utah, Montana, Oregon, Washington and Idaho. They're also common in western and southwest Alaska.
The eastern range is more fragmented. There are a couple of isolated southern populations, too, including a small population in north New Mexico.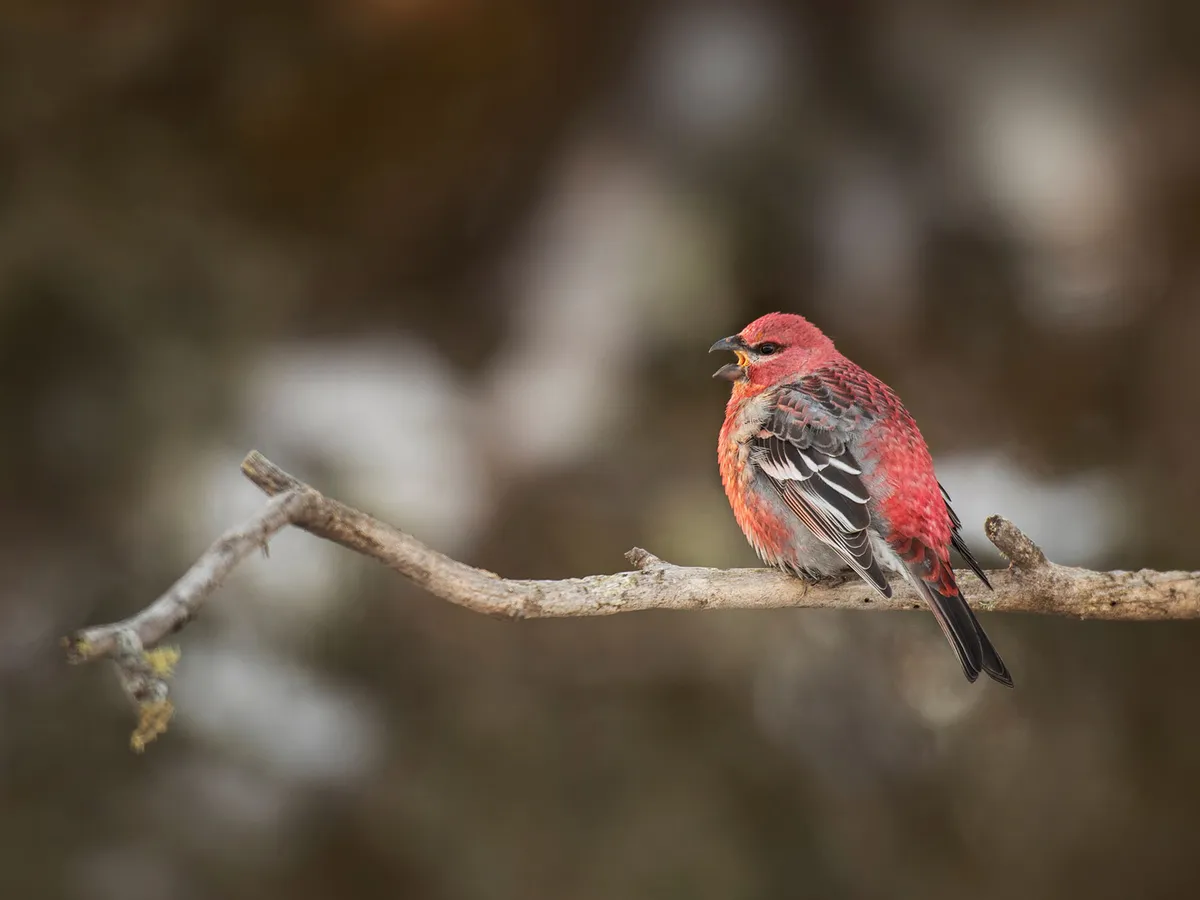 Male Pine Grosbeak perched on a branch singing, Minnesota, USA
Where do Pine Grosbeaks live in Canada?
Pine grosbeaks are more extensively distributed in Canada than in the US, where they can be found in virtually every province. The northernmost portion of their range covers Newfoundland, Labrador, northern Quebec, northern Ontario, northern Manitoba, and northern Yukon.
As tree-dwelling birds, Pine grosbeaks are absent from areas with little tree cover in the furthest north of Canada.
Where do Pine Grosbeaks live in Europe and Asia?
In Europe and Asia, Pine grosbeaks are common across Finland, Sweden, Norway, and Russia, where they're abundant across much of Siberia. In addition, small populations visit Germany and Estonia in the winter, which used to be a common occurrence.
In Asia, they occupy hilly areas as far south as Kazakhstan and China, Mongolia, and even northern Japan's Sakhalin and Kuril Islands. On a harsh winter, they might make their way southwest into parts of central Europe and have been sighted across France, Spain, and the UK.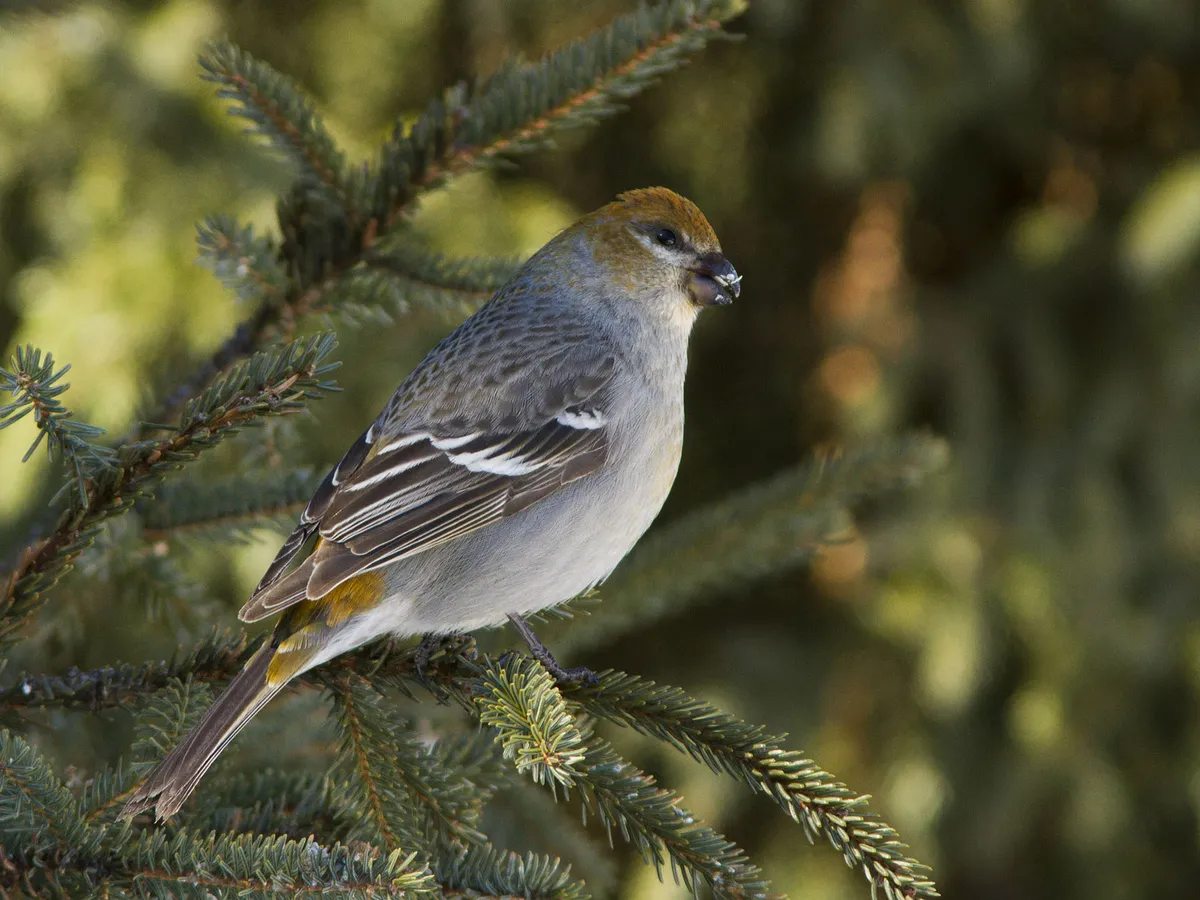 Female Pine Grosbeak perched on a branch
What is the habitat of a Pine Grosbeak?
Pine Grosbeaks occupy boreal pine and mixed forests and live up to their namesake in that they're largely absent from purely broad-leaved forests.
Spruce and firs are present in virtually all Pine grosbeak habitats. They prefer open forests, such as those in parts of the Sierra Nevada further south and the subarctic taiga region further north.
In mountainous areas, they live as high as they can while remaining in the timberline - the point at which it becomes too cold for trees to grow.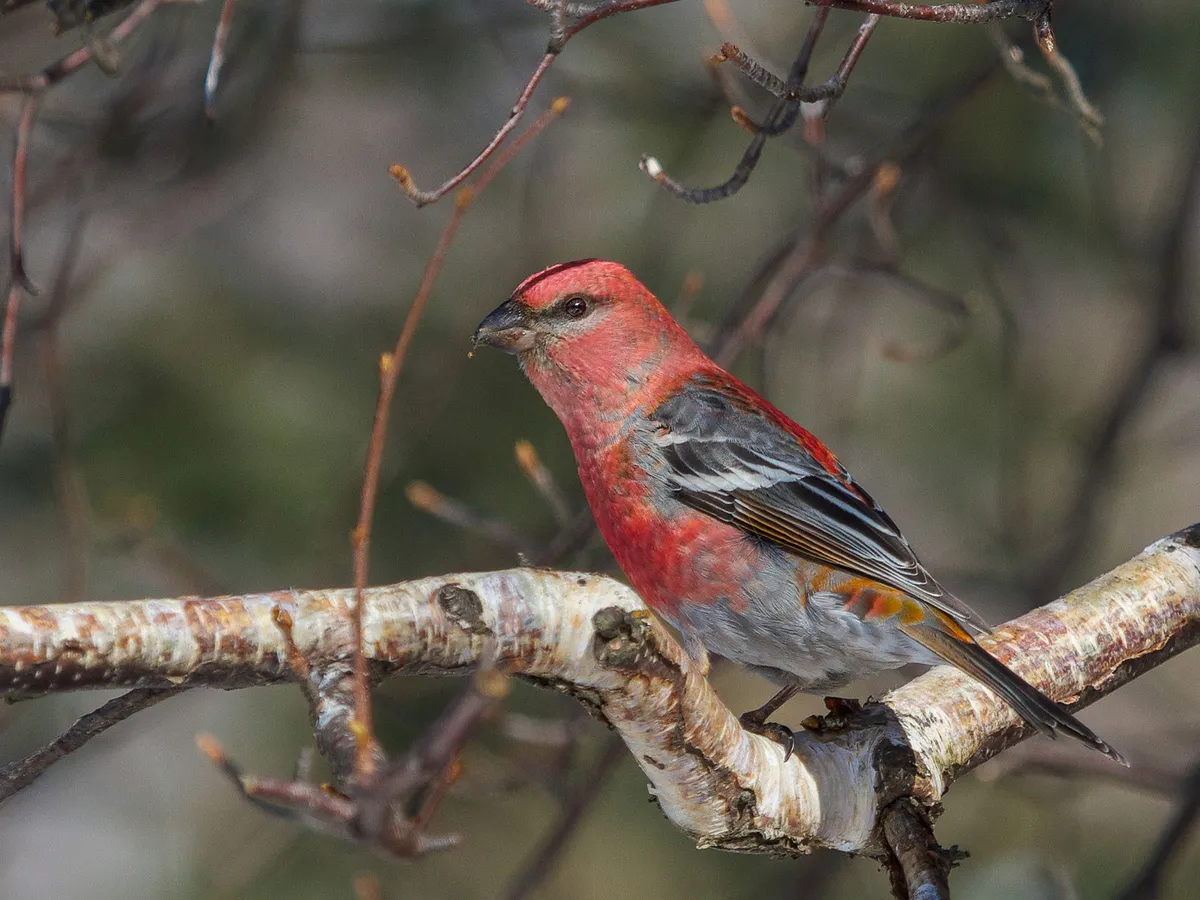 Pine Grosbeaks can mainly be found in boreal pine and mixed forests
How rare is it to see a Pine Grosbeak?
The global population is very large, but Pine grosbeaks are considered quite uncommon and tough to spot unless you're in the right place.
You're likely to see them if you head into the hilly and mountainous forests of the Sierra Nevada in the USA or Terra Nova National Park in Canada. In Europe, Pine grosbeaks are year-round residents of Sweden, Norway, and Finland's boreal forests, which is perhaps where you'll most likely see one.
On harsh winters, Pine grosbeaks may head further south than usual, which leads to rare sightings in southern parts of the USA and Europe.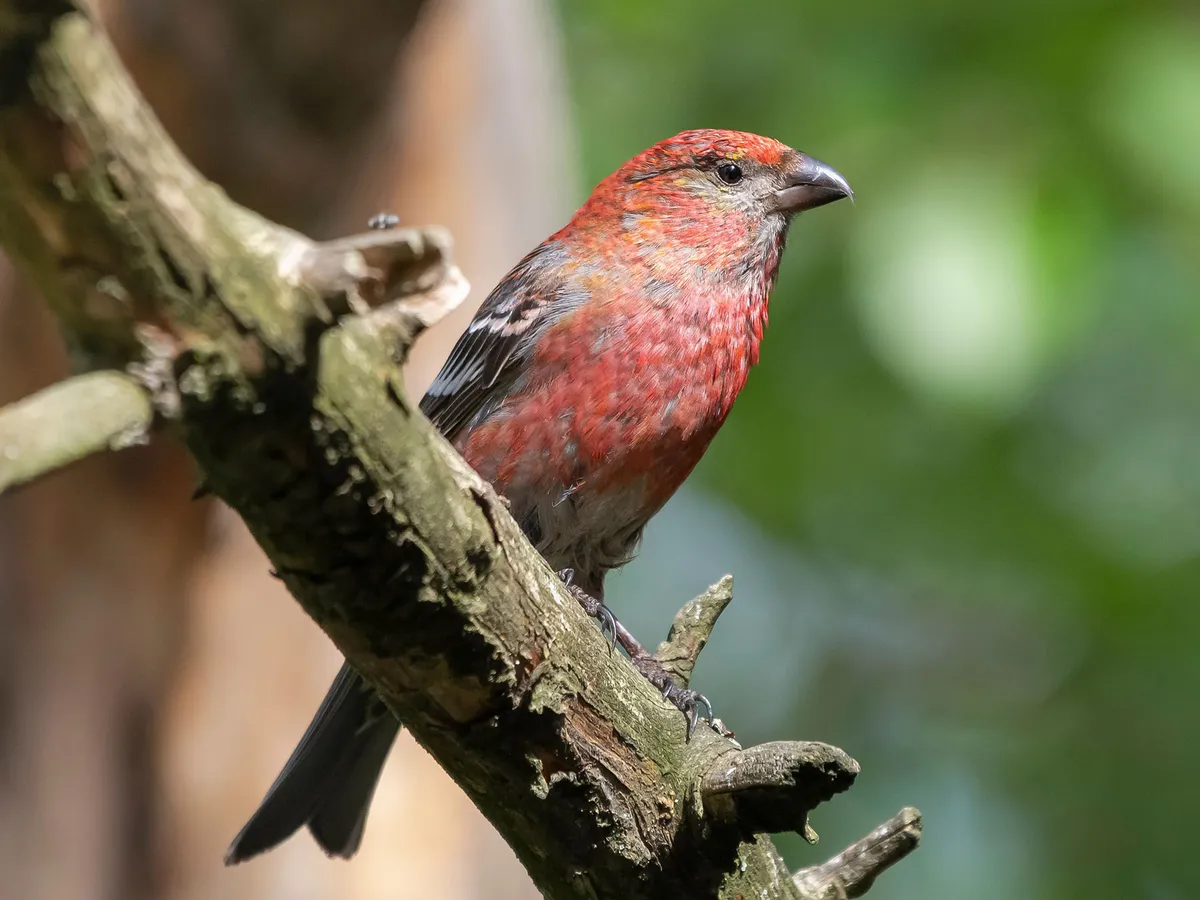 Pine Grosbeak, Kaamanen, Lapland, Finland
Where is the best place to see Pine Grosbeaks?
If you want to see Pine Grosbeaks in the wild, head up the forested mountains of the Sierra Nevada or Rocky Mountains.
The Terra Nova National Park is also an excellent spot, as are the coniferous forests of Newfoundland. In Europe, the Russia-Finnish Pasvik Valley yields plenty of uncommon boreal wildlife, including the Pine grosbeak.
What time do Pine Grosbeaks come out?
Pine grosbeaks are diurnal birds that do most of their foraging in the daylight. They return to their roosts at dusk and wake up early, at the crack of dawn.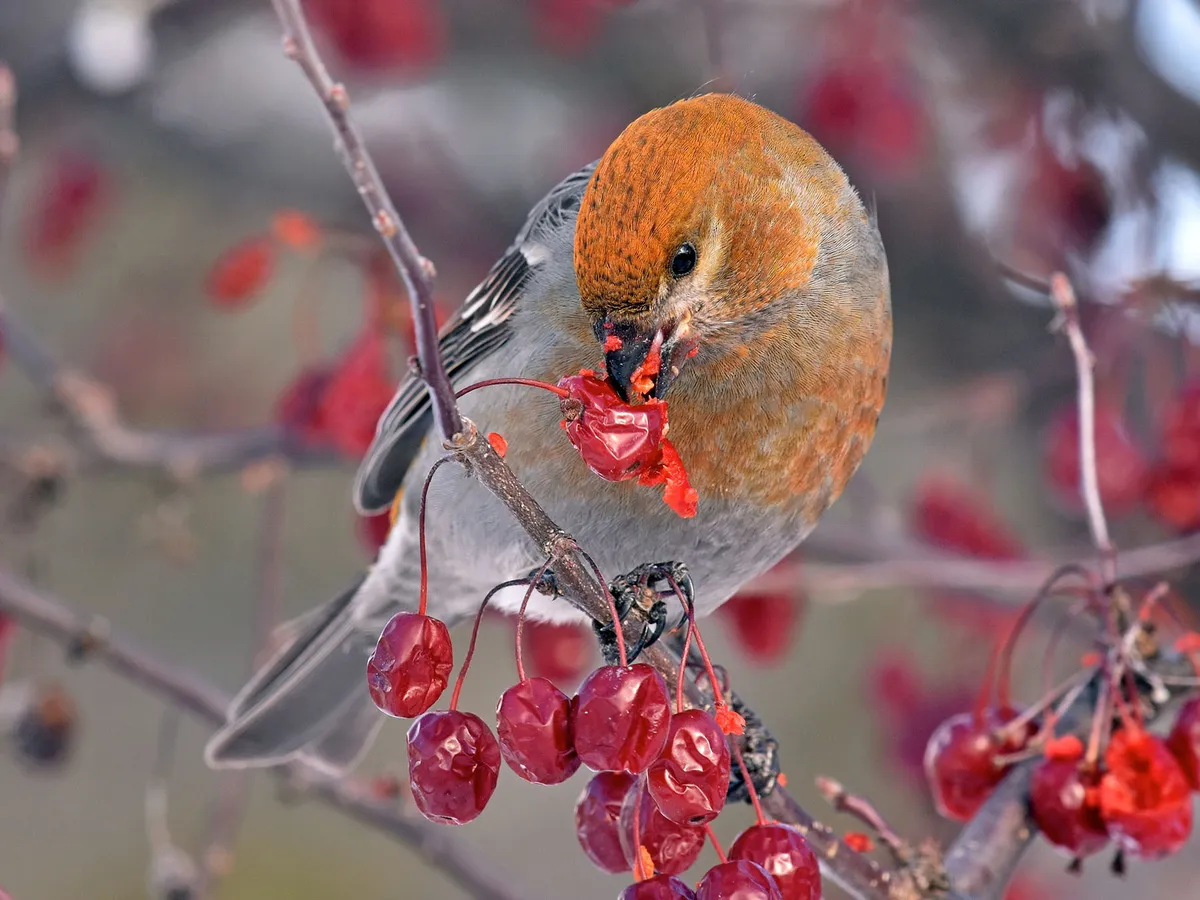 Close up of a Pine Grosbeak feeding on berries
Do Pine Grosbeaks stay in one place?
Pine Grosbeaks are hardy birds that are largely residents in their range, which means they don't migrate from the breeding grounds.
However, they may scatter short distances in winter to locate better feeding grounds. In the coldest parts of their range, Pine grosbeaks often head further south, especially in irruptive years.
Irruptive behavior refers to the tendency for north-dwelling birds to head south on particularly harsh years. This is because food can become very scarce in some regions, forcing irruptive species further south than usual.
Close up of a perched female Pine Grosbeak
Where do Pine Grosbeaks live in the winter?
Pine grosbeaks are usually residents across their range, meaning they don't migrate in the winter. Instead, these hardy birds don't mind the cold and stay put so long as they can find plenty of food.
However, in the northernmost reaches of their range, they might be forced to head south in winter if food becomes critically limited.
Where do Pine Grosbeaks live in the summer?
Pine grosbeaks invariably occupy their breeding grounds in summer, covering a vast portion of the upper Palearctic. Summer is when Pine grosbeaks raise their young.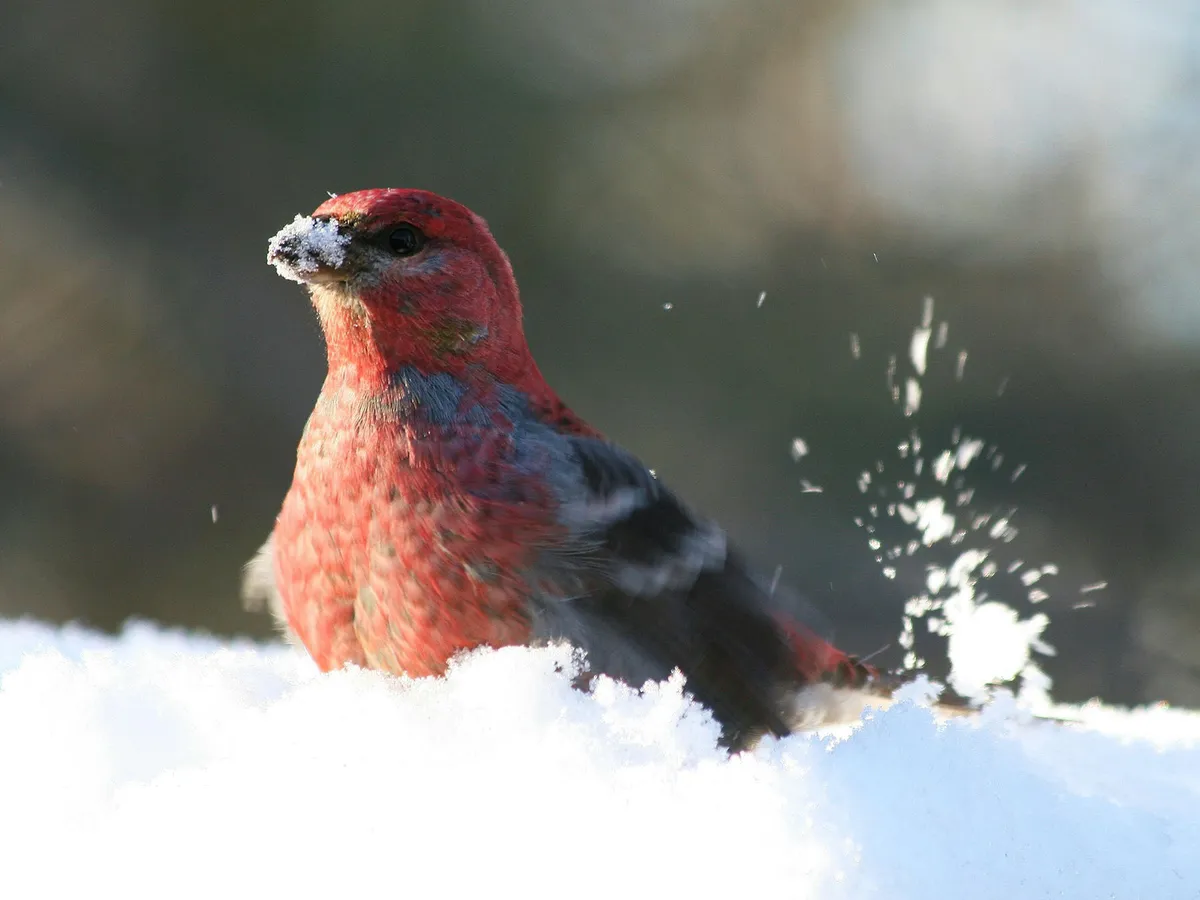 Pine Grosbeaks are hardy birds, and generally don't mind the cold
Do Pine Grosbeaks live in groups?
Pine grosbeaks are social outside of the breeding season and often form small cooperative groups to help them get through the winter.
They're often seen foraging socially. However, it's a different story in the spring and summer, as the breeding season makes them fiercely territorial - as is the same for most birds.