The Evening Grosbeak (Coccothraustes vespertinus) is a large and conspicuous North American bird from the Fringillidae family. These stocky finches are always a welcome sighting, whether enjoying sunflower seeds at a backyard bird feeder or out foraging in a high-altitude coniferous forest.
So, where exactly do Evening Grosbeaks live? And what habitats do they prefer?
Birdwatchers can spot Evening Grosbeaks across most of the Lower 48, as well as much of Canada and parts of Mexico. These flashy finches are known as irruptive visitors because they move in large numbers when food is scarce in their breeding range.
Evening Grosbeaks breed in the West and far north of the United States, but the bulk of their breeding range lies in Canada's boreal forests.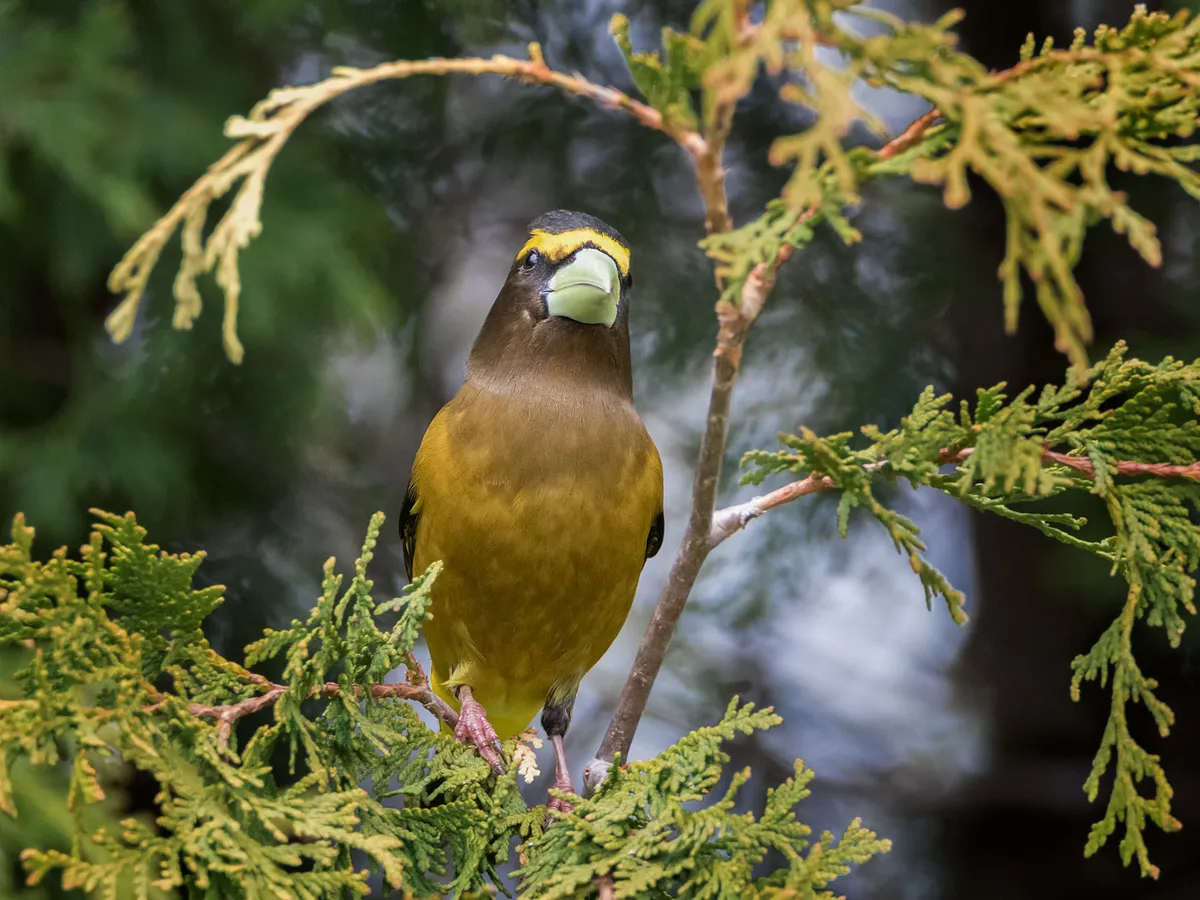 Forests are one of the best places to see Evening Grosbeaks
They can be seen year-round in their summer range but are subject to long southward migrations in the winter, sometimes reaching Texas and southern California. These birds are also scarce breeding residents in the mountainous regions of western Mexico.
These birds are essentially forest dwellers, although they have adapted to urban and suburban areas where backyard bird feeders provide a ready source of nutritious seeds.
Their thick bills make short work of many different seeds and buds, although they focus on protein-rich invertebrates during the summer when insects are more active.
Read along to learn more in-depth facts about the habitat and distribution of the Evening Grosbeak.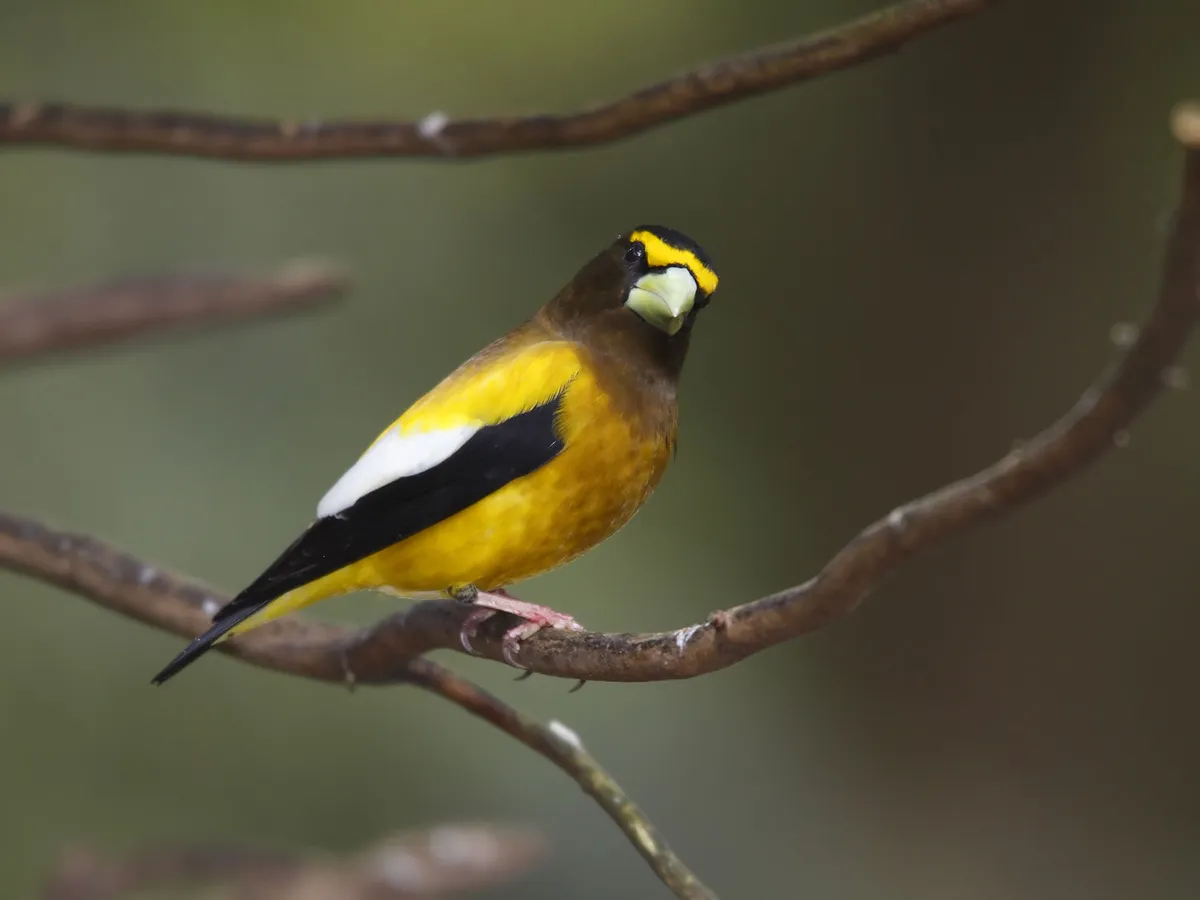 Male Evening Grosbeak perched on a branch in the woodland
What is the distribution range of the Evening Grosbeak?
Evening Grosbeaks are normally restricted to the North American continent, although vagrants have turned up as far afield as Northern Europe. Continue reading to learn more about their distribution in the United States and Canada.
Where do Evening Grosbeaks live in the US?
The Evening Grosbeak underwent a large eastward range expansion in the United States in the 1900s, possibly due to the mass planting of the Box Elder Tree (Acer negundo), a favorite food source.
Unfortunately, their success seems to be short-lived, and today the birds are in decline. So where do Evening Grosbeaks live in the USA?
Evening Grosbeaks can turn up in any of the Lower 48 states, with the exception of Florida in the extreme Southeast. However, they are irruptive winter migrants across most of the country, breeding only in the Northwest, Great Lakes Region, and parts of the Mid-Atlantic and New England.
Evening Grosbeaks are breeding residents in the following American states:
California
Oregon
Washington
Montana
Idaho
Wyoming
Utah
Minnesota
Wisconsin
Michigan
New York
Vermont
New Hampshire
Maine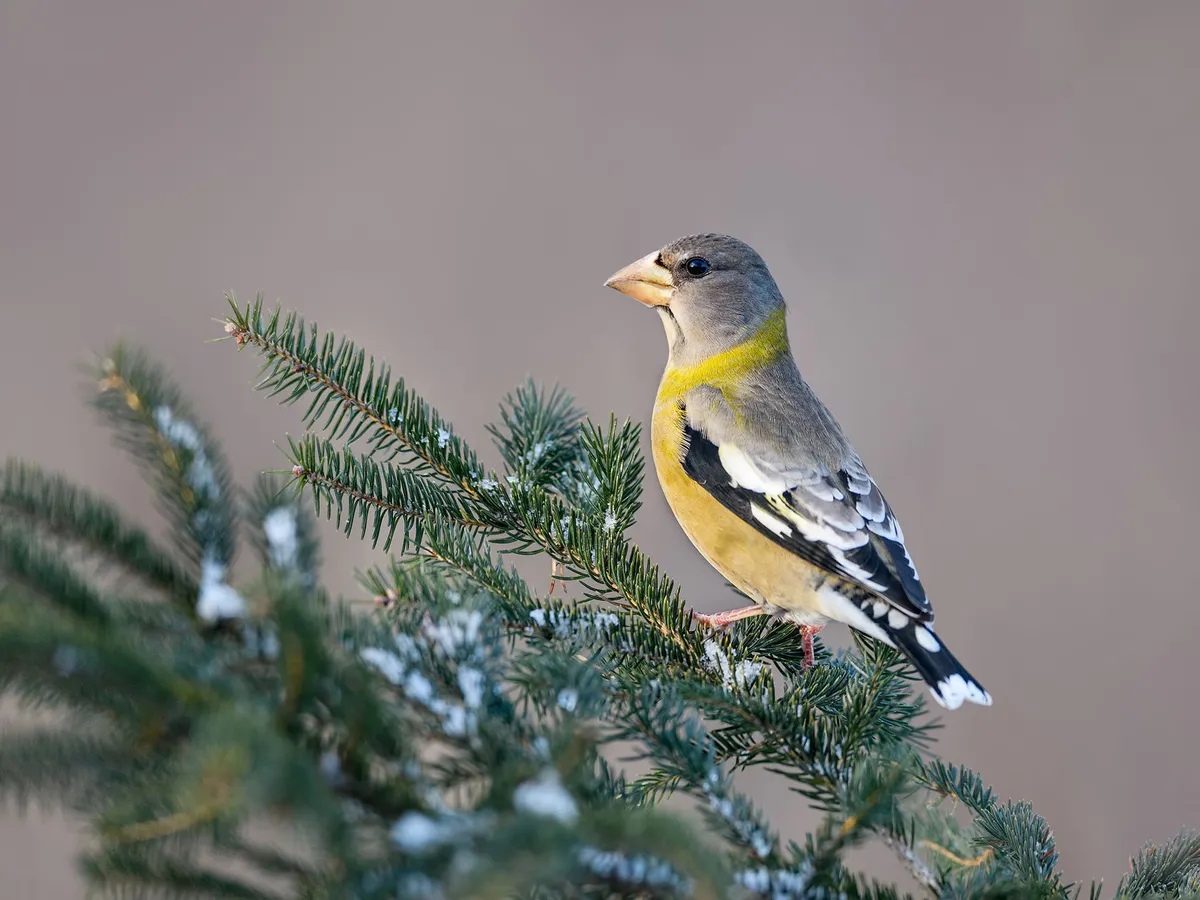 Female Evening Grosbeak perched on a spruce tree during the winter
Where do Evening Grosbeaks live in Canada?
Evening Grosbeaks are widespread breeding residents and partial migrants in Canada. They occur from British Columbia in the west to New Foundland in the east but are generally absent from the northern provinces of Yukon, Northwest Territories, and Nunavut.
These birds are also partially migratory within Canada. They do not breed in the southern parts of Alberta, Saskatchewan, and Manitoba but will visit those areas during the winter months.
What is the habitat of an Evening Grosbeak?
Evening Grosbeaks are primarily birds of coniferous forests, although they visit mixed forests and woodlands that provide good foraging opportunities. They are often encountered in high-altitude habitats up to 10,000 feet.
Their natural forest habitat includes a great variety of tree species which differ from region to region. The following trees are favored:
Firs (Abies spp.)
Spruces (Picea spp.)
Pines (Pinus spp.)
Oaks (Quercus spp.)
Aspens (Populus spp.)
Junipers (Juniperus spp.)
Evening Grosbeaks are common visitors to backyard bird feeders when they are present in the area. They are most likely to visit platform feeders, especially when sunflower seeds are on offer.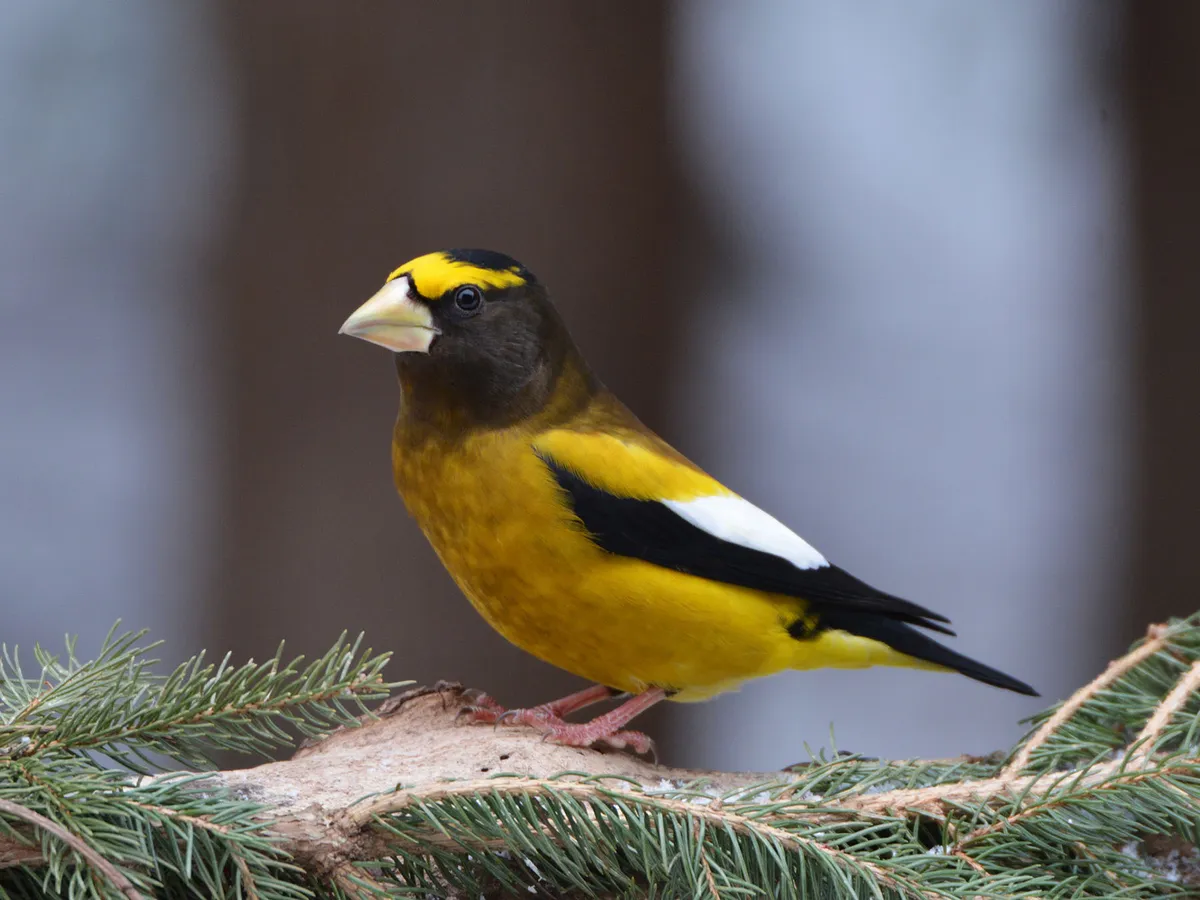 Coniferous forests are one of the best places to spot Evening Grosbeaks
Where do Evening Grosbeaks live in the winter?
Evening Grosbeaks disperse widely when food resources become scarce in the winter. They can migrate thousands of miles to the south during this time, often arriving in numbers at backyard bird feeders in urban and suburban areas.
Evening Grosbeaks turn up as far south as Arizona, Texas, and Georgia during their irregular winter migrations. Some Grosbeaks have even gone as far as Florida and Bermuda!
Look out for them in the following habitats in the winter:
Coniferous forests
Deciduous forests
Hardwood forests
Suburban and urban areas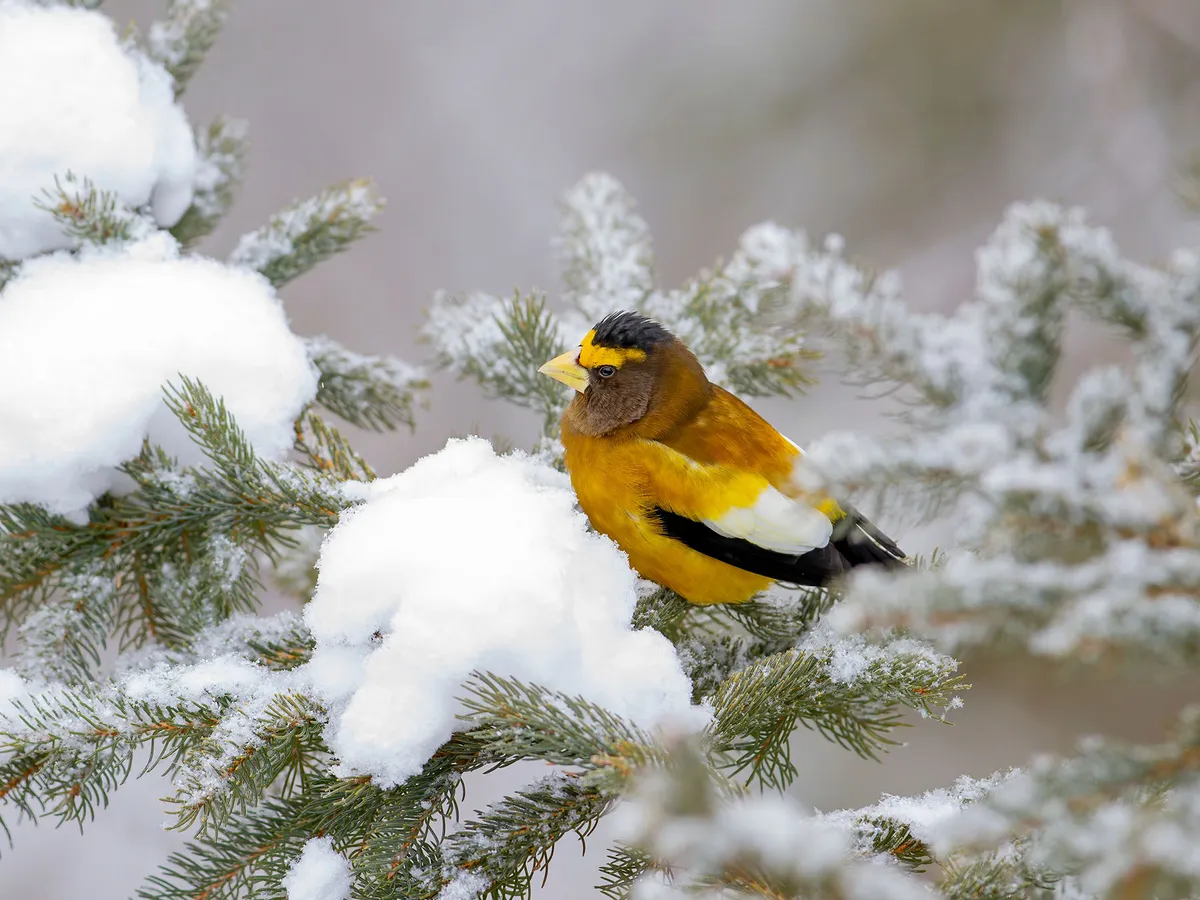 Evening Grosbeak during winter, Algonquin Park, Ontario, Canada
Where do Evening Grosbeaks live in the summer?
Evening Grosbeaks are restricted to their breeding range in the summer. These nesting areas are in the American West from California to Washington, the north of the Midwest, and parts of the Northeast.
They also occur across central and southern Canada and the mountainous regions of Mexico during the summer.
Evening Grosbeaks are most common in coniferous forests of Pine, Fir, and Spruce trees during the summer breeding season. Their forest habitats are dominated by various tree species across their range, however.
Outside of the breeding season, Evening Grosbeaks are highly gregarious
Do Evening Grosbeaks live in groups?
Evening Grosbeaks are highly gregarious in the winter non-breeding season, sometimes moving in flocks of several hundred. They can be very noisy and conspicuous at these times, so it's easy to tell when a group of Grosbeaks are around.
Grosbeak flocks are unstable, and the birds break up into smaller groups and pairs during the breeding season. Even then, these birds are not territorial because suitable foraging and nesting habitats might occur in a very localized area.