The American Robin (Turdus migratorius) is a medium-sized songbird from the thrush family. These birds are easily identified by their brick-red underparts, white eye-ring, and gray back plumage.
Their cheerful song can be heard bright and early each morning and again after the sun has set from late winter to spring each year. So where do American Robins live, and where is the best place to spot them?
American Robins occur from north to south and coast to coast in North America. They can be seen throughout the year across much of the United States, although they migrate locally and long-distance in many areas. American Robins prefer habitats with good tree cover and open areas of leaf litter, grassland, and lawn where they can forage for insects in the warmer months.
Berries are a vital component of their diet in winter, and the birds flock to areas where this food source is easily available.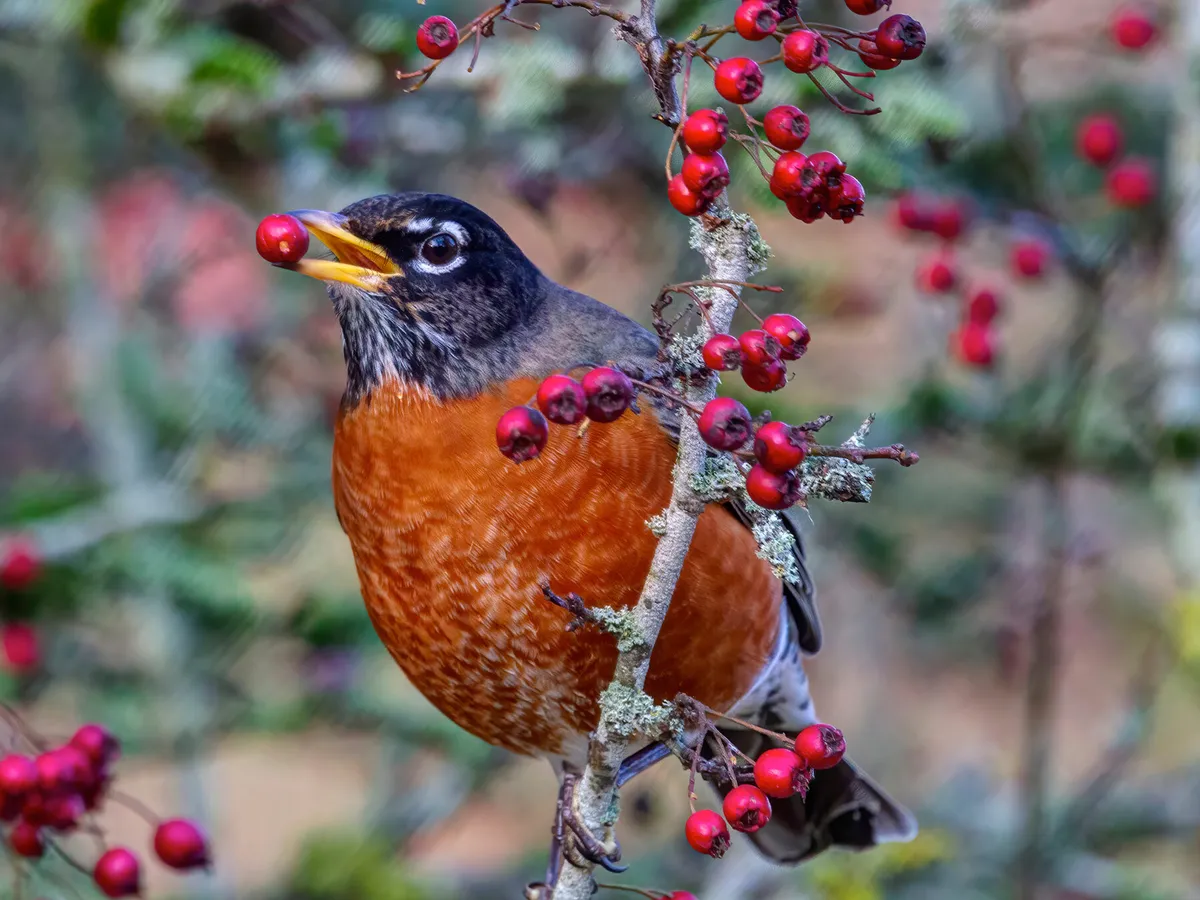 In winter, berries are an important food source for American Robins
American Robins are one of the few species that have benefited from man's alteration of the environment. Their habit of foraging on lawns has made farms, suburbs, and towns great places to spot the American Robin. They are a very familiar sight across America, particularly in the spring, and they have earned the title of official state bird in three American States!
American Robins are common backyard birds, and they can be attracted by providing a clean source of fresh water for bathing and drinking, and by putting out their favorite foods. Growing berry-producing native plants will also attract them, and many other, native bird species.
American Robins often nest in backyards, sometimes even forgoing their traditional nest sites in the forks of trees and opting to set up shop on our windowsills!
This article covers the habitat and distribution of one of North America's most beloved and widespread songbirds, the American Robin. Read along with us to learn all about where these birds live, where you can see them, and what you can do to attract them to your home.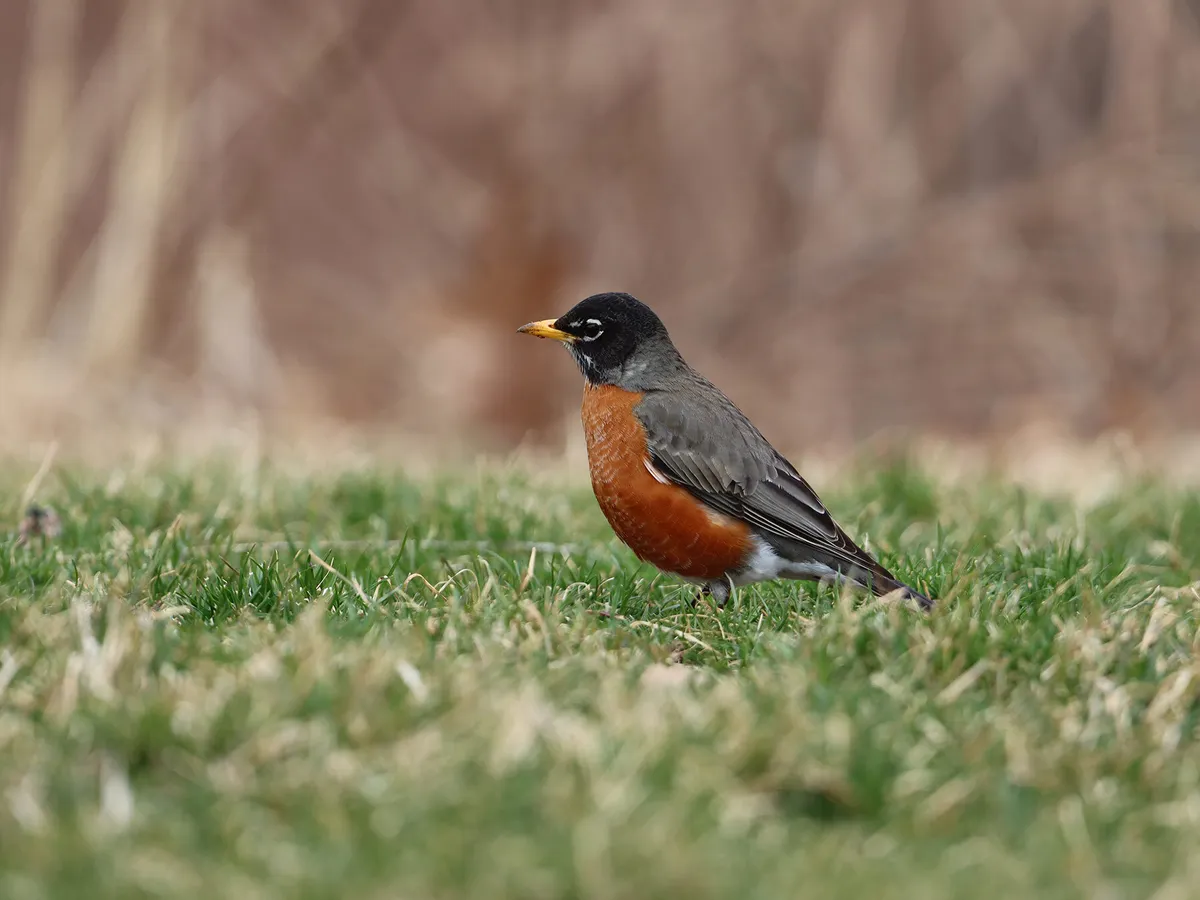 Close up of an American Robin foraging on the lawn
What is the distribution range of the American Robin?
American Robins are widespread in North America, occurring from Alaska and Canada in the north, to Mexico in the South. They have been recorded in each of the Lower 48 States, Alaska, each of Canada's ten provinces, and many of Mexico's northern and central states.
Continue reading to learn about the habitat of the American Robin.
What is the habitat of an American Robin?
American Robins occupy various habitats, with a preference for areas near rivers and streams. They prefer woodlands, forests, and mountains in wilderness areas, but they have adapted very well to rural, suburban, and even urban areas. Look out for American Robins around fields, parks, and yards with lawns and tree cover.
Migratory American robins look for similar habitats in their winter and summer ranges, and short-distance migrants may simply head downslope to woodlands and forests at lower elevations during the winter.
Fruit is the most important part of their winter diet, so these birds seek out areas with plenty of berry-producing shrubs and trees at this time. Wooded environments where invasive fruiting plants are dominant are often favored.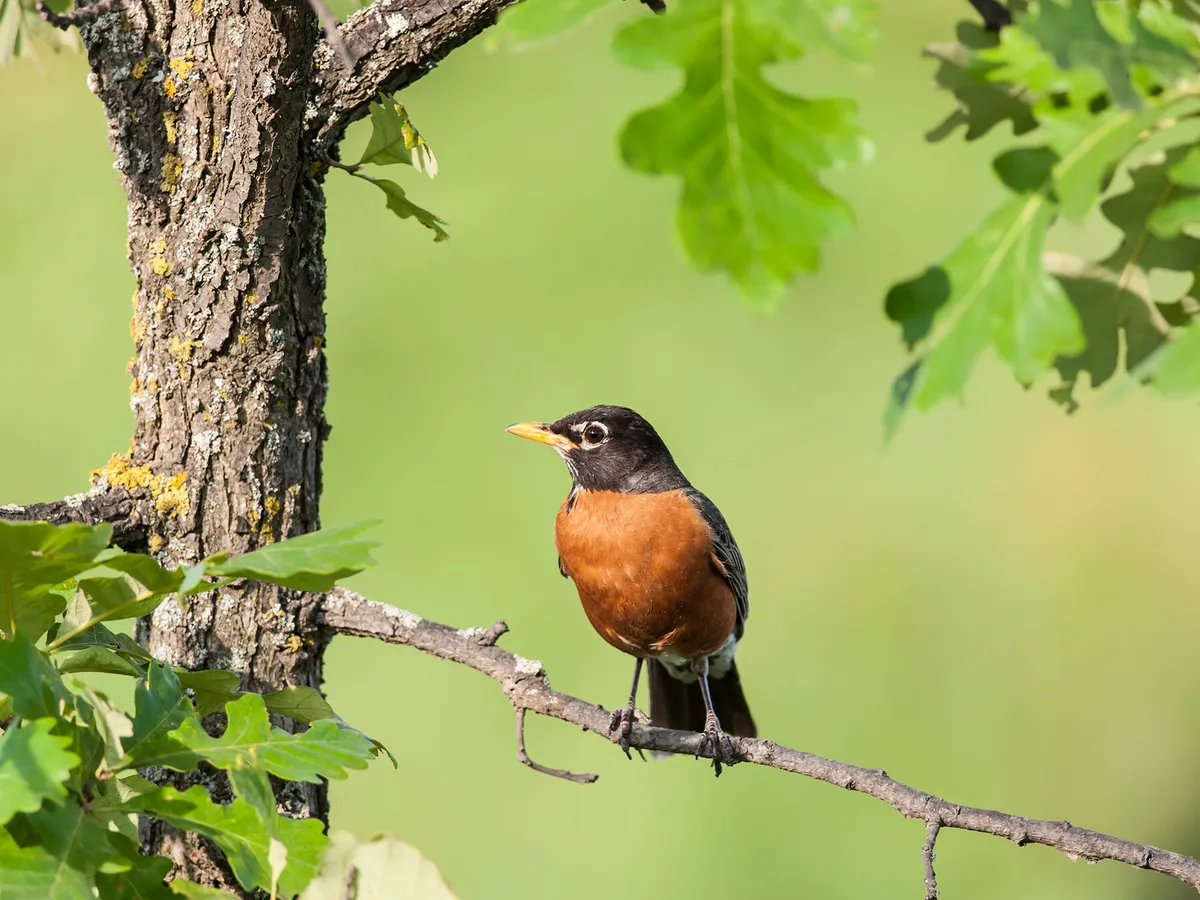 Robins generally prefer habitats with good tree cover
How rare is it to see an American Robin?
American Robins are very common birds. It's not unusual to see them every day in areas with suitable habitats, and if you live near a roost site, you may even be lucky enough to see thousands of these birds coming and going each day.
These birds are most visible in the spring and summer months when they forage in backyards and other lawned areas. During the winter, they congregate around fruiting trees and shrubs.
Where is the best place to see an American Robin?
American Robins are common around human settlements, so you probably won't need to hit the road to find these beautiful birds. Perhaps the most rewarding place to watch them is in the comfort of your own backyard, although more adventurous birdwatchers can also seek them in wilderness areas.
If American Robins don't visit your neighborhood, try visiting parks and fields in your area or wildlife areas with woodland or forest habitats near water courses.
American Robins are partial migrants, though, so you might have to wait a few months for them to return to your area depending on the time of year.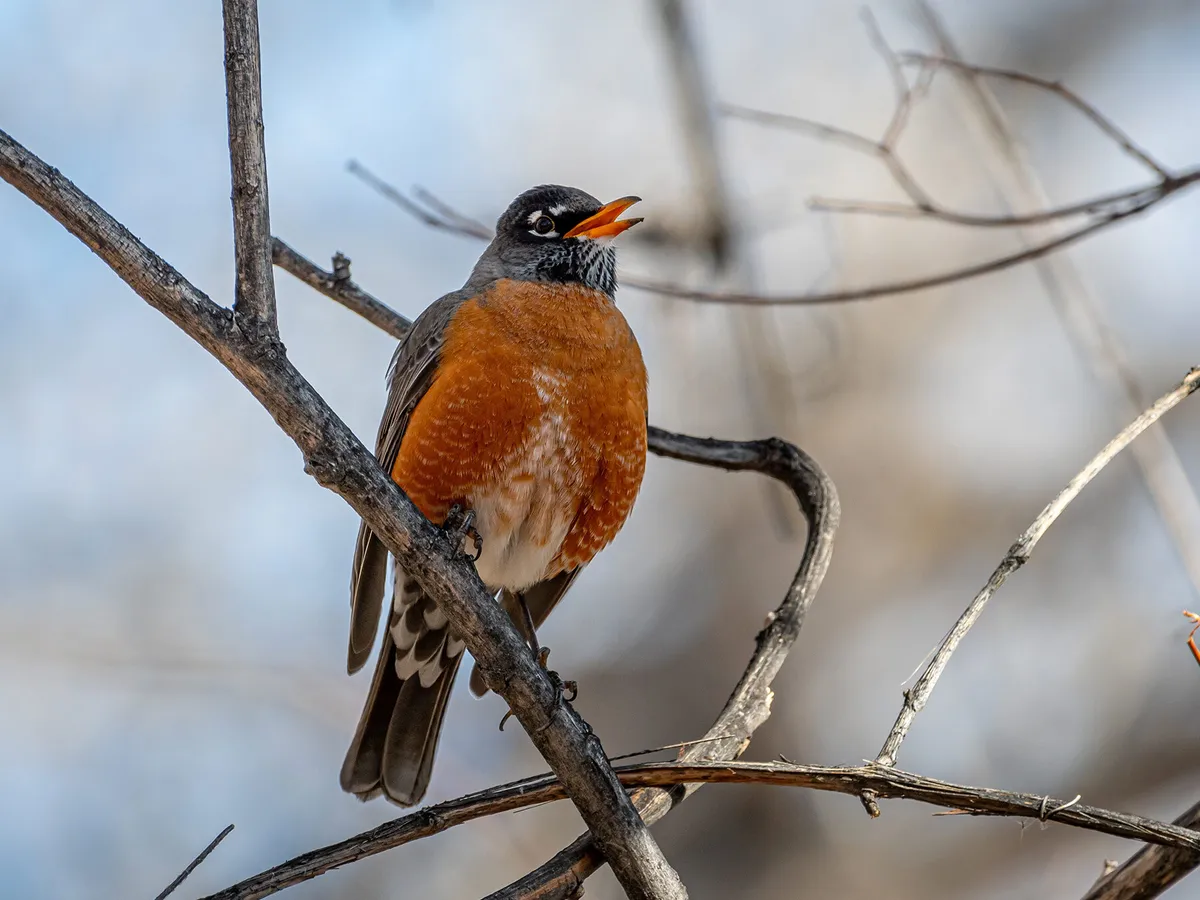 Perched American Robin singing from a branch in early spring
Where do American Robins live in the US?
You can see American Robins throughout the year in every state of the Lower 48 and Alaska. These birds tend to come and go at different times of the year, however, because they undergo long and short-distance migrations.
Where do American Robins live in Canada?
American Robins are summer visitors to most of Canada, and you can spot them in suitable habitats in each of the country's ten provinces. They are present all year round in the south and west of British Columbia, the south of Alberta, and in parts of Newfoundland and Nova Scotia.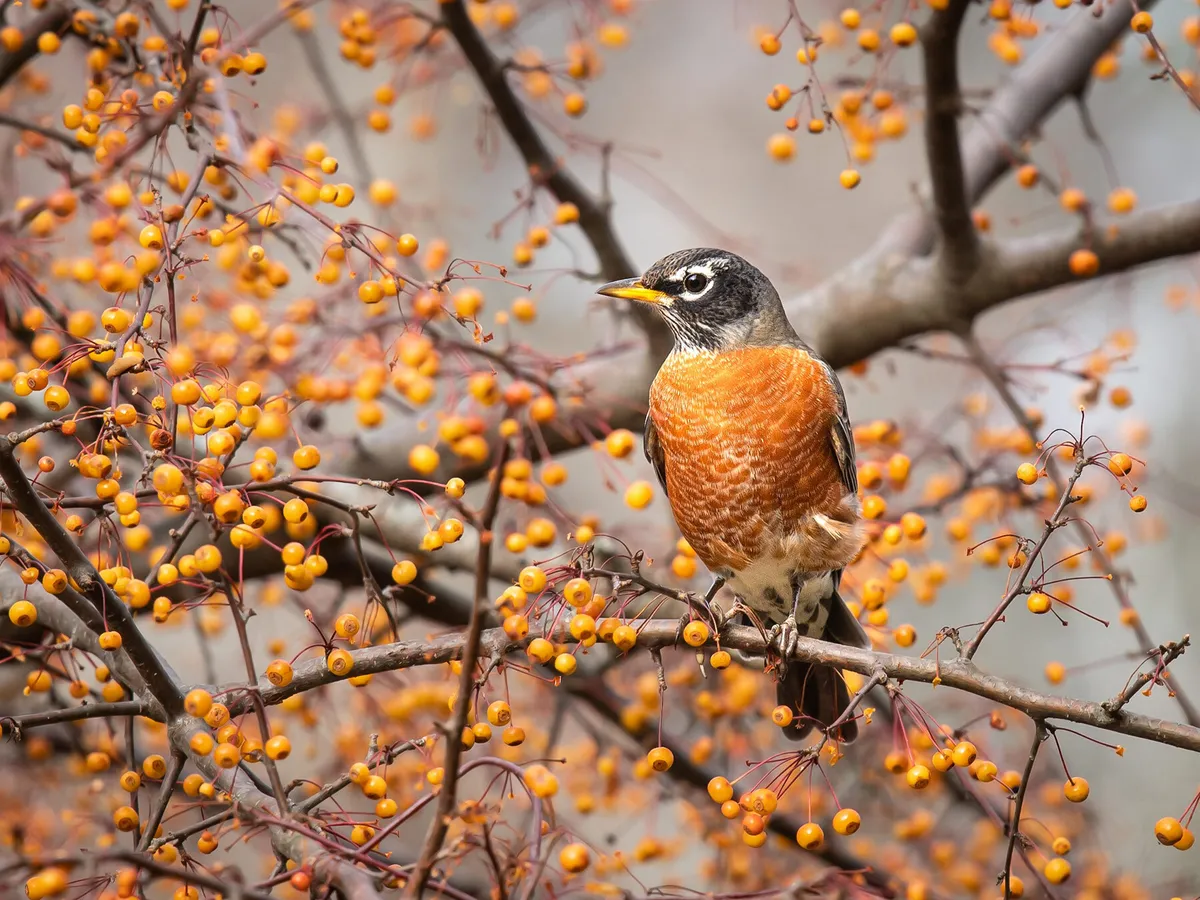 American Robin eating orange berries
Where are American Robins most common?
American Robins are most common in areas with suitable foraging habitats, nest sites, and freshwater sources. They are frequent visitors to parks and backyards in the spring and summer but leave to congregate around berry-producing trees and shrubs in the fall and winter.
Where do American Robins live in the winter?
American Robins are short-distance migrants throughout most of their range, although they are highly migratory in the north and the south. Long-distance migrants leave the far north in the fall to spend the winter in the United States and parts of Mexico. In some southerly states, these birds are only present in the winter.
American Robins are winter visitors to parts of the following states in the south of the USA:
California
Nevada
Arizona
Texas
New Mexico
Louisiana
Florida
American Robin amongst the snow in winter, Vancouver, Canada
Where do American Robins live in the summer?
American Robins push north into Canada and Alaska during the summer and leave the southern parts of their range. Across much of America, these birds migrate less than 100 miles from their breeding territories, so there's a good chance that you can find them nearby throughout the year if you live in the mid-latitudes of the USA.
American Robins have a complex migration pattern, driven primarily by changing food sources. They are usually associated with the coming of spring, but this is often the result of them becoming more noticeable as the weather warms and they begin to forage for insects on lawns and vocal activity increases.
These familiar birds are partial migrants to (and within) many American states where they can only be seen during part of the year. Look out for American Robins in the summer in:
Montana
North Dakota
South Dakota
Minnesota
Wisconsin
Michigan
Maine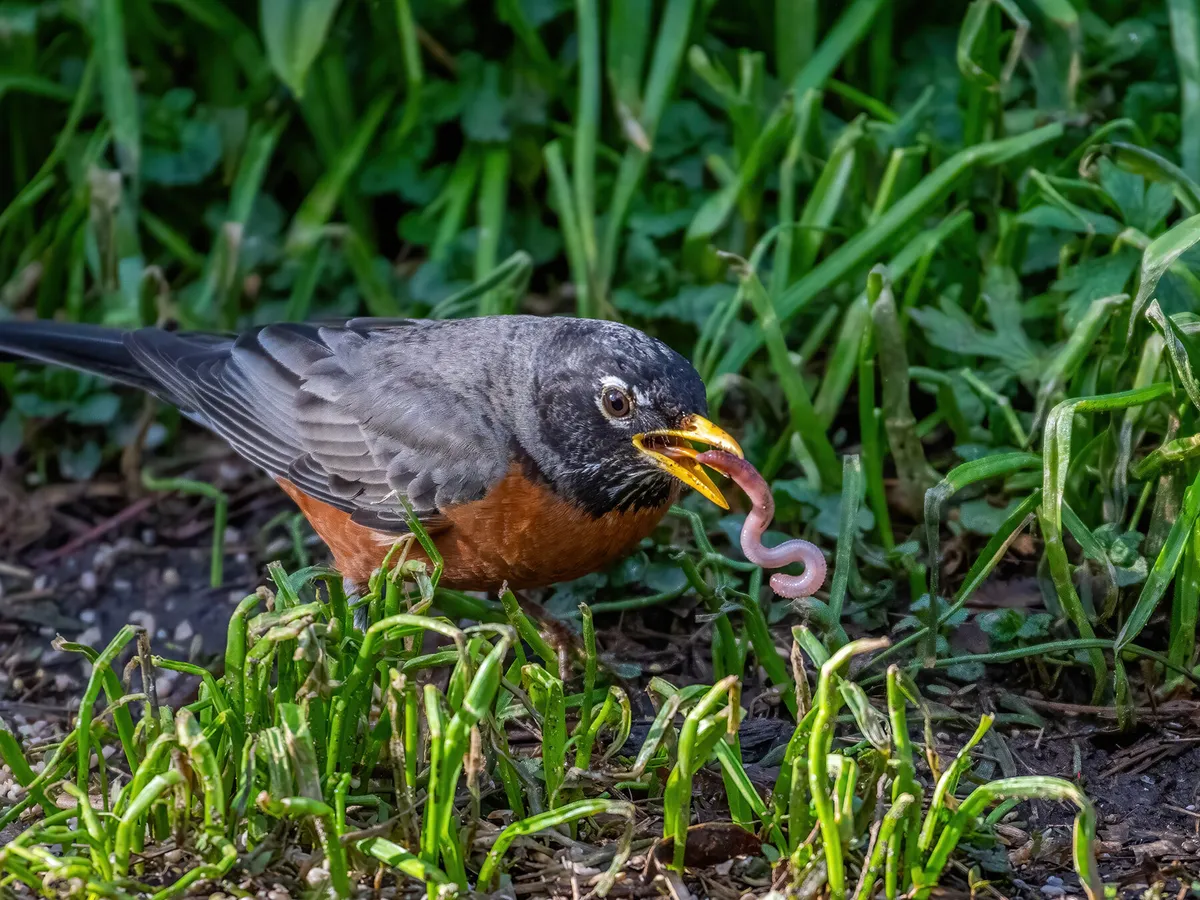 In summer, American Robins are seen more frequently on lawns, whilst foraging for insects and worms
Where do American Robins go at night?
American Robins are diurnal birds. They gather about an hour before sunset to sleep in communal tree roosts, often with other flocking birds like European Starlings and Common Grackles. These communal roosts can be huge, sometimes numbering up to a quarter million birds, although smaller numbers of 200 or less are more common.
What attracts American Robins?
American Robins are attracted to areas where they can find food and water. The American Robin diet does not include birdseed, but these birds will enjoy berries, chopped fruits, mealworms, and suet. Providing fresh water in a bird bath will also attract these welcome songbirds.
Perhaps the best way to attract American Robins is to create a native garden with plenty of berry-producing trees, a natural water feature, and some lawn areas where the birds can forage. If you're lucky, a pair of American Robins might even choose to nest in your backyard.
Consider growing the following native plant species to keep American Robins visiting your yard:
Chokeberry (Aronia spp.)
Native Junipers (Juniperus spp.)
Hackberry (Celtis occidentalis)
Serviceberry (Amelanchier spp.)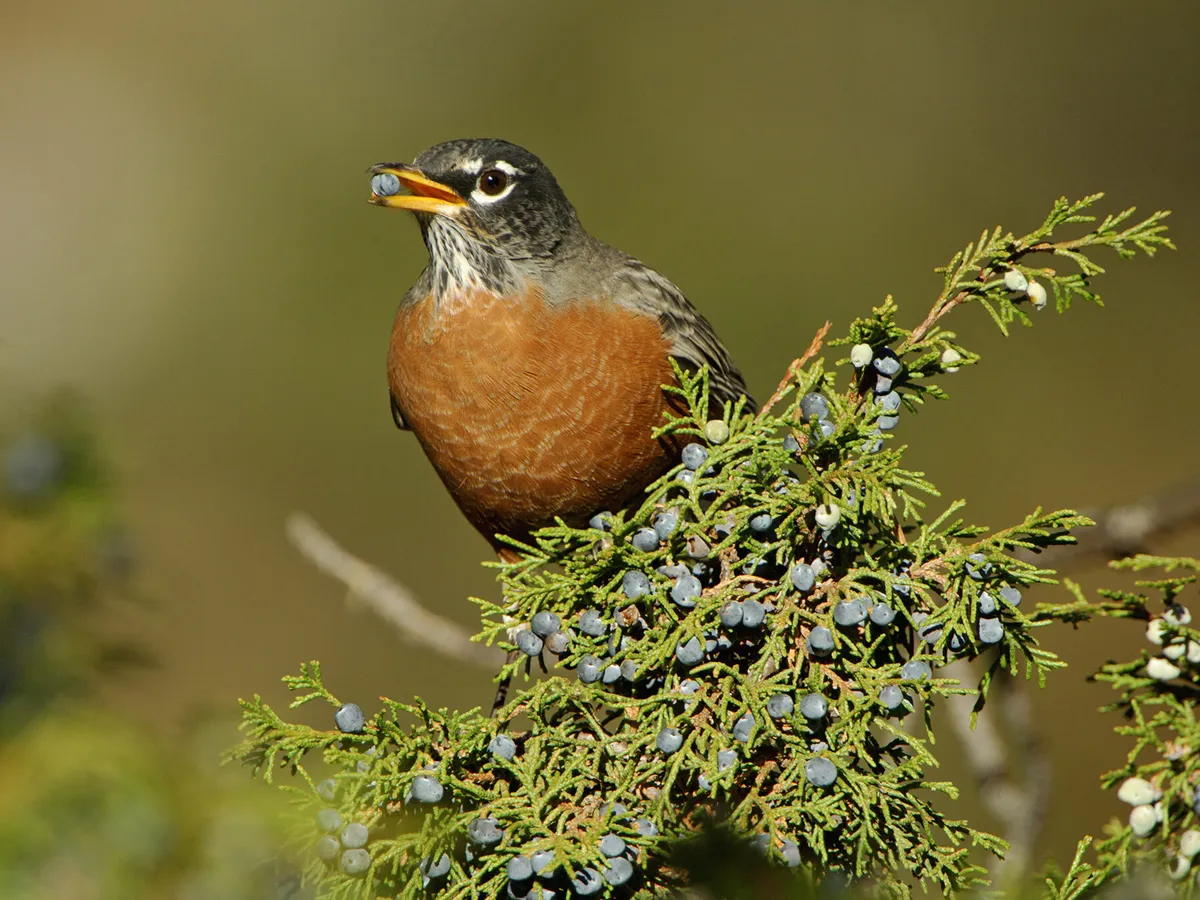 American Robin eating juniper berries