Eastern bluebirds are among the most likely species to set up home in a backyard nest box, requiring the shelter and safety of a cavity nest to raise their young in.
Our guide to Eastern bluebird nesting explores how sites are selected and nests constructed, and looks at whether old nests are reused for a bluebird's future broods. Keep reading to learn everything you've ever wanted to know about the nesting habits of Eastern bluebirds!
Where do Eastern Bluebirds nest?
Eastern bluebirds are cavity nesters and will only construct nests inside the safety of an enclosed space, such as a hollow in a tree or a purpose-built nest box. To attract bluebirds, a nest box should be placed in a suitable location around 150 to 180 cm (5 to 6 ft) above ground level, and with its entrance facing away from prevailing winds.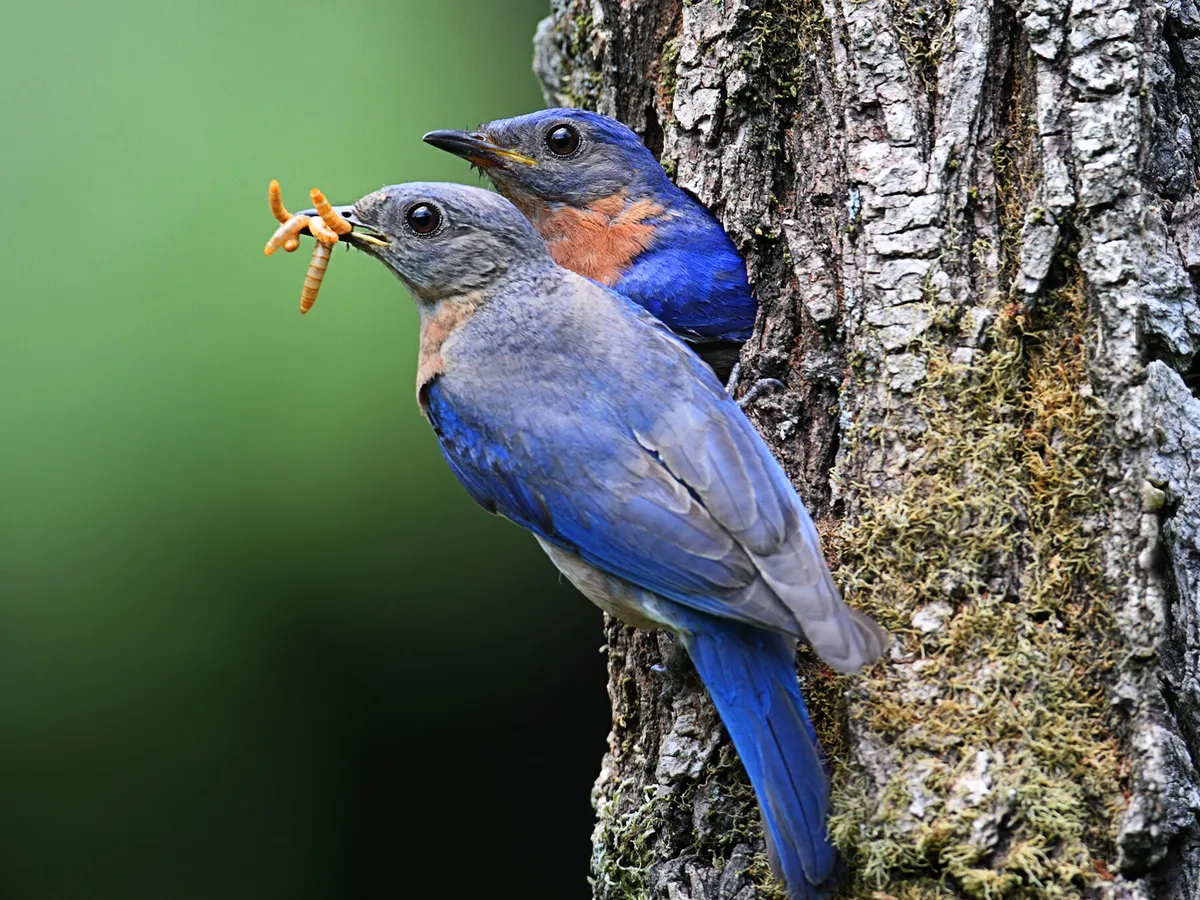 Pair of Eastern Bluebirds bringing food back to the nesting cavity
What do Eastern Bluebird nests look like?
While Eastern bluebirds make use of both existing natural and artificial nesting cavities, both will contain a crafted nest platform, built by the female, using grass, twigs and bark that are woven together into a loose cup-shaped structure.
These constructions are built in the bottom of the cavity or nest box, and where a cavity has been used for a previous breeding attempt, a new nest will be built on top of the old grassy structure.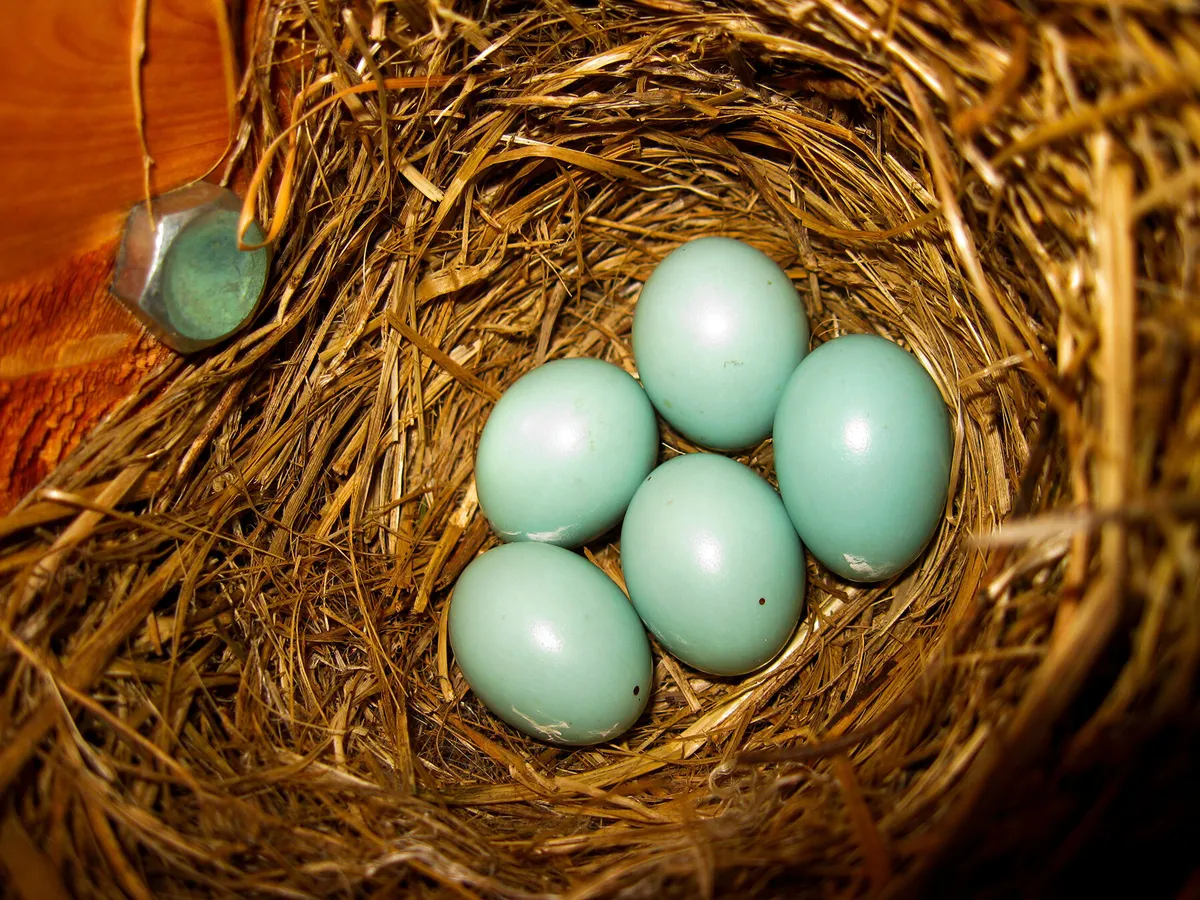 Close up of an Eastern Bluebird nest from inside a nesting box
How big are Eastern Bluebird nests?
Cavities used by bluebirds typically measure 10-12 cm (4-5 in) across, and are at least 20 cm (8 in) deep. Bluebirds that make themselves at home in nest boxes thrive in boxes that are between 20 and 30 cm (8 and 12 in) high, with an entry hole around 3.8 cm (1.5 in) in diameter.
What time of year do Eastern Bluebirds nest?
Nest-building commences in late February at the earliest, but is more common further into March. Laying usually happens in April, but for Eastern bluebirds that raise more than one brood, the nesting period will continue later into the year.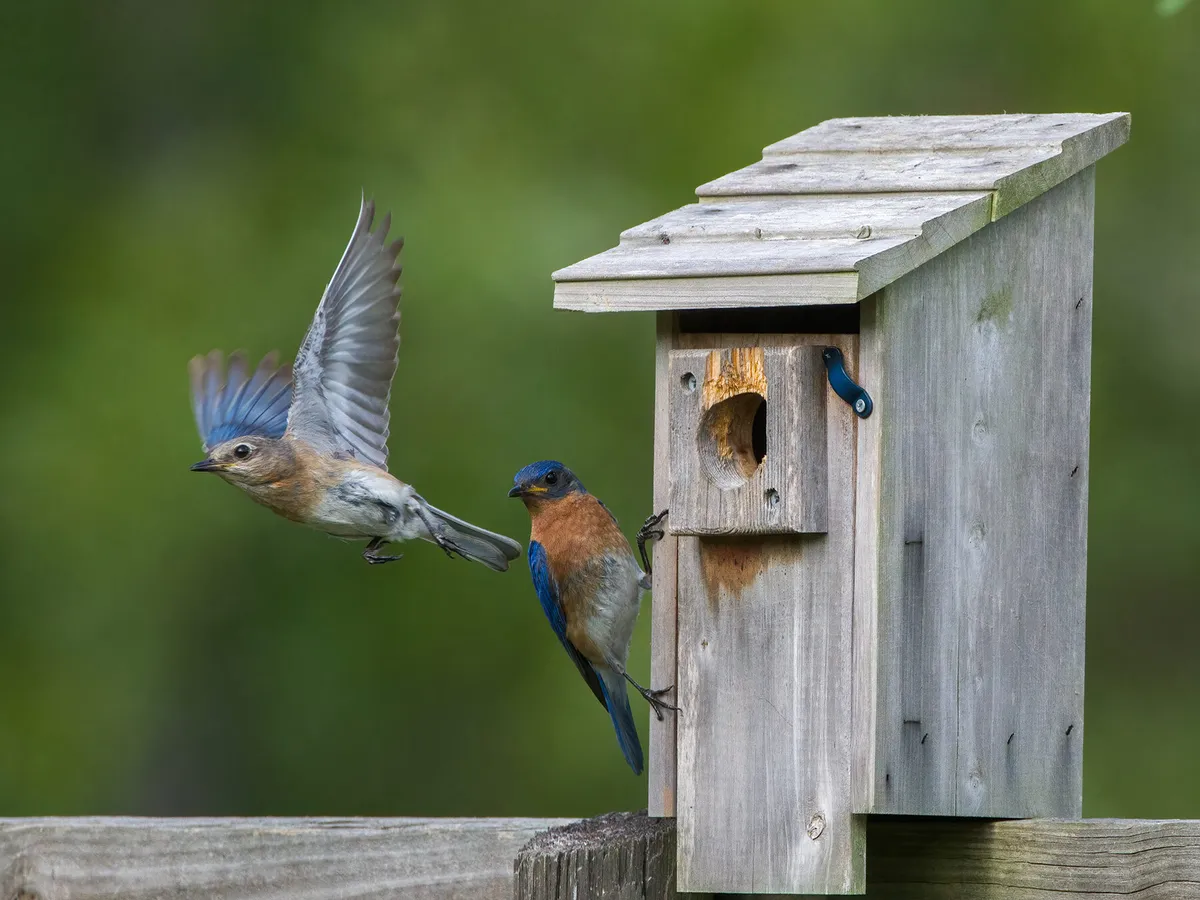 Female Eastern Bluebird flying away from the nest box to forage food for the chicks
How long do Eastern Bluebirds nest for?
The length of time an Eastern bluebird nests for varies depending on where in the breeding territory is located. The average incubation period is around 13 days, but can last for anything between 11 and 19 days. For Eastern bluebirds in southern regions of the United States, incubation periods are slightly shorter than those in colder northern regions.
After hatching, young bluebirds continue to be brooded by the female for between 5 and 7 days, after which it is rare for the female to spend long periods in the nest. Between day 17 and 18, young bluebird chicks are ready to fledge.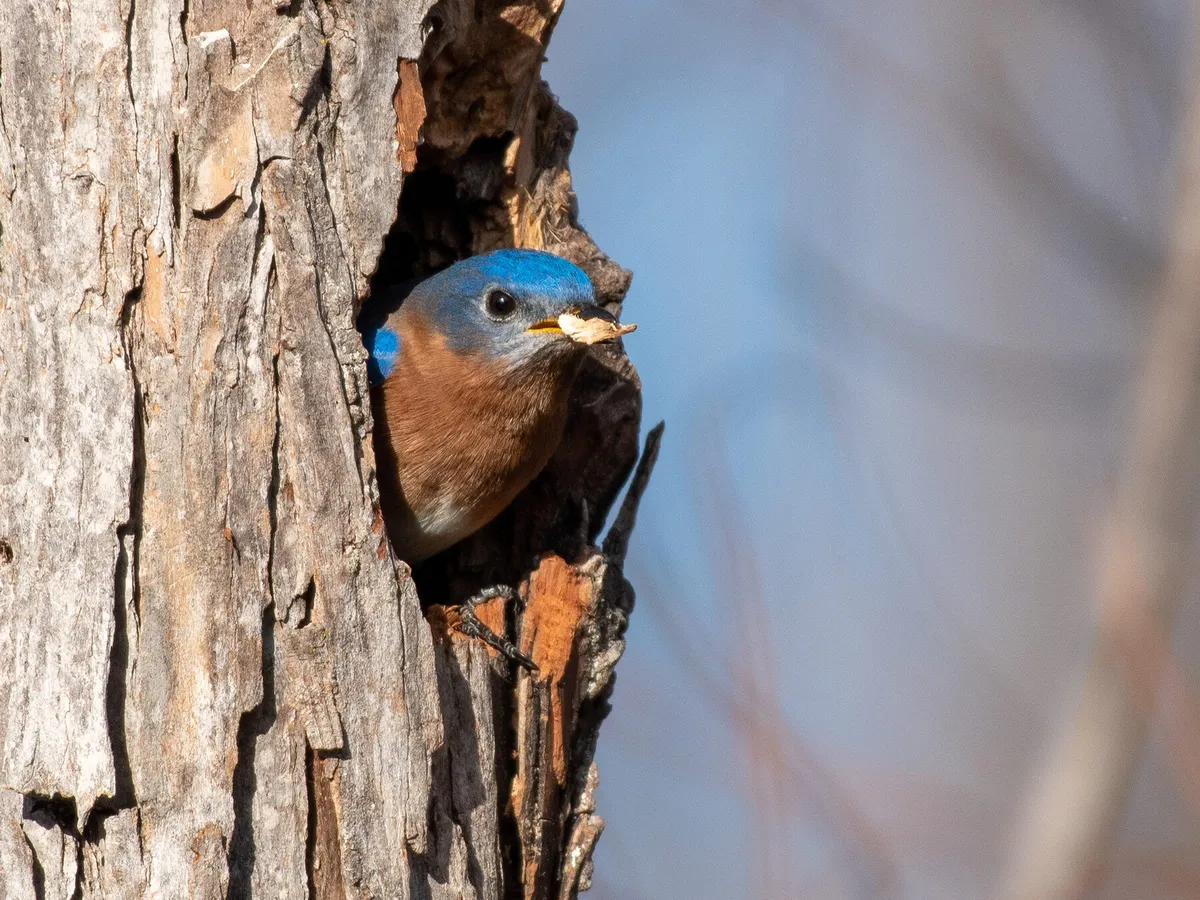 Male Eastern Bluebird removing wood chips from nesting cavity
How do Eastern Bluebirds build their nests?
Eastern bluebirds are one of the best-known examples of secondary cavity nesters, meaning they use an existing cavity that has been excavated by another bird species as they are unable to carve out a suitable hollow themselves. Around 77 percent of Eastern bluebird nests in natural cavities were originally drilled out by woodpeckers.
Eastern bluebirds are common nest box residents, and will line the inside of a box with a tightly woven cup-style structure, made from straw, dry grasses, pine needles and bark, with an inner cup lined with softer grasses and other materials.
Nest site selection is the job of the male Eastern bluebird, but female Eastern bluebirds alone craft the nest structure, collecting nesting materials from the ground and pulling it into shape. Males may occasionally carry nest materials but offer little to no assistance in the construction.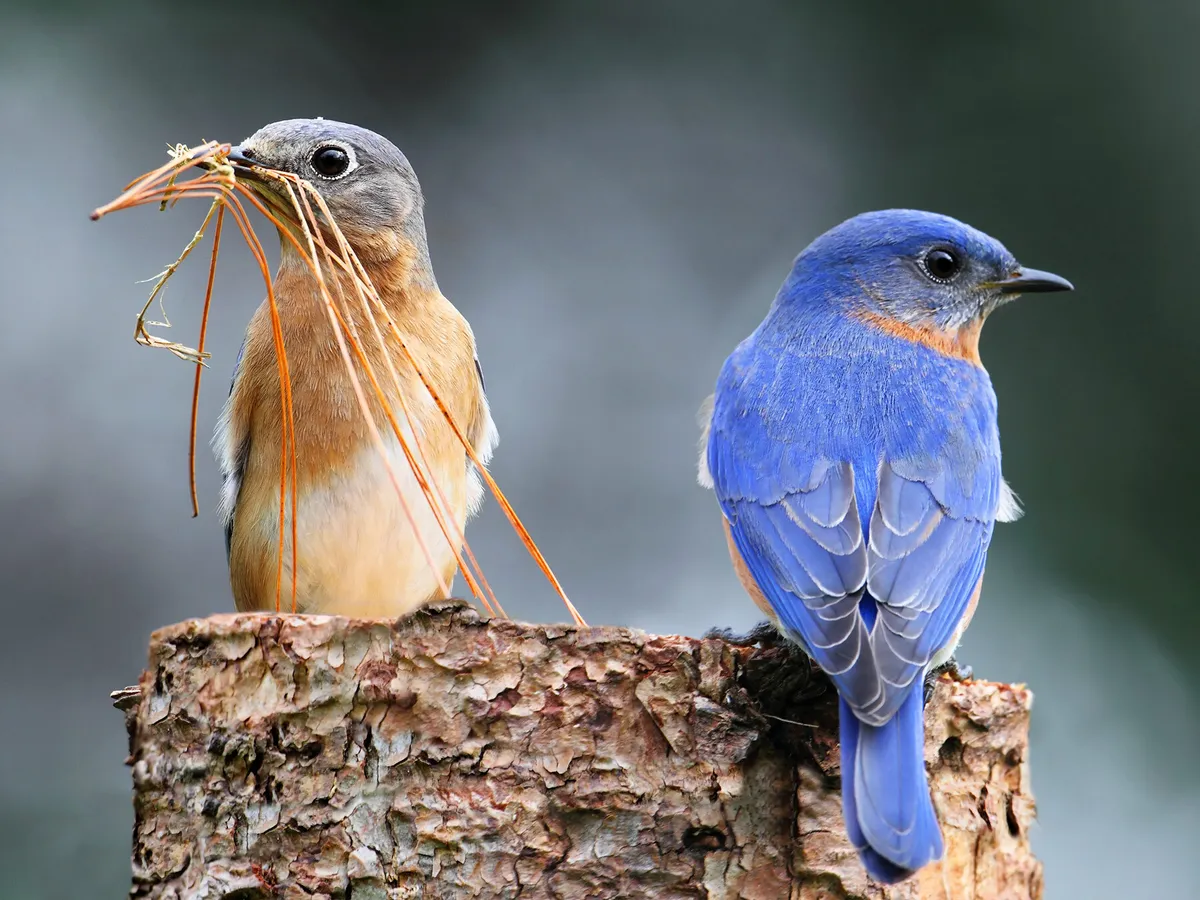 Female Eastern Bluebird with nesting material in her beak
When do baby Eastern Bluebirds leave the nest?
Fledging occurs around 17-18 days after hatching. Once young Eastern bluebirds leave the nest, they continue to be supported on the ground by both parent birds, until the female starts work on a subsequent nest or second brood.
How many broods do Eastern Bluebirds have?
One or two broods per year is the most common number for an Eastern bluebird to raise in any breeding season, although it is not unheard of for a late third brood to be attempted, especially if earlier nests were unsuccessful. On such occasions, the final clutch of eggs may not be laid until late August or even September.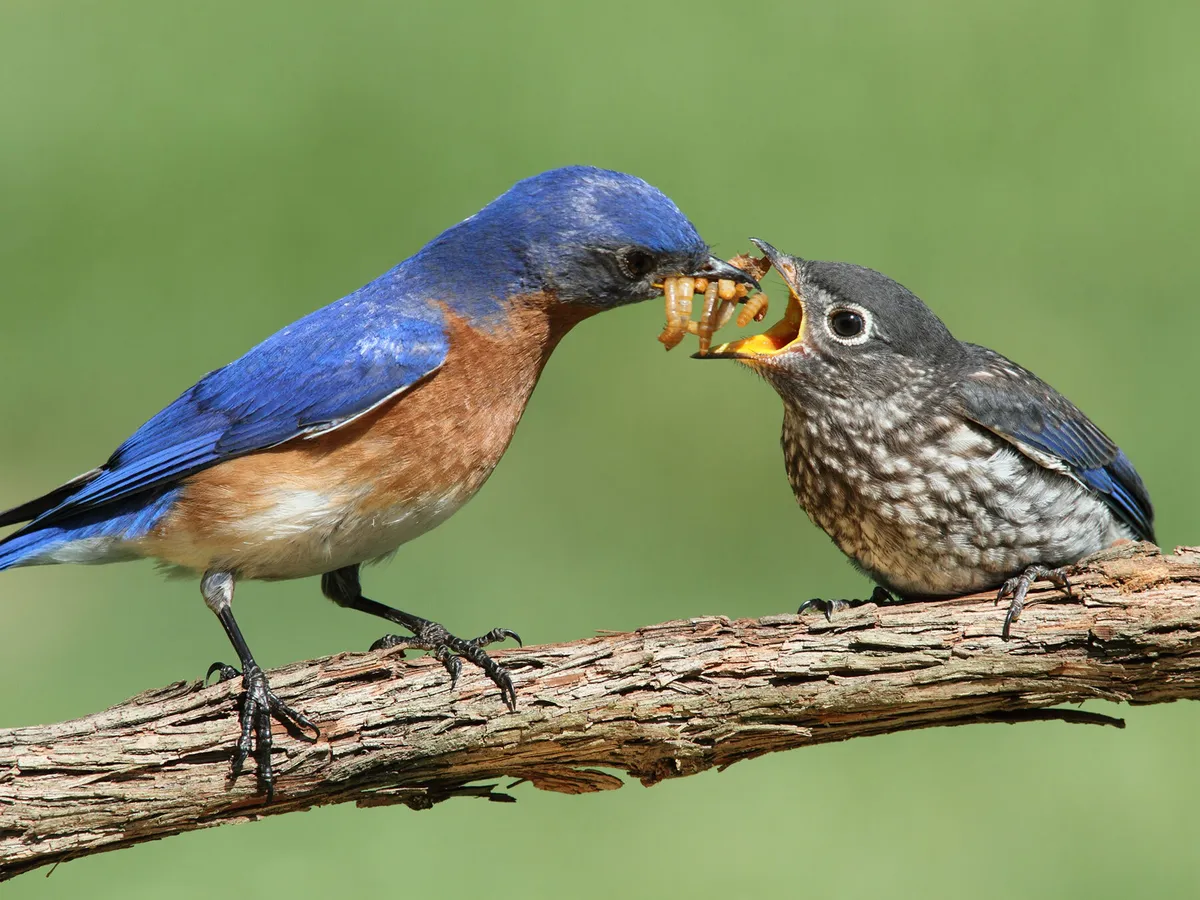 Male Eastern Bluebird feeding a hungry fledgling chick
Do Eastern Bluebirds nest in the same place every year?
It's pretty common for Eastern bluebirds to reuse a previous nest site, with studies showing between 26 and 44 percent of birds returned to a site they had used before. This is particularly likely when the earlier brood hatched successfully.
To encourage bluebirds to reuse a nest box again, it's recommended to clear out the contents at the end of the breeding season, so there is enough room for a new nest to be constructed.
What do Eastern Bluebird eggs look like?
Eastern bluebirds' eggs are sky blue in color, or, on rare occasions, can be white ‒ in around 4-5% of females. Eggs are smooth shelled, sub elliptical in shape and 2.5 cm (1 in) in length. Between 3 and 7 eggs are laid in each clutch, with 4 to 5 being the most usual number.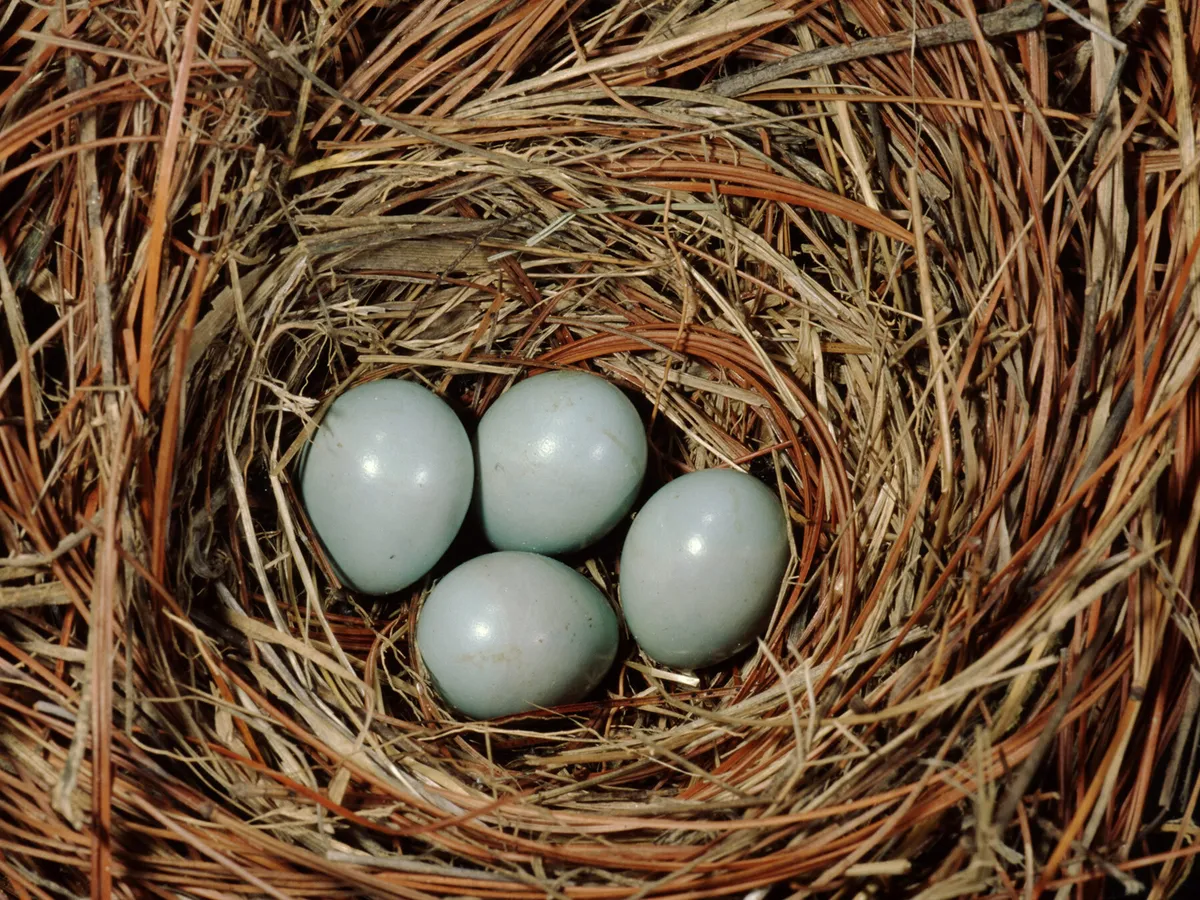 Four Eastern Bluebird eggs inside the nest
What month do Eastern Bluebirds lay eggs?
April is the peak egg-laying month for Eastern bluebirds, particularly for the first or only clutch of the season. On rare occasions, the earliest eggs may be laid at the end of February and the latest examples may extend into mid-September for second or rare third clutches.
Do Eastern Bluebirds abandon their nests?
Eastern bluebirds have been observed to abandon their nests in extreme circumstances, including the death of one parent bird, threat or disturbance from predators, or if the eggs fail to hatch for any reason.
In the case of nest abandonment, Eastern bluebirds will usually move onto a new nesting site to attempt reproducing again.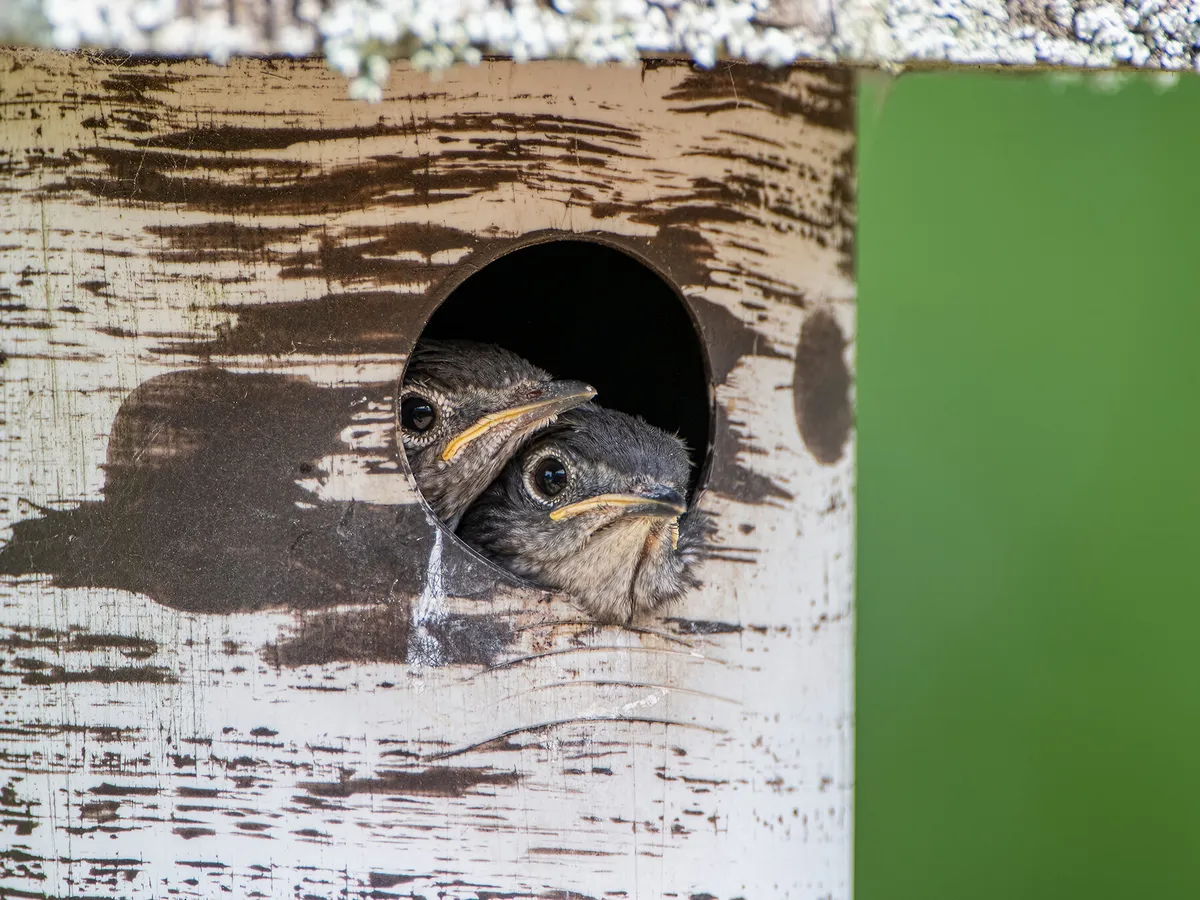 Eastern Bluebird chicks peeking out of nesting hole
Do Eastern Bluebirds use nest boxes?
Eastern bluebirds are one of the most likely bird species to set up home in a nest box. Nest boxes are used by Eastern bluebirds both for raising their young during breeding season, and may also double up as a sheltered roosting spot in winter months.
If a nest box is reused for a subsequent brood, a new nest will be built on top of the previous one, so it's advisable to clear out an old nest once it has been abandoned so the birds can benefit from the maximum amount of nesting space if they claim the box for a future nesting site.
Nest boxes attached to poles, located between 150 and 180 cm (5 and 6 ft) off the ground are ideal for bluebirds, as they offer protection from predators and competing bird species, such as house sparrows.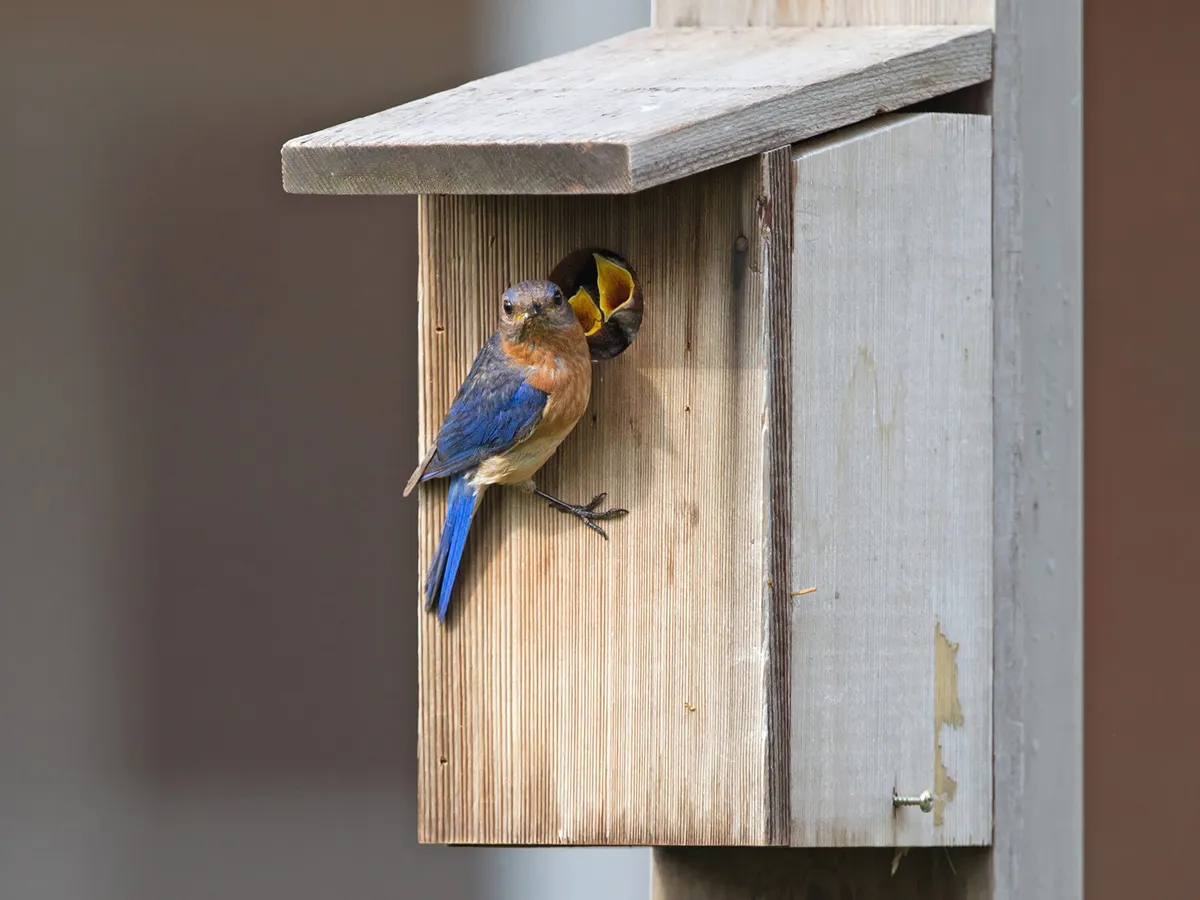 Eastern Bluebirds are one of the most likely birds to utilise nesting boxes
Do Eastern Bluebirds nest in backyards?
Backyards are popular choices for Eastern bluebirds to claim a territory in which to build a nest and raise their young. Frequent users of nest boxes, Eastern bluebirds look for nest sites with easy access to well-stocked bird feeders, as well as vegetation that may attract the insects that form a large part of their diet.
Cavities in trees, particularly oaks, that have been excavated by woodpeckers also prove popular with Eastern bluebirds seeking safe spaces in which to raise their young.
Do Eastern Bluebirds nest on the ground?
On only the rarest of occasions, Eastern bluebirds have been known to make a nest on the ground or anywhere close to ground level, where a cup-shaped nest was built onto tangled tree roots, although these really are exceptional cases, and examples have not been observed in recent years. Typical nesting sites are located between 0.6 and 15 m (2 and 50 ft) off the ground.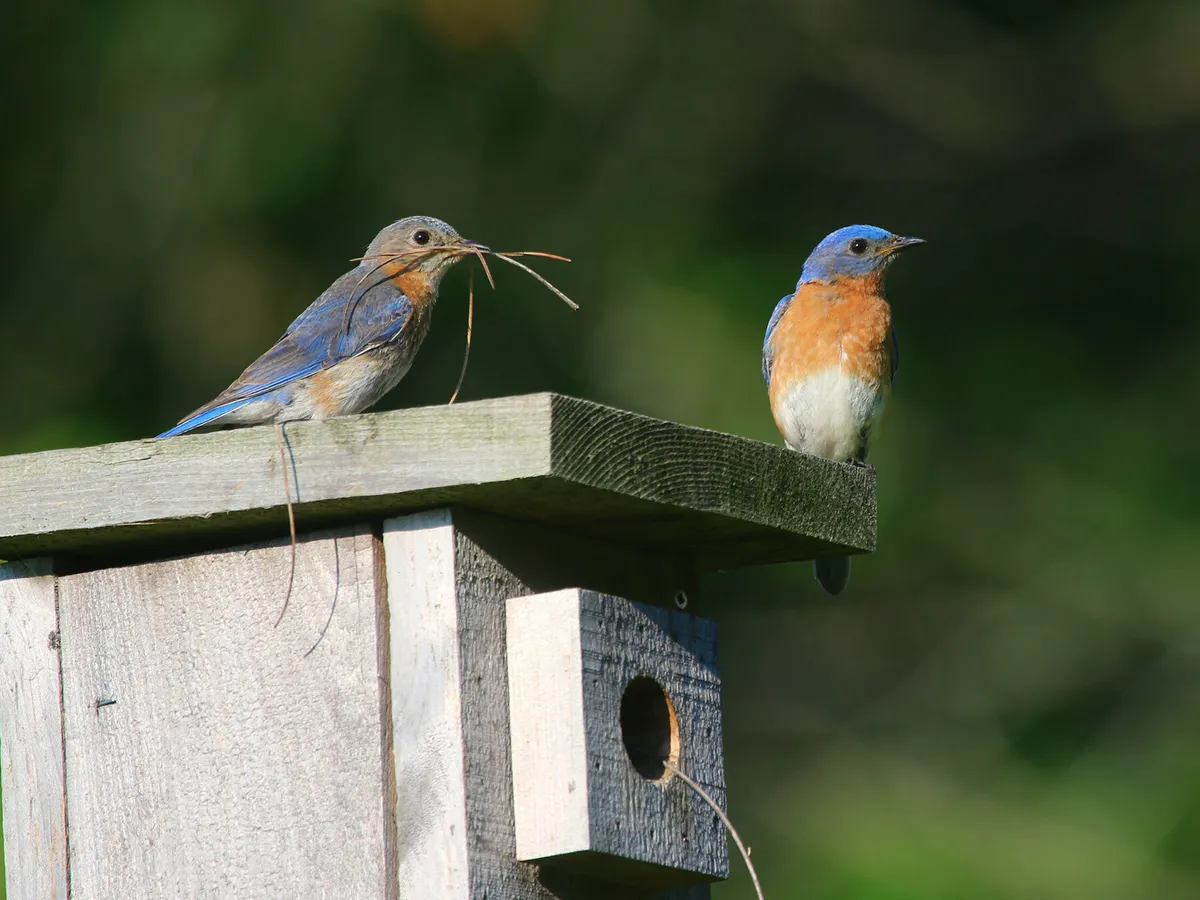 A female (left) and male (right) Eastern Bluebird pair building a nest
Do male Eastern Bluebirds sit on eggs?
Incubation of eggs is the sole responsibility of female Eastern bluebirds. Males assume the role of protectors of the nest cavity, seeing off any threats to their mate and their eggs or young. Male Eastern bluebirds also continue to provide food to the female while she is incubating the eggs and unable to leave the nest unattended.
What trees do Eastern Bluebirds nest in?
Eastern bluebirds are cavity nesters, but are unable to dig out their own hollows and rely on either naturally formed holes in tree trunks, or abandoned cavities excavated by woodpeckers. Oak trees are among the most commonly used trees to serve as home for Eastern bluebirds.
Where do Eastern Bluebirds nest at night?
Empty tree cavities or disused nest boxes provide shelter and safe overnight roosting spots for Eastern bluebirds, offering protection from extreme weather conditions and opportunistic attacks from predators.