The Steller's jay (Cyanocitta stelleri) is the provincial bird of British Columbia, and is a common sight in the region's forests, backyards and urban parklands. But where else can the species be found? Are Steller's jays found in all of North America?
Keep reading as we investigate the habitat and distribution of these black and blue corvids, known for their piercing screeches.
Steller's jays are native to western areas of North America, and are found from Alaska in the north, in British Columbia and Alberta in southwest Canada, and to the west of the Rocky Mountains into Mexico. They live mainly in coniferous forests, but are increasingly at home in urban settings.
A hardy species that can withstand winter conditions and lack of food by stashing supplies of acorns and pine nuts in the fall, Steller's jays are resident in their home range all year round, and do not generally migrate south in winter. An exception may be for those birds living at higher altitudes to seek lower ground when the coldest temperatures hit, so they have easier access to food resources.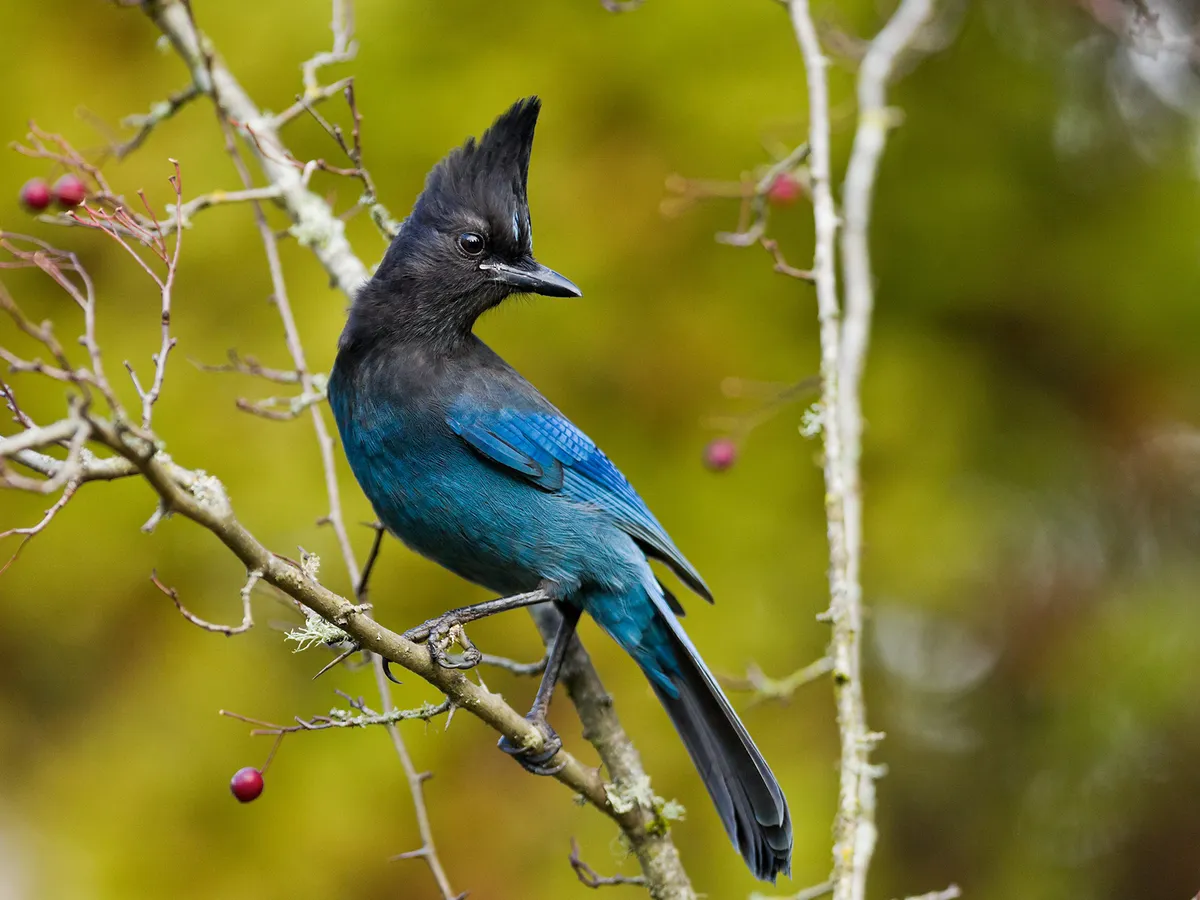 Steller's Jays can be found across western parts of North America, mainly in coniferous forests
Steller's jays are an increasingly common sight in urban areas, where they seek yards with well-stocked bird feeders, particularly in winter months. They are unafraid of human company, and have been observed to seek food left behind at campgrounds and in parks as an easy and relatively effortless source of nutrition.
Present in western states of the U.S. as far inland as western Colorado and much of west and central New Mexico, Steller's jays' plumage changes subtly according to geographical location, with birds native to the east of the Great Divide displaying white head and facial markings, while those found in the western extremes of North America lack any prominent lighter coloring.
If you're interested in where to spot these bold and distinctive corvids, then you're in the perfect place to find out more!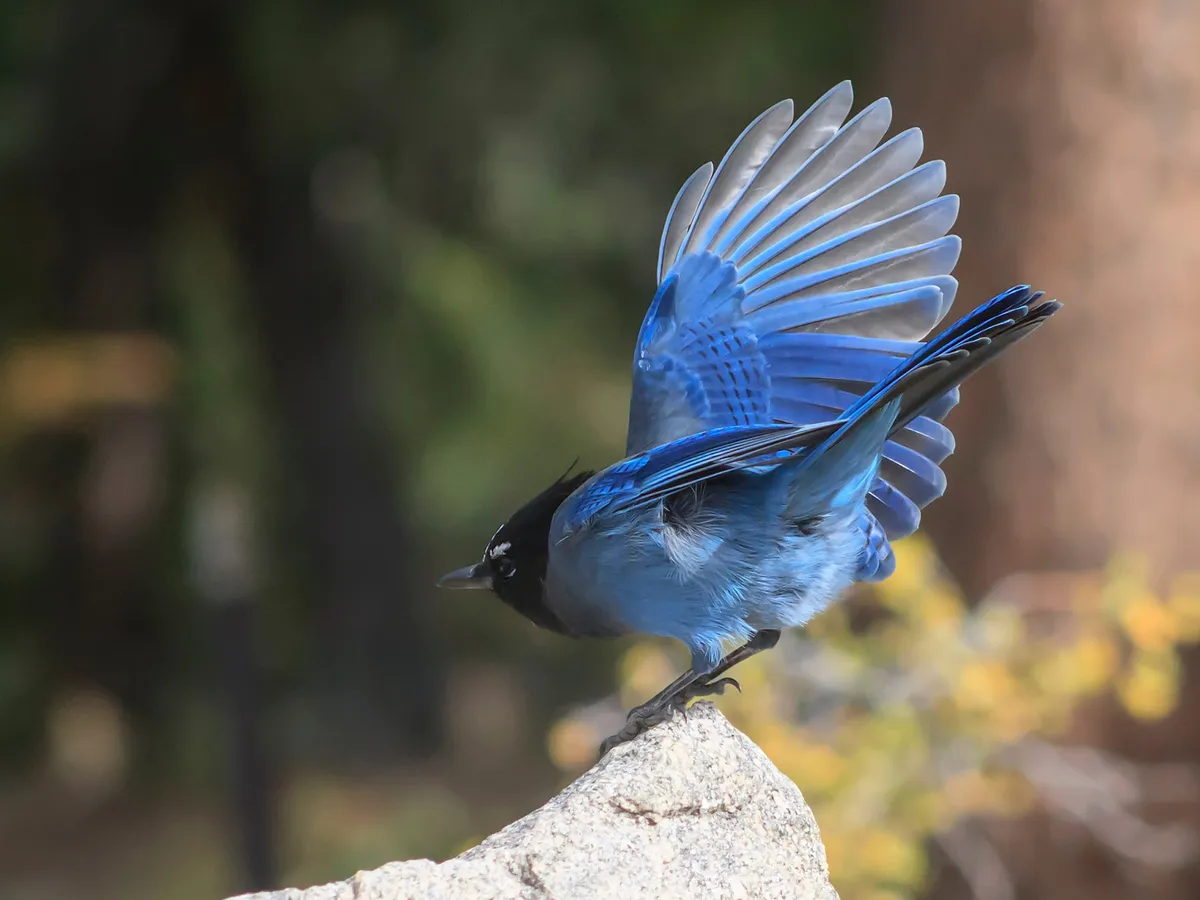 Steller's Jay preparing for take-off
What is the distribution range of the Steller's Jay?
Steller's jays are found across the mountainous western region of North America, inhabiting coniferous forests from Alaska, throughout western Canada and the western U.S. into western Mexico. In the south, Steller's jays are resident in parts of Central America, with their range extending through Guatemala, El Salvador and Honduras and into Nicaragua.
Where do Steller's Jays live in the US?
The mountainous western United States provides a suitable habitat for Steller's jays to live and breed, with the largest numbers concentrated in Washington, Oregon, California, New Mexico and Colorado. Breeding occurs into the eastern foothills of the Rocky Mountains, with populations resident in Idaho, Montana and Wyoming, as well as further south into the Great Basin, in Utah, Nevada and parts of Arizona.
Where do Steller's Jays live in Canada?
Steller's jays can be found in the mountainous southwestern extremes of Canada, and are limited to British Columbia and its offshore islands, and the southwestern region of Alberta. Rare vagrants have been reported into Yukon on occasion, although to date, they are not recorded to have established breeding there.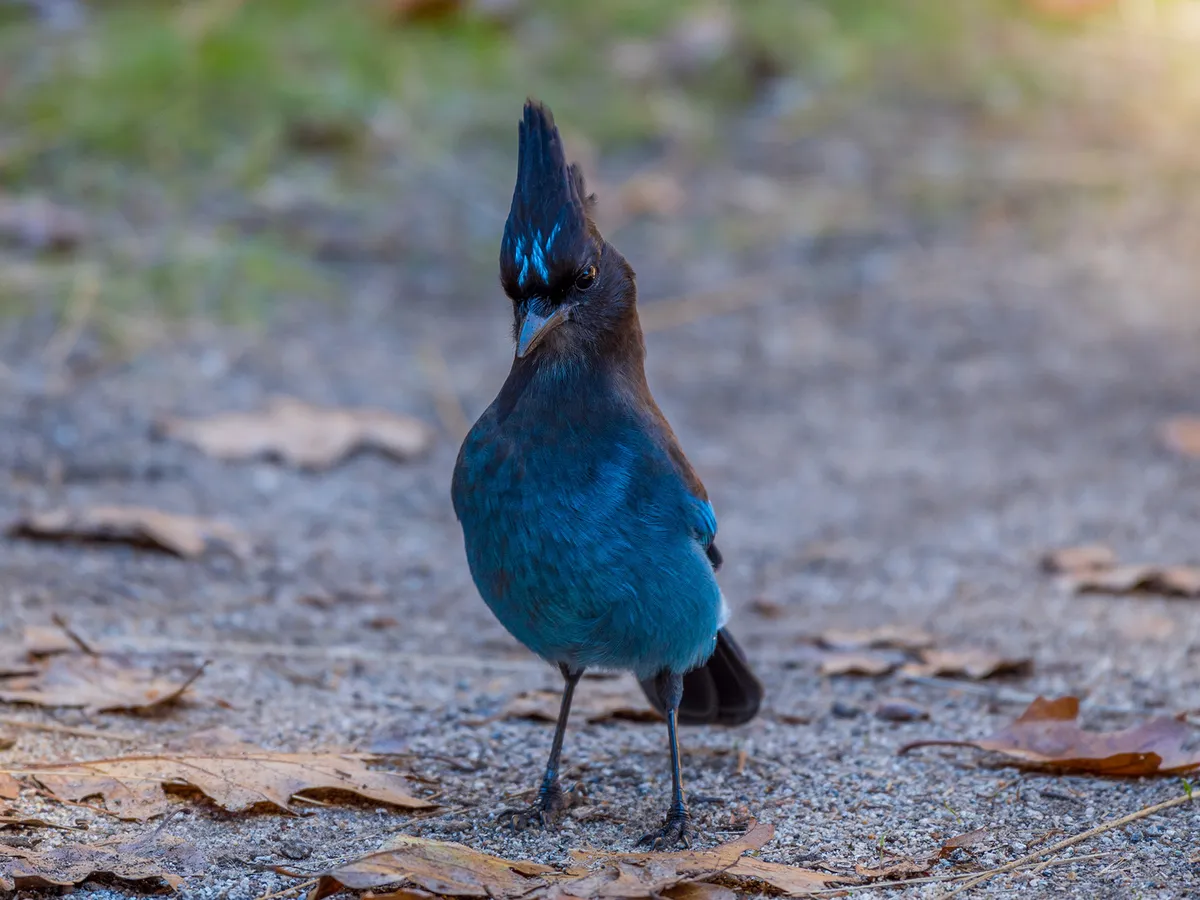 Steller's Jay standing on the ground in Yosemite National Park, California
What is the habitat of a Steller's Jay?
A vast range of habitats support Steller's jays, with coniferous forests a popular choice for both nesting and foraging sites. Other habitats favored by the species include mixed pine-oak forests and woodlands, agricultural land, urban parklands, backyards, and campgrounds.
Unfazed by living in close proximity to human habitation, Steller's jays are commonly seen in areas where they can take advantage of human-supplied food, including picnic sites and yards with feeders stocked with sunflower seeds and peanuts.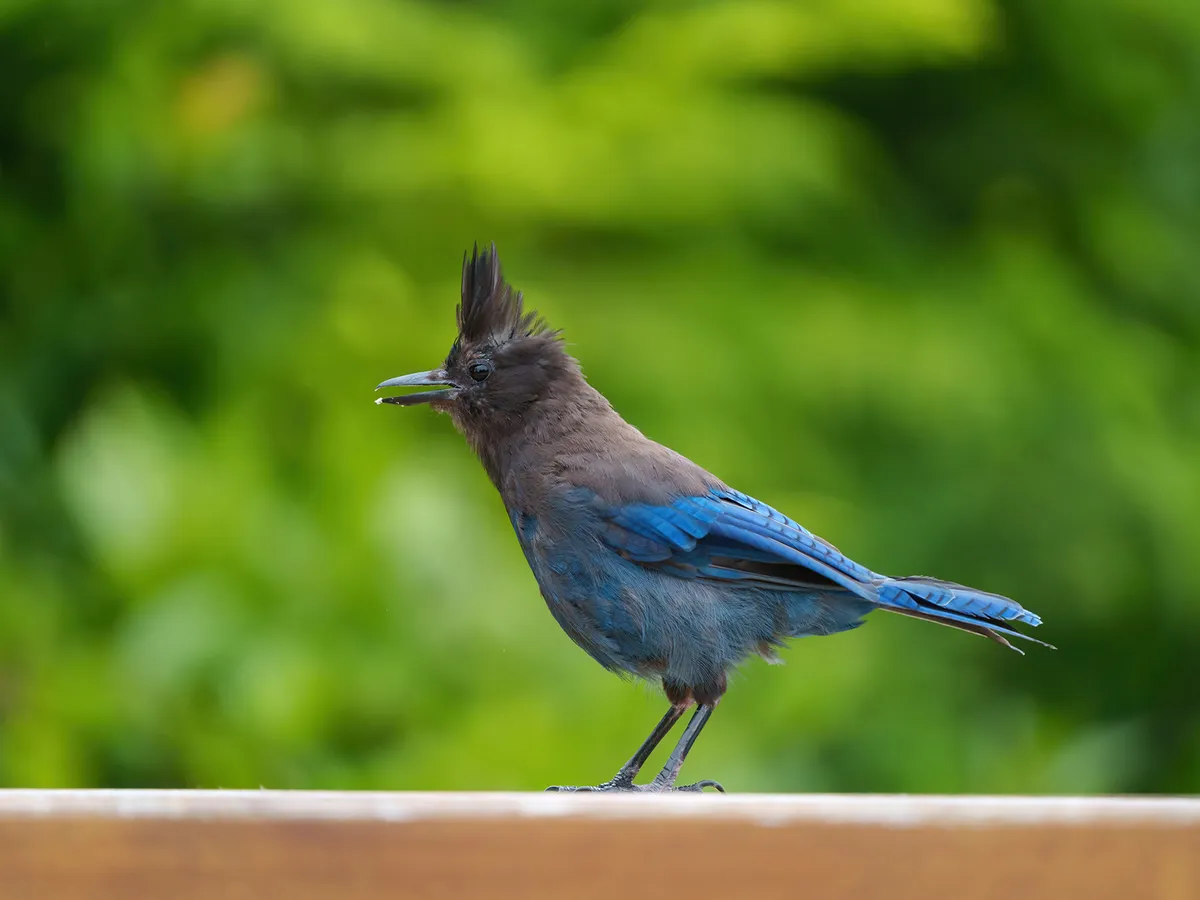 Steller's Jays are unfazed by human habitation, and often take advantage of feeding from picnic sites and parks
How rare is it to see a Steller's Jay?
Within their range in western North America, spotting a Steller's jay is not especially rare, particularly as they are opportunistic feeders that are frequently seen foraging for leftovers or picnic items at campgrounds, parks and backyards.
Steller's blue jays are relatively tame and widespread, and inhabit areas that overlap with human habitation, which makes it more likely to spot them without too much difficulty.
Considered a species of least concern by the IUCN, Steller's jays have a secure population, estimated at around 2.8 million individuals.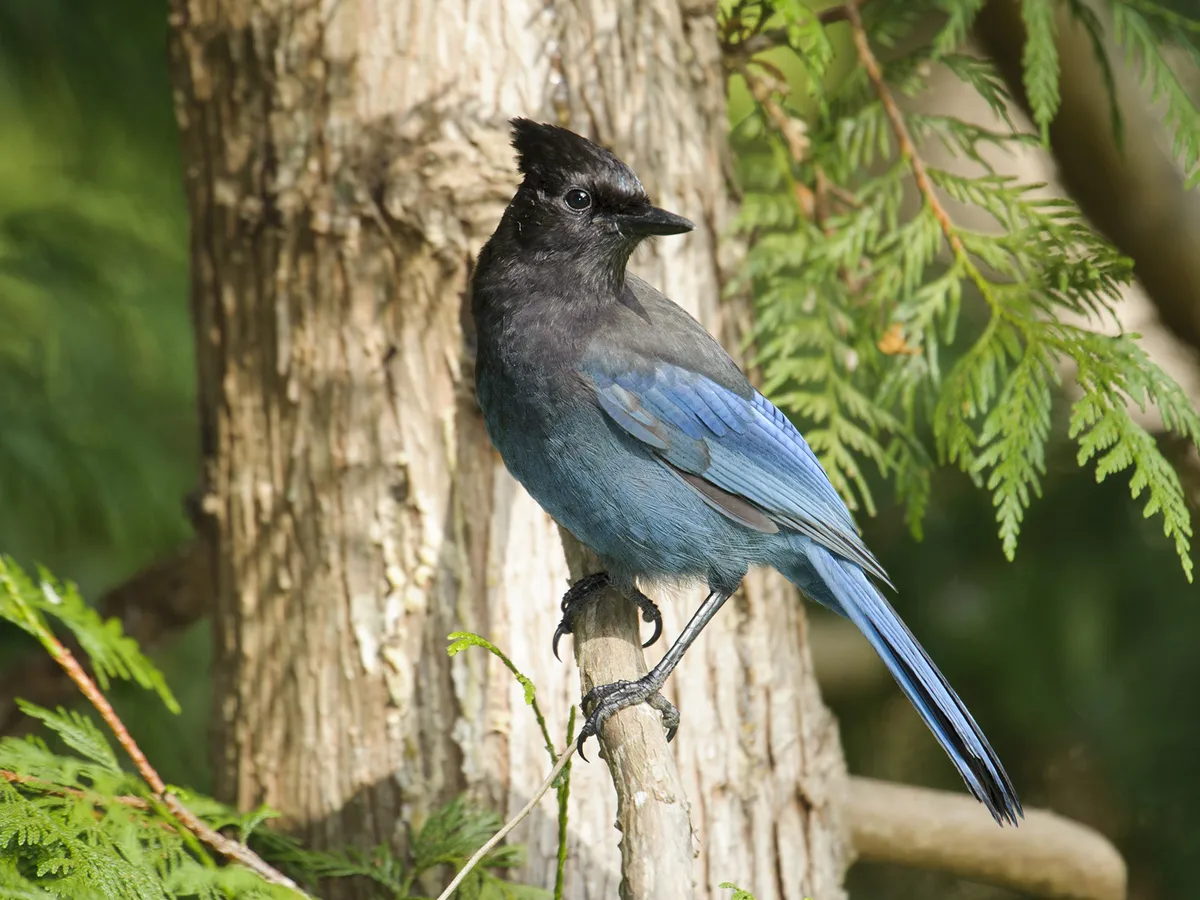 Steller's Jay in its natural habitat, Gabriola Island, British Columbia, Canada
Where is the best place to see Steller's Jay?
Across the western regions of the U.S., Steller's jays are widespread and relatively common, particularly in forests, but are increasingly spotted in campgrounds and picnic sites, as well as backyards and urban parklands. They forage on the ground in large groups, so coniferous and pine-oak forests and agricultural land are among their favorite feeding spots.
What time do Steller's Jays come out?
Steller's jays are diurnal birds and feed during daylight hours. They spend long periods of time foraging for food on the ground, and are opportunistic scavengers, feeding on scraps, leftovers, and unattended picnic food whenever and wherever they find it.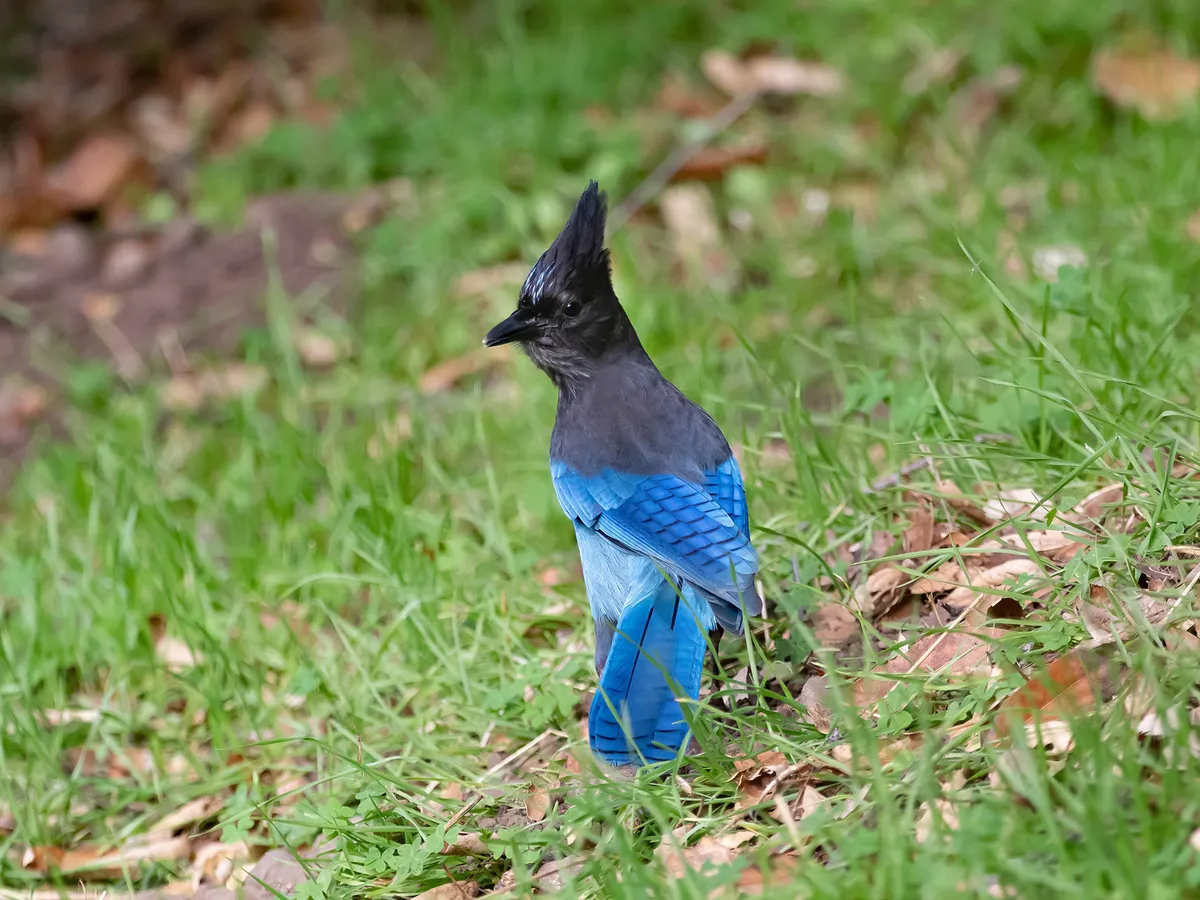 Steller's Jay foraging on the ground of a park for food
Do Steller's Jays stay in one place?
Steller's jays are year-round residents, breeding and overwintering in the same territories. Pairs that breed in mountainous locations in the spring may head for lower ground once they have finished raising their young, spending winters at lower altitudes to avoid the extreme cold and maximize foraging opportunities.
Where do Steller's Jays live in the winter?
Steller's jays are not migratory, and remain in their home territories all year round. To avoid the coldest conditions, Steller's jays that breed at higher altitudes may spend winter months at lower elevations. They are often seen in colder weather, foraging in backyards and around bird feeders for peanuts and sunflower seeds, which they may cache for future feeds.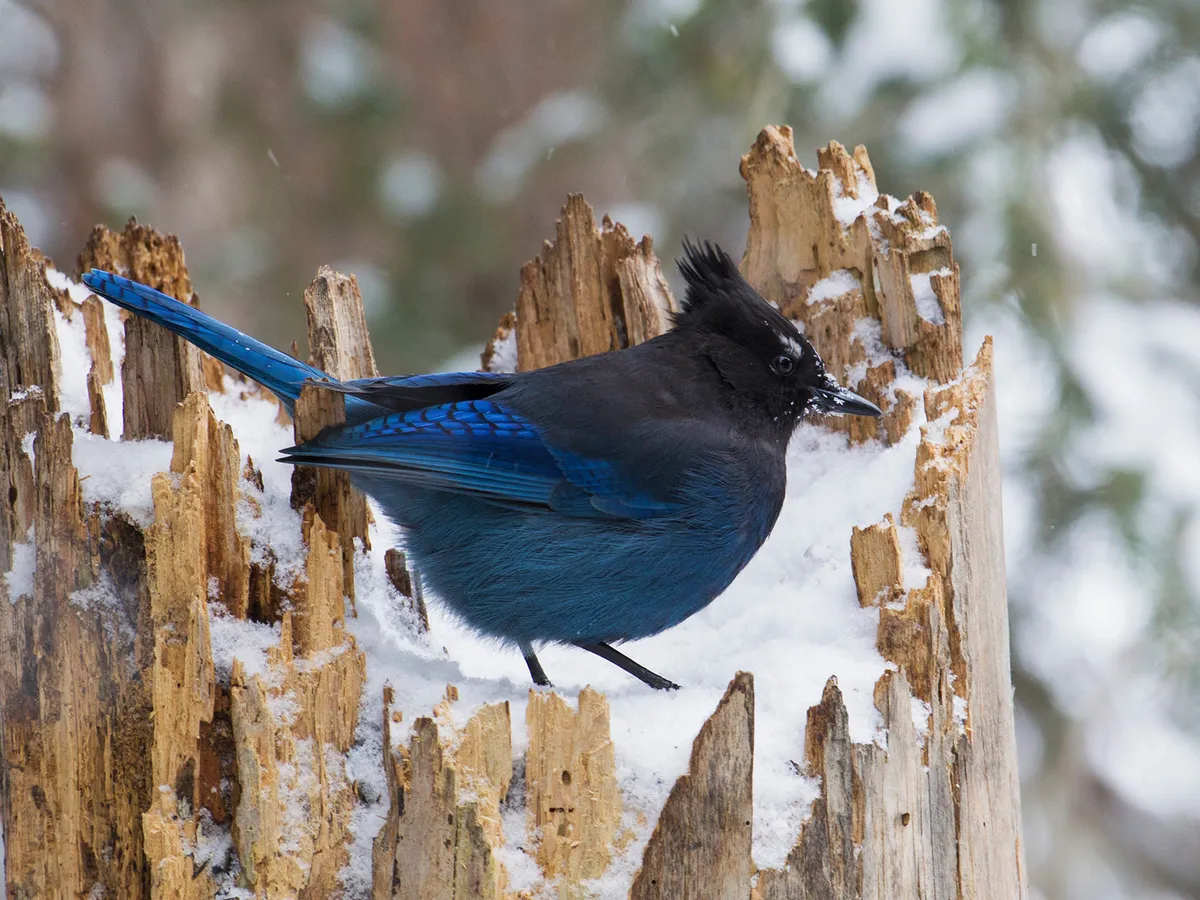 Steller's Jay in winter
Where do Steller's Jays live in the summer?
Spring and summer breeding sites chosen by Steller's jays are usually located in coniferous forests, at elevations of between 900 and 3,000 m (3,000 and 10,000 ft). Once breeding is over, birds that have raised their young at higher elevations may head to lower ground, but do not tend to travel far from their home territory and are not a migratory species.
Do Steller's Jays live in groups?
Strong, long-term bonds are formed between pairs of Steller's jays that last from one breeding season until the next. Outside of the nesting period, they live in large flocks and forage together throughout the day, in trees and on the floor of forests. They may even join mixed-species foraging flocks during the winter months.