There are two roadrunners from the genus Geococcyx of the cuckoo family. These intriguing birds are terrible at flying and can only really manage to glide, but they make up for it by being the fastest birds on land, which can also fly.
Roadrunners can reach top speeds of over 20mph - faster than most humans! So here, we're going to answer the question: where do runners live?
There are two species of roadrunners, the Lesser roadrunner, and the Greater roadrunner. The Greater roadrunner has a more extensive range that stretches from Missouri, Arkansas, and Louisiana in the east to California in the west, south to Texas, New Mexico, and central Mexico to Hidalgo and Tamaulipas.
The Lesser roadrunner is less common and is distributed throughout Mexico, on the Pacific Close, south to Guatemala, El Salvador, Honduras, and Nicaragua.
As far as habitat is concerned, both roadrunners live in primarily arid environments with scattered shrublands and light or patchy tree cover. They prefer open areas with light foliage, which provides them with nesting sites and cover.
Of course, there is much more to learn about the habitat and distribution of this curious bird - read on to find out!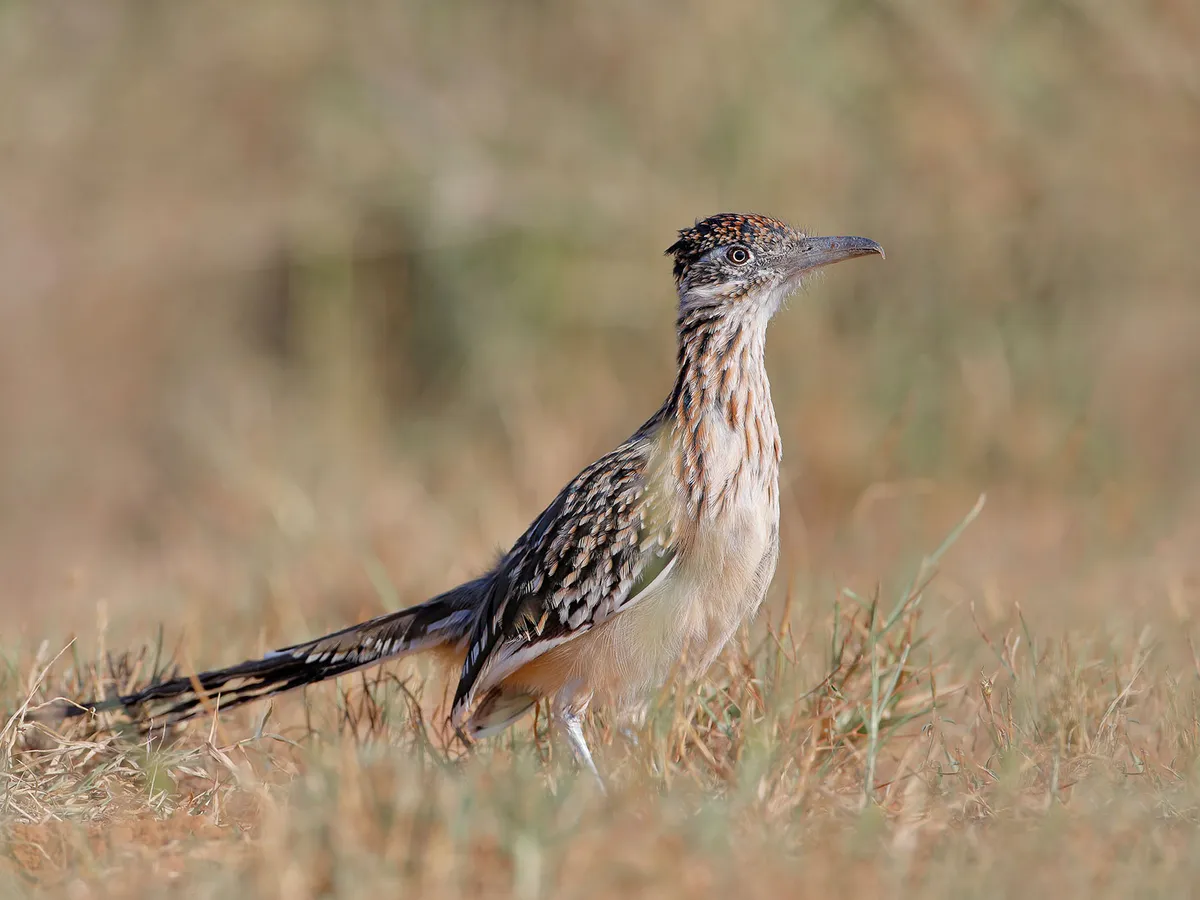 Roadrunners live in primarily arid environments with scattered shrublands and light or patchy tree cover
What is the distribution range of the Roadrunner?
The Greater Roadrunner has an extensive range, including the US states of California, Arizona, New Mexico, Texas, Oklahoma, Missouri, Utah, Arkansas, and Louisiana.
They're also found in the far south of Colorado and Kansas and the south of Nevada. Their range extends south through central Mexico, including Baja California, Sinaloa, and south to Michoacán, Hidalgo, and Tamaulipas on Pacific and Atlantic slopes. They're fairly common in the Mojave Desert, Sonoran Desert, and the Chihuahuan Desert.
Lesser Roadrunners have a more limited range that excludes the USA. They're found primarily on the Pacific slope of Mexico but also in Yucatan, stretching south to Guatemala, El Salvador, Honduras, and Nicaragua.
Greater and Lesser roadrunners overlap in the Mexican states of Sonora, Sinaloa, Jalisco, and Michoacán.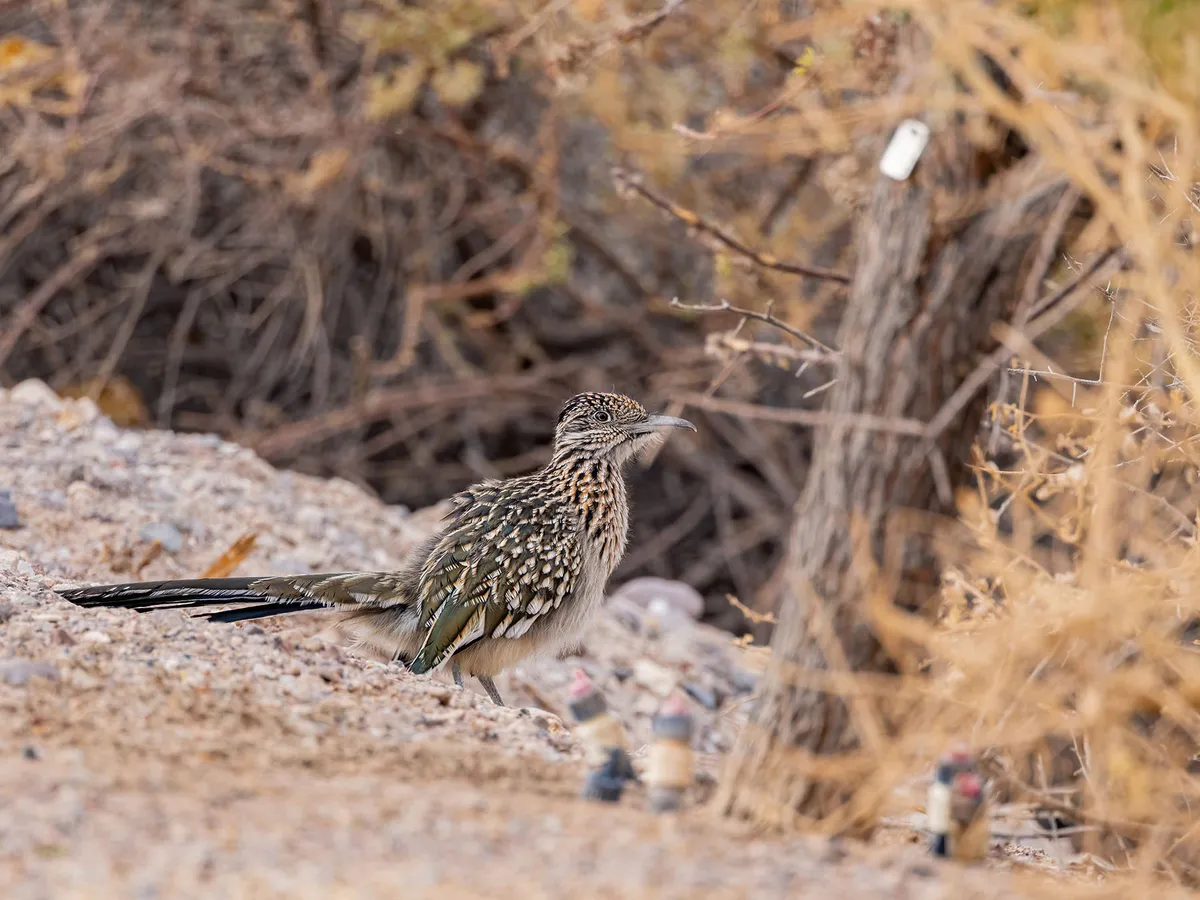 Roadrunner in its natural habitat, Las Vegas, Nevada
What is the habitat of a Roadrunner?
Roadrunners primarily live in lowland arid and semi-arid environments at altitudes below 3,000m. While these ground-dwelling birds generally select arid, open habitats, they still need some level of shrubland and foliage cover to provide roosting and nesting sites.
Roadrunners sometimes inhabit light desert woodland but rarely venture into denser forests. Instead, they prefer low-lying foliage of around 3m high or below.
Since these birds can only fly for a few seconds, they really have no use for trees and spend virtually all of their lives on the ground.
Roadrunners are sometimes found at higher altitudes, including the stratovolcanoes of Conchagua, Santa Ana, San Miguel, and San Salvador.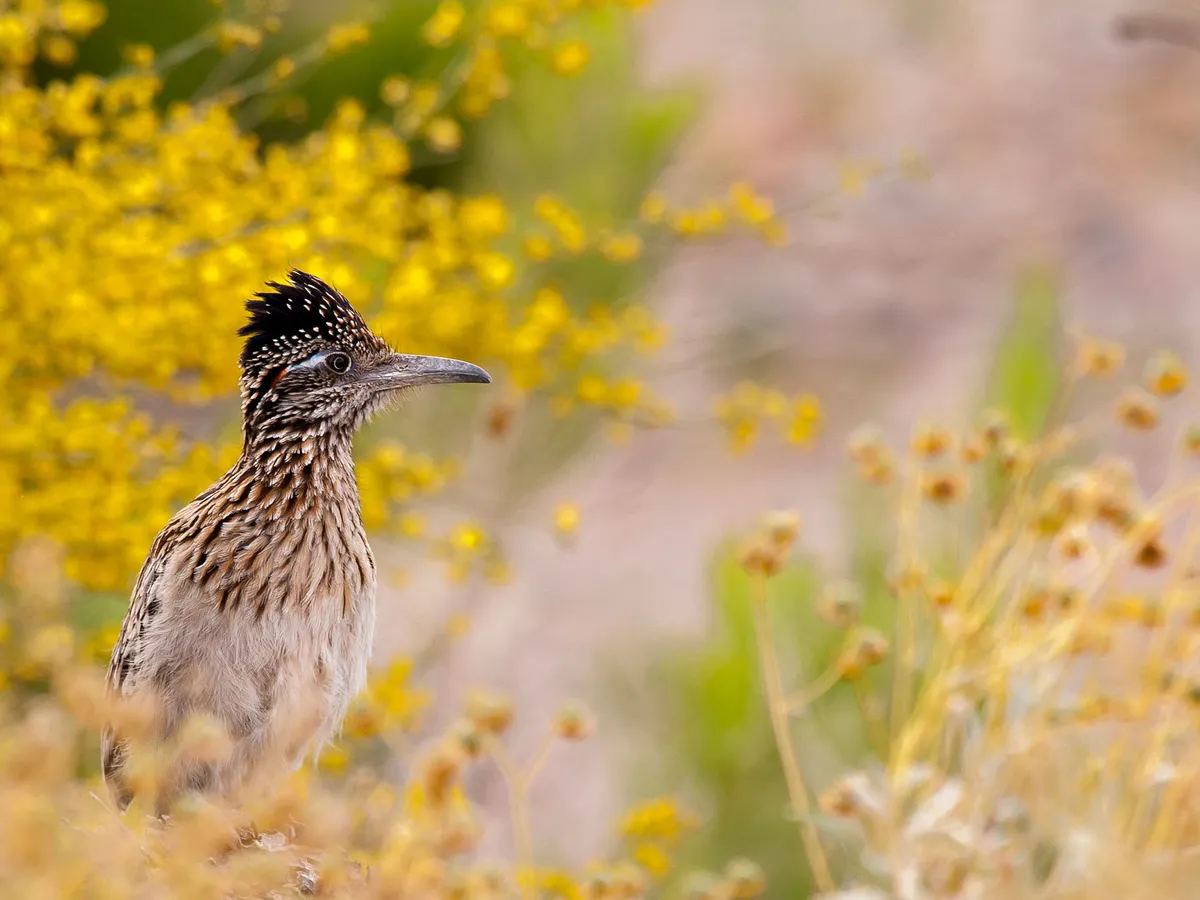 Greater roadrunner sitting amongst yellow wildflowers in Glendale, Arizona
Where do Roadrunners live in the desert?
Roadrunners are common in Aridoamerica; the Mojave Desert, the Sonoran Desert, the southern Great Basin desert, and the Chihuahuan Desert.
They avoid sandy ground with absolutely no foliage cover, instead selecting habitats with light foliage and shrub cover or sparse woodland. Rocks, petrified wood, and other hiding places are an advantage too.
How rare is it to see a Roadrunner?
Roadrunners are fairly common. There are an estimated 1.1 million Greater roadrunners and 500,000 to 1 million Lesser roadrunners.
Populations are considered stable, and neither are listed as vulnerable or endangered. You can find them on or near roads in Texas, Oklahoma, New Mexico, Arizona, and southern California, where they're fairly common.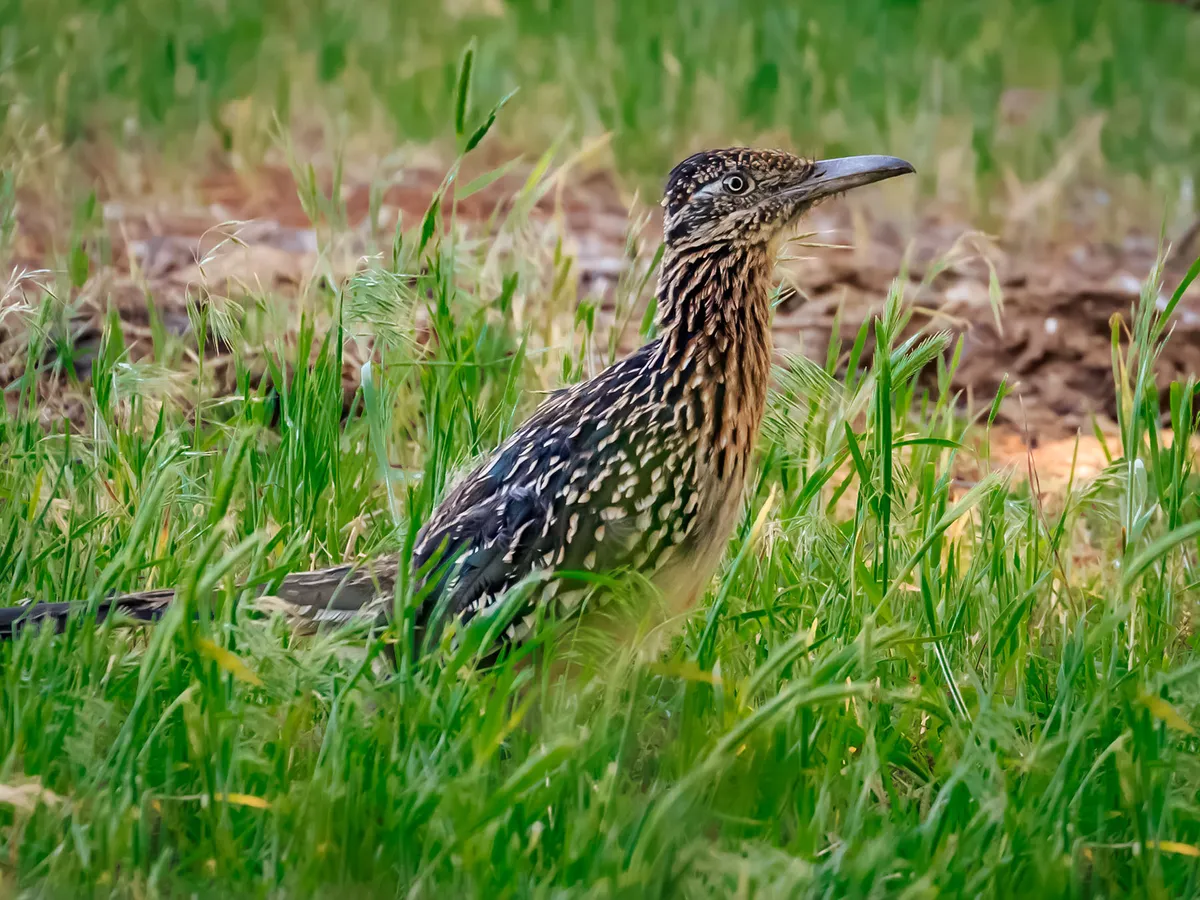 Greater Roadrunner (Geococcyx californianus) in rural Oklahoma
Where are most Roadrunners found?
Both the Greater and Lesser roadrunner are found in the Americas. However, the Greater roadrunner is found in both North America and Mexico, whereas the Lesser roadrunner is absent from North America.
Greater roadrunners regularly breed in Texas, Oklahoma, New Mexico, Arizona, and southern California but are becoming more common in Arkansas, Louisiana, and Missouri.
What time do Roadrunners come out?
Roadrunners are most active in the morning from around sunrise until 10 am and late afternoon/dusk, from around 3:30 pm to 9:00 pm.
In the hot season, they limit this further to take advantage of the cooler parts of the day. Some roadrunners are observed to forage into the night, but they're not considered nocturnal.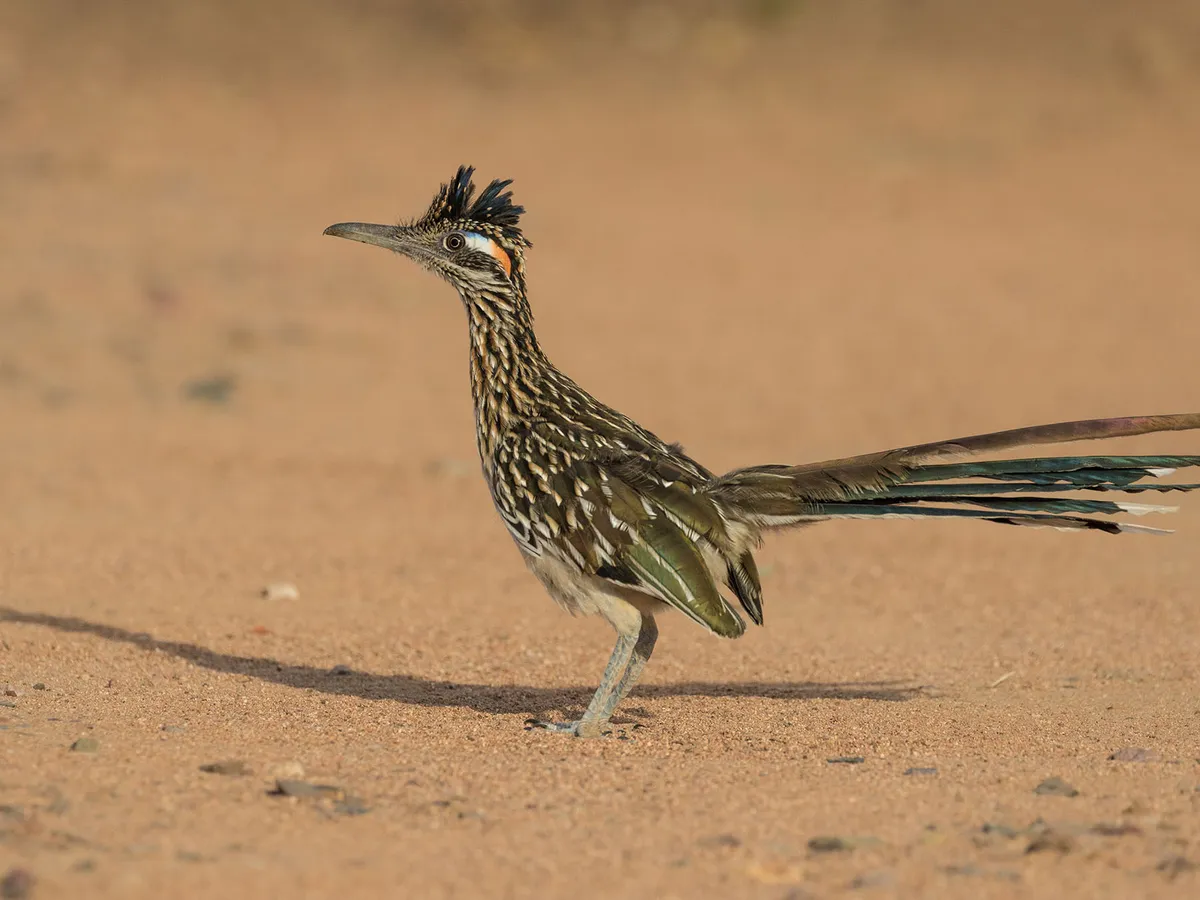 Roadrunners are generally most active in the early morning, then again late afternoon into the evening
Roadrunners don't migrate, but they occupy large territories around 800m to 1km wide or so. They roam around their environment often, and some might wander 100 miles across their range.
However, these birds are largely sedentary and don't move long distances. Roadrunners are poor at flying and travel by foot.
Where do Roadrunners go during the winter?
Roadrunners don't migrate in winter, but they do hibernate at night. Roadrunners retreat into sheltered areas such as rock formations and shrubs to survive plummeting desert temperatures. Desert temperatures can swing from as high as 100F to as low as 35F.
To help them survive nighttime temperatures, roadrunners enter a state of induced lethargy called torpor. Torpor is a hibernation state that enables the bird to slow down its metabolism and conserve energy.
By entering torpor, roadrunners essentially shut vital bodily functions to direct energy towards staying warm at night.
Greater Roadrunner calling from a perch in Arizona, USA
Where do Roadrunners live in the summer?
Roadrunners remain in their arid habitats throughout summer.
To adjust to the heat, they forage earlier in the morning and late at night while avoiding overactivity in the hottest part of the day. Roadrunners are well-adapted for hot desert temperatures.
Do Roadrunners live in groups?
Roadrunners aren't gregarious and live either alone or with their mates. Breeding pairs remain with each other for life. They don't live in groups and instead occupy large territories of some 800m to 1km across.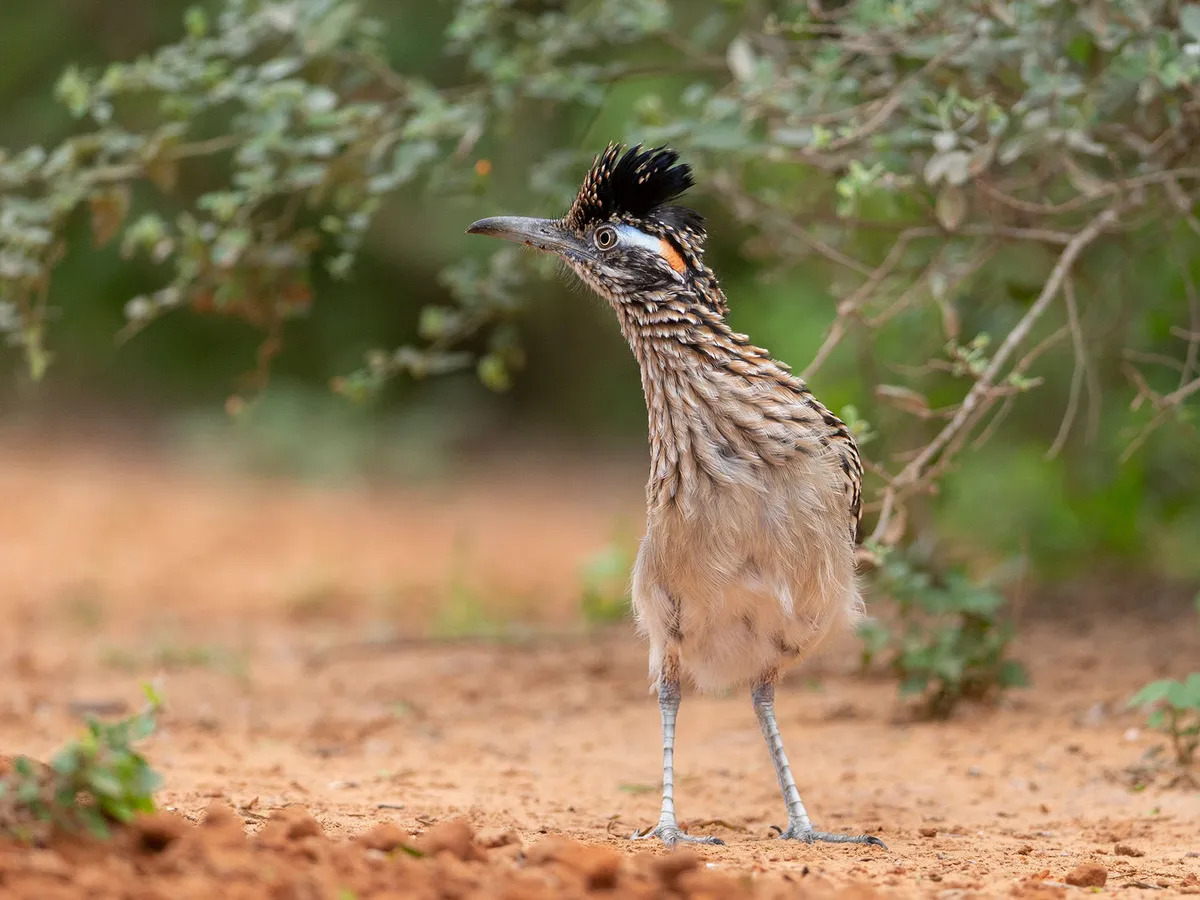 Greater Roadrunner in Southern Texas, USA
FAQs
Where do Roadrunners live in Texas?
Roadrunners have been documented in every Texan county. However, they're most common in the Chihuahuan Desert of West Texas and in the shrubby brush of South Texas.
Where do baby Roadrunners live?
Roadrunners build nests on the ground or at the height of 3m (10ft) or so at the very highest (they cannot fly much higher than that!) Baby roadrunners remain in the nest for a couple of weeks after hatching and aren't ready to fully fledge for around 25 days to a month.