Eastern Towhees (Pipilo erythrophthalmus) are part of the New World sparrow Passerellidae genus Pipilo. These large sparrows are boldly colored with a dark top, dark wings, rusty-brown sides, and a white breast and undertail. So, where do Eastern towhees live?
Eastern towhees occur throughout the eastern United States and southeast Canada. Their breeding range extends north to southern Canada's Saskatchewan, southwest Ontario, and Quebec, and their resident range stretches south to Florida and Texas.
While Eastern towhees generally prefer the warmer parts of southern Canada and Eastern and Northeastern US, they do breed in some parts of Quebec, Manitoba, Newfoundland, and Ontario.
Birds further north than Virginia and southern Indiana tend to migrate south during winter. There are four subspecies - subspecies that occur further south are usually non-migratory residents.
Of course, there is much more to learn about this attractive sparrow's distribution range and habitat - read on to learn more!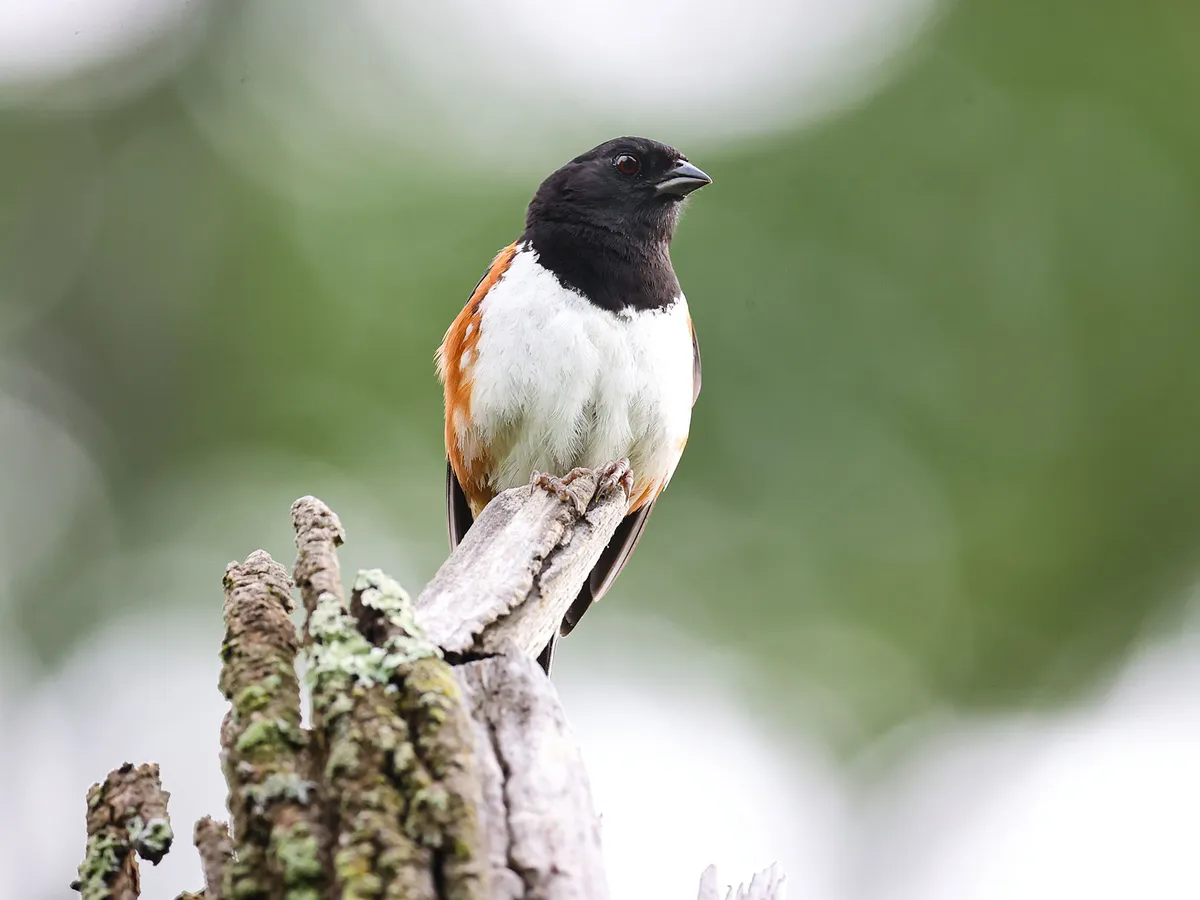 Eastern towhees occur throughout the eastern United States and southeast Canada
What is the distribution range of the Eastern Towhee?
Breeding range
The Eastern towhee breeding range stretches from as far north as Quebec, Manitoba, Newfoundland, Ontario, Saskatchewan, Michigan, North Dakota, Minnesota, Massachusetts, New York, New Hampshire, Connecticut, Pennsylvania, Ohio, Maine, Vermont, and the Great Lakes.
The eastern fringe of their range is the eastern Dakotas, Kansas, Nebraska, Oklahoma, and Texas. They're found in practically every southeastern state to southern Florida. Birds north of Virginia and southern Indiana usually migrate, whereas those south are non-migratory resident breeders.
The subspecies P. e. Alleni, P. e. Canaster and P. e. Rileyi lives further south and doesn't usually migrate, while P. e. Erythrophalmus lives further north and does migrate.
Wintering range
Birds from Canada and the New England states of Connecticut, Maine, Massachusetts, New Hampshire, Rhode Island, and Vermont always migrate south to the southeastern states.
Birds in north Ontario, Ohio, Pennsylvania, Indiana, Illinois, Iowa and Kansas also migrate south.
One study found that Atlantic populations winter in the southeastern states of Virginia, Carolina, Georgia, and Florida.
Midwest populations head to Kentucky, Tennessee, Alabama, Mississippi, and Louisiana.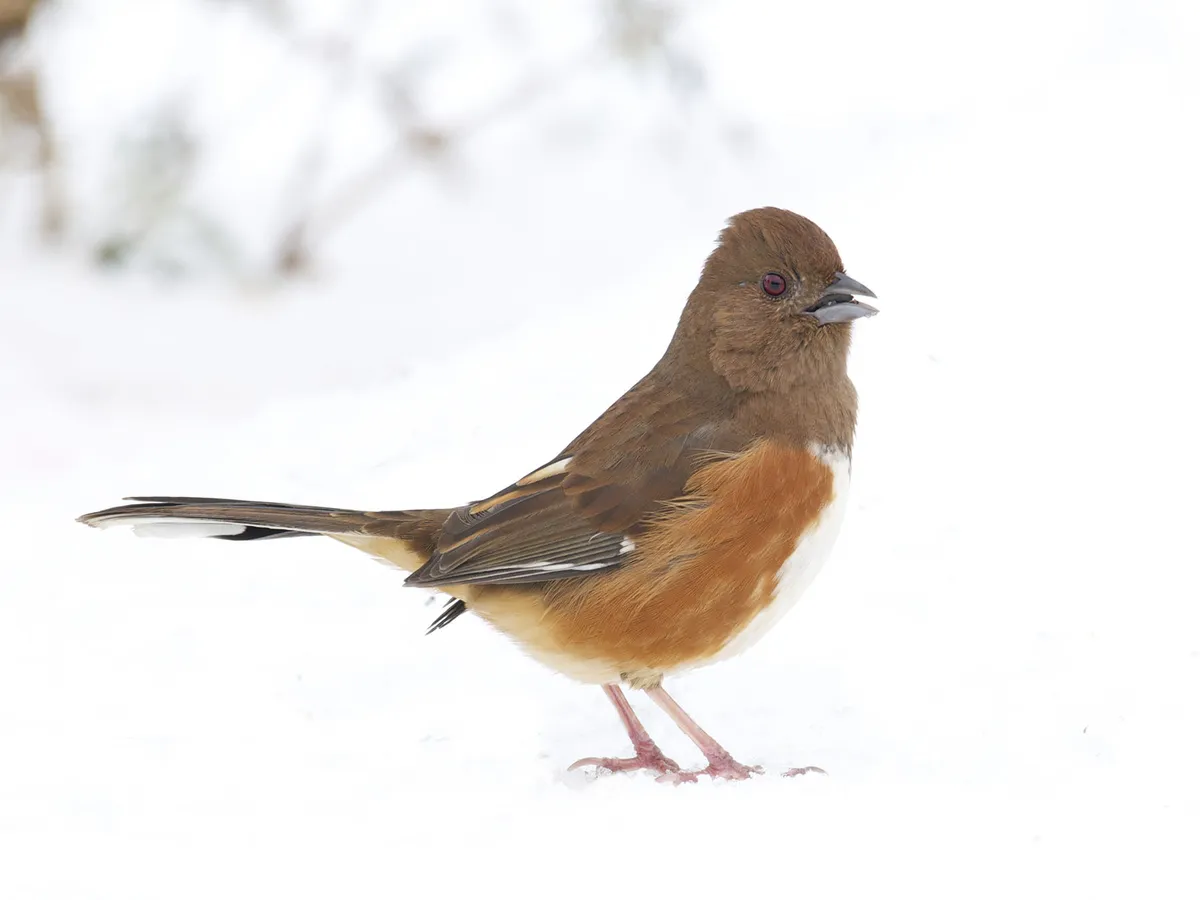 Female Eastern Towhee on the snowy ground in the winter
Where do Eastern Towhees live in the US?
Eastern towhees live predominantly in the eastern half of the US, including the Midwest, Northeastern and Southeastern states, plus Texas. They're most common east of the Dakotas, Kansas, Nebraska, Oklahoma, and Texas, which is the extreme western fringe of their range.
Isolated populations are found further west, but they're scarce, and the bulk of the population is certainly concentrated in the eastern and southeastern states.
Where do Eastern Towhees live in Canada?
Eastern towhees live in small parts of the southern Canadian provinces, stretching from extreme southern Saskaketchan to southern Manitoba, Ontario, and extreme south Quebec.
The northern fringe of their range is Newfoundland, albeit populations there are very scarce.
All Eastern Canadian towhees are migrants, and head south in the fall and winter after the breeding season.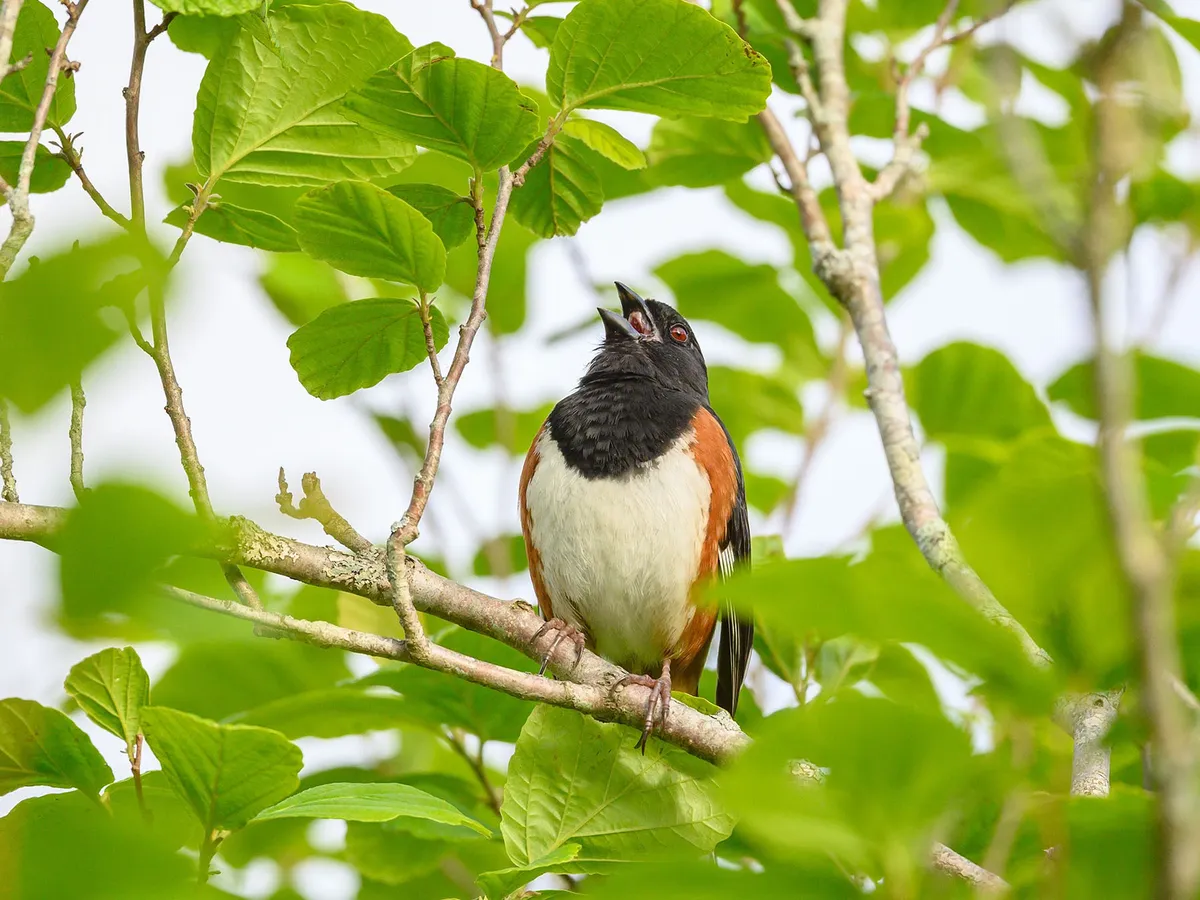 Perched Eastern Towhee singing
What is the habitat of an Eastern Towhee?
Eastern towhees live in dense woodlands, scrubs, and fields with a high proportion of dense ground cover. Shrub coverage provides cover and foraging opportunities.
Though they generally prefer lowlands, Eastern towhees are found at elevations up to 2000m (6500ft). They've been recorded at higher elevations of 3000m (9800ft) in New Hampshire.
Some examples of chosen habitats include shrubby thickets in fields, upland forests, savannah scrublands, dune and coastal scrub, riparian thickets, and old agricultural fields.
They prefer dense foliage, which provides ample food sources and supports nesting activities - as nests are built on the ground.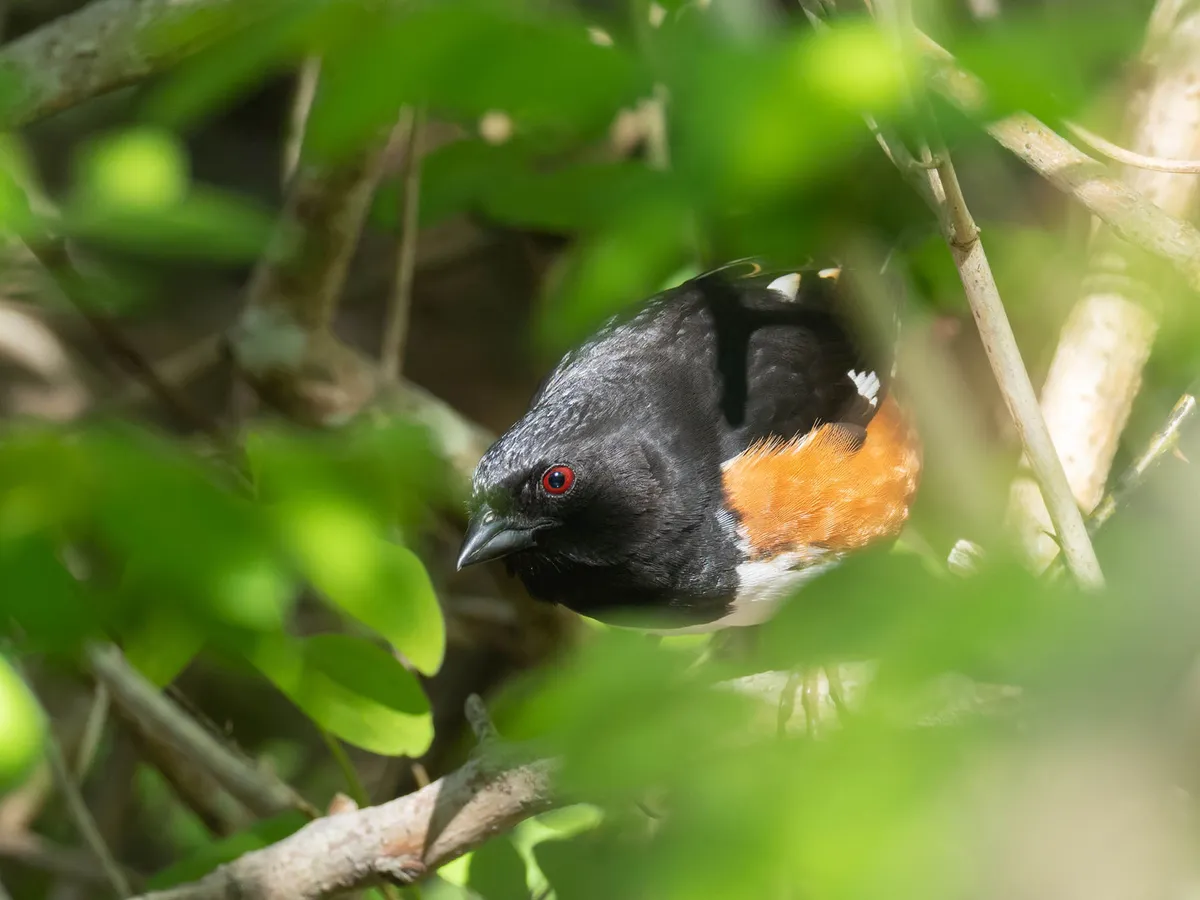 Eastern Towhees prefer habitats with dense foliage, which can make it hard to spot them
How rare is it to see an Eastern Towhee?
Eastern towhees are not rare, with a population exceeding some 10 million. However, they're relatively well-camouflaged to their shrubby habitats and aren't always easy to spot.
Moreover, their fast-moving yet secretive behavior makes them a fairly rare sighting compared to similar birds. The Eastern towhee population is declining by some 1.4% a year, by some estimates, mainly due to habitat loss.
Where is the best place to see Eastern Towhees?
Overgrown old fields, shrubby lowlands, and densely foliaged thickets are all ideal for Eastern towhees. Backyards with overgrown borders might host foraging and nesting Eastern towhees too.
Since nests are built on the ground, any dense, well-protected foliage is a bonus. In terms of the best states to view towhees, breeding birds are common in the New England area of Northeastern US. They're fairly common in wild foliage-dense environments.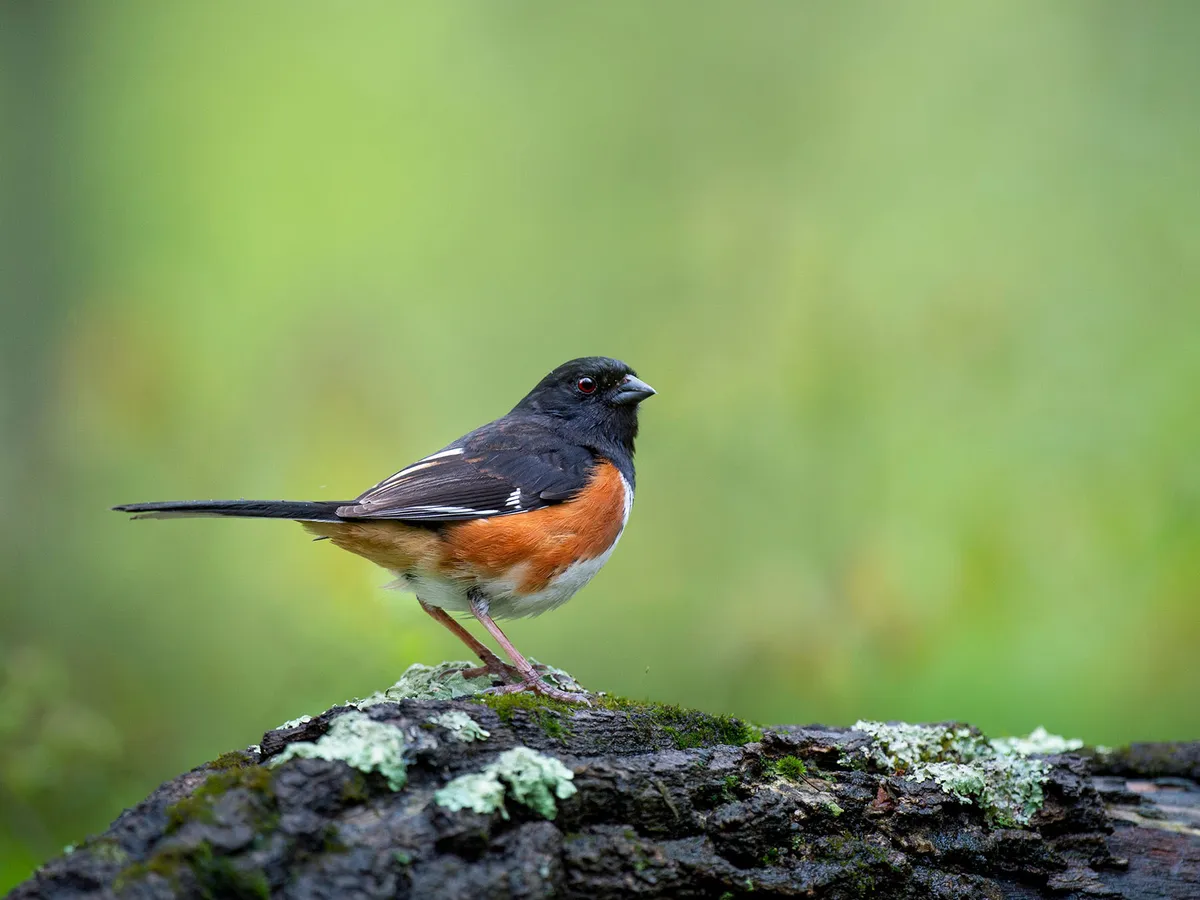 Eastern Towhee perched on a log in its natural environment
What time do Eastern Towhees come out?
As diurnal birds, Eastern towhees come out in the early morning and return to their roosts to sleep at night.
You're most likely to see Eastern Towhees foraging through the morning and early afternoon. In the breeding season, they're active throughout the day as they build their nests, feed their young, etc.
Do Eastern Towhees stay in one place?
Eastern towhees are migratory north of Virginia and Indiana. All populations in Canada and the Northeastern US migrate.
The further south you go below Virginia, Indiana, and their equivalent in the west, Eastern towhees are more likely to migrate.
Most migrations are short, taking them a few hundred miles south towards the south and Southeastern US and Texas.
Canadian birds undertake longer journeys that might take as far south as the southeast US coast.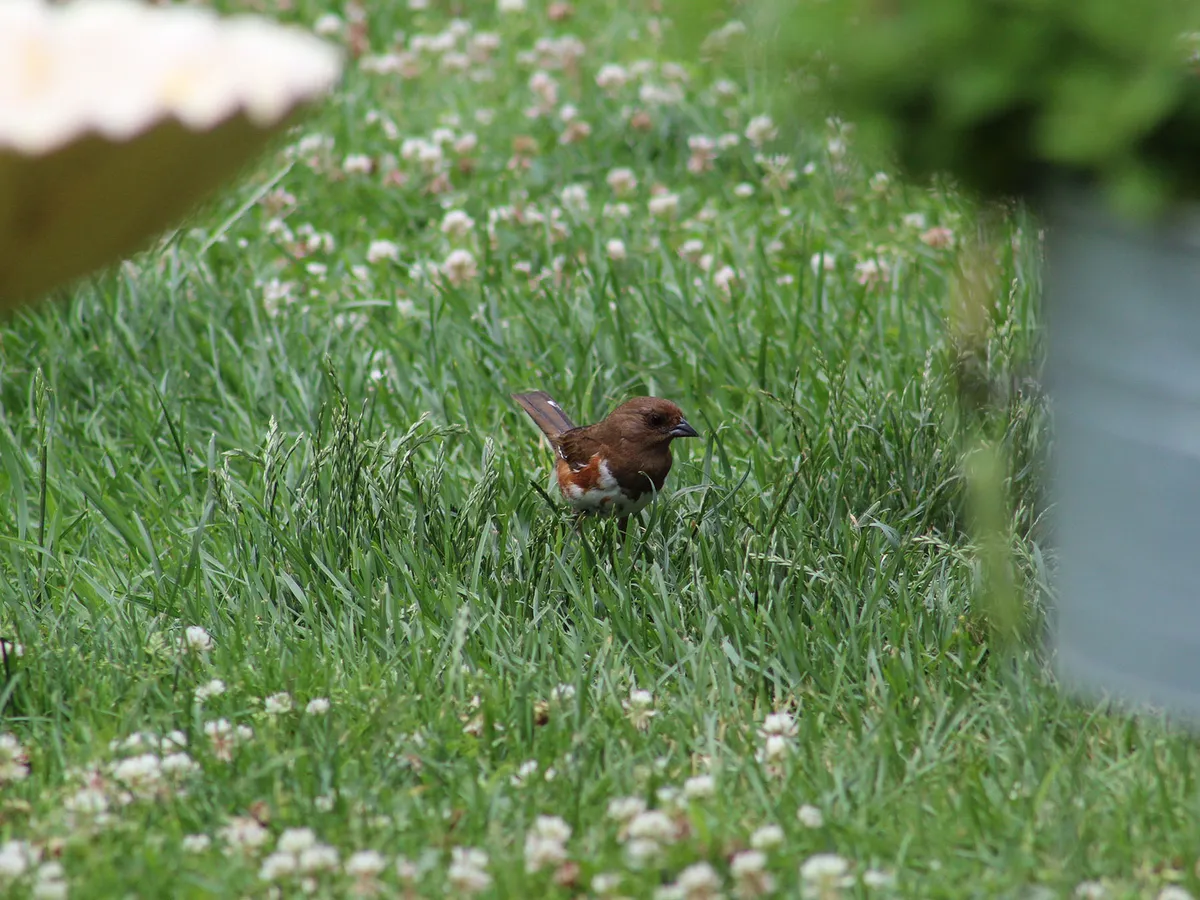 Female Eastern Towhee foraging for seed on the grass
Where do Eastern Towhees live in the winter?
In the winter, most Eastern towhees head south of Virginia, Indiana, Pennsylvania, Missouri, and Nebraska.
Towhees head south to the south and Southeastern US, where they stay for the duration of fall and winter before heading north back to their breeding grounds.
Where do Eastern Towhees live in the summer?
The summer Eastern towhee population extends from Canada to the Southeastern US. Southern resident populations don't migrate and stay there all summer. Northern populations are migratory and head south every fall.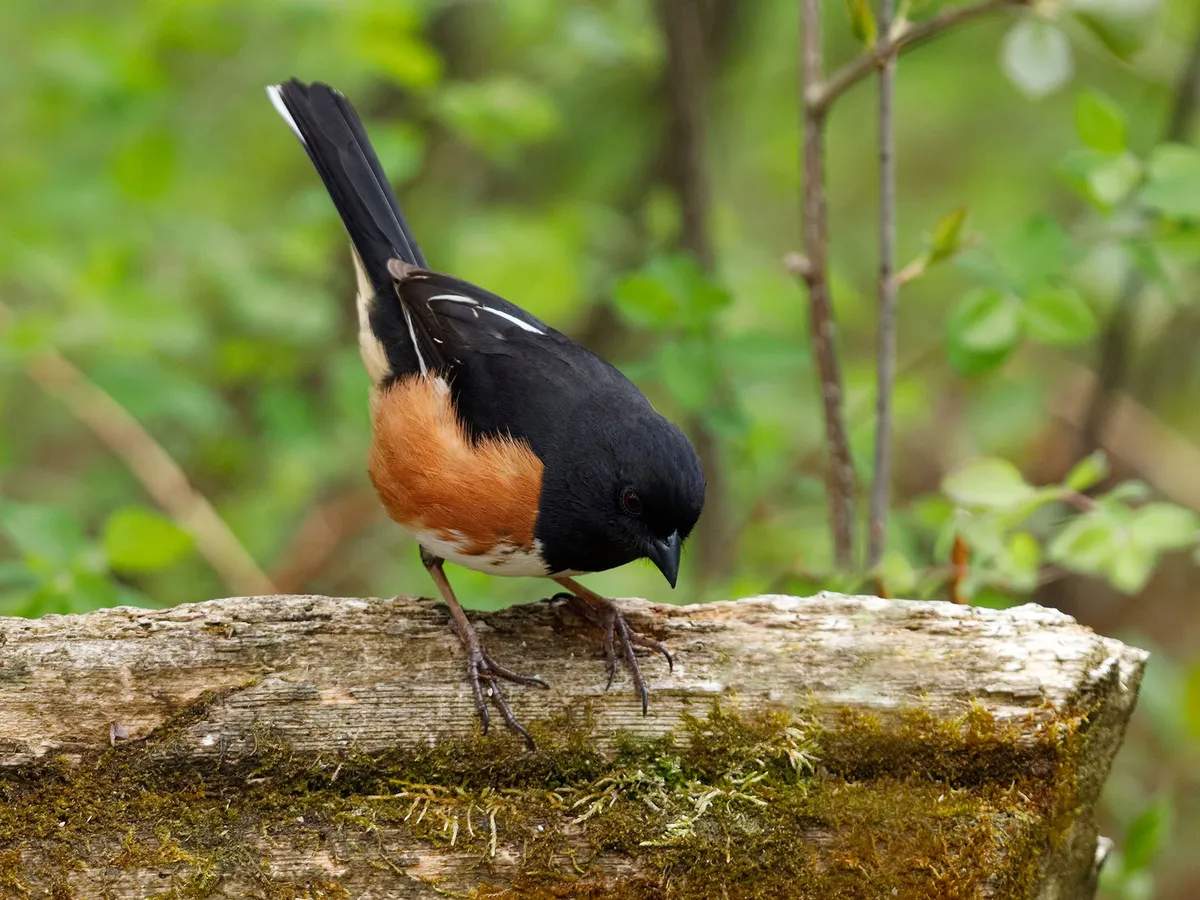 Male Eastern Towhee perched on a fence at the edge of a forest, Grand Bend, Ontario, Canada
Do Eastern Towhees live in groups?
Eastern towhees are not particularly sociable and tend to isolate themselves in their pairs. However, they join together in groups throughout migration and are more sociable in the fall and winter.
Like many other birds, towhees become more territorial and aggressive in the breeding season.