The Baltimore Oriole (Icterus galbula) is a colorful blackbird from the Icteridae family. Male Baltimore orioles are a striking black and orange-yellow color, whereas females are duller overall.
These birds are named after the orange and black heraldry of the Baltimore family (also the name of Maryland's largest city). Here, we'll investigate where these striking birds live, their distribution range, habitat, and more.
Baltimore orioles are concentrated east of the Rocky Mountains, stretching from Saskatchewan and Montana south to Texas and east to practically every state. However, populations in the south are generally only present in winter.
All populations generally migrate, heading towards the southern states, Gulf Coast, Mexico, Panama, and other parts of Central America. Some end up in the Bahamas and the Antilles.
Of course, there's much more to learn about these beautiful blackbirds - so read on to find out!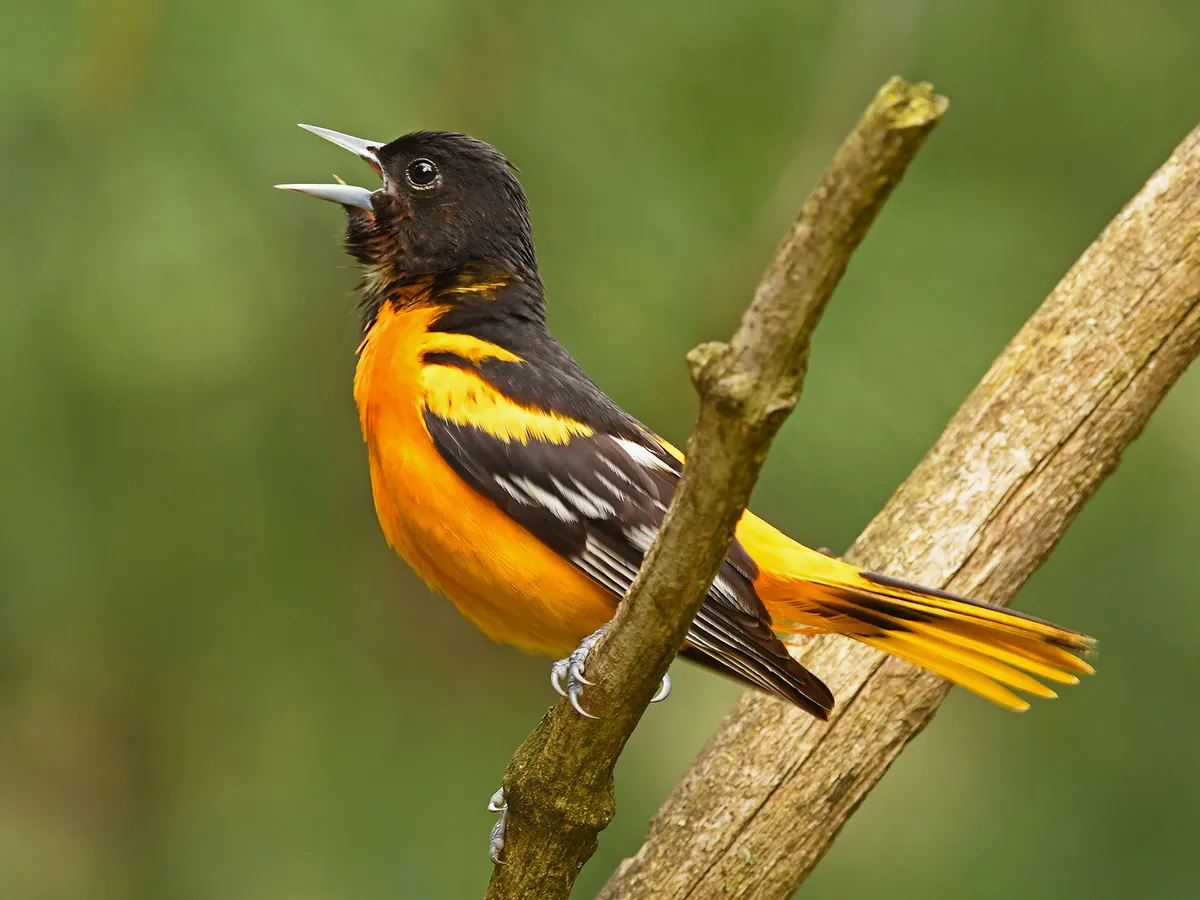 Baltimore Orioles are concentrated east of the Rocky Mountains, stretching from Saskatchewan and Montana south to Texas and east to practically every state
What is the distribution range of Baltimore orioles?
The Baltimore oriole is usually found in the eastern regions of North America during the breeding season. They have an extensive range, extending from southern Canada in the spring and summer to northern South America, where it migrates in the winter.
Baltimore Orioles are common birds throughout their breeding range.
In the US, they're found east of the Rockies, from Montana, the Dakotas and Minnesota south to Texas and northeast to Maine. They're most abundant in the eastern US.
In Canada, they're primarily found in Ontario and Quebec. They have been known to travel as far north as the Yukon Territory and east to British Columbia.
These are migratory birds, wintering in the southern United States, Mexico, Central America, and isolated areas of far north South America. They are sometimes spotted in the Bahamas, Cuba, and the Cayman Islands.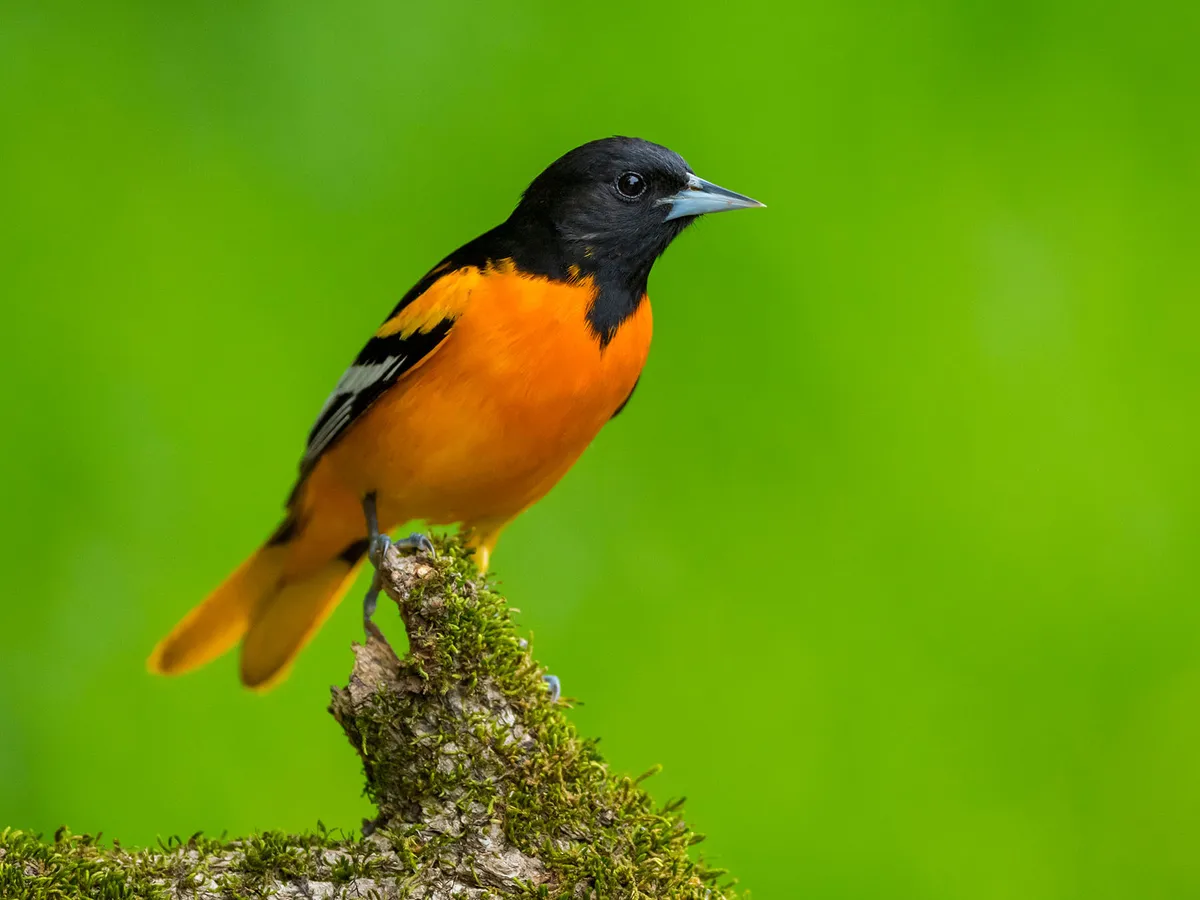 Close up of an adult male Baltimore Oriole, pictured during spring migration, Texas
What is the habitat of a Baltimore oriole?
The Baltimore oriole typically builds its nest in deciduous forests and can often be found in open woodland areas and along forest edges. The general habitat of a Baltimore oriole is a deciduous or mixed forest, but they generally avoid deep woodlands.
The Baltimore oriole's nest is typically built near a tree fork of a large deciduous tree including elms, cottonwoods, and maples. The nest itself is a precarious pendulum attached to a drooping branch.
You can also find Baltimore orioles in orchards, parks, farms, and other rural and suburban areas.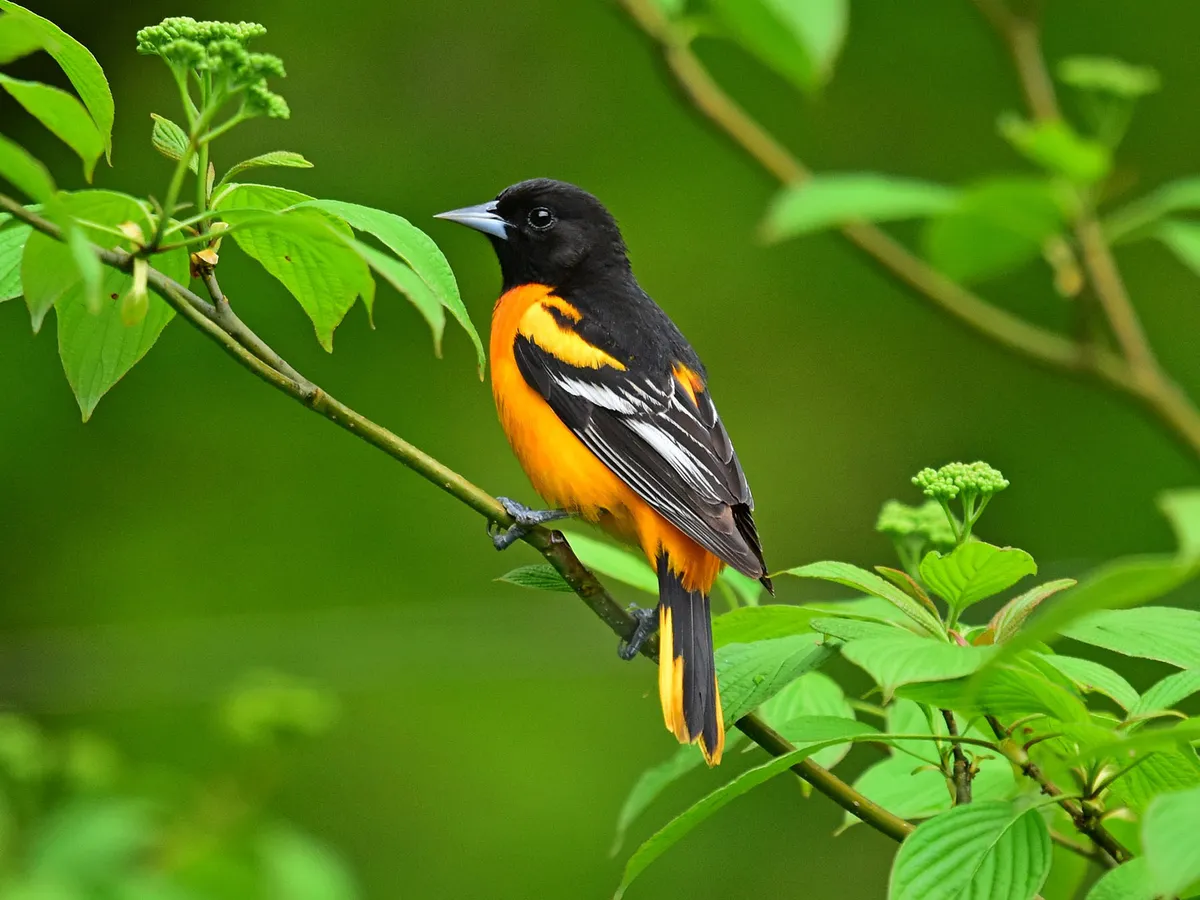 Baltimore Orioles are generally present in deciduous or mixed forests, where they build their nests
How rare is it to see a Baltimore oriole?
The Baltimore oriole is a beautiful bird that is reasonably easy to spot if you visit its preferred habitats. Some locations, like the Audrey Carroll Audubon Sanctuary in Mt. Airy and Fred Archibald Wildlife Sanctuary in New Market, Maryland, are home to many of these birds.
There are some 12 million in the wild, so they're considered common and aren't in danger, though populations have declined since the 1960s.
In the United States, you're most likely to spot one in the eastern states, with a few sightings in the Midwest, whereas in Canada, they're generally only found in the south and southeast.
If you want to find these birds, look for the adult male with mostly bright orange plumage with deep black wings and tails.
Female Baltimore Orioles are mostly yellowish-brown and olive, although the wings and tail are black. The juvenile is similar to the female but with a paler throat and breasts.
Female (left) and male (right) Baltimore Oriole breeding pair, Minnesota
Where is the best place to see Baltimore orioles?
The best place to see a Baltimore oriole is in their breeding habitats across the eastern United States and Canada. The name 'Baltimore' might give it away that these birds are abundant in Maryland and neighboring states.
These birds are migratory, moving south in the fall to spend the winter in Mexico and Central America, so you could catch them in almost any state in the eastern half of the USA in winter.
They are often found in woodlands, gardens, and parks, which is where you're likely to spot males perched on branches.
Orioles are also attracted to nectar-producing flowers, so they can often be seen in gardens and parks in the spring and summer. In the fall, they can be found in marshes and open woodlands as they prepare to migrate south for the winter.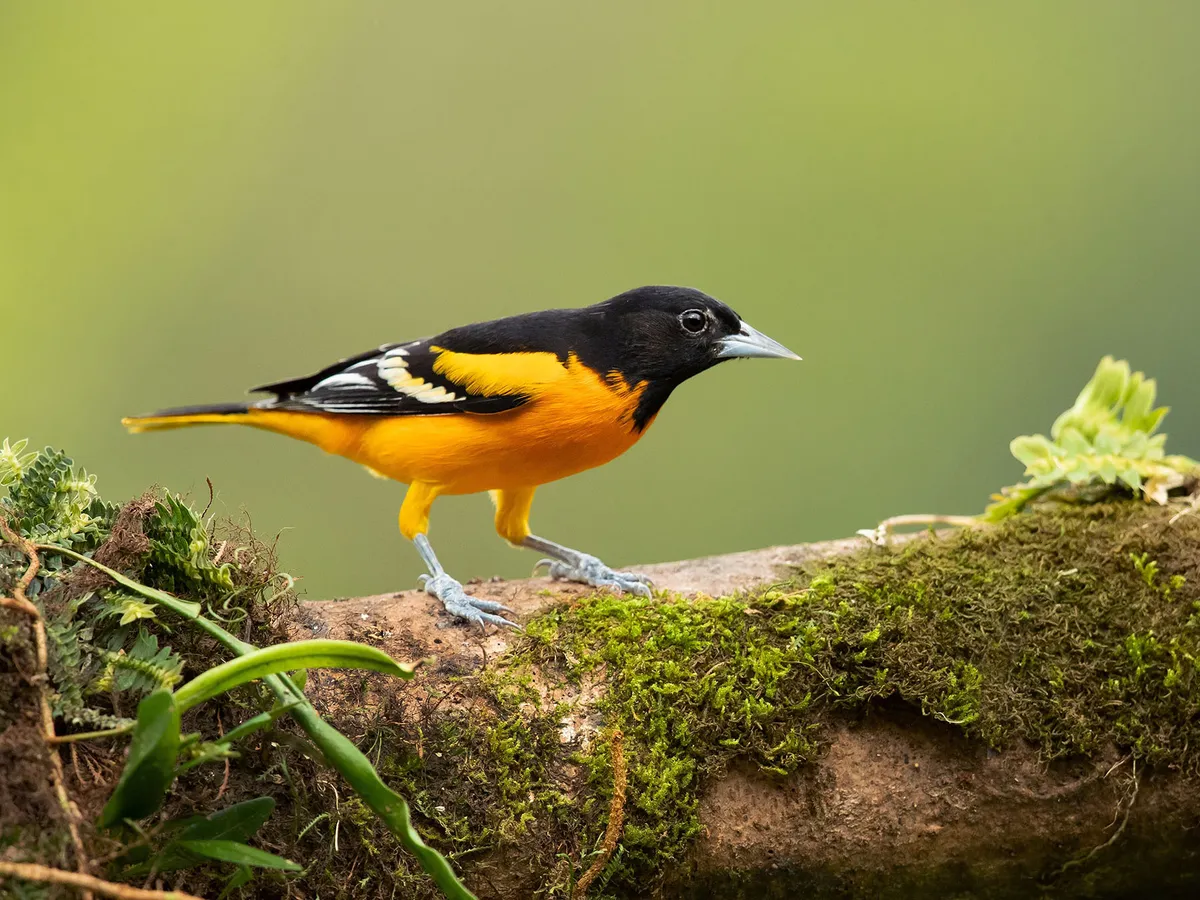 Baltimore Oriole foraging for food on the ground
What time do Baltimore orioles come out?
Baltimore orioles are most active at dawn and dusk. They typically roost in trees during the day and forage for food in the morning and evening.
Orioles are typically active during the day and are most often seen in the early morning or late afternoon. However, they can also be active during the night.
Do Baltimore orioles stay in one place?
Baltimore orioles are migratory birds that head from North America to Central America, wintering south of central Mexico.
Virtually all populations migrate, though some southerly populations may only travel a few hundred miles. On the other hand, birds in the north USA and Canada travel thousands of miles.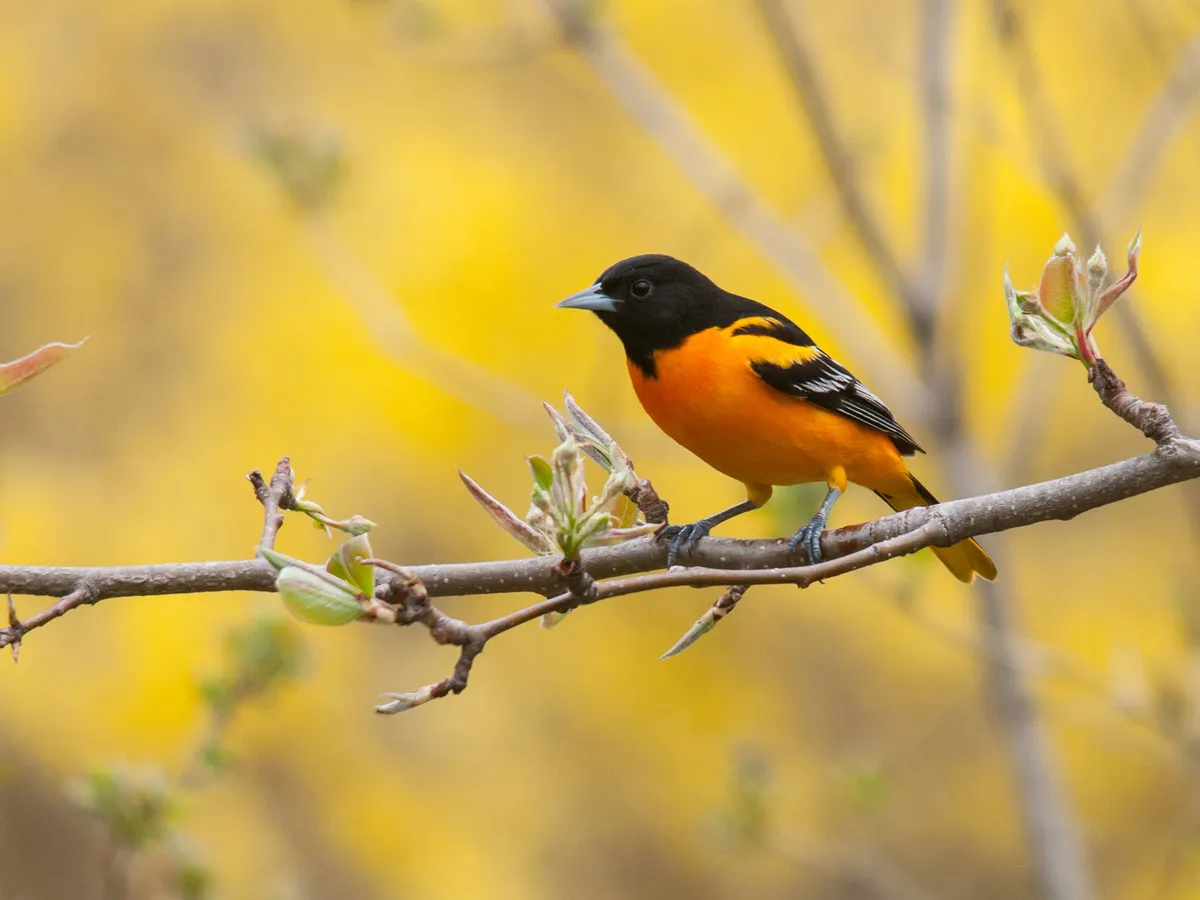 Baltimore Oriole perched on the branch of a tree
Where do Baltimore orioles live in the winter?
Most Baltimore orioles migrate to Central America for the winter, although some have been known to stay in the southern United States. They typically return to their breeding grounds in late April or early May.
In North America, Baltimore orioles birds spend the winter in the southeastern United States, Mexico, and Central America. They are most commonly found in Florida, Louisiana, and Texas.
While some Baltimore orioles birds do remain in their northern breeding range during the winter months, most migrate to avoid the cold weather and locate food.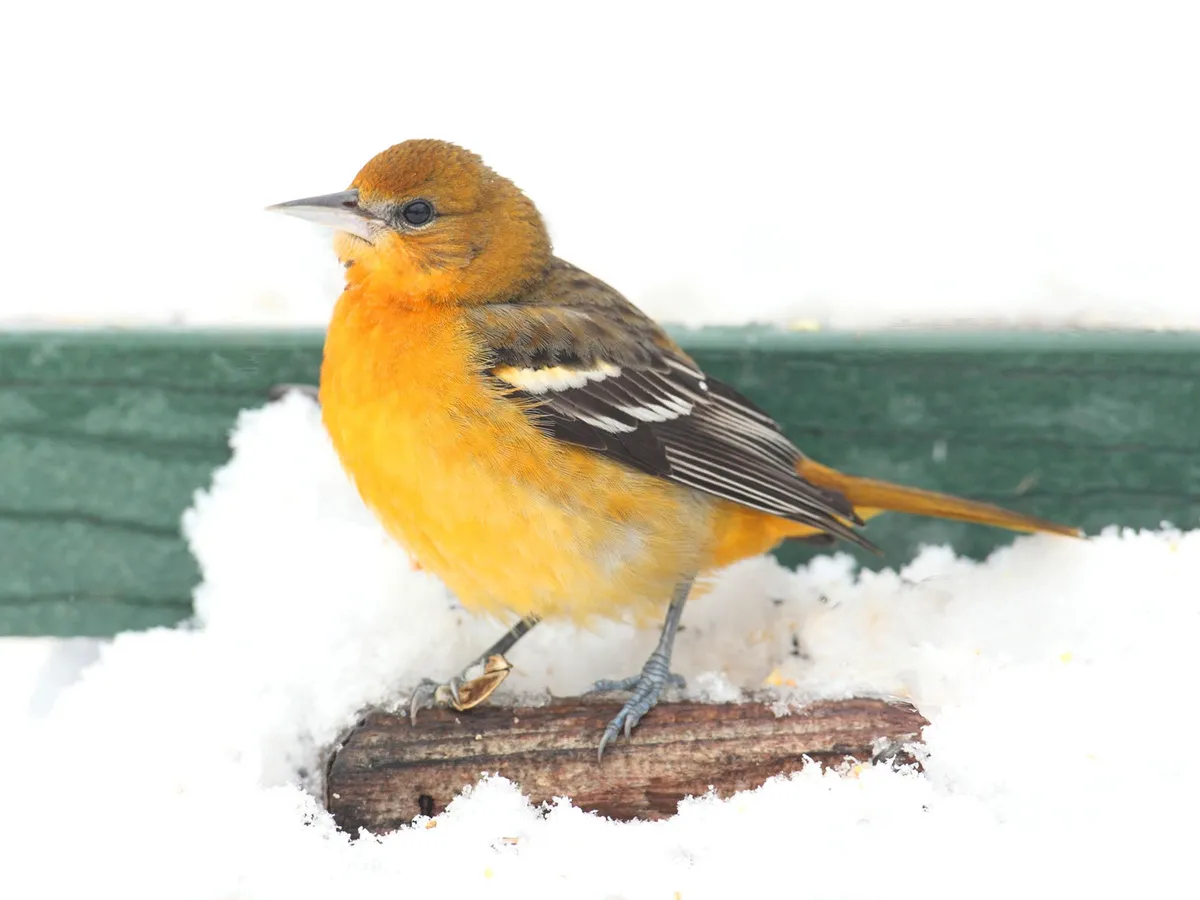 Juvenile Baltimore Oriole in a snow storm
Where do Baltimore orioles live in the summer?
During the summer months, you can find Baltimore orioles birds in a variety of locations throughout their North American range. Spring and summer is the breeding season, so most are busy nesting among deciduous trees.
Some of the more populous states include Ohio, Pennsylvania, Virginia, Carolina, and Maryland. Small populations occupy the Great Lakes region and even as far north as Saskatchewan.
They are found in the eastern part of Canada, in the provinces of Ontario and Quebec. Small populations live in New Brunswick and Prince Edward Island.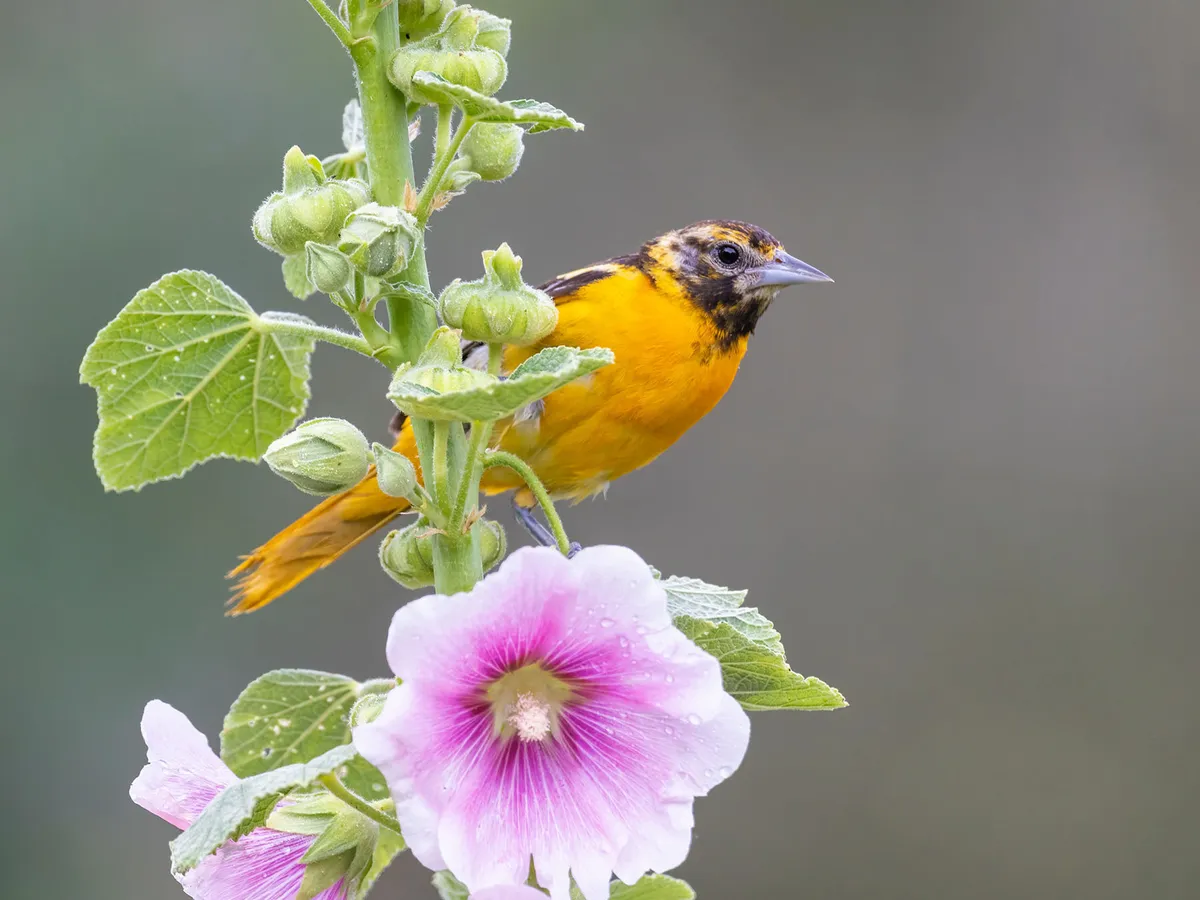 Female Baltimore Oriole perched on hollyhock, Marion County, Illinois
Do Baltimore orioles live in groups?
In the breeding season, Baltimore orioles are seldom seen in groups, but they may form small flocks during migration. Flocks are generally small and consist of mixed genders and ages.
After the breeding season winds down, orioles and many other birds drop their guard and become less territorial and aggressive. While Baltimore orioles are rarely too social, they do join in small foraging flocks in the winter.