Acorn woodpeckers (Melanerpes formicivorus) are attractive, medium-sized woodpeckers who are relatively conspicuous thanks to their bright red hat, black cheeks, and large eyes with a white iris that differs from most other American woodpeckers.
Acorn woodpeckers are native only to the Americas, but where precisely do Acorn woodpeckers live?
Acorn woodpeckers live solely in the Americas, stretching from isolated northern populations in Washington through Oregon, California, and most southwestern states, south to Mexico, most of Central America, Columbia, and Venezuela. They can be found in a range of habitats, but forests are generally preferred.
In terms of habitat, Acorn woodpeckers generally live up to their namesake, occupying both oak and pine forests in both lowlands, hilly, and mountainous terrain. These sociable woodpeckers demonstrate the unique behavior of harvesting acorns and caching them in 'granaries,' which they create from old trees.
Of course, there is much more to learn about this unique bird's distribution range and habitat - read on to find out!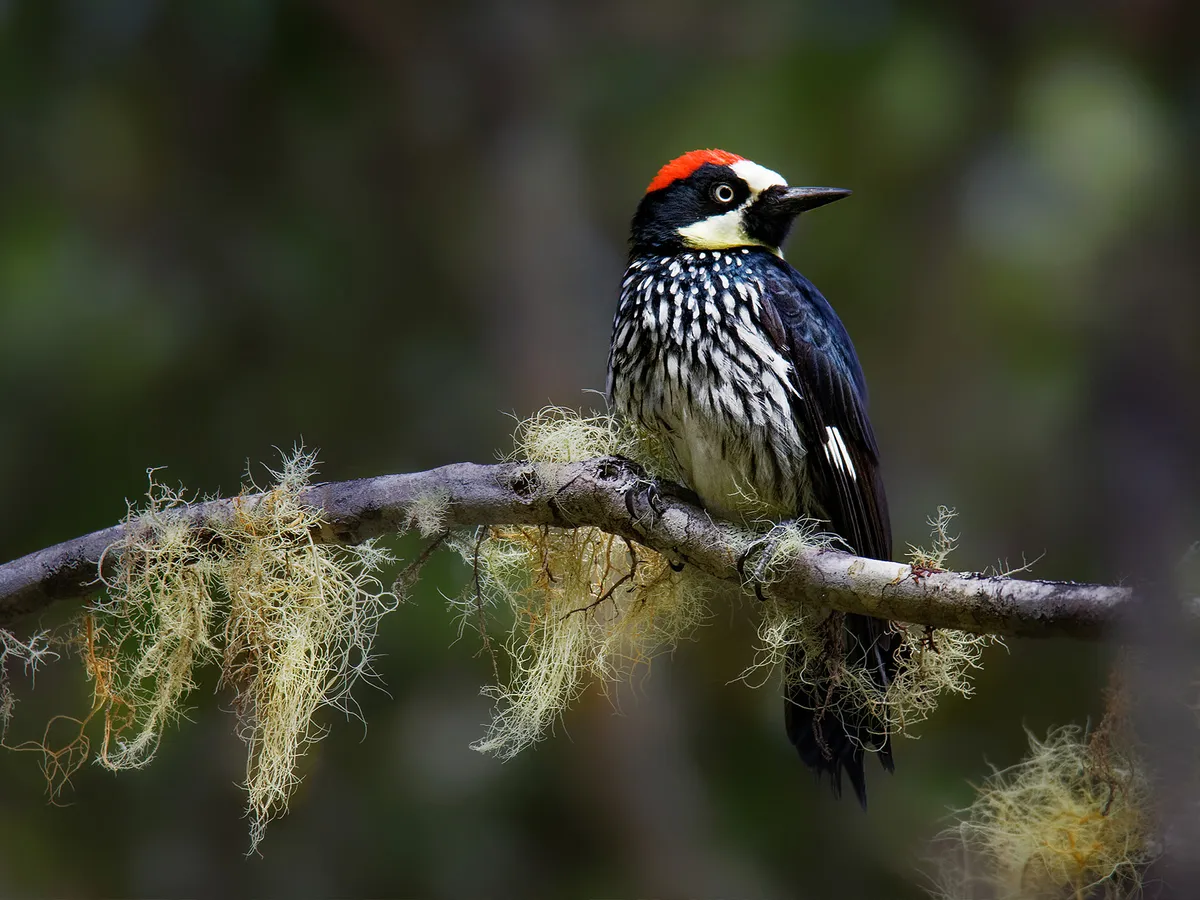 Acorn Woodpeckers can be found across most of the Americas
What is the distribution range of the Acorn Woodpecker?
Acorn woodpeckers live in western and southwestern USA, stretching through much of western and central Mexico and parts of Columbia.
Northern populations are found in Oregon and northern California, sweeping down the west to the southwestern states of Arizona, New Mexico, Colorado, Nevada, Oklahoma, Texas, and Utah.
There is one small population further north, in Washington. Small populations rarely cross the border to British Columbia.
In Mexico, populations reside on the Pacific slope, from eastern Sonora to western Chihuahua, and the Atlantic slope, ranging from Coahuila to Guanajuato.
Acorn woodpeckers occupy most southern Mexican states, including Baja California, though they are largely absent from western Mexico, including Yucatan.
Acorn woodpeckers are also found in Guatemala, Honduras, Belize, Costa Rica, and Panama to parts of Venezuela and Columbia.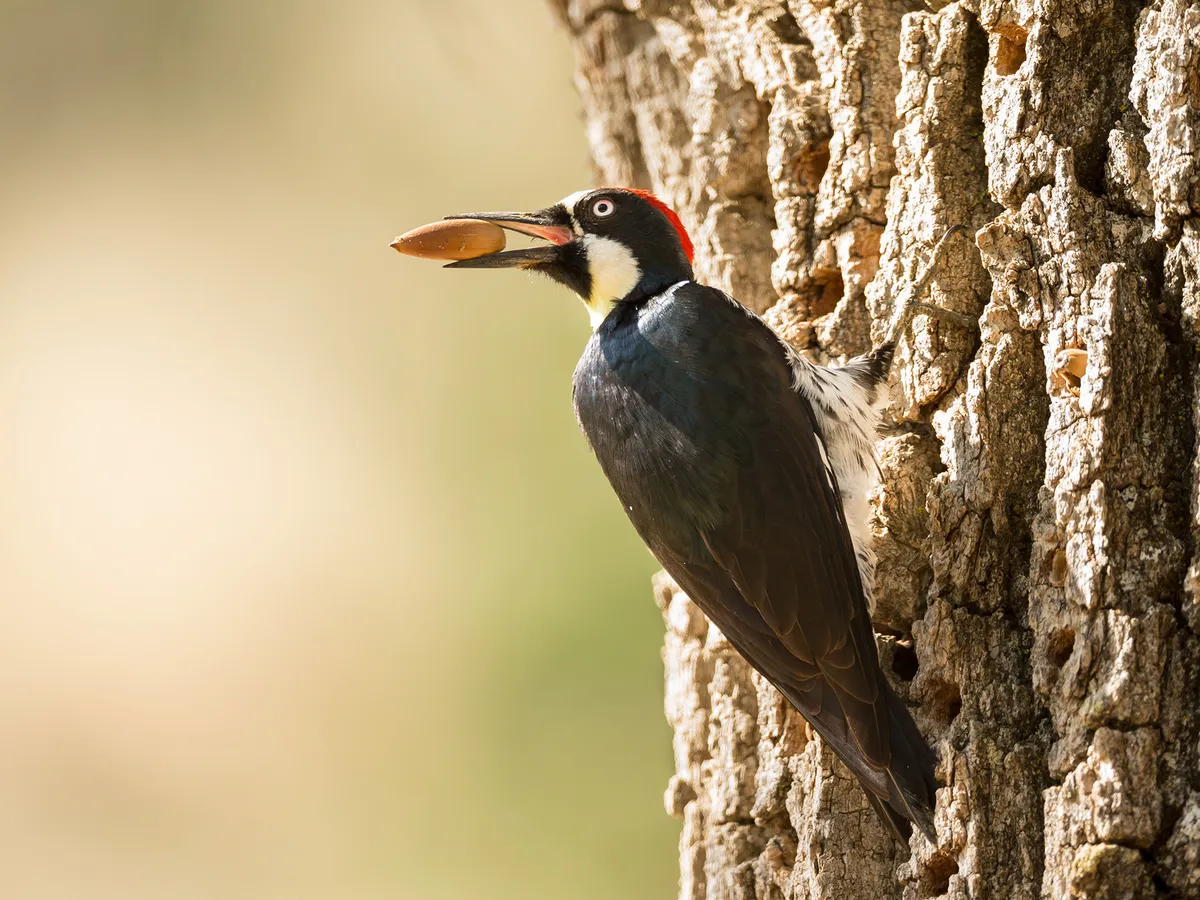 In the US, Acorn Woodpeckers can be found in western and southwestern states
What is the habitat of an Acorn Woodpecker?
As the name suggests, Acorn woodpeckers live primarily in oak forests, where they have immediate access to acorns, which are one of their staple foods.
In fact, their distribution range seems to be limited to oak tree forests with multiple species of oaks, and only rarely do they inhabit regions where only one species of oak is present.
For example, Acorn woodpeckers inhabit the Monterey Peninsula of central coastal California, where there's just one species of oak, the Coast live oak. In the Pacific Northwest, birds in Washington and Oregon live in forests where there is only the Garry oak.
In the southernmost portion of their range, Acorn woodpeckers are observed to depend on the Colombia oak. It's thought that Acorn woodpeckers prefer forests with multiple oak species as this protects them from acorn failure, i.e., if one species fails to produce acorns that season, they still have a number of backups.
Acorn woodpeckers also use Douglas firs, redwoods, and other pines. They live at sea level up to elevations of around 4,000m in the Andes but generally prefer hilly or semi-mountainous terrain to sea-level lowlands.
Acorn woodpeckers construct nests and granaries in a variety of trees, not just oaks. They also inhabit urban areas and parks across their range where oaks and granaries are available. Granaries are constructed from both old trees and wooden human-made structures.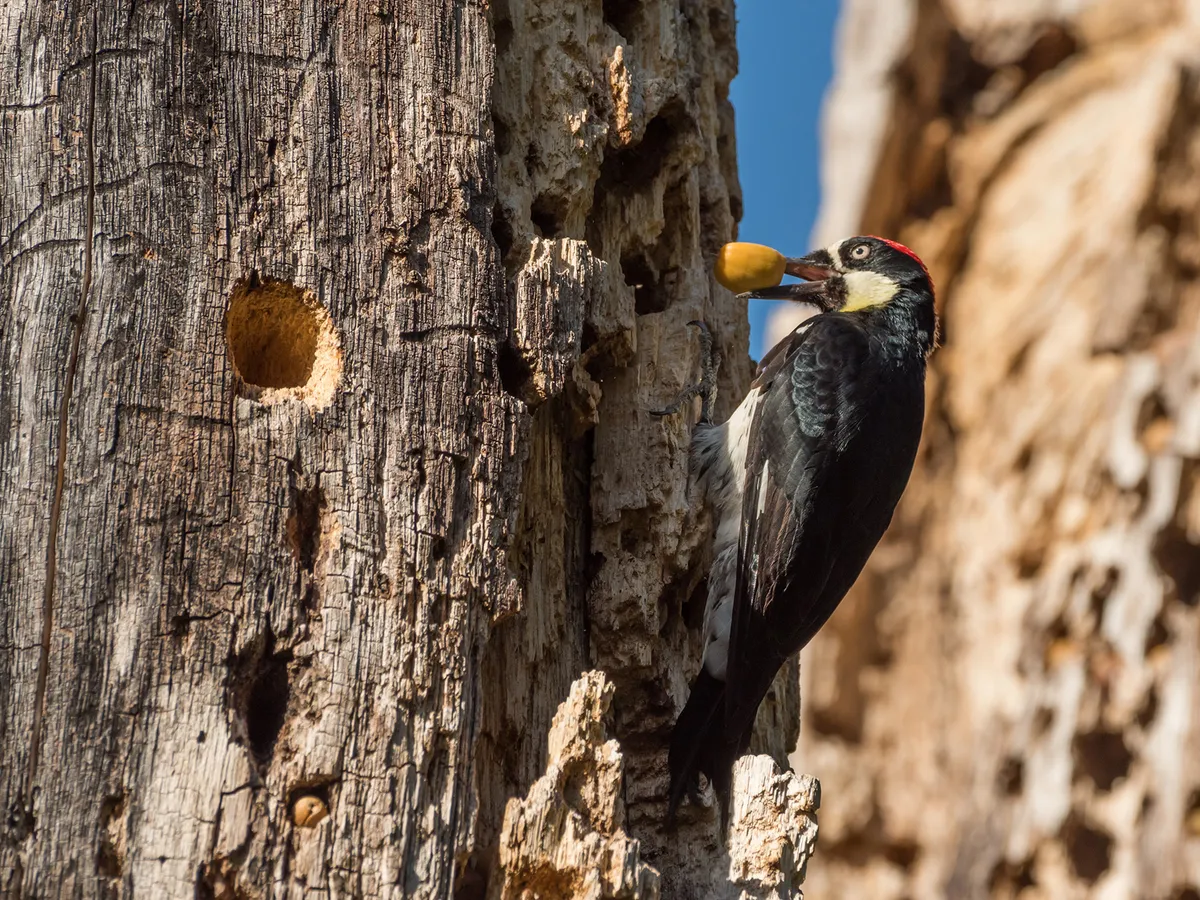 Acorn Woodpecker with an oak acorn on a granary tree
How rare is it to see an Acorn Woodpecker?
Acorn woodpeckers are pretty common and easy to spot across their range with their colorful and contrasting plumage and gregarious nature. With an estimated population of over 7.5 million, they're not considered threatened or endangered.
Acorn woodpeckers are highly sociable and spend most of their time in small cooperative family units of several birds. The family works together to forage, nest, and raise young.
These birds engage in cooperative breeding, meaning that younger non-breeding woodpeckers help their family members raise young by bringing them food. Females also often nest together in the same hollow.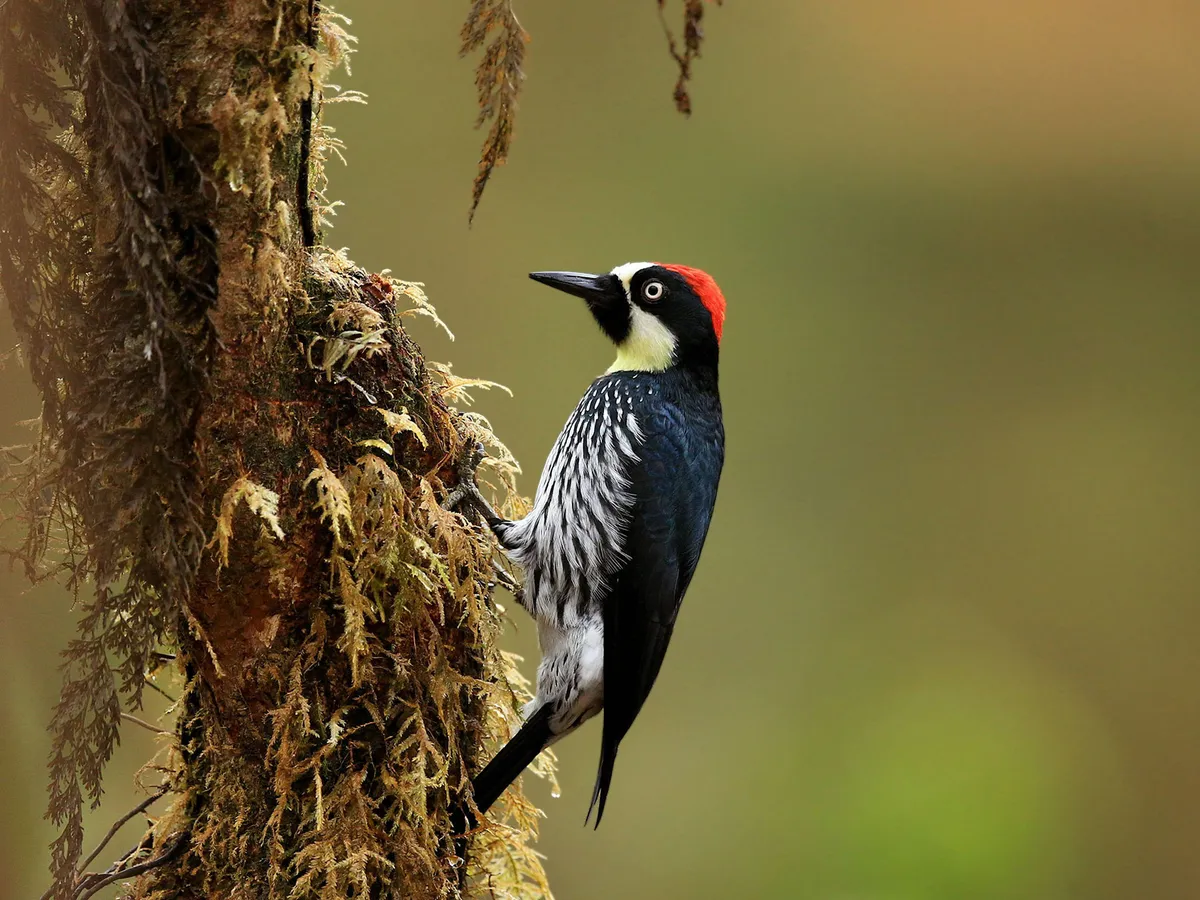 Acorn Woodpeckers are relatively common across their range
Where is the best place to see an Acorn Woodpecker?
Acorn woodpeckers live in many western and southwestern US states stretching from Washington to New Mexico.
They can be found in oak woodlands, or woodlands containing oak, and are common in Yosemite, Pinnacles National Park, Big Bend National Park in Texas, and various other parklands and urban areas across their range.
Acorn woodpeckers are also common in many Mexican oak and mixed woodlands, in Costa Rica, and much of Central America to the Colombia Andes.
What time do Acorn Woodpeckers come out?
Acorn woodpeckers - and woodpeckers in general - are diurnal, meaning they're active in the day and roost at night. Acorn woodpeckers forage throughout morning, day and early evening, where they pursue insects, eat fruits, seeds, and crucially, acorns.
Acorn woodpeckers depend on acorns which they stash in impressive granaries each fall. This provides them with sufficient food to sustain them through the winter.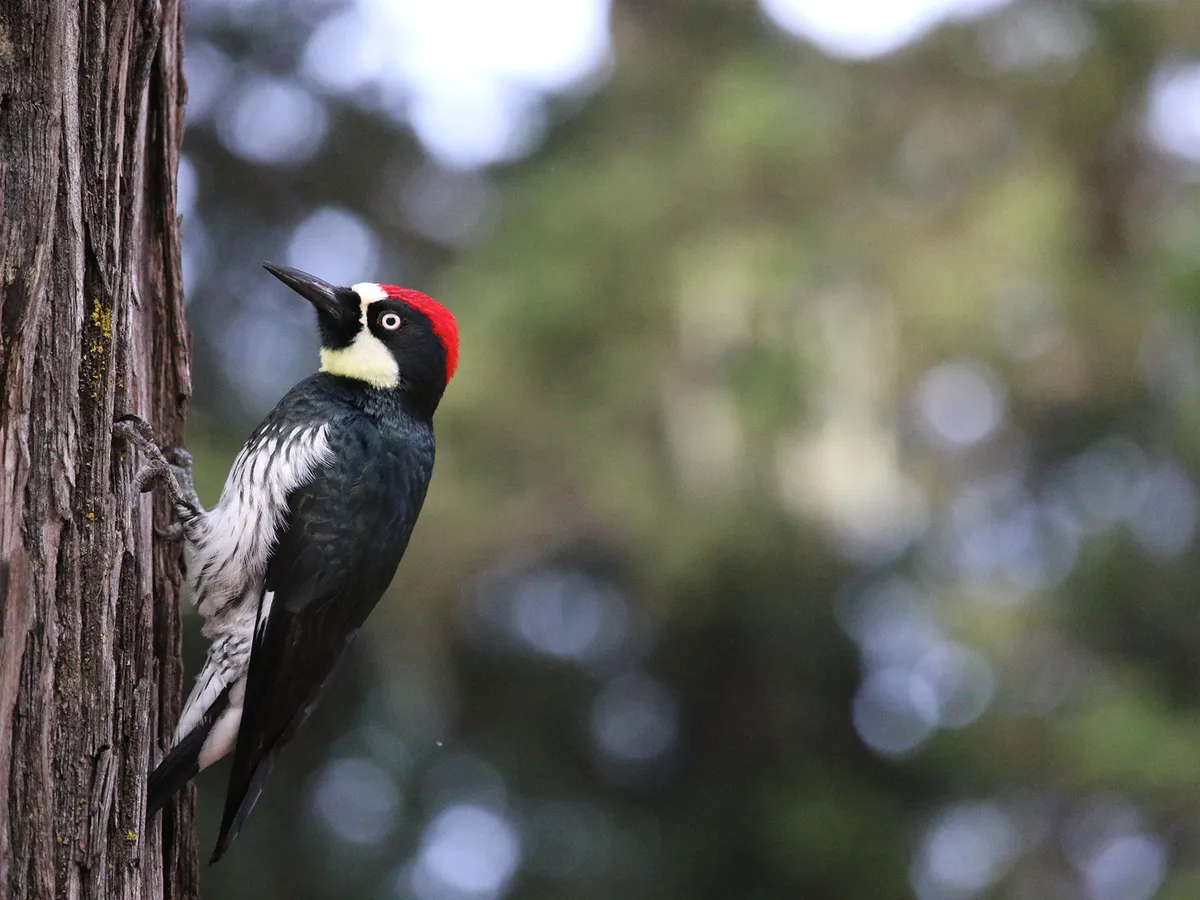 Acorn Woodpecker perched on the side of a tree trunk
Acorn woodpeckers are usually sedentary, meaning they don't migrate. In fact, studies reveal that some family groups of Acorn woodpeckers remain within 1km of their breeding grounds. Other birds were found to disperse a maximum of 15km.
Family groups sometimes disperse across their range in search of better acorn supplies, but few migrate. However, Arizona has at least one migratory population near the Huachuca Mountains.
Where do Acorn Woodpeckers live in the US?
Acorn woodpeckers live across most western and southwestern states, including Washington, Oregon, California, Arizona, New Mexico, Colorado, Nevada, Oklahoma, Texas, and Utah.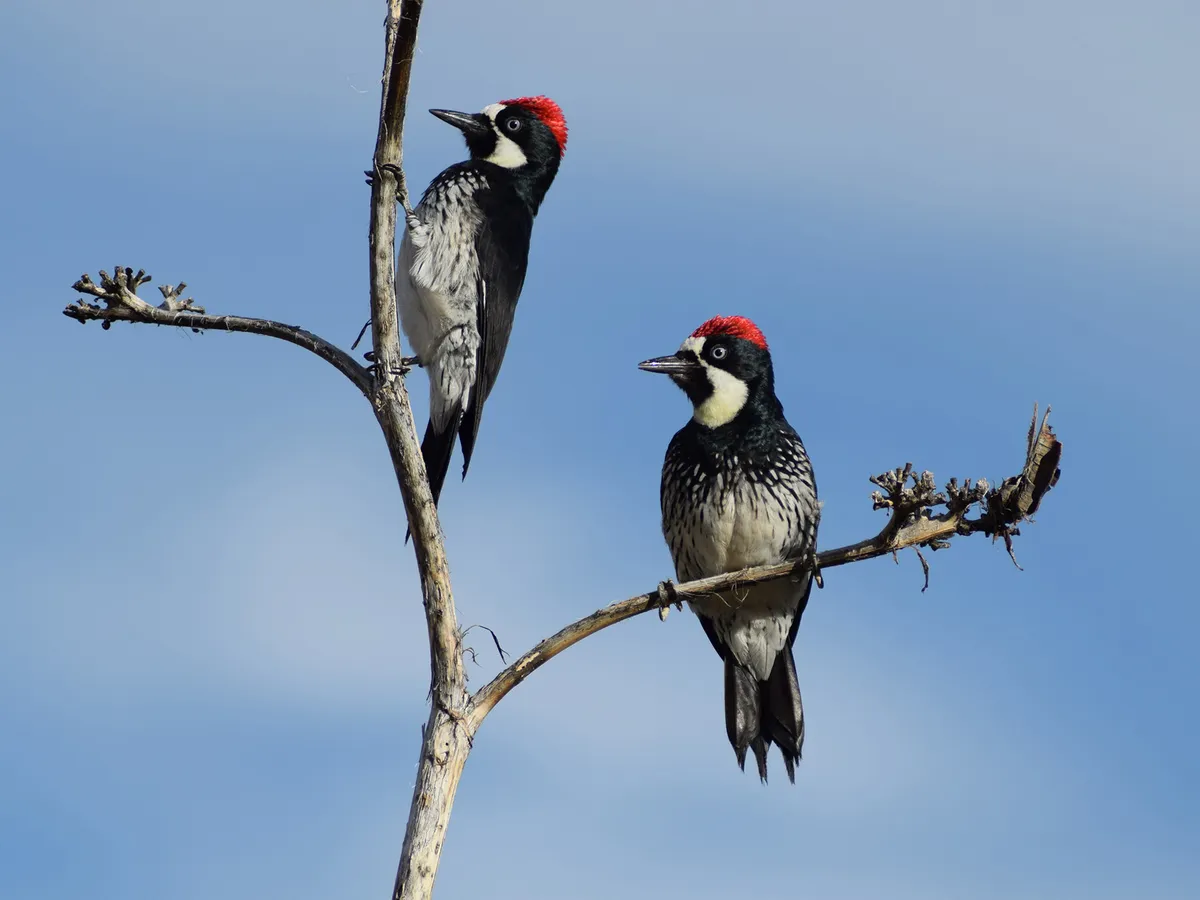 A pair of male Acorn Woodpeckers, perched on yucca branches in Arizona
Where do Acorn Woodpeckers live in Canada?
Acorn woodpeckers are limited in Washington, but isolated groups have been spotted in southern British Columbia. This is the only part of Canada where they occur, however.
Where do Acorn Woodpeckers live in the winter?
Acorn woodpeckers are sedentary and rarely stray too far from their breeding grounds. As a result, the vast majority of populations don't migrate and spend winter roosting in their breeding grounds.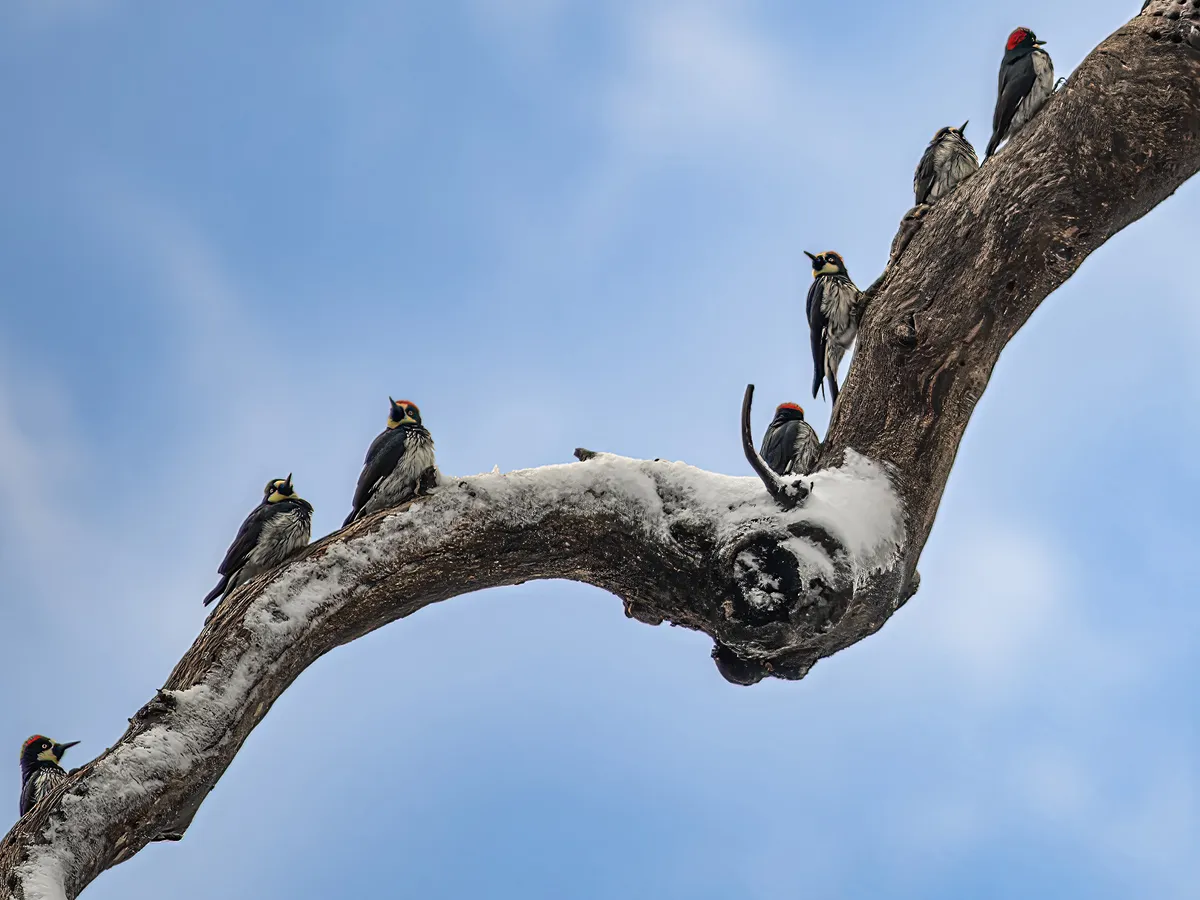 A flock of Acorn Woodpeckers perched together on a snowy tree, during the winter
Where do Acorn Woodpeckers live in the summer?
Acorn woodpeckers occupy the same habitats in summer as in winter. This species is largely sedentary and doesn't migrate. Some individuals don't travel much further than a couple of miles from their breeding grounds.
Do Acorn Woodpeckers live in groups?
If you spot one Acorn woodpecker, it's almost certain that others are nearby. This highly sociable species lives in family units that spend much of their lives together. Social groups partake in communal brooding, feeding, foraging, and food caching.
Most, if not all, duties are shared. For example, two nesting females often lay eggs in the same hollow, and males share their mates. Groups cache acorns in granaries which are also shared between families and other groups.
Studies show that larger groups of Acorn woodpeckers exhibit higher survival rates. Survival is the primary motivation for these cooperative behaviors, but how they evolved remains somewhat of a mystery. Many other species of woodpeckers are also highly sociable.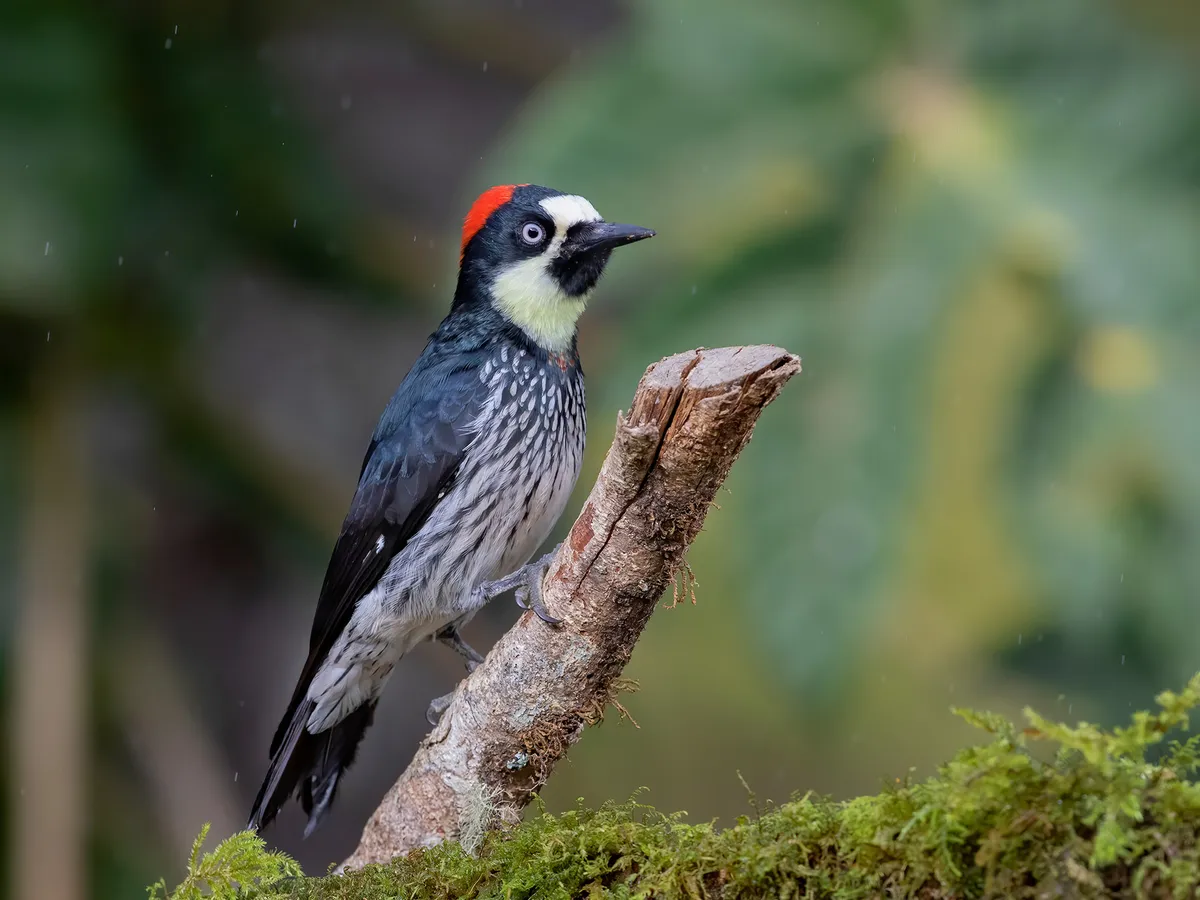 Acorn woodpecker perched on a branch in the jungles of Costa Rica
Where do Acorn Woodpeckers build granaries?
Acorn woodpeckers excavate granaries in any number of trees, such as pines, oaks, sycamores, redwoods, and palm trees. Trees may number thousands of holes - you're best off not looking if you suffer from trypophobia.
Granaries remain in use through multiple generations, but since they involve stripping the bark from trees, the trees may eventually fall over in strong winds or die.
Storing acorns protects them from other animals, but it also allows the acorn to dry out, making it easier to eat. Acorn supplies keep Acorn woodpeckers well-fed throughout winter, meaning they don't have to migrate in search of food. It's unclear how this behavior evolved, and Acorn woodpeckers remain a fascination among researchers for their complex and unique cooperative behaviors.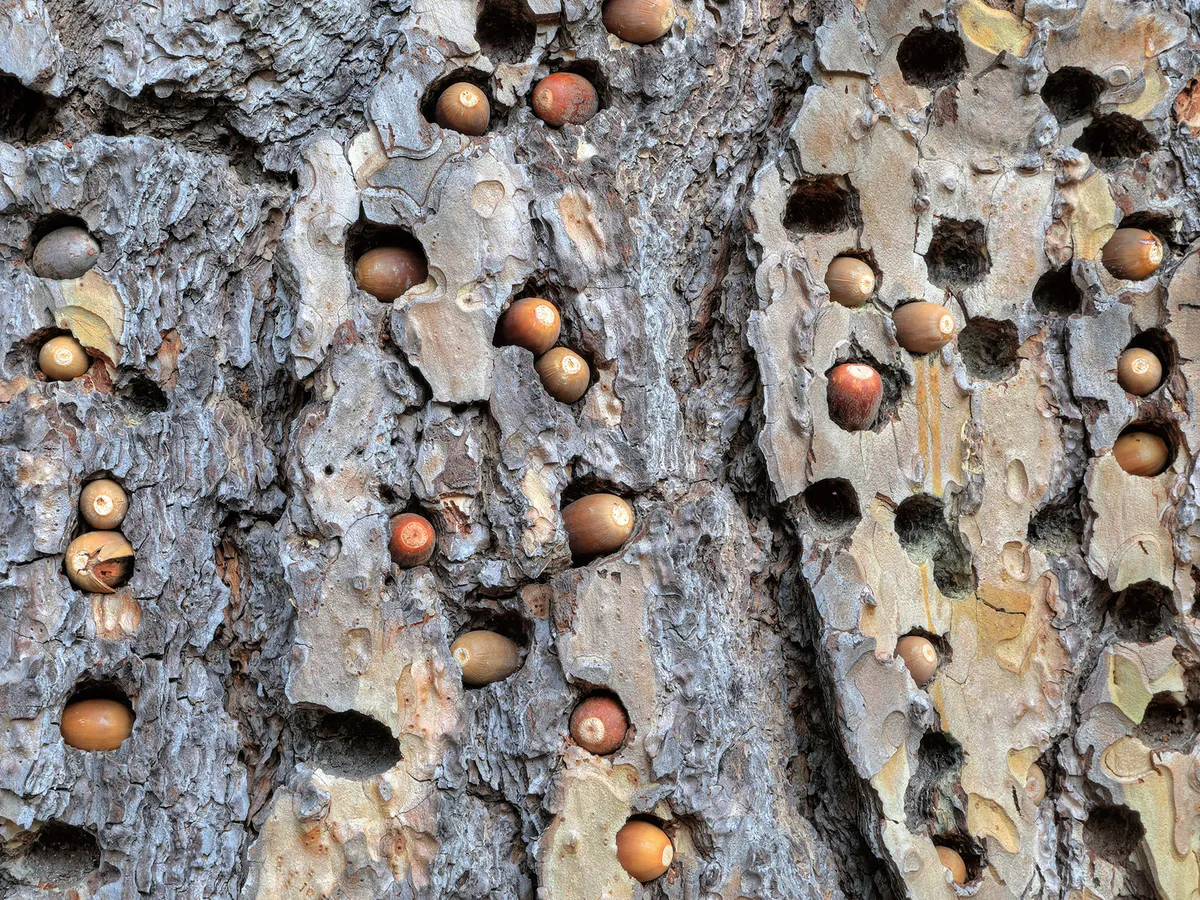 Close up of a Acorn Woodpecker Granary, Graton, California