Distinctive, scarlet-headed yellow-and-black songbirds, Western tanagers prefer sheltered and shady habitats, with the coniferous forests and mixed species woodlands of western North America offering suitable summer breeding grounds. But can Western tanagers be found only in the west, or are they widespread throughout the U.S.? Read on to learn more about the summer and winter range of Western tanagers.
As their name suggests, Western tanagers are found in the western regions of the United States, breeding as far north as Canada's Northwest Territories before migrating down through the western U.S. to spend winters in Mexico and Central America.
The northern limit of the Western tanager's breeding range is further north than any other tanager species. Breeding seasons are naturally short, with pairs only spending around two months in their summer territories before heading south for winter.
Migration journeys begin in July to August, with birds reaching their destinations in Costa Rica and Panama by October to November.
To discover more about the typical timings of Western tanager migration and landscapes that provide a suitable habitat for breeding birds, please keep reading.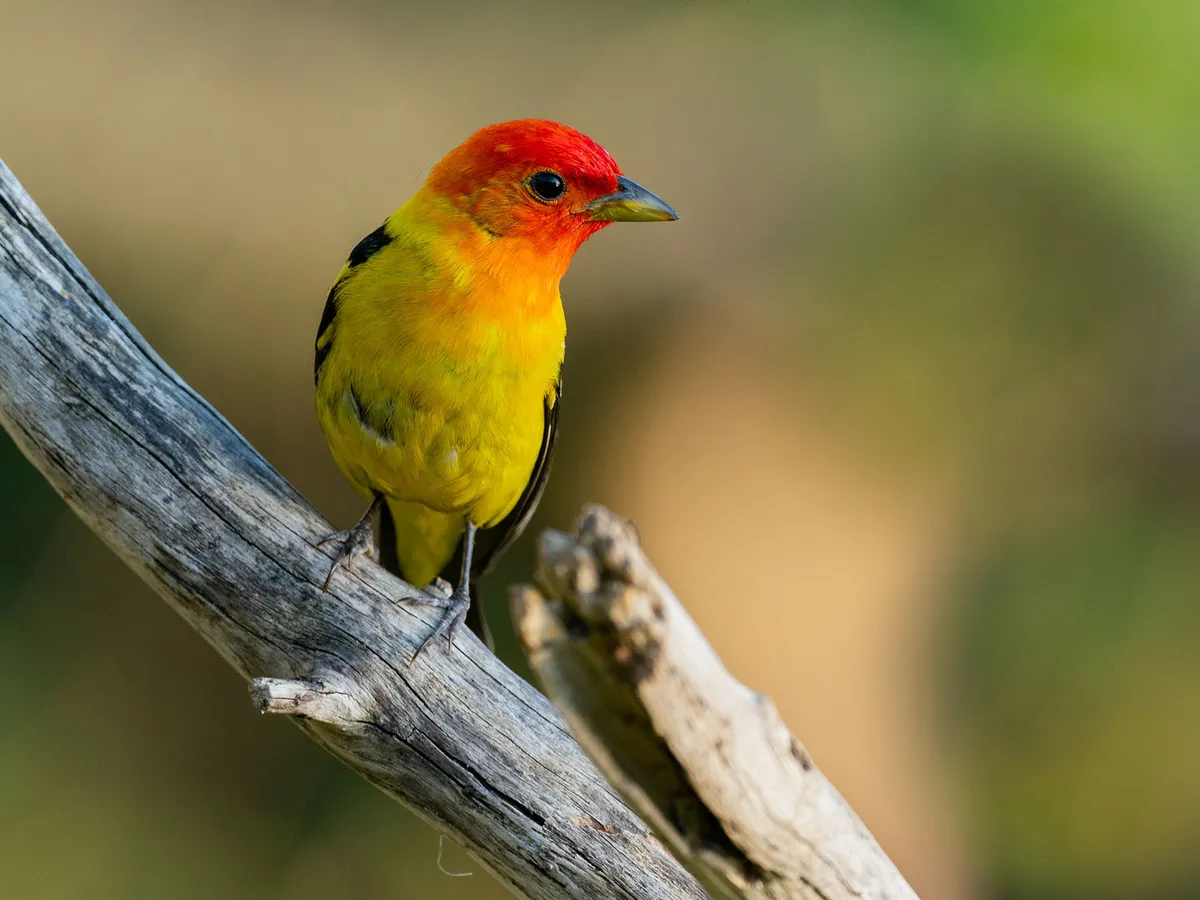 Western tanagers prefer sheltered and shady habitats, which can make them relatively hard to spot
What is the distribution range of Western Tanagers?
Western tanagers are limited to the western regions of North America. Summer breeding territories extend to west-central Canada and the northwestern U.S., with migration taking the species across the entire west of the U.S.
Final winter destinations include California, Mexico and Central America, through Honduras, El Salvador, and Guatemala and Costa Rica, as far south as Panama.
Where do Western Tanagers live in the US?
The native breeding range of Western tanagers in the U.S. is restricted to the west-central region of the country, along the Pacific coast and inland as far as the Rocky Mountains. Migration passage takes place as far east as the Great Plains.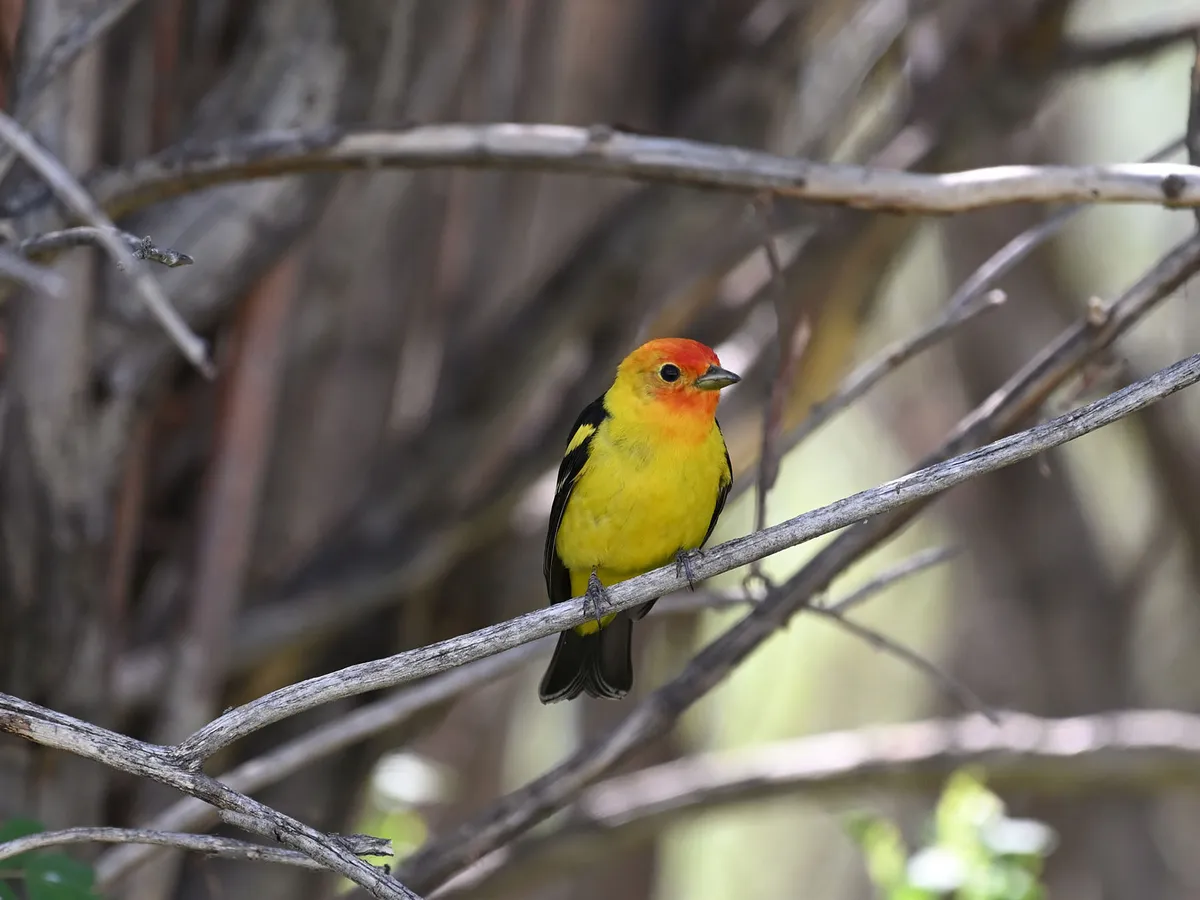 Male Western tanager perched on a branch
What states do Western Tanagers live in?
In winter, some Western tanager populations may reach California and remain there for the winter months, rather than continuing to migrate further south. Summer breeding grounds are found in extreme southeast Alaska, as well as Washington, Oregon, Idaho, Utah, Wyoming, Nevada and California. Breeding is also established as far east as New Mexico, Arizona and South Dakota.
Migration passage takes Western tanagers across the central U.S., and birds may be spotted in passage as far east as Nebraska, Colorado, North Dakota, Kansas, Oklahoma and Texas.
Where do Western Tanagers live in Canada?
Western tanagers breed in the southwestern provinces of Canada. The northernmost established breeding grounds are found in the Northwest Territories, with nesting populations also recorded in British Columbia, Alberta and Saskatchewan.
Migratory birds have been spotted in passage as far east as Ontario and Manitoba.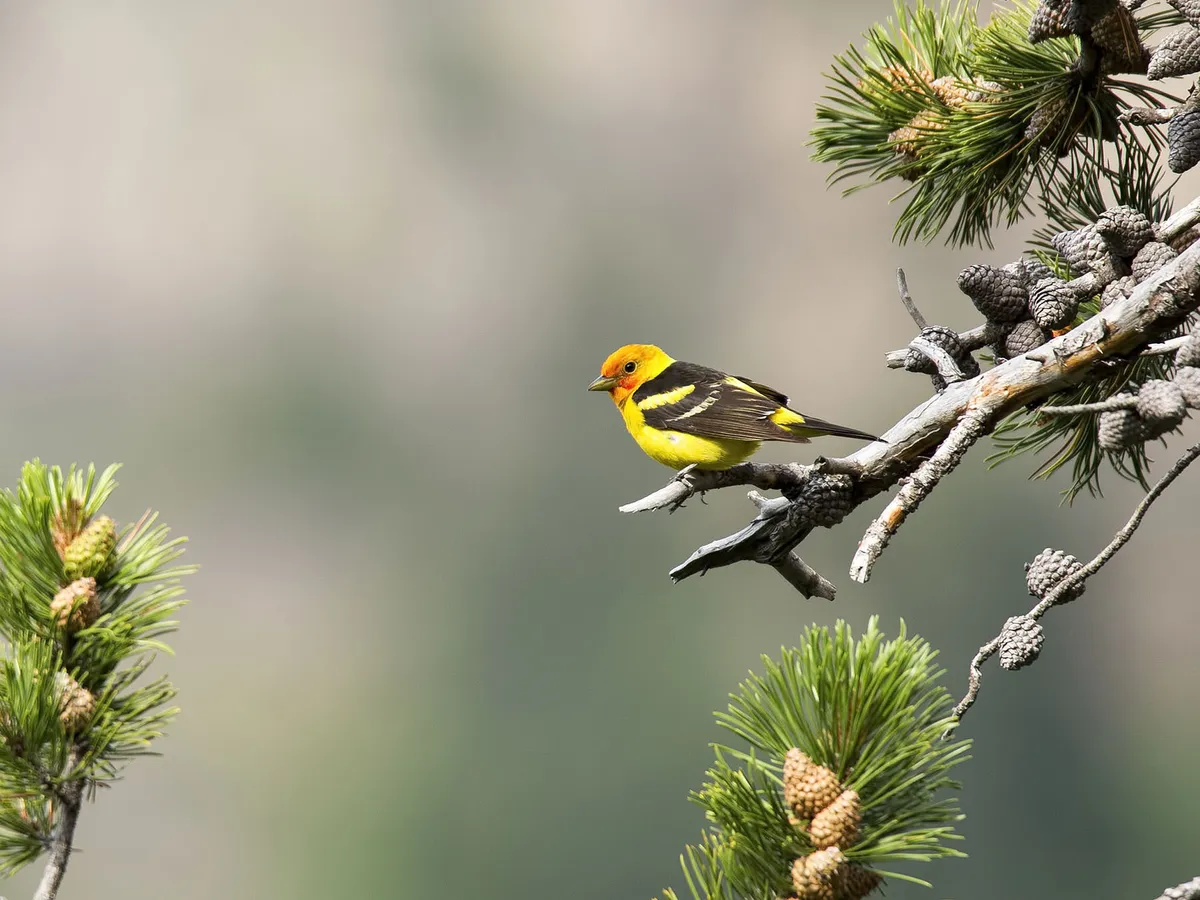 Western tanager perched on a coniferous tree branch
What is the habitat of a Western Tanager?
Pine and fir forests, interspersed with clearings and bordered by grasslands and meadows, offer suitable habitats for nesting Western tanagers.
Breeding sites are chosen in open coniferous and mixed coniferous-deciduous woodlands at altitudes from 500 m to 3050 m (1640 ft to 10,000 ft), but occasionally lower ground spots will also be used.
Less is known about the winter habitats of Western tanagers, but it is thought that mountainous forests and mixed-species woodlands are preferred.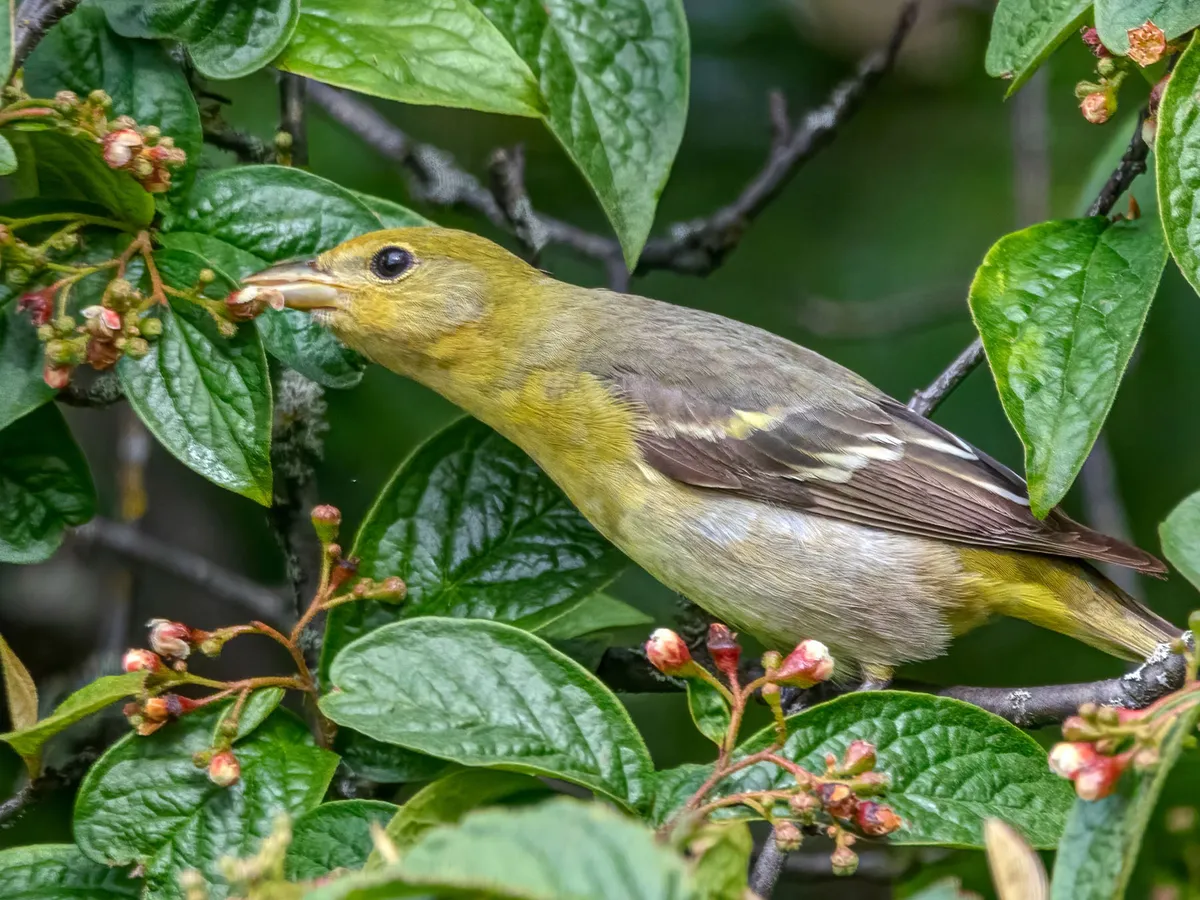 Female Western tanager foraging for berries
How rare is it to see a Western Tanager?
Western Tanagers can be relatively rare to spot. Despite their striking and colorful plumage, Western tanagers are relatively secretive and elusive birds, preferring to remain hidden out of sight in coniferous forests and upper branches of semi-open woodlands.
In winter months and during their fall migration, they may opportunistically pay a visit to backyard feeders as they move southwards, particularly those where fresh oranges are on offer.
Rated as a species of least concern, Western tanager population numbers are increasing, so while not especially rare, sightings may not be too out of the ordinary if you know exactly where to look and when.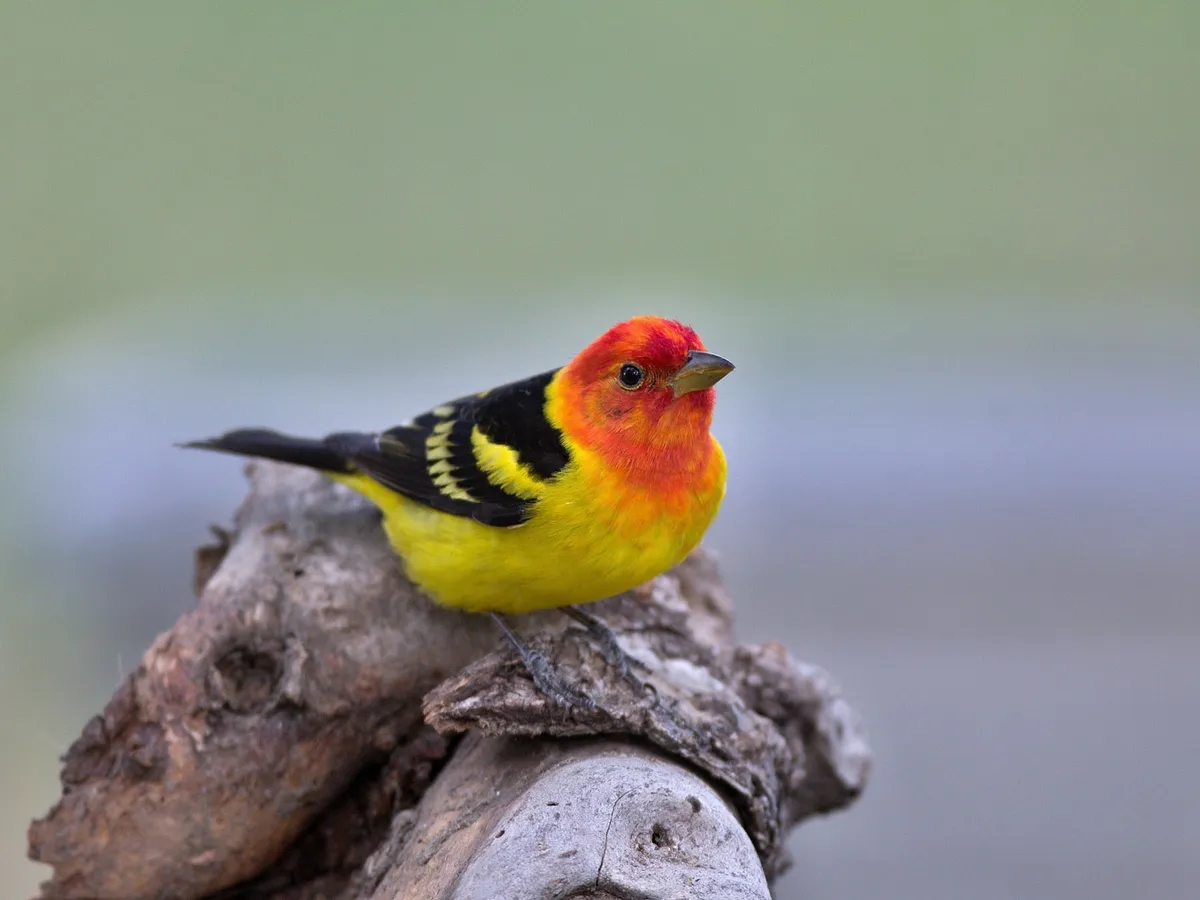 Male Western Tanager siting on perch, Joshua Tree National Park, California, USA
Where is the best place to see Western Tanagers?
Western tanagers are most commonly found in coniferous forests, and although they are known for being relatively elusive birds, listening out for the hoarse song of a territorial male in the breeding season may lead to a sighting.
Oregon's Western tanager population is well established, and the Sierra Nevada and Cascade Mountains also offer a fair chance of spotting one of these flame-headed songbirds.
What time do Western Tanagers come out?
The earliest Western tanagers arrive on their northern breeding grounds in late spring, from April onwards but become more widespread during May and June. By late July to August, the breeding season is complete and migration to wintering grounds begins.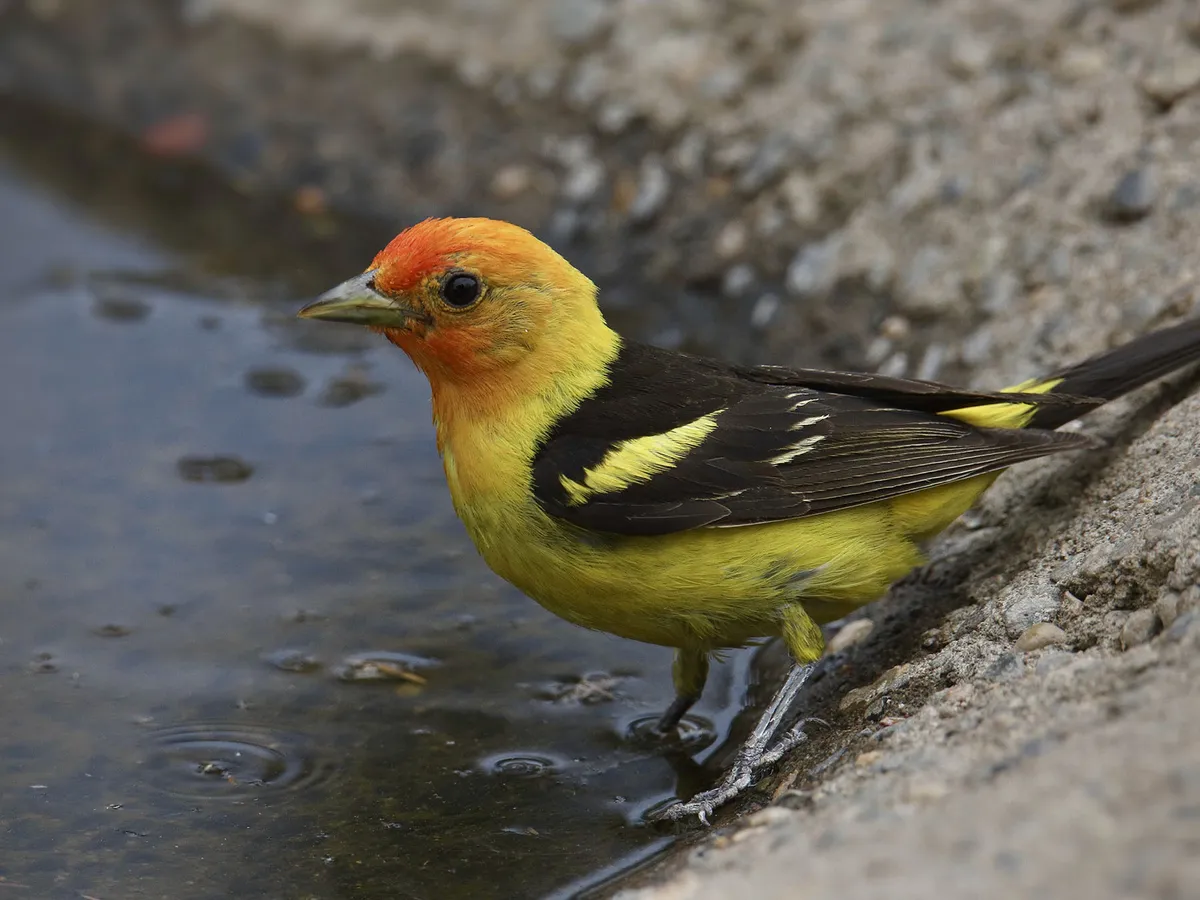 Western tanager taking a drink of water
Western tanagers are migratory, with short breeding seasons that are spent in the extreme northwest of the United States, as far north as Canada's Northwest Territories.
Around two months after arriving, and once they have raised their young, migration south to winter territories begins, with birds flying individually or in pairs down through the western U.S. to their final destinations in Mexico, and as far south as Panama.
Where do Western Tanagers live in the winter?
Winter migration occurs from late summer onwards, with Western tanagers that breed in northern Canada leaving from July onwards. By October to November, arrivals have started on the wintering grounds in Panama and Costa Rica, with the final Western tanagers arriving in Mexico by December.
Winter habitats include dense mountainous woodlands, scrublands and semi-open landscapes. Some Western tanagers may settle in California for winter, where their preferred habitats include farmland and parkland, planted with flowering exotic tree species.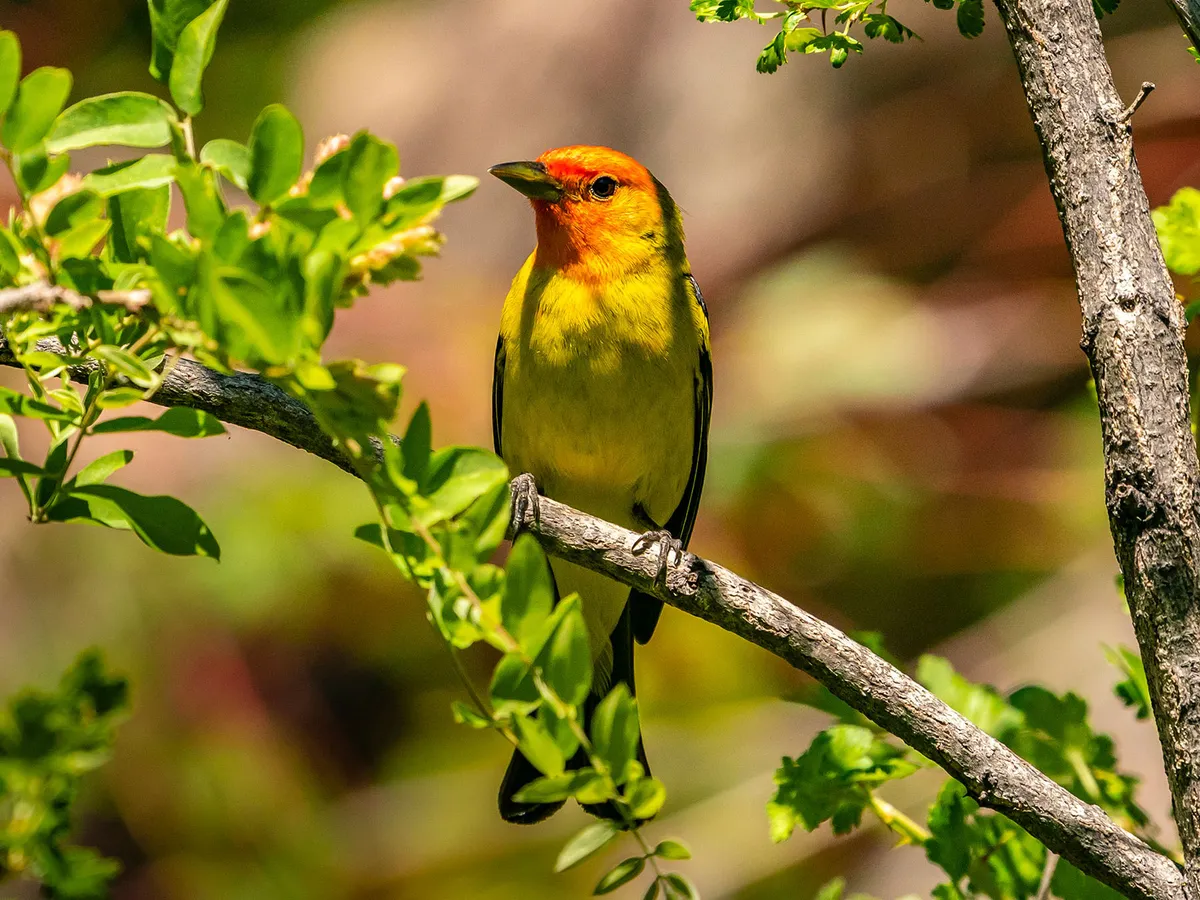 Western tanager perched on a limb, Sandia Mountains, New Mexico, USA
Western tanagers survive extreme winter weather by migrating south from their breeding grounds shortly after nesting ends. Warmer climates are sought, from California southwards, extending through Mexico into Central America.
Northern regions cannot sustain Western tanager populations through the coldest months, and breeding birds do not return until April to May, or even June in the extreme northern extents of their range.
Where do Western Tanagers live in the summer?
Summer habitats for breeding Western tanagers are typically mixed or coniferous woodlands in northwest North America. Pairs commonly form during migration, and males and females arrive together on their breeding grounds from May or early June onwards.
Forests bordering steppe or subalpine meadows, typically at altitudes of between 500 m to 3050 m (1640 ft to 10,000 ft) support breeding pairs of Western tanagers, arriving in the northwest of the United States and southwest Canada.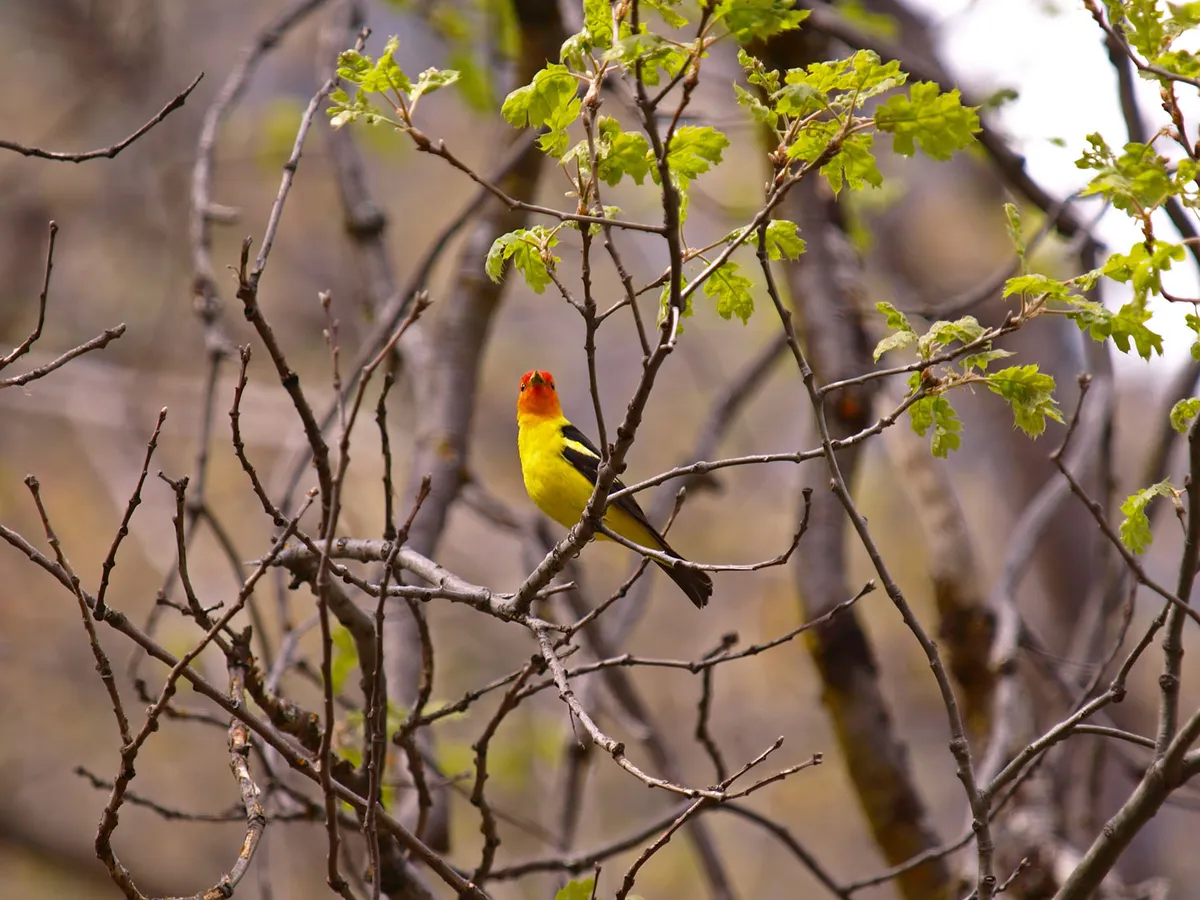 Western tanager in its natural habitat
Do Western Tanagers live in groups?
During the breeding season, Western tanager pairs are territorial and do not tolerate other pairs encroaching on their patch. Migration tends to be an individual affair, although some data exists of pairs or small flocks flying together.
Some reports exist of mixed species flocks foraging together on wintering grounds, but not enough evidence exists to be able to say how typical or widespread this is of Western tanagers.