Tree Swallows (Tachycineta bicolor) are an abundant and widespread bird in North and Central America. They are named as such for their reliance on pre-existing tree cavities to nest.
This attractive swallow prefers open habitats rather than trees, except for in the breeding season. This is a guide to Tree swallow nesting.
The Tree swallow is a migratory bird that breeds across much of the US and Canada before heading south to winter in Central America. They choose pre-existing cavities in trees, such as those created by woodpeckers and sapsuckers. Nests are lined with feathers, grasses, and other soft materials.
These attractive birds are generally monogamous and form strong pair bonds. While females generally line the nest and incubate eggs, both birds feed the young chicks. Parents continue to look after fledged chicks after they leave the nest.
Of course, there is much more to learn about the nesting habits of these wonderful swallows - read on to learn more!
Tree Swallows are cavity nesters, who tend to re-use the old nests of woodpeckers and sapsuckers
Nest Location
Where do Tree Swallows nest?
Tree swallows nest in cavities, such as hollows in dead, dying, diseased, or damaged trees, or the disused nests of other cavity nesters like woodpeckers and sapsuckers.
Tree swallows nest across central and northern North America. The highest-density populations are found in Canada, New England, the Pacific Coast, the Rock Mountains, and the Great Lakes. Tree swallows are hardy birds that are found in central Canada and Alaska.
Breeding territories are relatively open with trees and water. Water provides feeding grounds for these primarily insectivorous birds. Though they generally prefer more isolated or wild environments, Tree swallows also nest near human settlements and suburban areas.

Do Tree Swallows nest in backyards?
Tree swallows nest inside nesting boxes and the hollows of dead trees. They're one of the most likely occupants of nesting boxes across their breeding range.
So yes, they certainly nest in backyards provided there are nesting boxes and/or dead trees/abandoned structures with valid cavities.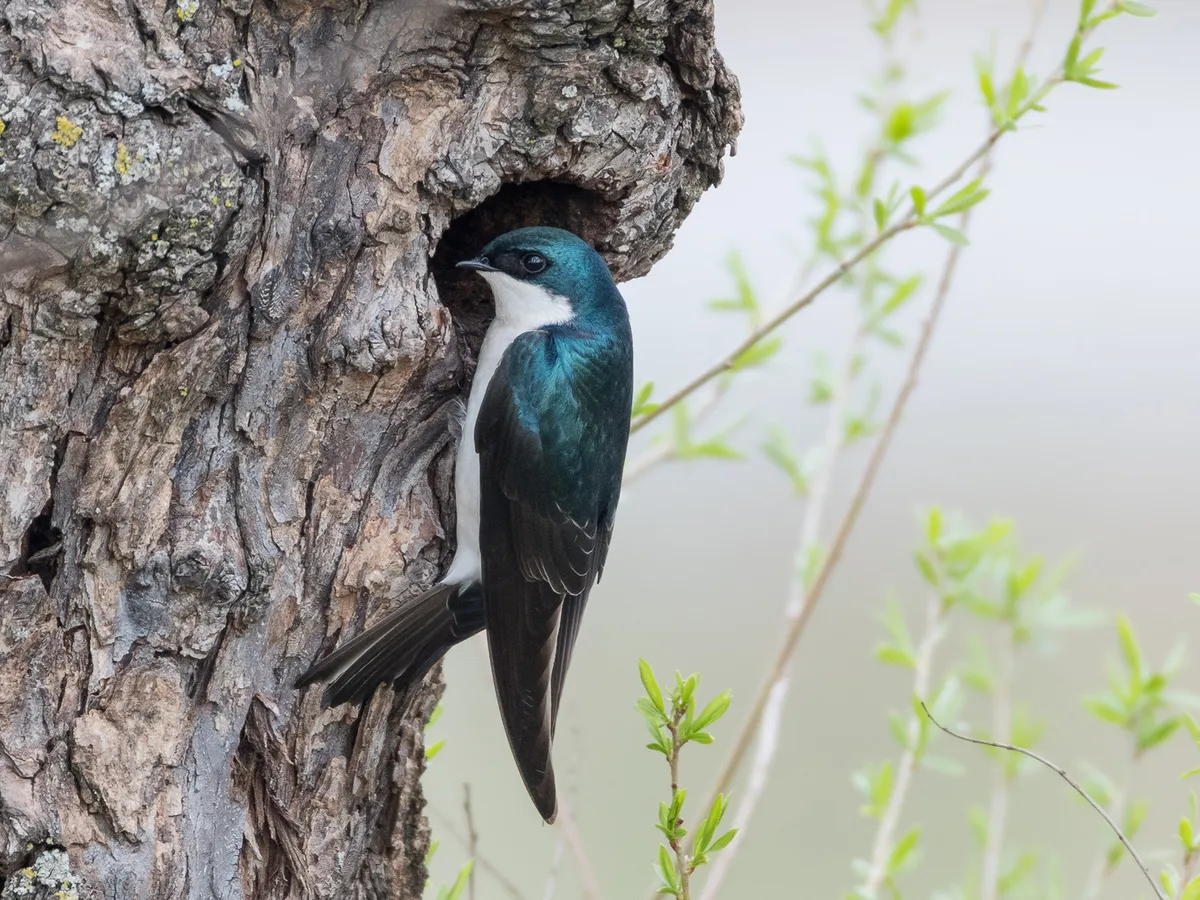 Close up of a Tree Swallow outside of the nesting cavity inside of a tree
What trees do Tree Swallows nest in?
There's no evidence that Tree swallows have a preference for what trees to nest in. Instead, they make use of whatever hollows or cavities are available, irrespective of the tree species.
Do Tree Swallows reuse their nest?
If the first nest fails, Tree swallows often simply add new material to the same nest and re-attempt. Occasionally, pairs defend multiple nests, enabling them to revert to a 'backup' nest in case one fails.
There have been reports of female Tree swallows laying eggs in a reused nest even when another bird has laid their own clutch of eggs in there!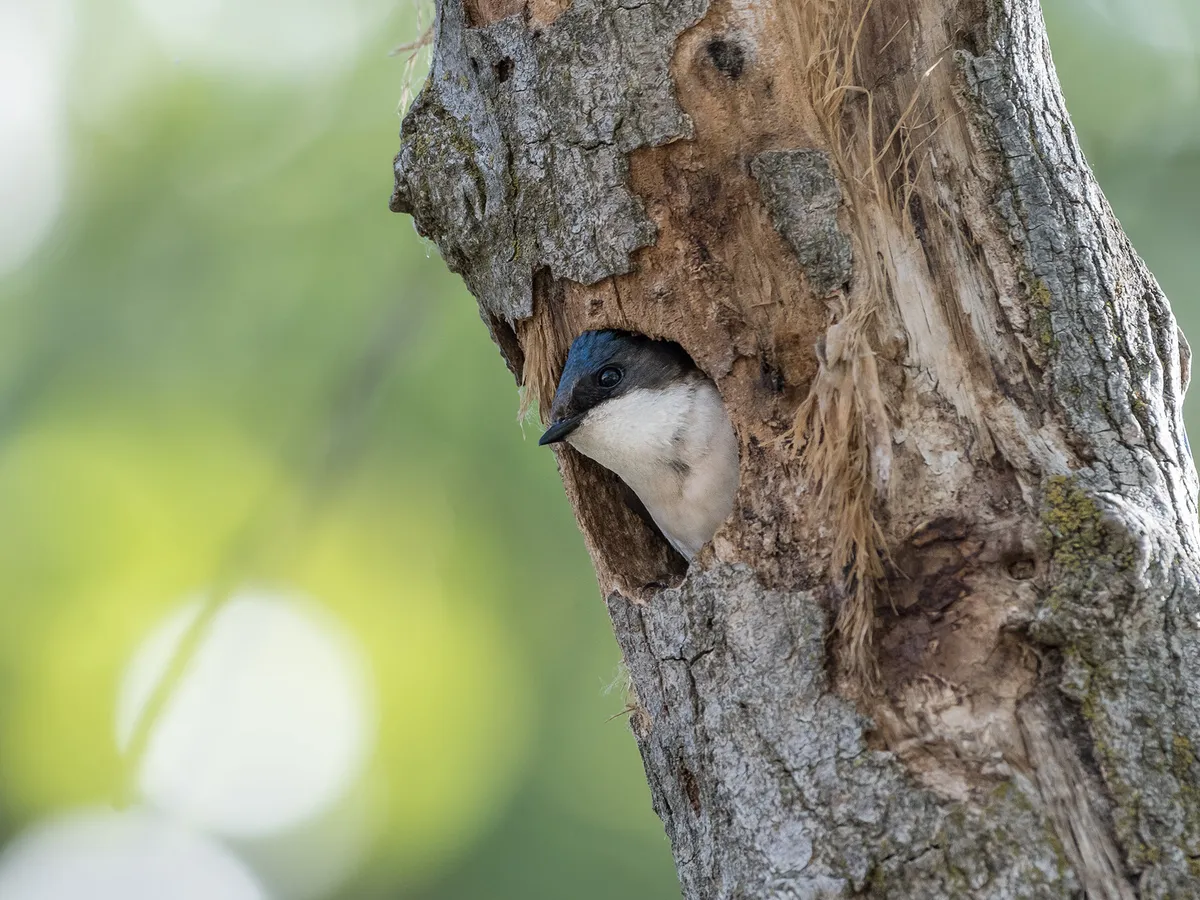 Tree Swallow looking out of the nesting hole
Tree Swallow Nest Boxes
Do Tree Swallows use nest boxes?
Tree swallows readily accept nesting boxes. Valid nesting sites are often scarce for these birds, as they rely on pre-existing cavities and can't excavate their own.
Moreover, they're not as small as wrens and other cavity-nesting birds, further limiting their choices. They're among the likeliest birds to nest in a nesting box across their range.
How big are Tree Swallow nest boxes?
A Tree swallow nesting box should be around 5 x 5" at the base and 8" high with a 1 ½" entrance hole located above the floor. This is a fairly typical size for a nesting box.
Do you have to clean out Tree Swallow nest boxes?
Tree swallows clean their own nests, but clearing boxes out each winter can be worth clearing boxes out to prevent insect infestation and fungal or mold growth.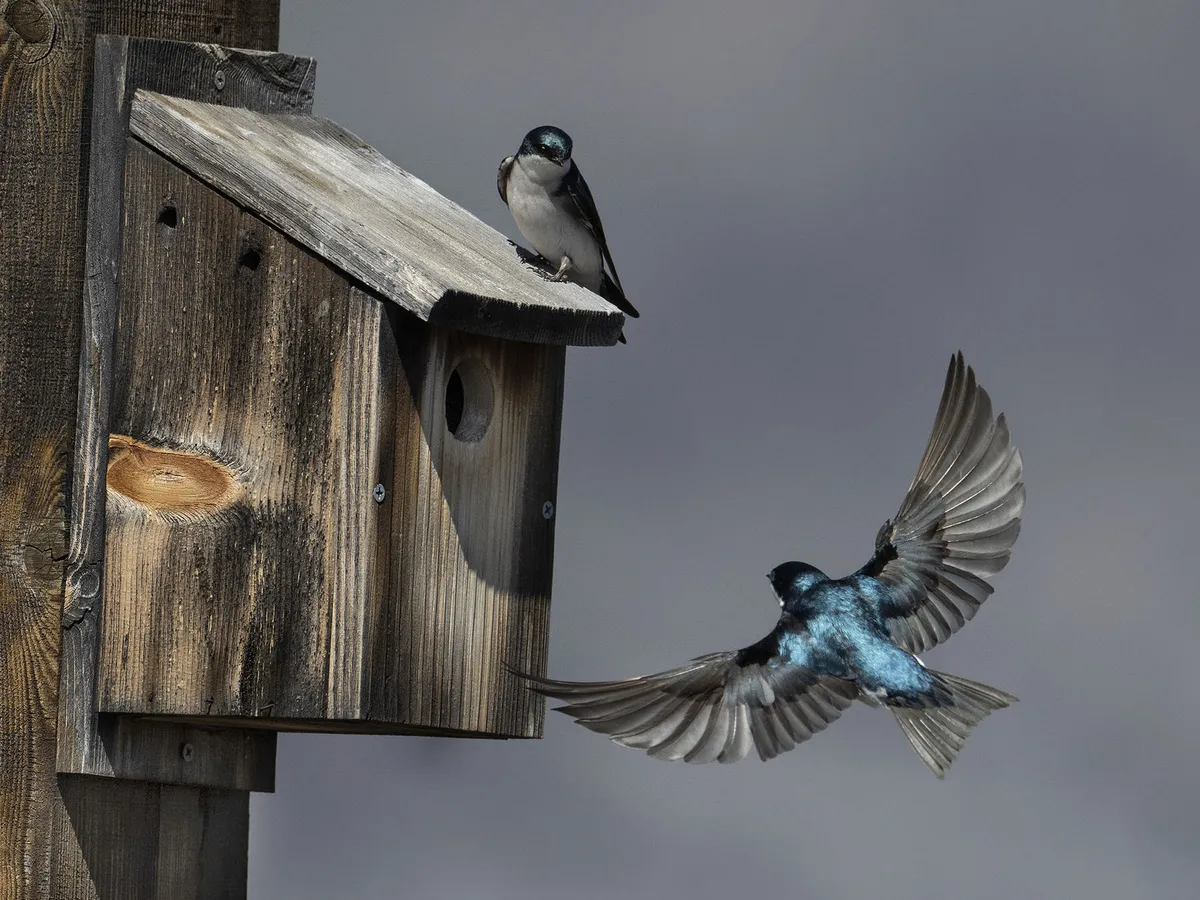 A pair of Tree Swallows using the nest box
What direction should a Tree Swallow house face?
Tree swallows prefer south-facing nesting boxes. It's best to install them somewhere sheltered from prevailing wind and adverse weather.
Where should a Tree Swallow birdhouse be placed?
Tree swallows prefer relatively open nesting sites, so place nesting boxes some 100ft from forest or woodland if possible. If you're installing multiple boxes, ensure each is roughly that distance apart.
How high off the ground does a Tree Swallow nest box need to be?
Tree swallows are especially fussy about nesting box height, but a minimum of 10ft (3m) or so is a safe bet.
What size hole for a Tree Swallow nest?
Tree swallow nesting boxes need a 1 ¼ inch to 1 ½ inch entrance hole.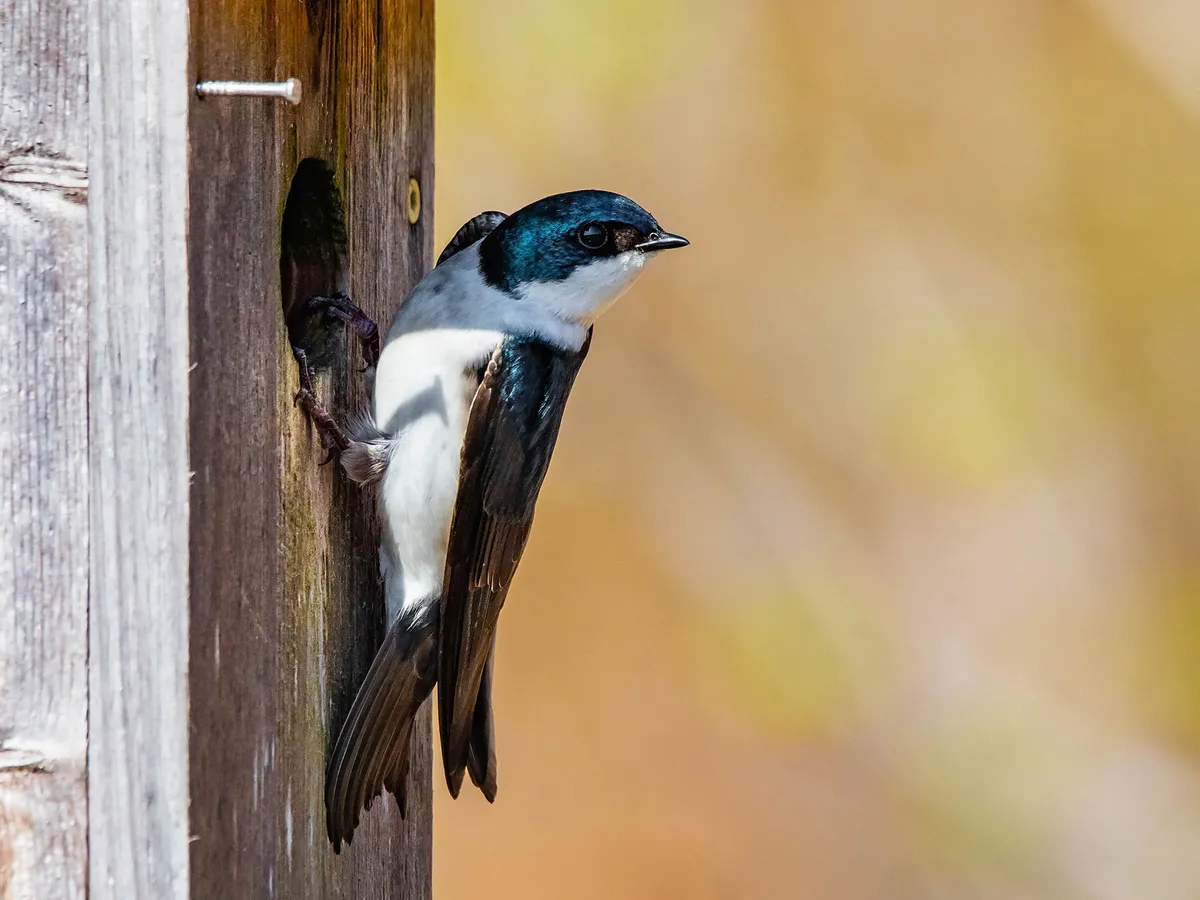 Tree Swallow perched outside of the nest box hole
Nest Appearance
What do Tree Swallow nests look like?
Tree swallow nests are built in small cavities and lined with grass and feathers. Sometimes, Tree swallows go out of their way to collect feathers, but if they can't find any nearby, they revert to soft grasses.
How big are Tree Swallow nests?
Tree swallows are small birds whose nesting sites are tiny, measuring just a few inches across. The lining is around 2 to 8cm deep, and the nest cup itself is around 5cm across.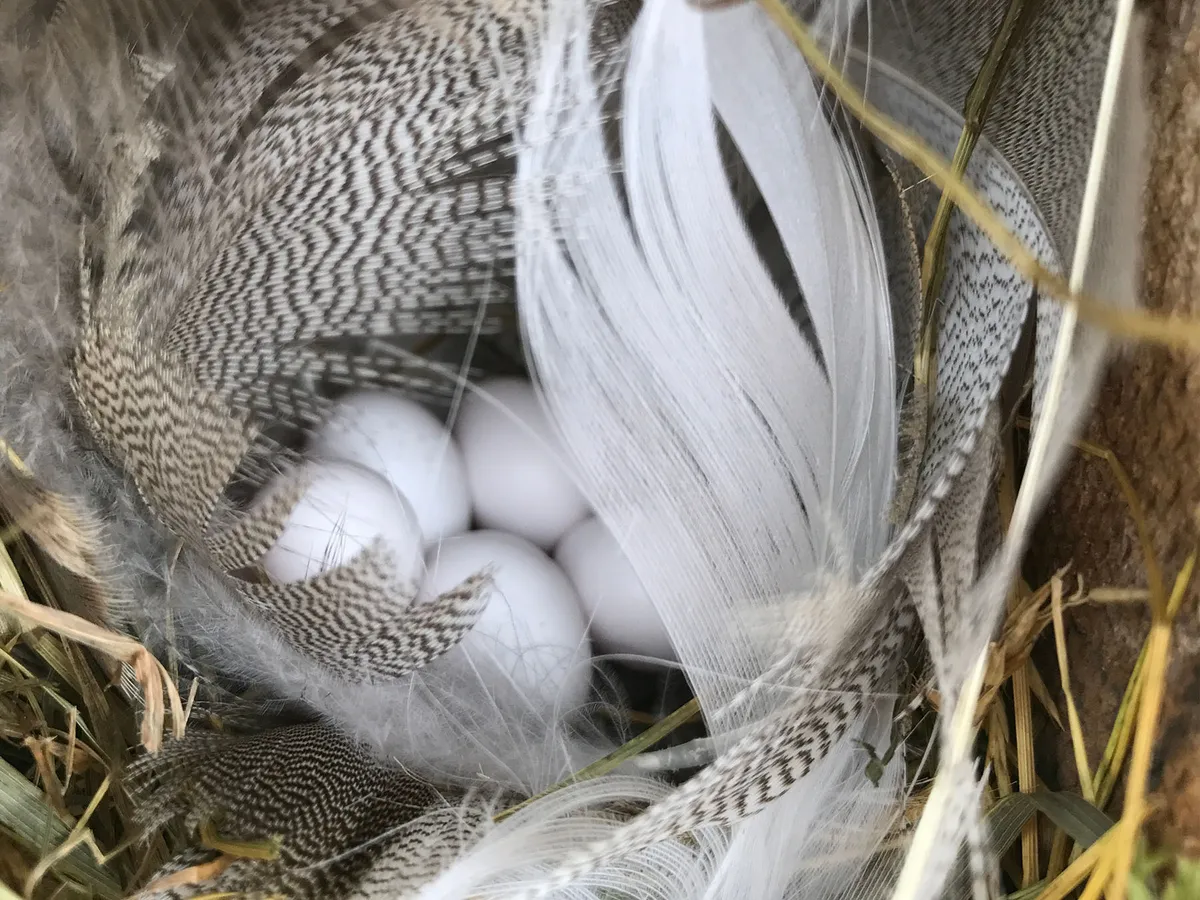 Close up of a Tree Swallow nest, with five unhatched eggs inside
Phenology
What time of year do Tree Swallows nest?
Across the majority of their range, Tree swallows return from migration in late winter and nest in late April to early May. Most Tree swallows lay eggs in May. However, nesting might be pushed forward to April in the southernmost region of their range.
How long do Tree Swallows nest for?
Tree swallows nest for the traditional spring breeding season from around May, when the first eggs are laid, to around mid-July or so, when the final chicks fledge. On rare occasions, Tree swallows raise two broods, but only towards the southernmost region of their range.
What month do Tree Swallows lay eggs?
The vast majority of the time, Tree swallows lay eggs in mid-May to early June. This might be pushed forward to late April across the southernmost parts of their breeding range.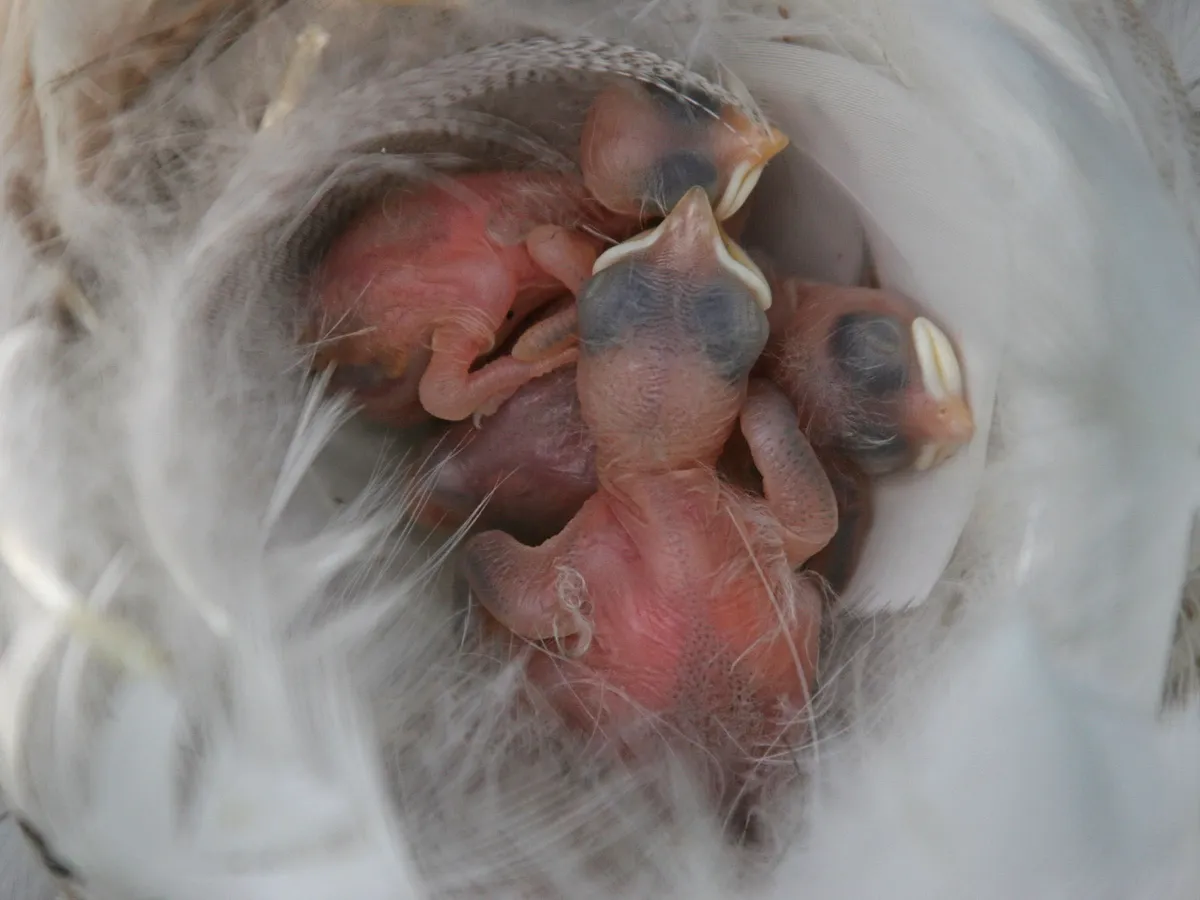 Newly hatched Tree Swallow chicks inside of the feather-lined nest
Nest Construction
How do Tree Swallows build their nests?
Tree swallow nests are simple to build, as they're built in a pre-existing hollow and are merely lined with soft materials like grasses or feathers.
However, this can be an intricate process, as the female attempts to line the nest with feathers pointing down, i.e., the sharp quill faces inwards towards the base of the nest while the soft part of the feather faces up, providing soft, cozy bedding.
Does the male or female Tree Swallow build the nest?
The female Tree swallow lines the nest, but the male helps gather materials. Males sometimes take care of gathering feathers and can travel long distances to find them.
Tree Swallow gathering nesting materials (feathers) to line the nest
Tree Swallow Eggs
What do Tree Swallow eggs look like?
Tree Swallow eggs are small, measuring around 2cm long and 1.35mm wide. They weigh around 1.5 to 2.4g or so. When laid, eggs are translucent soft pink, turning white after a few days.
How many eggs do Tree Swallows lay?
Tree swallows usually lay between 4 and 7 eggs.
Do male Tree Swallows sit on eggs?
Only the female incubates the eggs while the male guards the nest and feeds his mate. Incubation takes around 14 to 15 days.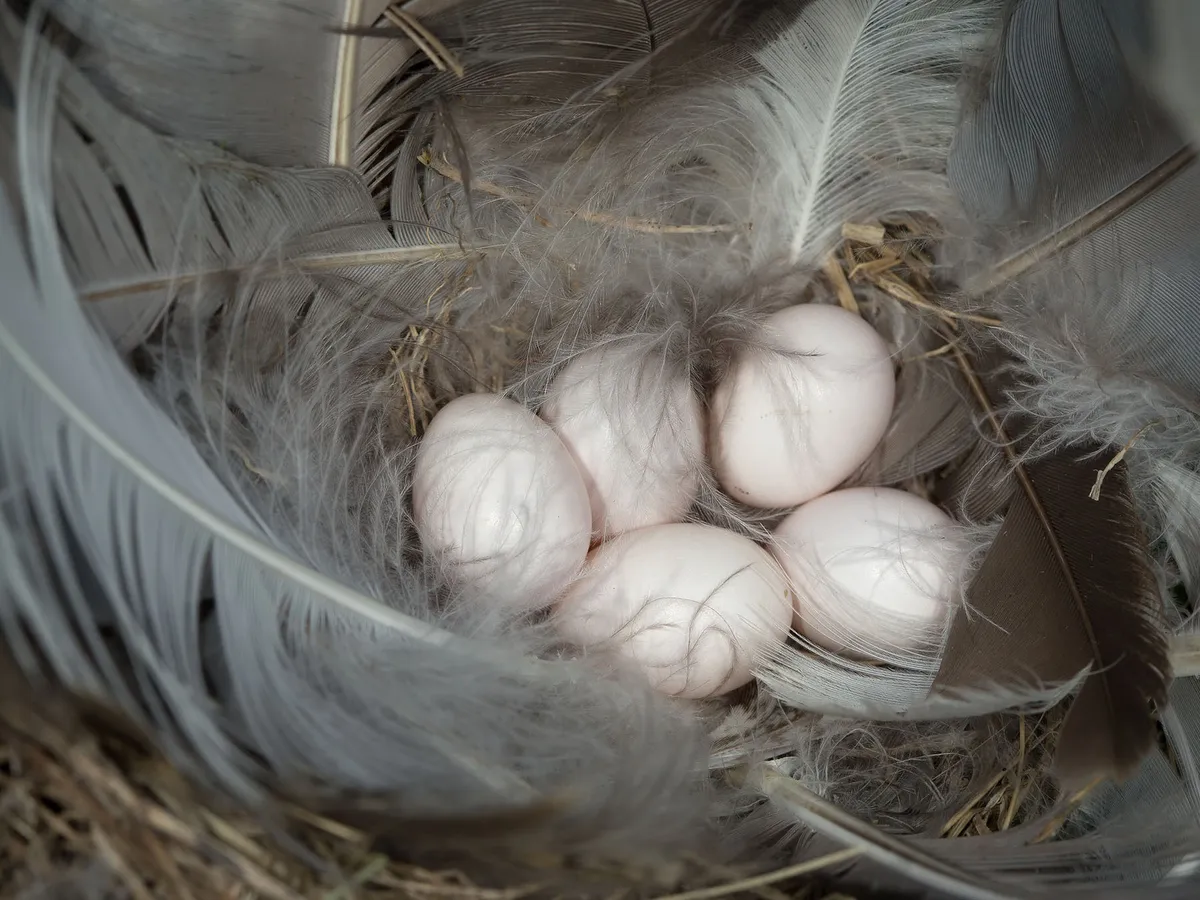 Close up of five Tree Swallow eggs in the nest
Fledgling and Parental Care
When do baby Tree Swallows leave the nest?
Tree Swallow nestlings fledge the nest after around 15 to 25 days after hatching - a fairly wide window that depends on weather conditions, food availability, etc. For example, in bad weather, the nestlings tend to remain in the nest for longer - which you've got to say is fair enough!
How many broods do Tree Swallows have?
Tree swallows usually raise just one brood. Southernmost populations have rarely been recorded raising two broods.
Do both Tree swallow parents feed the chicks?
Both the male and female feed nestlings. Parents make a combined 15 to 30 trips to and from the nestlings each hour for about 15 hours per day. Young birds continue to receive food from their parents for several days after fledging.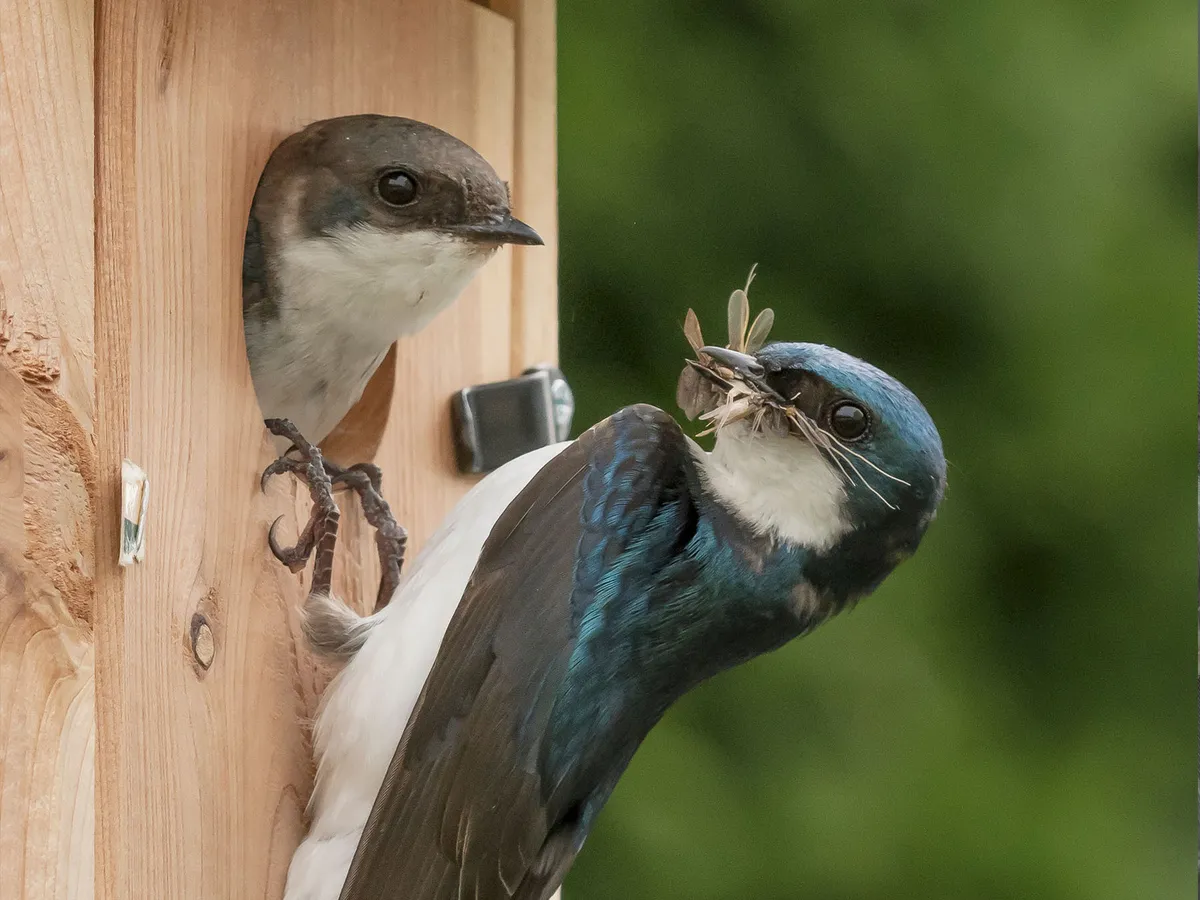 Tree Swallow adult feeding young chick in the nest box
FAQs
Do Tree Swallows abandon their nests?
Like most birds, Tree swallows rarely abandon their nests unless they're forced to by predators or nest failure.
Do Tree Swallows nest on the ground?
Tree swallows nest in cavities above the ground. There is no substantial evidence that they nest on the ground.
Where do Tree Swallows nest at night?
Outside of the breeding season, Tree swallows roost in the trees. While incubating, the female swallow sleeps in the nest on the eggs.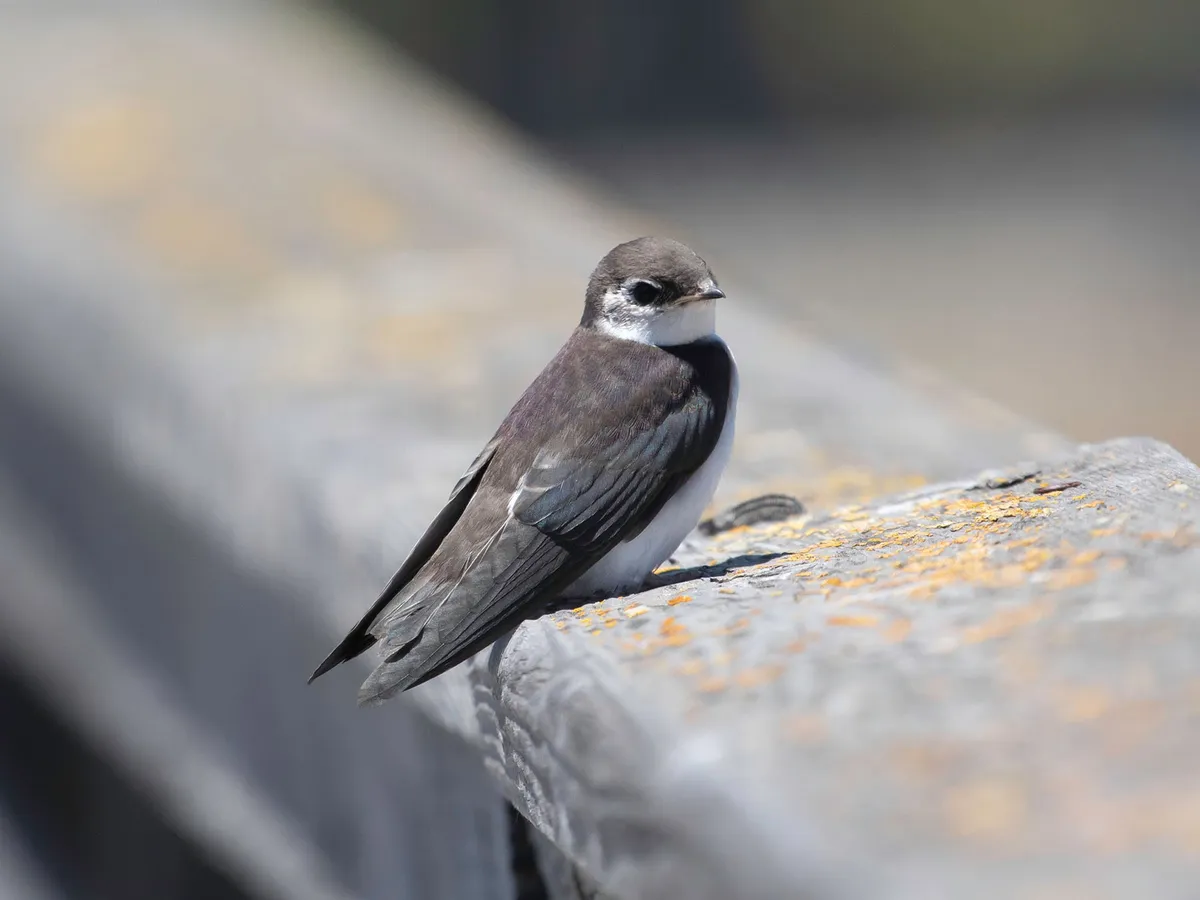 Perched juvenile Tree Swallow fledgling