The Shoebill Stork (Balaeniceps rex) is one of the world's most distinctive and remarkable birds. These strange, Central African waders are not really storks at all, and in fact, form their very own family called the Balaenicipitidae.
They are best known for their massive bills and large size, but just how big are Shoebill Storks?
Shoebill Storks can stand over four feet tall and weigh nearly fifteen pounds. Their impressive wingspan can stretch to over eight feet. These massive birds use their long toes and feet to stalk through shallow, reed-filled wetlands in search of their prey.
Shoebills have an undeniably intimidating appearance, although they pose no danger to humans.
In fact, Shoebills are classified as vulnerable according to the IUCN (International Union for Conservation of Nature). Their numbers are declining due to several human-caused factors, and their population stands at just a few thousand individuals.
Would you like to learn more about the size of Shoebill Storks? Read along for more fascinating facts and a comparison with other large birds.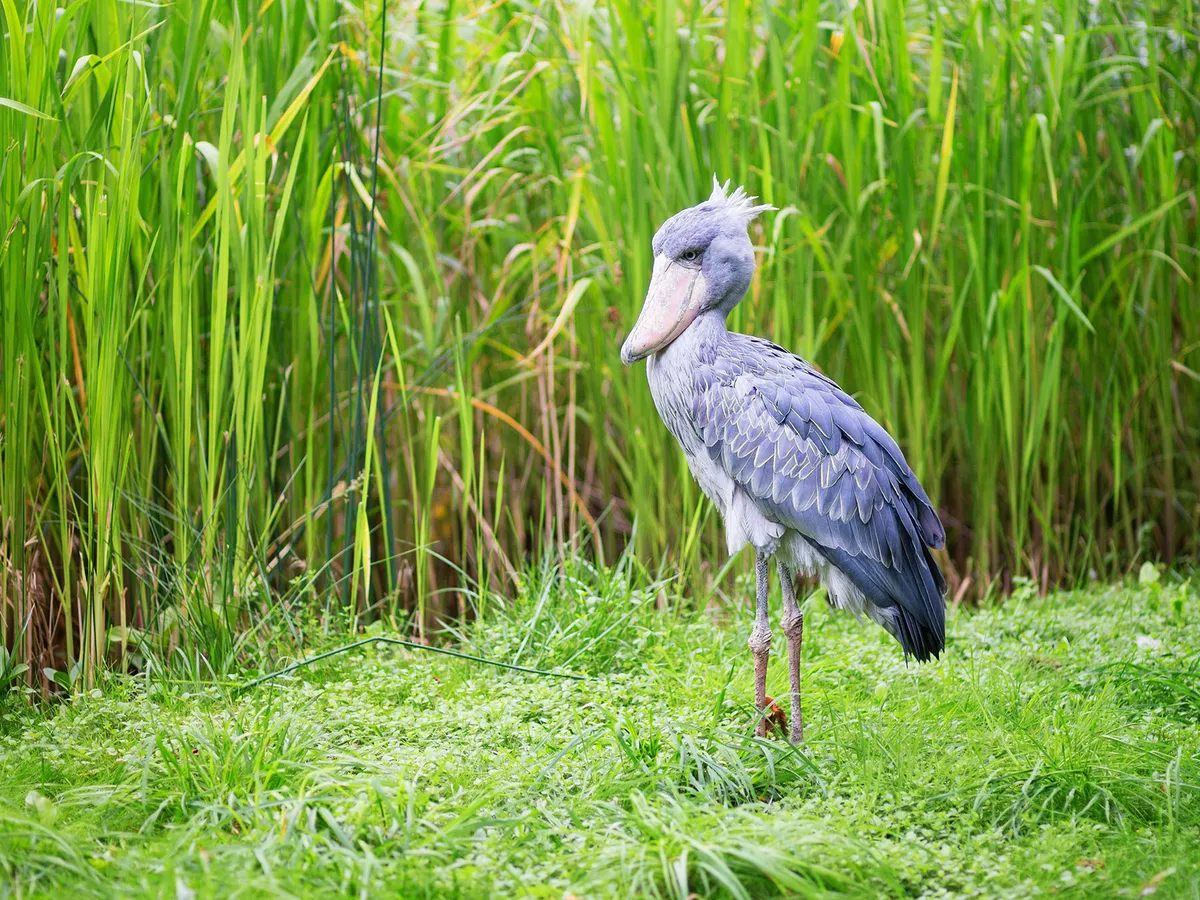 Shoebill Storks are large, impressive birds found throughout Central Africa
Shoebill Stork wingspan
Shoebill Storks have a wingspan of approximately 7½ to 8½ feet (2.3 - 2.6m). Males are heavier than females and are likely to have slightly longer wings to match.
Shoebills launch themselves out of the water with a leap and lift themselves into the air with powerful wingbeats. Their large wingspan and broad wings provide the lift they need for flight. Once airborne, their wingbeats are slow, but they soar comfortably.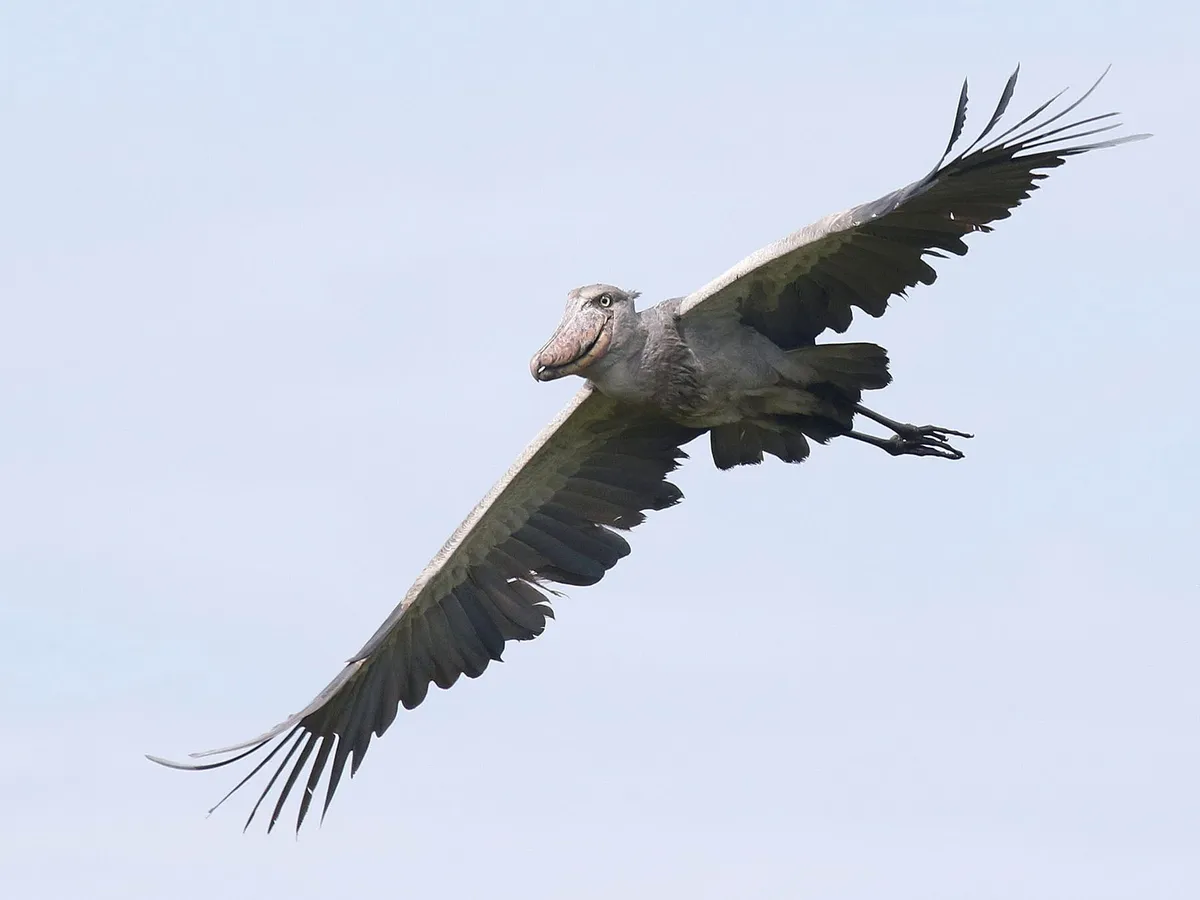 Shoebill Stork wingspans can reach an extraordinary eight and a half feet (2.6m)
Shoebill Stork weight
Shoebill Storks weigh up to about fifteen pounds (7kg). Males are larger and heavier than females, with average weights of just over twelve pounds (5.6kg) and eleven pounds (4.9kg), respectively.
Shoebill Stork height
Most adult Shoebills stand 3 ½ to 4 ½ feet (1.1 to 1.4m) tall, although some specimens are said to reach five feet (1.52m).
Keep reading to learn how the amazing Shoebill Stork compares with Human beings.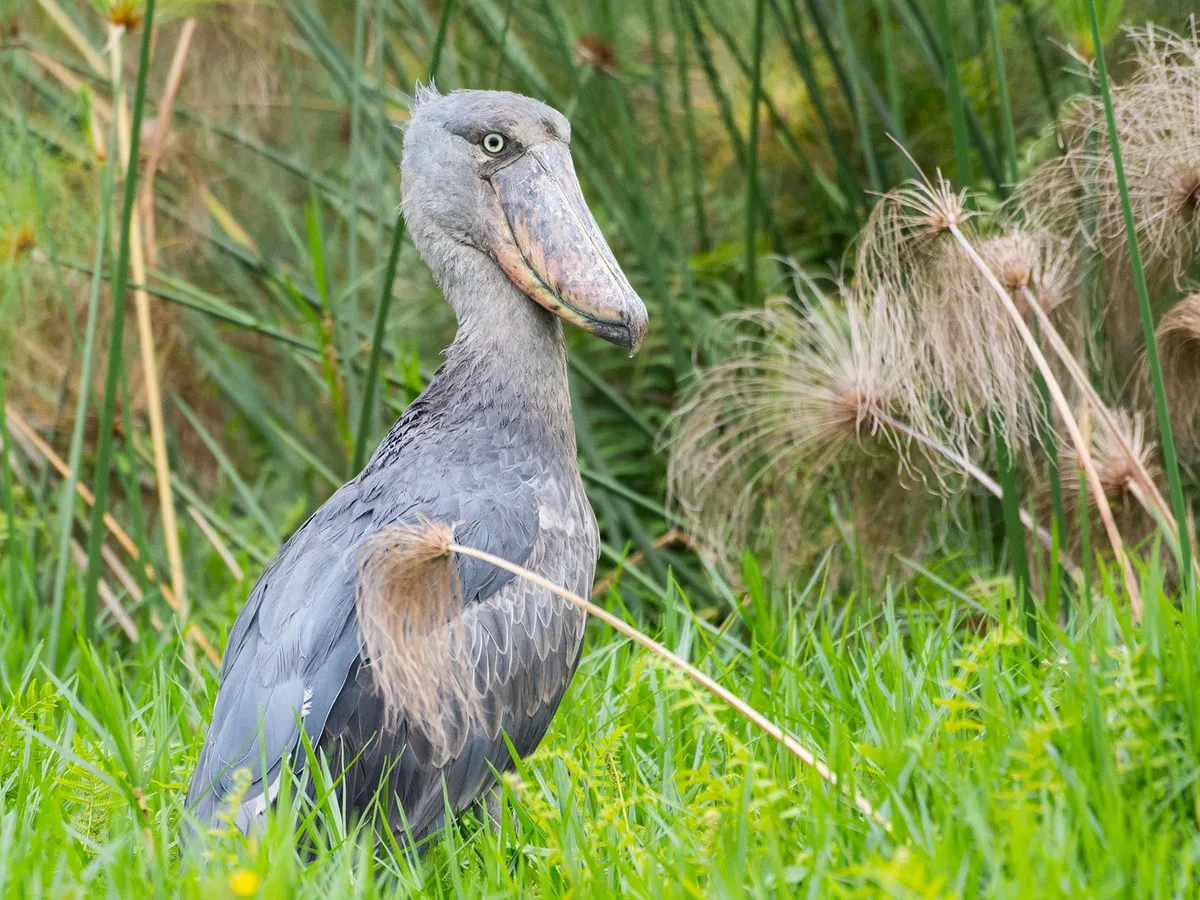 Some Shoebills have been said to reach five feet high
How big are Shoebill Storks compared to a human?
At up to five feet tall (1.5m), Shoebills can be as tall as adult human beings. Their impressive eight-foot (2.4m) wingspan is about as wide as the reach of the tallest NBA players, and their bill would fill a size 6 - 8 shoe.
Of course, flying birds need to be lightweight, which explains why such a large animal weighs less than a one-year-old infant.
How big is the Shoebill Stork's beak?
Shoebill Storks have many remarkable features, from their large, crested heads, to their long legs and toes. However, their beak is the most unusual of all.
A Shoebill Stork's bill measures a whopping eight or nine inches (20 to 24 cm) long and four or five (10 - 12 cm) across. They take their name from this oversized, shoe-shaped bill and have the alternate name of Whale-headed Stork.
In fact, their generic name translates directly as 'whale-head'.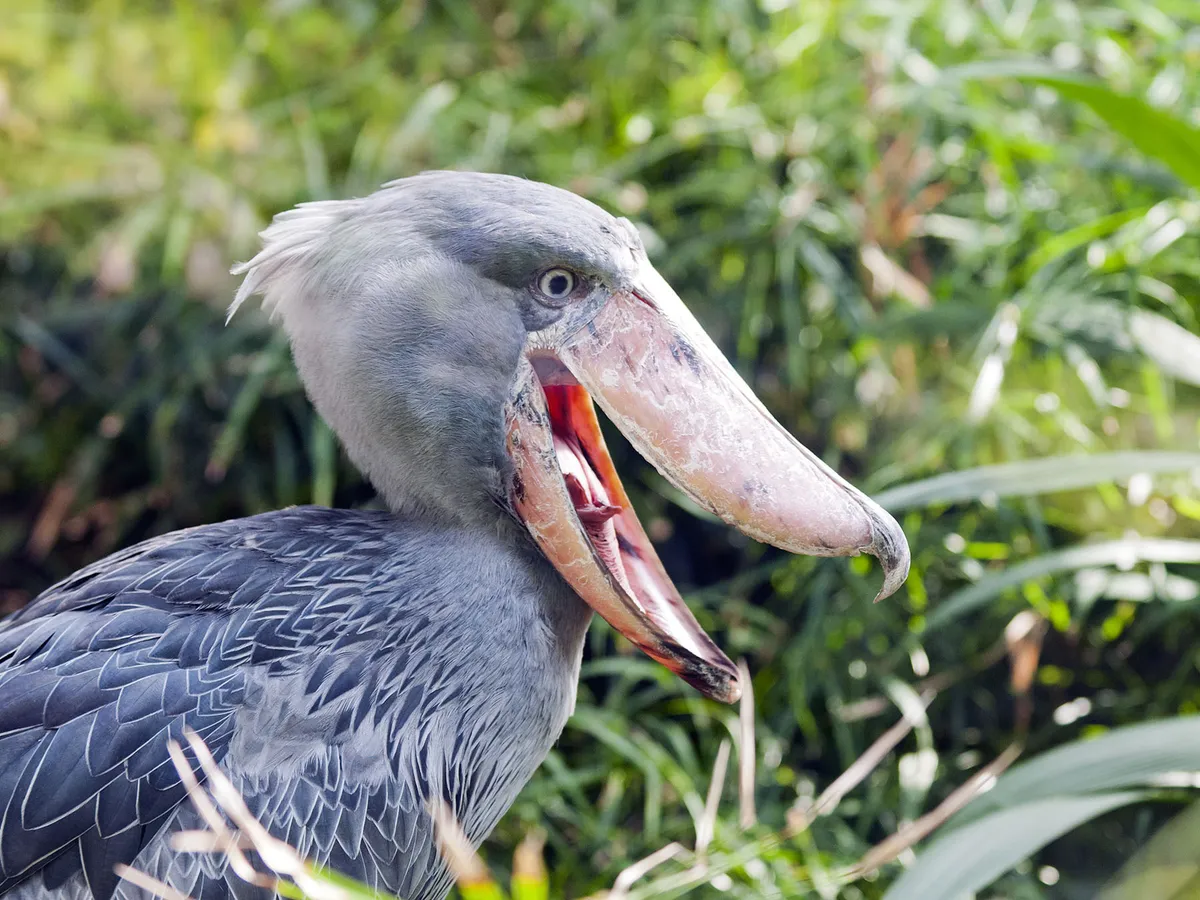 A Shoebills Stork bill is massive, and is usually eight or nine inches long, with a width of five centimetres
How big of an animal can a Shoebill Stork pick up?
Shoebill Storks can lift crocodiles. Well, very small crocodiles, anyway! These birds usually prey on fish and other animals up to a pound (450g) in weight.
They do not need to lift heavy weights since they usually swallow their food whole. This limits their prey size, although their bills do have sharp enough edges to cut some of their prey in two.
Why are Shoebill Storks so big?
Shoebill Storks are shaped by their environment, their prey, and the other species that share their habitat. These predatory birds have varied diets, including catfish, water snakes, and even baby crocodiles. The Shoebill's large size means it has few predators apart from crocodiles and humans.
These blue-gray goliaths live, nest, and hunt in the freshwater wetlands from Sudan to Zambia. Having long legs is a major advantage when walking through these swampy environments. Long toes prevent them from sinking into the mud and stabilize their tall and heavy bodies when standing on swamp vegetation.
You might be wondering why Shoebills have such massive and unusual bills. Shoebills often swallow their prey whole and regurgitate whole meals to their growing chicks, unlike birds of prey with smaller, tearing bills.
Their large beaks have sharp tips and edges, great for getting hold of slippery prey like lungfish and catfish. Their cavernous beaks are also great for carrying water back to their chicks.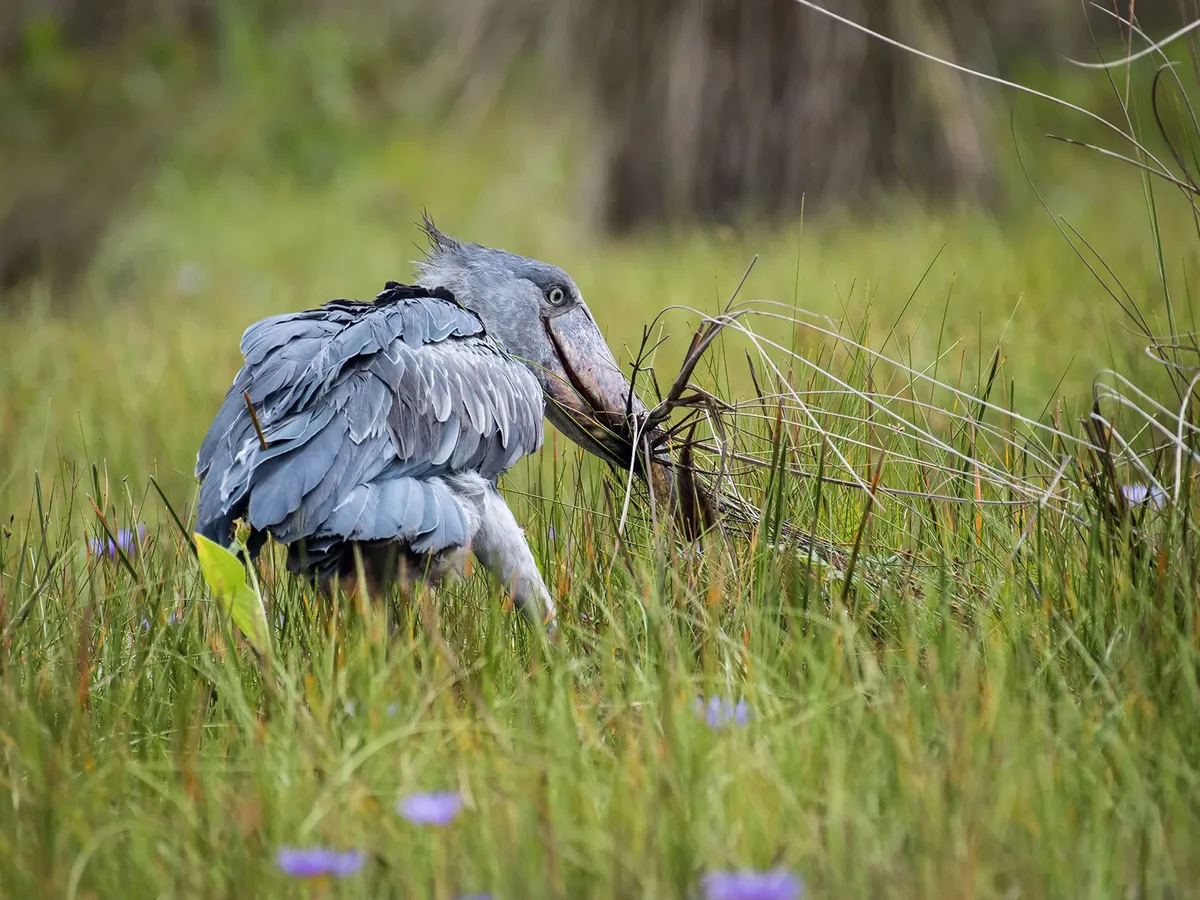 Shoebills have very few predators, partly due to their large size
Shoebill Storks compared to other bird species
Shoebill Storks are giant birds. In fact, very few flying birds equal their height. Shoebills are very similar in size and weight to the highly endangered Whooping Crane (Grus americana) of North America. Both species can measure over four and a half feet tall.
Height
The World's tallest flying bird is the Sarus Crane (Antigone antigone) of Asia and Australia. These elegant birds grow to over five and a half feet (170 cm), just a few inches taller than the Shoebill. Of course, neither of these birds rival the Ostrich (Struthio camelus), the world's tallest (and heaviest) bird. These flightless behemoths from Africa stand up to nine feet (2.7 m) tall!
Weight
Shoebill Storks are certainly not lightweights at up to fifteen pounds (6.8 kg). However, there are a few flying birds that outweigh them. The Kori Bustard (Ardeotis kori) of Africa can weigh a staggering 41 pounds (19 kg), while closer to home, the Trumpeter Swan (Cygnus buccinator) can reach weights of nearly 28 pounds (12.7 kg).
Wingspan
Shoebill Storks are usually sedentary but will move between feeding and nesting grounds. That's where their large, broad wings come in handy. With a wingspan reaching eight feet (2.4m), Shoebills narrowly beat the biggest Golden Eagles (Aquila chrysaetos). However, they are no match for the incredible California Condor (Gymnogyps californianus), which measures over nine feet (2.74m) from wingtip to wingtip.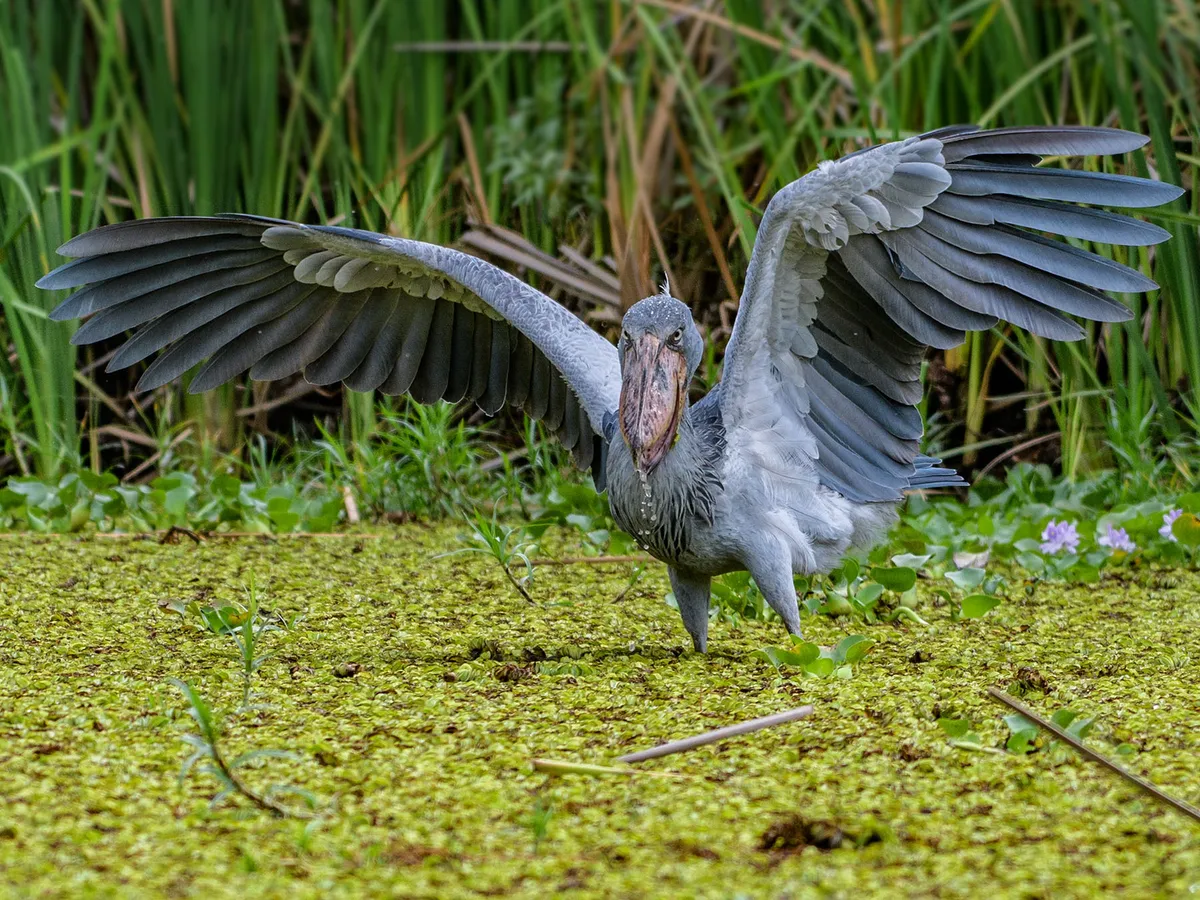 Close up of a Shoebill with spread wings, stood in the swamp
FAQs
How big are Shoebill Storks in inches?
Shoebills stand up to 60 inches tall and have a wingspan of over 100 inches. Their massive, shoe-shaped bills measure nearly 9 inches long and 5 inches in width.
Are Shoebill Storks the biggest bird?
Shoebill Storks are huge, but they are nowhere near the size of the world's largest bird. That prize goes to the magnificent Ostrich from the plains of Africa. At up to 340 pounds (156 kg), Ostriches are over twenty times the weight of the Shoebill Stork.
Can Shoebill Storks Fly?
Shoebills might not be the most agile avians around, but they certainly can fly. They are known to turn up pretty far from their usual haunts, which means they can fly long distances when necessary.