There is little doubt that hummingbirds are one of the most fascinating bird species. In this family of small but mighty birds, however, the Rufous hummingbird may be the most compelling. Despite their tiny size, these birds migrate thousands of miles every year.
The Rufous hummingbird has one of the longest migrations of any species. They travel a circuitous route between their wintering grounds in Mexico and northern breeding grounds in Alaska and Canada.
Their north- and southbound routes differ so that they are sure to be traveling when wildflowers are in peak bloom. In this complete guide to Rufous hummingbird migration, we will discuss the bird's migratory habits in more detail. Read on to discover more!
Do Rufous hummingbirds migrate?
Rufous hummingbirds migrate long distances between their southern wintering grounds in Mexico to their northernmost breeding grounds in Alaska and northwest Canada. This adds up to a one-way trek of nearly 4,000 miles.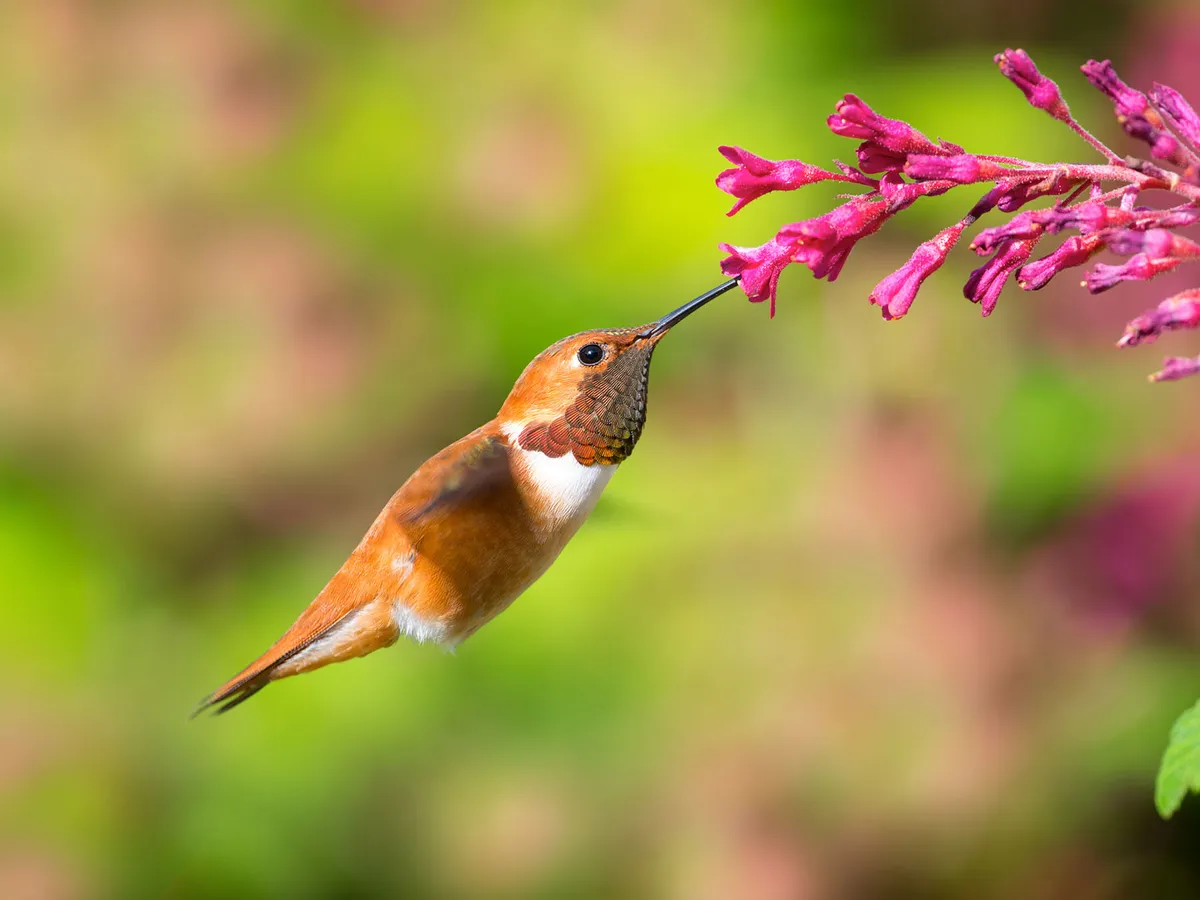 Rufous Hummingbirds migrate enormous distances each year
When do Rufous hummingbirds migrate?
Rufous hummingbirds begin their northbound migration early, traveling up the Pacific coast, with many arriving in Washington State by late February to mid-March. They typically reach their Alaska and northern Canada breeding grounds between late April and early May. Birds breeding on the coast travel slightly shorter distances than those nesting inland.
Males consistently arrive in their breeding grounds about a week before females, securing their territory. The breeding season for the Rufous hummingbird is short because of their northern latitude. Many begin their southbound migration as early as July to ensure they catch peak wildflower bloom along the Rockies.
Southern migrations do not follow the same flight path as northern. When Rufous hummingbirds begin their return flight, they travel down the Rocky Mountains. Generally, these southbound hummers remain at high elevations, taking advantage of high summer wildflower bloom in alpine meadows.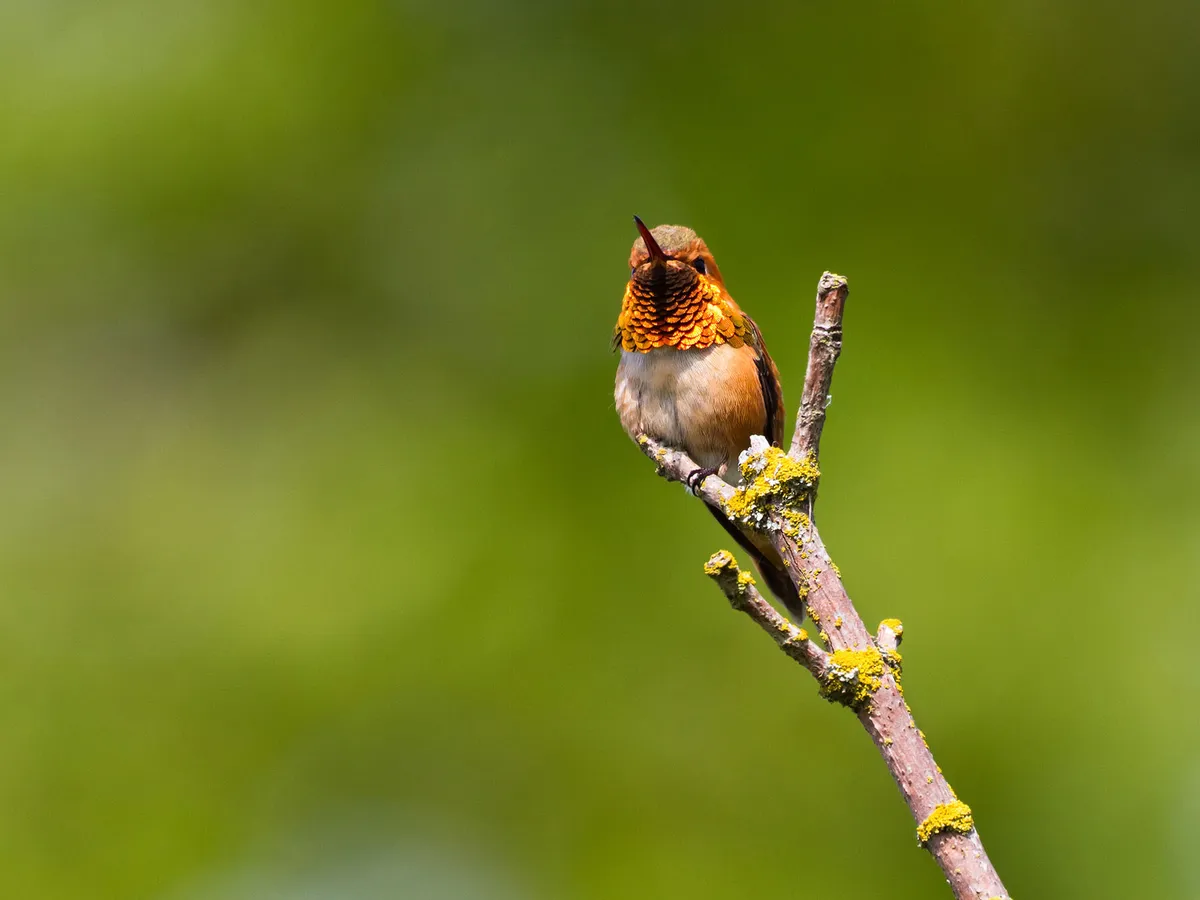 Males arrive around a week before females during migration, allowing them time to establish their territory
Why do Rufous hummingbirds migrate?
Like other migratory species, Rufous hummingbirds migrate due to weather changes and food availability. Throughout this hummingbird's long flight north and back south, they follow wildflower bloom. Nectar from certain flowers provides the Rufous with the food necessary to maintain their high metabolism.
Meeting this need is exactly why Rufous hummingbirds travel different flight paths depending on which direction they are migrating. Winter and spring travel along the Pacific coast offers food sources not yet available at high elevations. While traveling south through the Rockies in midsummer ensures the hummingbirds hit peak wildflower season in abundant alpine meadows.
Food availability is, of course, related to weather changes. The Rufous hummingbird must leave its far northern breeding grounds as the seasons change. Long, harsh winters in Alaska, Canada, and the Rocky Mountains do not allow for wildflower growth.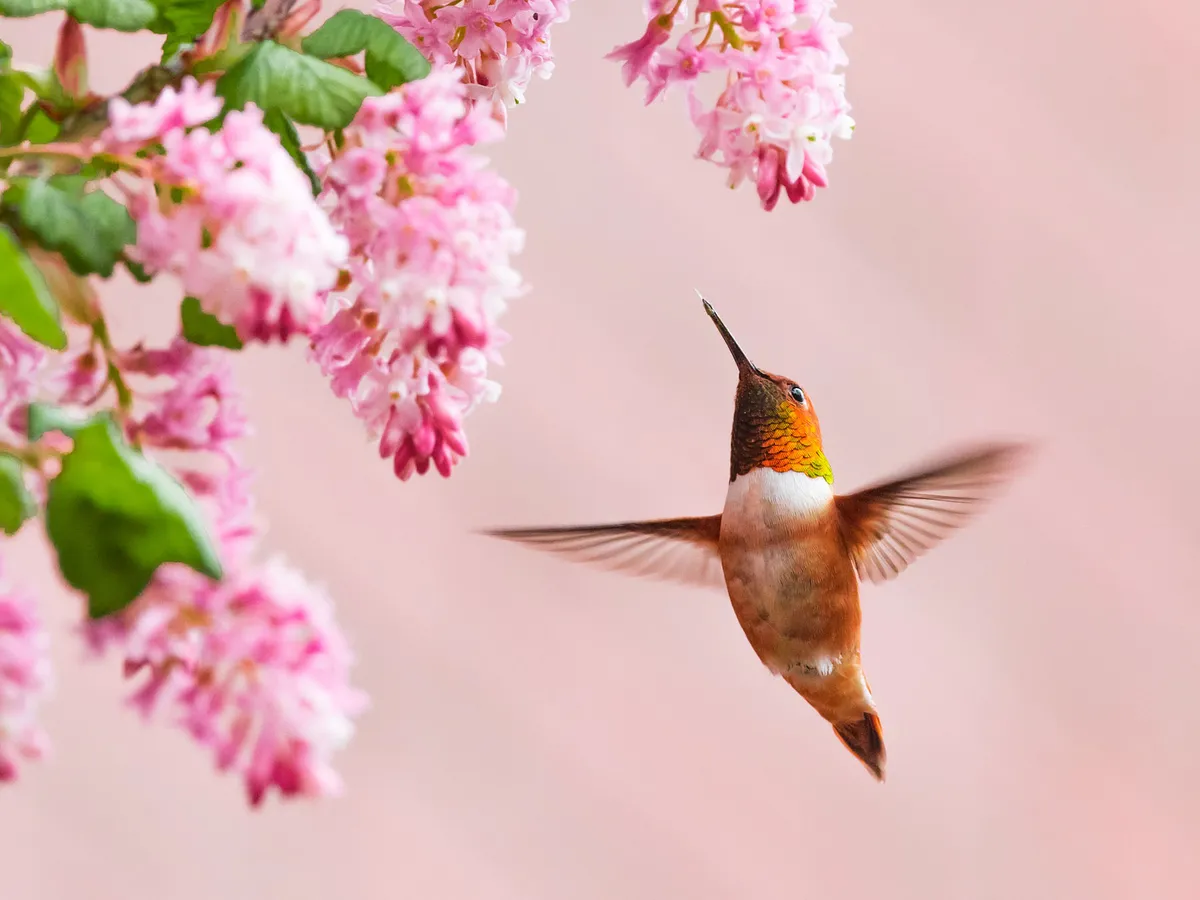 Male Rufous Hummingbird hovering near Red Currant flowers
How far do Rufous hummingbirds migrate?
Rufous hummingbirds have one of the farthest migratory routes of any bird species. They travel nearly 4,000 miles from their breeding grounds in northwest Canada and Alaska to Mexico, where they overwinter.
Where do Rufous hummingbirds migrate to?
Rufous hummingbirds follow warmer weather and wildflowers during their migrations. In spring, they begin their journey up the Pacific coast from Mexico to their summer breeding grounds in Alaska and northwest Canada. By midsummer, Rufous hummingbirds start migrating back to Mexico, traveling south through the Rocky Mountains.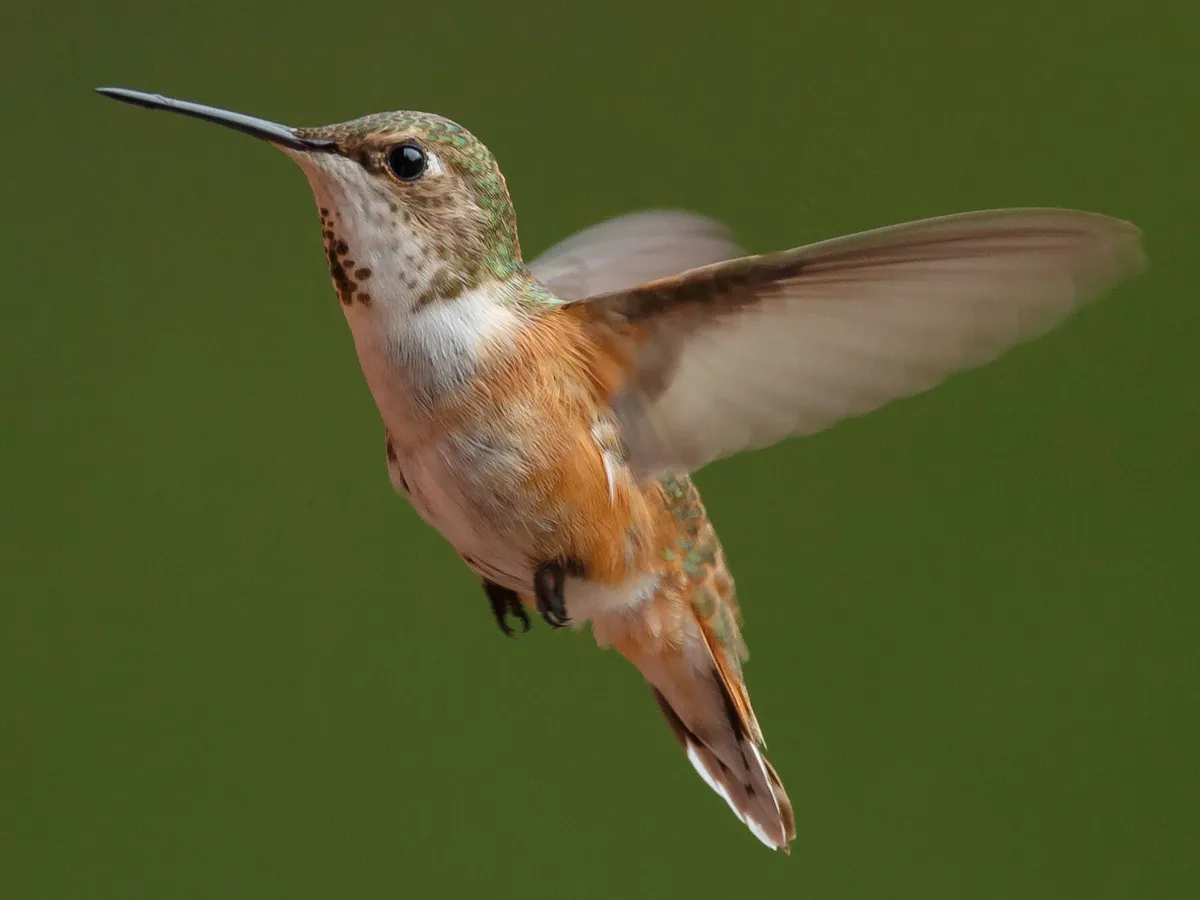 Close up of a hovering female Rufous Hummingbird
How long does it take for a Rufous hummingbird to migrate?
Overall, Rufous hummingbird migrations take about six weeks from the time they leave their wintering or breeding sites. During this period, the hummingbirds make various stops, taking time to rest and feed along the way.
Do Rufous hummingbirds fly nonstop?
Rufous hummingbirds do not fly nonstop. Part of their migratory journey involves traveling with the seasons and the wildflower bloom. These hummingbirds make several stops on their flights north and back south as they must rest a refuel for their exceptionally long journeys.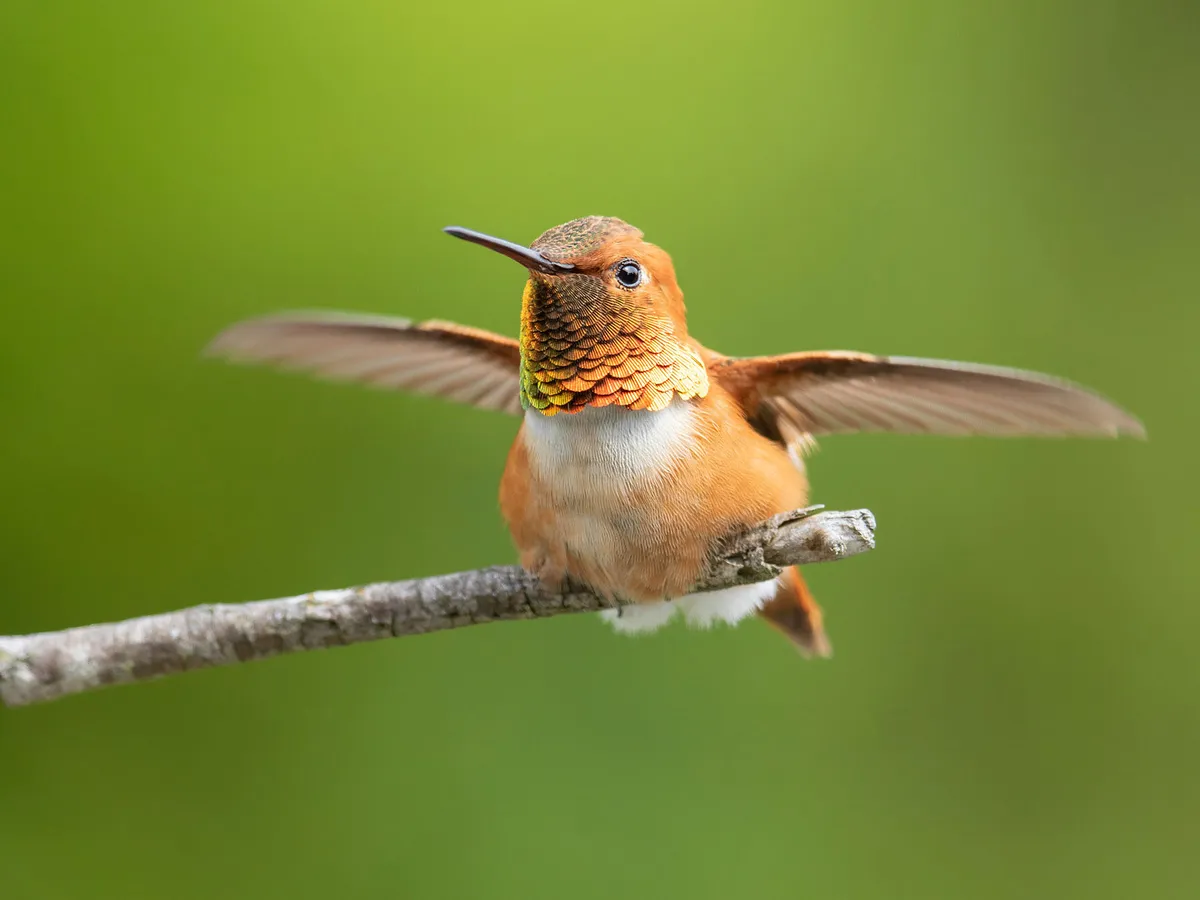 Resting male Rufous Hummingbird spreading wings, whilst perched on a branch
Do Rufous hummingbirds migrate in flocks?
Unlike many bird species, rufous hummingbirds (and hummingbirds in general) do not migrate in flocks. They migrate individually, typically traveling by day when the weather is good.
Are all Rufous hummingbirds migratory?
All Rufous hummingbirds are migratory. Every spring, these birds begin their northbound migration to summer breeding grounds. By late summer or early fall, Rufous hummingbirds return to their wintering sites.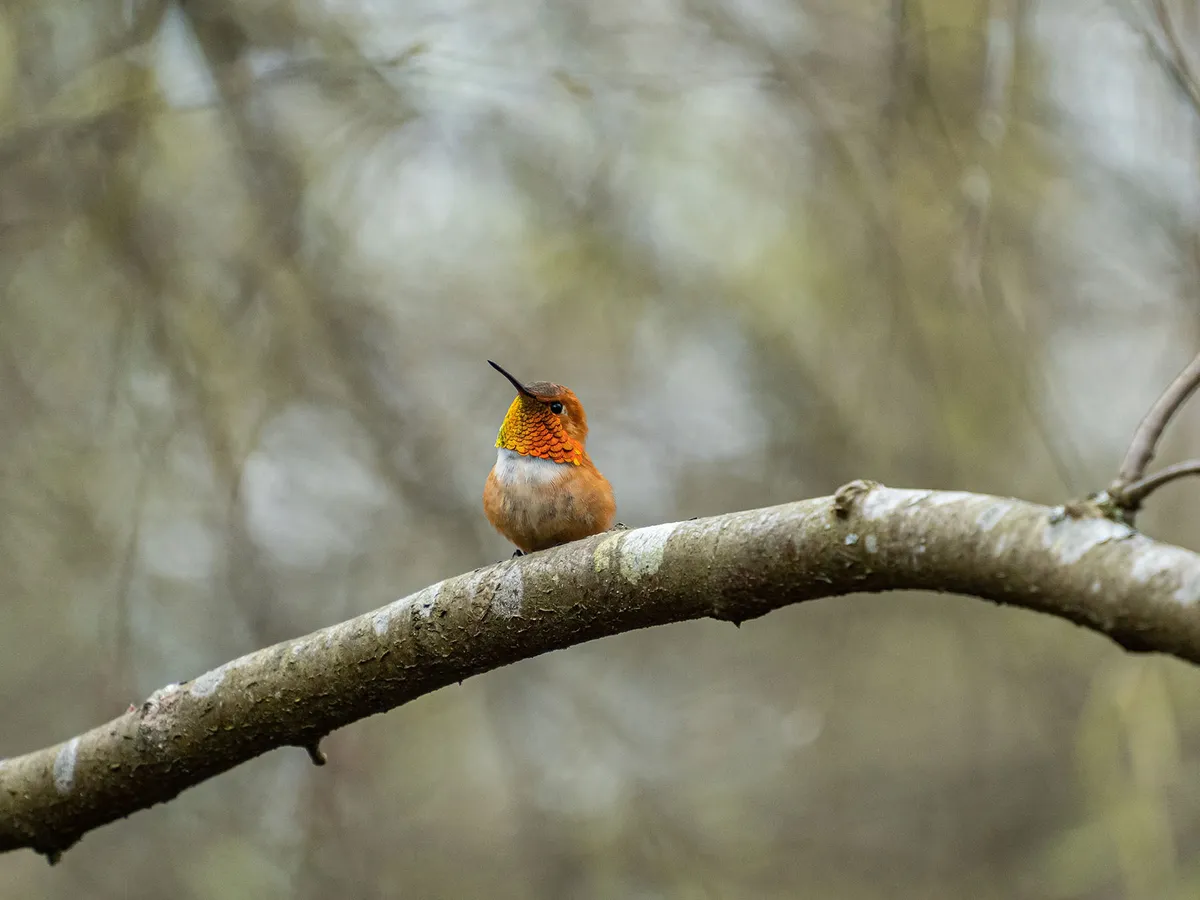 Rufous Hummingbird perched on a tree branch in the park
Where do Rufous hummingbirds go in winter?
Rufous hummingbirds travel to overwintering sites in Mexico. Though these birds are well adapted to colder temperatures - seen in their ability to overnight at high elevations - they must migrate to regions where wildflowers are in bloom.
Thus, by early to mid-fall, the Rufous hummingbird has followed the summer mountain wildflower bloom back to Mexico, where winters are mild, and food sources are plentiful.
Where do Rufous hummingbirds go in the summer?
Rufous hummingbirds travel north to Alaska and Canada in the summer. Their northbound migration takes them along the Pacific coast, where even in late winter and spring weather is mild and nectar from wildflowers is available.
The hummingbirds reach their summer breeding grounds in late April or May, where they remain only a few months before migrating slowly back south.
Close up of a Rufous Hummingbird
FAQs
Do Rufous Hummingbirds migrate at night?
Rufous hummingbirds do migrate at night. They feed frequently to store up energy throughout the day, which allows them to travel farther distances at night without needing to stop for rest and food.
Which hummingbird migrates the farthest north?
The Rufous hummingbird migrates the farthest north. They travel to summer breeding grounds throughout Alaska and northwestern Canada.
Which hummingbird has the longest migration?
The Rufous hummingbird makes the longest migration of the hummingbird species. They fly nearly 4,000 miles between their breeding and wintering sites, a distance equalling about 78.4 million body lengths. This migration even rivals those of other larger birds.