There are over 50 species of pheasants distributed throughout much of the world, but the Common or Ring-necked pheasant is by far the most common and is found across much of Europe, Asia and the Americas. Pheasants are relatively large and distinctive birds that live primarily on the ground, so why do we never see their nests?
Like all game birds, pheasants know how vulnerable they are to predation and build their nests accordingly. They ensure that their nests are well hidden and tough to find; Female pheasants (hens) pick the nesting site and typically opt for a discrete, enclosed space in dense foliage or long grass.
They also sometimes dig out a shallow hollow and fill it with dry leaves. Female pheasants are well-camouflaged too, which helps them evade land predators.
Pheasant breeding and nesting behaviours vary widely throughout the world, but most species are polygamous, with one male maintaining a harem of multiple females. The females often nest relatively close to each other, and the male protects the territory. Females sometimes lay huge clutches of over 25 eggs - which might equate to many baby pheasants!
Read on to learn more about the nesting habits of these well-known ground-dwelling birds!
| Key Pheasant Nesting Facts | |
| --- | --- |
| Nesting season | March to May, but can extend later on in the year |
| Nesting material | Natural |
| Nest type | Often just a semi-cleared spot, occasionally lined with foliage |
| Nest location | Long grass fields, shrubs, hedges and woodland foliage |
| Number of broods | One |
| Clutch size | 7 - 15 eggs |
| Egg colour | Glossy olive-brown |
| Egg size | 45 x 36 mm |
| Egg weight | 31.5 g |
| Incubation period | 23 days, by the female |
| Fledgling period | Immediately, but will stay with parents for between 70 and 80 days |
| Reuse nests | No |
| Use nest boxes | Will use ground boxes or baskets |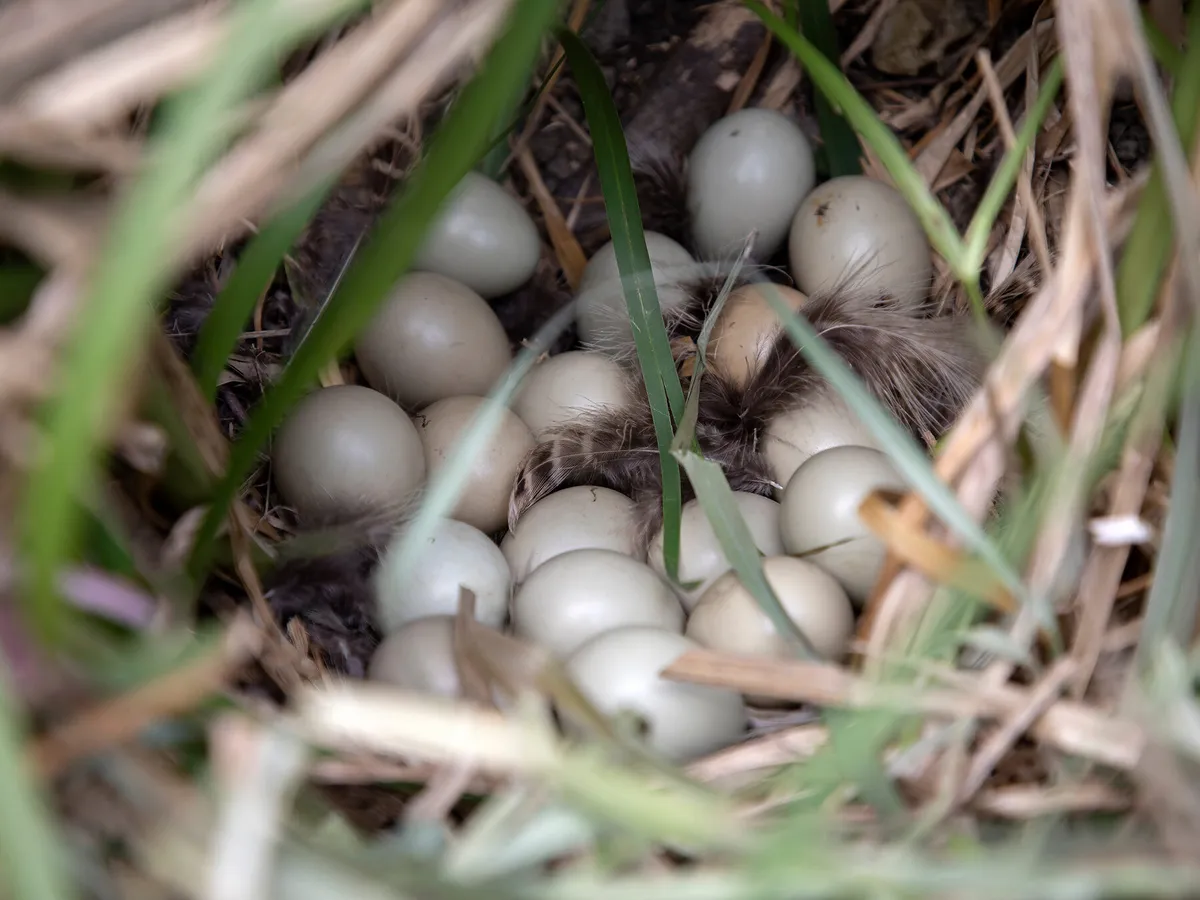 The nest of a common pheasant
Where do pheasants nest?
Pheasants typically nest in long grass fields, shrubs, hedges and woodland foliage.
A UK study of 900 radio tagged Common pheasants found that 43% of nests were in woodland, 30% in arable fields, 13% in field margins (the hedges and edges between fields), 7% in set-aside (unused fallow land left for wildlife), 6% in grassland and 1% in other habitats.
Ring-necked pheasants in North America are similar and often choose long grass or foliage to nest. They also nest against rocks, fences or other solid protective surfaces.
Most other species of pheasants choose similar nesting sites in their respective habitats. For example, the Golden pheasant nests in dense foliage with low tree cover, the Silver pheasant is similar, but often prefers evergreen forests, the Reeve's pheasant nests in farmland or tall grass and the Mikado pheasant enjoys dense shrubs and bamboo forests.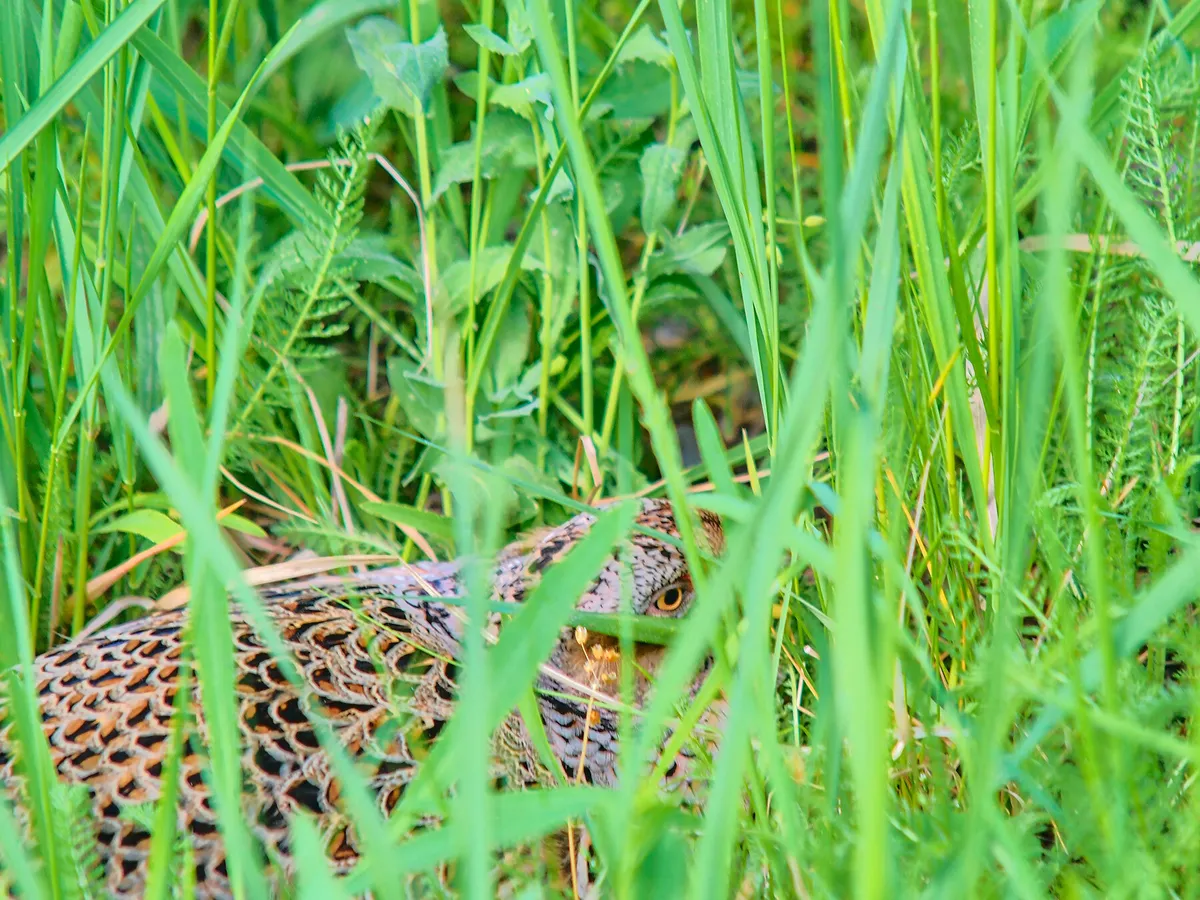 A female pheasant sitting on her nest in the tall grass
What do pheasant nests look like?
Pheasant nests are discrete and aren't typically easy to spot. In fact, there's usually little objective telltale evidence of a pheasant nest - most are simple and discrete hollows that may or may not be lined with any loose foliage at all.
For example, the Common and Ring-necked pheasants don't always line their nests as they can't easily carry leaves and foliage. Most of the time, they just lay their eggs in a semi-cleared spot with minimal preparation.
What time of year do pheasants nest?
In North America and much of Europe, pheasants typically look for nesting sites in March and April.
Their nests don't take long to build, and the first eggs are usually laid in late March, but usually April or May. The latest recorded hatching times for Ring-necked pheasant eggs are around September or even early October (in South Dakota).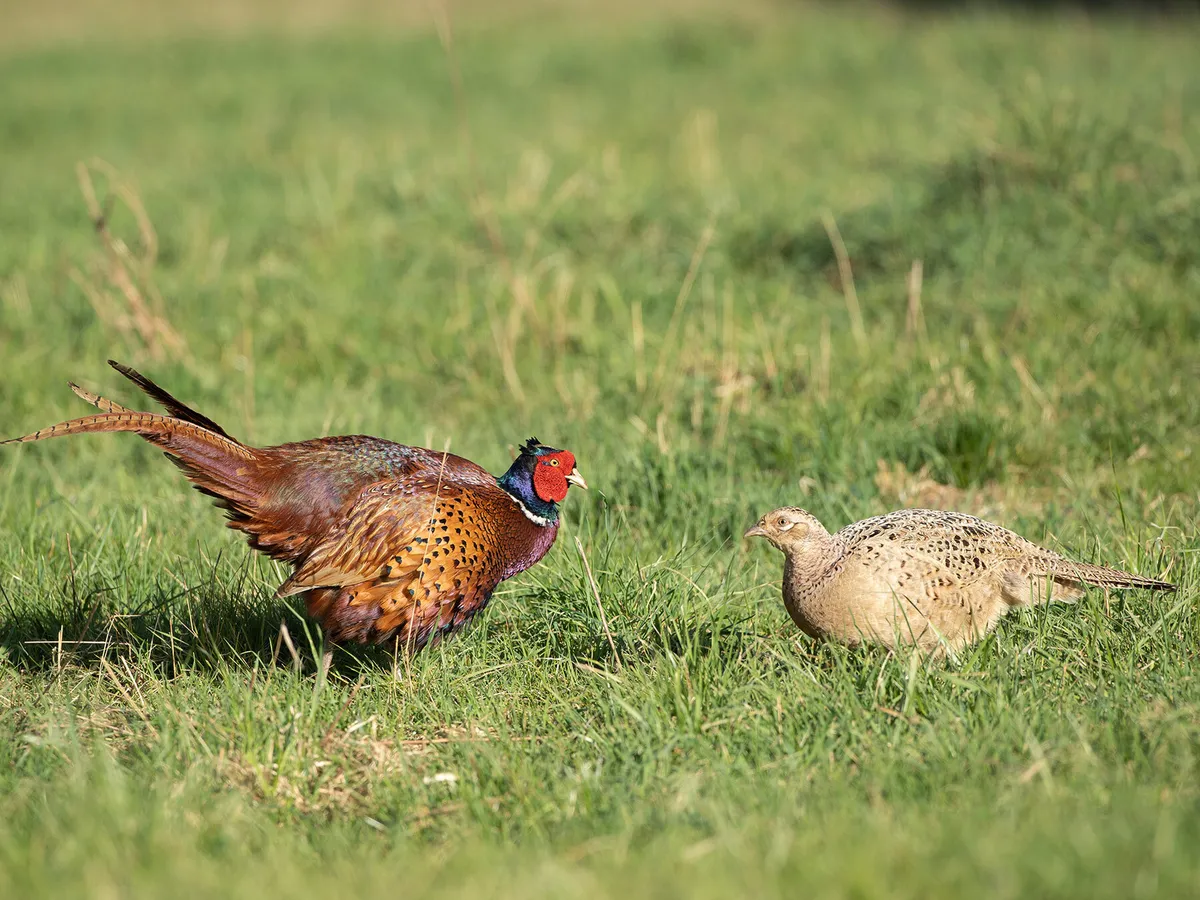 Male pheasant displaying to a female pheasant during the breeding season
How long do pheasants nest for?
Pheasants nest close to their wintering grounds (as close as 1 to 2km by some estimates). They are mostly sedentary birds and nest for the minimum amount of time required to incubate their eggs.
Once the chicks hatch, they become active very quickly and start to accompany the female, following her as she roams and forages from the territory.
Some pheasants do have two broods, but this is uncommon. If the first brood fails, then most females will attempt a second brood as late as late May, June or even July or August, depending on the conditions.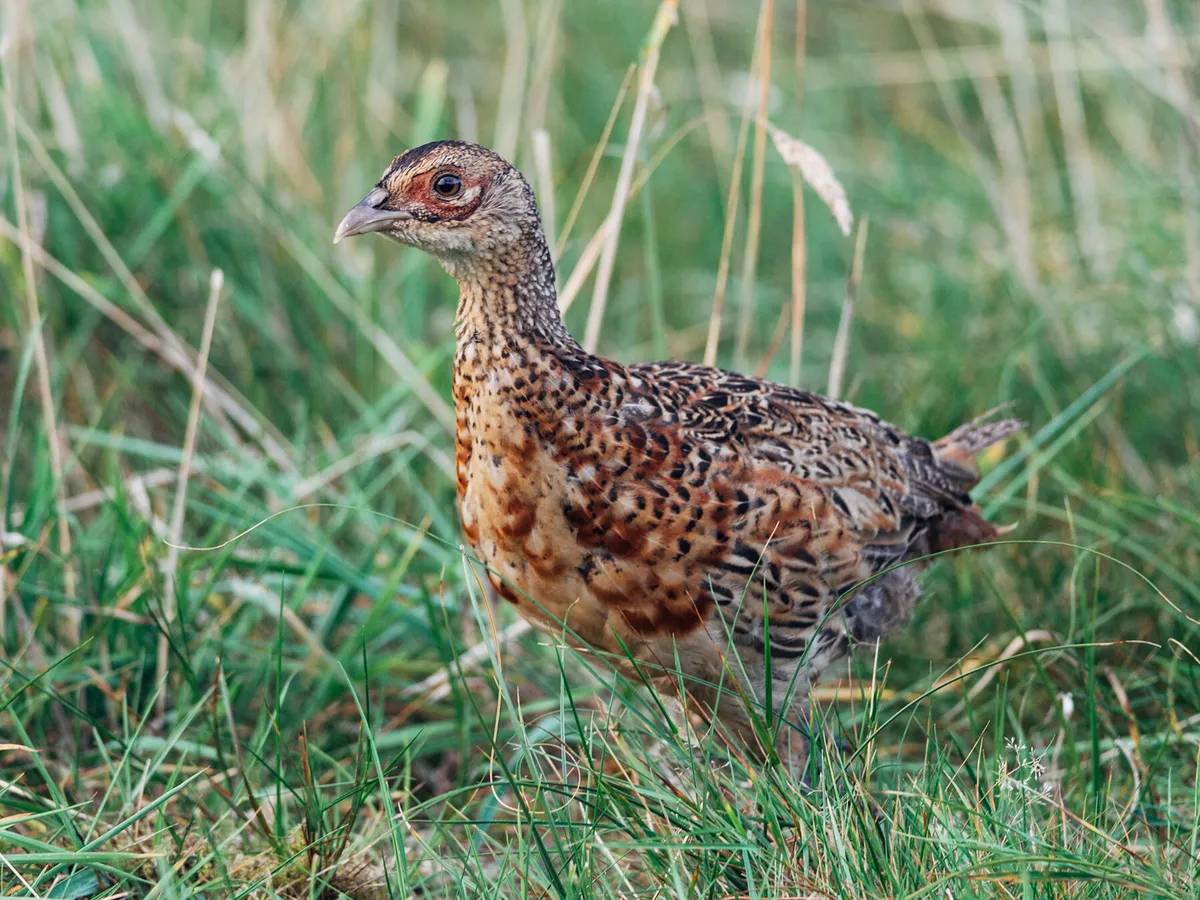 Close up of a pheasant chick
When do baby pheasants leave the nest?
Baby pheasants leave the nest immediately but can stay in the care of their mother for some 60 to 80 days.
Baby pheasants hatch covered in down and are able to walk and see from just minutes or hours after hatching. They follow the female, who helps them forage from the nearby undergrowth.
Pheasant nests are small and aren't much use once the chicks hatch. It's often safer for the pheasant family to stay on the move or to relocate to a new location nearby.
How many broods do pheasants have?
The majority of pheasants have just one brood. If this brood fails or the female produces a below-average quantity of eggs (pheasants can lay between 2 and 25 eggs in some cases!), they will attempt another brood. Nest failure rates are around 40% in the UK, and predation is the main cause.
Female pheasants are determined to raise young, though, so will nearly always try to raise a new brood if their first nest fails. They will also often relocate to a new nesting site.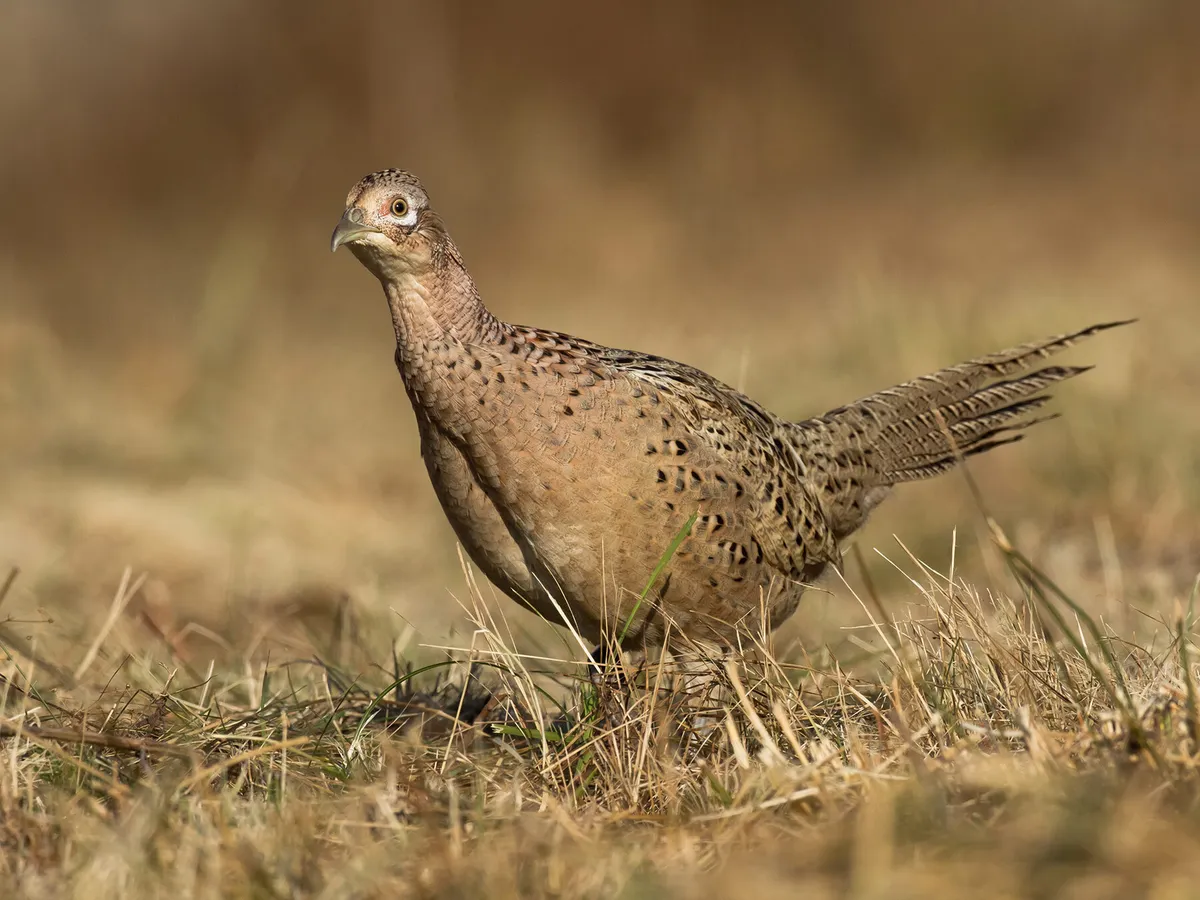 Female Common Pheasant
Do pheasants nest in the same place every year?
Pheasants are generally very sedentary and nest, winter and breed in broadly the same area.
While pheasants don't return to the same nesting site each year, they're probably not too far away. Some pheasants may only roam a space as small as 2 to 3km or so in the space of their entire lifetime!
What do pheasant eggs look like?
Pheasant eggs are around 45mm long by 35mm thick and are described as sub-elliptical, meaning they're more oval or rounded than egg-shaped.
Common and Ring-necked pheasant eggs are usually an olive-brown colour, and they're smooth and glossy.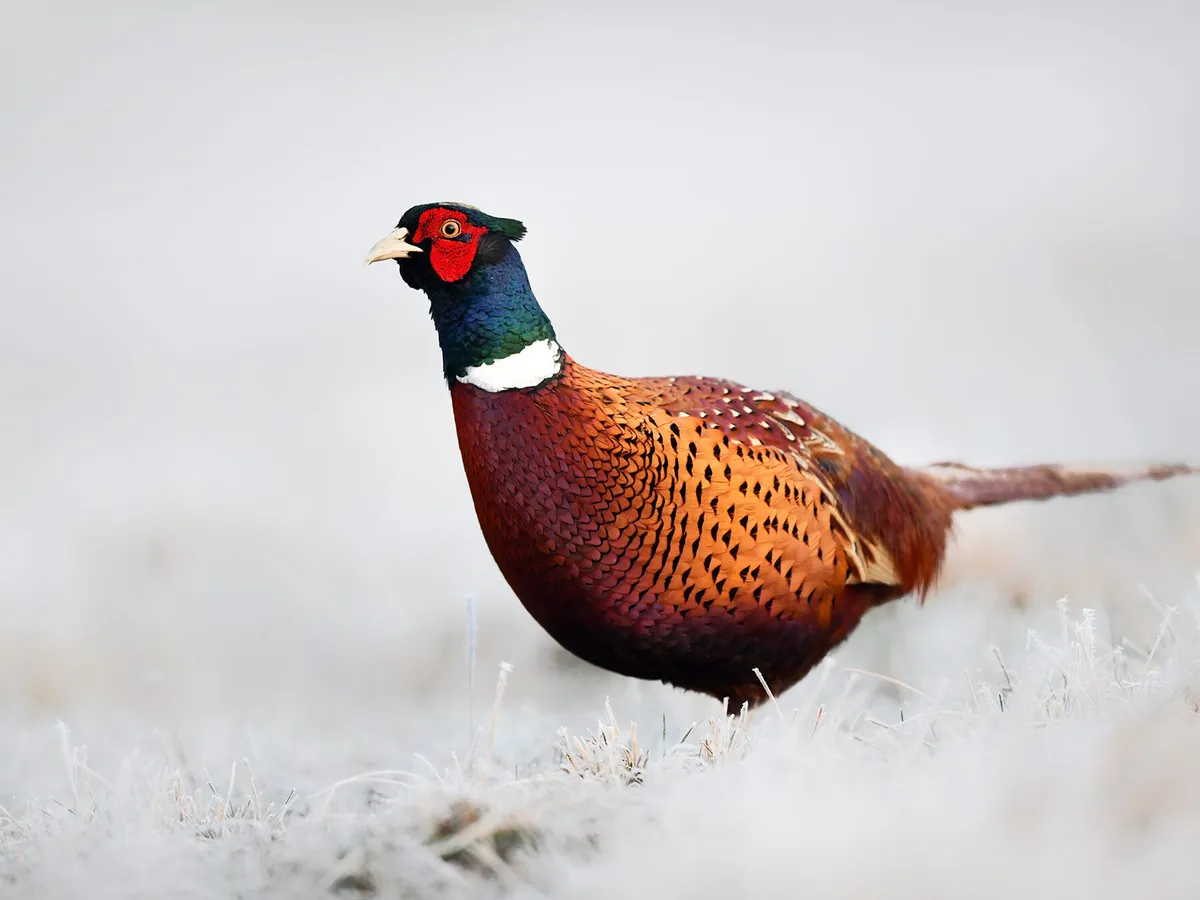 Male ring-necked pheasant
What month do pheasants lay eggs?
In the UK, Common pheasants generally lay their eggs in April or May. Eggs are laid over a long period of 2 to 3 weeks, particularly in the case of larger clutches with more than 10 eggs.
It's similar in the US and Canada; Ring-necked pheasants typically lay eggs in May, extending to June or even July in some states. For example, in South Dakota, incubation begins in late April and May, but continues until as late as August. In Iowa, incubation took place mainly in May and June. In Wisconsin, egg-laying occurs slightly earlier, in early May.
In the USA, the latest hatching date sometimes extends into September or even October.
How many eggs do pheasants lay?
Pheasants typically lay between 8 and 15 eggs, but clutch sizes of over 20 eggs are possible. 12 eggs is a more typical figure.
In captivity, pheasants can lay as many as 60 to 80 eggs in one breeding season.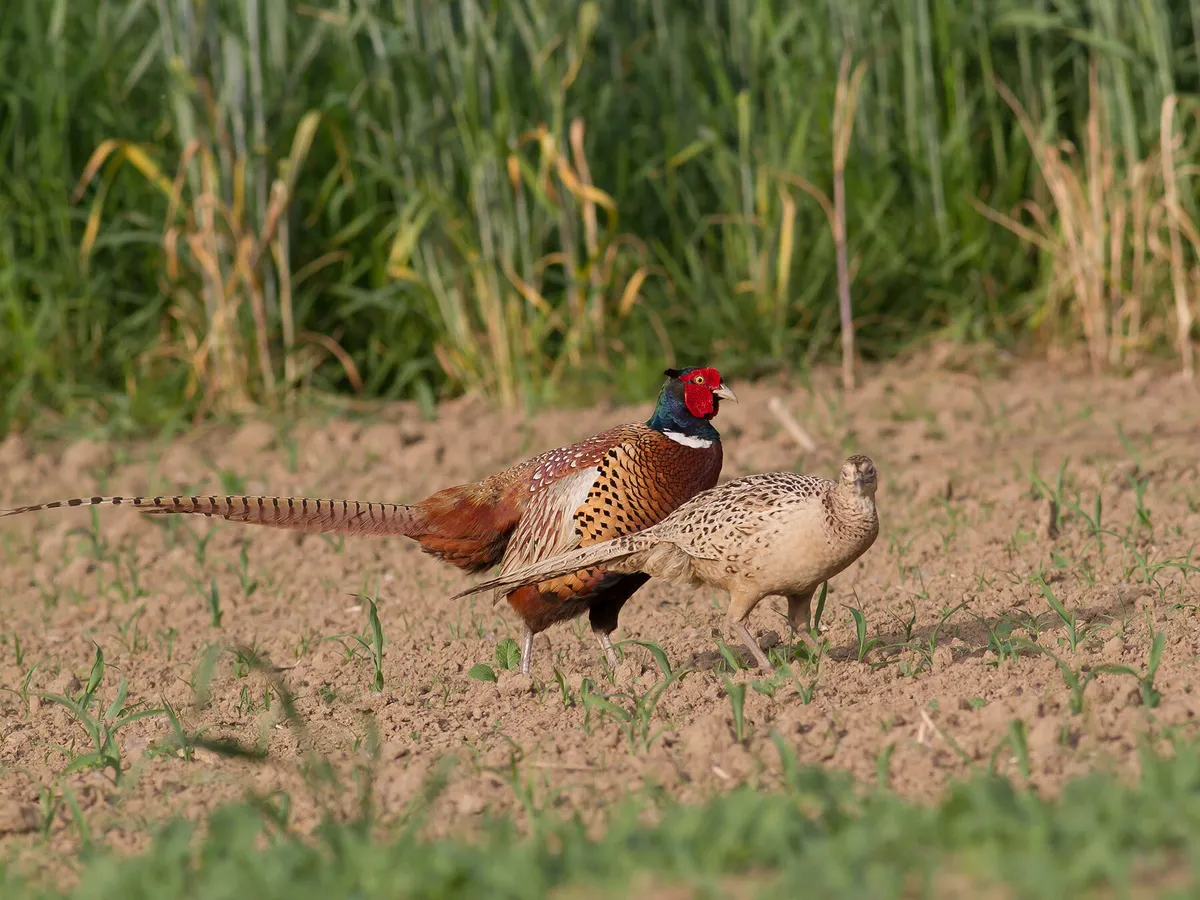 A breeding pair of pheasants
Do pheasants use nest boxes?
Some pheasants do use nest boxes and some gamekeepers or farmers choose to provide ground boxes or baskets.
Pheasants are less likely to use nesting boxes than similar game birds, like Tragopans. While Ring-necked and Common pheasants likely suffice with a safe pen with plenty of natural foliage and loose earth to create nest depressions, other species of pheasants prefer to be more enclosed.
Where do pheasants nest at night?
When they're laying and incubating, the female pheasant rarely leaves the nest - day or night.
If she does leave the nest, it will likely be in the day rather than at night. Studies have shown that the female will only leave the nest for one or two brief periods a day and remain in the nest all night.
In the winter, pheasants often roost communally, and this is one of the only times you might see them in trees. Pheasants often roost in small flocks of 5 to 10 birds, huddling in dense trees.
Do pheasants nest in gardens?
Pheasants will certainly nest in gardens if they provide a suitable habitat. Gardens can provide a safe, enclosed space that is protected from some natural predators (though domestic cats can become an issue).