One of the most abundant bird species in the United States, the house finch (Haemorhous mexicanus) is a common visitor to backyards across the country, but is equally at home in rural areas and natural landscapes.
But where do most house finches live? And is there any part of North America without these busy garden songbirds? Keep reading to learn more about the habitat and range of house finches.
House finches originated in the western United States, and concentrations in California and Arizona remain especially high. The species was introduced in New York from the 1930s and has since rapidly expanded in all directions – house finches are now widespread in every U.S. state except Alaska.
Most house finches are not migratory, remaining in the same territory all year round, although in some of the furthest northwest and northeast areas of their range, birds may move inland and further south to avoid the harshest winter conditions.
With a global population of around 40 million breeding house finches, estimated by Partners in Flight, and a more generous estimate of between 267 million and 1.4 billion also quoted, the species is certainly not uncommon.
If you're interested in finding out the preferred habitats and distribution range of house finches, then please read on.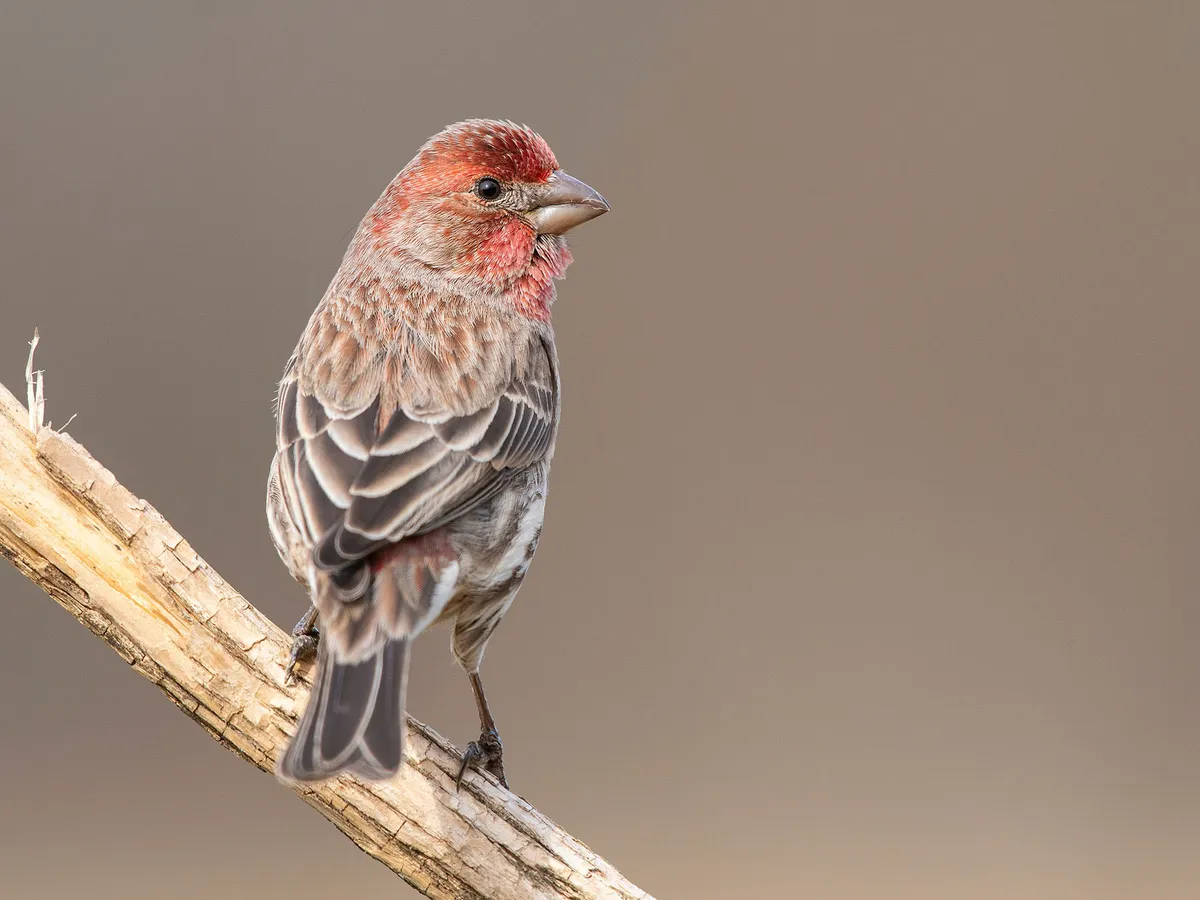 House finches can be found in every single US state, other than Alaska
What is the distribution range of House finches?
The distribution range of house finches extends from southern Canada, across the entire continental U.S. and into Mexico, reaching as far south as the state of Oaxaca.
Where do House finches live in the US?
Originally restricted to their native western United States, concentrated in California, several house finches were released from captivity by a New York pet store in the 1930s.
Gradually these newly wild populations expanded, leading to the species becoming widespread throughout the eastern part of the country by the 1990s.
Today, house finches breed throughout the U.S. and are largely year-round residents, although in the extreme northern and western parts of their range, migration south does occur in fall once the breeding season ends.
What states do House finches live in?
House finches are permanent residents in every U.S. state, except Alaska. The species was introduced in Hawaii around 1870, and is well established on the state's largest islands.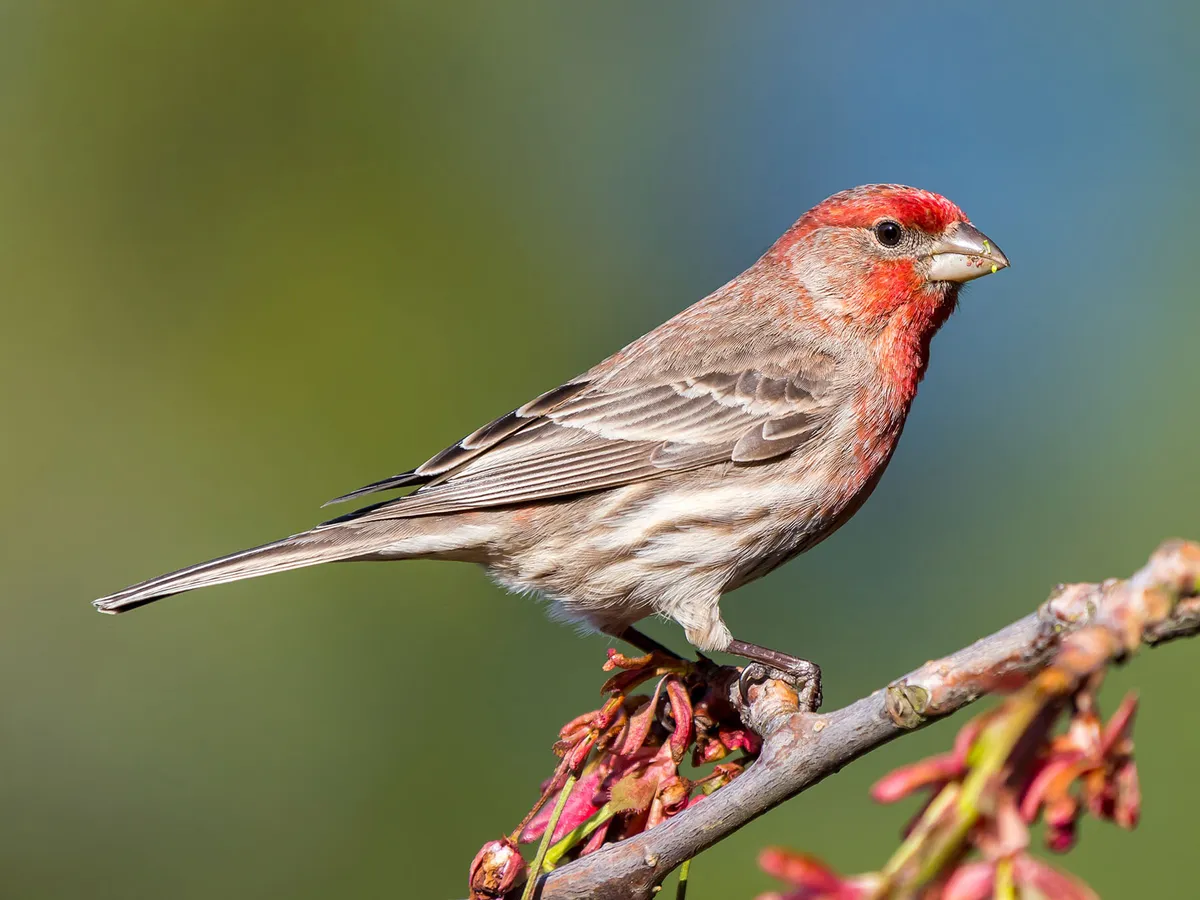 House finches are largely resident across their range
Where do House finches live in Canada?
Populations of house finches were first reported in British Columbia in 1935, naturally spreading northwards from their original native range in the western U.S. House finches spread to Ontario in the 1970s, and by the 1990s had spread across the east of the country. Today, breeding populations can be found in all southern regions of the country.
Where are House finches most common?
The western states of California and Arizona have the highest population densities of house finches. Further east, populations are well established and stable, but less concentrated. In Mexico, the species is steadily increasing in numbers.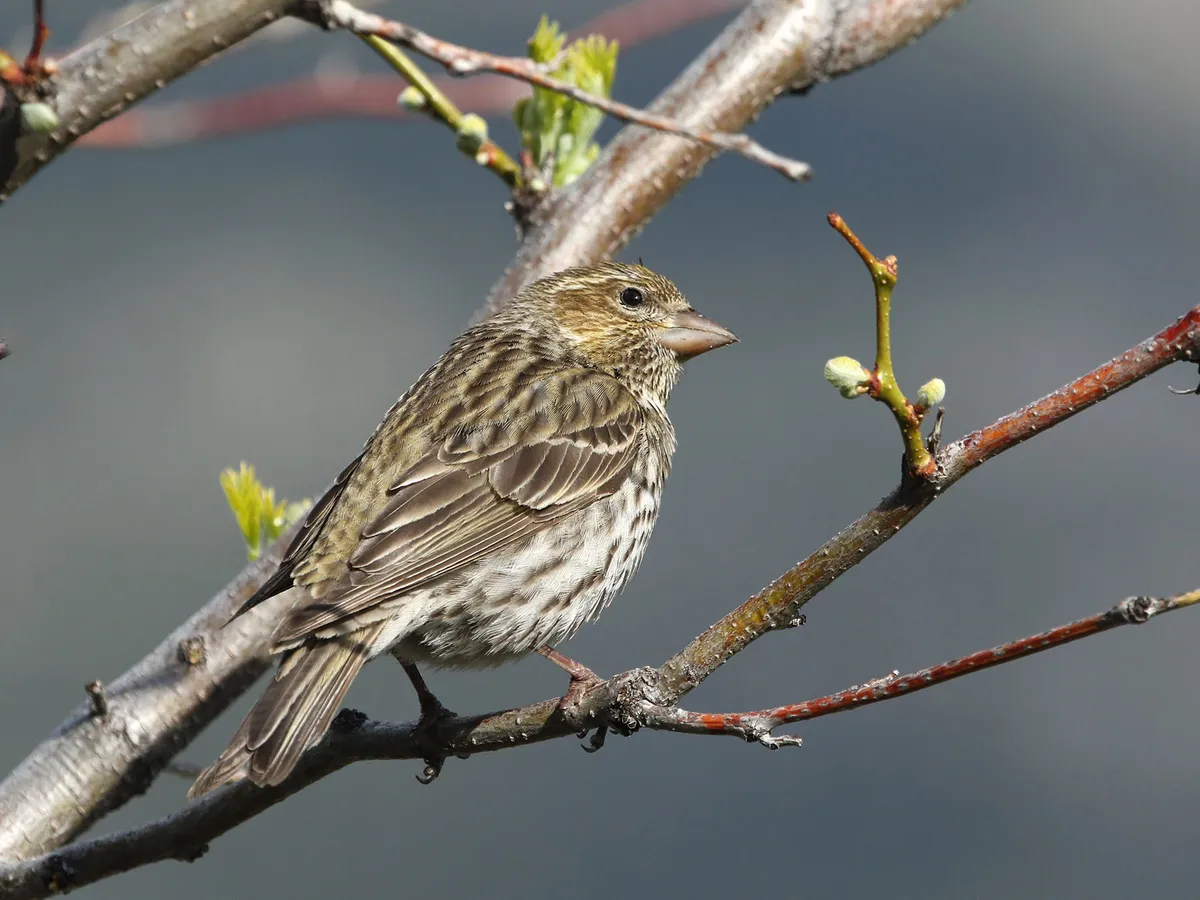 Close up of a female House finch perched in a tree
What is the habitat of a House finch?
Natural habitats of house finches include lowland landscapes, at elevations of less than 1,800 m (6,000 ft). Open grasslands, deserts, prairies, savannah and coniferous forests all support the feeding and nesting needs of the species.
House finches are also equally at home in urban environments, found in backyards and frequently spotted foraging on lawns and at backyard feeders.
They are common residents in areas with human habitation, including town centers and residential areas.
How rare is it to see a House finch?
House finches are widespread throughout Canada, the United States and Mexico and are one of North America's most common birds, with population estimates between 40 million and 1.4 billion individual birds. With this vast number, it's hardly a rare occurrence to spot one.
House finches are one of the most common birds in North America, so it's hardly rare to see one
Where is the best place to see House finches?
Noisy, sociable birds, house finches are relatively easy to spot no matter where you are. Look under backyard feeders and on lawns, as well as in city parks and town centers.
They are regularly seen in busy areas, where they take advantage of food supplied by their human neighbors and all kinds of seeds growing in shrubbery and grasslands.
Numbers are particularly high in California and Arizona, although in the east and north of the U.S. they are certainly not uncommon.
What time do House finches come out?
House finches can be seen actively foraging all day, from dusk until dawn.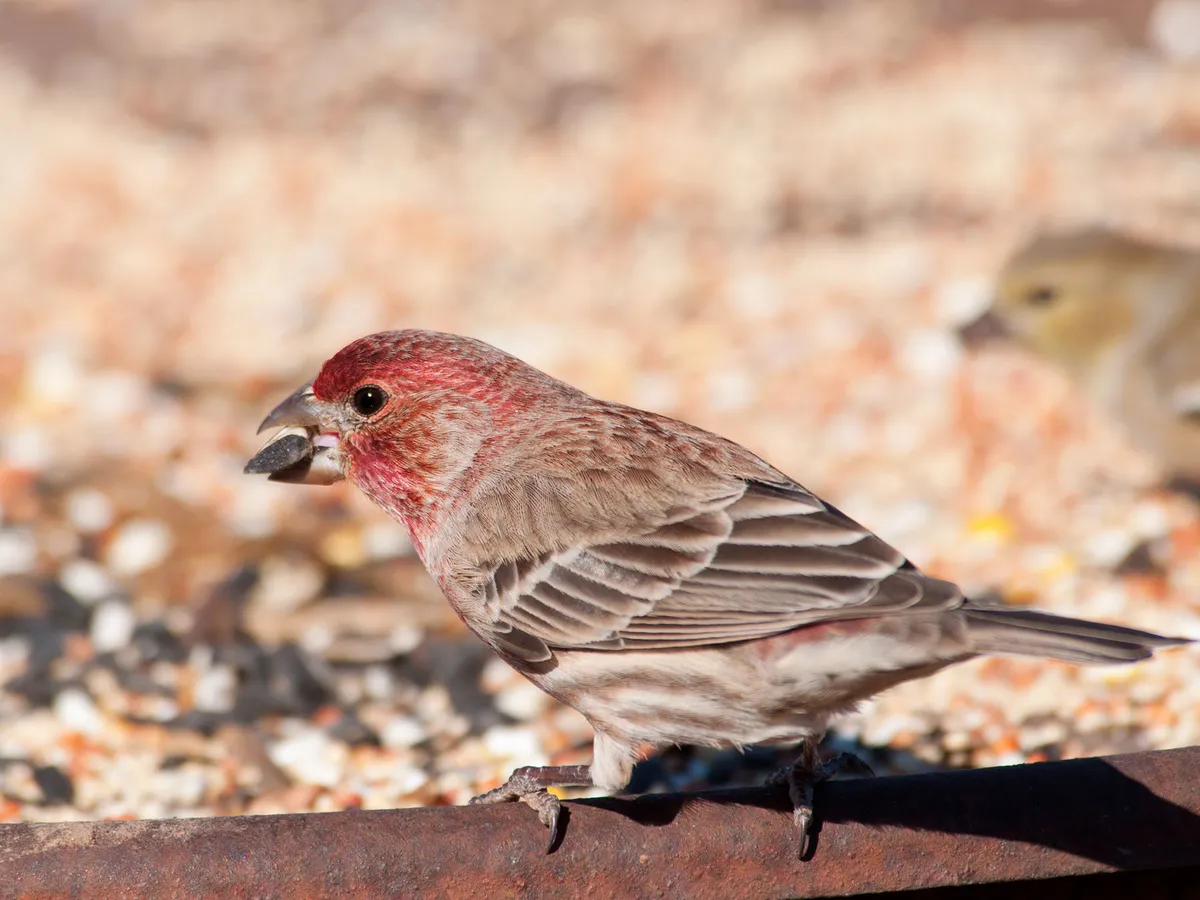 House finches are common sights at bird feeders, and usually spend most of the day foraging
Do House finches stay in one place?
Most house finch populations remain in the same territories all year round, breeding and overwintering in the same locations. Some slight movement may occur, with birds that breed at higher altitudes temporarily relocating to lower elevations nearby to spend the winter.
In the extreme northwest and northeastern limits of their breeding range, house finches may migrate further inland and southwards until the following spring.
Where do House finches live in the winter?
Most house finches are year-round residents in their home patch, with only populations in the extreme northeast and northwest of their range seeking temporary relief from falling temperatures in the coldest winter months.
Populations on mountain slopes in parts of southern Canada may temporarily relocate to urban areas in fall to maximize their chances of finding food.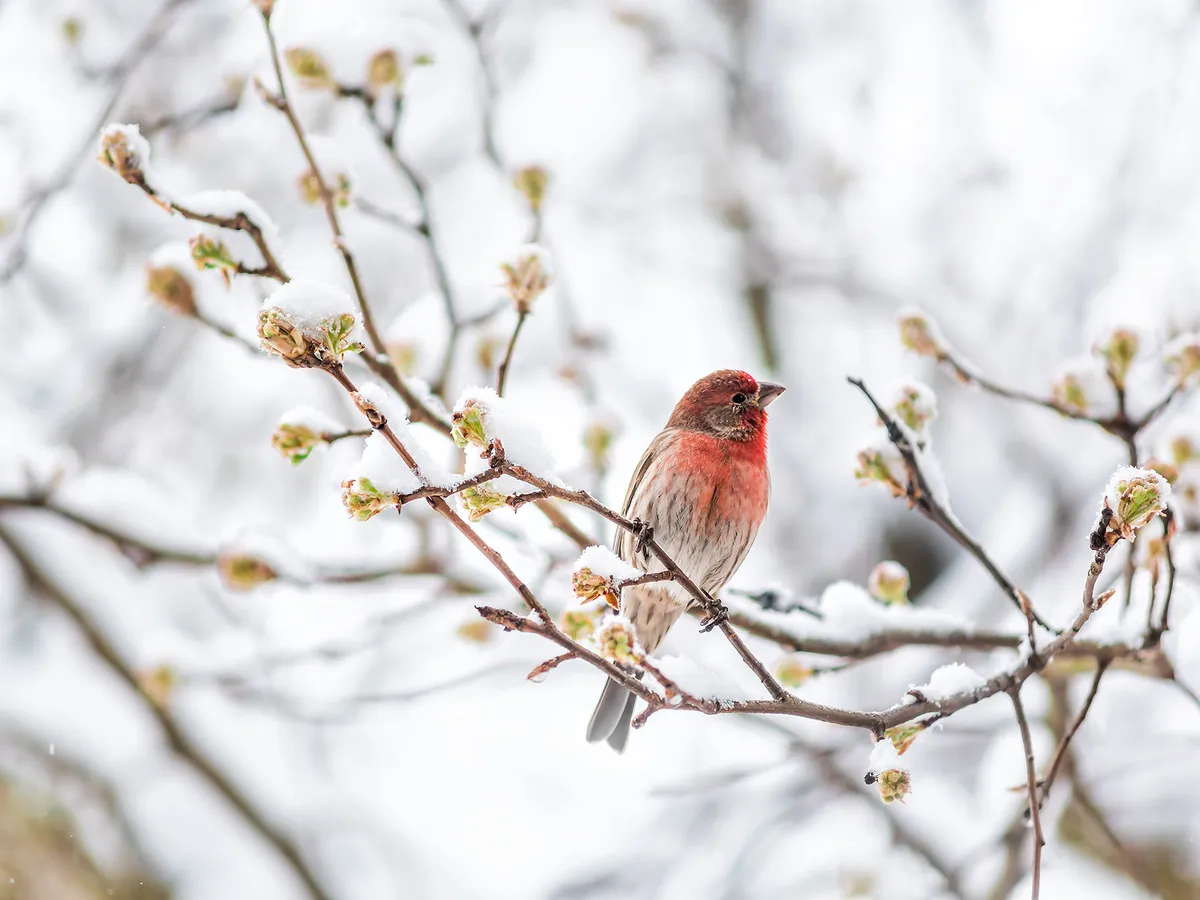 House finch perched on tree branch during winter spring snow in Virginia
How do House finches survive winter?
House finches are relatively hardy birds, and are able to survive winters as they are resourceful foragers and form large winter flocks, which enables them to maximize feeding opportunities and offers warmth from roosting together overnight.
The species enjoys a diverse diet, and are largely undiscerning when it comes to taking seeds from backyard feeders. With plenty of food choices available, surviving the winter months is usually not a huge challenge for house finches.
Where do House finches live in the summer?
House finches typically remain in the same territories all year round. Some exceptions may be seen in the extreme northwest and northeastern areas of their range, where breeding house finches spend the summer months before heading to lower elevations further south as temperatures start to drop.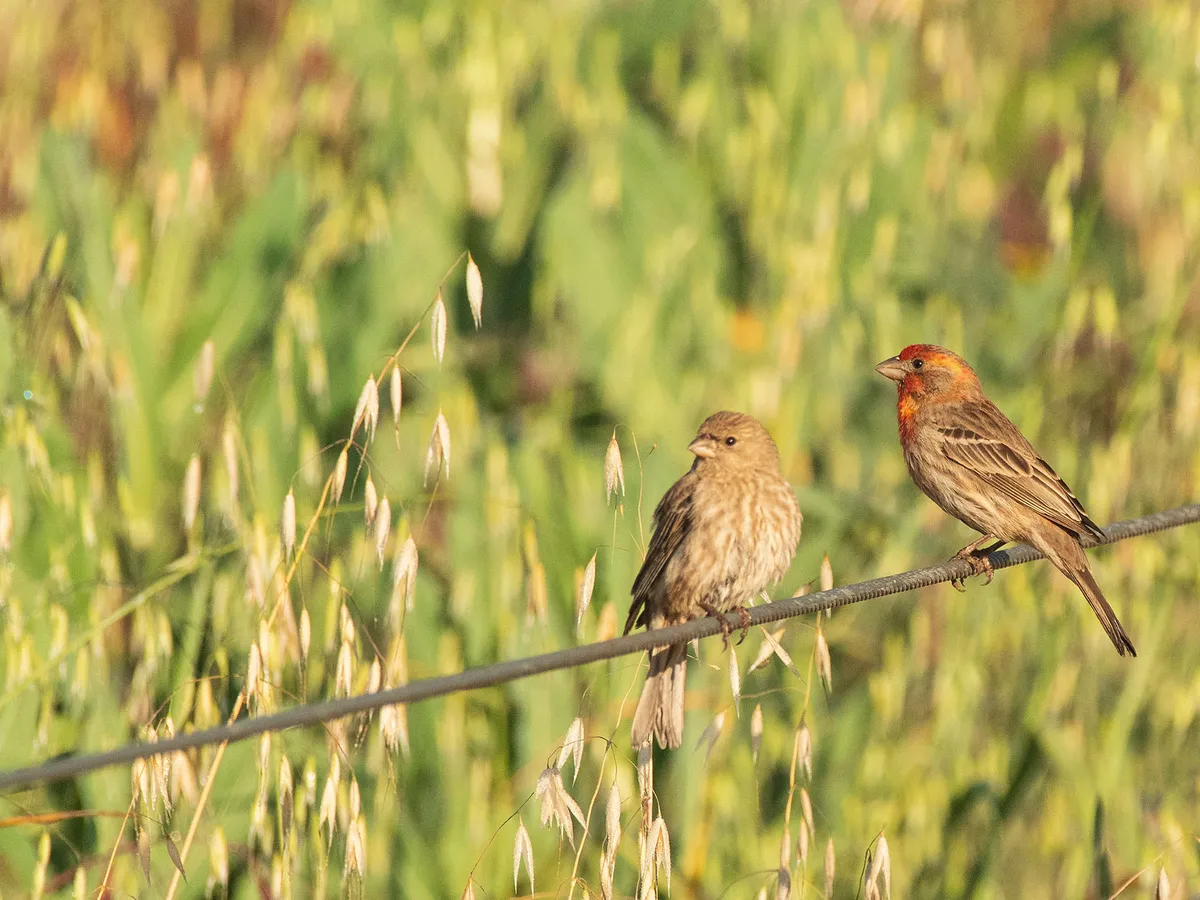 Male and female House finch pair perched on a wire
Do House finches live in groups?
Outside of the breeding season, house finches form large flocks of up to several hundred birds. Naturally social birds, house finches may descend upon backyard feeders in groups of up to 50 or more birds on occasion, and will follow each other to feed at new foraging sites.