Moorhens are from the Rallidae family, which also contains coots, with whom they're regularly confused. There are 8 species of moorhens, mostly distributed across Europe, Africa, and Australasia.
This is a complete guide to female moorhens, including how to identify them from males.
Most species of moorhens are nearly identical between sexes, though males are generally slightly larger than females. Other than size, there are very few discernible differences between males and females, especially in the case of the Common or Eurasian moorhen.
The Lesser moorhen is slightly different, as females are markedly lighter than males. In contrast to the black plumage of the male, the female is a paler brown. Interestingly, the Lesser moorhen is in a different genus than other species.
Read on to learn more about the differences between female and male moorhens!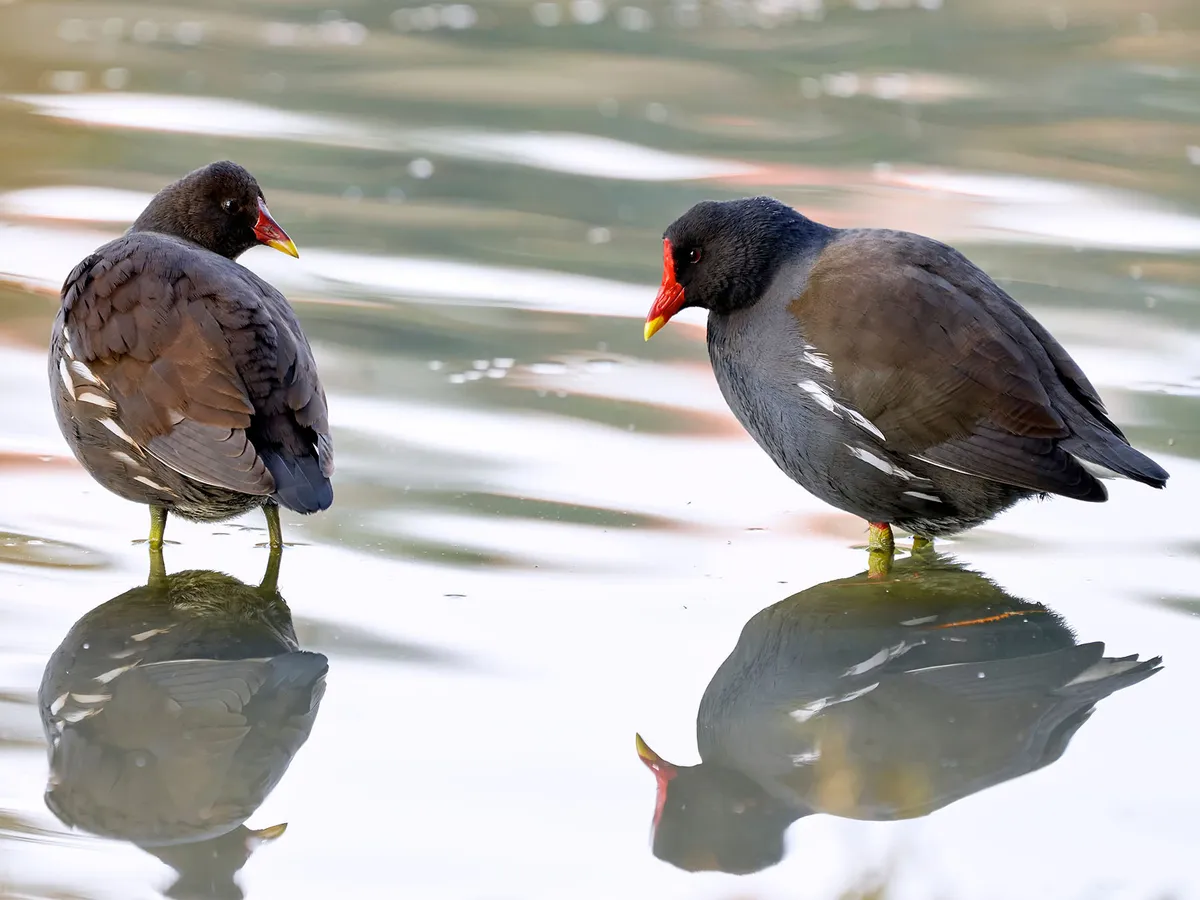 Female (left) and male (right) Moorhens - note the size difference
How can you tell if a Moorhen is male or female?
There are no consistent methods for visually identifying male and female moorhens, the only difference being that the male is slightly heavier. They both measure around 30 to 38 cm, but the male weighs 249 to 493g, and the female is lighter at 192 to 343g.
Both are very similar in appearance, with dark plumage with a white tail and white patches on the underside and a distinctive red beak and face shield with a yellow tip.
Moorhens and coots are regularly confused - remember there is an 'R' in moorhen for 'red' but no 'R' in coot - as coots have white face shields and moorhens have red face shields!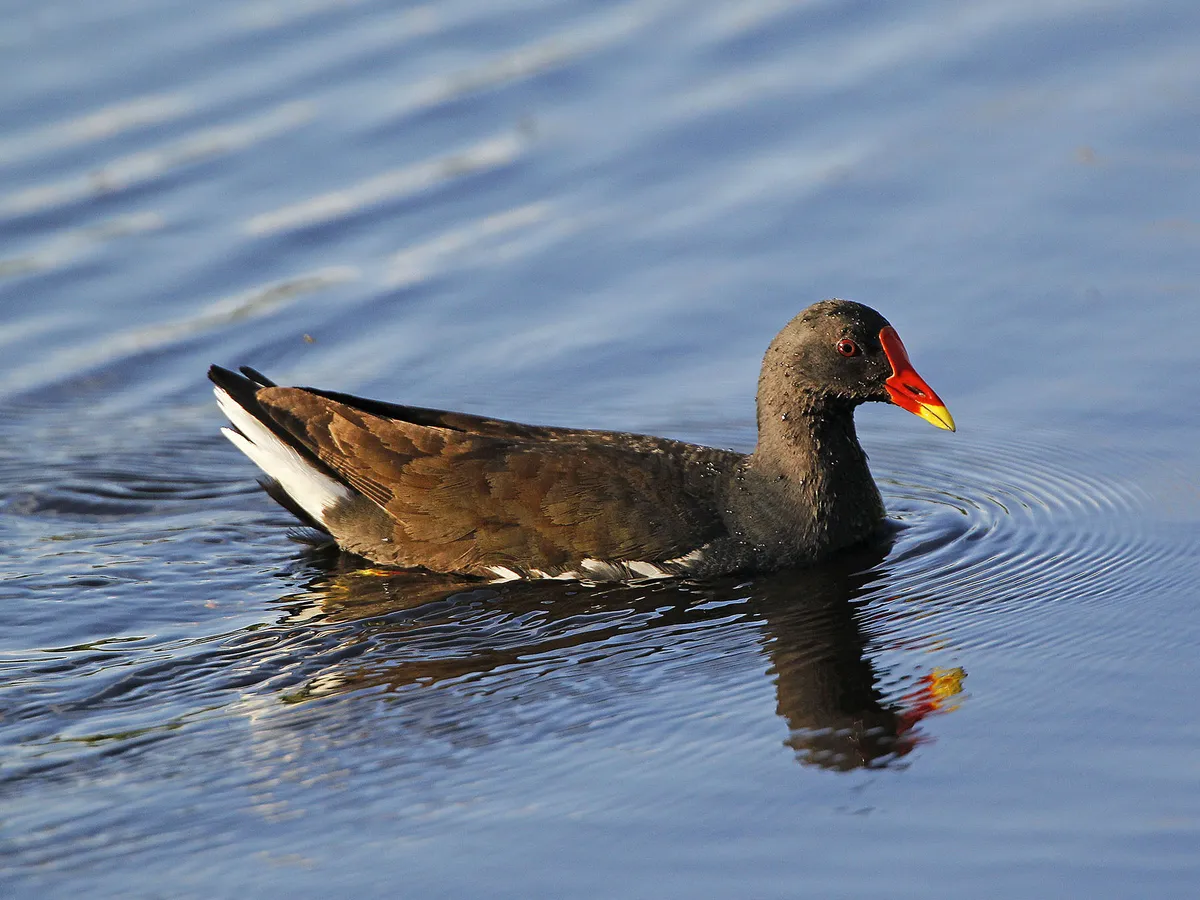 There are no consistent methods for visually identifying male and female moorhens
Lesser moorhen
There are few differences between male and female moorhens from the genus Gallinula. However, there is another moorhen from a different genus, Paragallinula, which only contains the Lesser moorhen. In the case of the Lesser moorhen, the female is identifiable from the male.
Female Lesser moorhens have lighter grey plumage compared to the male's black plumage, especially on her parts which are silver-grey. Her beak is also duller and lacks some of the same redness as the male's.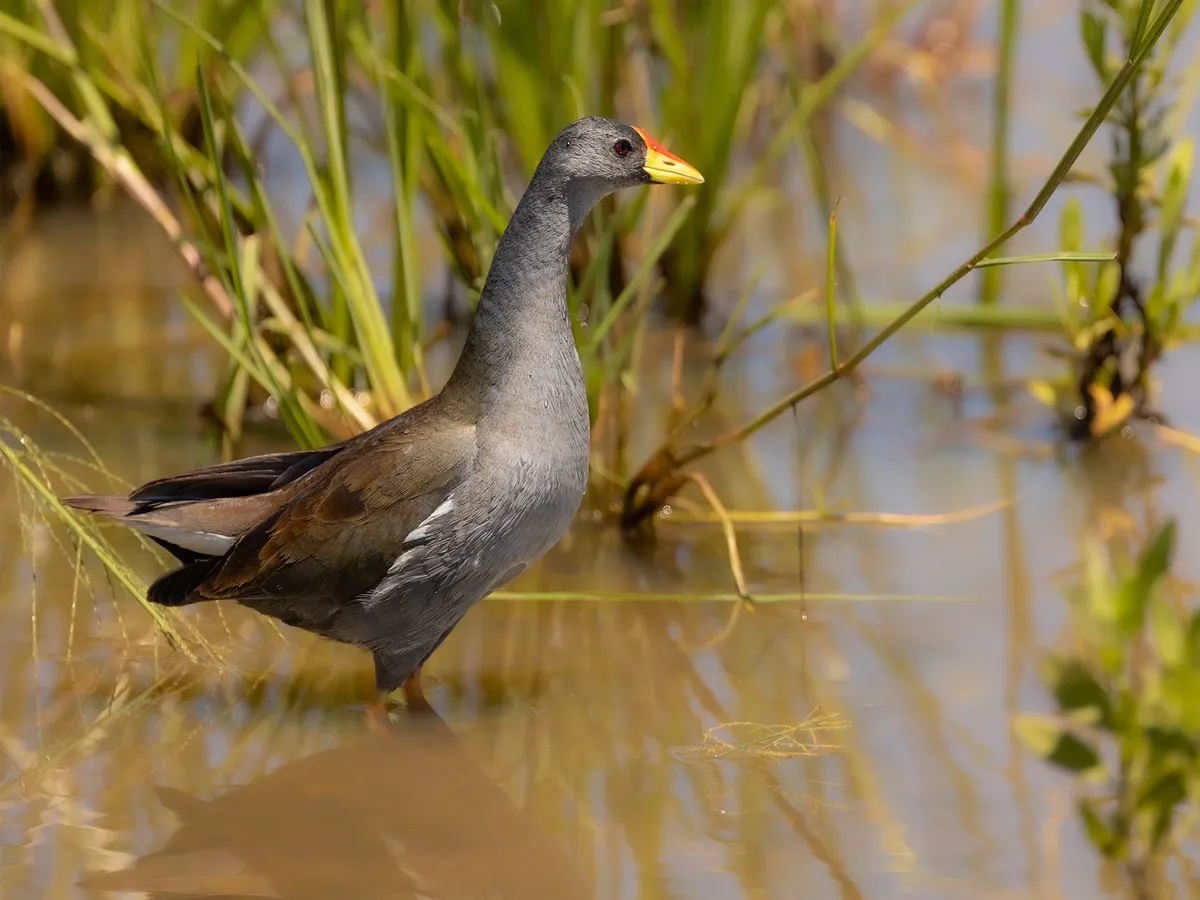 Close up of a female Lesser Moorhen
What is a female Moorhen called?
The name of these birds - moorhen - uses the female gender word "hen." So, is there a moorcock for a male?!
There is not, but these birds were sometimes called waterhens, and there is a watercock, but that's a different species that belongs to a different genus of the same family. A bit confusing!
In short, a female moorhen is simply called a moorhen, and the male shares the same name.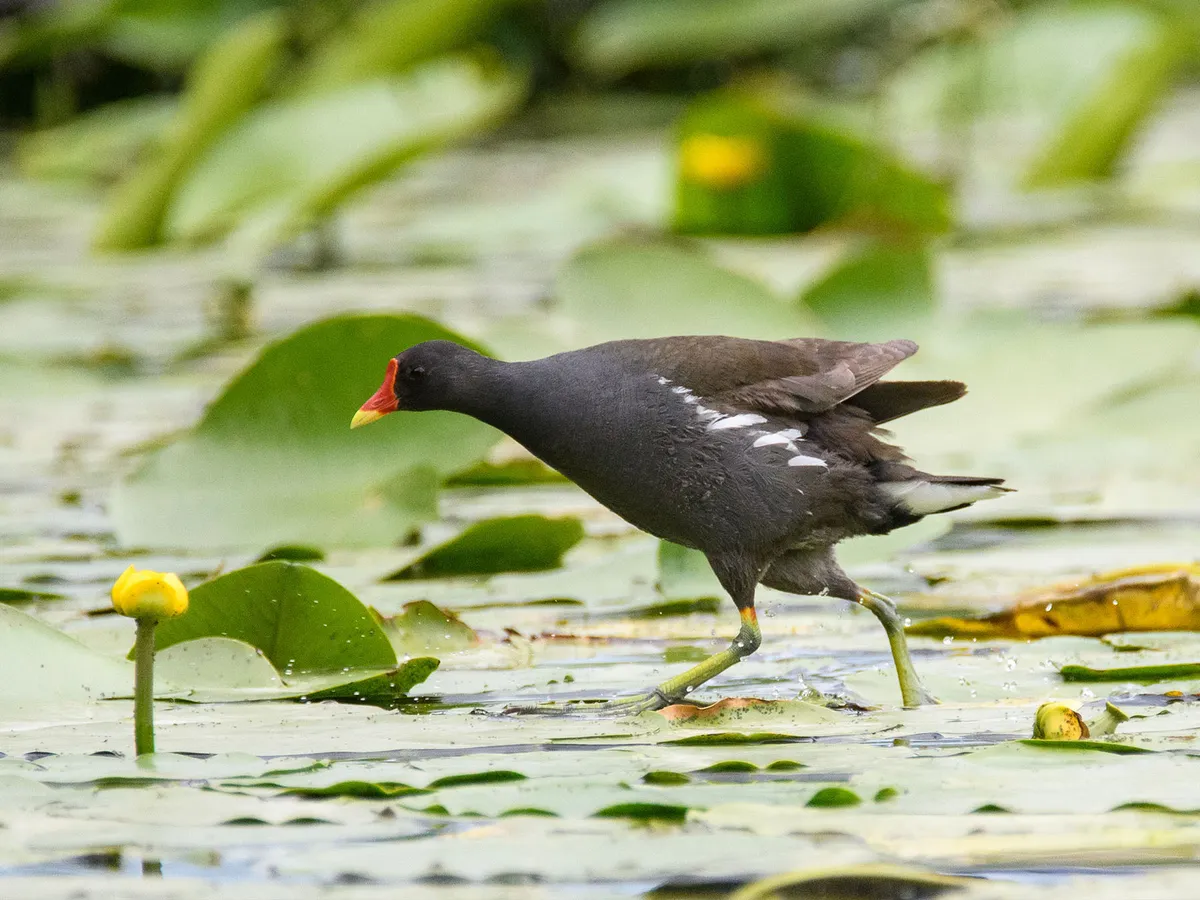 There is no specific name for a female Moorhen
What does a female Moorhen look like?
Female Common moorhens and other species from the Gallinula genus look the same as males. They have predominantly dark, black-olive, or black plumage with small white sections on their tails and flanks.
Beaks are usually dark or deep-red with a yellow tip. Moorhens have red eyes and large yellow webbed feet. They have a rounded appearance like other waterbirds.
Females typically look the same as males but are slightly smaller.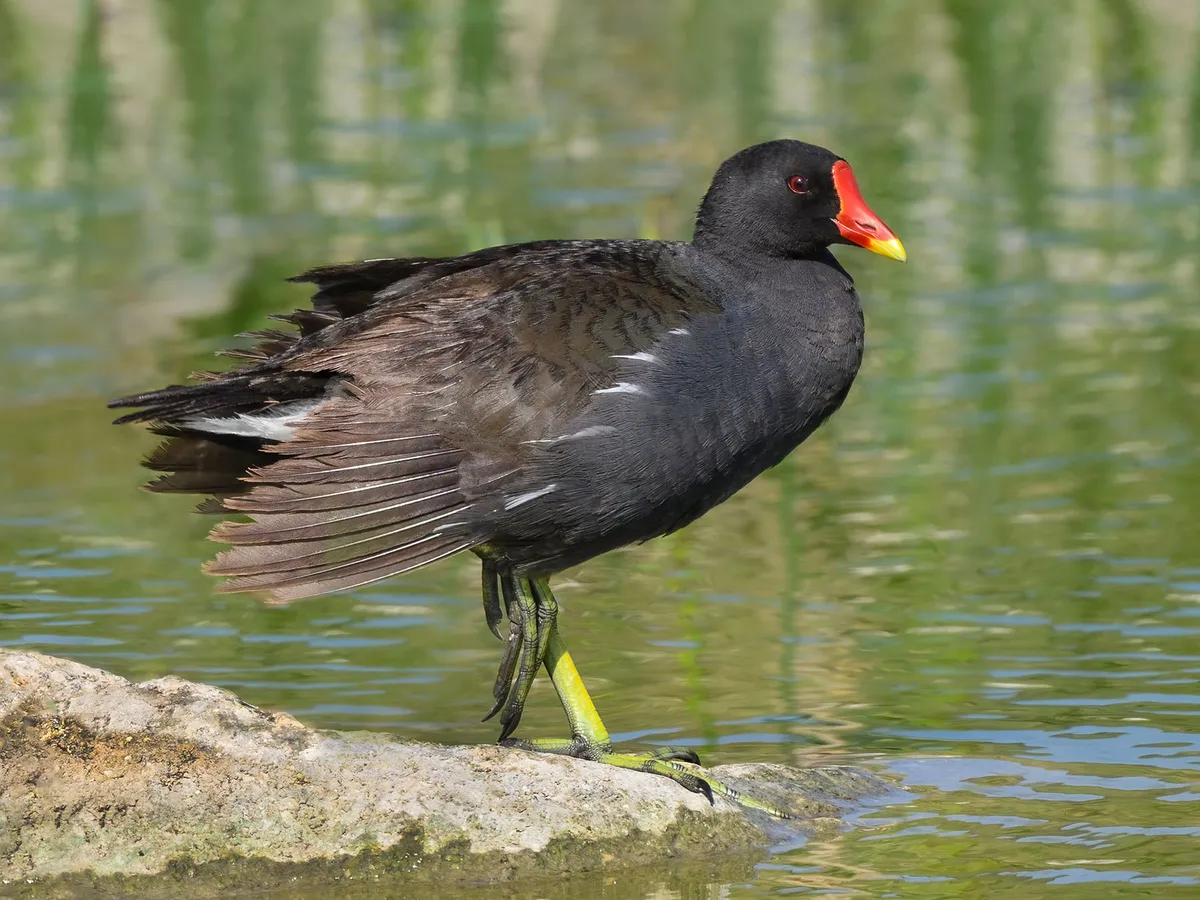 Male and female Moorhens share the same identical plumage
Are female Moorhens bigger than males?
Male Common or Eurasian moorhens are bigger than females, weighing around 100 to 150g more than them on average. The difference would be tough to identify by the eye.
Behaviour differences
Sounds and vocalisations
Moorhen calls involve a range of "krrrruk", "kurr-ik" and "kark" sounds. Other calls include "tik" or "tek". There are few, if any, reported differences between male and female moorhen calls.
Breeding
Moorhens are primarily monogamous, the same as some waterbirds like geese and swans but different from others like ducks.
Nesting and rearing chicks are highly cooperative, with both the male and female contributing to nest construction and feeding the chicks. Some report that the male does the majority of incubation while the female defends the nesting site.
Moorhens have multiple broods a year - sometimes up to 3 - and the young birds from the previous clutch often assist with future clutches.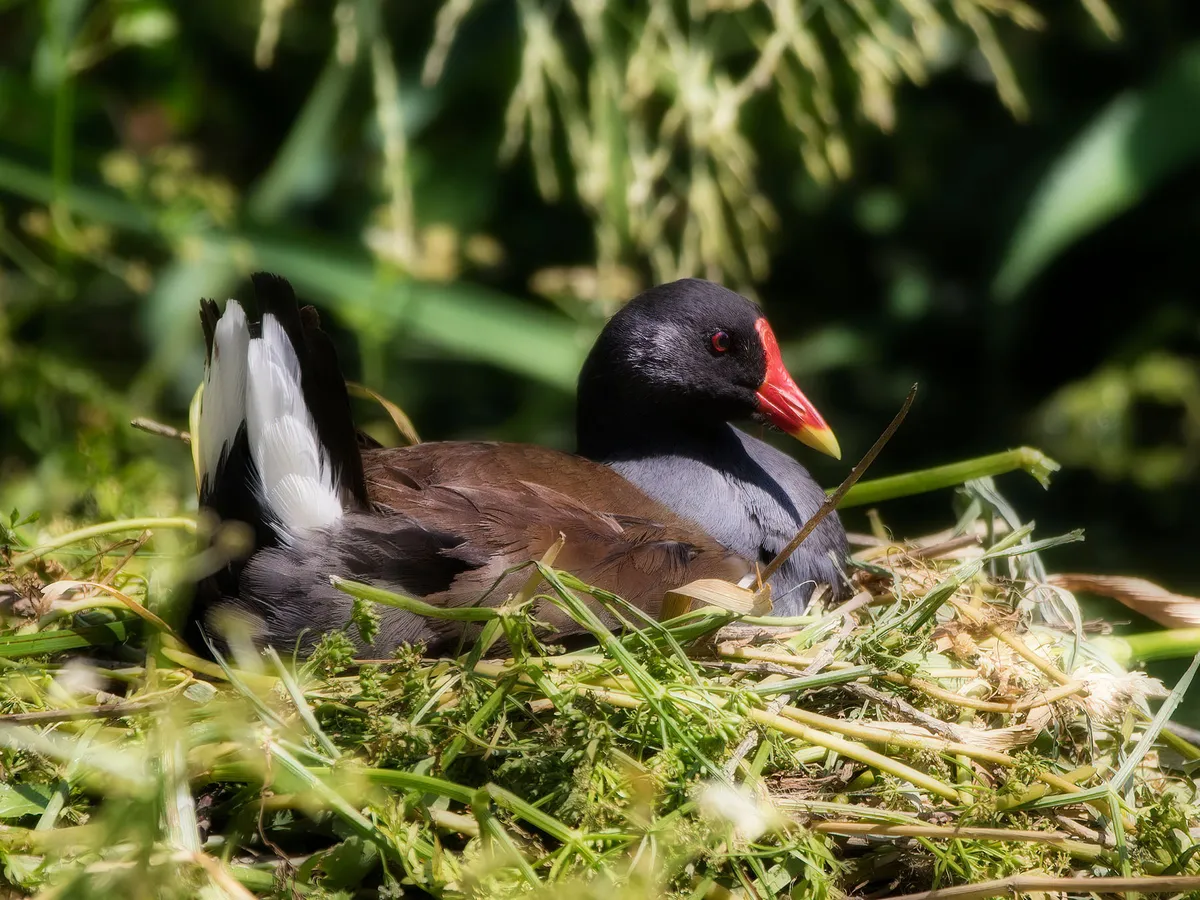 Close up of a Moorhen incubating eggs on the nest
Can female Moorhens raise young alone?
Moorhens form strong, monogamous bonds. Males and females work together to build nests, incubate eggs and raise chicks. Females would probably not be able to raise young alone.
What colour are female Moorhens?
Female moorhens are generally the same colour as males, with predominantly black and black-olive plumage with white streaks to their tales and flanks.
The Lesser moorhen is slightly different, as the female is much lighter than the male with grey and silver-grey plumage.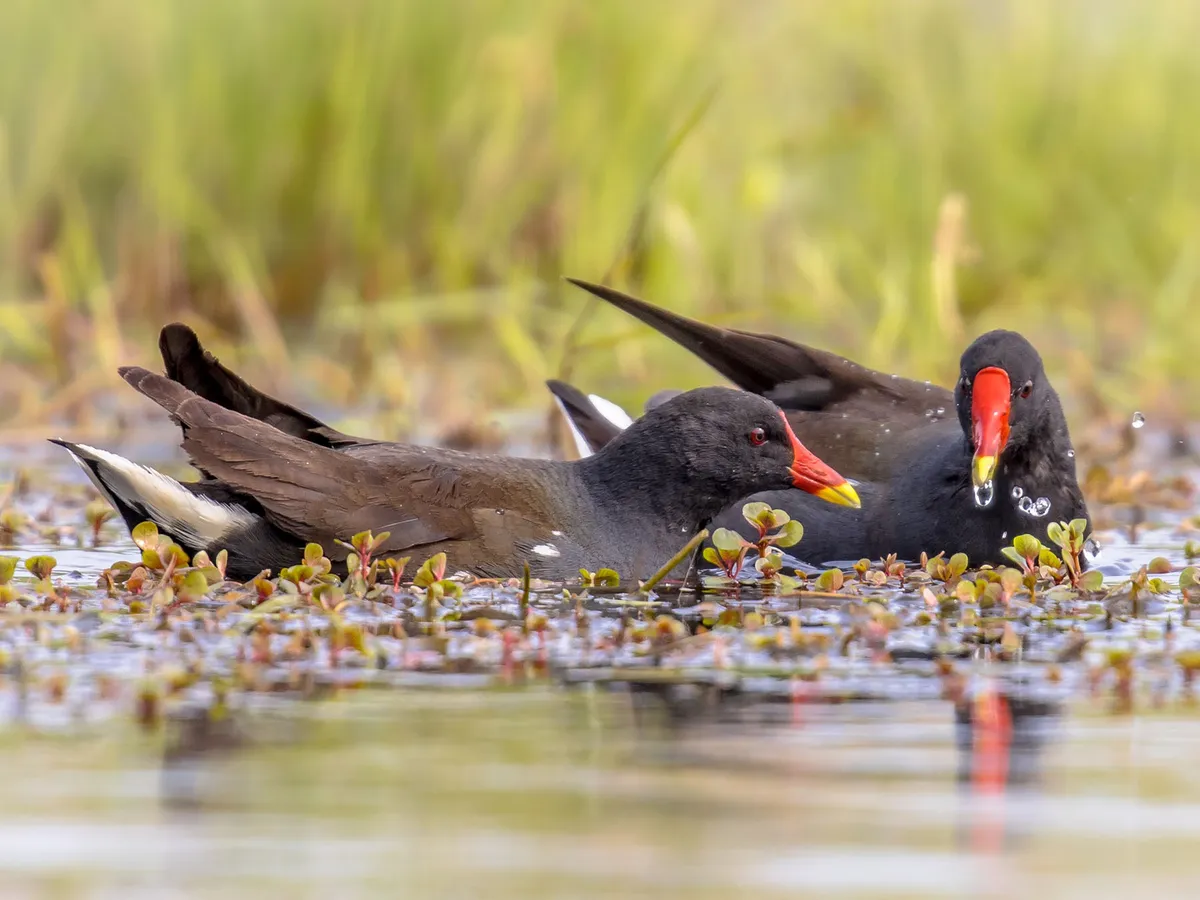 When together, males generally are slightly larger than female Moorhens - Eurasian, or Common Moorhen breeding pair
Do female Moorhens call?
Moorhens have no songs, only calls. Most calls are harsh, loud and shrieky, including "krrrruk", "kurr-ik", "kark, "tik" and "tek". They do have some quieter, more melodic calls that are exchanged between males and females.
Do female moorhens have red beaks?
Female moorhens from Gallinula genus have red beaks like males, with no discernible or consistent differences between male and female beaks.
The Lesser moorhen from Paragallinula is slightly different, as the female's beak is duller and lacks the same strong red pigmentation as the male's.