The elegant Green Heron (Butorides virescens) breeds primarily in North America, where they breed in the east but also in the west near the Rocky Mountains. They also breed across the southern and southeastern states, Mexico, and most of Central America.
This is a guide to female Green herons.
Both female and male Green herons are glossy with greenish heads, chestnut necks and bodies, greenish wings, gray underparts, and a white stripe down the neck. Wing feathers are tipped and edged with yellow-brown lines. Females have slightly duller plumage, but the difference is subtle.
Green herons are relatively small for the family, at around 45 cm long. They're well-camouflaged against their wetlands habitats and are expert fishers. Like many herons, they're also exceptionally intelligent and are known to use bait to lure fish into range.
Read on to learn more about female Green herons and how to identify them from males!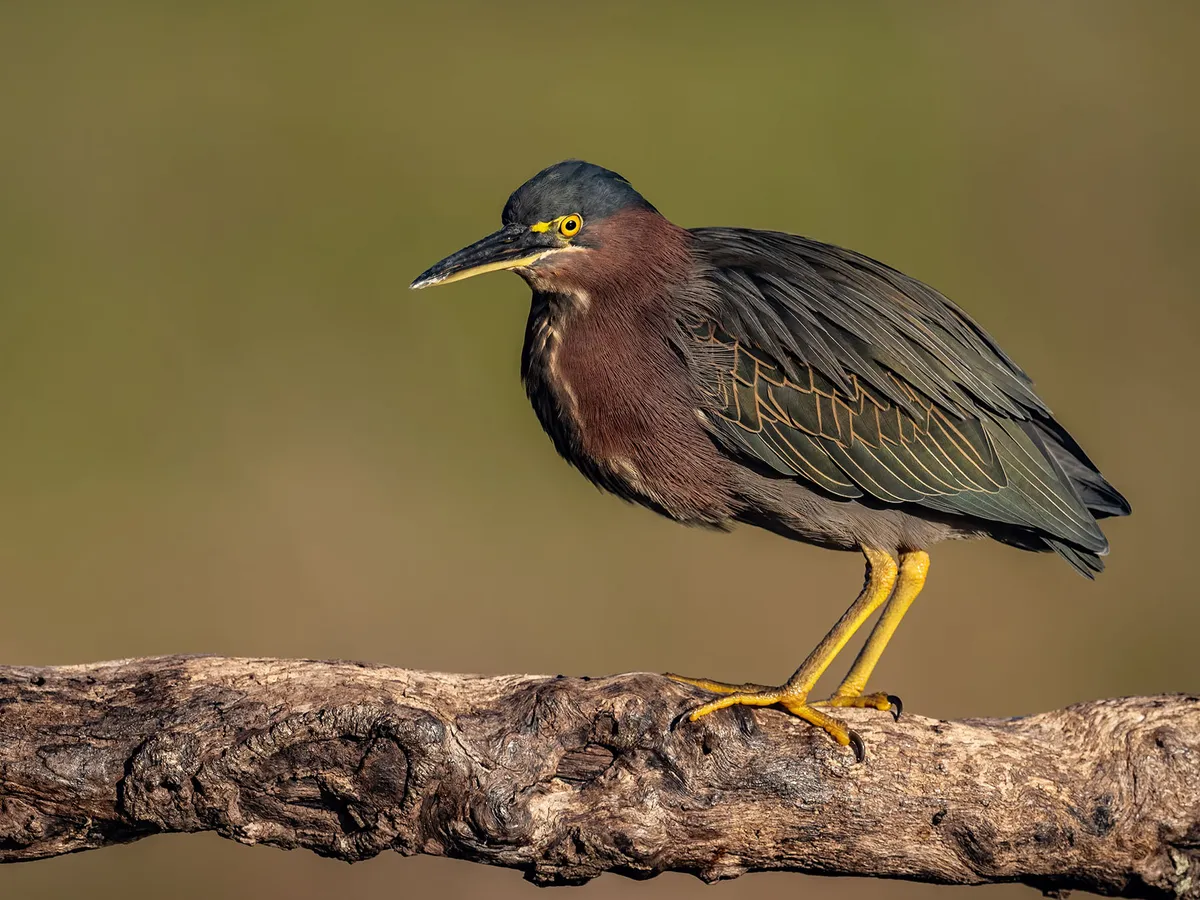 Unfortunately, there's no easy way to distinguish Green Heron sexes
How can you tell if a Green Heron is male or female?
You'd be very lucky to identify a female Green heron from a male successfully. They're almost identical, and studies into their differences are lacking. It's generally said that the female has duller plumage than the male.
One study suggested that females have chestnut stripes on the crown and sides of their heads. The male also has longer tail plumes.
There are a few different subspecies of Green herons, all of which have slightly different plumage and coloration. So, even if there were subtle differences between male and female Green herons, it probably wouldn't be consistent across subspecies.
Male Green herons are slightly larger than females. For example, in one study, males had a wingspan of 181cm, whereas female wingspans were slightly smaller at 175cm.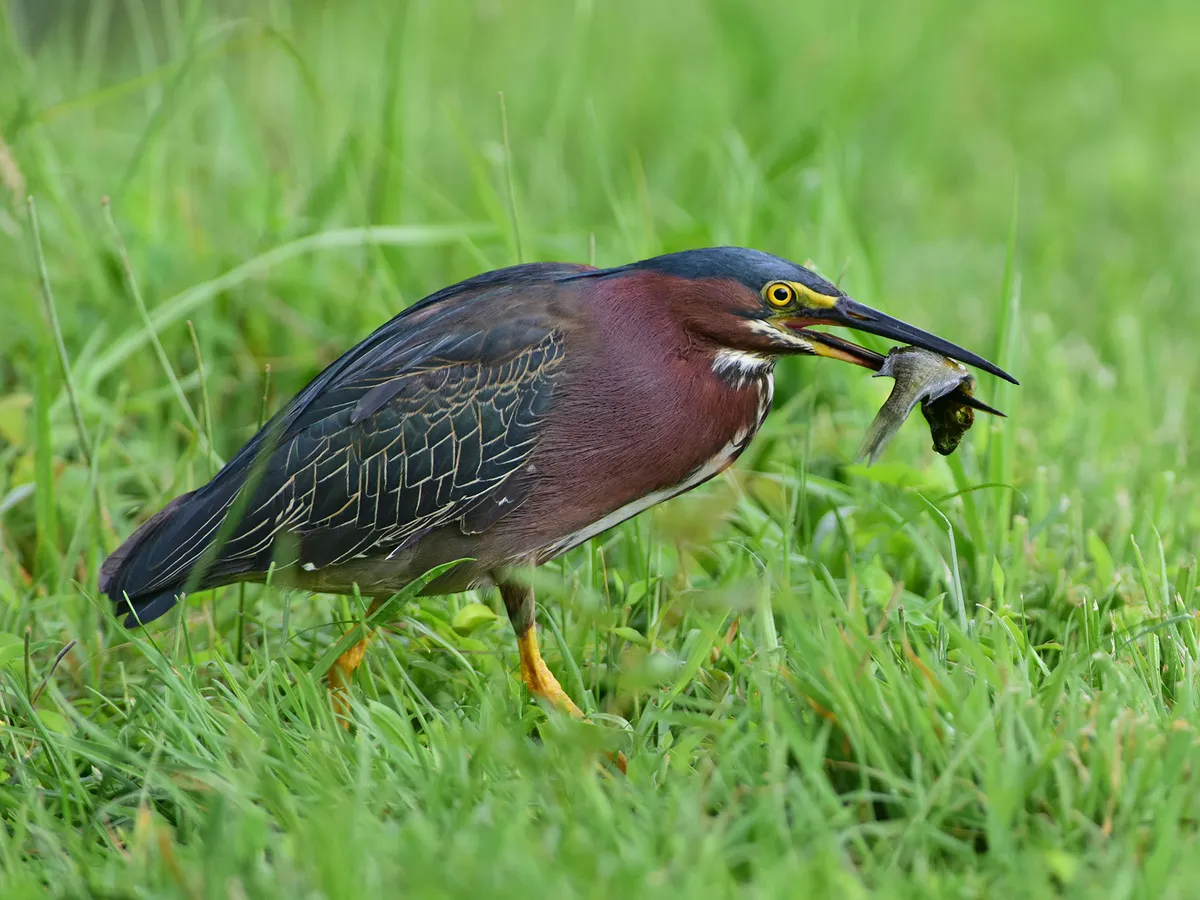 Some studies state that females are generally duller than males, but this isn't reliable, due to the difference with subspecies
What does a female Green Heron look like?
Female Green herons are quite glossy, albeit duller than males, with greenish heads, chestnut necks, buff and chestnut bodies, and white stripes down the neck.
Their underside is gray, and their legs yellow. Wings are dark green with a subtle sheen and have lighter yellow-brown tips and edges. Like most herons, they have very long periscope-like necks and sharp, pointed beaks.
Both male and female Green Herons share the shame plumage
Are female Green Herons bigger than males?
Female Green herons are marginally smaller than males. In one study, male wingspan was around 181cm vs. 176cm for the female, and the tarsus (part of the leg) was also marginally longer for males than females. The difference is subtle and varies between subspecies.
Behavior differences
Breeding
Green herons are seasonally monogamous and usually find a new partner each breeding season, with some exceptions.
In the breeding season, the male courtship ritual involves a raah-rahh call with an open bill and flying display. In addition, the female sometimes advertises to the male with a skeow or skyow call to indicate her presence in his territory.
The male makes a whoom-whoom-whoom call while he puts on his aggressive flying display before sitting near the female and producing an aaroo-aaroo call. He also stretches his neck up and down. Finally, the male snaps his bill prior to copulation.
The male displays in his territory, and once paired, the couple will peruse various nesting sites, though it's thought that the male males the final selection. The male initiates construction and then starts collecting material for the female to assemble. He breaks twigs and passes them to the female.
Incubation and raising chicks
Both the male and female incubate the eggs. However, the male usually incubates in the middle of the day and the middle of the night, whereas the female incubates in the evening and early morning.
Both parents feed the chicks, sometimes at the same time.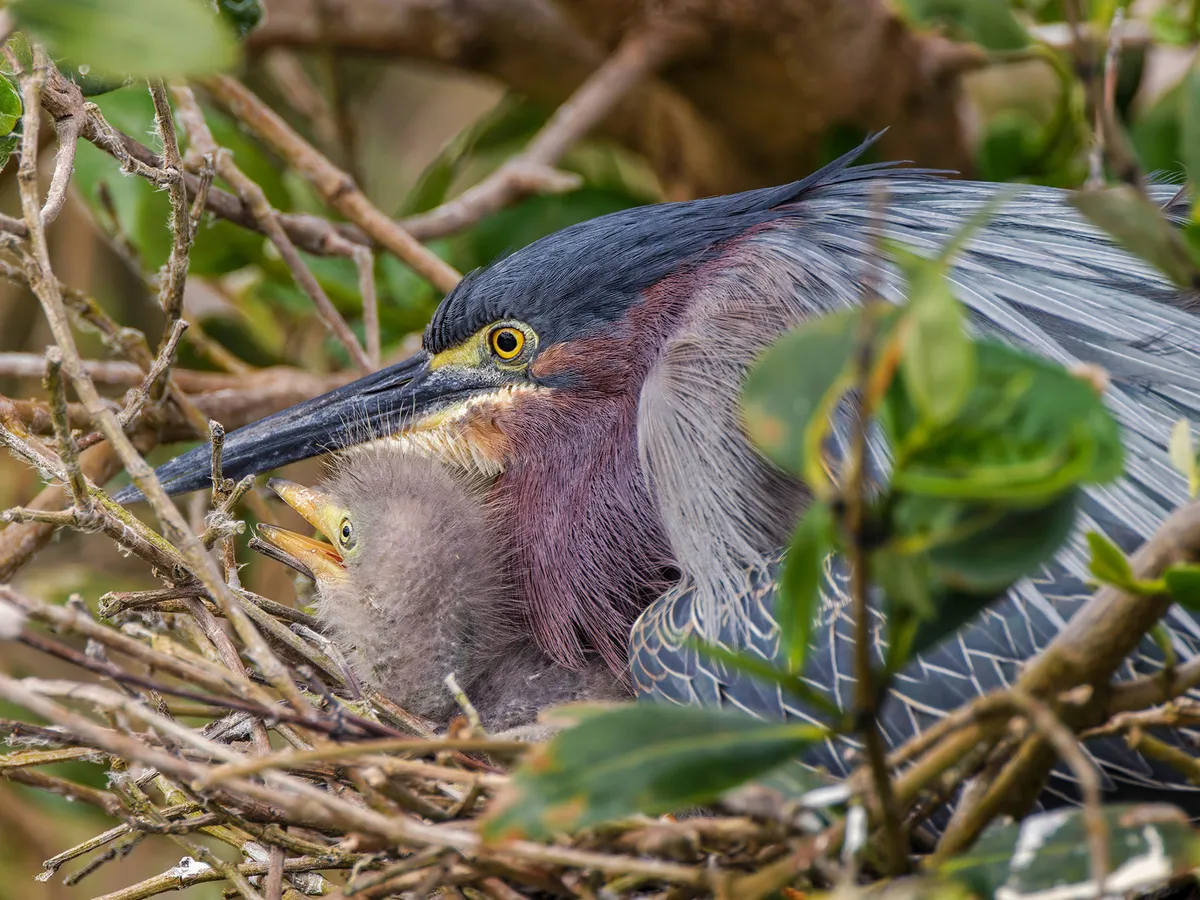 Green Heron sat on the nest with a chick
Can female Green Herons raise young alone?
Male and female Green herons work cooperatively to build the nest, incubate the eggs and feed the young chicks. Therefore, It's highly unlikely that the female would be able to conduct these activities alone.
What color are female Green Herons?
Female Green herons are nearly identical in color to males. They're primarily chestnut brown, gray, and green. They have a white stripe down the neck.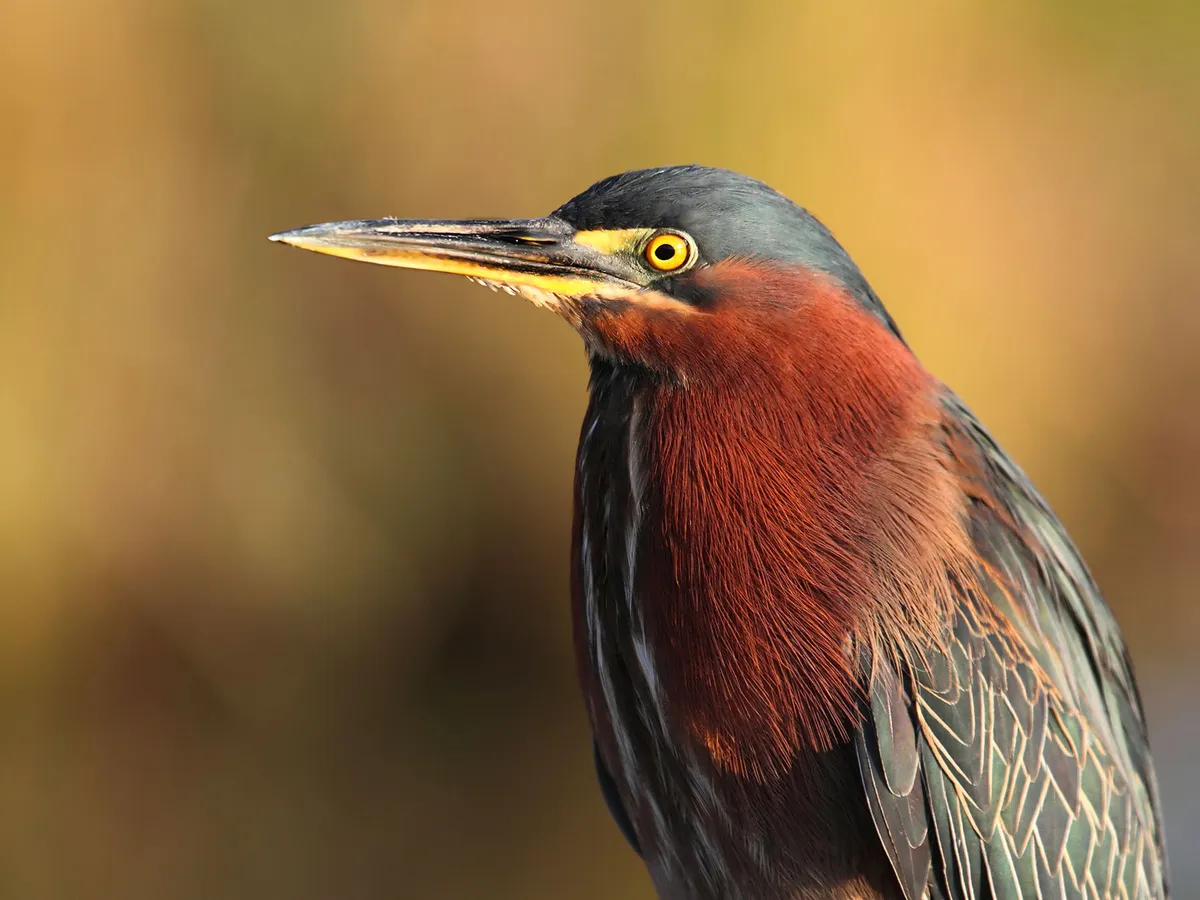 Close up portrait of a Green Heron
Do female Green herons call?
Green herons are not loud birds and have a relatively small selection of calls, including a skow or skeow, peu-ah, and skyow produced by both sexes. The female advertises her presence in the male territory with a similar sound.
The male courtship ritual involves some unique calls, such as a raah-rahh call with an open bill and a whoom-whoom-whoom call while he puts on his flying display. He then sits next to the female and gives an aaroo-aaroo call, and snaps his bill together prior to copulation.