The Eastern Phoebe (Sayornis phoebe) is one of three American flycatchers in its genus. These small, non-descript songbirds are a familiar sight across their range and their nests are not difficult to find if you know where to look.
They can also be encouraged to nest around our homes by providing nest platforms. So where and how do Eastern Phoebes nest?
Eastern Phoebes seek out rock outcrops and other vertical structures to build their nests. However, they have found great nesting opportunities in human-made structures. Today their nests are a common sight under the eaves of buildings, on outdoor wall fixtures, and under bridges, and culverts.
Phoebes start their nesting season early, even before the end of march at lower latitudes. They will have two broods when possible, usually sticking together with the same partner and often reusing the same nest after fixing it up a little.
Their nesting habits have been well documented due to their habit of nesting in highly visible and often accessible positions. Eastern Phoebes migrate between Southern Mexico and Northern Canada where they breed, although a large proportion of them are breeding residents in the American Southeast.
This article covers the nesting habits of the Eastern Phoebe, a common American flycatcher that prefers a roof over its head. Read along to learn more about where, when, and how they build their nests.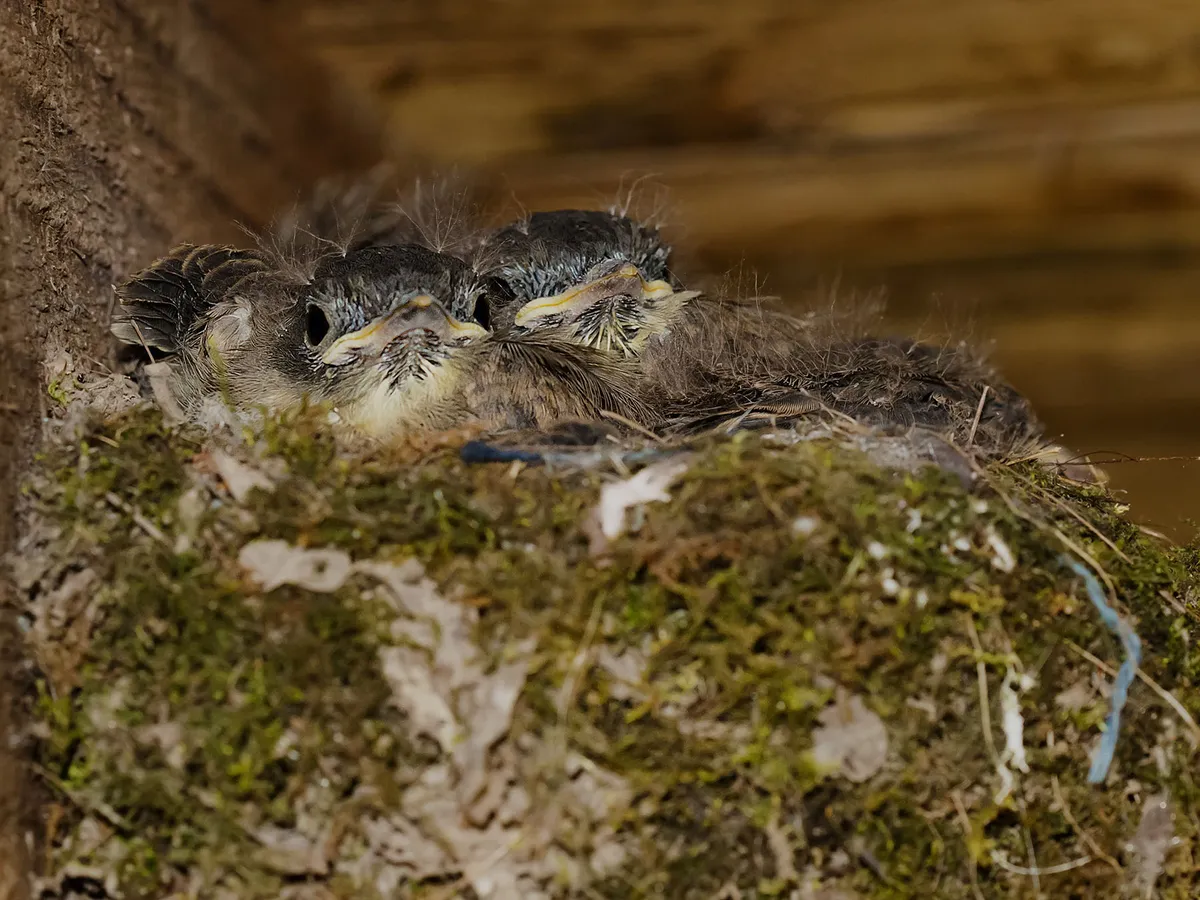 Close up of Eastern Phoebe chicks waiting to be fed in the nest
Nest Location
Eastern Phoebes have benefited from man-made structures like bridges that provide ideal nesting sites. Read on to learn more about where these birds build their nests.
Where do Eastern Phoebes nest?
The female Eastern Phoebe is responsible for selecting the nest site, although the male will also check out potential areas.
Eastern Phoebes look for sheltered natural or unnatural overhangs to build their nests. The ideal site must be dry and provide some bottom support to allow the birds to anchor their nests, although the female can adhere her nest to a wall.
Do Eastern Phoebes nest in the same place every year?
Eastern Phoebes return to the same nest site year after year. This habit would have been vital in days past when suitable nest sites were scarce. Their nests are often used by Barn Swallows (Hirundo rustica), American Robins (Turdus migratorius), and vice versa.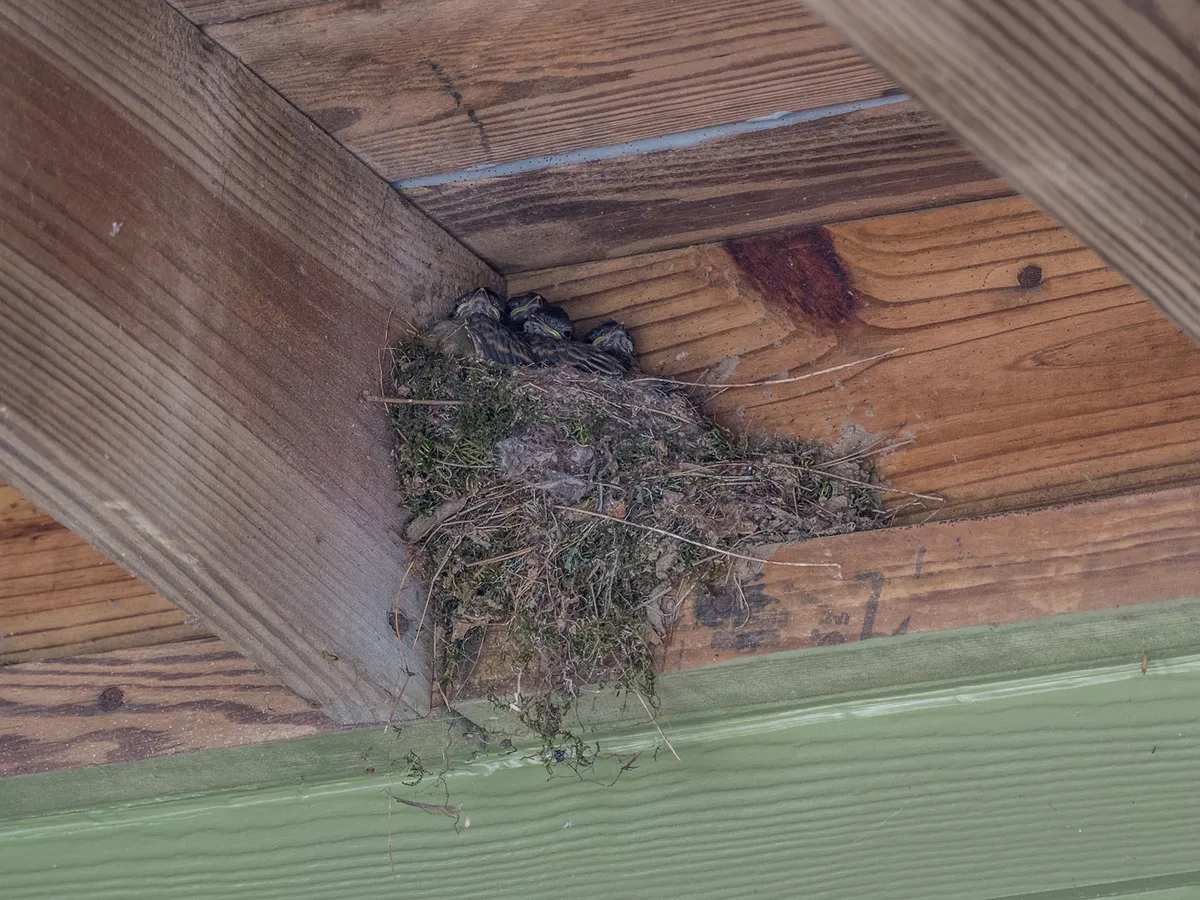 Eastern Phoebe nest built under wooden decking
Do Eastern Phoebes nest in backyards?
Eastern Phoebes often nest around homes. However, they are more likely to nest up against the wall of your house than in your backyard.
Do Eastern Phoebes use nest boxes?
Eastern Phoebes readily nest in purpose-built nest platforms secured against walls in appropriate areas.
The ideal design for a Phoebe nest box has an open front and sides with a ledge/ platform and an overhanging roof. Fix these nest platforms in quiet areas that are safe from cats and sheltered from direct sunlight.

How high are Eastern Phoebe nests?
Eastern Phoebe Nests are usually located three to fifteen feet (1 - 5 m) above ground or water.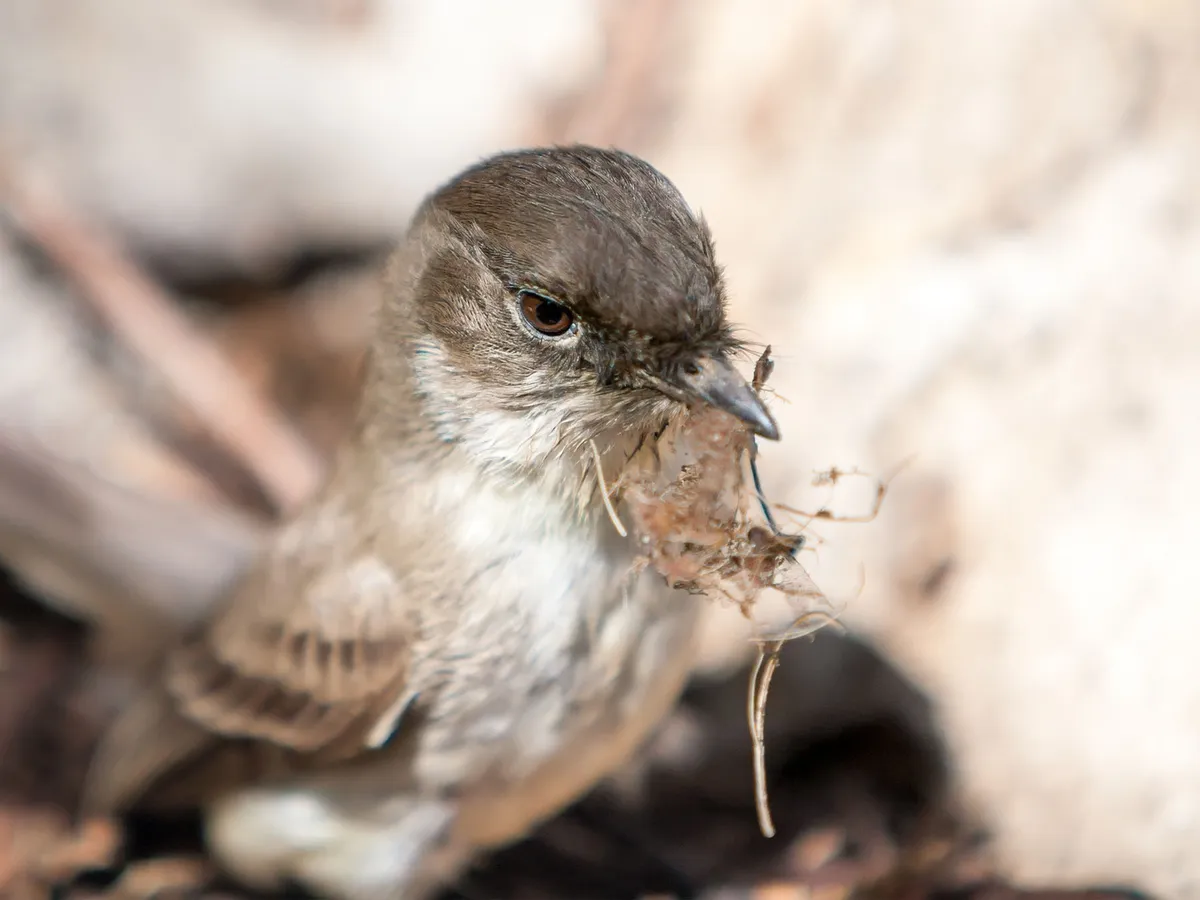 Close up of an Eastern Phoebe collecting nesting materials
Nest Appearance
What do Eastern Phoebe nests look like?
Eastern Phoebes build rounded nests on small platforms or against vertical walls, often just below a roof. The nests are often fairly tall and tinged green with moss. The inner cup of the nest is neat and perfectly round.
How big are Eastern Phoebe nests?
Eastern Phoebe nests are usually small structures - about the size of a closed fist. However, the nests can grow larger over time because the birds add a new lining before each use. Nest height varies depending on where they are built, with nests made without bottom support being significantly taller than those built on a ledge.
Average Eastern Phoebe nest dimensions:
Height: 2.4 - 4 inches (60 - 100mm)
Outside diameter: 4.3 - 4.7 inches (110 - 120 mm)
Inside diameter: 2.5 inches (64 mm)
Depth: 1.75 inches (44 mm)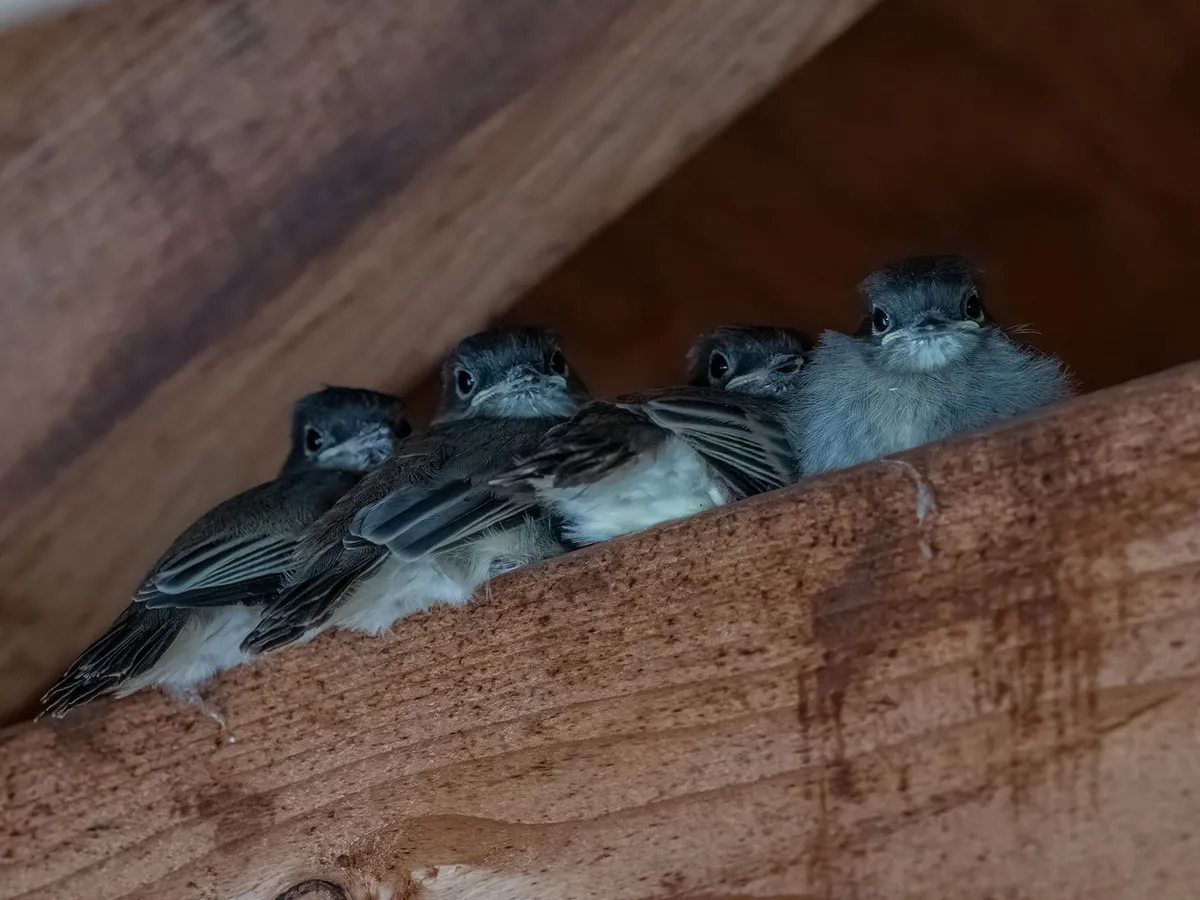 Eastern Phoebe fledglings perched up in the rafters
Phenology
Eastern Phoebes begin nesting relatively early compared with most American songbirds, although their timing varies geographically. Keep reading to learn more facts about when these birds nest.
What time of year do Eastern Phoebes nest?
Eastern Phoebes begin nesting from late winter to early spring. In the south of their breeding range, they may start as early as mid-March, while further north in Canada, nest construction is more likely to begin in late April.
How long do Eastern Phoebes nest for?
Eastern Phoebes take about ten weeks to build a nest and raise their chicks to independence.
Eastern Phoebe nesting timeline:
Nest construction: 5 - 14 days (Average 9 days)
Egg laying: 7 - 14 days after nest completion
Incubation: 14 -16 days (Average 16 days)
Fledging: Usually 16 days
What month do Eastern Phoebes lay eggs?
Phoebes lay their first clutch of eggs in March or April. They initiate the second brood between late May and the start of July.
Where do Eastern Phoebes nest in the winter?
Eastern Phoebes nest during the spring and summer, although nest construction can begin in mid-March in the south of their range. Migratory individuals spend their winters enjoying the mild weather of Mexico and the American Southeast.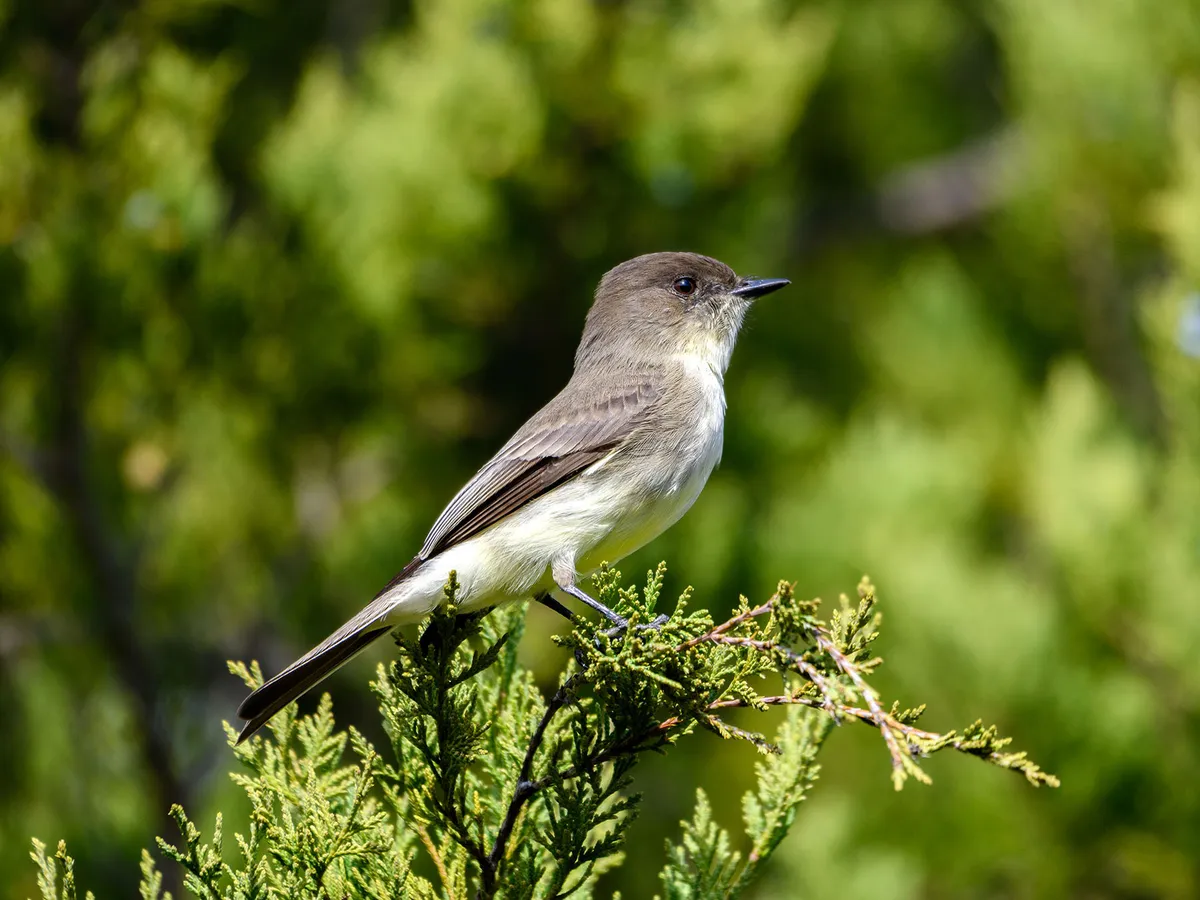 Eastern Phoebe perched on top of a juniper tree
Nest Construction
How do Eastern Phoebes build their nests?
Building a nest on a vertical surface requires some special skills, so how do Eastern Phoebes secure their nests in such precarious places?
Female Eastern Phoebes will perch when building at a site with a projecting structure, but starting the nest on a vertical wall poses more of a challenge. In this case, the bird must hover and fling mud onto the wall until they have formed a solid base to stand on.
Eastern Phoebes build their nests from the bottom up. The female collects mud from puddles and uses it to shape her nest and hold everything together. She adds plant material with rapid side-to-side movements of her bill and manipulates it until firmly attached.
The structure is circular when built on a level surface but semicircular when fixed against a vertical face. She will add the lining last, and repeat this final step when reusing an old nest or adapting the nest of a different bird species.
What do Eastern Phoebes use for nesting?
Eastern Phoebes build their nests from mud, moss, leaves, grass, and hair. Nests that are built on a solid surface or platform require less mud than those that are secured against vertical walls.
Do male or female Eastern Phoebes build the nest?
Female Phoebes do all of the nest building. The male often accompanies her back and forth, but it's unclear just how helpful this 'moral support' really is.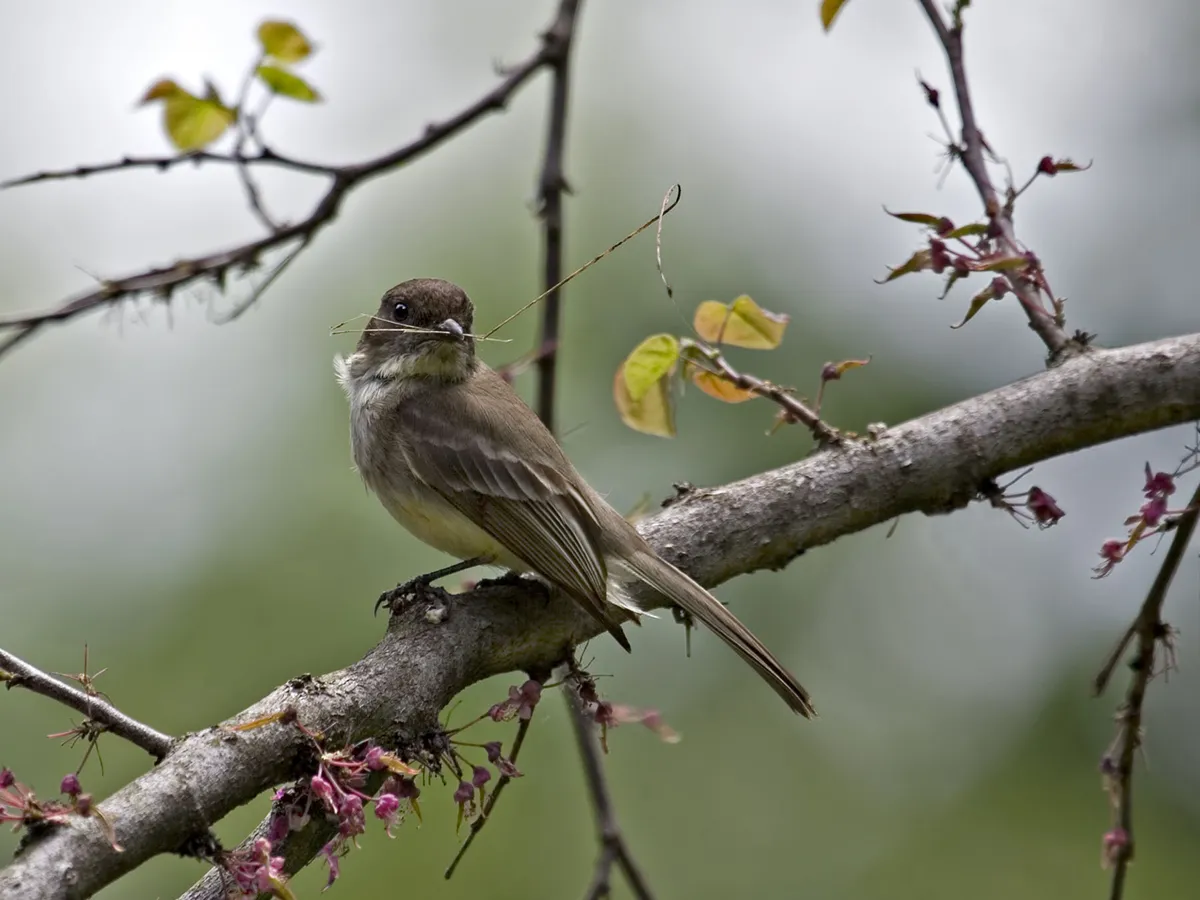 Nesting Eastern Phoebe collecting materials to build the nest
Eastern Phoebe Eggs
Female Phoebes usually lay their eggs early in the morning. Their nests are frequently targeted by Brown-headed Cowbirds, although the host eggs look very different from those of the nest parasite. Read on to learn more about the appearance of Eastern Phoebe eggs.
What do Eastern Phoebe eggs look like?
Eastern Phoebes lay rather non-distinct eggs. The eggs are uniform, matte white, and measure about three-quarters of an inch long and a half inch across (19 x 14 mm) on average.
How many eggs do Eastern Phoebes lay?
Eastern Phoebes usually lay between two and six eggs per clutch. Sometimes more eggs are found, although this is probably the result of more than one female laying in the same nest.
Do male Eastern Phoebes sit on eggs?
Male phoebes do not sit on eggs or provide food to their incubating partner.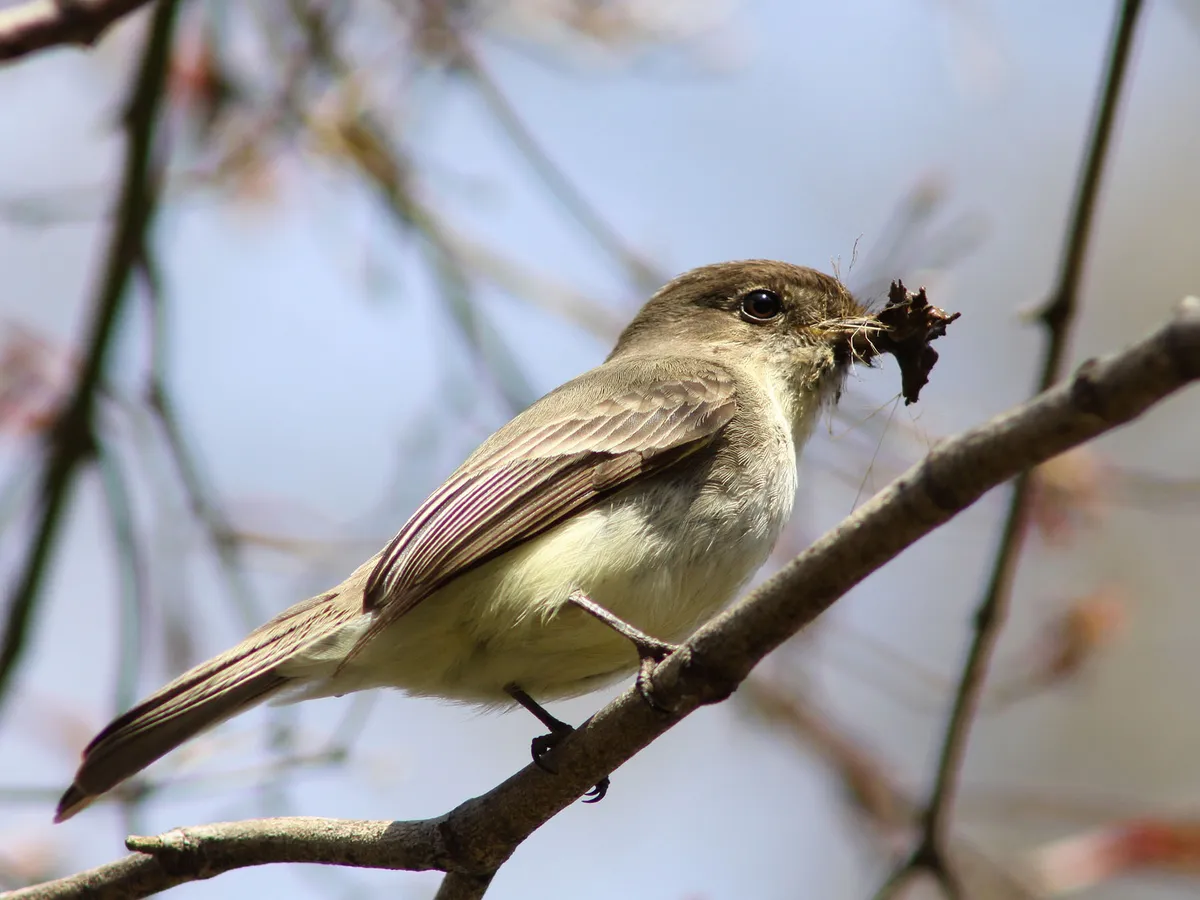 Eastern Phoebe with mud it in beak, for construction of the nest
Fledgling and Parental Care
When do baby Eastern Phoebes leave the nest?
Eastern Phoebe chicks are essentially fully grown when they leave the nest at sixteen days old. Only their tail and flight feathers still have some growing to do. At this stage, their neat nest has become a pretty crowded place.
How many broods do Eastern Phoebes have?
Eastern Phoebes usually have two broods. The female will lay her second clutch within a week or two of the first chicks fledging the nest. Time and nesting sites are limited, so these birds often renovate and reuse the same or another old nest for the second clutch.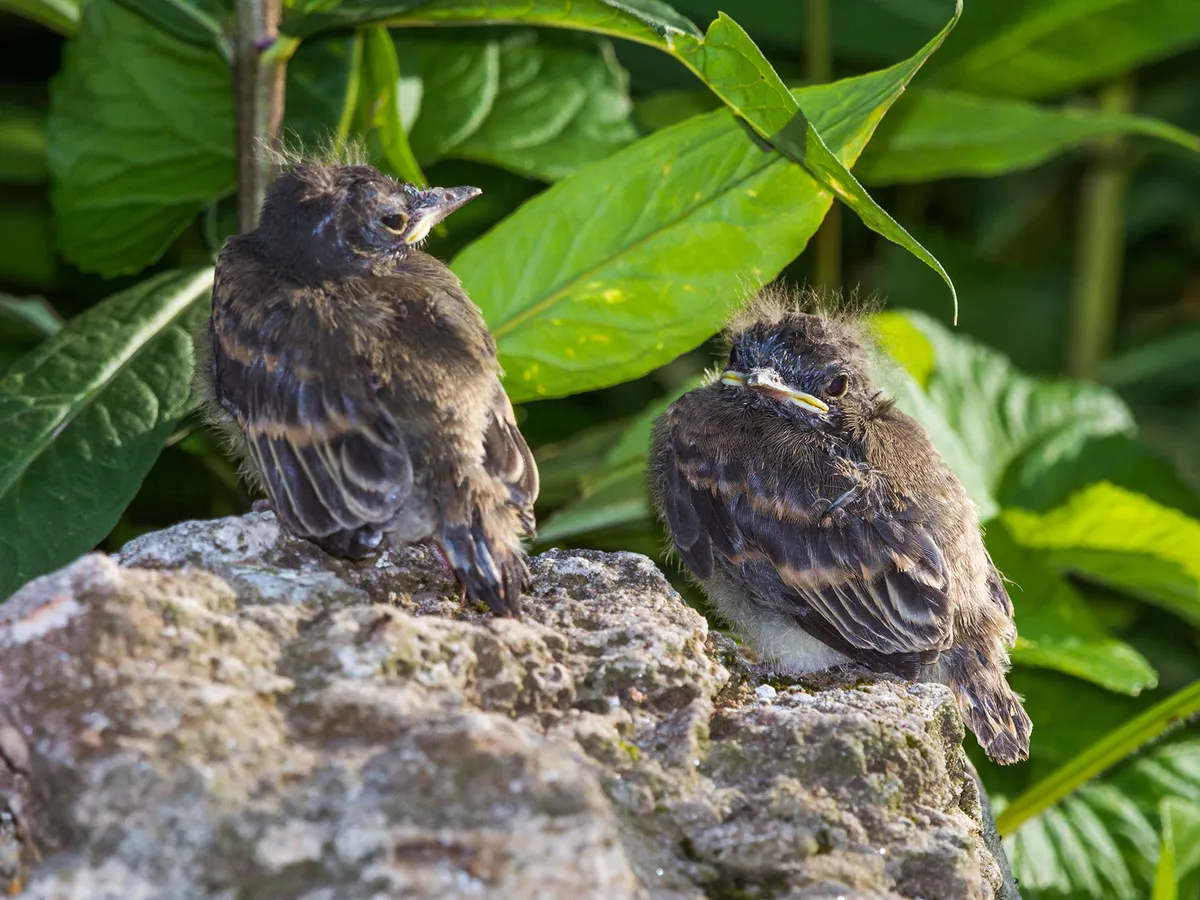 Two recently fledged Eastern Phoebe chicks perched on a rock
Eastern Phoebe Nesting FAQs
Do Eastern Phoebes abandon their nests?
Eastern Phoebes do not usually abandon their nests, and they often reuse old nests after giving them a fresh new lining. Avoid disturbing the birds while they are necessary, nevertheless.
Do Eastern Phoebes nest on the ground?
Eastern Phoebes do not usually nest on the ground. They prefer to nest on tall vertical structures like bridges, houses, and rock outcrops.
Where do Eastern Phoebes nest at night?
Female Eastern Phoebes spend the night incubating. They even start sleeping in the nest at night before laying the eggs. Phoebes may roost at nest sites at other times of the year, although this is not always the case.
How to attract nesting Eastern Phoebes
The best way to attract nesting Eastern Phoebes is to put out a nesting platform or two in suitable locations around your house and property. These birds often nest near water, so installing a bird bath may also help to attract a breeding pair.