"Bury your head in the sand" is a well-known idiom that means to ignore one's problems. If you bury your head in the sand, you can't see your problems - but that doesn't mean they'll go away!
This idiom is largely attributed to the ostrich, which supposedly buries its head in the sand when predators are nearby, "if I can't see them, they can't see me!" So, do ostriches really bury their heads in the sand?
Contrary to popular belief, due to the idiom, Ostriches do not bury their heads in the sand. This is, in fact, a myth. When it comes to defense, Ostriches can be pretty ferocious birds, who aren't afraid to throw their weight around.
Ostriches can be exceptionally tall at over 2.8m (9ft) and very heavy, weighing up to 150kg (330lb) in the case of the very largest male Common ostriches. They also have extremely powerful legs with large toes around 15cm (6 inches long).
An ostrich kick can kill a large animal like a lion or human. While lions and other African land predators do attack young and juvenile ostriches, it's hardly a one-sided fight. Ostriches are ferocious and territorial and have been known to mob and kill lions they find stealing their eggs.
Does that sound like an animal that buries its head in the sand in the face of danger?
Read on to discover where this famous idiom came from!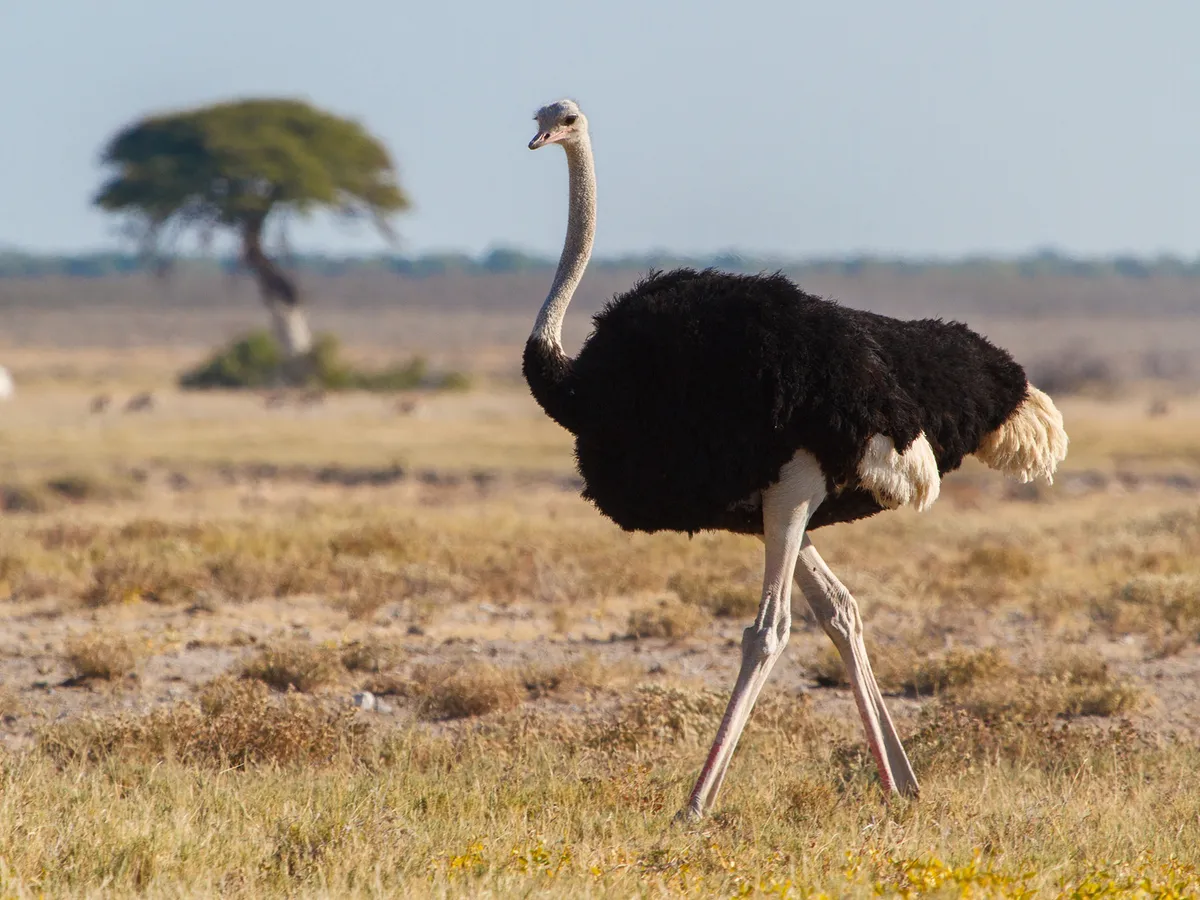 Ostriches do not ever bury their heads in the sand, its purely a myth
Where did the myth originate from?
Historians trace the origin of this myth to the Roman writer, philosopher, and naturalist Pliny the Elder, who lived from AD 23 to AD 79.
Pliny wrote numerous books that helped historians document the Roman empire and their conquests, but one of his most influential works was Naturalis Historia which translates as "natural history."
This enormous work covered many topics in zoology, among various other subjects. For example, in Book X (book 10), Pliny writes about ostriches; "…they imagine when they have thrust their head and neck into a bush, that the whole of their body is concealed". As we can see, Pliny did not directly accuse the ostrich of burying its head in the sand, so the modern-day idiom probably came sometime after.
Pliny spent some time in the African Roman colonies, so he almost definitely saw ostriches with his own eyes.
And to his credit, he wasn't too far wrong with his observations either. While ostriches don't bury their heads in the sand, they sometimes sit on the ground and stretch their neck across the ground when they feel in danger, probably to give themselves a low profile that blends in with the surrounding foliage. This may have been the behavior that inspired Pliny's writing.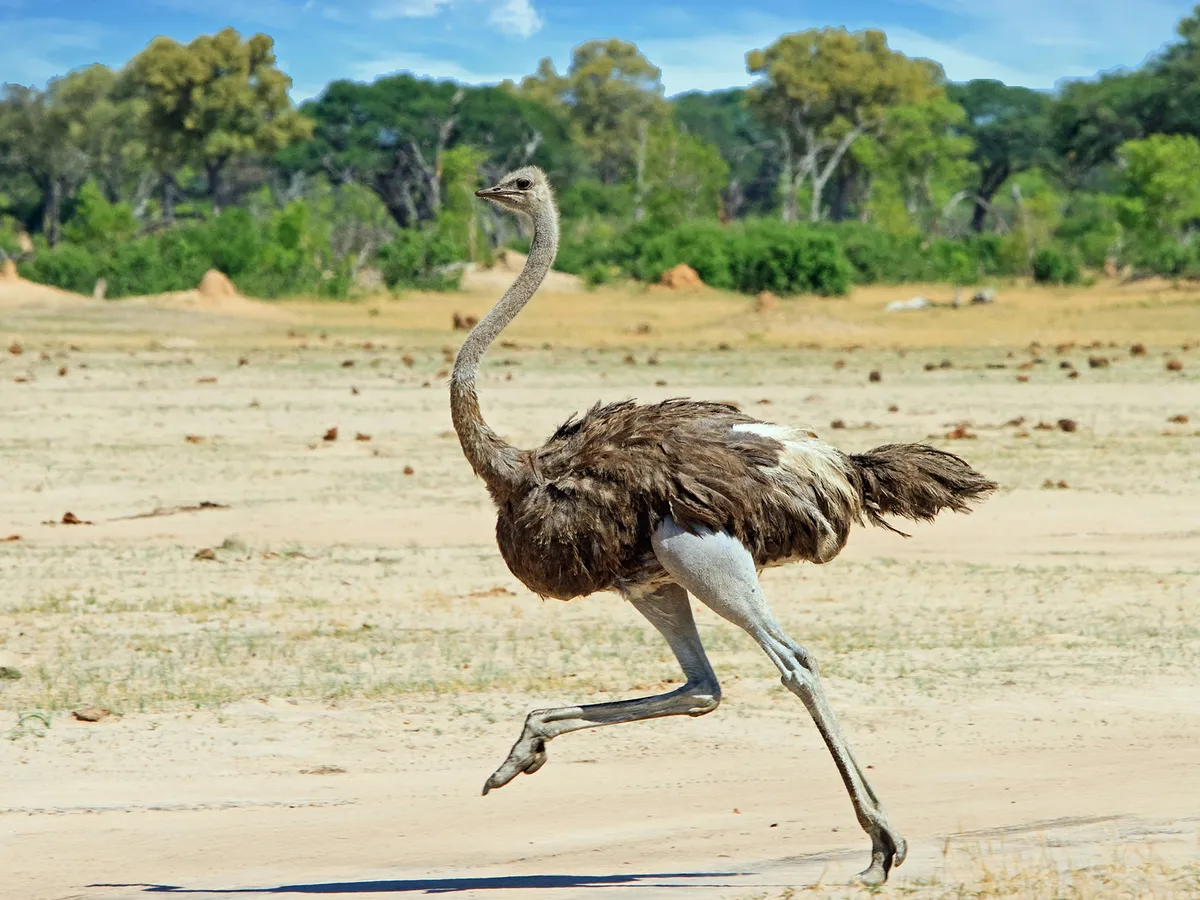 Ostriches are large, powerful birds that can reach speeds of over 40mph
When do Ostriches bury their heads in the sand?
Ostriches don't bury their heads in the sand but partake in a few behaviors that make them look like they are. These include feeding, and during the nesting season.
For example, ostriches frequently lean over to feed and extend their long necks towards the ground when doing so. From a distance, this may look like the ostrich burying its head in the sand.
But the most likely behavior that is mistaken for this occurs when ostriches build and maintain their nests.
Ostriches build rudimental nests, which are essentially just hollows scraped in the dirt. The male builds the nest by scraping the ground with his claws but may also fine-tune and inspect the nest by reaching down with his long neck.
Then, once the eggs are laid, ostriches periodically reach into the nest and turn the eggs over. This ensures that incubation is even. The ground gets very cold at night, and the egg must be warmed up evenly.
This might give the impression that the ostrich is reaching into a hollow in the ground, or burying its head in the ground.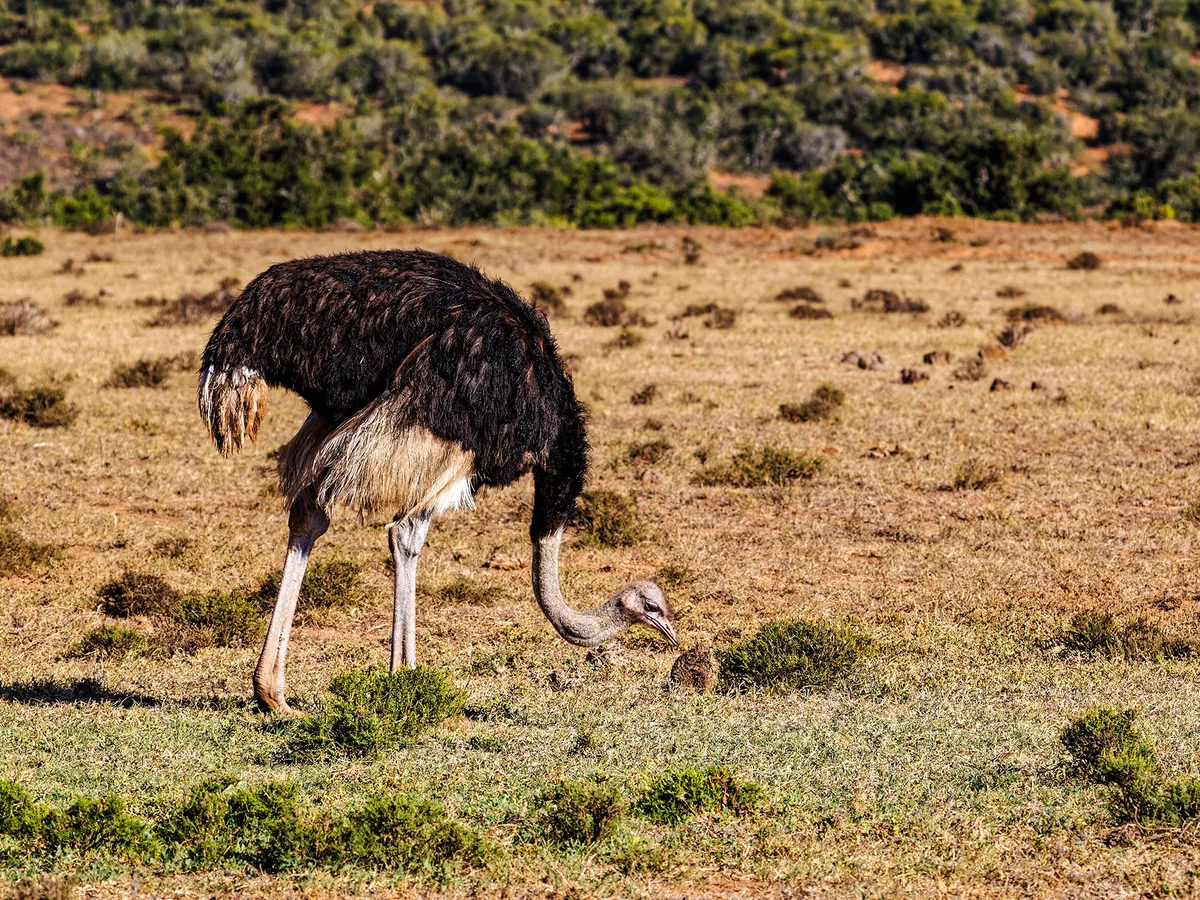 From a distance, Ostriches foraging and feeding off the ground can sometimes look like they have their heads in the ground
What is the meaning behind Ostriches burying their heads in the sand?
One of the reasons this term stuck is because it's a good way of describing human behavior, not ostrich behavior. To bury one's head in the sand means to ignore one's problems. The term means to avoid problems or confrontation or putting something off, etc.
This is typical human behavior that most people can relate to. For example, humans often accuse each other of burying our heads in the sand regarding climate change - we simply tell ourselves that the problem won't affect us, even if danger is imminent.
In psychology, this is called the "Ostrich Effect" and relates to other notions and idioms like "ignorance is bliss".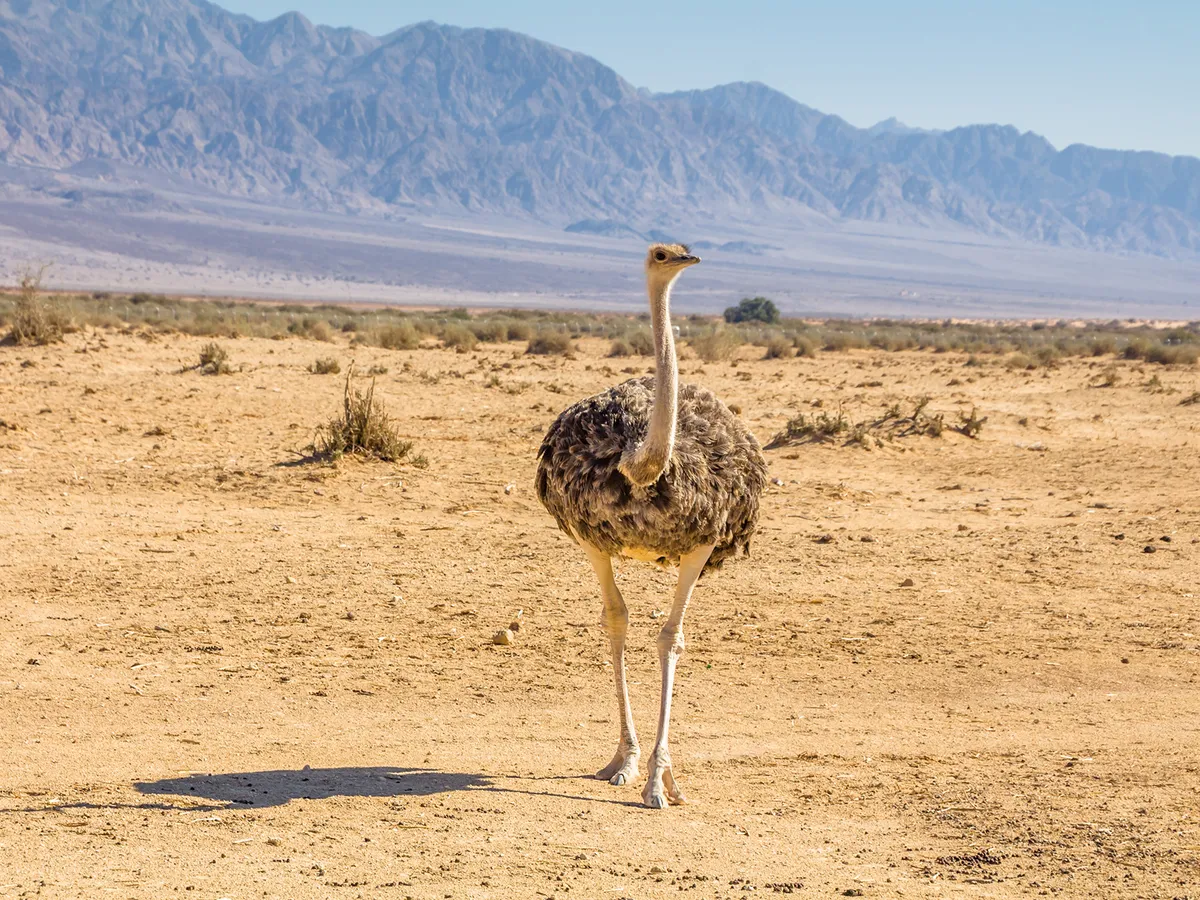 Female Ostrich roaming about in Yotvata Nature Reserve
What do ostriches do when they are scared?
If an ostrich does get scared, it will likely run, but it might also lay on the ground to minimize its shape and form. This is possibly what Pliny observed when writing about ostriches in Naturalis Historia.
Ostriches are massive, strong, and territorial animals but also extremely fast. In fact, ostriches can sustain speeds of 30 to 37 mph for long periods of time - up to 30 minutes or so - and sprint up to 43 mph.
While an ostrich can't easily outrun a lion over sprint trips, they have the stamina advantage and would start pulling away after 100m or so. Cheetahs are the only African land predators capable of catching an ostrich at full tilt, but ostriches are considerably larger than Cheetahs and would be a poor prey choice. An ostrich could easily hurt, injure or kill a Cheetah.
But here's another interesting fact about ostriches: they have the largest eye of any land animal at 5cm (2.2in) across - bigger than an elephant's eye. As a result, they can spot small predators from a distance of some 1.8 miles (3km) away or at 50m or further in the dead of night. Combined with their long necks, ostriches are generally able to spot predators before predators spot them.
Ostriches are fearsome adversaries for several reasons and don't easily back away from a fight. In fact, it's extremely unwise to come close to a wild ostrich, and human deaths aren't unheard of.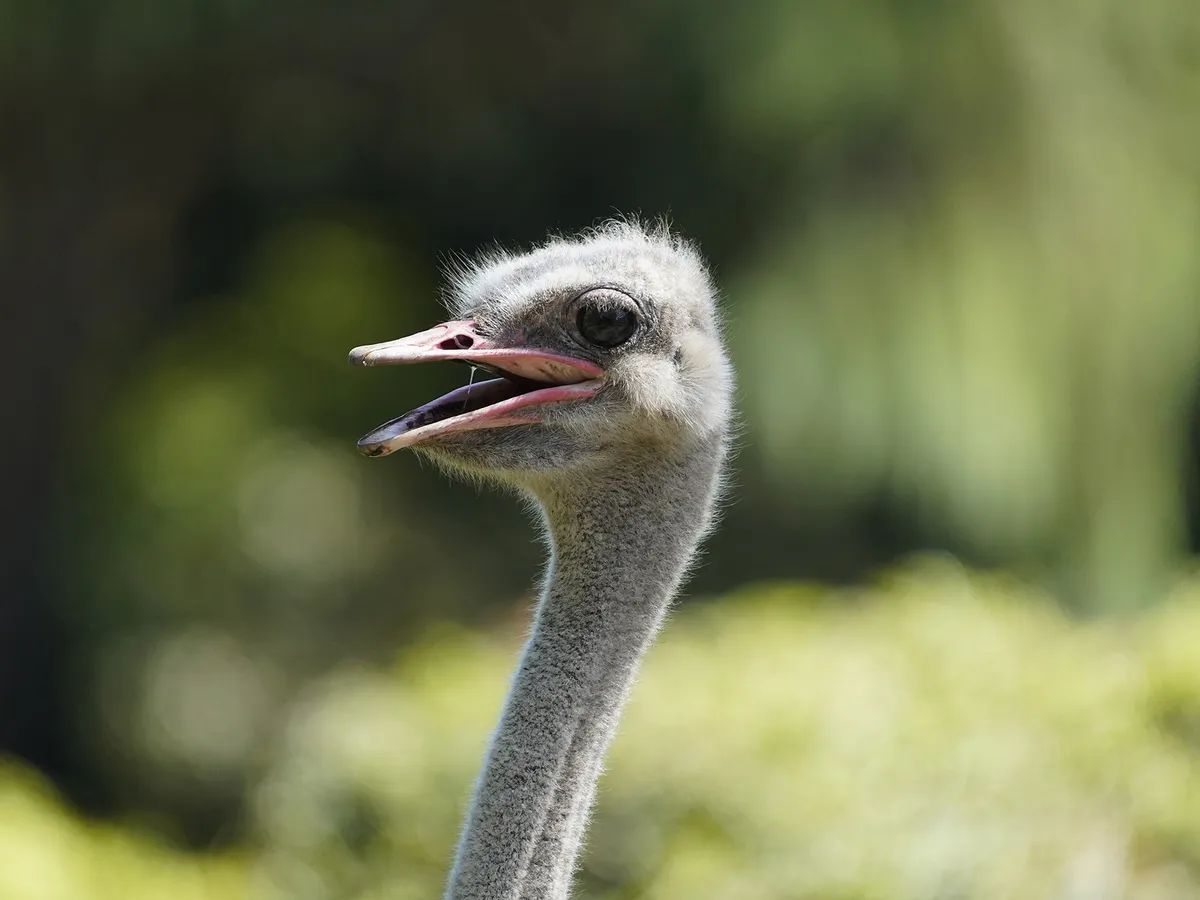 Close up portrait of an North African ostrich or red-necked ostrich (Struthio camelus camelus), also known as the Barbary ostrich
Do any birds bury their heads in sand?
We mostly associate birds with the sky or trees, but many birds live under the ground, like Burrowing owls, swallows, some thrushes, Magellanic penguins, Kingfishers, some woodpeckers, and many seabirds.
However, no birds seem to bury themselves when confronted by danger. After all, any bird capable of flight would be better off simply flying away. While some ground-dwelling birds might retreat to their burrows when threatened, none bury their heads in the sand.