American redstarts are medium-sized wood warblers, found in deciduous woodlands and hedgerows across North America during spring and summer and spending winter months in the native forests of Central and South America.
Where's the most likely place to spot one of these distinctive black and orange songbirds? We'll be looking at their different habitats during breeding and nonbreeding seasons, so please read on.
American redstarts breed across much of eastern Canada and the northeastern regions of the United States. They are seen in passage across much of the eastern U.S. traveling between breeding grounds and their winter habitats in southern Mexico, Central America and northern South America.
Typical breeding habitats include deciduous woodlands and shrublands within a short distance from a water source. After breeding, areas with dense vegetation offer a suitable spot for molting ahead of their long migrations to their wintering grounds in Central and Southern America and the Caribbean. Typical winter habitats for American redstarts include native forests and mangroves.
To learn more about habitats favored by American redstarts at different times of year, and where you may stand a good chance of spotting one of these colorful woodland warblers, just keep reading!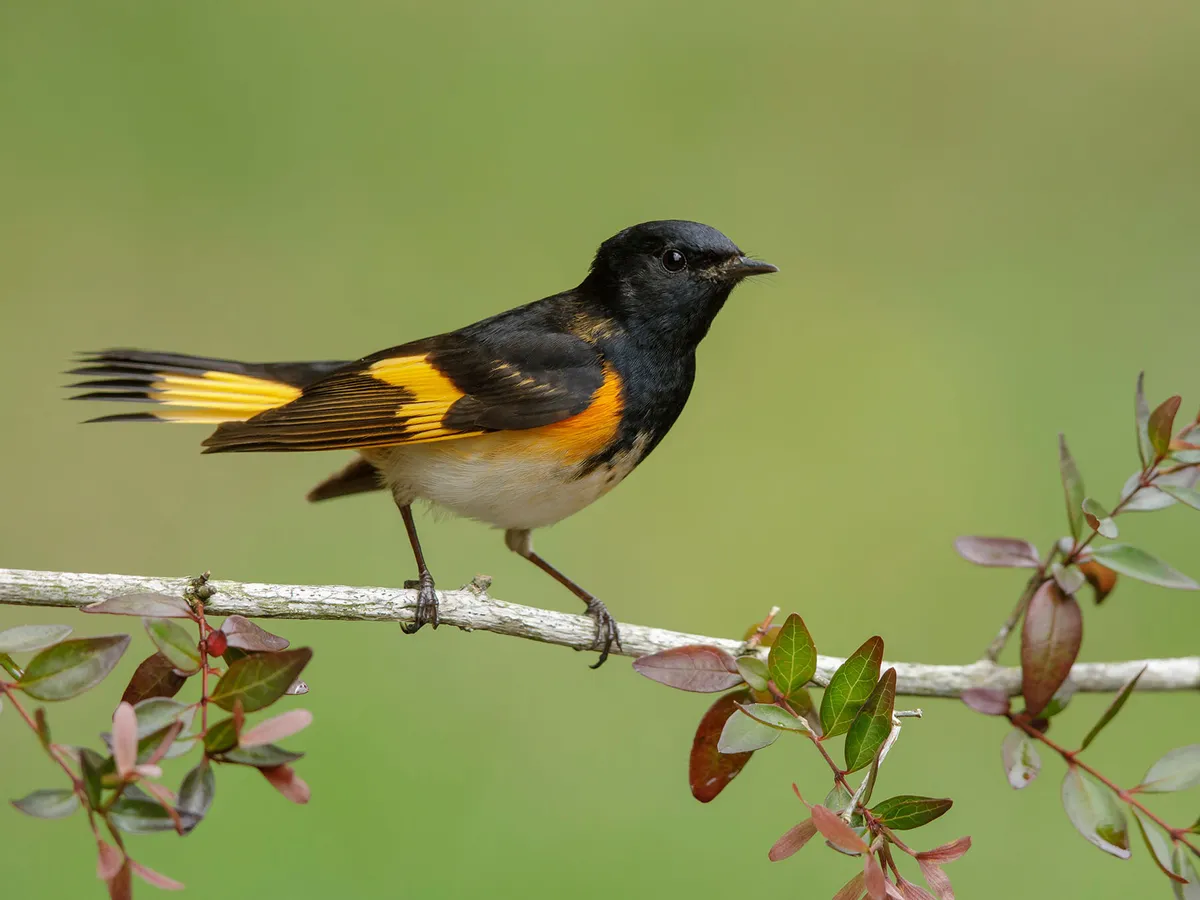 American redstarts breed across much of eastern Canada and the northeastern regions of the US
Distribution Range
The breeding range of American redstarts across much of southern Canada, into the eastern and central United States.
Migration passage brings the species across much of the U.S. as they head to and from their winter range, which extends across most of Central America, the Caribbean, and into northern South America.
Where do American Redstarts live in the US?
In the eastern regions, American redstarts are reasonably common breeding visitors in spring and summer. Across much of the rest of the country, sightings occur mainly during migration passage during spring and late summer.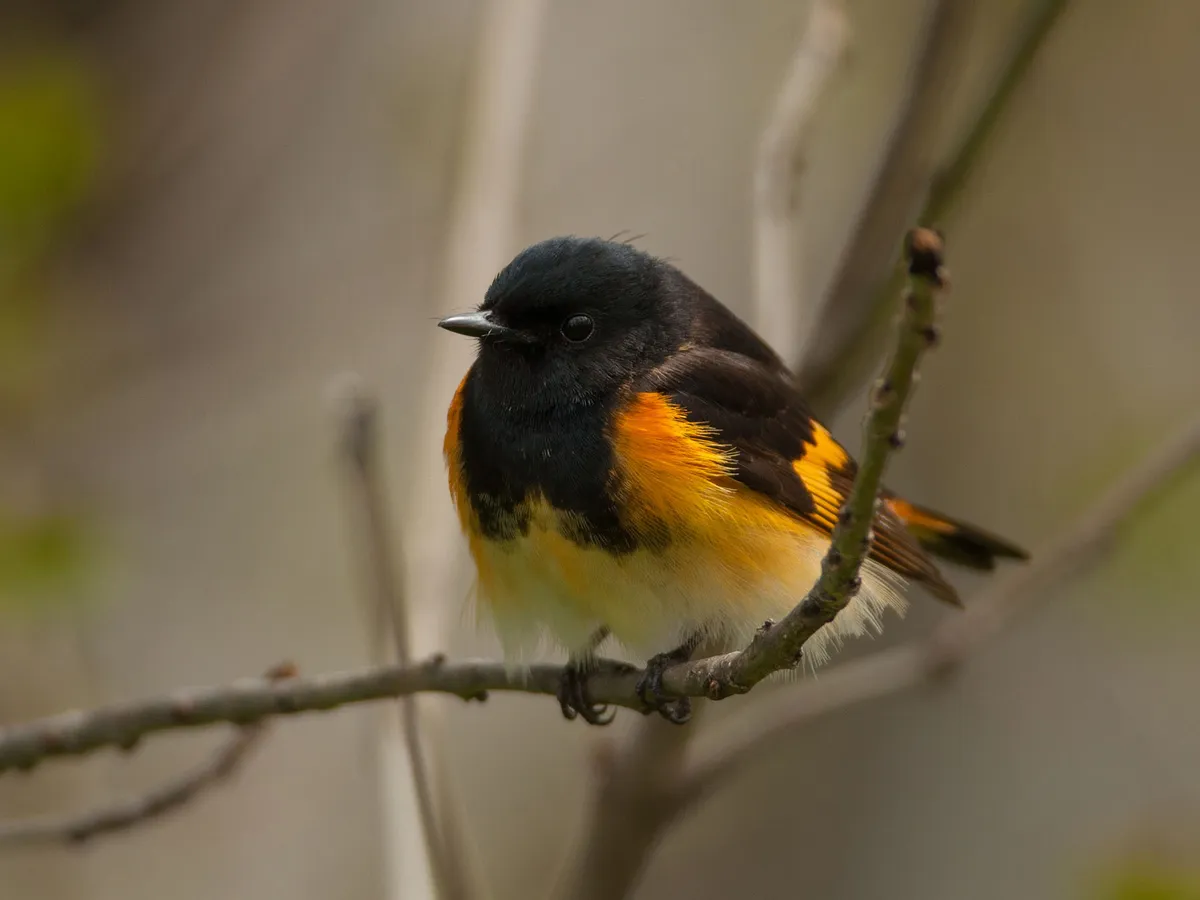 Close up of a perched male American Redstart
What states do American Redstarts live in?
Only Florida and Louisiana have small year-round populations of American redstarts, but the species can be seen across much of the rest of the country at certain times of the year.
Breeding occurs along the east coast, from the Canadian border to Virginia.and spreads inland as far as Oklahoma, Kansas and Nebraska. In the west, breeding grounds are found in parts of Alaska, Washington and Oregon.
Stopovers during migration passage are common at woodlands and hedgerows across the entire U.S, as American redstarts head directly south from their breeding grounds to their winter territories.
Where do American Redstarts live in Canada?
Southern Canada is a chief breeding region for American redstarts, with pairs raising young in Newfoundland, southern Labrador, south-central Quebec, north-central Ontario, central Manitoba, north-central Saskatchewan, northeastern Alberta, west-central British Columbia, and extreme southwestern Yukon.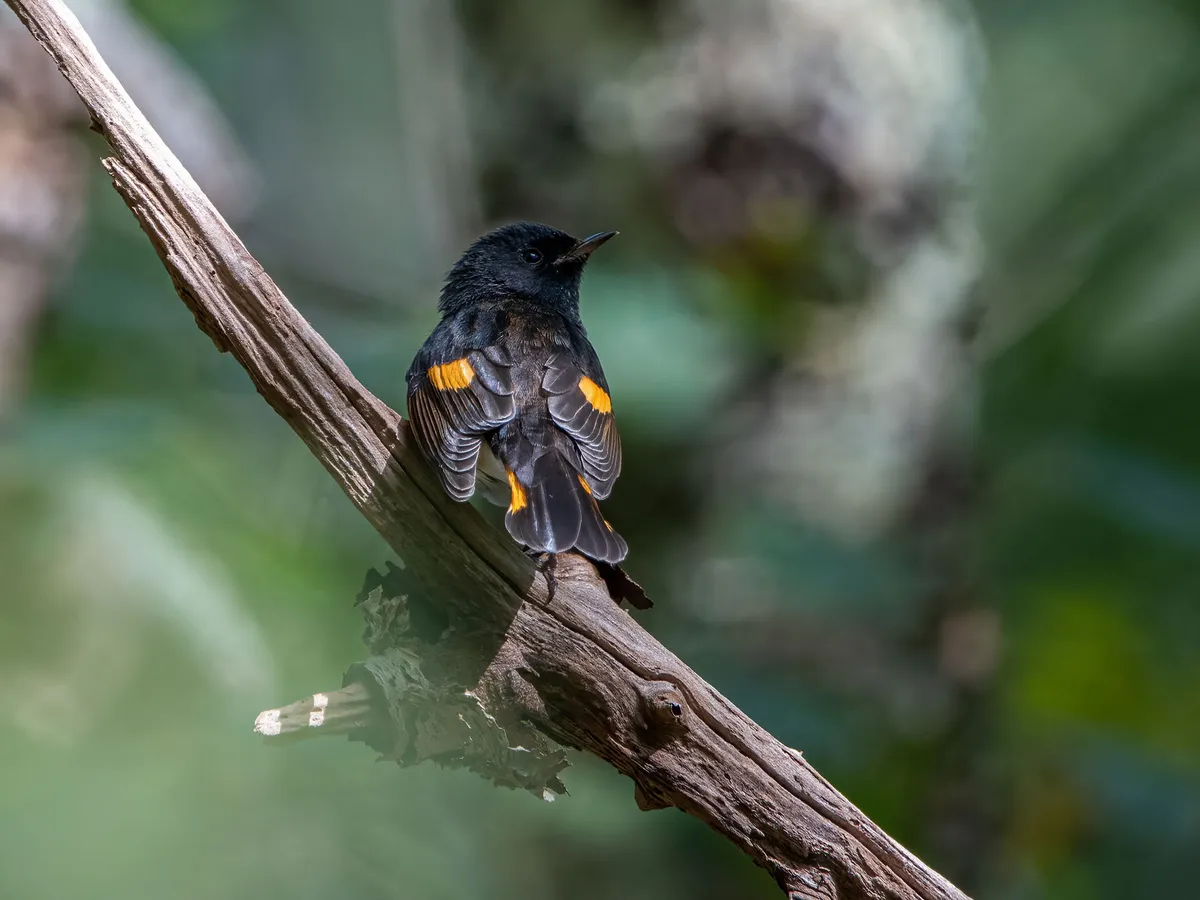 American Redstart perched on a tree branch
Habitat
The breeding habitat of American redstarts typically includes woodland and hedgerow landscapes, with close access to lakes or rivers.
Areas with dense shrubbery, deciduous and mixed woodlands and hardwood forests offer ideal environments for American redstarts to forage, build nests and raise young.
Winter habitats chosen by American redstarts include dense native forests, mangroves and other areas of shrubby vegetation. Males tend to establish winter territories in forested areas, while females are found in less densely wooded and shrubland landscapes.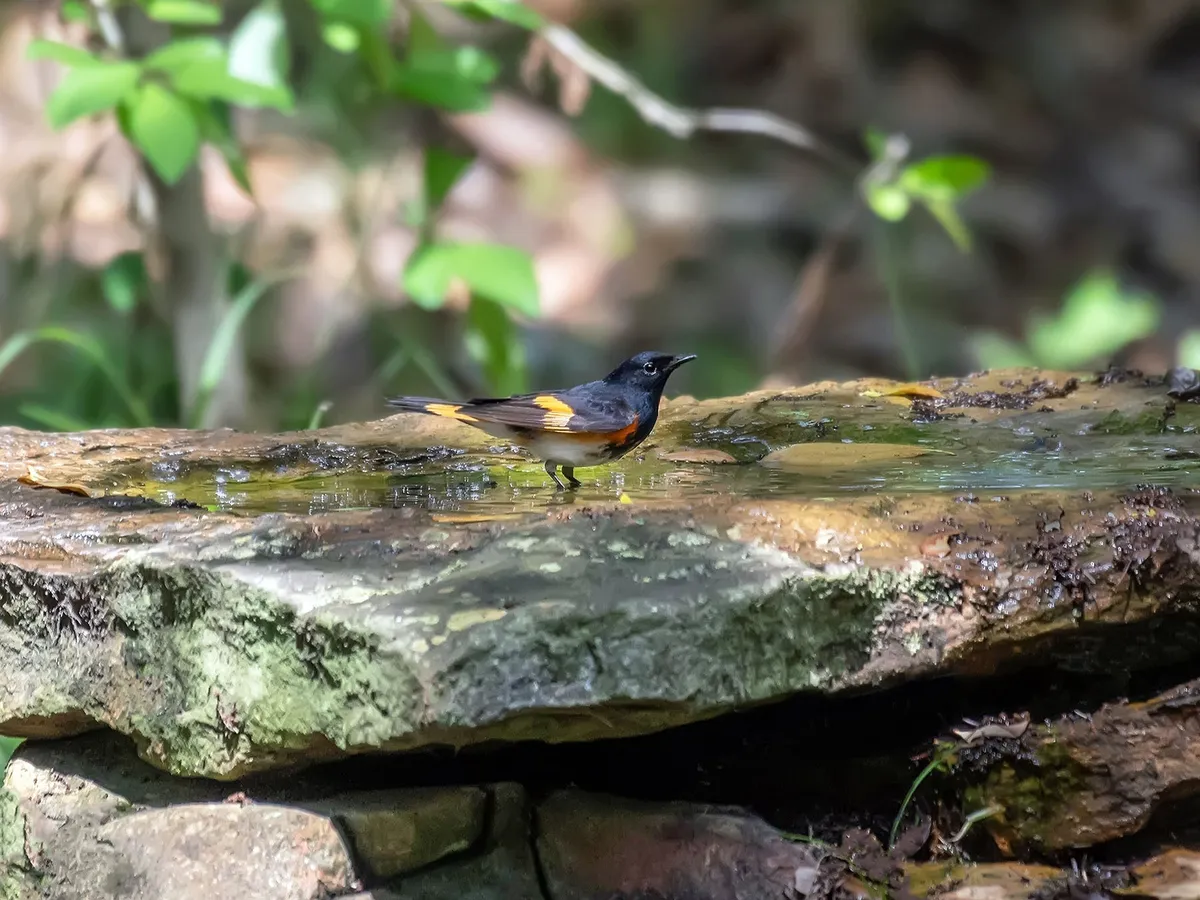 Woodland and forests are some of the best places to spot American Redstarts
Spotting
How rare is it to see an American Redstart?
American redstarts are ranked as a species of least concern, but have experienced population declines due to habitat loss in both their winter and breeding territories.
Within their range, they are still considered to be relatively common, and their coloring means they are more frequently observed than other less conspicuous woodland birds.
Where is the best place to see American Redstarts?
The best place to look for American redstarts is in woodlands that are undisturbed by agricultural activity or the presence of humans.
They prefer relatively dense woodland landscapes and can be seen foraging at a reasonably low level among the foliage, as well as in lower branches of deciduous trees, looking for insects which they either catch mid flight or pick off leaves of the vegetation.
What time do American Redstarts come out?
American redstarts are diurnal birds, and are active only during daylight hours. However, their long-distance migration flights usually take place at night.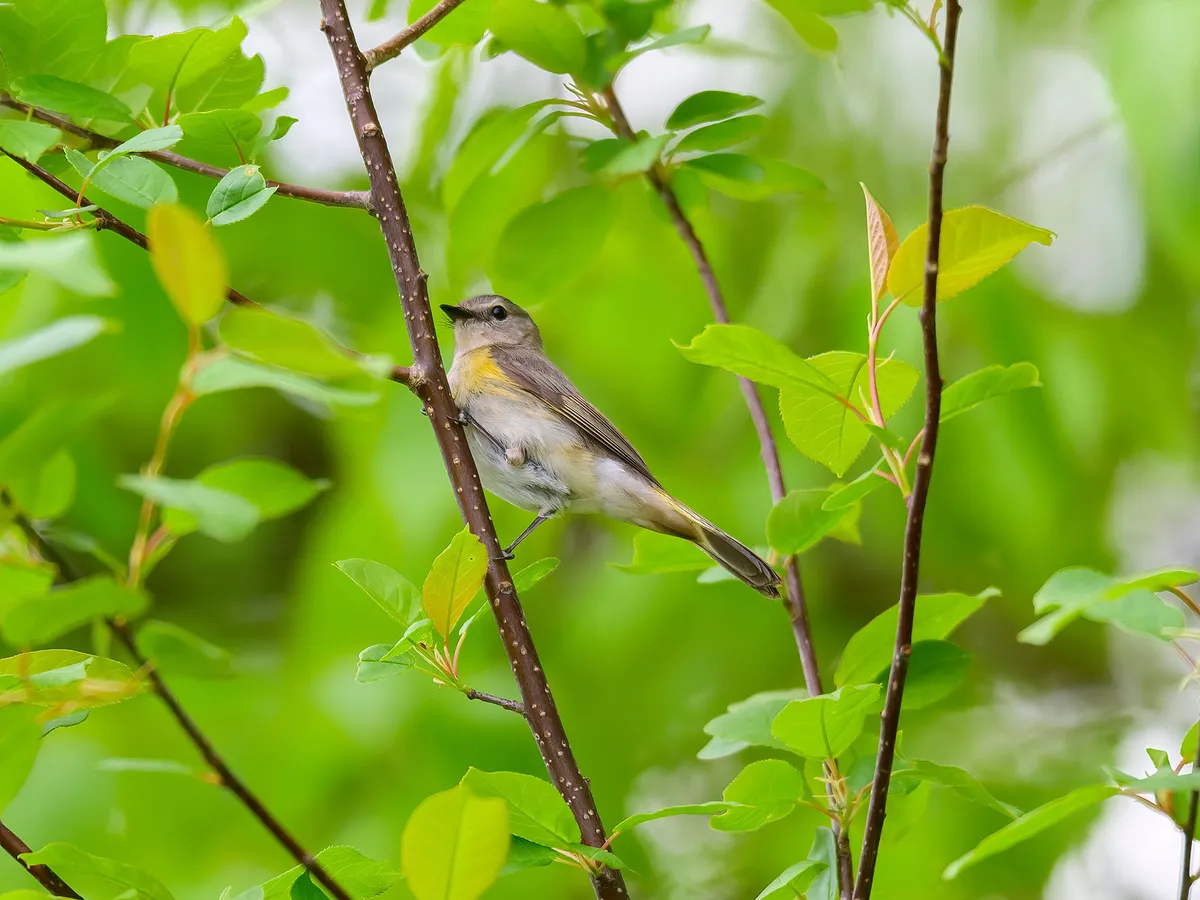 Female American Redstart in natural habitat
Seasonality and Movements
Do American Redstarts stay in one place?
Banded birds have been studied to establish the migration patterns of American redstarts and suggest that birds migrate directly southwards from their breeding grounds.
American redstarts that breed in eastern North America usually head to the Caribbean, spending winter months in the Greater Antilles and northern South America.
Typical migration destinations of American redstarts that breed further west, in central and western Canada and the United States, include Mexico and Central America.
Where do American Redstarts live in the winter?
All American redstarts are migratory except small populations that are resident in Florida and Louisiana all year round. They typically leave their breeding grounds in the United States and Canada each fall to spend winters in Mexico, the Caribbean islands, and Central and South America.
Data shows that American redstart migrations occur in a directly southern direction, with birds breeding in eastern regions overwintering in the Caribbean and northern South America, while those that breed further east tend to spend the colder months in Mexico and Central American forest landscapes.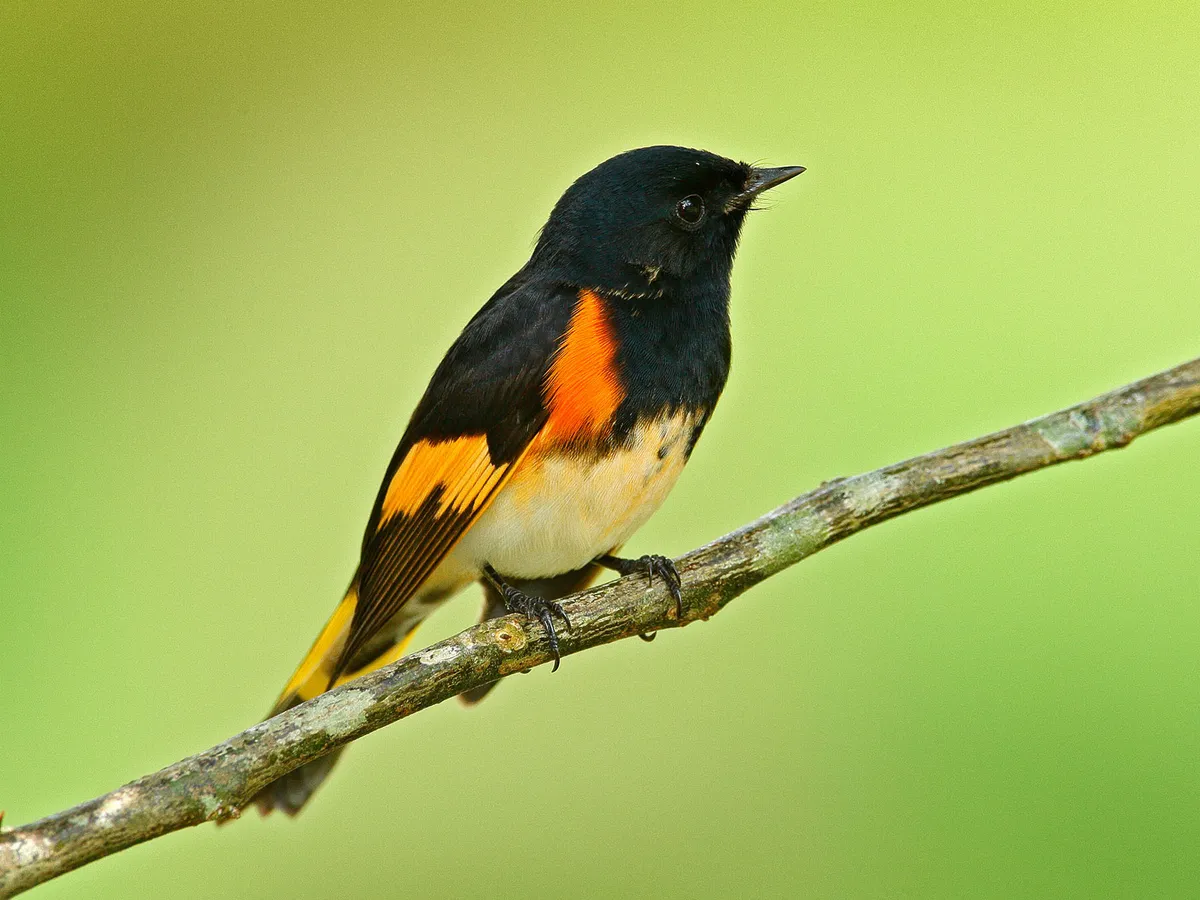 The majority of American Redstarts migrate
How do American Redstarts survive winter?
The vast majority of American redstarts are migratory, leaving their spring and summer breeding grounds for warmer climates further south from the beginning of July each year and spend up to 7 months on their wintering grounds.
By moving to areas that are wet and warm, American redstarts are surrounded by abundant sources of food when these are in shorter supply in their breeding grounds.
Where do American Redstarts live in the summer?
American redstarts breed in landscapes that feature woodland and shrubbery, particularly those that are close to a water source or lakeshore.
After breeding, both males and females undergo a full molt, and seek densely sheltered vegetation where they can remain hidden until they are ready to begin their migration journey.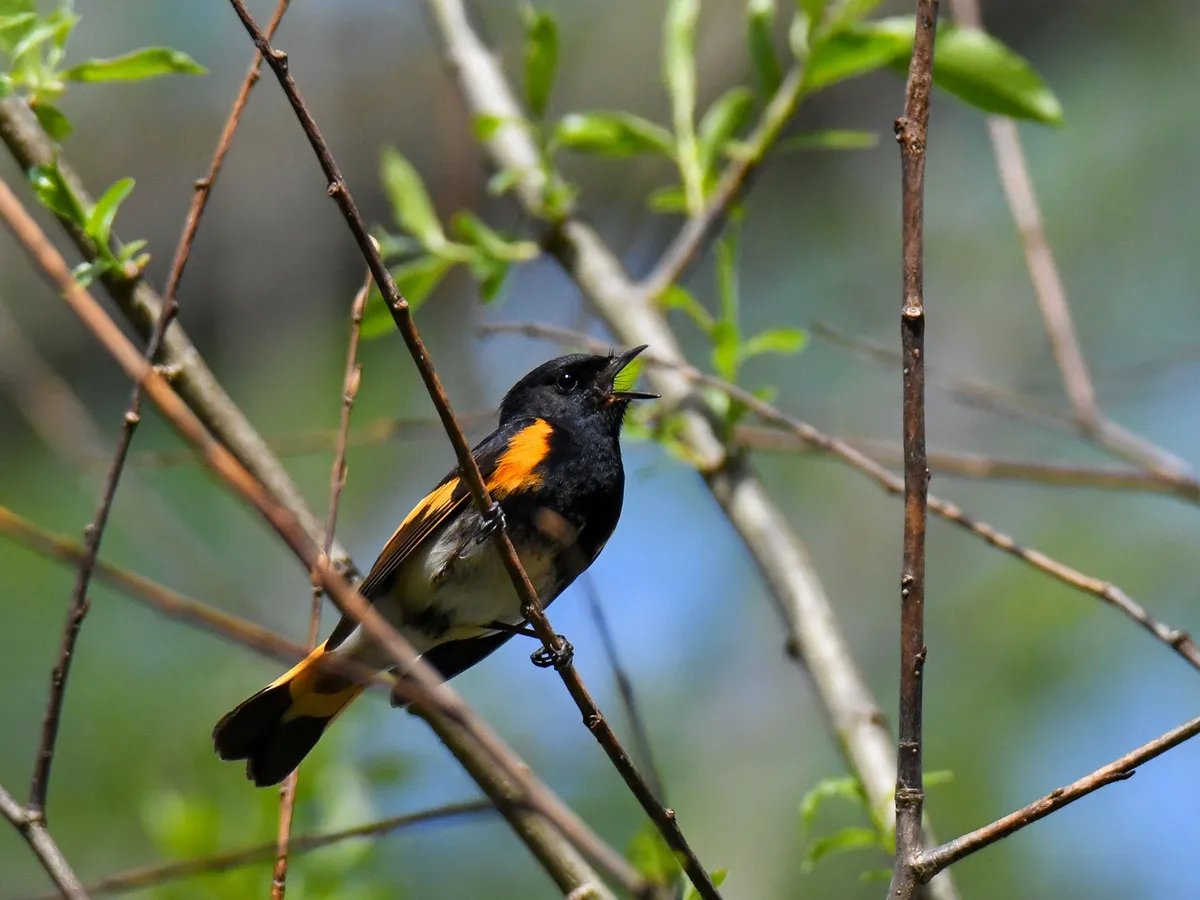 American Redstarts are known for their repertoire of beautiful songs
Do American Redstarts live in groups?
American redstarts are highly territorial both in the breeding and non-breeding seasons, and will defend their patch on overwintering grounds almost as aggressively and vigorously as they do their nest sites.
In winter, they will almost always be seen as solitary birds, while during the breeding season, sightings of pairs are not unusual.