As their name might suggest, American kestrels (Falco sparverius) are native to both the North and South American continents, and are the most common falcon species in the U.S.
With a year-round presence across much of the country, extending north during the breeding season, but where is the best place to spot American kestrels? Keep reading to learn more about the preferred habitats of this small, fierce falcon.
American kestrels thrive in a range of habitats, in both urban and rural settings. Their breeding range extends across most of Canada and the U.S. with birds spending summers raising young in the northern edges of the range migrating southwards in winter months.
Among the most widespread birds of prey in the United States, the American falcon (Falco sparverius) is found in a diverse range of habitats, and can survive well in all landscapes and environments, except in the most densely forested areas.
However, habitat loss is having a negative impact on population numbers, with destruction of trees leading to a decrease in available suitable nesting sites. Purpose-built nest boxes are addressing this issue in some urban and suburban areas, with American kestrels becoming an increasingly common sight above city and town skylines.
To discover more about the types of habitat which American kestrels are most commonly spotted, and learn more about when and where they are likely to be spotted, then please read on.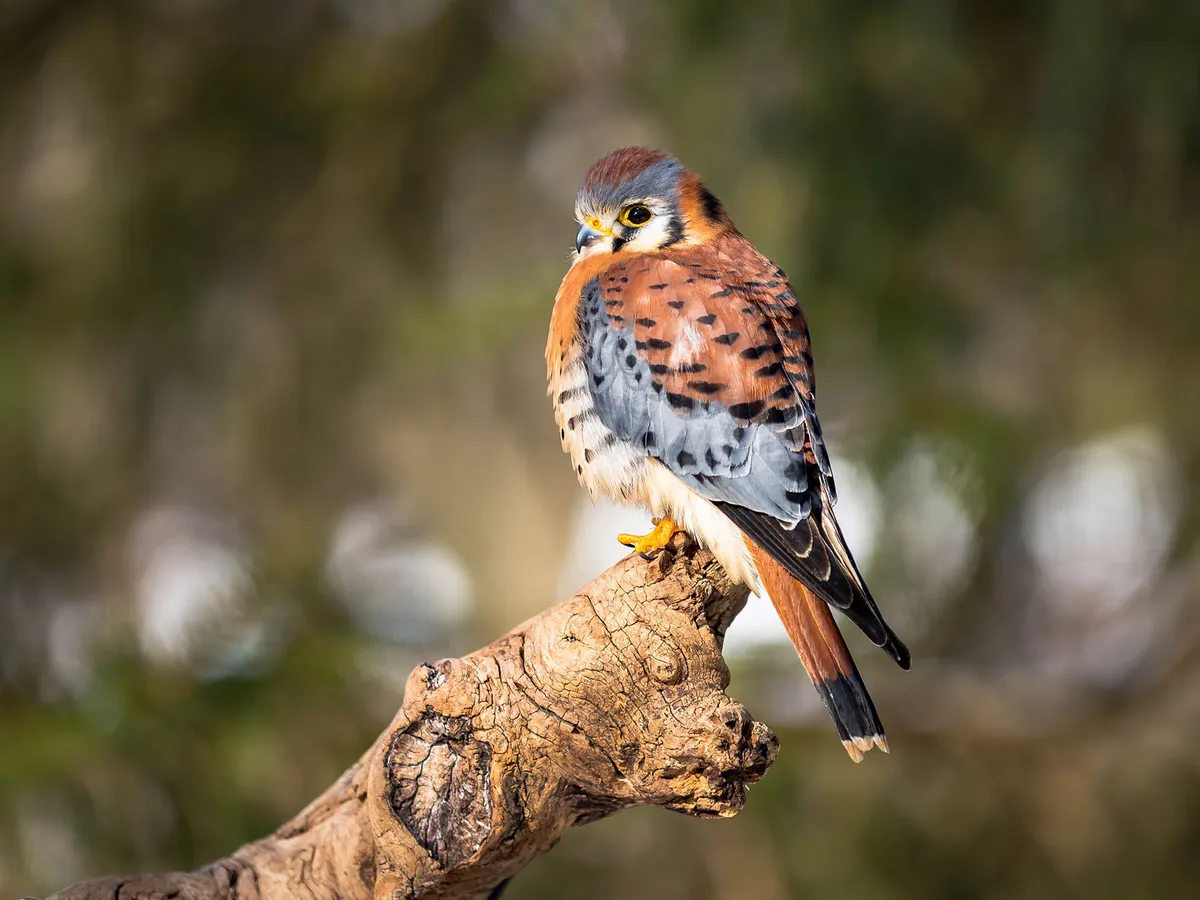 American kestrels thrive in a range of habitats, in both urban and rural settings
What is the distribution range of American Kestrels?
The breeding range of American kestrels extends from central and western Alaska across northern Canada to Nova Scotia, and south throughout North America, into central Mexico and the Caribbean.
The distribution range shrinks in winter, with birds that breed in the northern extremes of the range migrating to spend the colder months in the southern U.S., with some flying as far afield as the Caribbean and Central America.
Where do American Kestrels live in the US?
American kestrels are widespread across the United States, with populations either breeding or permanently resident in every single one of the continental states, as well as pairs that arrive in Alaska each spring to spend the breeding season there.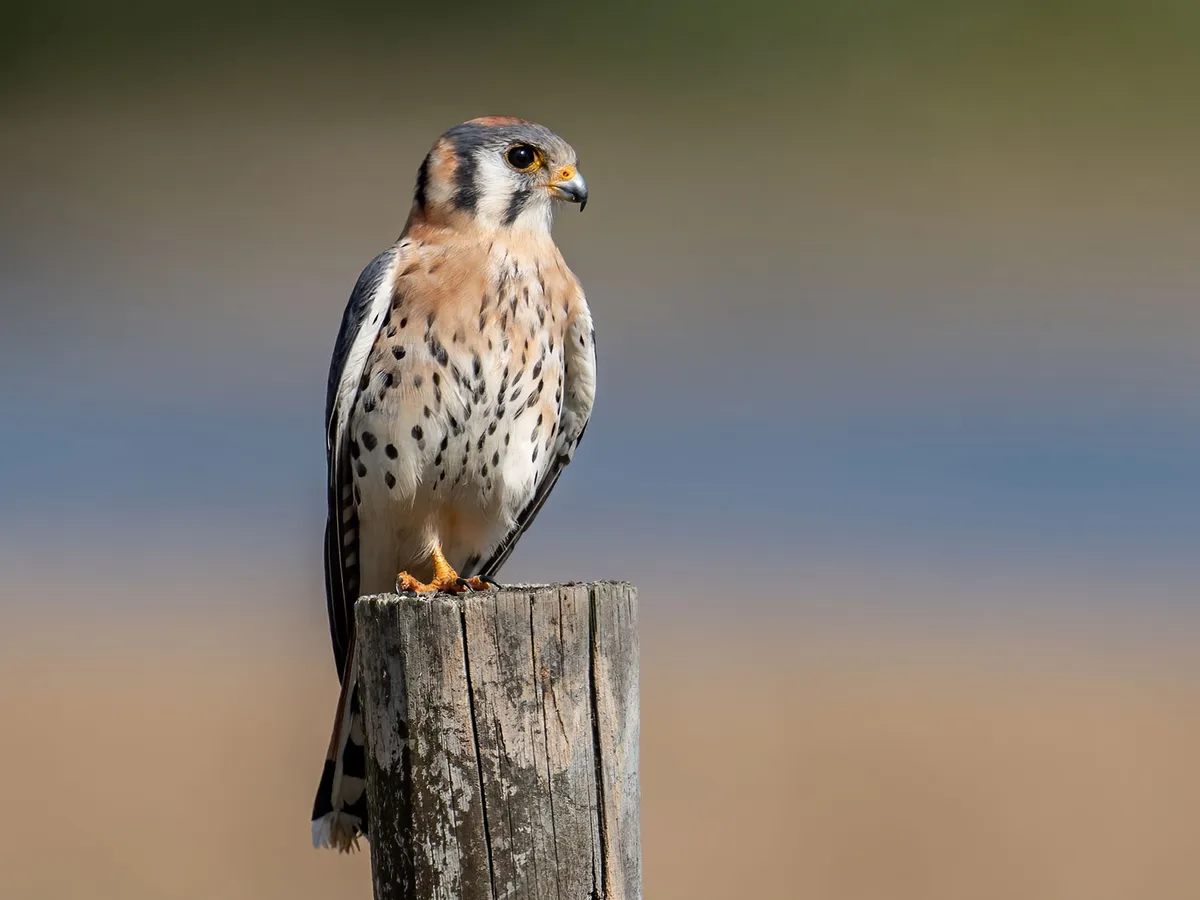 American Kestrels can be found in every single continental state across the United States
What states do American Kestrels live in?
American kestrel populations are especially numerous all year round in the southern states of Alabama, Florida, Georgia, Louisiana, Mississippi, and South Carolina. The kestrel population of these states swells each winter with the arrival of overwintering birds that have bred further north. The species has either a permanent or temporary presence in all of the mainland states of the U.S.
Where do American Kestrels live in Canada?
Canada is home to breeding populations of American kestrels, which arrive in Yukon, Northwest Territories, Saskatchewan, Manitoba, Ontario, Quebec, Newfoundland, British Columbia, Nova Scotia and New Brunswick in March to April, and depart in September to October once they have raised their young.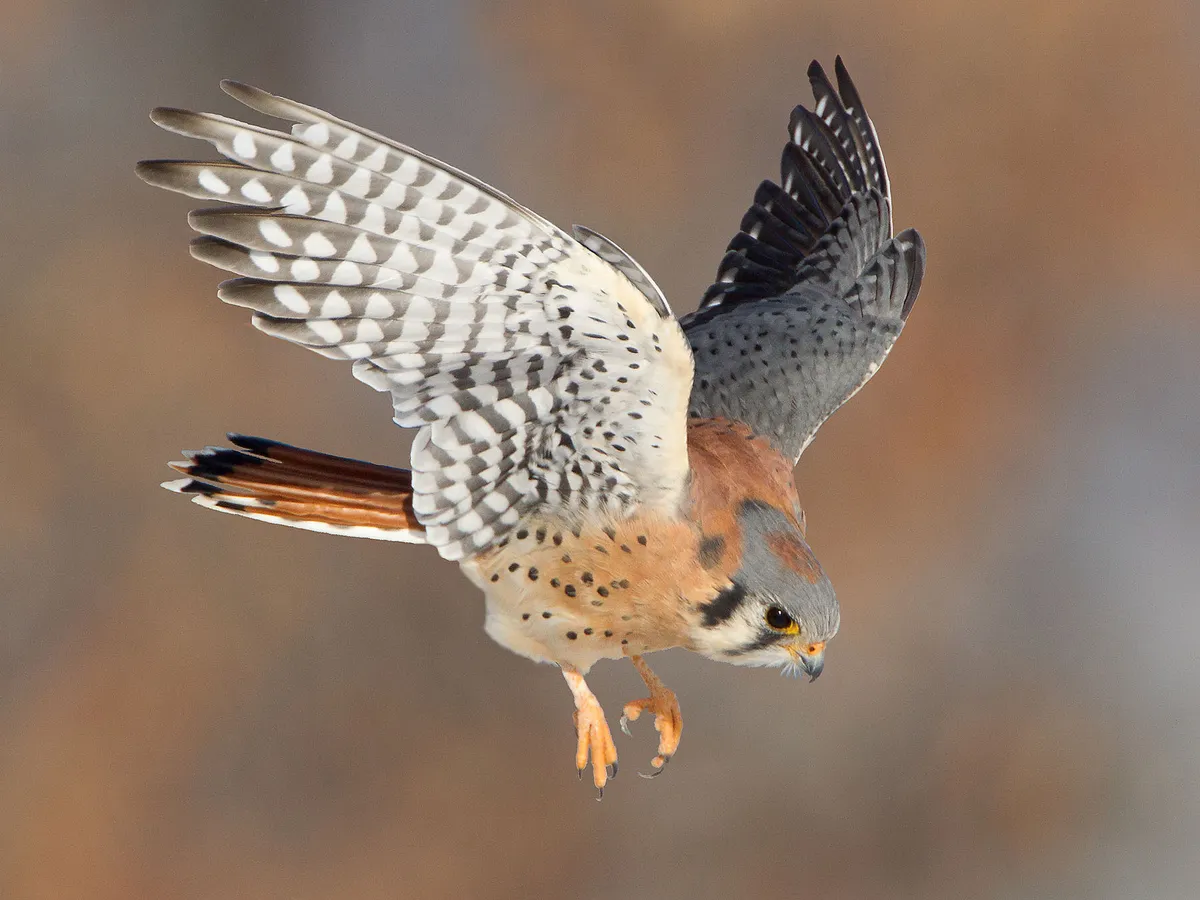 Male American Kestrel hunting mice
What is the habitat of an American Kestrel?
Habitats in which American kestrels are likely to make their home include both rural, urban and suburban locations. Landscapes preferred by the species include grasslands, meadows, agricultural land and semiopen pastures surrounded by woodland or individual trees.
Kestrels are cavity nesters, and require hollows in tree trunks in which to raise their young. Perching spots, such as branches, telegraph wires and utility poles are also vital for hunting prey.
How rare is it to see an American Kestrel?
American kestrels are both the most numerous and the most widespread falcon living in North America, so spotting one wouldn't be classed as a particularly rare sighting.
The global population was estimated at 9.2 million in 2021, although numbers are said to have declined by around 53 percent between 1996 and 2019.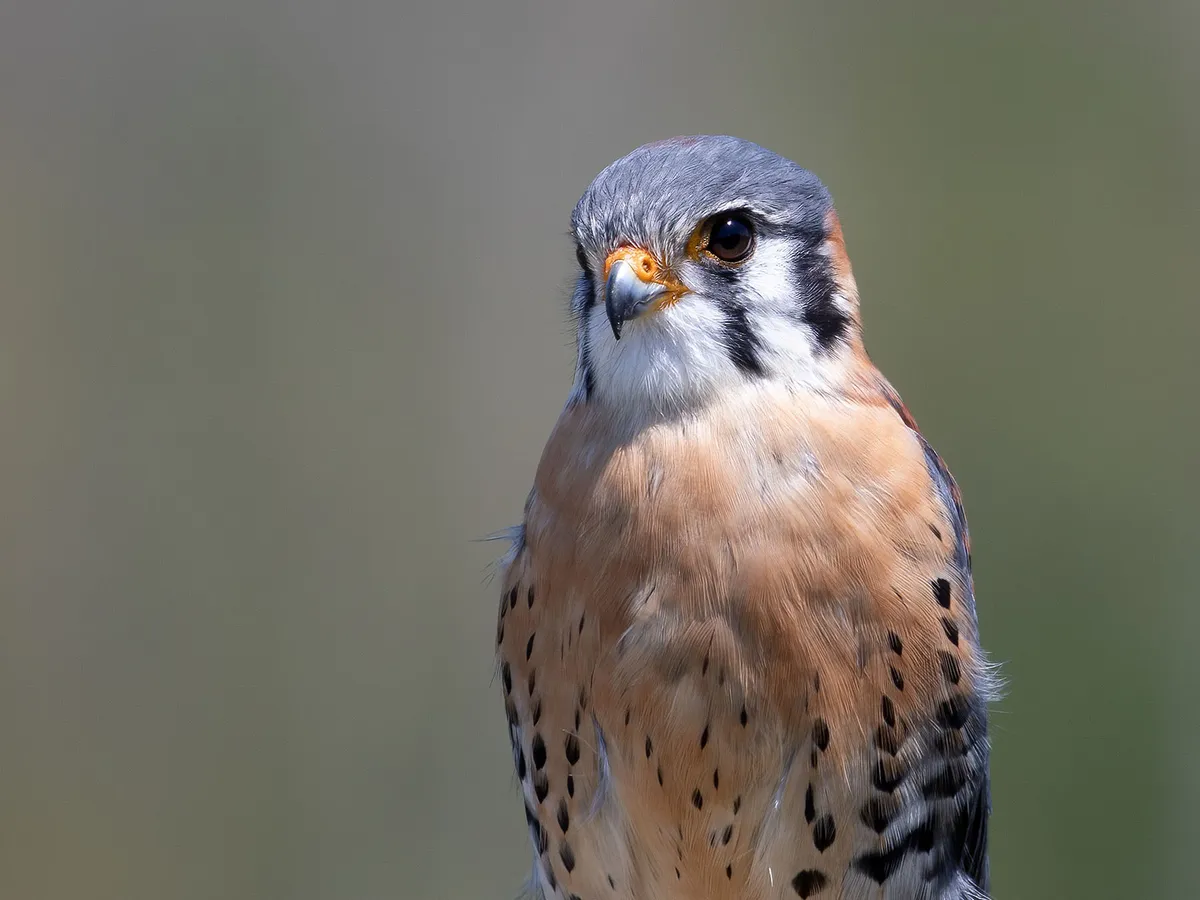 American Kestrels are the most widespread and numerous falcon in North America
Where is the best place to see American Kestrels?
Sightings of American kestrels are commonly reported along mountain ridges, or beside highways, with birds perching on overhead power lines scoping out prey in fields that line the roadways.
The state of Idaho is notable for the wide variety of raptors that live there, with American kestrels particularly well represented. Sightings are common on the state's steppe and prairie habitats.
What time do American Kestrels come out?
American kestrels are diurnal birds, and can be seen hunting at dawn and dusk. During the day, they may be seen perched on the same utility pole or power cable all day long scanning the ground below for prey before swooping in for the kill.
Kestrels have exceptionally good eyesight, even in fading light, and this enables them to hunt until darkness falls, and sometimes even in the moonlight.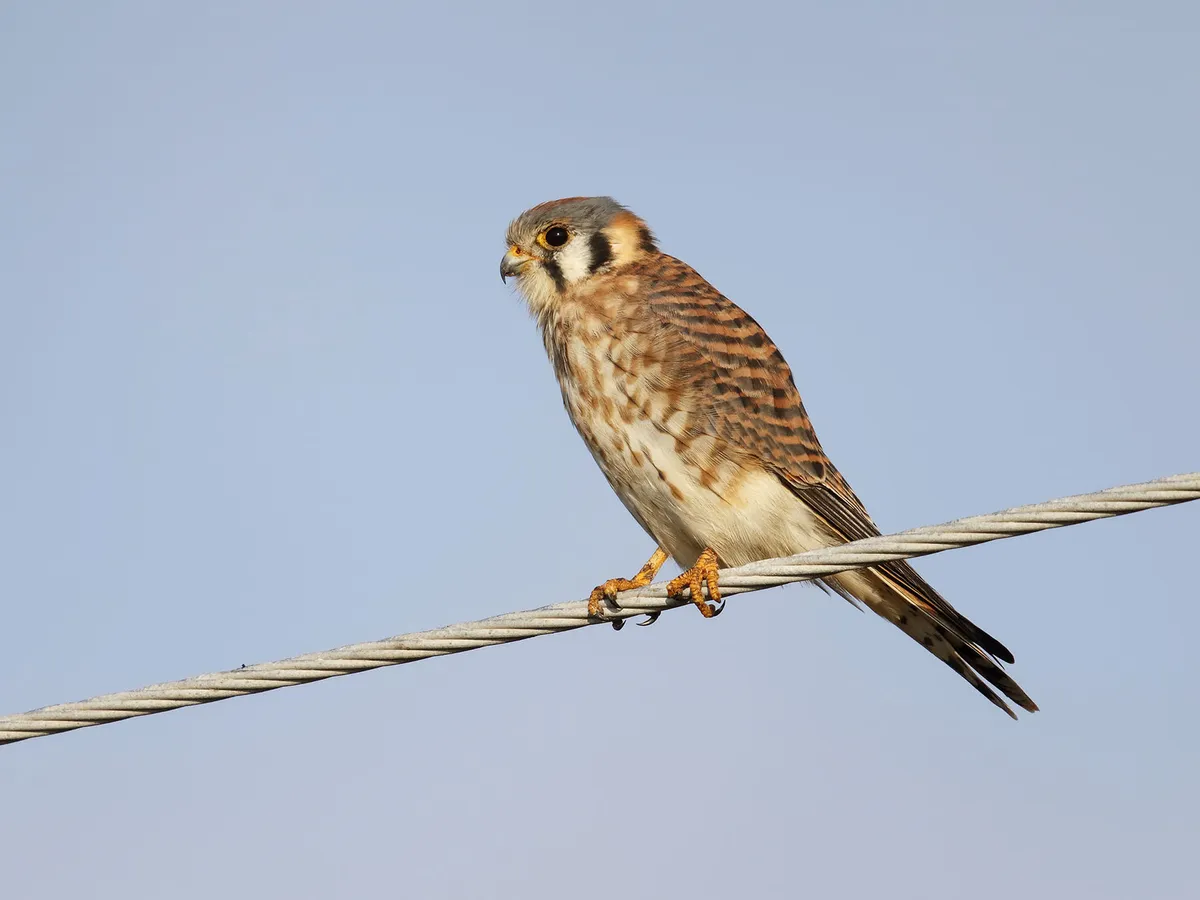 Female American Kestrel perched on a wire - St. Petersburg, Florida
Do American Kestrels stay in one place?
In the northernmost reaches of their range, American kestrels are migratory, leaving their summer breeding grounds in Canada and the northern U.S. to fly south in the winter. These annual migration flights may take them as far south as Central America and the Caribbean.
Where do American Kestrels live in the winter?
American kestrel populations resident in the central and southern U.S. may remain in their home territories all year round, and are joined by birds migrating from their breeding grounds further north as fall arrives.
Some migrating birds may travel further still, spending the coldest months in the Caribbean and deeper into Mexico and Central America.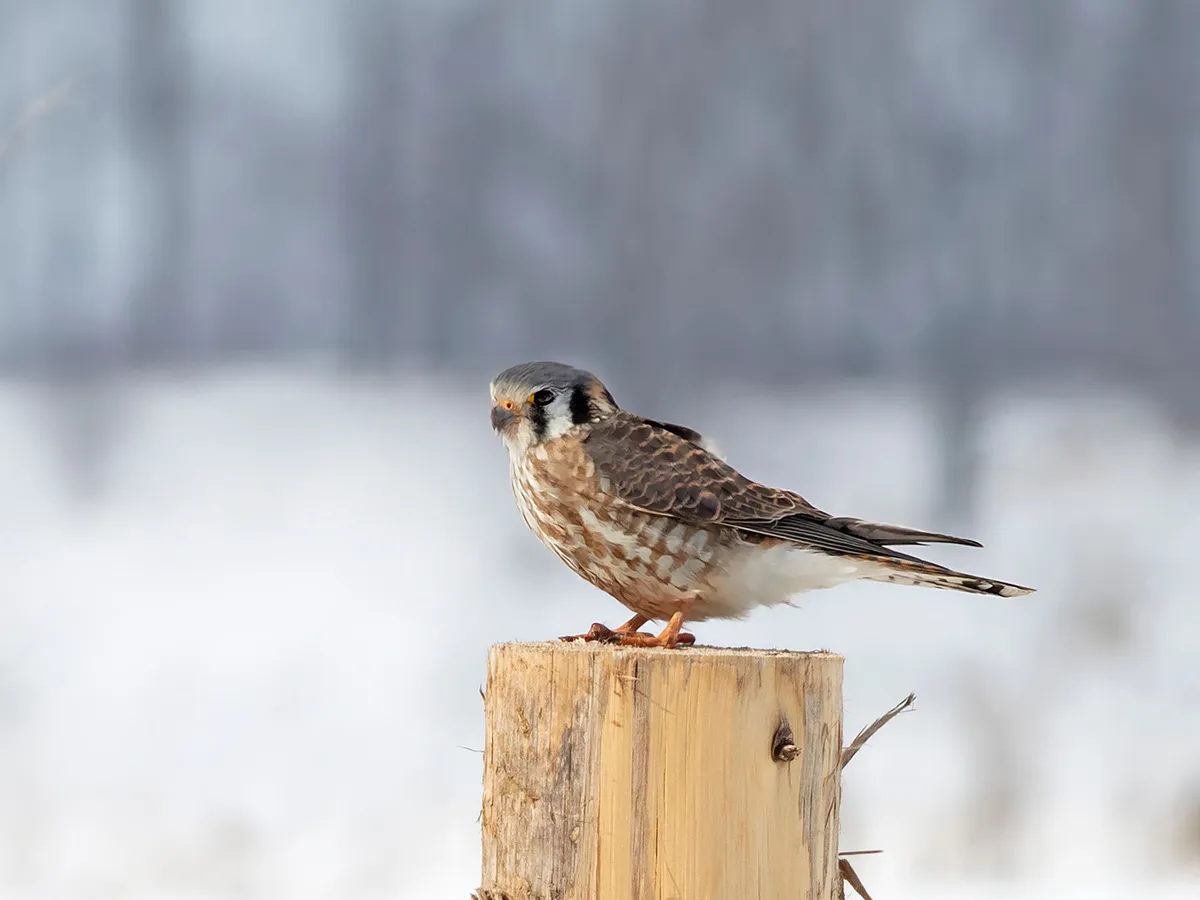 American Kestrel perched on a wooden post in winter, Canada
Where do American Kestrels live in the summer?
In summer, American kestrel populations can be found further north, with breeding grounds across Canada and the northern U.S. Breeding occurs as far north as as far north as Alaska, Yukon, Newfoundland and across much of the Northwest Territories.
Habitat identified as suitable for breeding includes areas of open pasture, interspersed with tall or dead trees that offer perching spots for convenient hunting.
Do American Kestrels live in groups?
Observed to be solitary birds, American kestrels remain in bonded pairs during the breeding season, but otherwise tend to migrate and hunt alone.
They are relatively tolerant of other birds on the fringes of their home territories, and after fledging, young birds may associate in loose groups until they find a mate.