The Painted Bunting (Passerina ciris) features high on the list of many birdwatchers, and it's easy to see why. These exquisite songbirds are among the most exotic and colorful in the United States, and their presence at backyard bird feeders is cause for celebration.
So where do these birds live, and which habitats do they prefer?
Painted Buntings are birds of the South. They can be seen throughout the year in Florida, although they are breeding visitors to about a dozen other American States. These birds prefer open habitats with thick, short vegetation and scattered trees.
Painted Buntings are migratory birds that head south for the winter, traveling as far as Panama in Central America and crossing stretches of the open ocean a hundred miles wide or more to reach islands like Cuba.
Two separate populations are recognized as unique subspecies, one occurring along the East Coast and the other north of the Gulf of Mexico.
Some research even suggests they may be separate species altogether, although the two subspecies are very similar in appearance with some plumage and size differences.
This article covers the distribution range and habitats of the Painted Bunting. Read along to learn where you can find these multi-colored North American songbirds.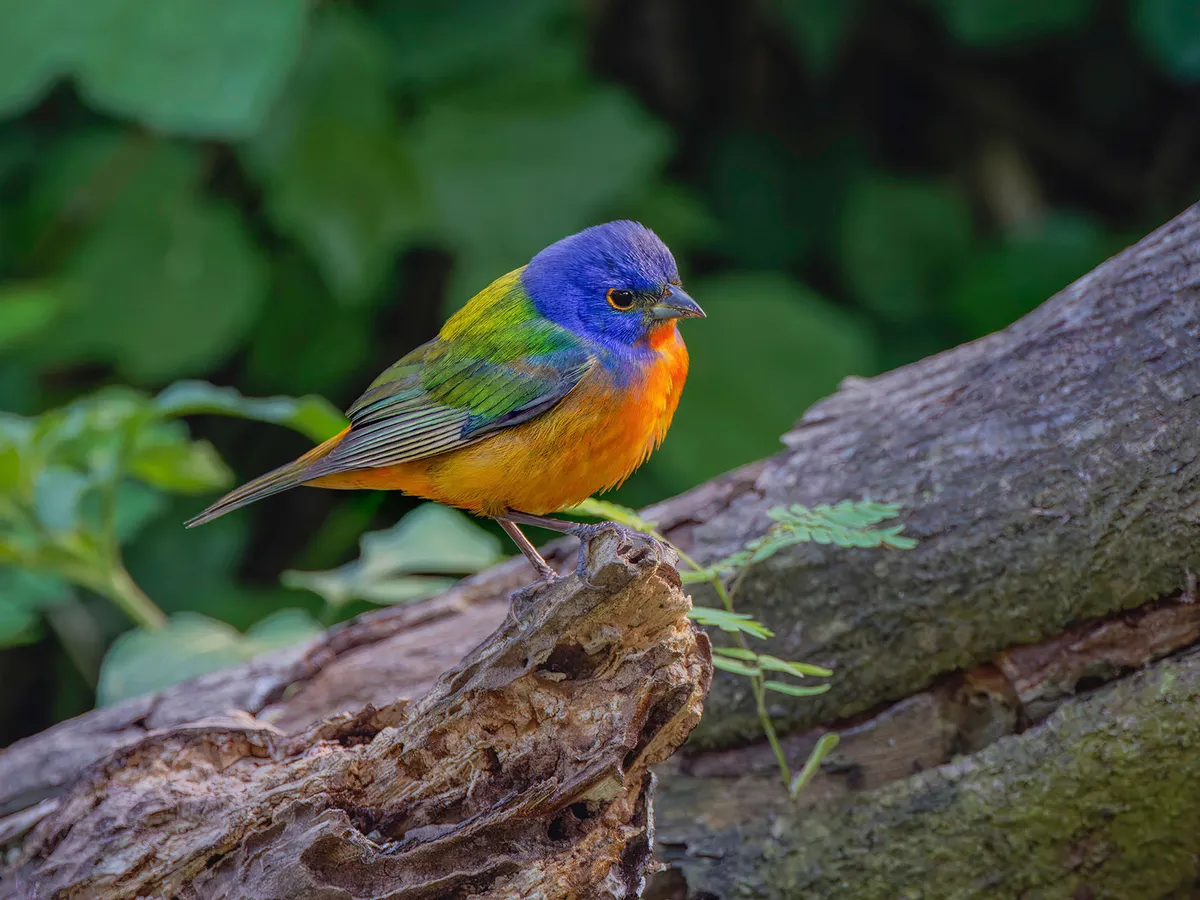 Painted Buntings are mainly found in open habitats with thick, short vegetation and scattered trees
What is the distribution range of the Painted Bunting?
Painted Buntings occur from Central America and the Caribbean Islands in the south to North Carolina and Kansas in the north. They are migratory birds that occur in two isolated breeding populations.
Keep reading for more information on the Painted Bunting distribution range in the United States.
Where do Painted Buntings live in the US?
A few hundred miles separate the two Painted Bunting sub-species between Mississippi and Florida in the American Southeast. The western subspecies, Passerina ciris pallidior, has the widest distribution. These birds overwinter in Mexico and Central America and visit parts of the American South, Southeast, and Midwest to breed.
The western population of Painted Buntings nests in the following States:
Texas
New Mexico
Oklahoma
Kansas
Tennessee
Missouri
Arkansas
Louisiana
Mississippi
The Eastern subspecies of the Painted Bunting is known as P. c. ciris. These birds have a more restricted range along the East Coast. They are present in the United States throughout the year, although some overwinter in Cuba and the Bahamas.
The eastern population of Painted Buntings lives in the following States:
North Carolina
South Carolina
Georgia
Florida
The reason for the approximately 300-mile (500 km) divide between the two populations remains a mystery to researchers. However, one plausible theory involves the increased distance between their breeding and overwintering grounds presented by the Gulf of Mexico.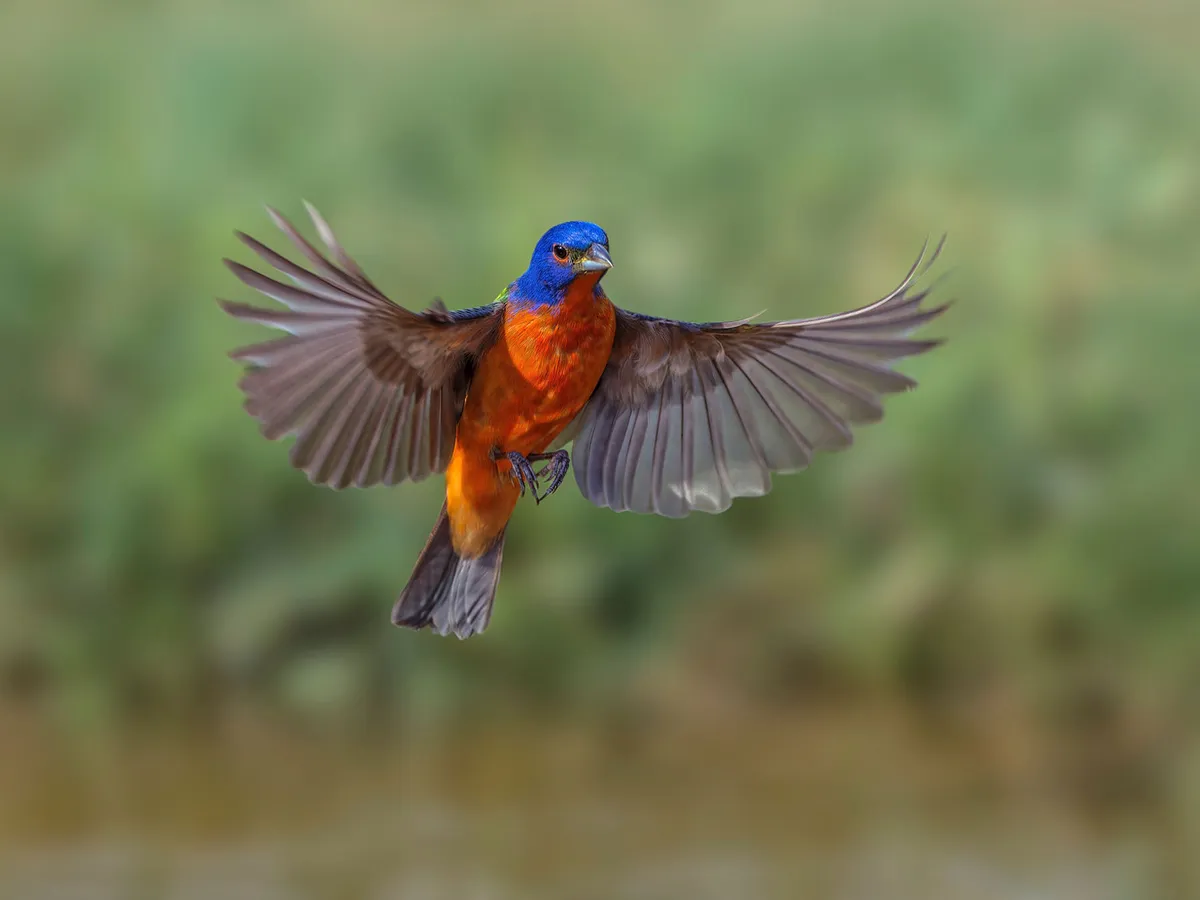 Male Painted Bunting in flight, Rio Grande Valley, Texas
Where do Painted Buntings live in Mexico?
Painted Buntings are widespread south of the United States border. There they go by the descriptive name of 'Siete Colores' or seven colors. The western population breeds in Northern Mexico and migrates south to overwinter in Central and Southern Mexico. However, they can be seen between these regions during migration.
Painted Buntings also visit the following Central American countries:
Guatemala
Belize
Honduras
El Salvador
Nicaragua
Costa Rica
Panama
Female Painted Bunting perched on a branch
What is the habitat of a Painted Bunting?
Being in the right state is vital for locating these stunning songbirds, but searching in the correct habitat is just as important. Continue reading to learn about the Painted Buntings' favorite habitats.
Painted Buntings occur in a variety of habitats that provide rich supplies of their favorite foods - seeds and invertebrates. They are primarily a bird of open, shrubby, or grassy vegetation with scattered trees.
Look out for them in the following habitats during the spring and summer nesting season:
Abandoned farms or fallow fields
Roadside brush and grassy areas
Scrub and thicket along streams
Hedges, yards, and weedy areas
Vegetated dunes and palmetto thickets on the East Coast
Painted Buntings occur in similar habitats across their range in the winter non-breeding season. Look out for them in low, dense thickets, tall grassy areas, overgrown pastures, and the edges of woodland and forests.
Painted Buntings are primarily a bird of open, shrubby, or grassy vegetation with scattered trees
How rare is it to see a Painted Bunting?
Spotting Painted Buntings can be a challenge, even with their stand-out colors. These birds are fairly common over much of their range, but they are pretty shy and tend to stay hidden in dense vegetation. However, Painted Buntings do visit backyard bird feeders in yards with suitable habitats.
You could say male Painted Buntings are too pretty for their own good. Sadly, their dazzling colors have made them popular caged birds and fueled their capture and trade. Habitat loss has also had a notable effect, causing a general decline in the species.
Where is the best place to see Painted Buntings?
Painted Buntings are a must-see for all birdwatchers, but where is the best place to look?
Painted Buntings can be locally common across their range, although the greatest numbers breed in Texas and Oklahoma. Focus on areas with thick, low vegetation and listen out for the calls of territorial males, particularly on early spring mornings in April and May.
Painted Buntings breed in the following birding hotspots:
Savannah National Wildlife Refuge, Georgia and South Carolina
Fort Macon State Park, North Carolina
Fort Clinch State Park, Florida
St. Catherine Creek National Wildlife Refuge, Mississippi
Tallgrass Prairie Preserve, Oklahoma
Brazos Bend State Park, Texas
Lake Tawakoni, Texas
Roaring River State Park, Missouri
Holla Bend National Wildlife Refuge, Arkansas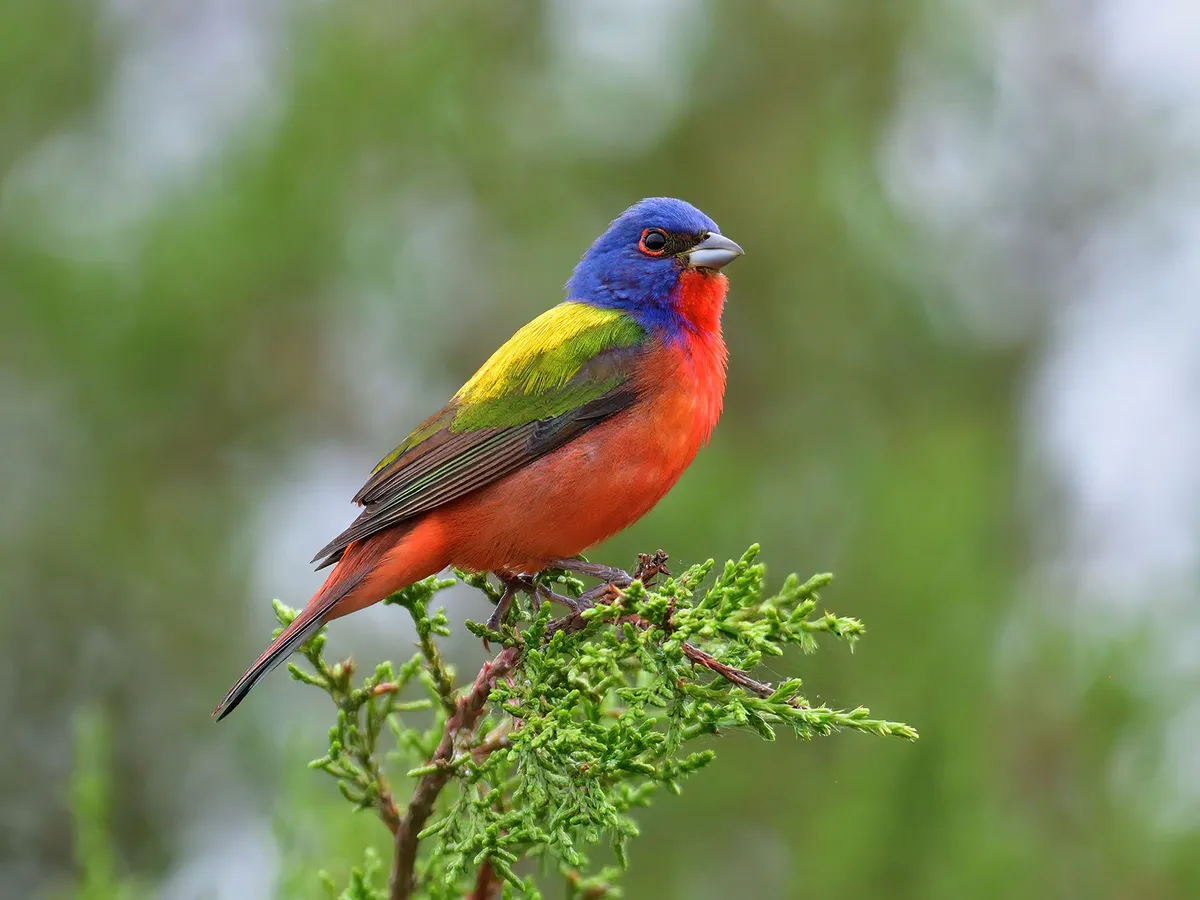 Painted Bunting perched on a Cedar Branch
What time do Painted Buntings come out?
Painted Buntings, like most songbirds, are diurnal. This means they roost at night and become active in the morning. These small birds remain unobtrusive while foraging for seeds and insects throughout the day.
Do Painted Buntings stay in one place?
Painted Buntings are migratory birds with minimal overlap between their summer and winter ranges. However, they are territorial in the breeding season, so nesting individuals stay in the same area during the spring and summer.
Their territories vary from less than a hectare (about 2.5 football fields) in ideal habitats to over seven hectares in less optimal areas. Males will return to defend the same territories year after year.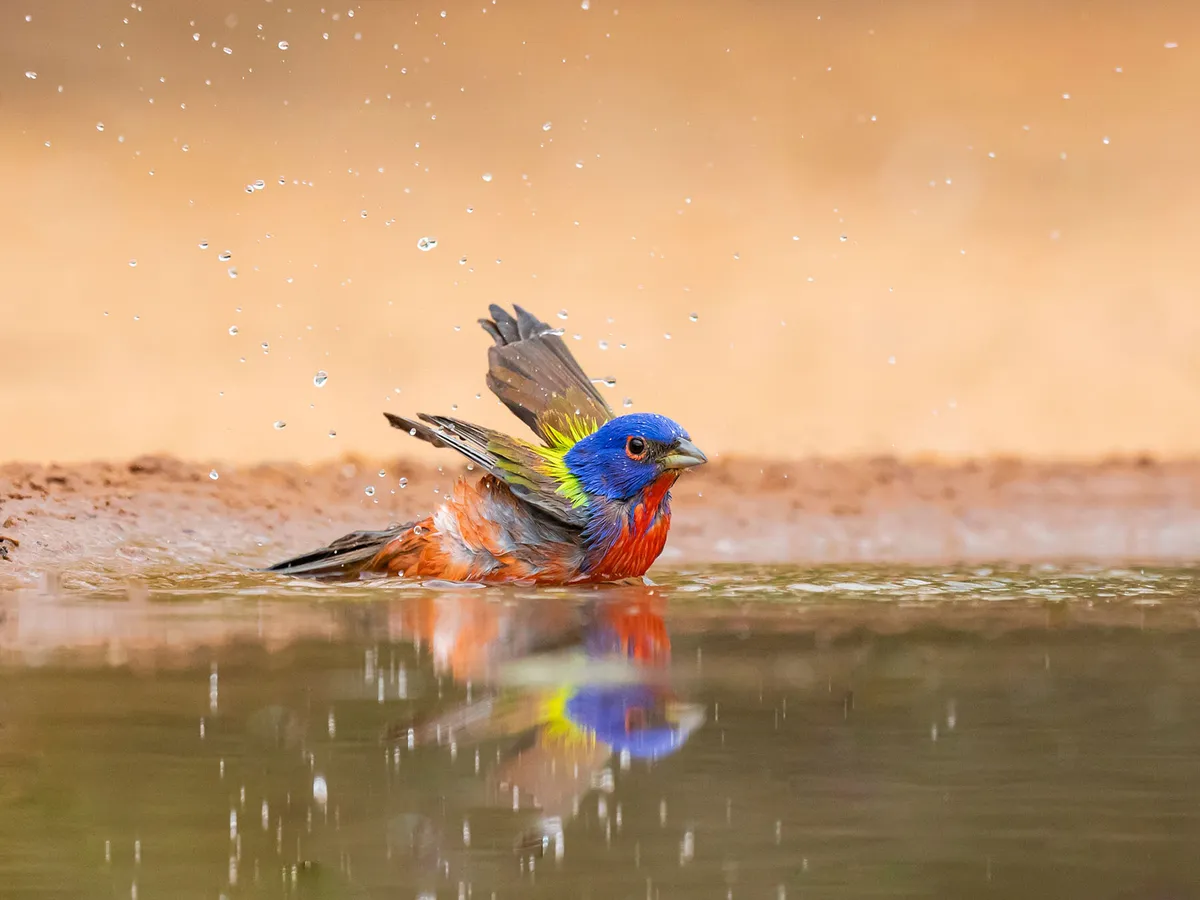 Male Painted Bunting bathing during spring
Where do Painted Buntings live in the winter?
In the winter, Southern Florida is the only place where birdwatchers can see Painted Buntings in the United States. The rest migrate further south into the Caribbean islands and through Mexico to Central America in the non-breeding season.
Where do Painted Buntings live in the summer?
Spring and summer are the breeding seasons for Painted Buntings. The eastern population delights birdwatchers as they spread out from Northern Florida as far north as North Carolina to nest.
The western population arrives in Northern Mexico and the United States in spring and remains throughout the summer. These birds can be found from New Mexico in the west to Mississippi in the east and as far north as Kansas.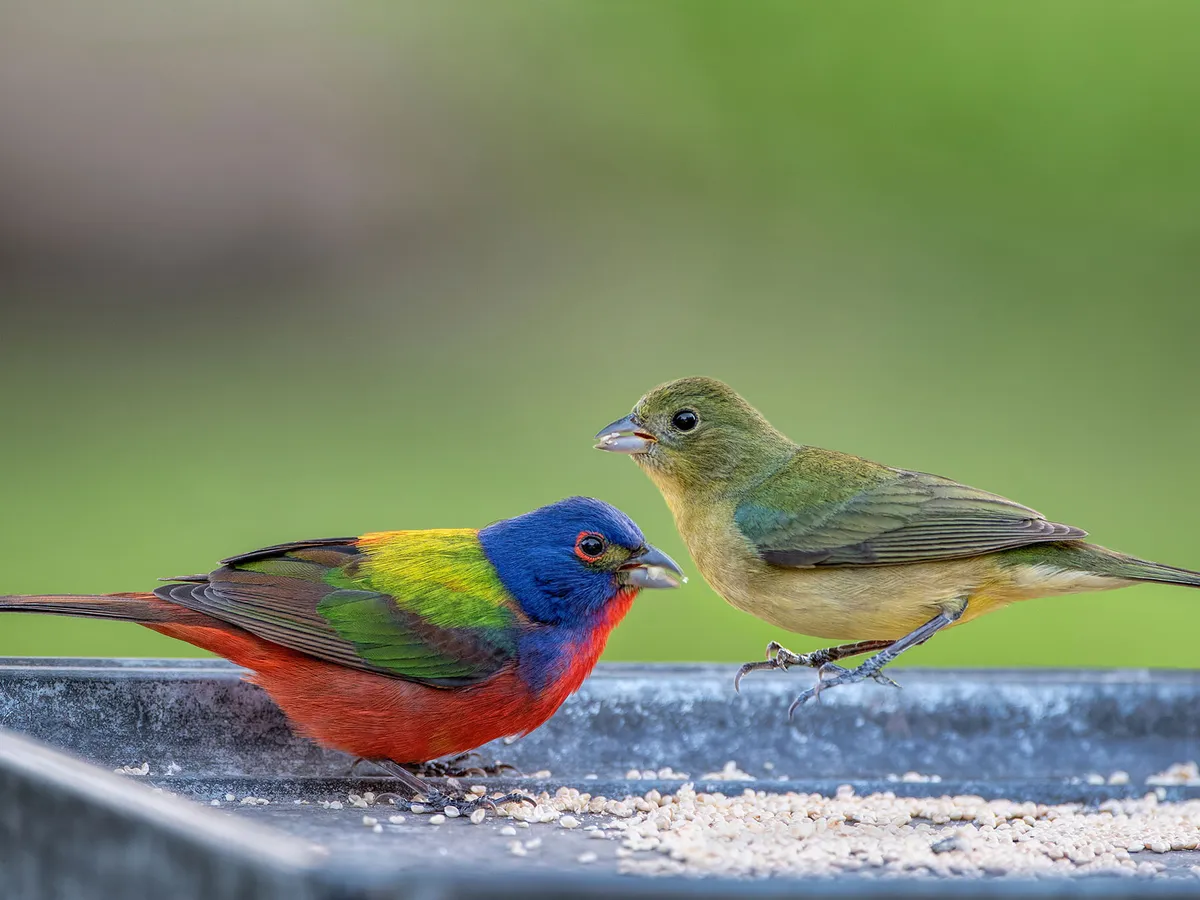 Male and Female Painted Buntings at a feeder in South Central Louisiana
Do Painted Buntings live in groups?
Male Painted Buntings are highly territorial during the breeding season and will not tolerate other males on their patch. However, they become more gregarious in the late summer/early fall and often forage together in small flocks with their own and other small seed-eating bird species.